A half-up half-down hairstyle can be everything a black girl needs when she wants to look glamorous. The hairstyle requires creating at least two sections, one with the top, that will be pinned in space buns, a back updo, a braid or a bun, and the nape area that will fall on the back.
It beautifully works with all kinds of braids, whether they are chunky or thin. Also, it is a common practice to use a fake ponytail to show more volume for the top section.
Flattering Half-Up Half-Down Hairstyles for Black Women
To discover some of the best examples of half-up half-down hairstyles for black girls, scroll down and read this article!
1. Curls and Box Braids
Combine box braids with curls to gain volume, texture and to protect your hair from external factors. Add hair extensions so your plaits will have thickness.
Choose curly hair bundles and keep some strands unknitted.
2. Twisted Braids and Top Bun
Twisted braids can be easily created by choosing two hair strands that you will roll in different directions. Then, you will use them to roll again and create your plait.
You can also curl the ends and leave a piece loose. Not everything needs to look flawless all the time!
3. Top Half Ponytail
Box braids are ideal when you want to create a half-up half-down hairstyle that stands out. Black girls will love the way the top ponytail elongates their faces and draws all the attention to their features.
If you want to look glamorous, you should choose this simple yet effective hairdo and golden jewelry.
4. Hair Crown with Flower
To create these subtle waves, you will first need to straighten all your locks. Then, wrap your strands on the same iron and slightly pull to create those waves.
Using some longer strands from your bangs, create a head crown and decorate it with a delicate flower.
5. Thick Twisted Braids
Black girls will love these voluminous twists because they create more volume in the crown area and add all the length you crave.
When you're getting your bundles, make sure they have the same color as your hair so the hairstyle looks more natural.
6. White Box Braids with Undercut
If you have rich melanin skin, you should use your half-up half-down hairstyle to build contrast. Create thick braids using platinum blonde bundles and style a side undercut.
Pin the top braids in the back, in a voluminous bun and dye the shortly trimmed hair.
7. Top Bun for Kinky Hair
When you have kinky hair, your locks need loads of prepping for any hairstyle. You should cut your hair in layers and add a curling mousse that will give your strands better definition.
To recreate this look, section the top, pin it into a bun and secure it with bobby pins.
8. Red Twisted Bun
Fake deadlock twists should be attached close to your scalp, so your natural hair color will be less visible.
However, to make them blend better, you can dye the hair in a color close to one of your extensions. A great thing about these braids is that you don't have to do the work because you can find them pre-braided.
9. Side Cornrows
Straighten all your hair and let it fall on your back and shoulders. For the crown area, do a middle part and create feed-in cornrows that follow the hairline.
Also, if you want your look to be perfect, you will have to deal with those baby hairs too. Apply hair gel on a toothbrush and give them that curved aspect on the temples.
10. Braided Updo
Suitable for a wedding or a party, this look can be easily achieved. Wave and curl your hair, section the crown, and pull off a loose braid.
Twist this braid into a bun and secure it with bobby pins.
11. Heart Shaped Braids
Half-up half-down hairstyles that use cornrows and box braids are a stunning idea for black braids who crave for long plaits that fall on the back.
To create this glamorous look, build heart-shaped cornrows on each side and pin the top in a rolled bun.
12. Passion Twists with Bun
For these fabulous passion twists, you will need to invest in high-quality hair extensions.
The bundles used for the braids are mostly FreeTress. This type of synthetic hair is a must-have if you want to achieve flawless twists. To recreate the look, create a half-up half-down hairstyle and dye the ends in a red shade.
13. Wedding Twisted Braids
Half-up half-down hairstyles are a stunning idea for black girls who need a glamorous look for their wedding. Create very thin twisted braids and use the upper plaits to construct a gorgeous bun.
Decorate the hairline with a pearled accessory and secure the bun with bobby pins. The ends of the braids must be curled by dipping them into boiling water.
14. Heart Space Buns
If you love cute, childish looks, space buns are ideal for black women. First, you will need to do a side part, and section your crown again, into two other parts. You will use these for the heart-shaped buns.
For the rest of the hair, use a straightening iron to make it look flawless and a very thin curler for the ends.
15. Wavy Half Pony with Finger Waves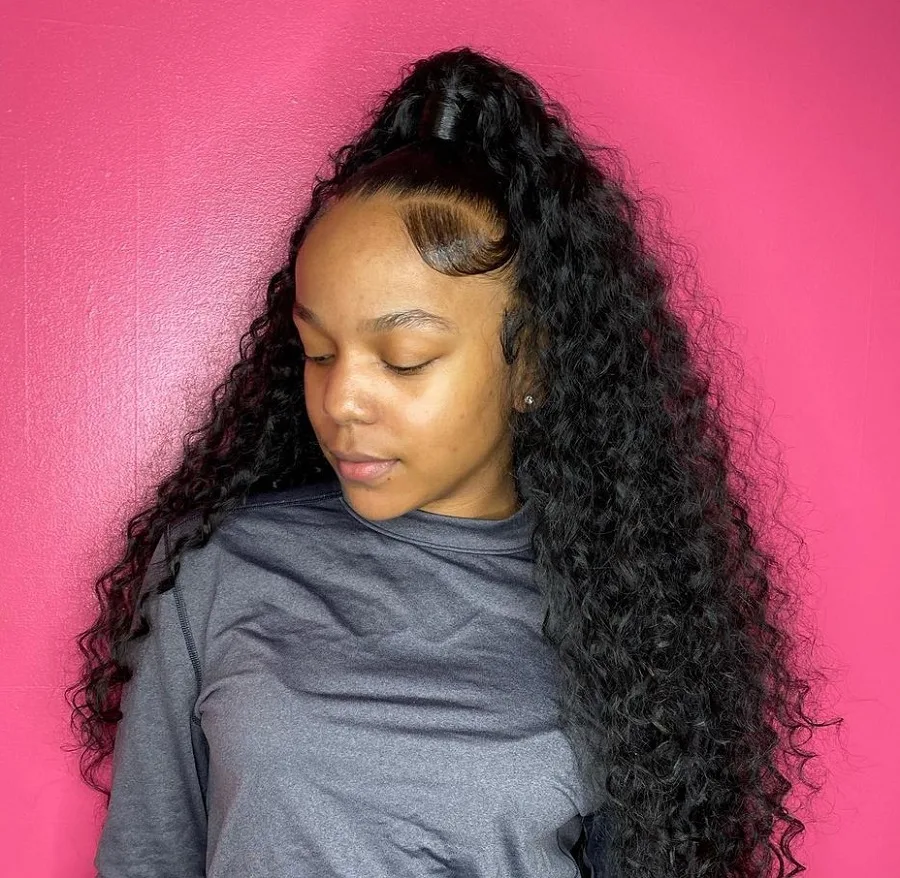 If you love having a rich curly mane, then you will section your hair into two pieces. For the upper part, you will apply a great quantity of hair gel and use a rat tail comb to make the top look sleek.
Pin that hair and attach the curly extensions. As for the rest of your hair, you can add a weave.
16. Barrel Rolls
Instead of using dreadlocks as your support for the barrel rolls, you can twist the braids on a couple of other plaits that you will pin together.
Once all the barrel rolls are done, pin them with an elastic then roll them into a bun. In the lower part, create long feed-in twists.
17. Cornrows and Zig Zag Pins
Braided buns are super hot among African-American ladies. Half-up half-down hairstyles are great options for black girls who want to rock a new look, get a long curly mane, and style fashionable braids.
Select the top and part it into cornrows and triangle sections that will help you create a zig-zag effect. Pin all these in a top ponytail and a hair strand around the base to hide the application.
18. Passion Twists with Bun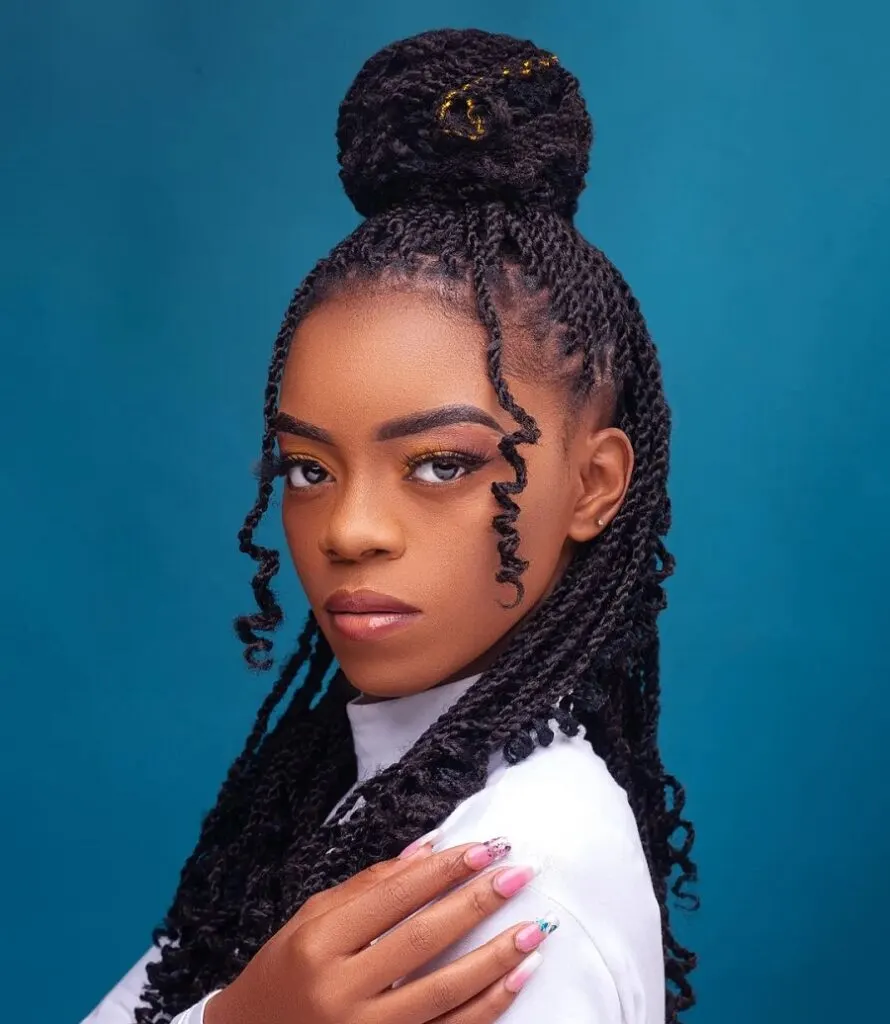 For this half-up half-down hairstyle you will need to create passion twists. Before parting your hair, prep your pieces and add your fav jam. This will make the hair easier to manage.
Once the entire hair is done, layer the braids, wrap them on a rod, and dip the ends into hot water so they will gain this curly aspect.
The best half-up half-down hairstyles for black girls can be made using braids, weaves and natural hair. Remember that you don't need intricate constructs and coiffures to look stylish!