Knowing how to make a dance hairstyle is an absolute must for girls who want to look beautiful while dancing without hair getting into their faces.
Looking amazing while you dance you the advantage of making the right impression. If your hair is too long and not tied properly, it can cause a lot of hassle during the most unexpected moments.
That's why dancers opt for comfortable yet impressive hairstyles for special dancing occasions. Whether going to a high school dance or an international dance competition, you need the right hairstyle to do well.
Dance Hairstyles
If your haircut is longer than a pixie, you need to do something with your hair before dancing. Flowing hair might look beautiful in photos, but it can be a setback when doing your breakdance. That's why finding the optimal hairstyle is very important for any dancer.
Whether participating in a dance competition or preparing to dance at a wedding, knowing the right way to style your hair will greatly help.
We compiled a list of interesting and comfortable hairstyles for women of all ages to use and enjoy while dancing.
1. Mixed hairstyle
If you are into modern dancing, you will appreciate this dance hairstyle. Make two braids on the top of your head and collect them into a high ponytail. You can make high bangs hairstyle in front. The more elements you mix in, the better you will look.
2. Curly bun with braids
Make a basket braiding style on top of your head and complete it with a high and curly bun. This complicated hairstyle will help your hair stay in place even during the wildest dancing. A perfect choice for a night club outing.
3. Reversed French braid with a ponytail
This is a very neat hairstyle that will suit any dancing occasion. Create a reversed French braid and if your hair is long enough, end it with a ponytail. This impressive style will definitely make some heads turn your way. Impress your dancing partner!
4. Fohawk locks
Want a breathtaking hairstyle that resembles a mohawk? Brush all your hair upwards and create a fake mohawk on top. You will need to keep the sides very neat and sleek with the help of a lot of hair gel. The top part must be well clipped to stay intact.
5. Professional dance hairstyle
If you are getting ready for a very important dance of a lifetime: be it a competition or a wedding dance, ask a professional a hairstylist for some help. Consider using bright and shiny accessories to make your special hairstyle even more interesting.
6. Braided flower
This hairstyle might look complicated but it is actually very easy to make. All you have to do is start braiding from the front and gradually use all the hair along the way to the back of your head. Then use clips to shape the braid to look like a flower.
7. Loose strands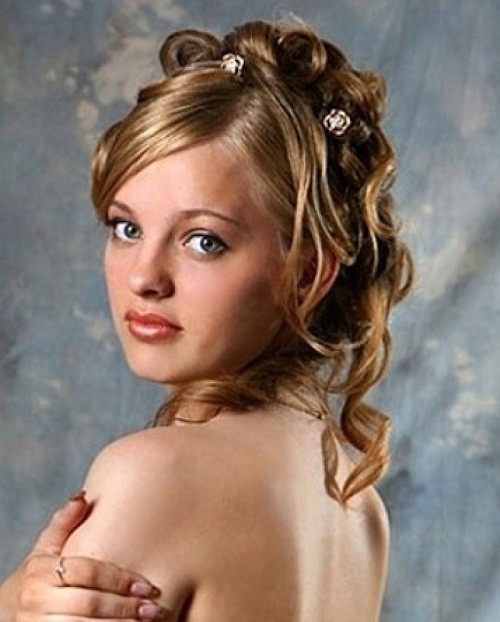 If you are about to go for slow dance lessons or maybe getting ready for the prom, the dance hairstyle shouldn't be just comfortable, it must be beautiful. Consider leaving some loose curly strands hanging down in the back. They won't get into your face but will improve your overall image.
Adorable Princess Braid Hairstyles
8. Complicated braiding
While seeming like a loose hairstyle, this option is actually very solid. The braid is holding the curly strands in place so comfortable dancing is unavoidable. Ask a professional to help you create this image in order to look your best.
9. Use some jewelry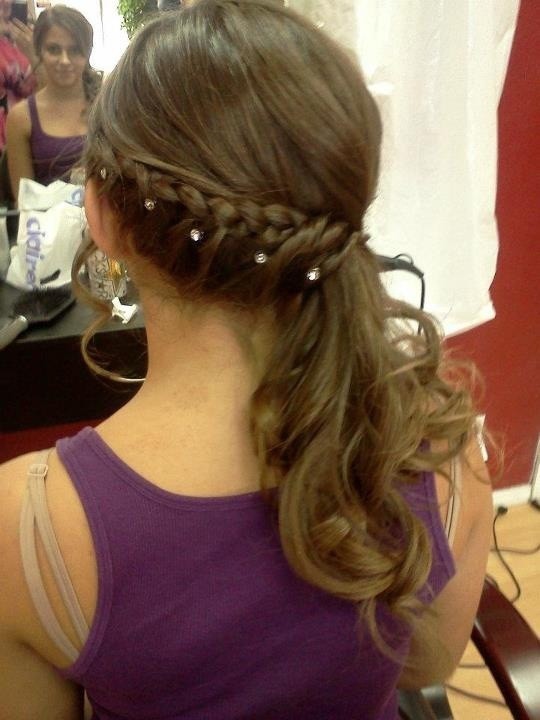 Dancing is always fun. Most of the time it's a celebration of some occasion. So there is no reason to avoid looking festive. Use jewelry to beautify your simple dance hairstyle and you will definitely be the star of the show.
10. Ponytails
If you are not about to dance on a special occasion and don't have enough time for a complicated hairstyle, you can go for two simple high ponytails. They do a great job of keeping hair out of your face and look great flapping about when you dance.
11. Runaround braids
Runaround braid is always a great choice to keep the hair neat and in place. Start braiding from the middle of the front hairline and go around your head to the back. Then make a simple ponytail and the easy hairstyle is ready.
12. Stylish undercut
If you are into unique hairstyles, pay some special attention to this stylish undercut. One side is shaved. The other one is kept short. The bangs are brushed to one side and left to reach the chin. Such hairstyle is not too comfortable for fast dancing but makes an amazing impression.
13. Brush it back
If you have long hair and don't want to hide it, you always have an option of brushing it backwards. Pull the frontal strands to the back and clip them together while letting the rest of the hair down. Create a small beehive out of your long bangs.
14. Useful braid
If you can't or don't want to avoid having loose strands, make sure they are swept to the back and well-secured. A braid can do this job just fine. Curl your loose braid to complete the romantic image and you'll be the most beautiful girl on the dance floor.
15. Wedding hairstyle
If you are a dancer, you can pay some attention to the wedding hairstyles. Such hairstyles are usually created to serve the same purpose as the dance hairstyles. They have to keep out of your face and be able to stay intact throughout the day.
16. High ponytail
If for some reason you are in a hurry and can't opt for something complicated, make a simple high ponytail. This hairstyle is comfortable to wear and takes less than a minute to make. It's also a great choice for little girls who might not look well with voluminous and complicated hairstyles.
17. Half braided ponytail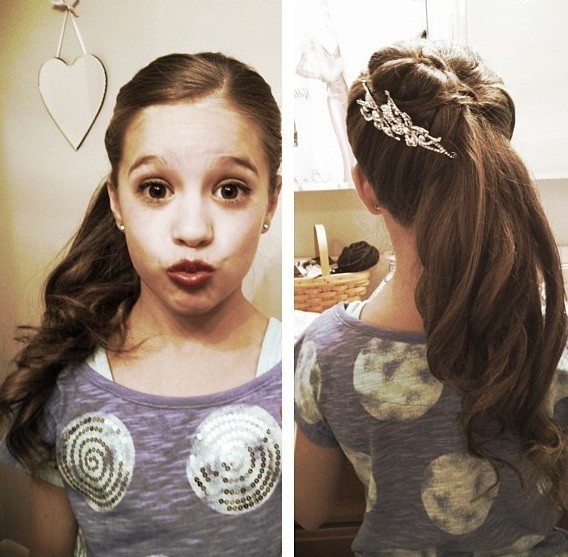 A simple ponytail is great but it would be better to diversify it a little bit. Start braiding your hair in the back and stop half way to make a ponytail. Attach some bright accessories to make this dance hairstyle seem more complicated.
18. Braid extravaganza
If you don't have thick enough hair to make nice cornrows, you can go for just simple braids. Make 10 – 15 thin braids and arrange them on top of your head to make a really impressive hairstyle. Even if they come loose during dancing, they will still look amazing.
19. Accessorize
Accessories are absolutely imperative for a great dance haircut so browse the stores for bows, jewelry, bright pins and etc. If you have a dancing partner, suggest wearing similar accessories to match.
20. High and curly bun
A high bun is the most popular dance hairstyle out there. Diversify it a little by pulling some strands out of it and arranging them around the bun to form a flower. You will need a lot of hair gel to make this hairstyle smooth.
21. Tight hairstyle
If you are about to take part in a dance competition, your best choice would be to get the tightest hairstyle possible. Choose high or medium buns coupled with taut braids. Forget about loose locks. They can make you feel uncomfortable.
22. Asymmetrical braided bun
This bun looks complicated to make but in fact, it is more complicated to keep it intact. Make a ponytail and create two separate braids out of it. Then twist them together and arrange into a low side bun. Use a lot of clips to keep it attached.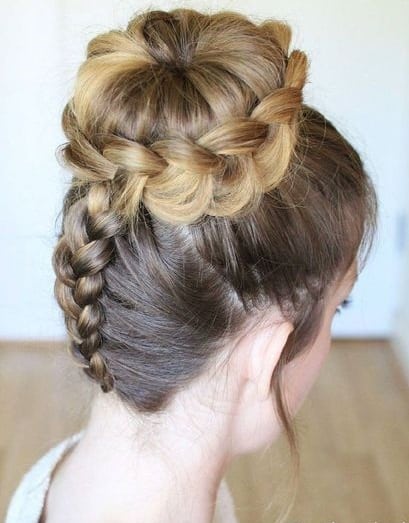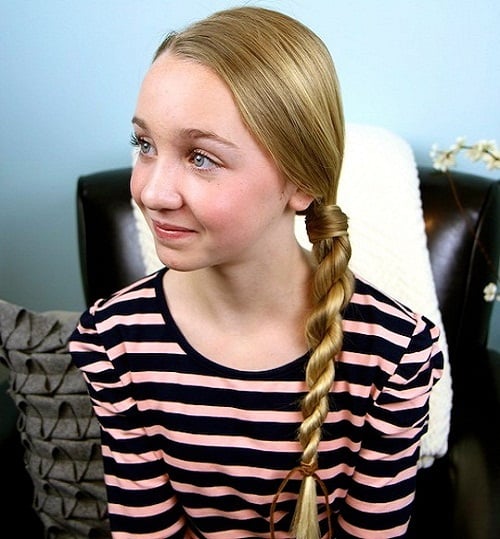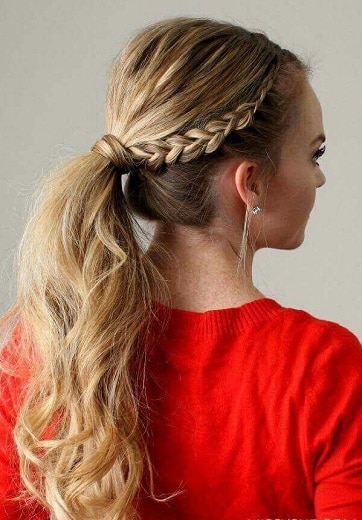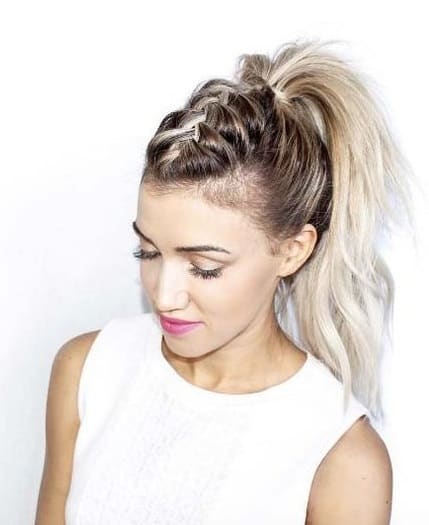 These dance hairstyles will make you feel very confident and comfortable regardless of the occasion. They can also be made on a daily basis to avoid hair getting into your face as well as frequent touch ups. Remember, the tighter such hairstyle is, the better it will suit your purpose.