The disconnected quiff sounds suspect, more like a sex move than a hairstyle, but it's definitely the latter. You can think of a quiff as a combination undercut and business cut, with a little flow and mohawk thrown in, possibly peppered with some spike.
In the UK, a quiff is a haircut that's longer on the top and short on the sides—sounds familiar, right?
The difference is that, with a traditional quiff, cropped sides aren't necessary; they just have to be shorter than the hair on top.
A disconnected quiff is altogether different. Just as the name implies, the quiff—the long hair on top—is somehow disconnected from the sides, which are close-cropped. It's basically an undercut, but with a bit more charm.
5 Appealing Ideas for Styling a Disconnected Quiff
The disconnected quiff hairstyle stands apart from its Yankee counterpart in a few subtle but fundamental ways. There's always a clean separation between the long hair and the edges, sometimes a shaved part and sometimes a clear delineation. In buzzing the sides, there's typically a fade involved, although it's up to you to choose a subtle fade or a more distinct design.
Disconnected quiffs are usually designated by longer strands on top, but it's an adaptable haircut, so that's really up to you. Here's some hair inspiration to give you a better idea of how a disconnected quiff hairstyle should look.
1. Flawlessly Faded
The back and sides of a disconnected quiff are as much a part of the haircut as the top hatch. Most guys go with a faint, subtle fade, but no matter how you buzz the sides, make sure the blending is perfect.
Inspiring Soccer Player Haircuts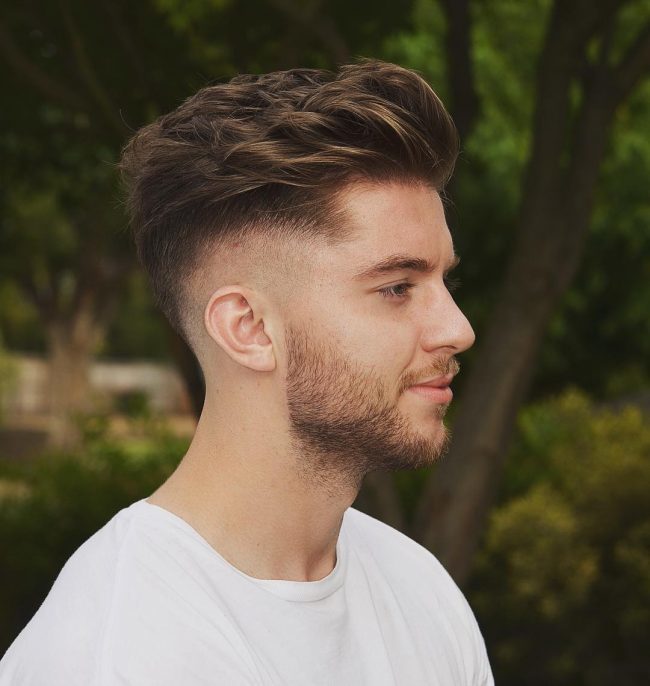 This tousled undercut is cute, practical, and takes little to no styling time. You should also note the sides—that fade is much more pronounced, making it an eye-catching detail that draws attention to the disconnect up top.
3. A Line in the Sand
Actually, this is a line in the scalp. It's crisp, clean, and precise, plus it draws a clear separation between the back and sides of the head and the tousled tresses above. That's another great thing about quiffs—neatness doesn't count.
Most Handsome Quiff Hairstyles for Men
4. A Spiked Quiff
No hairstyle is sexier or more bad-boy appealing than a spiked disconnected quiff. Spikes are de rigueur for bad boys, anyway. Adding an undercut with a fire fade, bold brows, and flawless facial hair takes the whole thing to the next level. You've got to give the boy props for those eyelashes, too. Damn.
5. The Sophisticated Slick-Back
As you can see, it's possible to take the quiff in a sophisticated direction, as well. A hairstyle like this is straight off the runway—or Wall Street. It's versatile, particularly anytime you need to look fresh to death and dressed to impress.
Men's Disconnected Haircuts To Shine
The style of the disconnected quiff frames the face defines the facial features and draws attention to the eyes. You can't go wrong with this cut. So what do you say? Disconnect from your usual haircut and opt for a spiffy quiff—you'll look terrific.