Out of all the types of braids, double fishtail braids can be the trickiest yet one of the most impressive hairstyles ever known to women. Despite its name that implies double the effort of making a fishtail braid, it is definitely worth the extra trouble. However, no matter how intricate and complex it might seem with the help of our DIYs, tips, tricks, and skills you will get yourself some double fishtail braids larger than life in no time!
DIY Double Fishtail Braids: Become Your Very Own Hair Stylist
Are you low on hair styling budget? Do you want to discover all the tried and true tricks to double fishtail braids? We are here to guide you through this breathtaking journey in every step and every detail. So buckle up, it is going to be a wild ride!
Items And Tools Required:
Hair brush.
Rat tail comb
Elastic hair bands
Bobby pins
Hair spray
Step By Step: How To Make Your Double Fishtail Braids
Double fishtail braids can be tricky, but with the help of our DIY tips below, you will turn from a zero to a professional hairstylist in no time!
Wash your hair to make sure it is fresh and appealing.
Brush your hair until it is tangle free.
Part your hair into sections using a rat tail comb.
Divide each section into two subsections.
Begin fishtail braiding. ( For newbies: take a thin pinch of hair from one side, cross it over, and gather it to the other side of the section. Do the same thing for the other side, continue, and repeat the pattern until you are done.)
Secure the ends with elastic bands with a color that matches your hair color so that they wouldn't stand out and steal the focus from your hairstyle.
Use bobby pins to pin down the braids in place and prevent them from misplacement.
Spritz some fixative hair spray if you want your hair design to last longer.
Tip: Gently pull the fishtail apart if you want to end up with more voluminous braids.
Youtube Tutorial Videos To Help You Turn Into A Pro
Some of us hate reading about something and would rather experience it through visual live instructions. So, these detailed youtube videos can be extremely helpful for girls who like to act instead of study theoretically.
In the video above, double fishtail braids are used to come up with a gorgeous up-do preferably for a more formal event.
However, if you are looking for a double fishtail braid to suit both of your casual and formal adventures then this video offers you one of the trendiest looks for this season! Make sure you check it out.
Top 10 Double Fishtails Braids We Love
Picking out the hairstyle that best fits your preferences and interests to reflect the right first impression about you is hard enough. Especially when you are entitled to nail a design as tricky as double fishtail braids. So, we have saved you the trouble of searching around and gathered 10 of the finest double fishtail braided designs. Check them out in our digital catalog below!
#1. Half Braid Half Ponytail
Summer is just right around the corner, and this definitely looks like a design to regenerate the vacation vibes through. And what makes it so appealing is that it combines the aspects of both a regular cute double ponytail with the intricate double fishtail braids skills to give you one flawless design.
Tip: Let the front hair locks hang freely for an additional feminine touch.
If you wish to learn all about this design, check out this youtube tutorial video fetched especially for your own convenience.
#2. Every Bride Needs A Braid
Double fishtail braids are extremely versatile. They can go with every single upcoming event from casual strolls at the mall to your bridal hairstyle on your big special day. So, what these braids do is that they meet whimsically brushing down her bare skin, thanks to the backless dress, turning it into the focal point that everybody should pay attention to.
#3. Summer Vibes
Nothing goes with a sun-kissed tan, a pair of RayBan sunglasses, and a killer swimsuit better than a double fishtail braid design to render it perfect. Because summer days imply sweaty faces, you need to get your hair as far as possible from your face in such humid weather. Therefore, braids appear as your ultimate savior to end your never-ending vacation torture and allowing you to actually sit back and relax worry – free.
Top Picks: Fishtail French Braids
#4. Katniss Everdeen Style
Inspired by The Hunger Games one and only beauty, Katniss Everdeen, we introduce this design for movie enthusiast who likes role play. However, this braid can make you like a ferocious warrior while maintaining all of your cute feminine aspects. So, all you need to do is start it off with double fishtail braids and then combine them into one braid that goes all the way below the nape of your neck once they reach the middle of the back of your head.
#5. Double Braided Updo
For further elegance, here is one of the finest eclectic braided updos you might ever come across! It starts off with two side fishtail braids that meet at the back of your head to form a low bun. What makes it so popular is that it is extremely functional:
Keeps your hair out of your face.
Offers a touch of elegance and poise.
Shows off your femininity by allowing you to flaunt visible earrings and necklaces.
#6. Chunky Double Fishtail Braids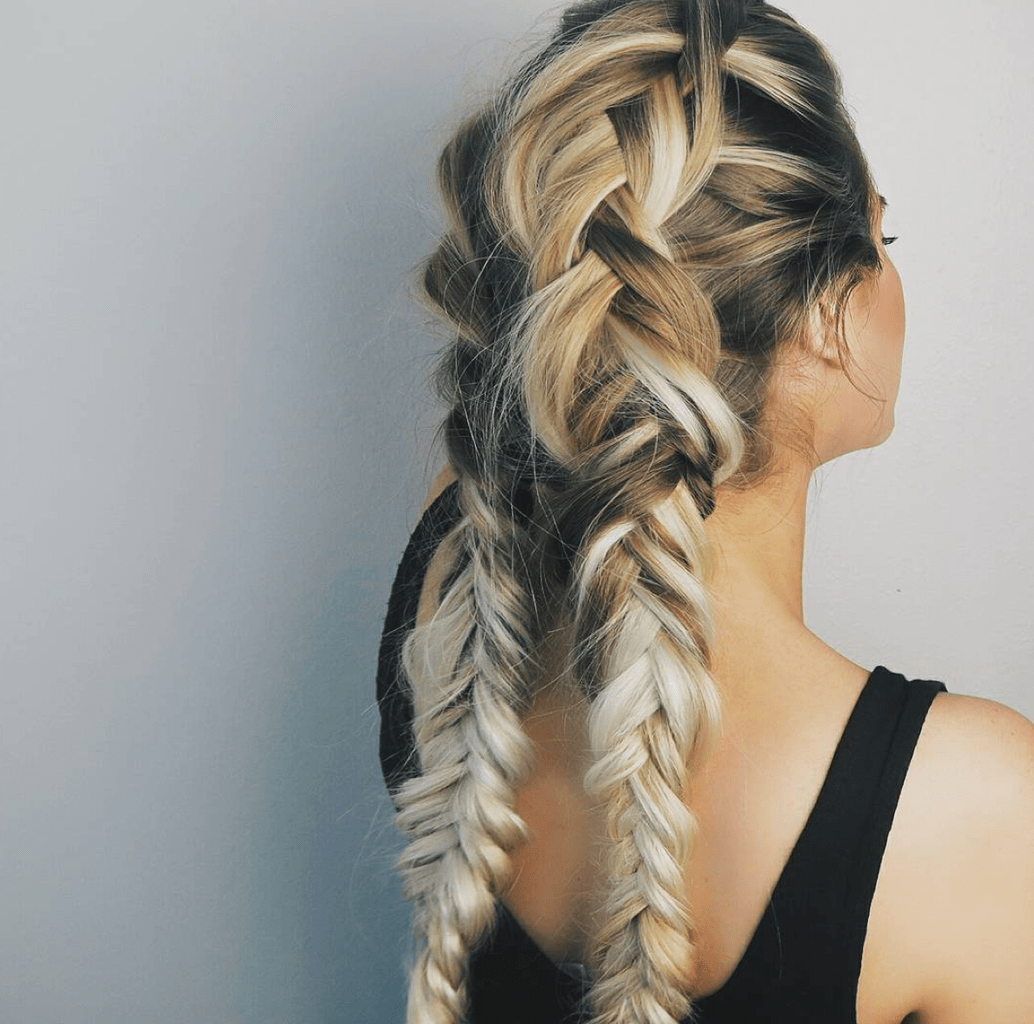 Playing with the size of your fishtail braids can pay off. Especially when you decide to go with extra chunky braids that offer extra volume and attention like the ones shown in the example above.
Tip: This design suits working out at the gym or casual everyday hangouts. But never wear it to a formal event.
#7. Fun With Colors
Sometimes braiding skills is not everything that you need to take care of. Playful colors and contrasting combos can make the perfect attention glow – in – the – dark sign for everybody to stare at. And since it is obviously a 100% guaranteed method, then go ahead and have fun with colors!
#8. School Girl Braids
While everybody is aiming for exotic hairstyles, you can go simple and adopt the double fishtail braids for the ultimate practical school look. And why you may ask? Because it can last longer than any design you might have in mind without needing any sort of maintenance. And that is exactly the kind of design you should look for regarding school or workout sessions.
#9. Ombre Effect
While everybody goes for the ombre effect using fading out color tones, you can apply the same ombre concept but from a totally different perspective! Check out this double fishtail braids design that is based on the idea of changing the scale factor as it descends slowly to become almost invisible at the tips of the braids.
12 Artistic Medium Box Braids Women Love
#10. Side Braids With Ponytail
Not all braids dangle from the nape of your neck. Some braids are designed for the sole purpose of being propped up on the sides just like it is illustrated in the photo above where the designer uses the double fishtail braids to form a princess – like – crown figure to symbolize a majestic design.
The Striking Big Twist Braids for Women
Finally, recreating double fishtail braids is not as hard as it seems. You only need the right design to go with the event's dress code and you will be good to go. And don't forget to keep in mind three major factors: hair length, volume, and color. Because without them your braids wouldn't look the same.