Out of all the types of braids, double fishtail braids can be the trickiest yet one of the most impressive hairstyles ever known to women. Despite its name that implies double the effort of making a fishtail braid, it is definitely worth the extra trouble.
Double Fishtails Braids
We have saved you the trouble of searching around and gathered 15 of the finest double fishtail braided designs. Check them out in our digital catalog below!
1. French Fishtail Braids for Black Hair
You can reinvent yourself every season with a gorgeous hairstyle. This time, if you want to pull off a look that is worthy of a red carpet, double fishtail braids for black hair will really spice things up!
2. Double Top Fishtail Braids
When you have your mane cut in a bob haircut, part the top in two pieces and go for double fishtail braids for short hair. Pin both of the knits in a bun and you'll obtain a hairstyle that elongates your face and reveals the forehead.
3. Double Fishtail Updo
Whether you are attending a wedding or a fancy party, a double fishtail braided updo will easily capture everyone's eyes. Decorate the braids with flowers or your favorite clips. Make sure to pull off the edges if you want a voluminous updo.
4. Double French Fishtail Braids
Master a look that will make you seem younger by splitting your mane into two sections and building two French fishtail braids. Spare a few strands from the bangs and let them fall on the forehead.
5. Double Fishtail Braids for Thick Hair
When you have thick hair, any hairstyle will look marvelous on you. Go for double fishtail braids and easily pull off the edges to make them look chunkier. Wear a golden crown and go for a glittery makeup if you want a look that is perfect for a themed party.
6. Half Braid Half Ponytail
Summer is just right around the corner, and this definitely looks like a design to regenerate the vacation vibes through. And what makes it so appealing is that it combines the aspects of both a regular cute double ponytail with the intricate double fishtail braids skills to give you one flawless design.
7. Every Bride Needs A Braid
Double fishtail braids are extremely versatile. They can go with every single upcoming event from casual strolls at the mall to your bridal hairstyle on your big special day.
So, what these braids do is that they meet whimsically brushing down her bare skin, thanks to the backless dress, turning it into the focal point that everybody should pay attention to.
8. Summer Vibes
Nothing goes with a sun-kissed tan, a pair of RayBan sunglasses, and a killer swimsuit better than a double french fishtail braids design to render it perfect. Because summer days imply sweaty faces, you need to get your hair as far as possible from your face in such humid weather.
Therefore, braids appear as your ultimate savior to end your never-ending vacation torture and allowing you to actually sit back and relax worry-free.
9. Katniss Everdeen Style
Inspired by The Hunger Games one and only beauty, Katniss Everdeen, we introduce this design for movie enthusiast who likes role play.
However, this braid can make you like a ferocious warrior while maintaining all of your cute feminine aspects.
So, all you need to do is start it off with double fishtail braids and then combine them into one braid that goes all the way below the nape of your neck once they reach the middle of the back of your head.
10. Double Braided Bun
For further elegance, here is one of the finest eclectic braided updos you might ever come across! It starts off with two side fishtail braids that meet at the back of your head to form a low bun.
11. Chunky Double Fishtail Braids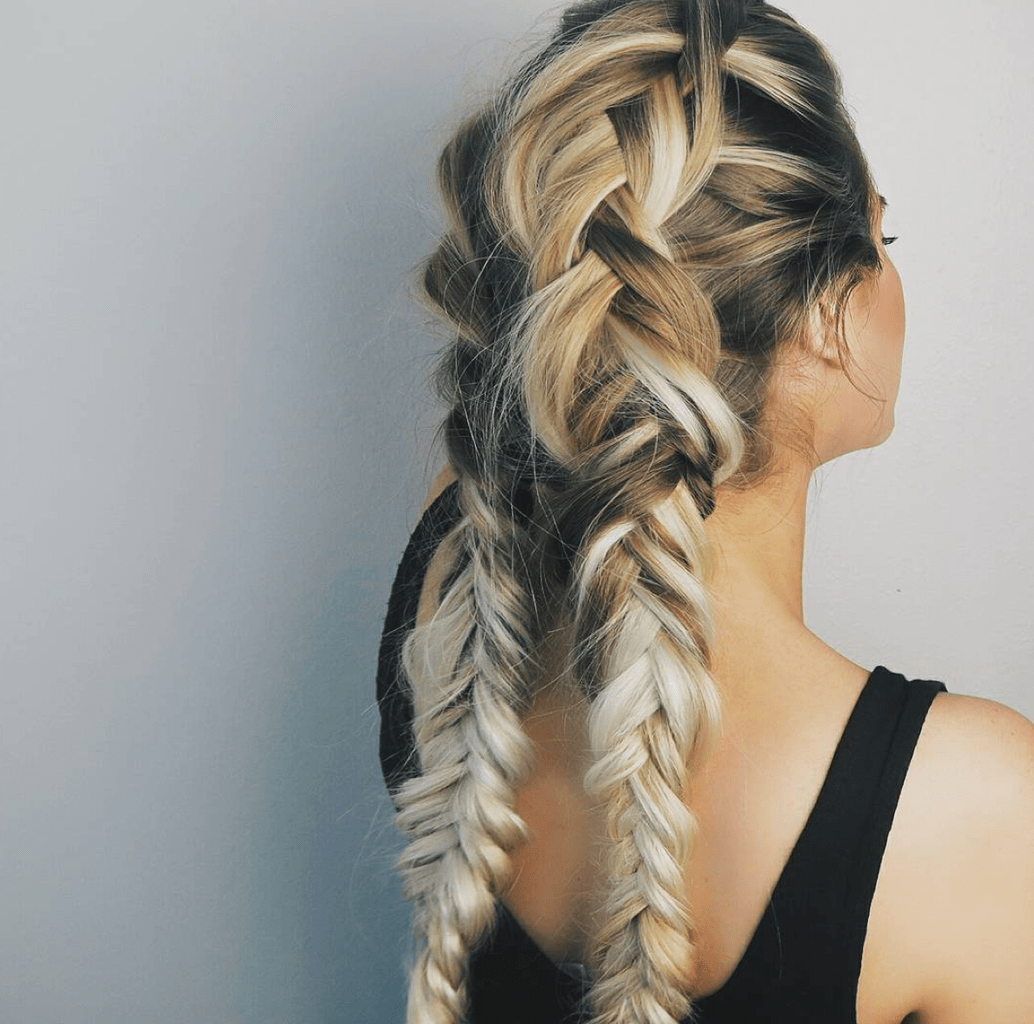 Playing with the size of your fishtail braids can pay off. Especially when you decide to go with extra chunky braids that offer extra volume and attention like the ones shown in the example above.
12. Fun With Colors
Sometimes braiding skills is not everything that you need to take care of. Just make fun with two fishtail braids!
13. School Girl Braids
While everybody is aiming for exotic hairstyles, you can go simple and adopt the double fishtail braids for the ultimate practical school look. And why you may ask?
Because it can last longer than any hairstyle you might have in mind without needing any sort of maintenance. And that is exactly the kind of design you should look for regarding school or workout sessions.
14. Double Dutch Fishtail Braids
While everybody goes for the ombre effect using fading out color tones, you can apply the same ombre concept but from a totally different perspective!
Check out this double fishtail braids design that is based on the idea of changing the scale factor as it descends slowly to become almost invisible at the tips of the braids.
Artistic Medium Box Braids Women Love
15. Side Braids With Ponytail
Not all braids dangle from the nape of your neck. Some braids are designed for the sole purpose of being propped up on the sides just like it is illustrated in the photo above where the designer uses the double fishtail braids to form a princess-like – crown figure to symbolize a majestic design.
The Striking Big Twist Braids for Women
Tutorial: Learn How to Style Two Fishtail Braids
Some of us hate reading about something and would rather experience it through visual live instructions. So, these detailed youtube videos can be extremely helpful for girls who like to act instead of study theoretically.
In the video above, double fishtail braids are used to come up with a gorgeous up-do preferably for a more formal event.
Finally, recreating double fishtail braids is not as hard as it seems. You only need the right design to go with the event's dress code and you will be good to go. And don't forget to keep in mind three major factors: hair length, volume, and color. Because without them your braids wouldn't look the same.