Women are always looking for ways to look younger and thinner without a lot of effort. That's where a new hairstyle can work miracles! It may just be hair, but how you style it can make all the difference.
For example, to look younger, side swept bangs and layered pixie are recommended. Bluntly cut or straightened hairstyles have the ability to make you look older and can also make your face look wider.
So, which haircuts make you look younger? Check out the hairstyles below. They work for any length of hair, and we'll show you how to do them right so you can see yourself in a better light!
Hairstyles to Look Younger and Thinner
Pick one of the beautiful hairstyles below to instantly look slimmer and younger! Shave 10 years off your look!
1. Choppy Bob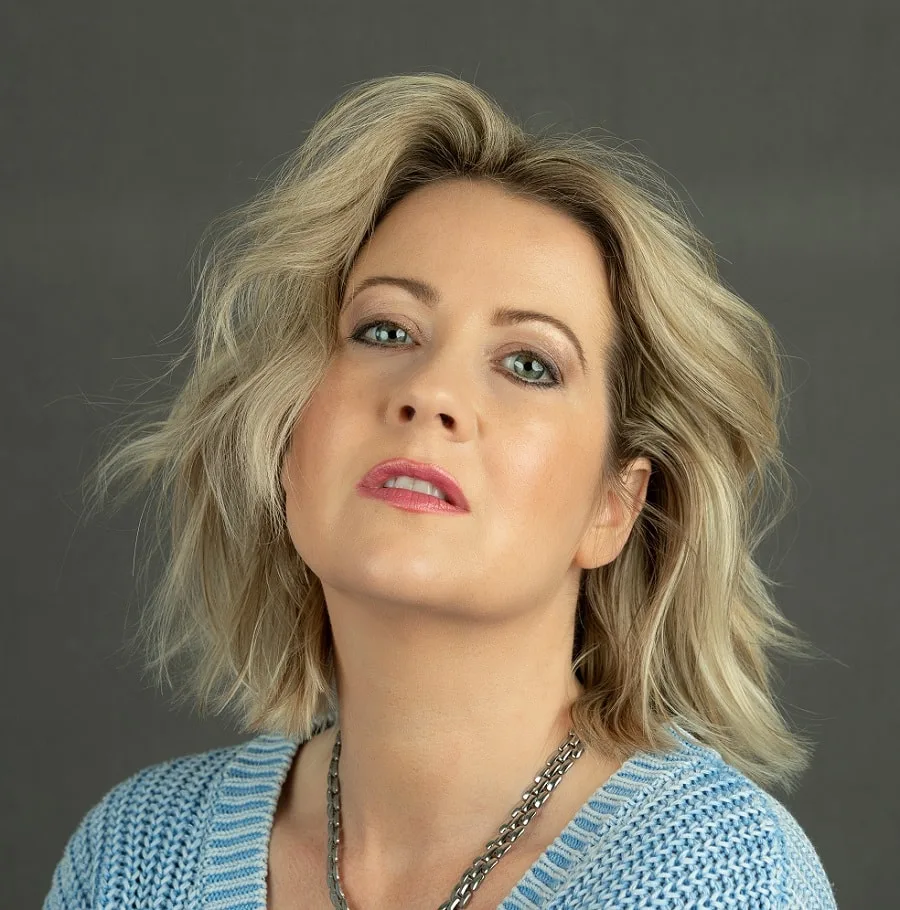 Get the voluminous mane you've been dreaming of by asking your hairstylist for a bob with choppy layers. More volume from layered waves that curl outward from the face will help a round face look slimmer.
2. Opt for Bangs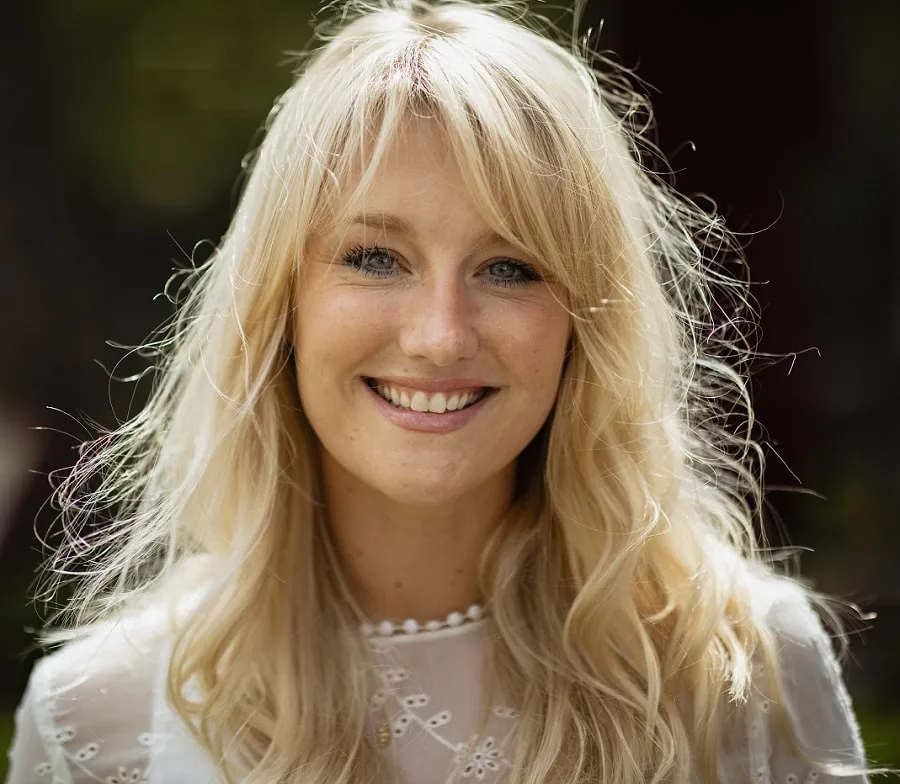 Curtain bangs are a youthful touch to any haircut, including this long, blonde wavy style. They're softer than straight or bluntly cut bangs. When you're going out, you can wear them like above or brush them to one side with a bedazzled hair clip.
3. Waves Are Best
Get a glow-up from light brown lowlights! We love how they give rich color to this long hairstyle on a woman with a wide face. The loose waves lie gently along the face for a younger look. For easy styling, just use your fingers to comb in a subtle off-center part.
4. Dyed Hair
There's nothing worse than a bad dye job when you're trying to create a younger, thinner look. If your natural hair color is dark or a medium brown, opt for blonde or caramel balayage.
A slender face shape can be accentuated by parting hair just slightly off center and wearing it in long layered curls.
5. Add Layers
Whether you have too much body or not enough, adding layers is the solution for creating texture and shape.
Face-framing layers, in particular, are ideal for elongating the face. The beautiful haircut will also make women with graying hair embrace their age!
6. Pixie + Highlights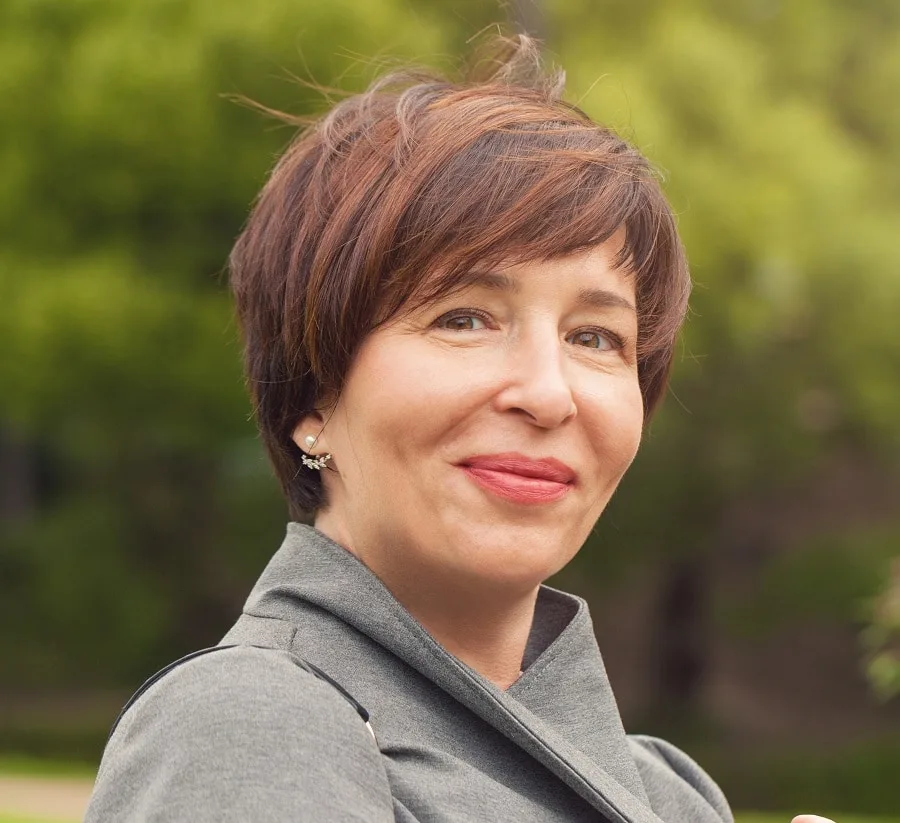 Another way to create a younger hairstyle is with highlights. For a brunette base color, try lighter brown or mahogany highlights. This color combination looks beautiful on a layered, straight pixie cut.
7. The Formal Look
Going somewhere special and need a fabulous hairstyle to match? This low half-up ponytail is easy for any woman to style. The lift of the hair combined with chic curtain bangs instantly gives your cheekbones a lift, creating a younger look.
8. Try Some Extensions
Braids are a popular hairstyle for black women because of their versatility in styling. Even if you have gray or silver hairs, this is another half-up hairdo that works in favor of making you look younger, as well as thinning a wide face shape.
9. Messy Updo
Bedhead hairstyles are reminiscent of our younger days when many of us could roll out of bed without much thought to our hair and still look good.
Get a good-looking messy hairstyle again and accentuate a thin face shape by loosely gathering your long hair into a low bun, leaving tendrils loose around the face.
10. Bangs to the Side
A bit of fringe is a great way to freshen up your look. Match them with a short bob and watch how they cover up any forehead wrinkles you may have. Wear your hair straight or add a bit of waves to dress up your hairdo.
There are many hairstyle options women can use to look younger and thinner. Whether it's with curtain or side bangs, cutting in face-framing layers, or adding loose waves that pull away from the face, your choices are plentiful. Which one do you think you'll try?