A French Beard (also known as a French cut beard or a goatee) typically extends to the apex of the chin. Although there can be a little bit of facial hair in the other areas of the face, the French cut area should be the most prominent zone. Guys look fabulous with this style of beard.
What Is a French Beard?
A French beard, also called a circle beard, is a goatee or chin strap beard connected to a mustache. It forms a circular shape around the mouth, hence the name. No one is quite sure where it picked up the "French" moniker—these days, it's very much an international style.
Who Should Go for a French Beard?
As the examples in this article show, anyone can look great with a French beard! Embrace the density and texture of your facial hair with confidence, and you'll pull off the look flawlessly. Make sure to trim your beard often to keep it looking sharp.
A French-style beard can be incredibly flattering on those with chiseled jawlines, as fuller beards can hide such an asset.
How To Shape a French Beard
You can start working on your French beard once you have around half an inch of beard growth.
Begin by using a beard trimmer to do the first pass over your cheeks and neck, leaving your mustache and chin untouched.
Next, trim the outline of your beard and mustache into the basic shape you want. Take your time and strive for symmetry!
Now, you will need to clean up your cheeks and neck. Again, go for a luxurious, barbershop-quality shave here—you do not want razor burn or ingrown hairs to detract from the majesty of your beard.
After washing your face with warm water and your favorite cleanser, try applying pre-shave oil to nurture your skin and help your razor glide more smoothly.
Then, to not obscure your beard's outline, use a clear shaving gel rather than an opaque cream or lather. Finally, rinse your razor after every stroke to prevent razor burn.
At this stage, you will want to tighten the edges of your beard using a blade or trimmer sans guard. Here's where you show off your creativity and individuality by personalizing your French-style beard to your tastes.
Finally, finish with a rinse and your favorite aftershave. Do not forget to take a minute to admire your handiwork!
Best French Beard Styles
Look at the below french beard styles to get some ideas for your next beard style. If you want to color your beard, try these blonde beard styles.
1. Hard Man Style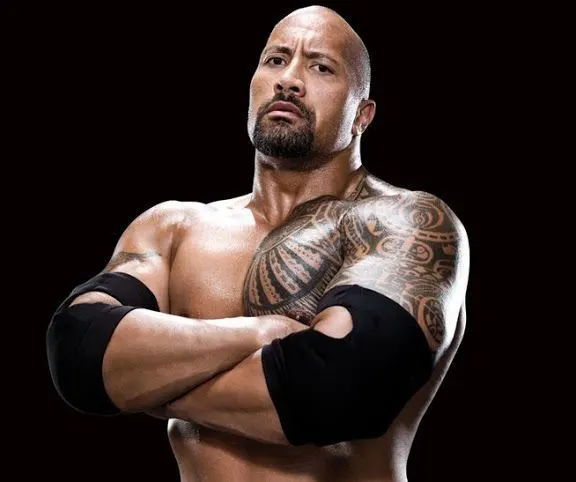 A French beard style can give your face a natural angular style. Fill in the outline of the French cut for a real burst of intensity.
2. Heavy and Tight
A heavy and tight beard creates an intense look for guys. However, keeping the look nice and tight helps show off the face's bone structure.
3. Salt and Pepper
A goatee beard looks great on guys who are starting to go gray. The salt and pepper look is often considered very refined, especially with a well-kept French beard.
4. Braided Fork Beard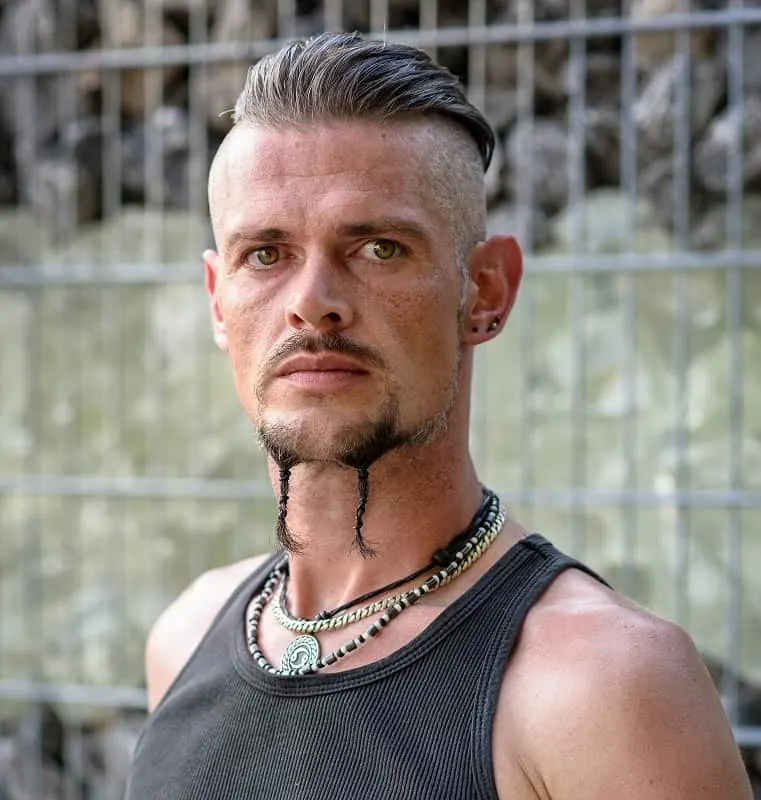 Set your look apart from the rest with a French fork beard. You can wear this hair loose or braid each section to protect hair as it grows to add a little something extra to your style.
5. Sparse French Beard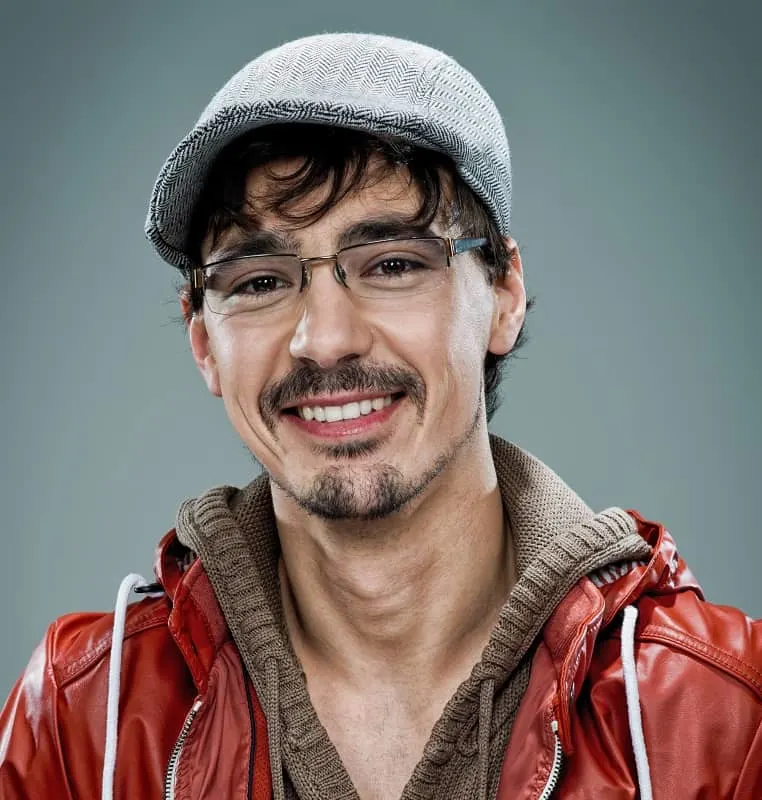 Creating a small and light beard at the base of the chin is ideal for elongating the appearance of a symmetrical or even a round face. Try a little French beard for oval faces and embrace the idea that hair doesn't have to be thick here.
6. Bald Head Beard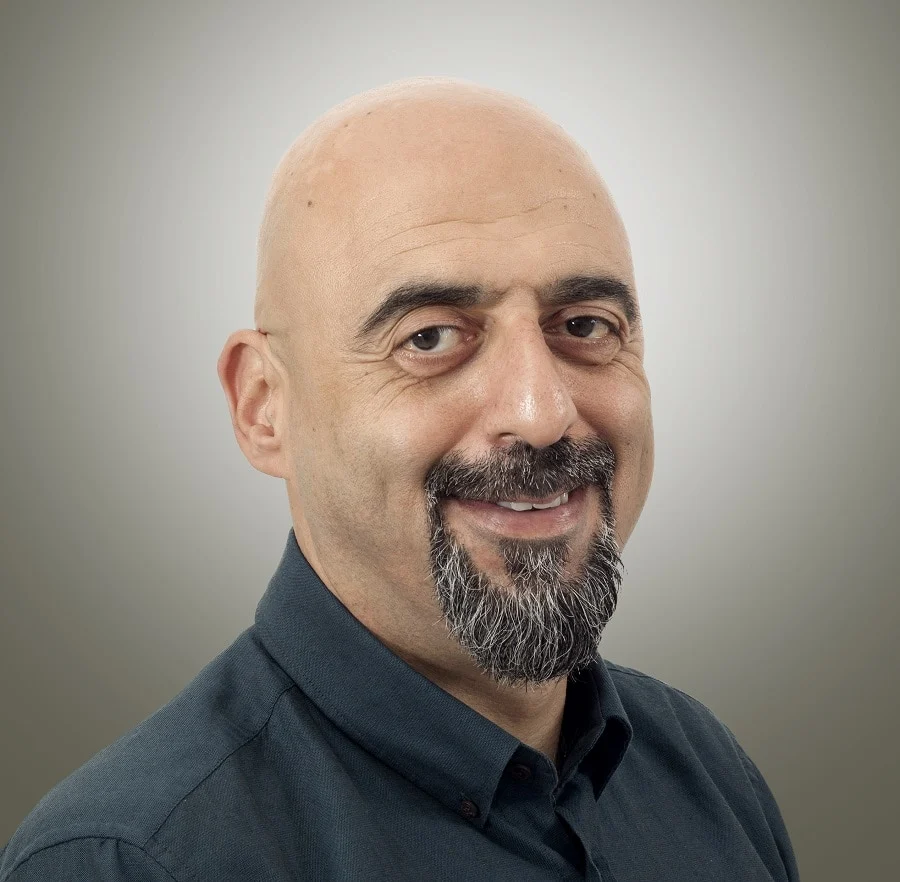 A man who isn't afraid to let his silver streaks show in his beard is a brave one. Grow hair thick, so there's a lot of darkness but there are also a lot of lighter areas, too. Keep the hair on the chin longer than the mustache to make grooming easier.
7. Curly French Beard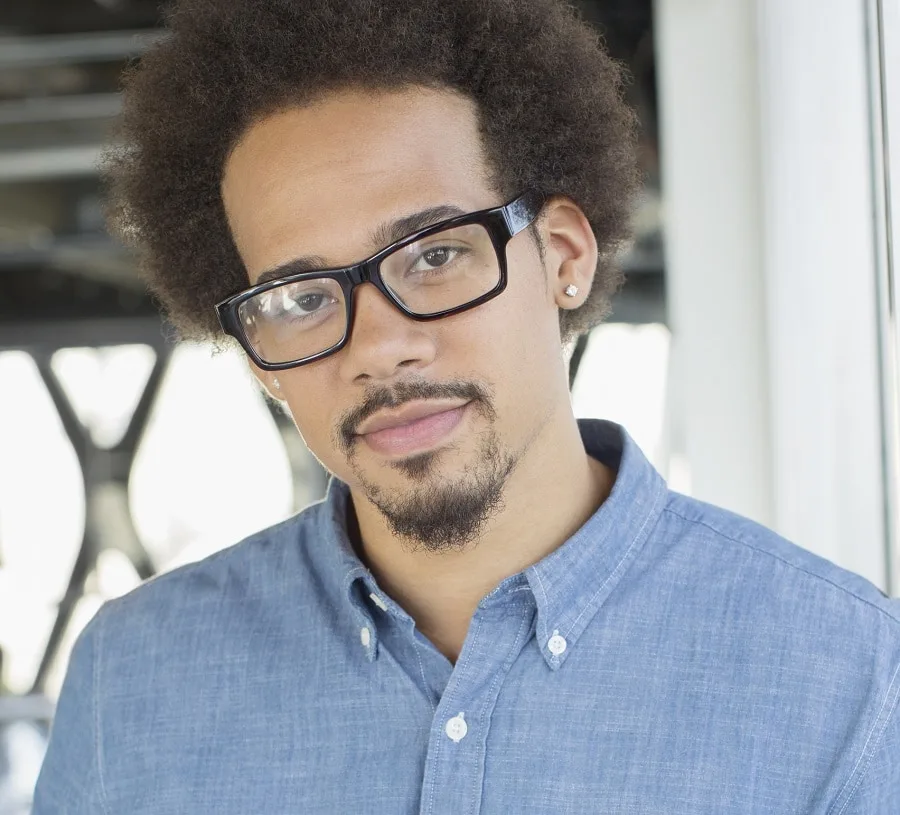 Has your beard got natural curls? Good. Don't straighten it, so now it can match the texture of your head hair. Try to keep the part that on your skin neat, then that the curls really shine in the section that pokes below your chin.
8. Beard for Round Faces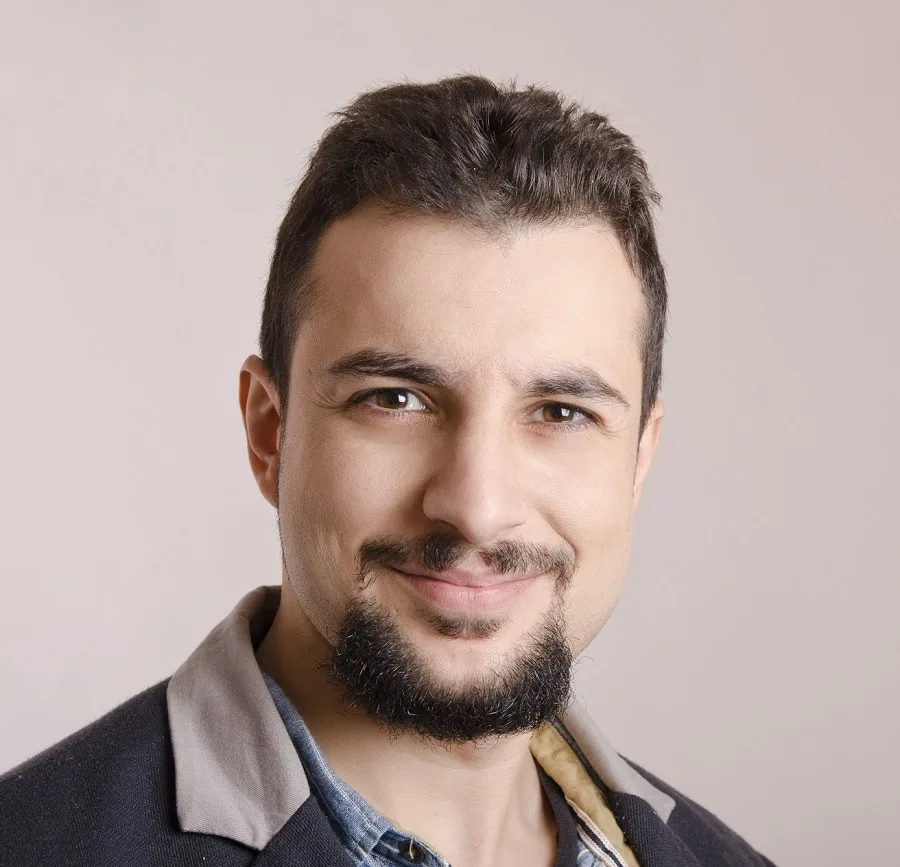 If you'd like to make a round face look more angular, then make sure your French cut beard is thicker in the chin area. Try go for a square-shaped section of hair. This will give the illusion of a distinction between your chin and your jawline.
9. Classy and Grey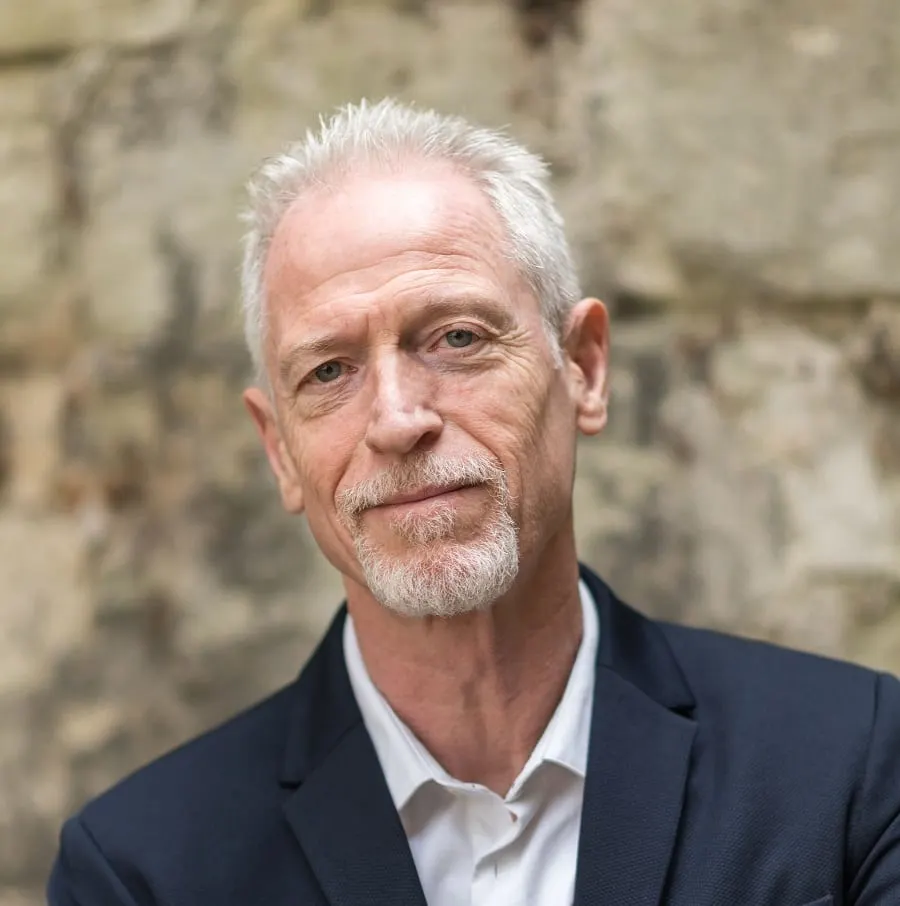 Older gentlemen with grey facial hair should try to achieve the classiest look they can. Let the shape of your beard hug your chin, and make sure the sides are neat but not too straight.
10. Extended Beard
Would you like to look a little different from other men with this same beard style? Let yours extend along the jaw. The beard should get should thinner the further back along the jawline you get. The thinner areas can help show off your natural beard texture.
11. Sparse Red Beard
Guys with red hair may want to show off the vivid shade of their facial fuzz. To do this, keep most of the beards sparse but keep the chin and soul patch area as thick as possible so everyone can see the vibrant color. The thickness also makes up for thinning hair on top if applicable.
12. Thick with Long Moustache
Some guys like a thick covering of facial hair. Part your mustache in the middle and pinch the ends together to make it look neater. Create a rounded shape with your French beard so it doesn't look unsightly below the chin.
13. Sharp Salt and Pepper
You may dye your hair, leaving your beard natural and salt-and-pepper can create a nice contrast for your look. The lighter areas on top of the darker ones also make the hair look very sharp, which gives you a manly appearance.
14. Squared off Beard
Guys with long faces may want to opt for a squared-off French cut beard. The sharp lines will help your face look more angular and less long. The mustache should be mostly straight, and there should be a straight line along the chin section.
15. French Cut with Chin Curtain
Here's another way to make your beard a little more unique. Extended it along the jawline and up toward the sideburn area. Make it thinner towards the back of your face but keep the hair towards the front pretty thick. Work with very even lines to make your facial hair appear bold.
16. Long and Thick Red Beard
Men with vibrant facial hair colors may wish to grow their beards long and thick. The ends of the mustache should obscure the corners of the mouth for this style, and some of the mustache need to hide the top lip. The entire area below the bottom lip should be covered in thick hair.
17. Separated French Beard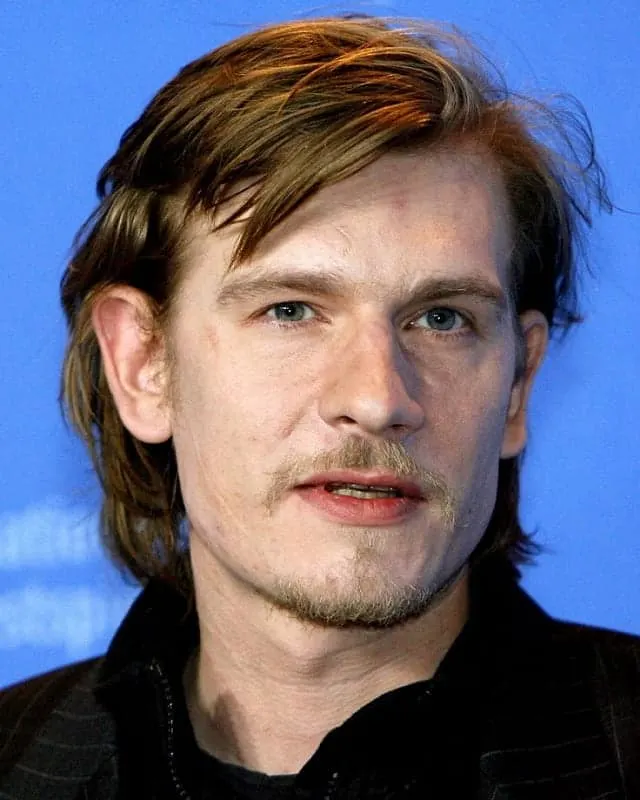 Not all beards of this style have to connect. Have a little hair right on the bottom of your chin and a long mustache that extends towards your lower lip. Don't connect them. This creates a subtler look that's amplified by the light beard color.
18. Clean French Beard
Beards are often seen alongside hair at the upper lip, but you can easily show off your facial structure with a French beard without a mustache. This look feels youthful and helps to open up and draw attention to a brightened face.
19. Beard with Handlebar Mustache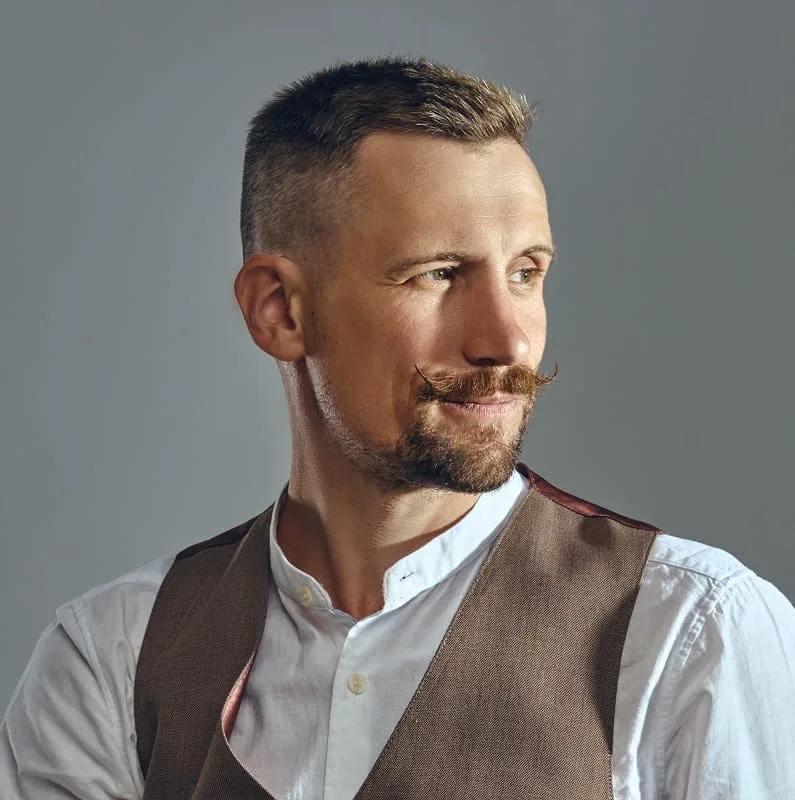 Soften your exciting look with a French beard with a handlebar mustache. This quirky facial hair is fun but feels more familiar with a soft patch of hair covering the base of your chin.
20. Long French Beard
Balance out cool braids or twists with a French beard for Black guys. Fellows with round faces can enjoy the luxury of a longer beard that lengthens the face at its centermost part.
21. Anchor Style
If your French beard style has a slight disconnect between the lower and upper portions, it may be called an anchor beard instead. This is reflective of the anchor shape of the cut.
22. Thin French Beard Style
Celebrities like Will Smith always look stylish with a French beard. A thin style helps to create a sharp and refined look for fashionable guys.
Braided Beard Styles for Brave Men
23. Thin and Wispy
This look is great for guys who have an artistic flair. A thin and wispy style can be grown into a thick and full beard as well.
24. Sparse Beard for Ginger Hair
Light-haired guys know how tough it can be to grow thick beards and mustaches. This minimal beard allows you to grow hair where it comes in the thickest- at the base of the chin. Plus, it adds sharp definition to the jawline.
25. Long French with Thin Trim
Don't overcrowd your face with facial hair. In fact, by adopting a thin beard at the jawline, you'll not only open up your facial appearance, but you'll create definition along the jawline. A thin mustache only adds to this look.
Conclusion
Try out a stylish new look by growing your facial hair into a French beard style. This look is trendy for guys who want to emulate celebrity style.
FAQs
Read the following frequently asked questions to learn about French beard style.
Is a French beard professional?
A short, neatly kept French or circle beard is a classic style that gives off an air of maturity, so it is a great look for people who want to keep their facial hair while working in a more formal environment.
French beard vs. goatee: what's the difference?
A goatee is a style of beard in which the cheeks are clean-shaven, leaving only a mustache and hair on the chin. The French or circle beard is a type of goatee.

In some goatee styles, like the French beard, the mustache and chin hair is connected, whereas they are separate in others.
Are a regular French beard and a French fork beard similar?
No. The French beard and French fork beard do not have much in common aside from their names. A French fork beard is a full beard that splits into two points at the ends.

It is achieved by cutting a triangular shape out of the middle of the beard or by using styling wax.