When you imagine growing a beard, a mustache seems to be a must-have accessory. Rarely men consider beard styles without a mustache.
However, there are plenty of them to choose from. Both a beard and a mustache require special care. If for some reason, you feel as if a beard is taking up so much of your time that a mustache is overwhelming, you can choose one of the most interesting beard styles that don't need a mustache to go with them.
You can always grow a mustache later if you wish. It's a much easier job than growing and shaping a beard.
Why Choose a Beard Style Without A Mustache
When most men see a beard style without a mustache, the first question that comes into their heads is "why". Here are 4 solid reasons to help you understand the mustache-less style. Perhaps they'll inspire you to change your facial hairstyle.
1. You Want to Stand Out of The Crowd
Of course, beard styles with a mustache are not as unique as, say, blue and pink mohawks. Meanwhile, they are much neater looking. Making a statement is your hair is as old as time itself. A smart way to go about standing out of the crowd with your facial locks is to choose a unique beard style.
2. You Are Bad at Shaping a Mustache
Mustaches are easier to grow than beards, but they are harder to shave. They require a certain precision you might not be ready to apply. Instead of torturing yourself every morning, the simple solution is to get rid of it altogether. Meanwhile, a beard might require more maintenance but doesn't need too much precision on your part. So keep the beard, off with the mustache!
3. You Shaved it Off!
Let's admit it. It happened to every man at least once. Shaving off more than you were planning to is a common mistake. Don't get nervous and shave the rest of the beard off if you made a mistake with a mustache. Consider it a chance to create a brand new amazing look. Go through the below options to choose the style.
4. You Are After a Certain Style
Some beards look gorgeous without a mustache. Soul patches and chin curtains are amazing on their own. Growing a mustache can slightly alter the style and make it much less impressive. So if you are after a certain beard style don't be afraid to shave the mustache off.
Best Beard Styles Without Mustache You Can Pick
Another occasion a beard style without a mustache can come in handy is when you make the wrong move with your razor. Accidently shaving a mustache off is not a reason to get rid of the beard, it's an opportunity to enjoy a new style.
We tried hard to come up with 50 appealing options to help you understand how unique and fun the beard styles without a mustache can look. Give at least one of them a try and you won't regret it.
1. Long Front, Short Sides
Just like men's haircuts have a long top, short sides style, so do beards! A scruffy red beard, seen above, helps emphasize the narrow face shape when its longest length is at the chin and sides are short.
2. Wide to Skinny
Another way to give your face some definition is with a beard that is its widest at the chin and thinnest on the sides. This black beard is paired with a brightly colored hairstyle, making for one edgy look.
3. Thin Pointed Beard
If you're a man who finds growing a thick beard a little bit of a challenge, here's how to rock a thin one. The patchy look can be in, just give it a pointed shape near the corners of the mouth like the one above!
4. Squared Beard for Older Men
Even older men can rock a beard without a mustache. This older man styled his white beard into a rounded/squared shape. The widest part covers most of the chin, which could be a great look for men who are trying to distract from a rounded face.
5. Royale Beard
Prefer a minimalistic look when it comes to your facial hair? This ultra thin Royale beard without a mustache is both low maintenance and sure to get you noticed because of its rounded 'w' and pointed shape.
6. Long Chin Strap
While many chin strap beards are relatively thin in their width, this one features a bit more length. It gives a more pronounced look to the face, especially if your facial hair tends to grow in pretty thick.
7. Full Chin Strap
Another handsome take on the chin strap beard style is this thick and short version. For men with wide, round, or square-shaped faces, this beard without a mustache may be quite flattering.
8. White Beard without a Mustache
If you subtract the mustache on this older man's beard, you'll get a more youthful look. Leave the beard wide, but keep it clipped to avoid a sloppy, scraggly appearance.
9. Ultra Thin Chin Strap
A barely there beard with no mustache is another ideal style option for men who prefer low maintenance and minimalistic. Use a hair clipper to maintain the thin shape and length. Luckily these touch-ups are easy to do at home!
10. Long Goatee
Edgy and punk are the two words that come to mind when we see this long goatee. Without a mustache, the beard's pointed shape is what really stands out.
If styled neatly, a simple stubble can look terrific with or without a mustache. You can wait until the beard grows longer to decide whether or not you need to complement it with a mustache. Meanwhile, enjoy the stylish look.
12. Little cheater
If you are planning to grow a long chin curtain, a mustache is optional. While you are just taking the first steps toward a nicely shaped beard style, you can leave some stubble on the upper lip. You'll just have to get rid of it later when the beard takes shape.
13. Chinstrap
Not every man is brave enough to deal with a classic chinstrap. It requires plenty of trimming, shaving, and shaping. Meanwhile, a mustache might seem out of place among such incredible work. Shave it off.
Lincoln beard hasn't gone out of style for centuries, so why not take advantage of it? You can go even further to grow your facial hair much longer than the 16th USA president. A full beard with wild touches is fantastic.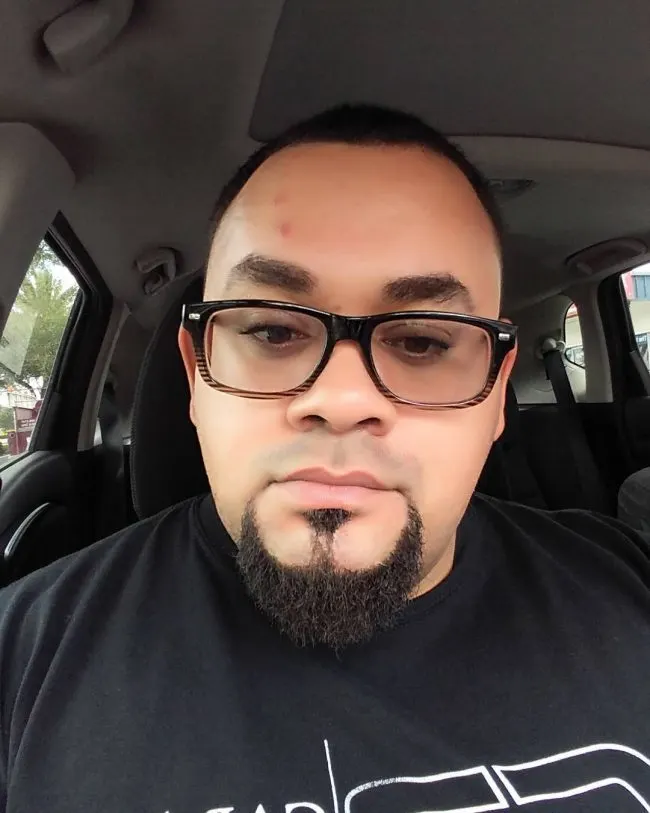 The only way to enjoy the real goatee style is to shave the mustache off. The beard itself looks much more prominent when there is no mustache in sight. This beard style is a wonderful choice for men with thick hair.
16. Neckbeard
A neck beard is another glorious way to make a statement. This beard style without a mustache is so impressive any other facial hair growth would just ruin it. Beware, not everyone has enough hair on their necks to grow such a beard.
17. Classic goatee
A classic goatee doesn't require a mustache. So if you are after class beard styles, you need to forget about the hair growth on your upper lips. Small goatees are easy to maintain especially if you don't need to worry about mustache trimming.
18. Full goatee
This full beard and goatee mix are a wonderful choice for men who are not afraid of beard shaping. This style is impressive yet very neat and stylish. Any man with enough patience and thick hair can produce such a masterpiece.
19. Slightly bearded
If you are just starting to grow a beard and the hair is sticking out all over the place, don't make the picture worse by growing a tiny mustache. Unless you can grow an impressively thick stubble on your upper lip, shave the mustache off.
20. Style mix
Both goatee and chinstrap are considered to be beard styles without mustaches. If you are going for the mix of the two, the mustache is definitely out of the question. If you are into the classics, keep your upper lip shaved.
21. Light it up!
If a beard style without a mustache is your way to make a statement, go further to experiment with hair colors. In this case, you can shave the mustache off in order to outline the special look of such beard. Don't forget about the hair on your head!
22. Soul patch mixing
This beautiful short beard style without a mustache can make any man look intriguingly soft yet masculine. You can add a mustache but the softness will be lost. A soul patch with a chin curtain is a wonderful combination.
23. Smart approach
Everyone sports a beard but you think it's too much hassle? Shave your facial hair off and leave just a small beard patch on your chin. Such special beards are a great way to stand out of the crowd and make your own personal statement.
24. Schoolboy stubble
Wondering which way to go about the beard but can't pinpoint what you want. Look where your facial hair grows the best. Most men have good mustache growth while others have unpretty patches. If you are the latter, forget the upper lip hairstyle.
25. Minimized hassle
If your goal is to keep the beard hassle to a minimum or you feel as if you don't have enough hair to grow a prominent beard, go for a minimalistic approach. A small soul patch coupled with a tiny chin patch looks amazing on young men.
Best Teen Guy Haircuts and Hairstyles
If you are still wondering if a beard style without a mustache is suitable for you, the only thing you can do is try. Don't worry, you can always grow a mustache fast if you don't like the result.