Light-colored facial hair has an appeal all its own. Blonde and reddish-blonde beards are not as common as darker beards. This means that if you have light-colored facial hair, working with it, growing it, and styling it can all give you a striking look, one that sets you apart from the rest of the crowd.
Blonde beard styles are always in, and if you are lucky enough to have a blonde beard, let it work to your advantage by emphasizing your handsome face!
How to Dye Your Beard Blonde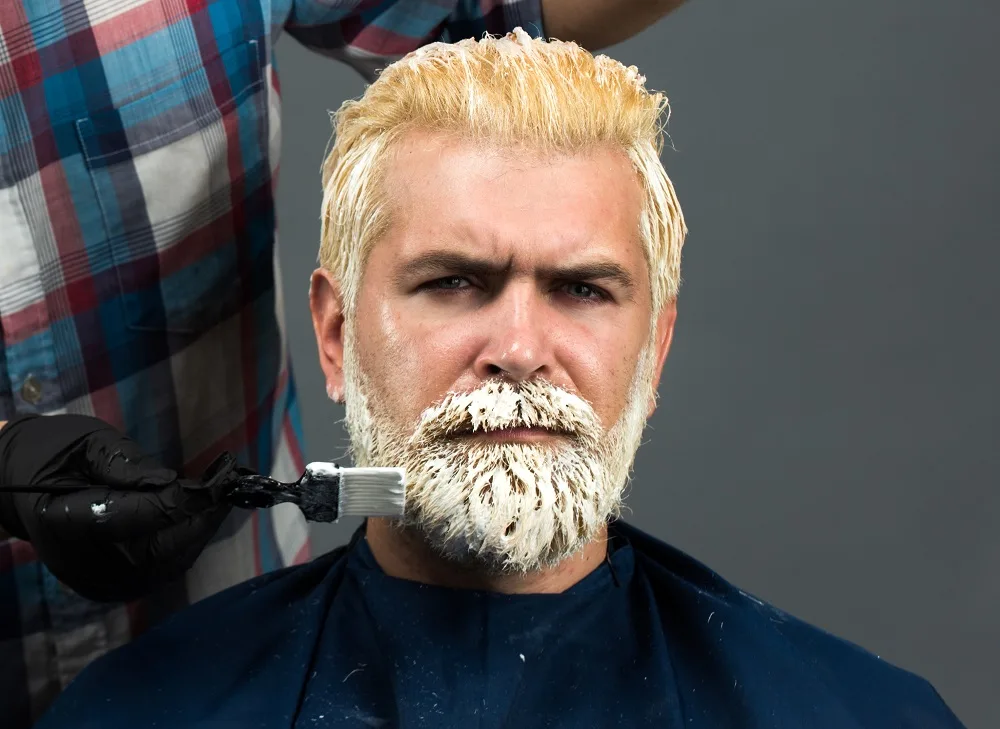 Whether you want to take care of white hairs in your beard or you want to change up your facial hair, you can dye your beard blonde. The easiest way to dye your beard is to use dye products specifically for beards. You can find them in stores or purchase some online, but take care not to damage your beard hair.
Make sure to do a patch test before you apply the beard dye. Take a small portion of the dye, and place it on your inner elbow. If you experience any adverse reactions, don't use the dye on your face.
There are home recipes you can use to dye your beard as well. The color might not last as long as beard dye, but the products will be safer to use. Things like honey, lemon juice, and apple cider vinegar make excellent alternatives to hair dye and are easy to find at home.
Maintenance Tips for Blonde Beard
Though there isn't a specific timeline for how soon beards grow, you may have to wait a while before your blonde beard grows in. Have patience if you struggle with growing a beard, and don't be afraid to wait for your beard to grow into something more substantial. If you have thin hair, use products to increase your beard's volume so you have as much hair to work with as possible.
Once you have a beard that you feel comfortable working with, you have to wash it regularly. Twice a week should be enough to keep the hair clean and healthy. You also must trim your beard to a comfortable length and shape.
Both of the above tips will make it easier for you to manage food getting stuck in your beard. If your hair is too light for your liking, don't be afraid to dye your beard. You should take some precautions, so you don't irritate your skin or dye your hair the wrong color.
Blonde Beard Styles
Whether your beard is platinum, golden or ginger blonde, there's a style to suit you.
1. Short Blonde Beard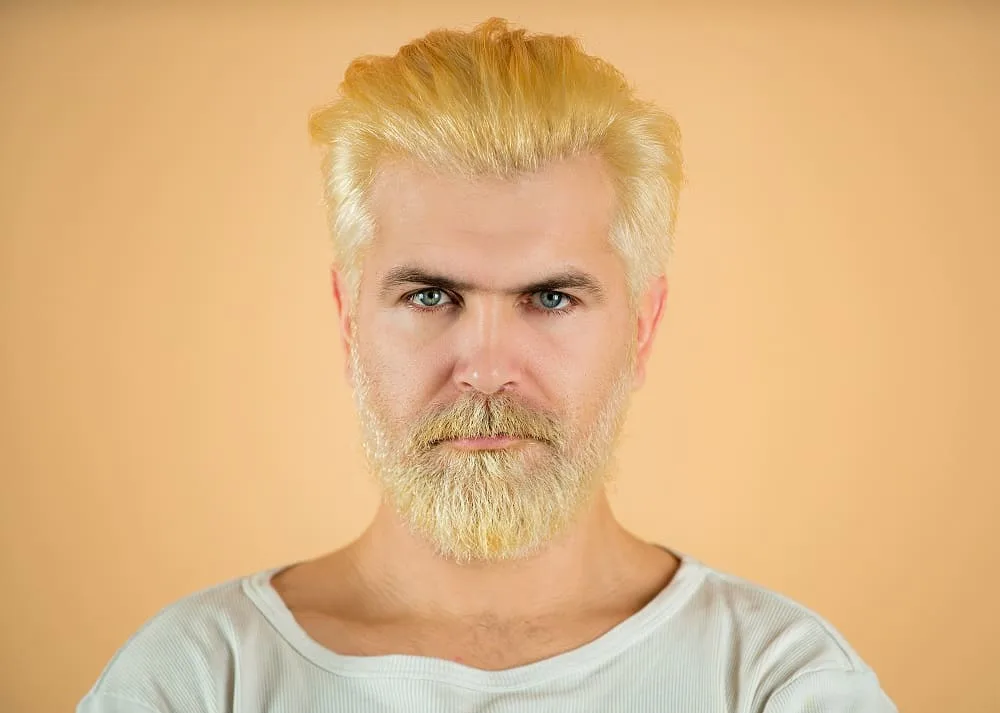 When you have blue eyes and blonde hair, you might want to give your look an eye-popping vibe. You can do so by using yellow dye, not only for your hairstyle but also to make your beard and moustache stand out.
2. Mustache and Goatee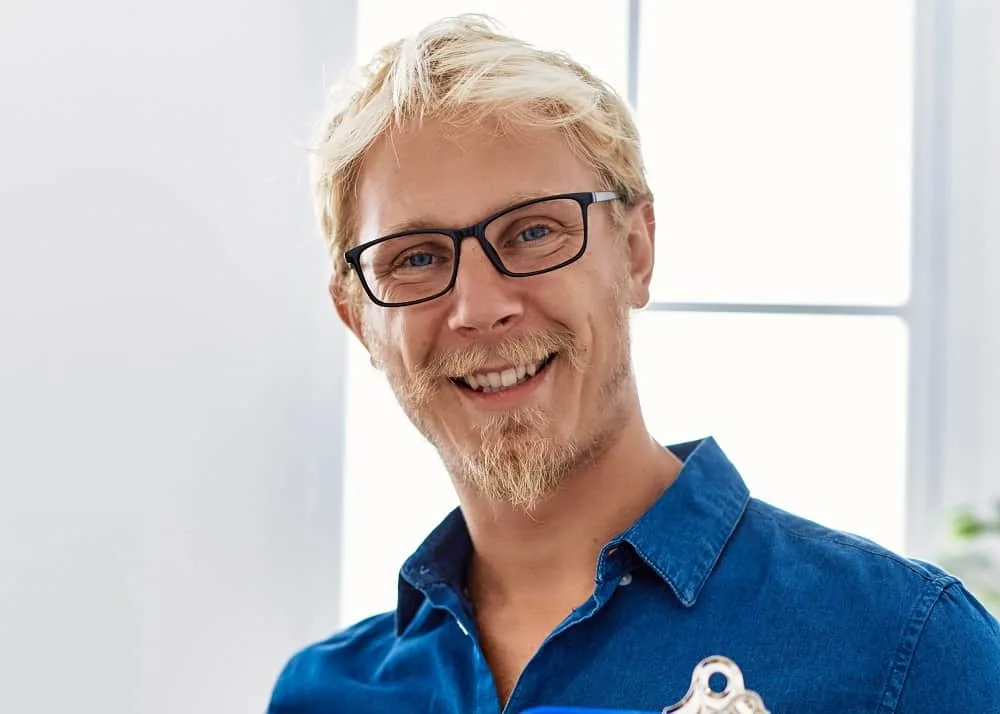 A goatee that is quite well highlighted makes your face look longer. It is a great way to compensate for that thin facial hair that grows on your cheeks and jawline. Complete the look with a thick moustache. Also, if you have blonde hair, you might consider getting black thick-framed glasses to draw all the attention to your blue eyes.
3. Strawberry Blonde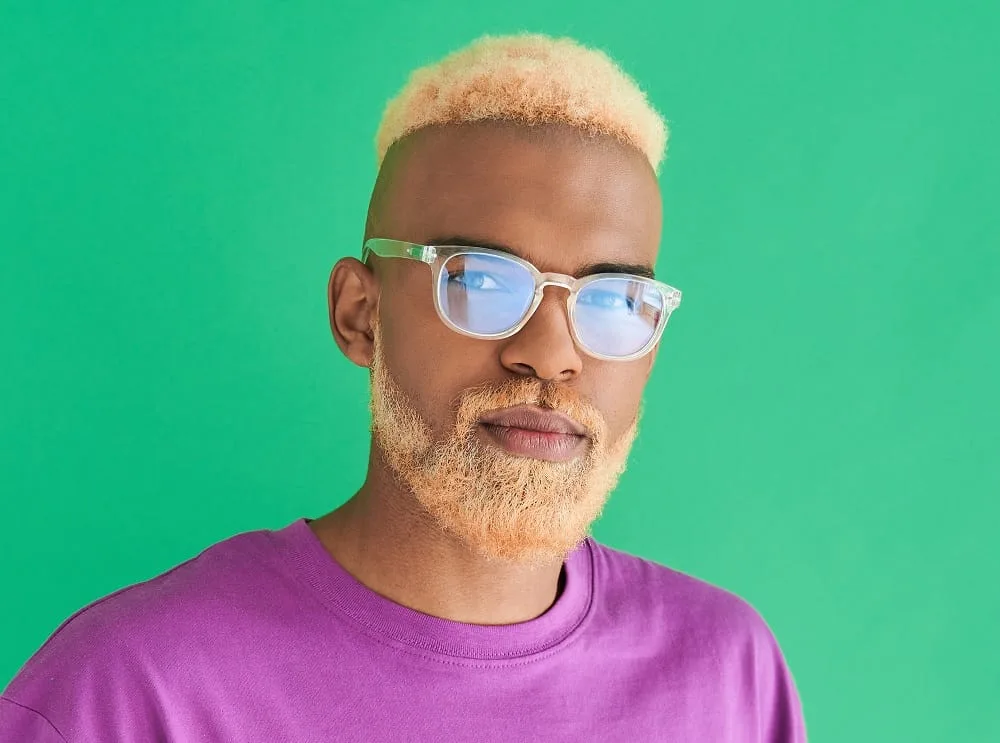 A strawberry blonde colour is a wonderful idea for black men who want a stunning look and a modern approach. Opt for bald sides and back and keep the crown hair longer, dyed in this amazing color. You should definitely match it with your beard!
4. Highlighted Goatee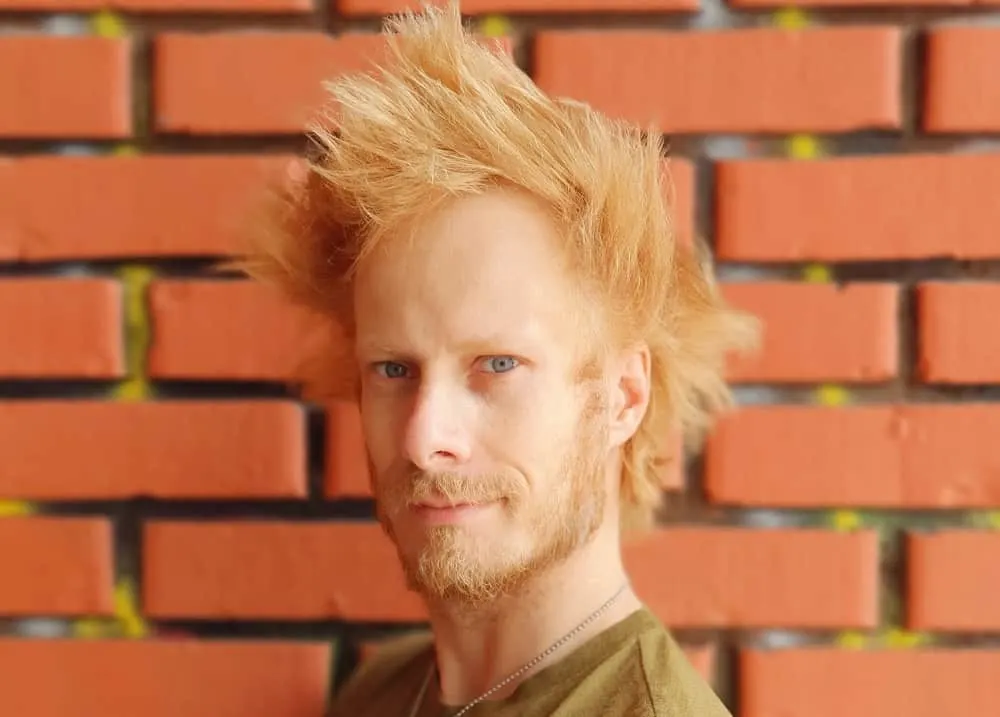 This blonde beard style is the best approach for men who have a not-so-thick and long beard. If you are in love with messy pink hairstyles, you should grow your hair because it provides a lot of styling opportunities. Lift up your tresses and use hairspray to keep them in place.
5. Twisted Mustache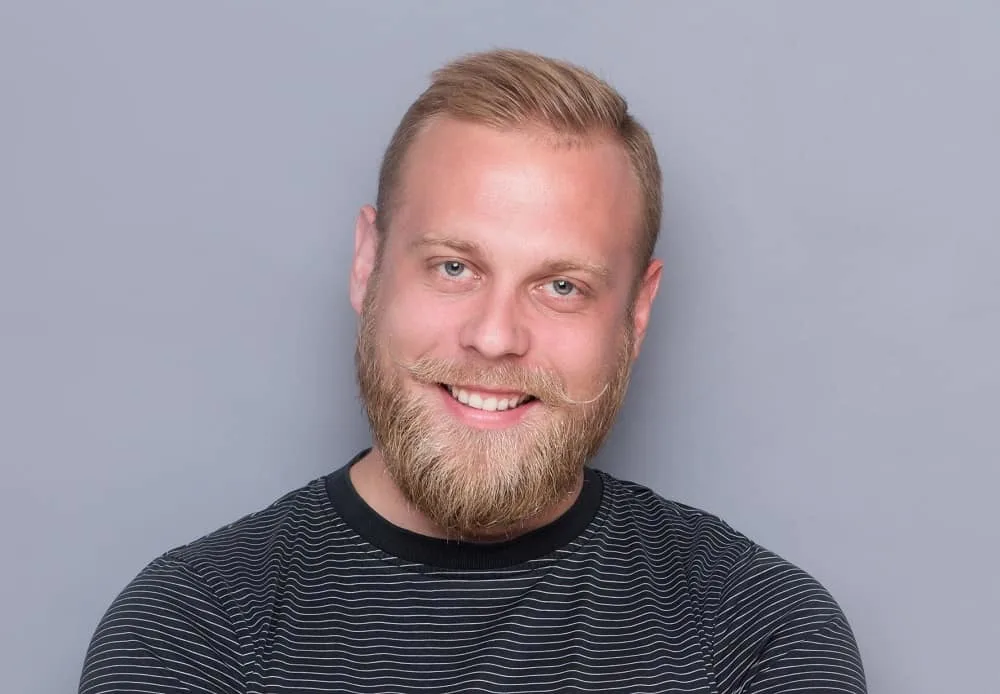 A comb-over that is slightly oriented to one side will work like a charm with a medium pointy beard. Get that vintage vibe with a moustache with long twisted ends. Your natural blonde hair will provide a beautiful contour to your face.
6. Ultra Long Beard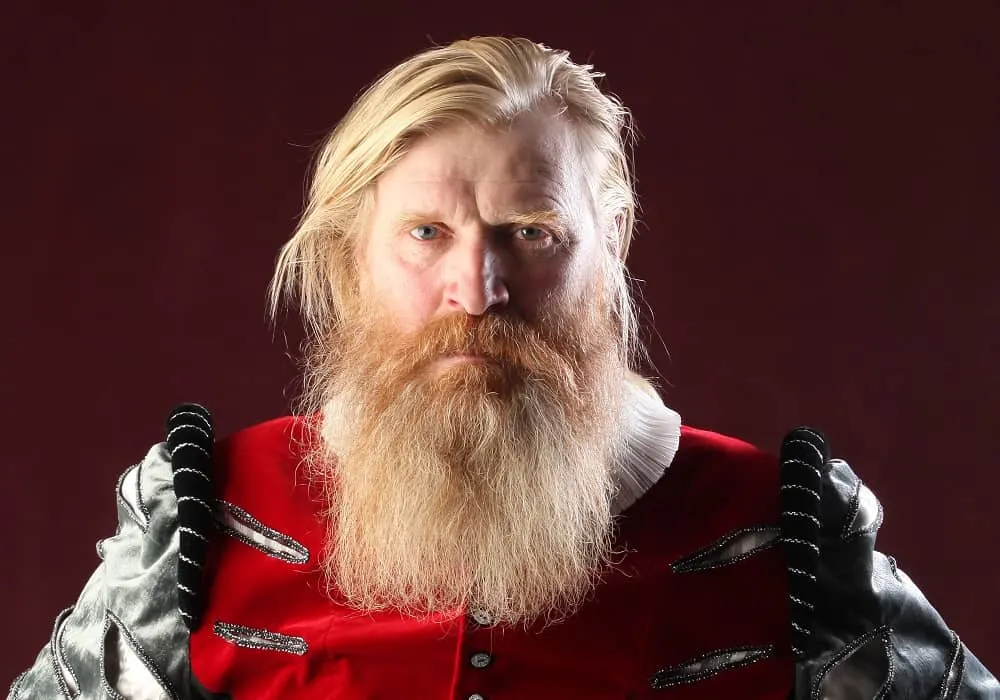 Inspired by historical movies, this blonde beard style features a long moustache that blends with that thick, rich beard. As for the hairstyle, go for a long cut, with crown hair tossed to one side. Keep it a little messy.
7. Short Pointy Beard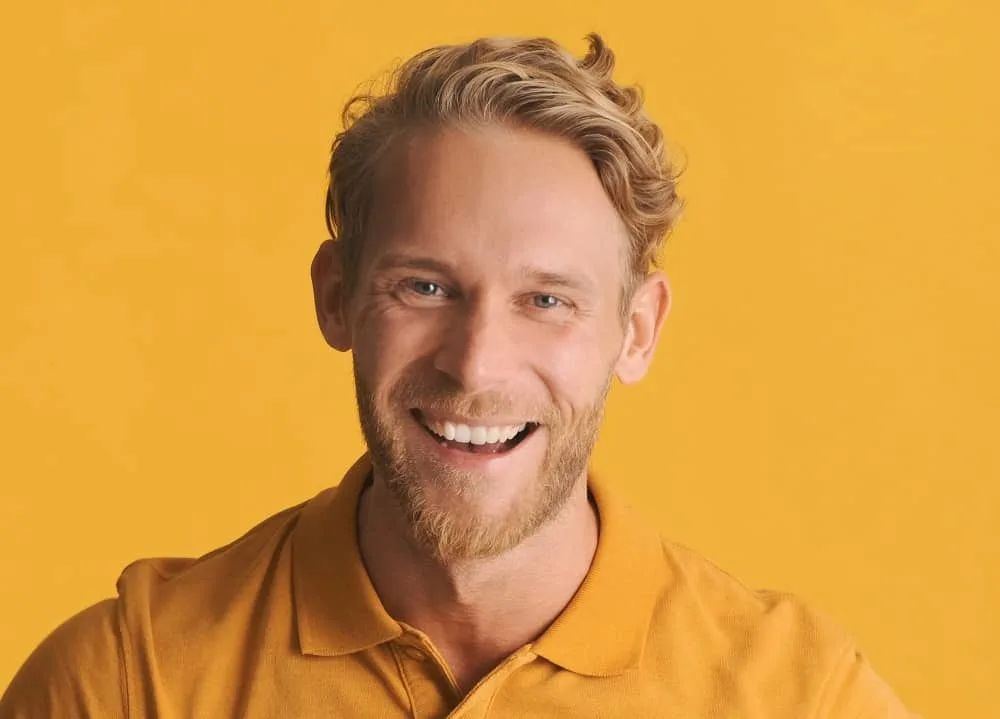 If you want your face to look elongated, go for a stubble beard that keeps the chin hair a little bit longer. As for the hair, opt for a longer top with short sides. Emphasize those waves and toss your hair on one side.
8. Stubble Beard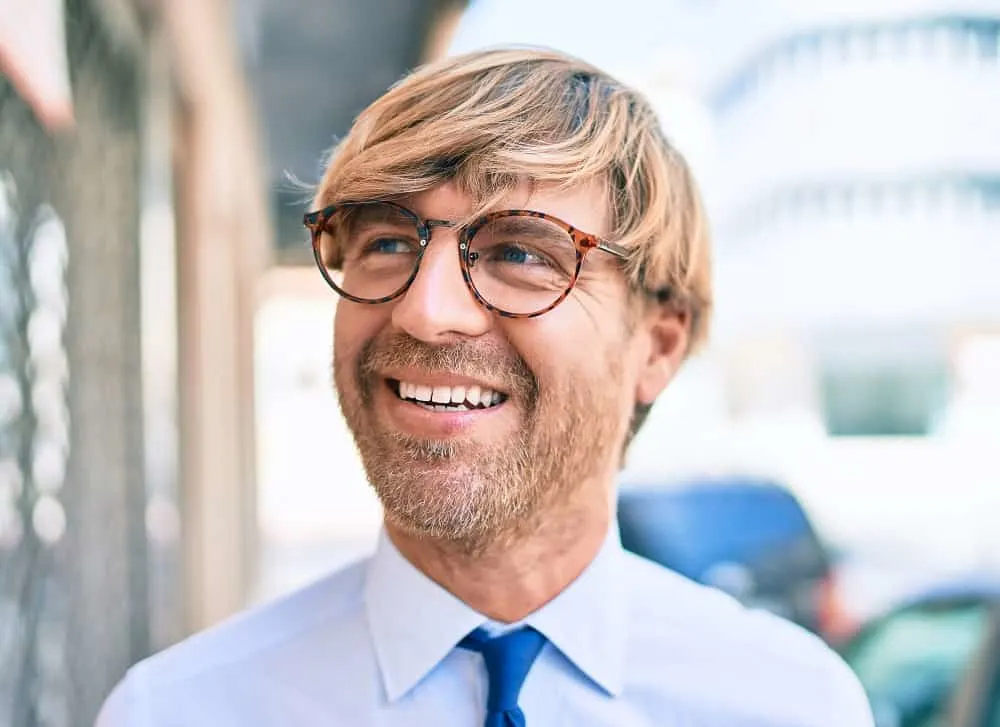 A stubble beard looks amazing when you are going for a professional look. Get a bowl cut with bangs styled on the forehead and slightly combed on one side. You can also get an ombre that uses a strawberry blonde color with brown touches to make your hairstyle look even better.
9. Garibaldi Beard
Garibaldi beards are long and with well-defined edges. So grow your facial hair and give your beard a straight cut so it won't look too messy. If you want your look to be more eye-pooping, you can even highlight the beard and mustache.
10. Extended Goatee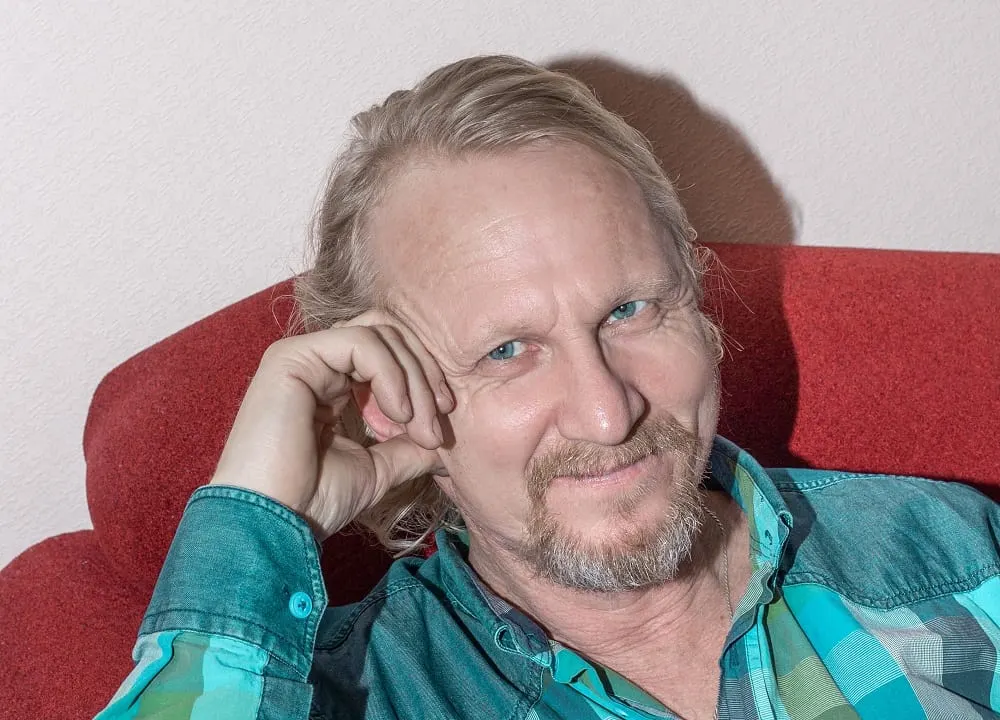 An extended goatee keeps the cheeks and jawline hair shaved and highlights the mouth and chin area. So connect the mustache with the goatee. This style needs constant trimming but is ideal for older men whi don't want anyting fancy.
11. The Blonde Box Beard Style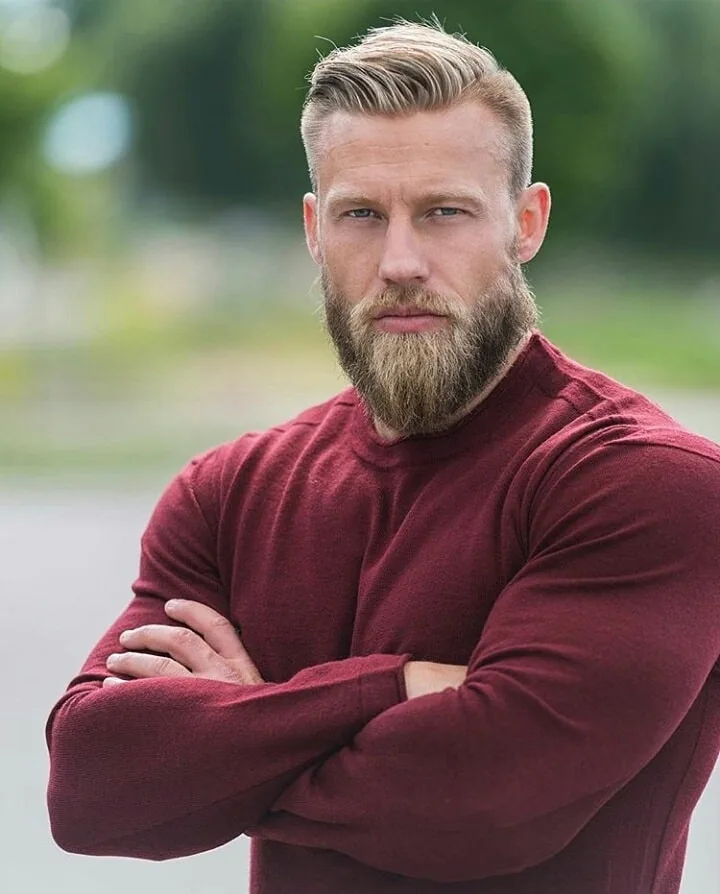 If you have relatively full blonde facial hair, consider a classic full box beard style. This look incorporates a full beard with a connected mustache of about the same length. It's a handsome style that looks good on many men.
Long Beard Styles to Spice Up Your Style
12. The Mid-Length Squared Off Beard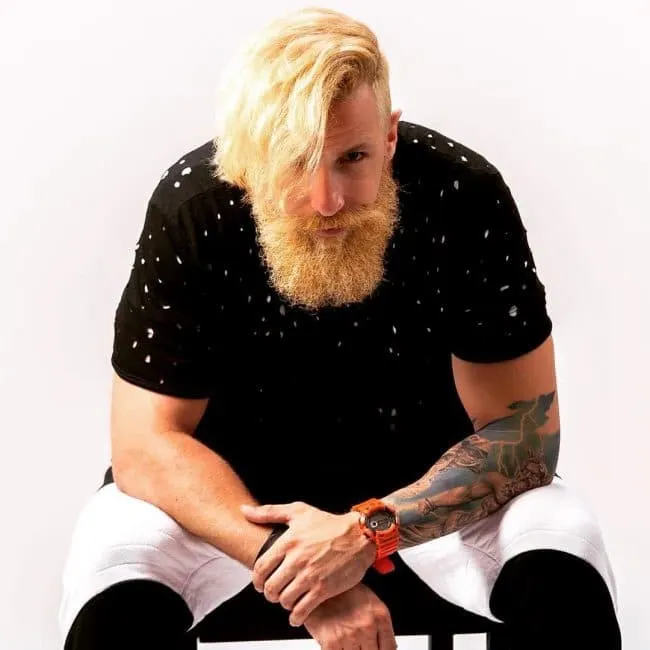 Don't hesitate to have some length with your naturally blonde beard. A mid-length beard with squared-off corners is always a winner. Although this style does require some shaping, it's an easy style to maintain and does not require much daily grooming.
13. The Short and Natural Blonde Beard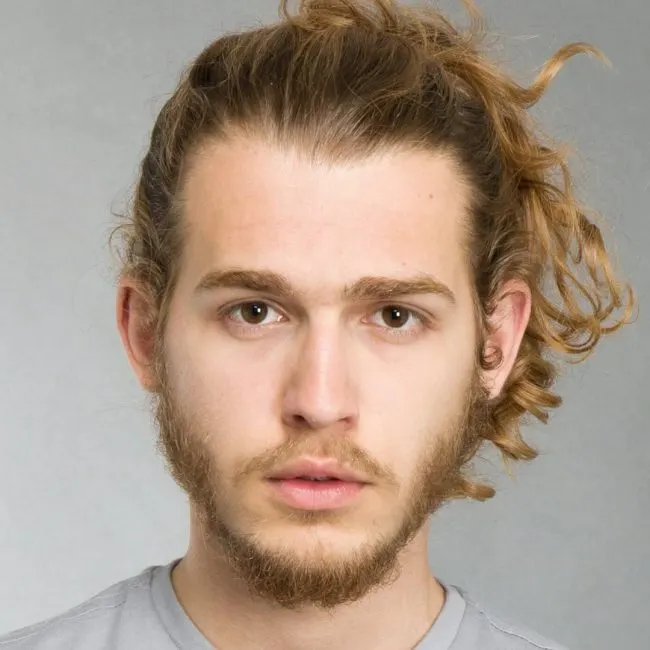 Men who have slightly thinner facial hair often look better in shorter beard styles. Here we see a short but very natural beard with a mustache.
This is an easy, wearable style for nearly any man and works especially well to create the illusion of a stronger jawline, creating a handsome, masculine look.
14. The Pointed Beard with a Shaped Mustache
Shaping your mid-length blonde beard to a slight point and combining with a shaped mustache is absolutely a winner. This style of a shaped mustache can be worn naturally or defined using wax for a sharp look.
15. The Short, Full Beard with Long Hair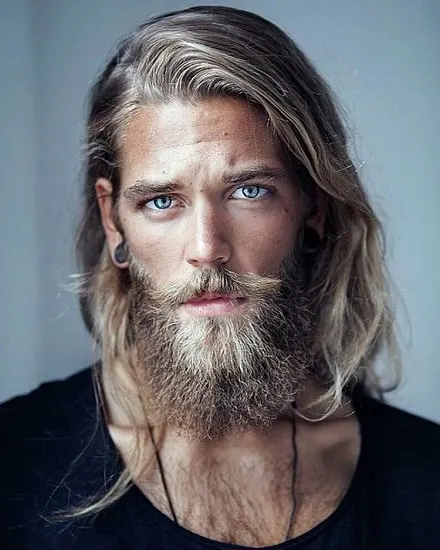 If you have long blonde hair, pair it with a beard that complements your overall look. A relatively short but very full beard provides a nice balance to long hair and adds an edge to your look.
16. The Dapper Blonde Beard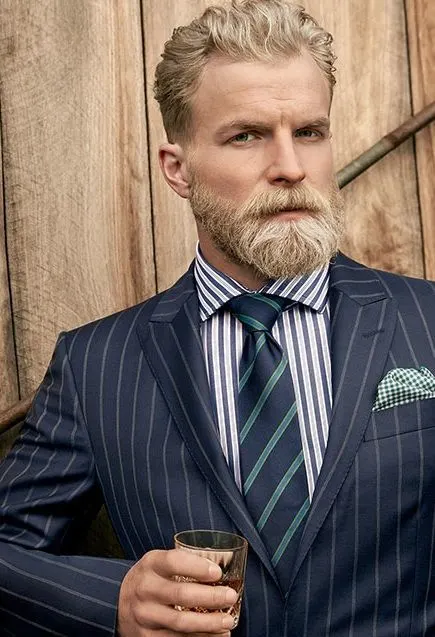 A blonde beard style can look incredibly polished and distinguished, especially when trimmed into an elegant shape and threaded with natural grey.
Many beard styles can be transformed into a very polished look by simply grooming and trimming meticulously. This isn't the most natural beard style, but it's definitely attention-getter.
17. The Blonde Circle Beard with Connected Sideburns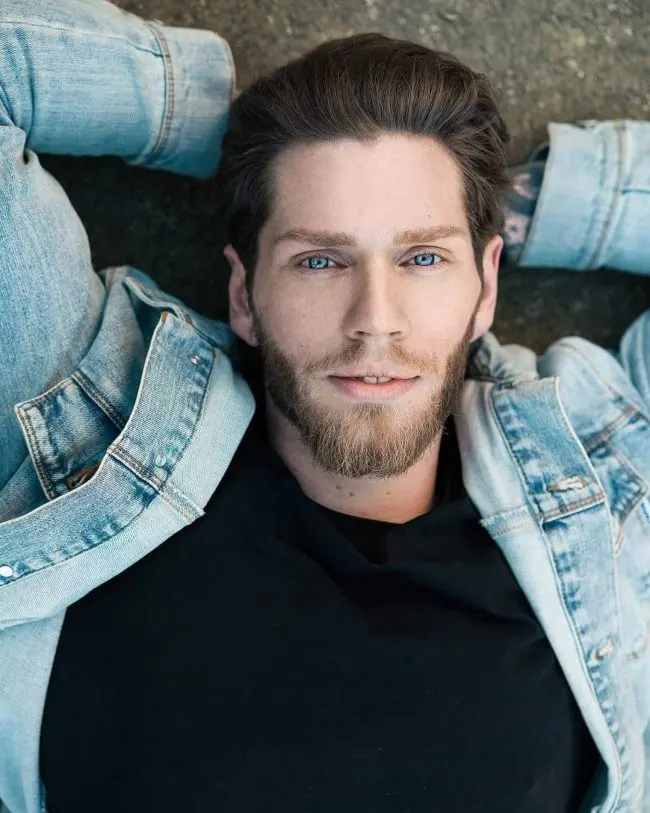 A classic circle beard with connected sideburns and hair on the cheeks is another easy, wearable look. This style certainly complements naturally blonde facial hair.
18. The Viking-Chic Beard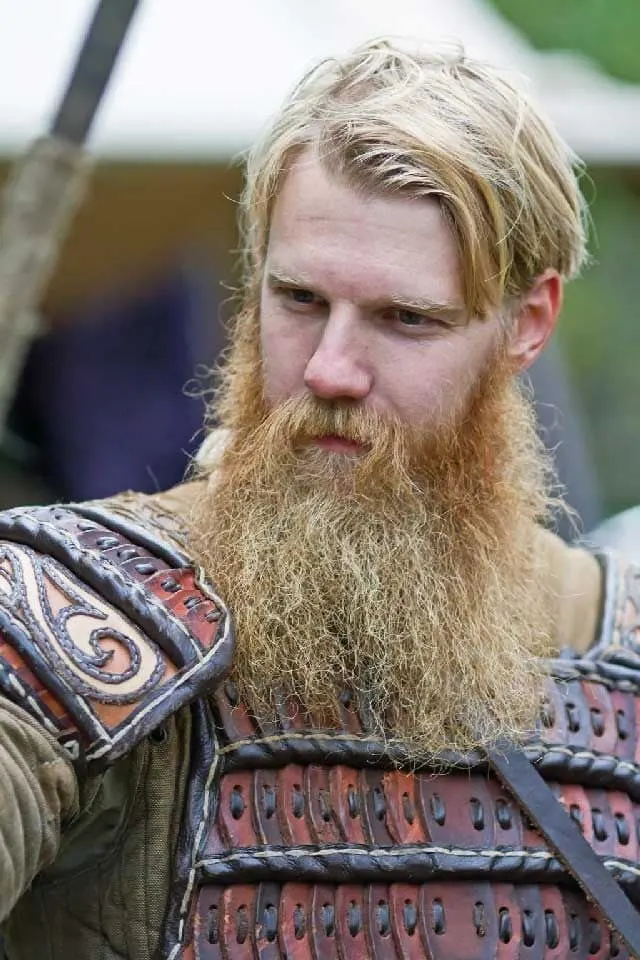 If you prefer a longer, natural, grown-out beard style, you can rock this Viking-inspired look to your advantage. Your natural blonde will move this style beyond old-fashioned "mountain man" to a trendy but still masculine look.
19. The Long Beard with a Shaped Mustache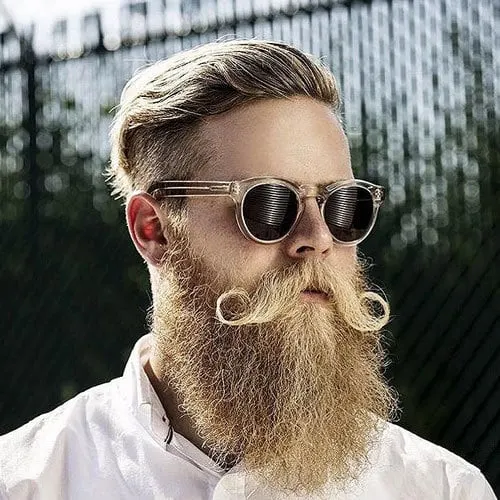 Long beards pair well with distinctly shaped mustaches, as we see her. While the stylish mustache adds the tiniest hint of humor to the overall look, the long, natural beard grounds this handsome blonde beard style.
20. The Natural Ginger Blonde Beard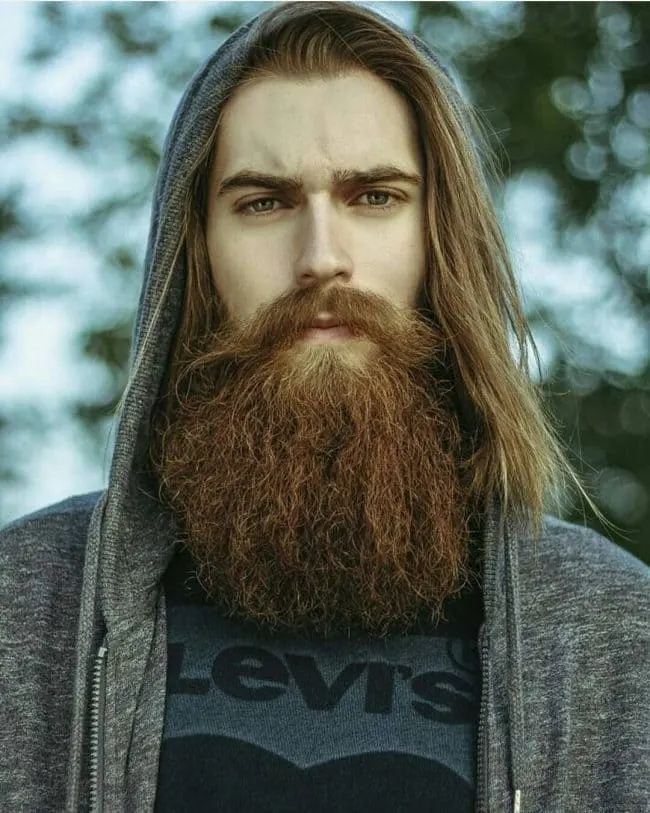 If your hair is a kind of ginger-blonde, you are in luck! Show it off by wearing a very natural, low-maintenance mid-length beard paired with a full mustache. Some cultures consider redheads to be lucky. Let your ginger-blonde beard create your luck.
21. Dark Ginger Blonde Beard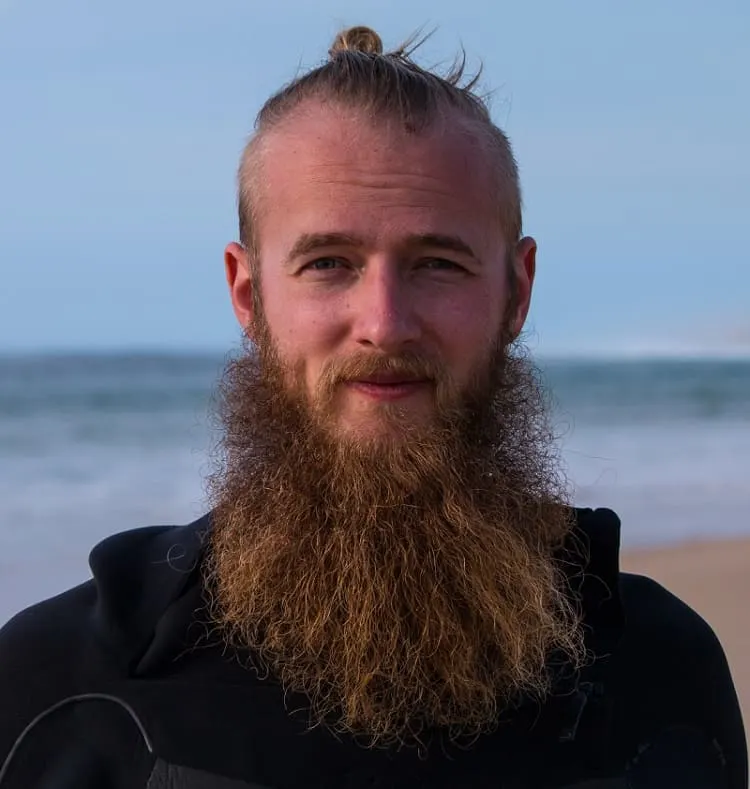 To pull off a blonde hipster beard, you must have a lot of patience. Once it reached the length you wanted, you will need to use oils for both beard and stache. Make sure you get the products into the skin to keep it hydrated.
22. White Blonde Beard for Old Men
When you are older but still want to look chic, a platinum blonde beard will undoubtedly get a lot of attention. Go for a short faded tapper with a long top and style a mustache with rounded lifted tips.
23. Short Blonde Beard for Men with Glasses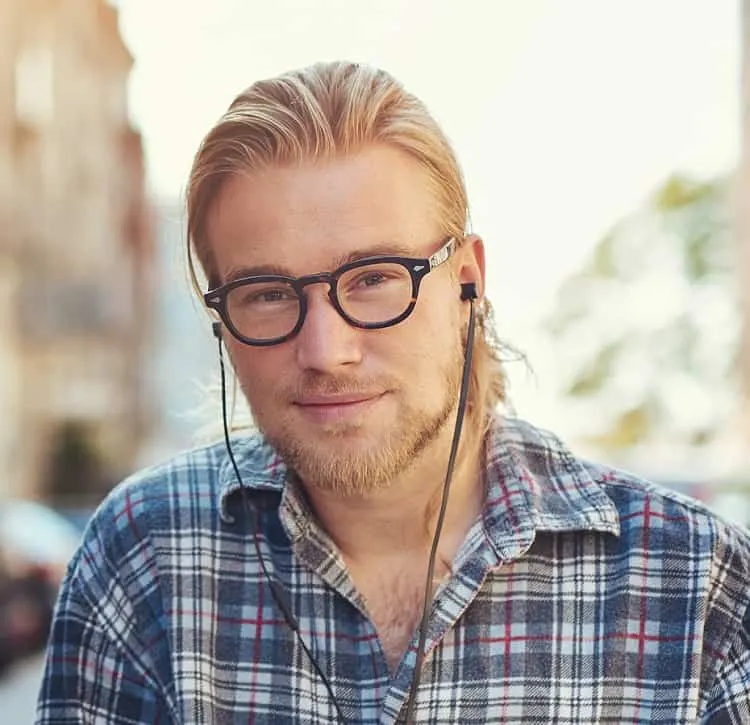 When you are a blonde guy that wants a manly look, you can grow a short beard that will fabulously work with your glasses. Go for dark thick frames that will stand out and make you look so damn hot.
24. Brown Hair with Blonde Beard
A blonde beard for dark hair can be groomed in so many ways. Opt for a bald fade with a rich top and style a mustache and a goatee beard. You can even let your hair grow on the jawline. Create a disconnection between the beard and the side hair.
25. Long Auburn Blonde Beard with a Braid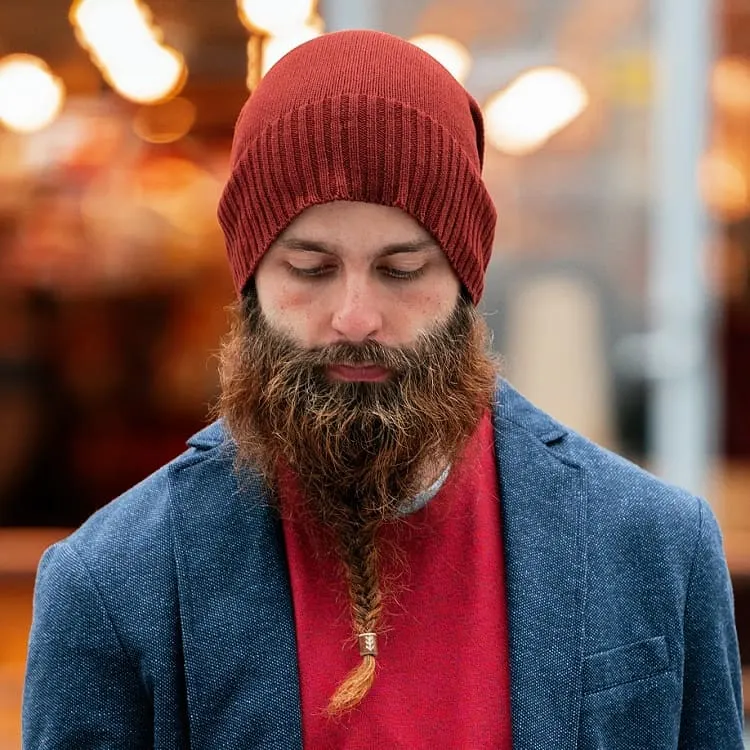 When you want a modern chic look, you can always go for a beard that covers your face. Keep it in a ducktail shape and braid the chin strands. Fluff the sides with a comb and use a metallic bead to pin the knit.
26. Extended Blonde Goatee Beard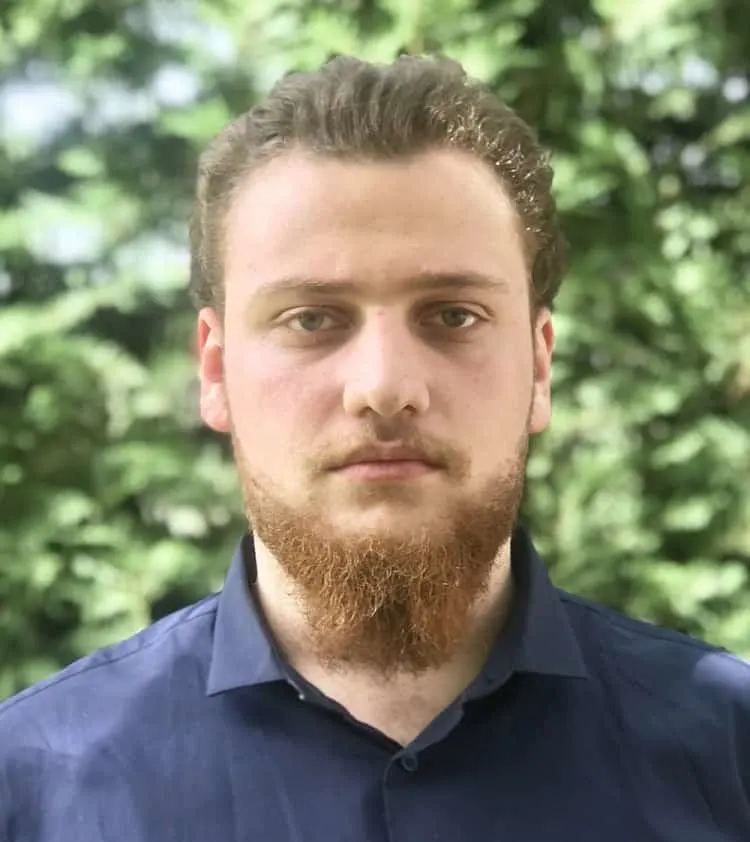 A blonde beard for brown hair can be cut in a goatee shape that keeps the sides short and the chin hair longer. It also gives a frame for your mouth. Comb your hair backward if you want a professional look but still want to keep the beard.
27. Blonde Garibaldi Beard
Ginger blonde beards can drastically change your whole appearance. Opt for a Garibaldi beard that has loads of volume on the sides and you will get a hipster touch that girls will adore.
28. Short Blonde Beard with Long Hair
It's 2021, and all ladies love men with beards and long hair. If you already have the long locks, it's probably the best time to start growing your facial hair. Keep it short and with a small mustache, and you'll have a sexy, trendy look.
29. Blonde Beard for Black Man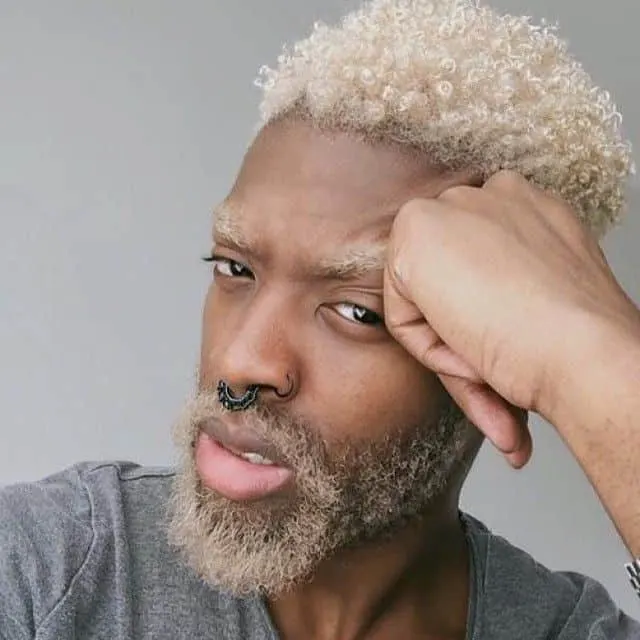 If you're tired of your regular Afro-American black hair, go for a dramatic change and style a blonde beard for a black man. You can push the limits even further and also dye the eyebrows and top hair.
30. Viking Blonde Beard
Viking's looks remained in the history thanks to their long fabulous beards and braided hair. They were real badasses and you cand get a look inspired about their strength with a long blonde beard. However, for this look, make sure you don't skip the grooming and skin hydration.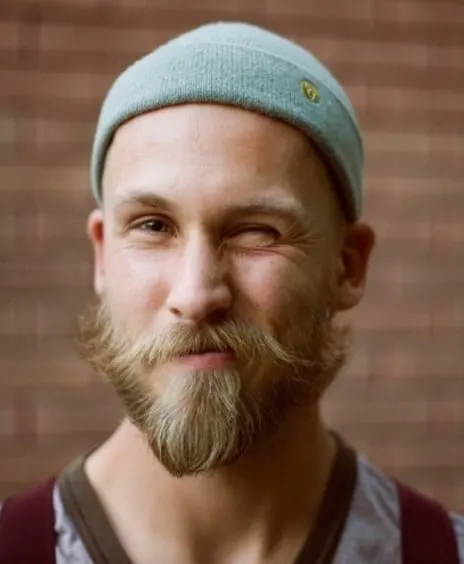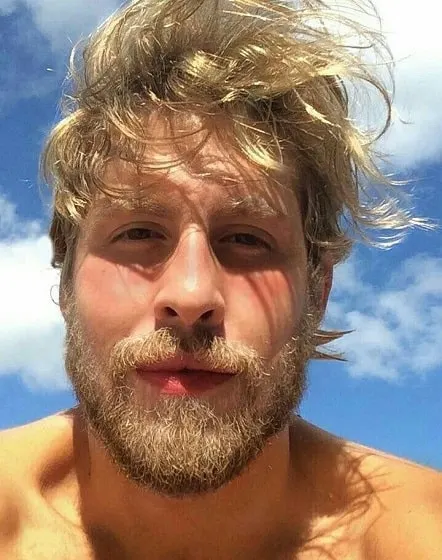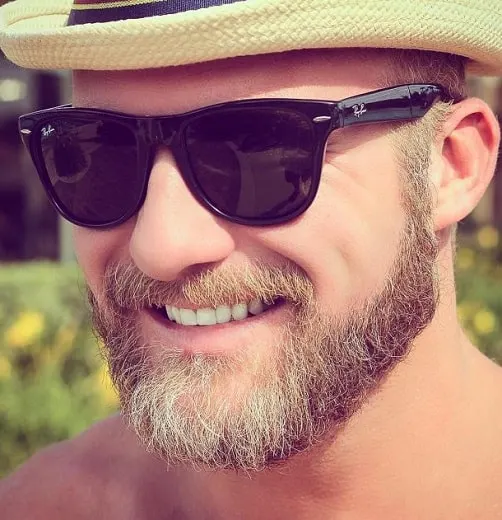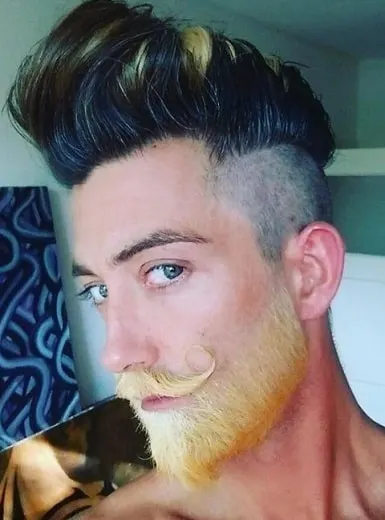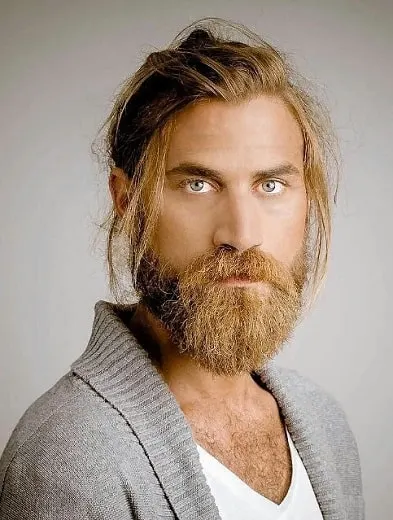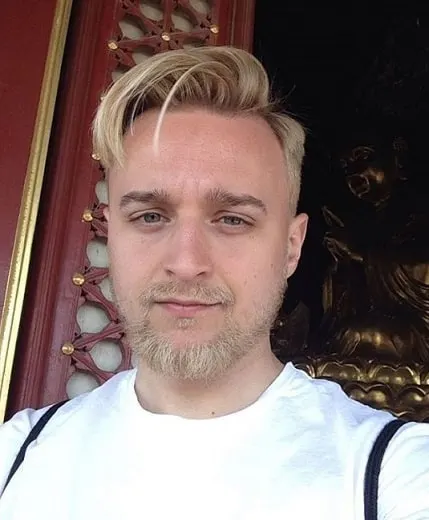 FAQs
Is a blonde beard rare?
No! It's perfectly normal to have a blonde beard or dark hair and blonde facial hair. It's rare to have both blonde hair and a beard.
Do blonde beards grow faster?
There are no set benchmarks to determine how quickly beard hair grows. Some men grow beards faster than others, no matter the color of their facial hair. It may take longer for blonde beards to be noticeable, but blonde hair grows at the same rate as dark beard hair.
Will a blonde beard turn darker?
Blonde hair tends to darken as you age, and so does beard hair. You can use products and home remedies to prevent your blonde beard from turning dark.
Some people claim that blondes have more fun. While this statement may or may not be accurate, you shouldn't be afraid to have fun with your handsome blonde beard style.