Light colored facial hair has an appeal all its own. Blonde and reddish-blonde beards are not as common as darker beards. This means that if you have light-colored facial hair, working with it, growing it, styling it can all give you a striking look, one that sets you apart from the rest of the crowd.
Blonde beard styles are always in, and if you are lucky enough to have a blonde beard, let it work to your advantage by emphasizing your handsome face!
Blonde Beard Styles
Whether your beard is platinum, golden or ginger blonde, there's a style to suit you.
1. The Blonde Box Beard Style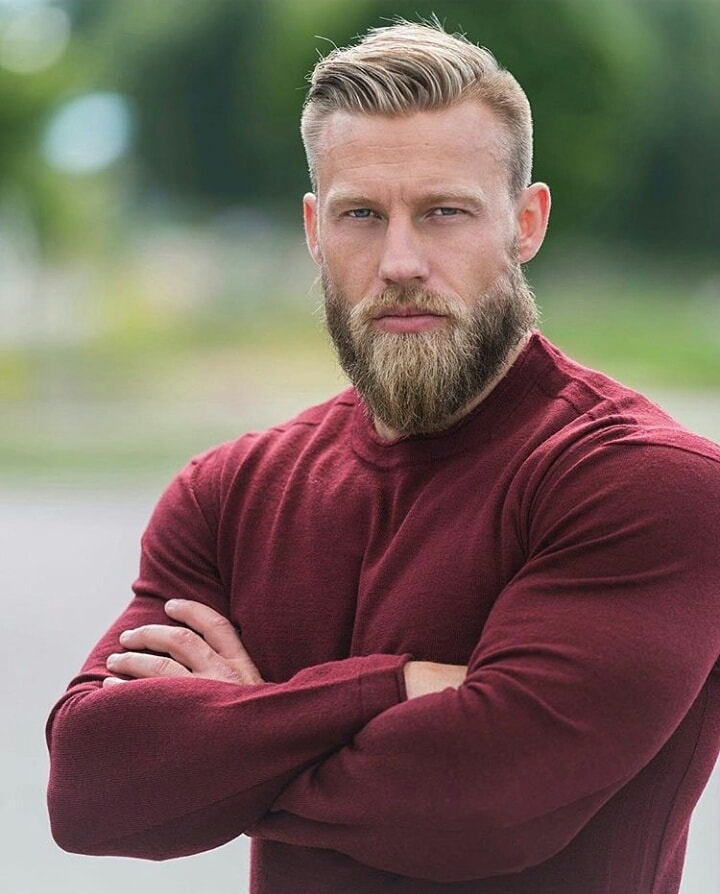 If you have relatively full blonde facial hair, consider a classic full box beard style. This look incorporates a full beard with a connected mustache of about the same length. It's a handsome style that looks good on many men.
Long Beard Styles to Spice Up Your Style
2. The Mid-Length Squared Off Beard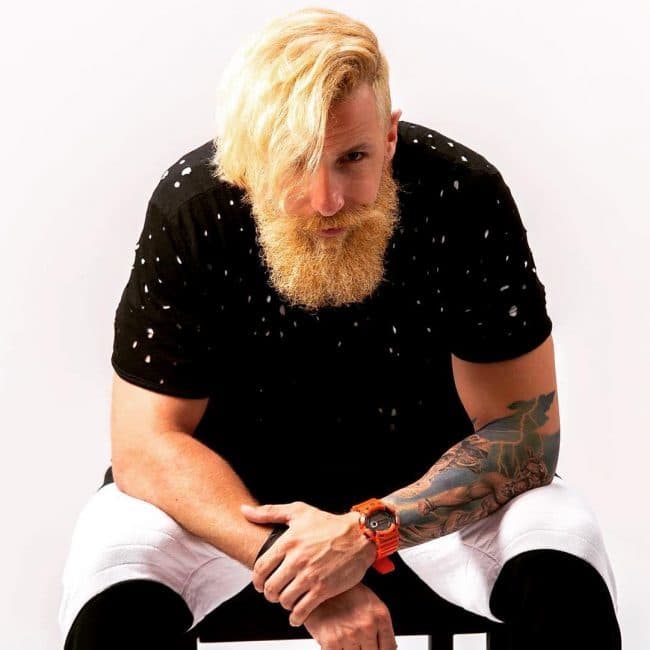 Don't hesitate to have some length with your naturally blonde beard. A mid-length beard with squared-off corners is always a winner. Although this style does require some shaping, it's an easy style to maintain and does not require much daily grooming.
3. The Short and Natural Blonde Beard
Men who have slightly thinner facial hair often look better in shorter beard styles. Here we see a short but very natural beard with a mustache.
This is an easy, wearable style for nearly any man and works especially well to create the illusion of a stronger jawline, creating a handsome, masculine look.
4. The Pointed Beard with a Shaped Mustache
Shaping your mid-length blonde beard to a slight point and combining with a shaped mustache is absolutely a winner. This style of a shaped mustache can be worn naturally or defined using wax for a sharp look.
5. The Short, Full Beard with Long Hair
If you have long blonde hair, pair it with a beard that complements your overall look. A relatively short but very full beard provides a nice balance to long hair and adds an edge to your look.
6. The Dapper Blonde Beard
A blonde beard style can look incredibly polished and distinguished, especially when trimmed into an elegant shape and threaded with natural grey.
Many beard styles can be transformed into a very polished look by simply grooming and trimming meticulously. This isn't the most natural beard style, but it's definitely attention-getter.
7. The Blonde Circle Beard with Connected Sideburns
A classic circle beard with connected sideburns and hair on the cheeks is another easy, wearable look. This style certainly complements naturally blonde facial hair.
8. The Viking-Chic Beard
If you prefer a longer, natural, grown-out beard style, you can rock this Viking-inspired look to your advantage. Your natural blonde will move this style beyond old-fashioned "mountain man" to a trendy but still masculine look.
9. The Long Beard with a Shaped Mustache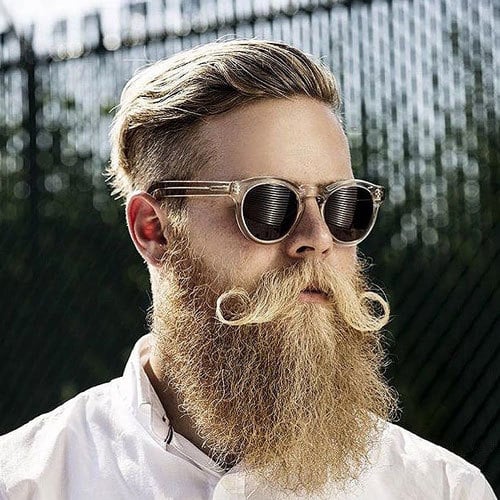 Long beards pair well with distinctly shaped mustaches, as we see her. While the stylish mustache adds the tiniest hint of humor to the overall look, the long, natural beard grounds this handsome blonde beard style.
10. The Natural Ginger Blonde Beard
If your hair is a kind of ginger-blonde, you are in luck! Show it off by wearing a very natural, low-maintenance mid-length beard paired with a full mustache. Some cultures consider redheads to be lucky. Let your ginger-blonde beard create your luck.
11. Dark Ginger Blonde Beard
To pull off a blonde hipster beard, you must have a lot of patience. Once it reached the length you wanted, you will need to use oils for both beard and stache. Make sure you get the products into the skin to keep it hydrated.
12. White Blonde Beard for Old Men
When you are older but still want to look chic, a platinum blonde beard will undoubtedly get a lot of attention. Go for a short faded tapper with a long top and style a mustache with rounded lifted tips.
13. Short Blonde Beard for Men with Glasses
When you are a blonde guy that wants a manly look, you can grow a short beard that will fabulously work with your glasses. Go for dark thick frames that will stand out and make you look so damn hot.
14. Brown Hair with Blonde Beard
A blonde beard for dark hair can be groomed in so many ways. Opt for a bald fade with a rich top and style a mustache and a goatee beard. You can even let your hair grow on the jawline. Create a disconnection between the beard and the side hair.
15. Long Auburn Blonde Beard with a Braid
When you want a modern chic look, you can always go for a beard that covers your face. Keep it in a ducktail shape and braid the chin strands. Fluff the sides with a comb and use a metallic bead to pin the knit.
16. Extended Blonde Goatee Beard
A blonde beard for brown hair can be cut in a goatee shape that keeps the sides short and the chin hair longer. It also gives a frame for your mouth. Comb your hair backward if you want a professional look but still want to keep the beard.
17. Blonde Garibaldi Beard
Ginger blonde beards can drastically change your whole appearance. Opt for a Garibaldi beard that has loads of volume on the sides and you will get a hipster touch that girls will adore.
18. Short Blonde Beard with Long Hair
It's 2021, and all ladies love men with beards and long hair. If you already have the long locks, it's probably the best time to start growing your facial hair. Keep it short and with a small mustache, and you'll have a sexy, trendy look.
19. Blonde Beard for Black Man
If you're tired of your regular Afro-American black hair, go for a dramatic change and style a blonde beard for a black man. You can push the limits even further and also dye the eyebrows and top hair.
20. Viking Blonde Beard
Vikings looks remained in the history thanks to their long fabulous beards and braided hair. They were real badasses and you cand get a look inspired about their strength with a long blonde beard. However, for this look, make sure you don't skip the grooming and skin hydration.
Some people claim that blondes have more fun. While this statement may or may not be accurate, you shouldn't be afraid to have fun with your handsome blonde beard style.