If your natural hair is dark and you are planning to become a blonde, you have to go through the bleaching process or at least some intense dyeing. You do everything by the book and find out that instead of a nice shade of blonde, your hair turns orange!
It can be frustrating and interfere with your plans for new hair colors. The uneven orange shade looks patchy and off-putting. All your efforts seem to be in vain. Many women go through the rounds of getting rid of the orange. However, not everyone is successful. Knowing what to do with this problem can help you avoid some unpleasant emotions.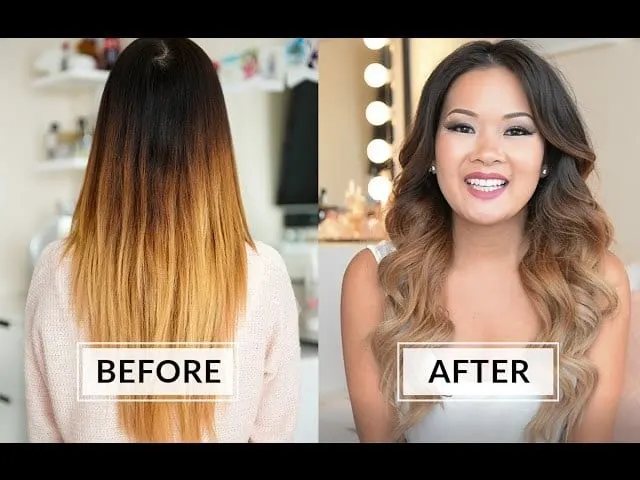 Learning how to get the orange out of blonde hair is easier than you might think. When you start bleaching your locks, 80% of the time you end up getting orange hair. Thankfully, you don't need any hair cutting or professional assistance to deal with the problem. You can easily deal with the annoying orange color on your own. Fixing your locks after bleaching is easy. Don't panic when you see an orange hue. Follow a few simple rules and make your hair blonde and beautiful.
Why Does Bleached Hair Become Orange?
Bleach's goal is to remove all of the colors from your hair. But it doesn't immediately get rid of the pigment that creates your natural color. If your hair is black or brown, your locks have red and orange pigments. While the bleach takes care of the color, the pigment is harder to remove.
Another reason for the orange color is the mineral buildup. Even if you have light brown hair, it can end up turning orange because you used many hair products that contain sulfates.
Fixing orange hair involved neutralizing the pigments. A professional hairstylist will tell you that blue shades neutralize the orange. That's why you need to find a way to bring the blue color to your hair to induce neutralization
8 Simple Steps to Bleach Hair Using Hair Bleach Powder
Fighting Orange Hair Color With a Toner
One of the simplest ways to get the orange out of bleached hair is to use a toner. The toner helps neutralize the orange and yellowish hue and makes your hair look as light as possible. When you are bleaching your locks, use a toner together with peroxide. Be ready to go through the toning process 2-3 times to get the desired results.
If your hair is on the orange side, you need to find a blue toner shampoo to fix the problem. If the locks are yellow, look for a purple neutralizing toner. In order to find the best toner, look at the opposite color on the color chart and compare yours with the toner.
10 Bold Burnt Orange Hair Colors for Adventurous Women
Dealing with Orange Hair Using Box Dye
The orange hue of your hair should tell you that the bleaching or dyeing process is far from being over. You need to start it all over again. Separate your hair into sections and spread the bleach evenly on your hair. If you have trouble reaching all the spots, ask a friend to help you out.
The patchy orange color should disappear after a fruitful dyeing session. However, you should remember to take a break between bleaching. Wait at least 7 days between the sessions. Otherwise, you can damage your hair irreversibly.
Fixing the Hair with Apple Cider Vinegar
You must have heard about the various benefits of apple cider vinegar. Here is another one. It can save you from annoying orange hair. Use apple cider vinegar (ACV) to treat your hair. Here are two ways to do it:
ACV Rinse
Take a few drops of coconut oil and apply it to your hair before going to sleep
In the morning, wash your hair, as usual, using a conditioner
Take two tablespoons of apple cider vinegar and mix it with several drops of blue (if your hair is orange) or purple (if your hair is yellow) food color and one cup of water.
Apply the solution to your hair after you get out of the shower
Repeat once every two weeks
ACV Mask
Take one cup of water and mix in 1oz of Hollyhock herbs as well as 2 tablespoons of ACV
Heat the mixture up until it becomes thick
Cool it and apply it to your locks as a mask.
Wait for 10 minutes and wash as usual using shampoo without sulfates and conditioner.
Washing Your Hair With Blue Shampoo
Another smart way to neutralize your orange and yellow tones is to use the right shampoo. Go out and buy a blue or purple shampoo (depending on your initial problem). When you apply the shampoo, your locks absorb the small amounts of blue and purple pigment that the shampoo contains. As a result, the orange or yellow hues are neutralized and eventually they disappear. Even though you don't see it, the shampoo gives your hair a blue tint, which fights the orange shades.
Remember that such shampoos are filled with chemicals and can dry out your locks. Make sure to condition your tresses before using a purple shampoo. In case your hair is already damaged (and it probably is since you just bleached it) don't use the shampoo more often than once in two weeks. If your locks are fairly healthy, you can apply the shampoo once or twice a week. Don't keep the shampoo on your hair for more than 5 minutes in order to prevent damage.
How to Restore Curl Pattern to Heat Damaged Hair
How To Avoid Orange in Your Hair
If you want to minimize the chances of your hair turning a crazy shade of yellow or orange, you should follow two simple rules:
Don't use cheap bleaching agents. They are too weak and don't get all the pigments out of your hair.
Keep your hair away from the sun and chlorine filled pools.
While treating the bleached orange hair is fairly easy, it's even simpler to use preventive measures.
1. Don't Skip The Strand Test
A strand test can help you see whether your whole head will turn orange once you use the bleach. If you still want to continue with the bleach after the strand test, you'll know that you need to use a toner right after.
2. Forgetting About The Toner
Even if you passed the strand test just fine, don't skip the toner. Applying it after bleaching can keep your hair looking white and avoid any yellowish hues.
3. Bleaching Once
Orange hair is one of the most common bleaching companions. One of the reasons why it's not going away might be the lack of sufficient bleaching sessions. If you don't want to see orange patches, bleach again.
We hope you use our advice to get the orange out of blonde hair and enjoy the beautiful color you always wanted. Making your hair lighter is always a tough task that requires knowing many hair care tricks.