Burnt orange hair colors don't get a lot of play, and that's a shame. Because burnt orange looks more than a little red, it's an incredibly versatile color.
It's most flattering to darker skin tones— cinnamon, honey, warm brown, mahogany—and extraordinarily pale skin. It complements brown, amber, green, and hazel eyes the most.
Trendy Burnt Orange Hair Color Ideas
Have you ever thought about experimenting with burnt orange hair dye? Orange is having a moment, but don't start seeing vicious carrot orange or pale ginger locks.
Burnt orange is so gorgeous that it almost looks edible, like a decadent pumpkin dessert. This color also throws off red, copper, and gold shades if done correctly. It's a must-have 'do for women who adore vivid autumnal colors.
Take a look at some of our favorite burnt orange hair colors.
1. Golden Ginger
If you neither want to go too warm nor too cold, then this neutral copperish brown shade is the one for you.
This golden hair will make you shine bright like a diamond wherever you go.
2. Ariel Dreams
This shade of orange mixed with golden is so out of the box yet very wearable. The hair color, paired with a sleek bob haircut looks expensive, exquisite and all things fine.
3. Sunset Dreads
This hairstyle has everything. It starts with pink at the base and gradually moves towards yellow and orange.
As the name suggests, the hair color has all shades of a pretty sunset. The hair color is funky, cool, experimental, and still, anyone can carry it off.
4. Dark to Orange Shades
The reddish-burnt orange blend is the perfect color, especially for autumn. Whether you want a deeper, darker red, or just light red highlights on a strong burnt orange base, you have all the choices in the world.
The hair color looks especially good on both creamier complexions as well as cooler-toned skin.
5. Burnt Orange Ombre
Every time you crave for a look that is a real attention grabber, makes you look fabulous and provides a fantastic glow, opt for a burnt orange and blonde hair. Make it look messy by styling waves and curls and by tousling and combing the mane with your fingers.
6. Dark Burnt Orange Curly Hair
Dark burnt orange hair is exactly what you need when you want to make your curls look ravishing. Remember also to dye your eyebrows, and the whole style will gorgeously suit your pale milky skin.
7. Burnt Orange For Black Women
Burnt orange hair for black girls is ideal when you want the leave the comfort zone. Give your coils an astonishing shade that will amazingly suit your dark chocolate skin. Part the hair in the middle and maintain that significant volume that only African American hair has.
8. Ginger Burnt Orange Hair
When you have long burnt orange hair, everybody will turn their heads to admire not only the length of your hair but also that fabulous shade. Create waves and complete the look with a hat. You will become the chicest girl!
Get Inspired from Orange-Haired Anime Girls
9. Red Burnt Orange Hair
Dark burnt orange bob can beautifully help you frame your face. Keep the strands reaching the chin, and they will create the illusion of a less chubby face. You can even improve the look by styling a few black lowlights.
10. Electric Burnt Orange
Electric burnt red orange hair is certainly a look to die for! It's vivid, ideal for women with pale skin that need a touch of color and can make you look breathtaking. Opt for a medium bob haircut bangs that you can toss on one side.
11. Burnt Orange Twisted Braids
If you are a black woman and if you love braids, this is one of the best hairstyles for you. Buy a few packs of Jumbo hair in a burnt orange shade and create twisted braids. Secure the hairstyle by dipping the ends into extremely hot water and wear them on one side.
12. Burnt Orange Highlights for the Ends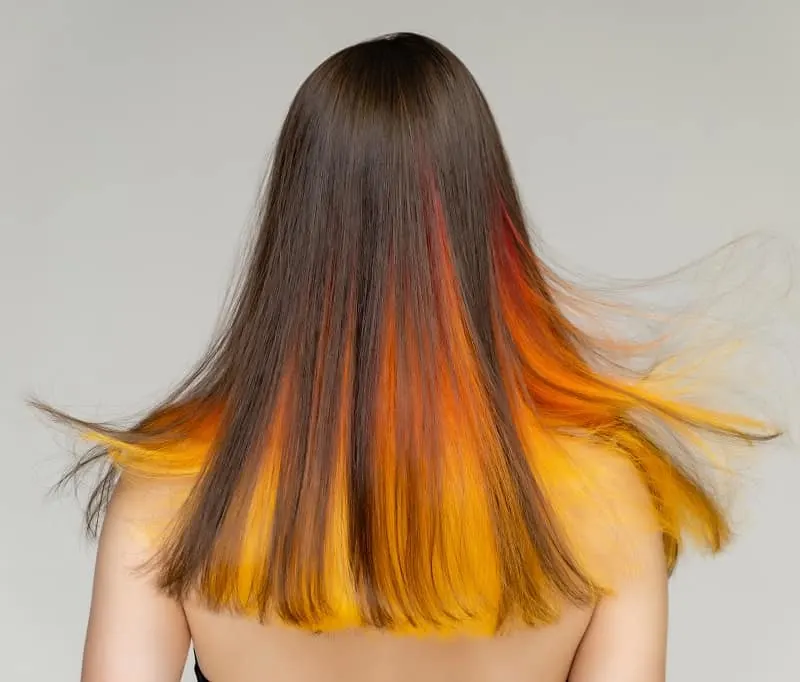 Give your hair a blunt cut and opt for yellow and burnt orange hair highlights. Don't place them at the surface, style them underneath so they won't be visible all the time. Peekaboo highlights are the real deal when you want to glow and impress.
13. Burnt Orange Top Bun
When you have pale skin and deep blue eyes, go for a burnt orange hair dye. Don't forget to also dye the eyebrows because the whole look-change will amazingly work with your natural freckles. Pin all the hair in a messy top bun and keep a few strands loose.
14. Burnt Orange Locs
Burnt orange dreadlocks styles are ideal for bold women who crave for something that's out of the ordinary. You can use your own hair for styling them or opt for loc hair extensions that have this beautifully electric color.
15. Cascades of Curls
You don't have to wear your hair long if you experiment with burnt orange hair color, but it helps. The rich pumpkin shade looks even more vibrant when combined with cascading ringlets. This is straight-up fairy tale hair.
Angled Bob Hairstyles for Women
16. Orange Ombre
Ombre is still trending in the hair world. Copying this look is effortless because the ombre is subtle. Tell your stylist that you want a touch of blonde toward the tips of your hair. The cut itself is optional, but as you can see, this type of artsy bob goes well with orange.
17. Orange Meets Gray
Have you ever seen a combination like this? Some burnt orange hair colors are icier than others. It takes skill to pull of a coral orange like this—you need to visit a stylist with an eye for bleach. Definitely go for gray at the roots, though. You don't see such a dynamic color combo very often.
Brilliant Ombre Hair Color Ideas
18. From Burnt to Orange
In the mood to take the "burnt" in burnt orange literally? Request dark roots—as dark as you dare. The trick is to pair the dark shade with a rich, red-toned orange color. It looks like there are even hints of copper in this hue.
19. Bold Orange Cut
If you never go wrong with bold orange because of its versatility. There are all kinds of varieties of this color, but we chose a mix of peach and orange to go with the theme.
The color is funky yet feminine; if these two words define you, then BINGO! You've hit the jackpot.
20. Sizzling Sunset
Mixing different shades of red and orange will have you resembling a sunset on a crisp fall evening. Notice the gradient here—from dark brown to dark red to burnt orange to copper to blonde. Talk about a fade!
21. Red to Orange
For a variation on the sunset color scheme, you can combine subtle burnt orange hair dye. The style you see here blends a fiery red with autumnal orange hues. Isn't it gorgeous?
22. Pastel Orange
What? Didn't you know that pastel orange was a thing? Sure is. A light burnt orange such as this shade tends to look almost coral, which can work for you if you love orange but have a cool skin tone rather than a warm one.
23. Burnt and Braided
The deep orange at the roots resembles the red-orange of Crayola crayons and fall leaves. Although the hair color is the star of the show, that braid should be giving you life. Is it?
24. Dark Ginger
A vibrant burnt orange hair color looks phenomenal against fair skin. This is a bold divisive color, meaning that it typically works best when paired with extremely pale skin or darker complexions. Women of color, for example, can carry this color to a tee.
25. Almost Auburn
The subtle highlights and lowlights mixed with this daring base color make this hairstyle. Different shades of orange and red come together to create an audacious auburn hue.
Popular Layered Bob Hairstyles
There's no question that it takes confidence to pull off burnt orange hair colors. Are you that sure of yourself?