With women breaking more and more gender stereotypes every day, badass hairstyles like the buzz cut is gaining popularity. No bangs hiding your eyes, no ponytail to adjust, buzz cut hairstyles for girls make a bold fashion statement.
Popular Buzz Cut for Girls
Buzz gives a very dynamic, hardcore look to the young girls with short hair. Have a look at our handpicked buzz cut styles for the girls for going with the trends.
1. Buzz Cut with a Fade
The buzz cut with a fade is an undercut hairstyle that is taking the fashion world by storm. The hair on top is kept longer and it gradually fades down in the sides. It is aesthetically pleasing and extremely low maintenance. With a girls buzz cut style, you will need to spend zero time on hair care and styling.
It is done by simply buzzing the hair with electric clippers at home or in a salon. Because this is a gender-neutral style and also a highly popular haircut for men, most hairdressers know how to do it. Save yourself a lot of time and money spent on hair products by getting a buzz cut with a trendy fade.
2. Geometric Side Buzz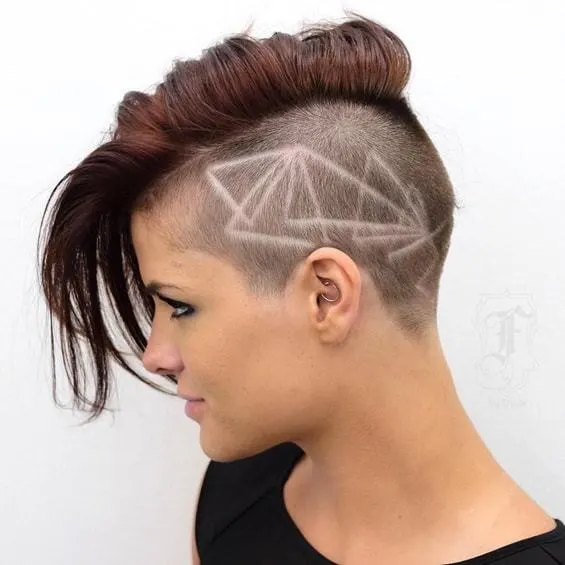 If you want to look absolutely badass then you should definitely consider the geometric side buzz. Instead of cropping the entire length of your hair in a complete buzz cut, you can just get one side sheared.
Flip the longer length of hair to different sides to change styles and wear your hair differently. Now, customize your buzz cut with cool designs such as geometric shapes. Just head to a hair salon and give exact instructions to your hairdresser.
3. Buzz Cut with an Ombre
Ombre and balayage colors have been in trend for a while now. You can still create an ombre effect even if you get a buzz cut hairstyle for girls. An ombre is basically shading or creating a gradient with colors.
To create an ombre effect you can get two or more hair colors and dye your hair with them. It is fairly easy to do by yourself if your hair is cut super short.
4. Platinum Blonde Buzz Cut
Seeing how platinum hair is so in right now, we couldn't resist adding this to the list. Here is a picture of English actress Cara Delevingne with a platinum blonde buzz cut for girls.
Short Haircuts for Little Girls
Women with curly hair often shy away from getting very short cropped haircuts. But buzz cut girl styles on curly hair actually look drop dead gorgeous. You can regulate the length of the hair based on how much of your curls you want to show off.
Cropped haircuts are extremely low maintenance for girls with curly hair because they always remain tangle free. They also let you have a cool head during the sweltering summer heat.
6. Crew Cut Hairstyle
The crew cut is a variant of the buzz cut that also derives its name from military haircuts. It is one of the most popular choices among buzz cut hairstyles for girls. Get a crew cut by cropping your hair very short and keep its longest part at the front forming a sort of pompadour.
The most significant aspect of this haircut is that it creates a horizontal hairline at the front. This girl's buzz cut has been popularized by the character Eleven played by Millie Bobby Brown in the Netflix series Stranger Things.
7. Buzz Cut Using a Razor
While buzz cut for girls is generally done with an electric clipper, it can also be done with a razor. You can control the length of your hair according to the final result that you have in mind. The advantage of using a razor to do this is that it produces amazing texture.
This buzz cut on girls hair appears to be edgy and even more fabulous. If you want to further enhance the hair texture you can also use some texturizing spray.
8. Side Shaved Buzz Cut
Do you have a gorgeous head of long hair that you just don't want to get rid of? Get the best of both worlds by getting a buzz cut on one side and keeping the hair long on the other side. This asymmetrical style is great for showcasing your rebellious nature without any dramatic change.
Brilliant Half Shaved Hairstyles for Young Girls
9. Short Blonde Pixie Cut
A pixie buzz cut will look fabulous on you, especially if you pick a platinum blonde color like the one above. It is a low-maintenance haircut that only needs a big tousle in the morning. Keep your eyebrows in their natural black shade to create a fantastic contrast.
10. Buzz Cut for Afro Hair
When having really curly hair, a buzz cut will fix any black girl's hair problems. You can now say goodbye to all those days when you had to spend hours moisturizing and straightening your long rebellious locks.
11. Short Hair for Round Face
Buzz cuts are the perfect picks for a girl with a round face, especially if you add height to the top. Your eyes will look breathtaking and you can even wear a nose ring that will give you that badass look.
12. Buzz Cut with Blonde Purple Bangs
This buzz cut with bangs is quite an unusual pick, but it will fabulously suit you. While the whole hair is trimmed shortly, the long straight fringe will cover your forehead. You will look breathtaking, especially if you create some wide faded pale pink highlights for the more extended hair portions.
13. Short Trim for Fat Girl
This buzz haircut is ideal for any fat girl who wants to look brilliant. Embrace your shape and size and highlight your features. Wear big diamond look-alike earrings if you're going to stand out in any crowd.
14. Rainbow Flames
A buzz cut will look spectacular on any woman who is fierce and nonconformist. Create rainbow-colored flames at the base and for the rest of the hair, choose an ashy pale pink color. All eyes will fall on you once you enter a room.
15. Lined Design
A buzz cut offers you endless pattern possibilities. To recreate the look above, get a short haircut and, with a razor, create abstract designs on both sides and top hair. You will have a modern look, and your blue eyes will glow like never before.
16. Yellow and Pink Design
When you have short hair, you are free to experiment. Your hair grows and regenerates faster, so if you're quickly getting tired of your previous design, you don't have to wait for ages to change it. Combine a lime yellow color with a pink shade and create a pattern using a razor.
17. Feathered Buzz Cut
Those layered uneven extra-short bangs give the hairstyle a modern touch, and that platinum blonde color with silver shades will compliment your skin tone. Wear dark red lipstick if you don't want to look washed out.
18. Blonde Coils with Design
Highlight those impressive coils with a short buzz cut. Create a zig-zag line design and use the taper fade to accentuate the top. Don't forget about accessories, because a pair of large rounded silver earrings will complete your look.
19. Multicolored Top
Those who said that short cuts could look dull didn't see this image. Get a buzz cut and use your favorite colors to dye the top hair. On the sides, create a two-lined design and gorgeously arrange your sideburns for a more feminine touch.
20. Wedding Short Hairstyle
When most women get help from hair extensions to obtain more length and volume on their wedding day, here's the opportunity to look different and stand out from the crowd. Spice things up with a buzz cut and place a simple pearled crown on your head. Define your eyes, eyebrows, and lips if you want to look stunning.
21. Pink Hello Kitty Hair
Unconventional girls deserve nonconformist hairstyles, and if you love Hello Kitty, you will undoubtedly fall in love with this brilliant hairdo. Go for a buzz cut, dye your hair in fuchsia color, and ask your colorist to style that cartoon in the back of your head.
22. Buzz Cut with Bald Fade
A bald fade on the sides and back will keep your top highlighted. If you happen to have freckles, dye your short hair in a blonde ginger shade and use mascara and red lipstick to draw all the attention on your face.
23. Blue Hair with Taper Fade
If you are that kind of girl that adores rebellious looks and needs to add a pinch of extravagance to her hairstyle, a short taper fade for the sides and a buzz cut is what you need. For the top, you can also choose a blue shade that will match your fair skin and blue eyes.
24. Sleek Coils
Short hair that allows your coils to form will show off a mindblowing texture. Your big lips and perfect eyebrows will stand out, and you can choose a chocolate hair color that will perfectly match your skin tone.
25. One-Sided Short Top
When you have delicate features, a short hairstyle or a buzz cut is the right pick for you. It will make your traits look more prominent, and you'll end up with a hairdo that can make you look both glamorous and feminine.
Celebrities like Kristen Stewart, Katy Perry, Cara Delevingne and Natalie Portman have all rocked the buzz cut on girls hair. It is fun for young girls to experiment with their looks so go crazy with these top buzz haircuts for girls.