You may thing buzz cuts are a hairstyle that suits just men but that's not true, there are plenty of buzz cut hairstyles for women out there as well. With celebrities like Cara Delvigne and Kristen Stewart stepping out with buzz cuts, it's no surprise that they're rising in popularity.
If you're a fan of short hairstyles or radical change, then consider getting a women's buzz cut. We put together a list of 20 great buzz cut hairstyles for you to choose from!
Amazing Buzz Cut Styles for Ladies
Short hairstyles for women like buzz cut are very well accepted among women worldwide even celebrities as well! We've landed with 20 best buzz cut ideas for women in this article. Don't miss out.
1. Women' Short Buzz Cut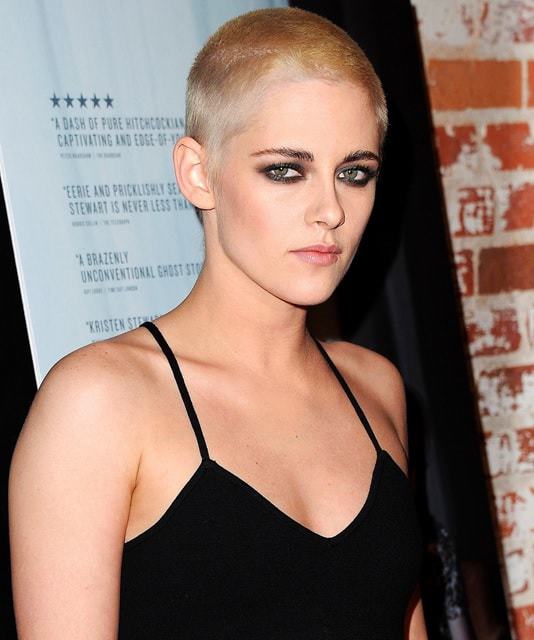 The short buzz cut is what traditionally comes to our mind when we think of the word buzz cut. It's a pretty easy look to achieve. All you have to do is shave all of your hair, keeping only one inch of hair on your head.
However, more and more women have been wearing this look and absolutely slaying it. But, if you can't go this short don't worry! Just keep reading because we have some buzz cut hairstyles for you as well.
2. Long Buzz Cut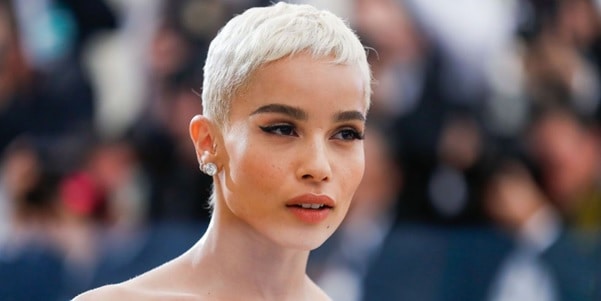 The long buzz is a very popular women's buzz cut look, especially since you don't have to cut your hair as short for this look. For the long buzz cut, you can keep your hair as long as three inches. This short hairstyle has been worn by many celebrities, such as Zoe Kravitz, and is a great style for those of you too scared to go too short.
3. Side Swept Buzz Cut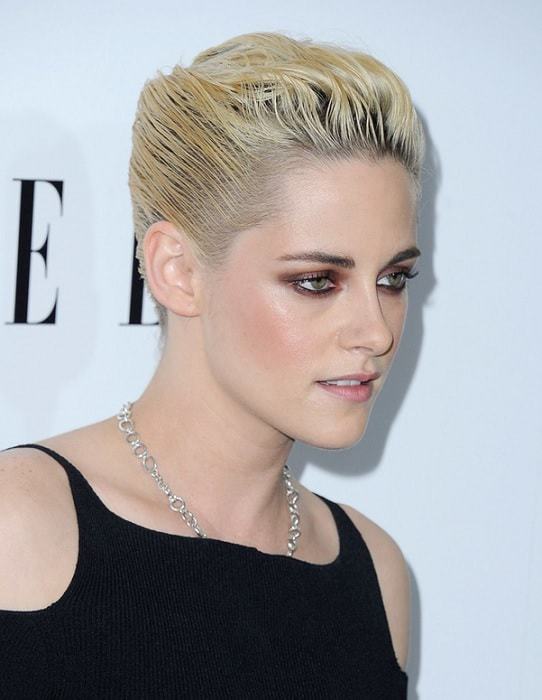 You may not be able to see the side swept aspect here on the first look. Since buzz cuts are very short hairstyles that are pretty common. If your hair is thick, try these short haircuts for thick hair. A side-swept buzz cut means that the inch of hair you have on your head since that's the normal length of a buzz cut is swept to one side. You can achieve this by using a hair gel since hair that short won't keep to one side otherwise.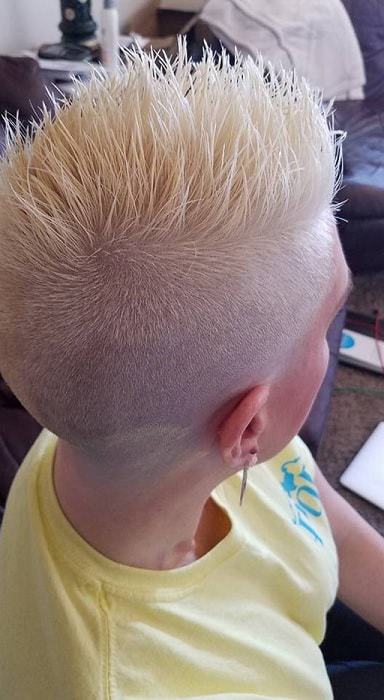 The Mohawk buzz cut is exactly as it says, shaved sides with long spiky hair up at the top. The long hair is usually one to three inches in length so they still keep in line with the normal buzz cut length.
This is a great variation of the women's buzz cut if you don't want a uniform length all around and you like some edge to your hairstyle.
5. Side Patterned Buzz Cut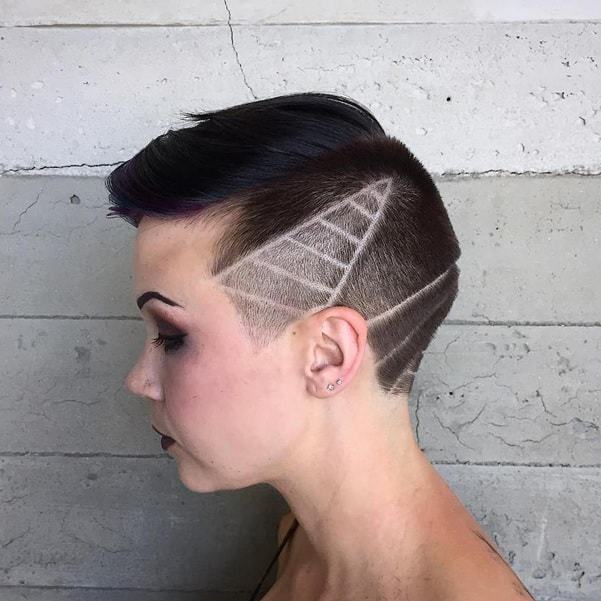 The side patterned buzz cut is another edgy variation of this look. In this buzz cut for women, you can either keep your whole hair length the same or leave the hair on top longer as is shown in this picture.
What's important for this look is that you incorporate some pattern onto the sides of your head. It could be a zig-zag pattern like the one shown here or it could be circular as well. It all depends on your own personal style!
6. Fully Patterned Buzz Cut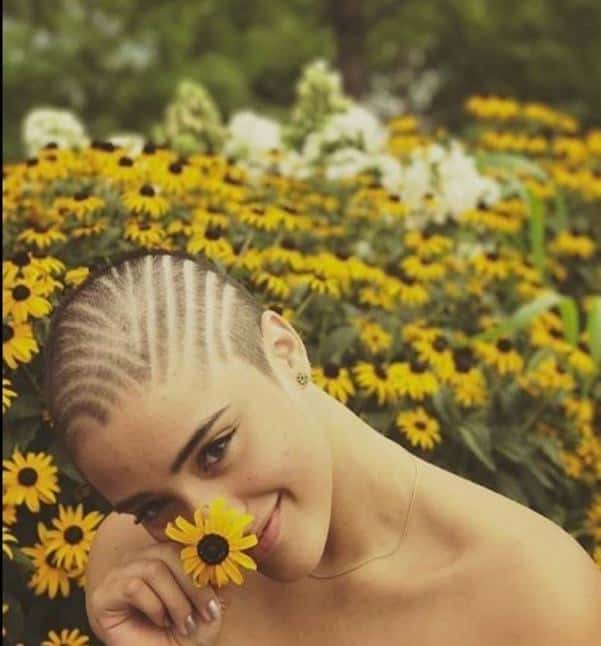 A fully patterned buzz cut is a daring buzz cut hairstyle to go for, but it's also one that can end up looking so good! For this hairstyle, you'll have to shave your hair but into a design all around your scalp.
To pull this off, you'll definitely need a good barber or a very talented friend. This is a look you should definitely consider, it's high fashion and can make you look chic without even trying.
7. Coloured Buzz Cut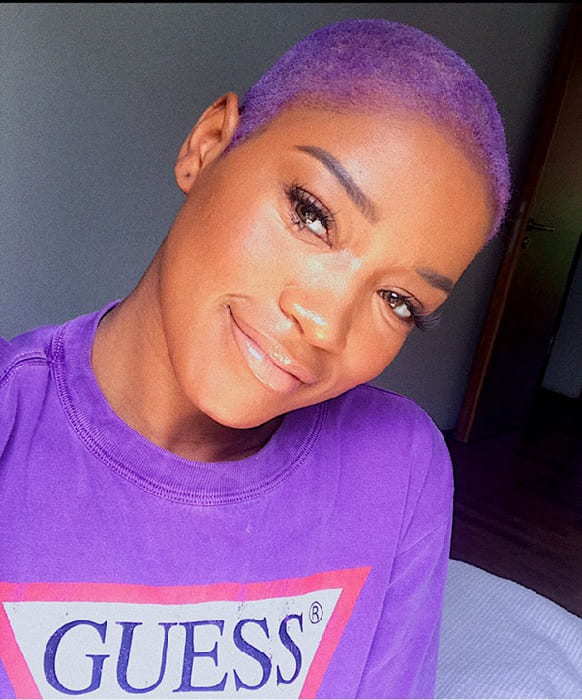 This buzz cut is exactly what it says it is, a colored buzz cut. Getting this hairstyle isn't difficult at all. You just need to shave your hair into a long or short buzz cut, the choice is yours.
After doing so, dye your hair whatever color you want. You can go for a natural color like a blonde, or pick a daring color like actress Keke Palmer's purple.
8. Shaved Buzz Cut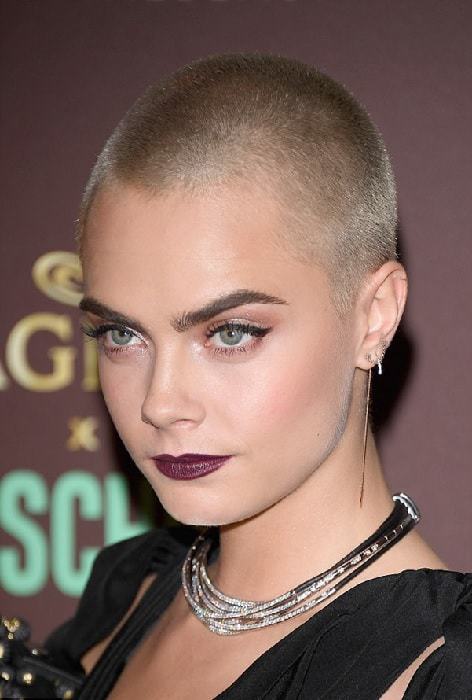 This buzz style for women is so daring it borders on a shaved head. For the shaved buzz cut, you have to shave all your hair down to a uniform length. Usually, this length is close to half an inch, close to a shaved length.
Even though this length is very short, many celebrities have worn it such as Cara Delevigne. If you're looking for a complete change in your look, consider the shaved buzz cut.
9. Mermaid Buzz Cut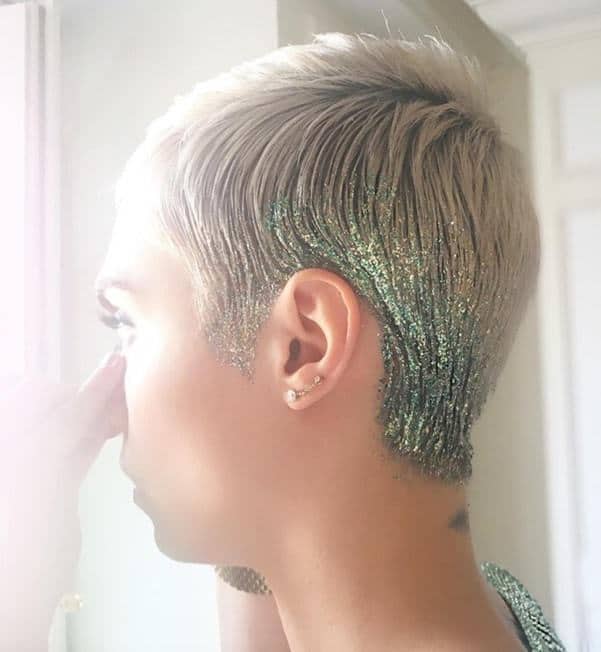 The mermaid buzz cut hairstyle was introduced to us by Mara Roszak, Cara Delevigne's hairstylist. This is a great way to wear your buzz cut, it's both creative and unique. All you need for it is some glitter. Put on some glitter at the ends of your hair, near the neck, and you're good to go. It's simple, easy, and looks amazing.
10. Platinum Buzz Cut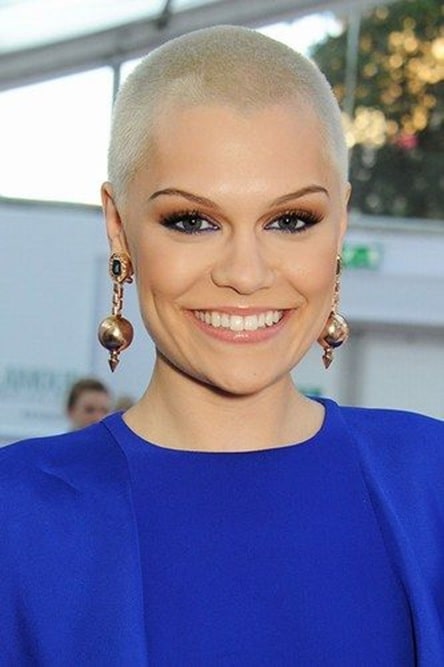 The platinum hair color look has been popularized by the Kardashians for quite a while now, and it has found its way into the buzz cut trend as well. The platinum buzz cut is a great buzz style for women.
You can keep the length from anything between one to three inches as long as your hair is colored platinum. This is another style that has been worn by many celebrities, such as Jessie J.
11. Half Buzz Cut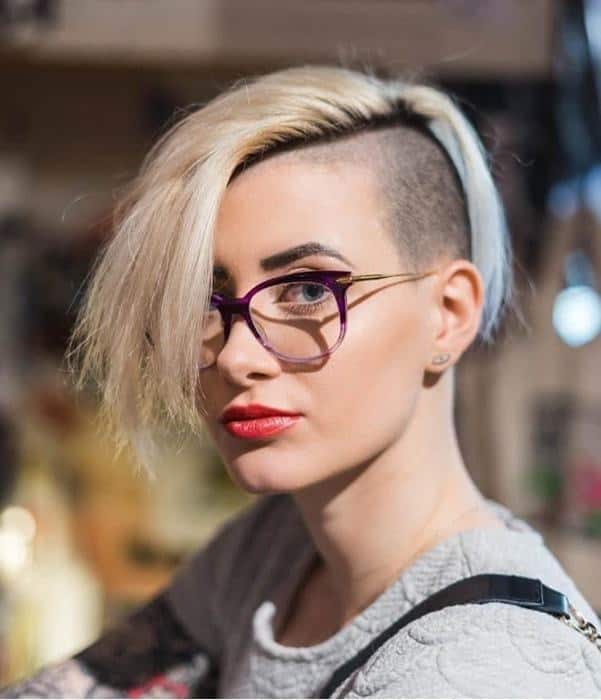 The half buzz cut is a wonderful choice for those ladies who don't want to part with all of your hair. In this hairstyle, you only have to get a buzz cut for half of your head.
Shave the hair on one side of your head down to one or two inches, while keeping the length of the other half of your head to whatever you want. You can keep it relatively short, as shown as the picture, or even longer down to your shoulders.
Half Shaved Hairstyles for Young Girls
12. Blended Buzz Cut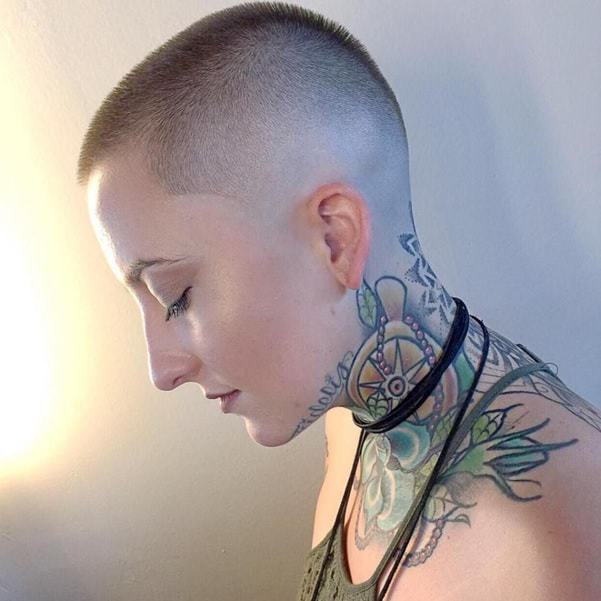 The blended buzz cut moves away from the uniform length that buzz cuts usually have. While the hair length is still between one to three inches, in this look the length varies. Usually, hair is longest at the top and as it moves down to the neck it gets shorter in length.
13. Sides Buzz Cut
The sides buzz cut is similar to the Mohawk buzz cut we mentioned before. To get this buzz cut for women you can shave the hair on your sides down to an inch or two. The hair on the top of your head can stay longer, exceeding three inches. You can style the hair on top any way you want, but usually, it's kept in a puffy style.
14. Textured Buzz Cut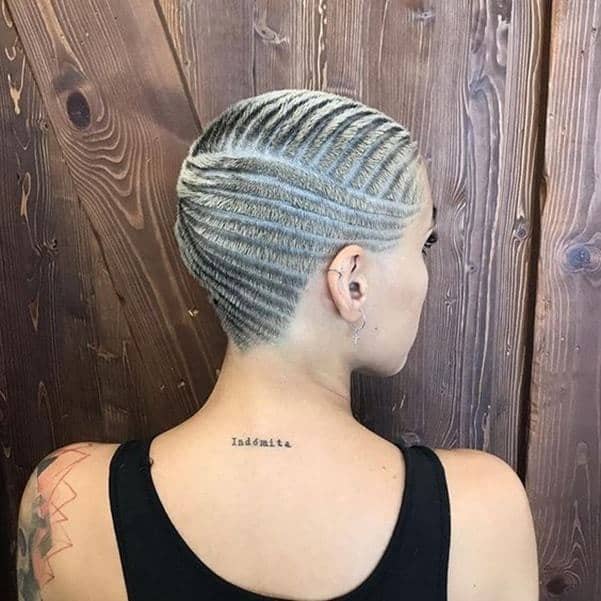 The textured buzz cut is slightly similar to the fully patterned buzz cut. However, the hair in this look is a little longer so the hair mimics a texture. To get this look, get your hair cut in a straight pattern. Keep the hair between the shaves around 2 inches and make sure they're cut in a choppy way.
15. Fade Buzz Cut
The fade buzz cut is a buzz cut style that is similar to the blended buzz cut. For this look, the length of your hair should also vary. However, the difference between the blended buzz cut and the fade buzz cut is that in the latter the hair fades down to the skin.
So, instead of the length fading down to a smaller length, it fades to the completely shaved scalp.
16. Ombre Buzz Cut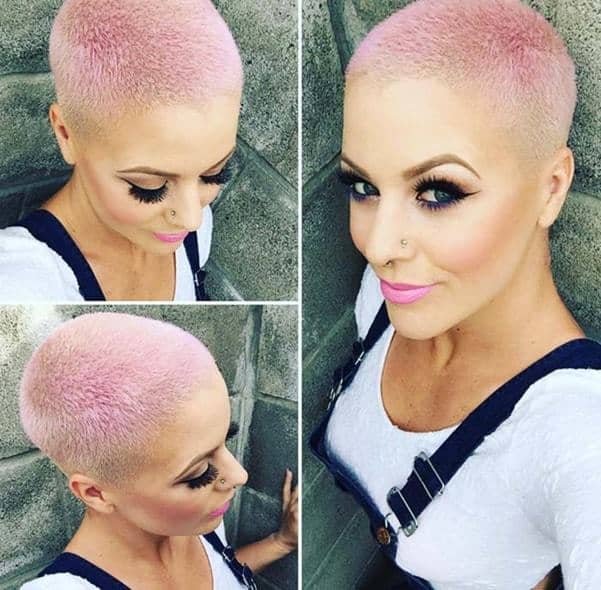 The ombre buzz cut is another great buzz cut style for women. It's the application of the ombre hair onto a buzz cut hairstyle. To achieve this look, dye your hair the darkest hue at the top center of your head.
From there, as the hair fades out towards the hairline the color should get lighter. It will be the lightest at the hairline and the neck. This is a wonderful style that has been worn by celebrities such as Will Smith.
17. Buzz Cut with A Part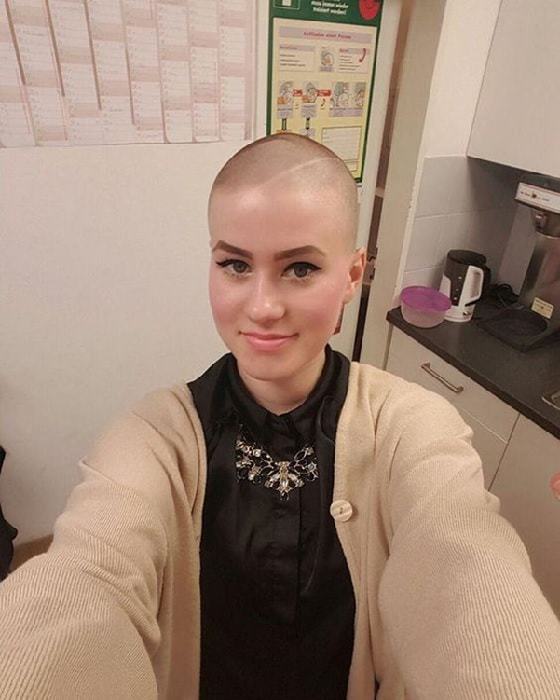 For this style, all you need to do is shave your hair down to a uniform length (anywhere between one to three inches). Once that's done, shave a line of hair. This can be a straight line on the left or right side, mimicking a part.
Or, it could be a diagonal line like the one shown here. It's a great way to provide your face with some symmetry and put a stylish twist on the original buzz cut look.
18. Buzz Cut with Highlights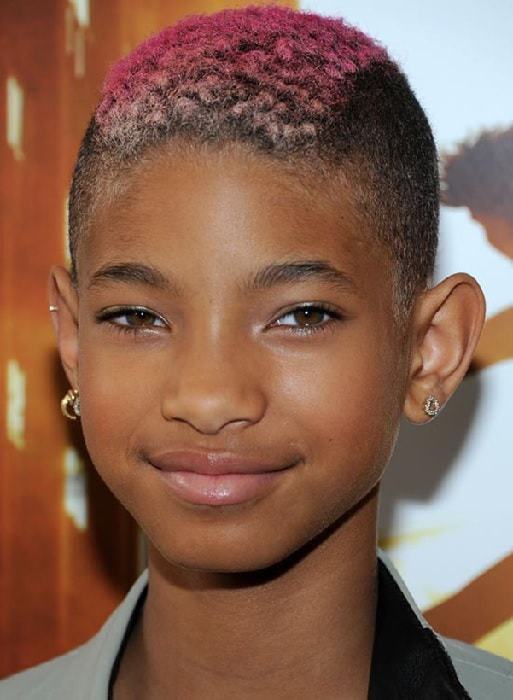 If you liked the color buzz cut but think it may be a tad bit too daring for you, then the buzz cut with highlights is a prime choice for you. For this look, you just need to dye the tips of the hair on top of your head.
This way you can incorporate a bold color into your hairstyle without committing to dying your whole hair.
19. Buzz Cut with A Temporary Tattoo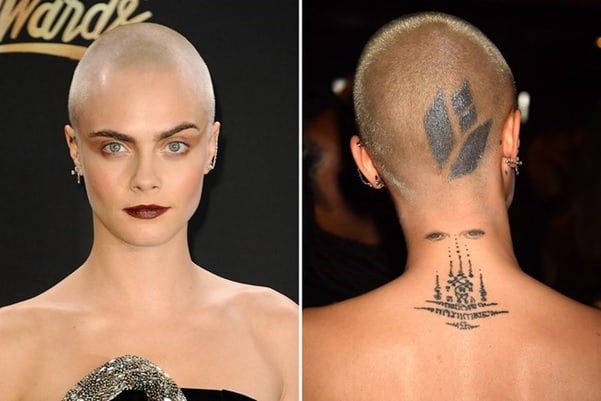 A different buzz cut style for women is the buzz cut with a temporary tattoo. For this style, you'll have to get a short buzz cut (around half an inch). Then, you can get a temporary tattoo at the back of your scalp that'll be noticeable and make you look daring.
20. Multi-toned Buzzcut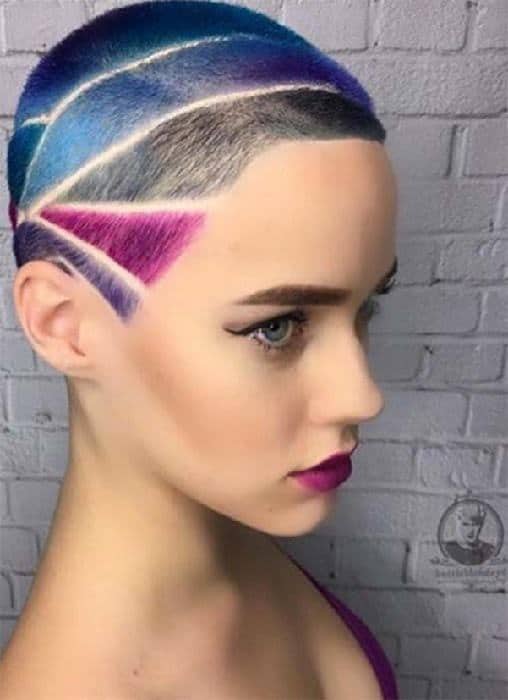 The last buzz cut we have on the list for you is the multi-toned buzz cut. This buzz cut incorporates a couple of different colors, the way you want to arrange them is completely up to you and your barber! This look is definitely different but with the right amount of confidence, it has the potential to look amazing.
We hope this list helps you decide what kind of buzz cut you would want to get. It's always a good idea to change up your look, especially if you've had it for a long time. Buzz cut hairstyles for women are a great way to do just that!