Black women over 60 can work a glorious gray hairstyle by choosing braids that protect their natural hair. As you get older, your lock not only lose their pigment, but they become even more fragile, requiring more attention. And braids will better preserve your threads, gearing them from pollution and debris.
However, if you want something more classy, a good old afro with loads of volume can be the right call. Also, a short pixie can't be ignored as it's very low maintenance. Moreover, it will help you deal with hair loss which is very common at this age.
Best Grey Hairstyles for Black Women Over 60
For black women over 60, going grey doesn't mean giving up on style. You have many options like soft curls, sleek bobs, sassy pixie cuts that shine with grey hair, etc.
We've listed below some stunning grey hairstyles for older black women over 60 that can give you a fresh look even in your greying years.
1. Salt And Pepper Rounded Afro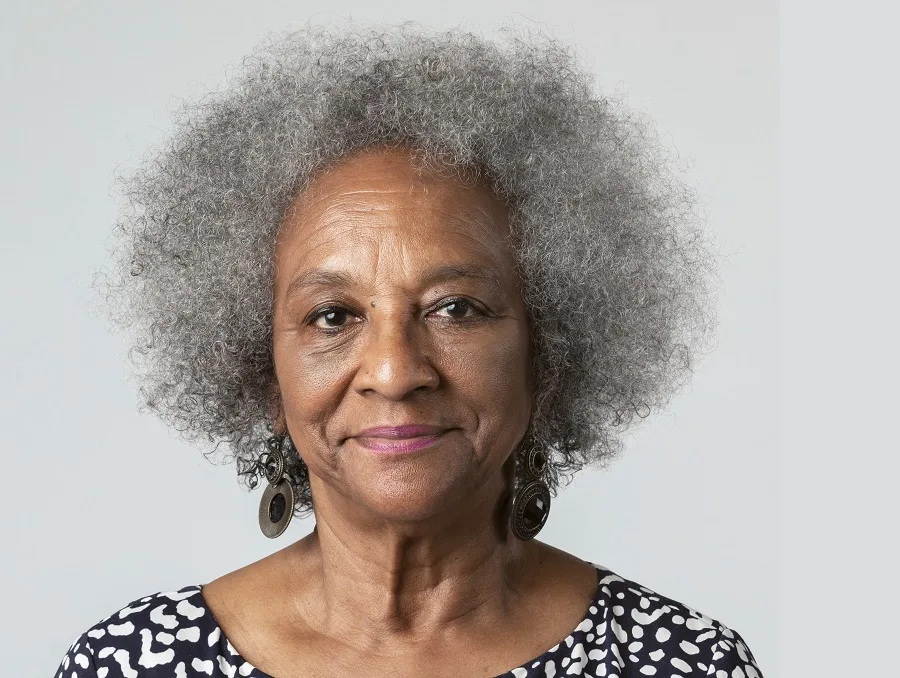 Natural coarse hair needs shape if you want it to look good each day. To keep it healthy, wash your locks once a week and abundantly use a hair conditioner or leave in products and oils that have nourishing effects.
Occasionally trim it to redo the shape, especially if you tend to use straightening irons or other heated products that damage the ends.
2. Messy Pixie
This salt and pepper pixie might look messy, but in fact, it requires some styling to get that nonchalant vibe.
The hair has natural volume and the strands are hand-picked and styled to have shape or look highlighted.
3. Ultra Thin Twisted Braids
Are you looking for a unique grey hairstyle for black women over 60? Try this ultra-thin twisted braids. This is a protective hairstyle you can wear for weeks without dealing with the daily long-lasting maintenance that coarse hair usually requires.
Keep them knotless and it is better not to use any hair extensions so the overall look remains simple and natural.
4. Romantic Curls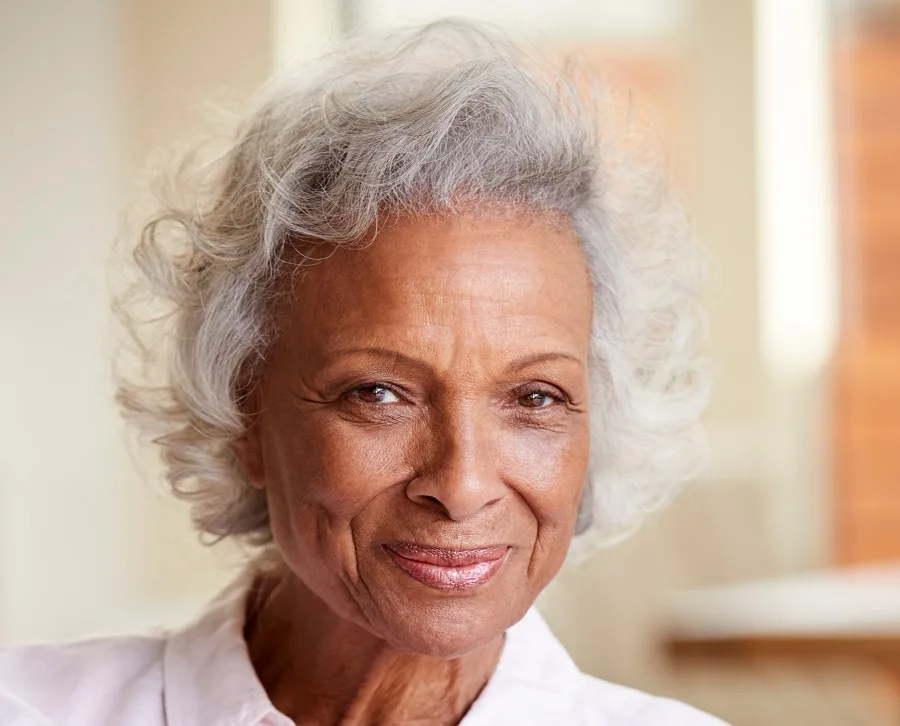 These romantic curls are a fabulous idea for a woman over 60 with gray hair. Go for a bob haircut and give your hair some texture.
You can use the old-school technique that involves rolling your hair on rods or getting those loops in no time with a curling wand. Tease the roots for more volume, especially the crown area, and swipe the fringe to the side.
5. Twisted Crown Braid
If you're a dark-skinned lady in her 60s with grey hair, try this braided hairstyle. You should try this twisted hair crown when you have long hair and want your hairstyle to look memorable for a fancy event.
Use the fringe and split it into two sections, then feed in the braid as you go along the hairline.
6. 3C Curls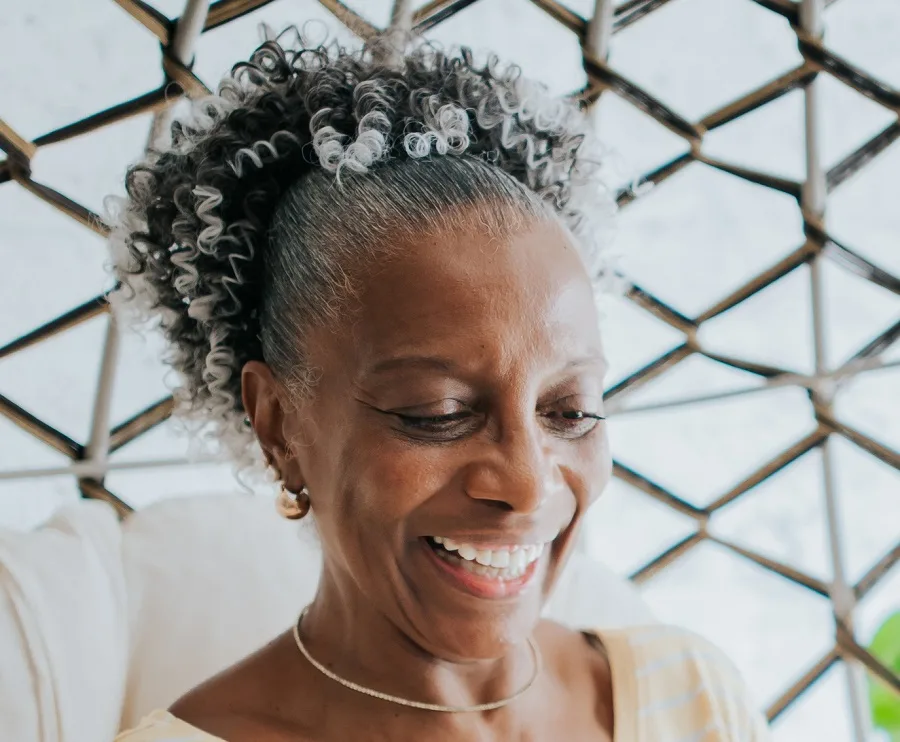 Use a strong hair gel and apply it to your hair and comb it into a ponytail. Make it look sleek and ensure no threads are plucked out.
If you don't have those natural thick 3C curls, you can always use a fake ponytail that can be easily attached. You can buy it online, and even find one with gray or white tips that match your natural color.
7. Short Bob
A short bob haircut is low maintenance and can be styled to suit most face shapes. And if you want an easygoing look that you can pull off within seconds, you can always use a wig.
Braid your hair in tight cornrows and make sure you hide everything under the wig.
8. Ultra Short Cut
Ultra short trims like this buzz cut is a lovely option for all black women who don't want to deal with their high-maintenance coarse locks.
And if the hair is fully white, then you should certainly pick a pair of white matching glasses that create a stunning contrast with your chocolate skin.
9. Pixie with Side Bangs
Pixie cuts can be so fancy if you know how to accessorize your look. Go for a short haircut with side bangs that you will slightly spread on the forehead.
Keep those sideburns long and style your hair with a pomade that loads the hair and gives it a slightly wet appearance.
10. Layered Bob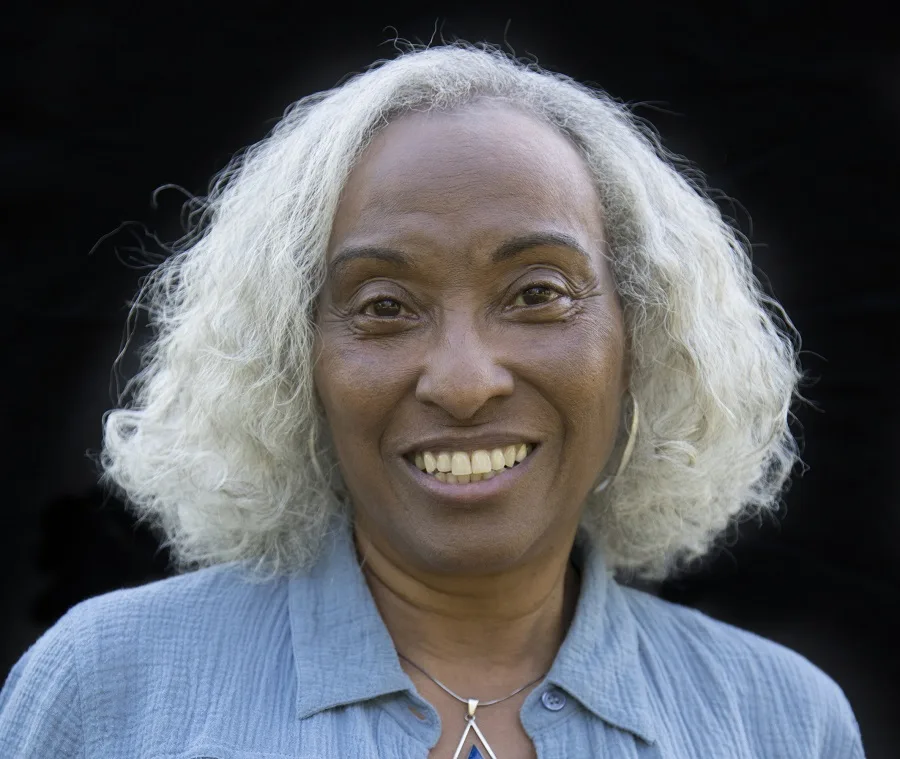 When your hair is naturally wavy, with some curls here and there, you will need a layered haircut that cuts off the volume from the tips.
If you don't cut your hair at the curvature of the curl, your tresses will get that triangle shape that you want to avoid.
11. Curly Pixie
A pixie cut is the perfect idea for a black woman in her 60s who has curly gray hair. Make sure you see a hairdresser who knows their way around curly locks so the loops will beautifully fall over each other.
Your goal is to gain that stacked look in the back and on the sides, with an extended length for the fringe.
12. Box Braids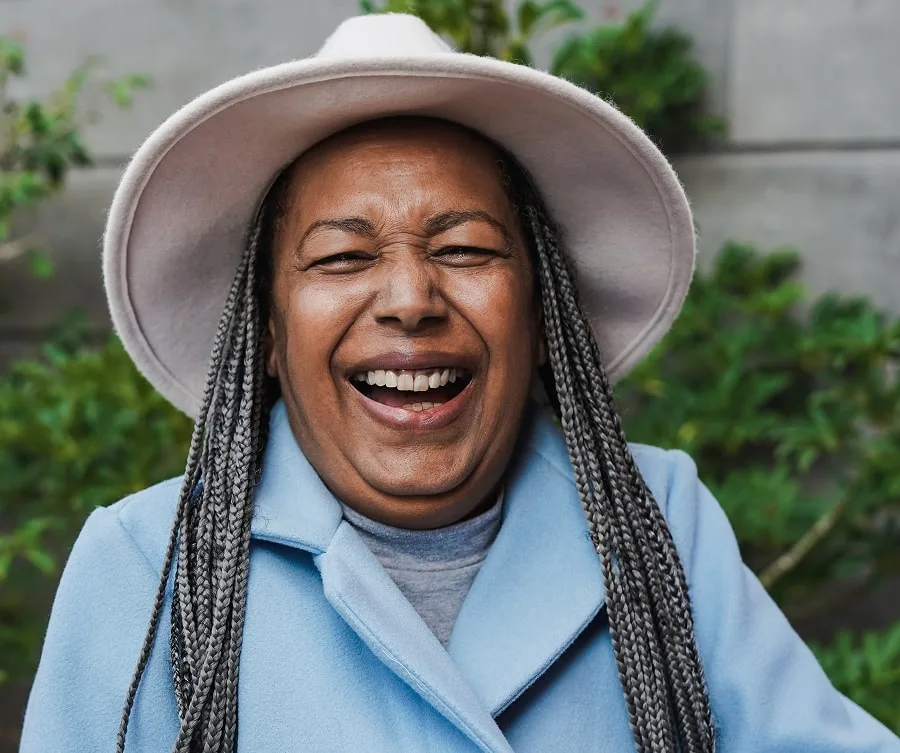 If you're an over 60 woman with a round face and long hair, try this braided hairstyle. box braids are cool and fun at any age and can make you feel modern and rad. An appropriate color for a woman with gray hair must be something in the same color range.
So when you're buying your hair extensions, make sure you choose a pebble or fossil color.
13. Top Volume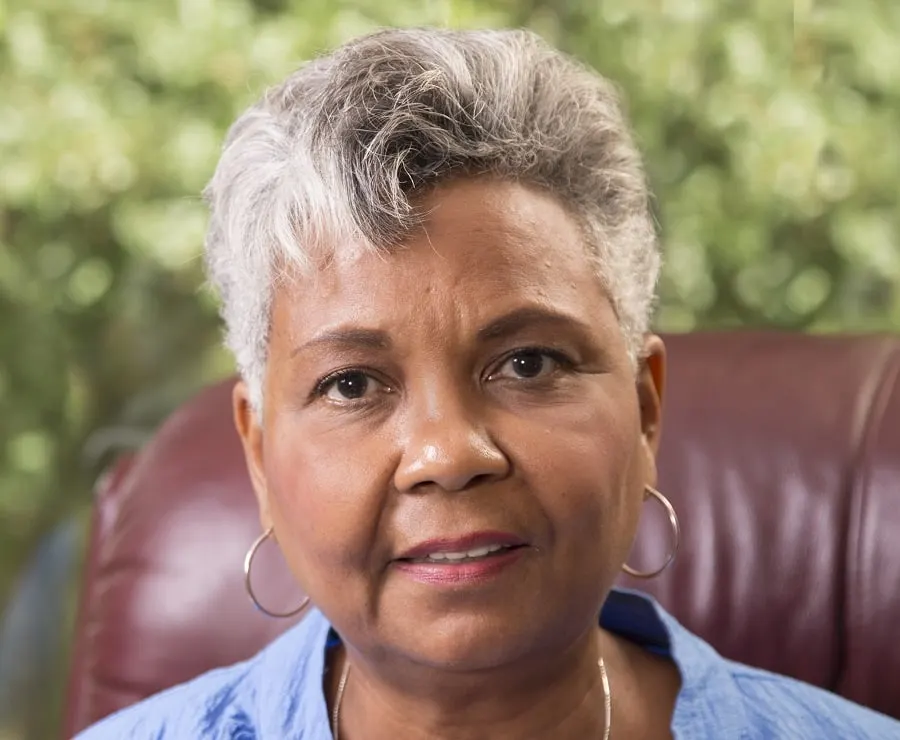 For this pixie cut, you will keep the sides shortly trimmed, while the top has more length so you can style it on the sides or up.
However, if you have a chubby face, you should aim for an elongated look and the crown must be lifted.
14. Styled Up
To make your hair look this straight, you can use a hair relaxer. As you probably already know, it will help you tame your coarse hair and straighten the thread.
However, don't overuse it because these products penetrate the cuticle and weaken your hair. If it's already thin and fine, make sure you use the product correctly and not too often.
15. Layered Top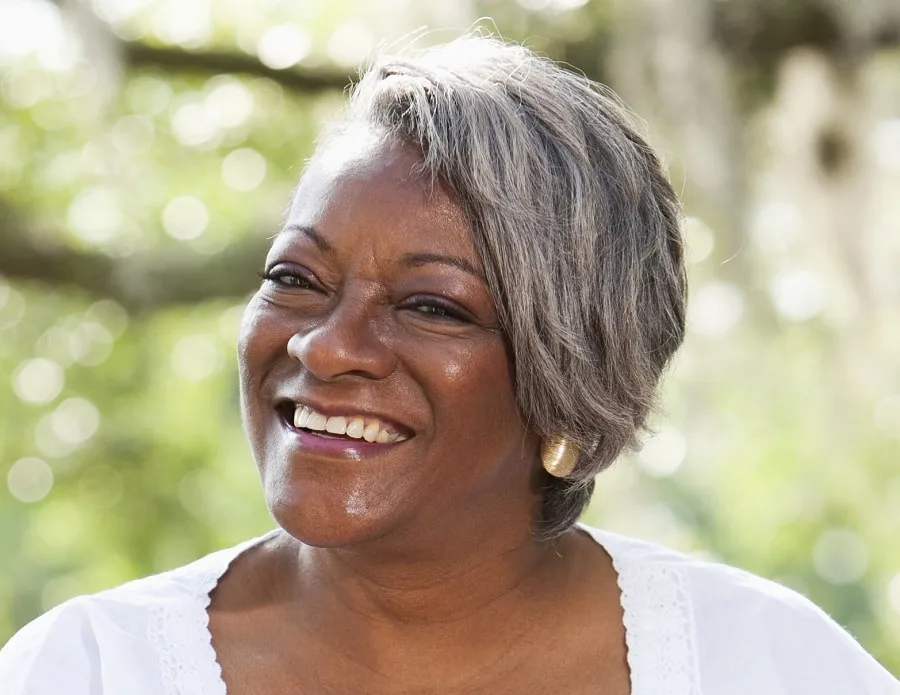 In this case, layers are used to create more volume for the crown area and to better define your strands. Swipe all the crown hair to the side, including those short bangs.
This way you will create angles that help you diminish the roundness of your face.
When you are a black woman in your 60s, who is dealing with gray hair and hair loss, a short trim might be the change you need. When it gets whiter, the hair changes its texture, becomes coarse and harder to manage. Bobs, pixie cuts with bangs, or buzz cuts can be some ideas to try. Let us know which example from above will suit you best!