As black ladies get older, they show an immense interest in hairstyles and there is nothing wrong with it. Entering your golden age does never mean you need to look necessarily like a frumpy grandma.
Although hairstyle guides don't feature many options for women with natural black hair, there are so many things you can do with that fluffy mane of yours. That's the reason we have dedicated our entire focus to hairstyles for black women over 60.
Hairstyle Ideas for Older Black Women Over 60
Keep in mind the manageability and ease of styling associated with each hairstyle before deciding on one. Here are some amazing hairstyle ideas for African-American senior ladies over 60 to get a refreshing new look.
1. Short Curly Bob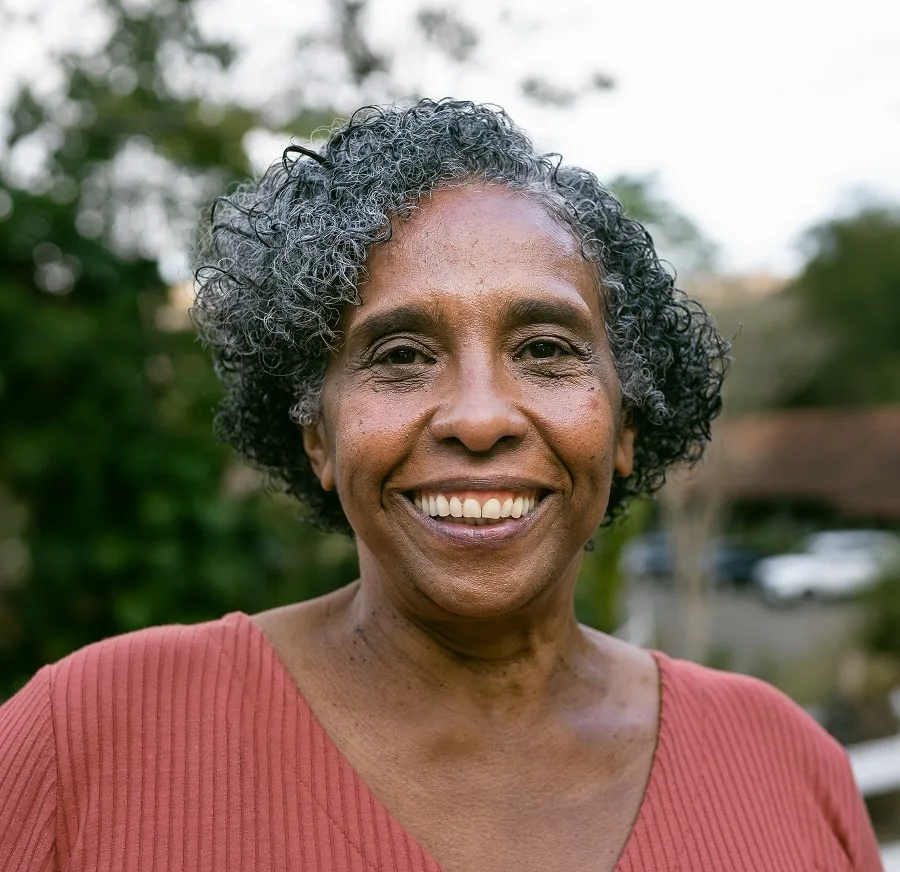 Regardless of hair texture, short bobs have always remained popular among elder women. They are versatile, easy to style, and frame the face in the most beautiful way. You can go for a straight cut or opt for side-swept bangs that elongate towards the back in a round shape.
2. Platinum Pixie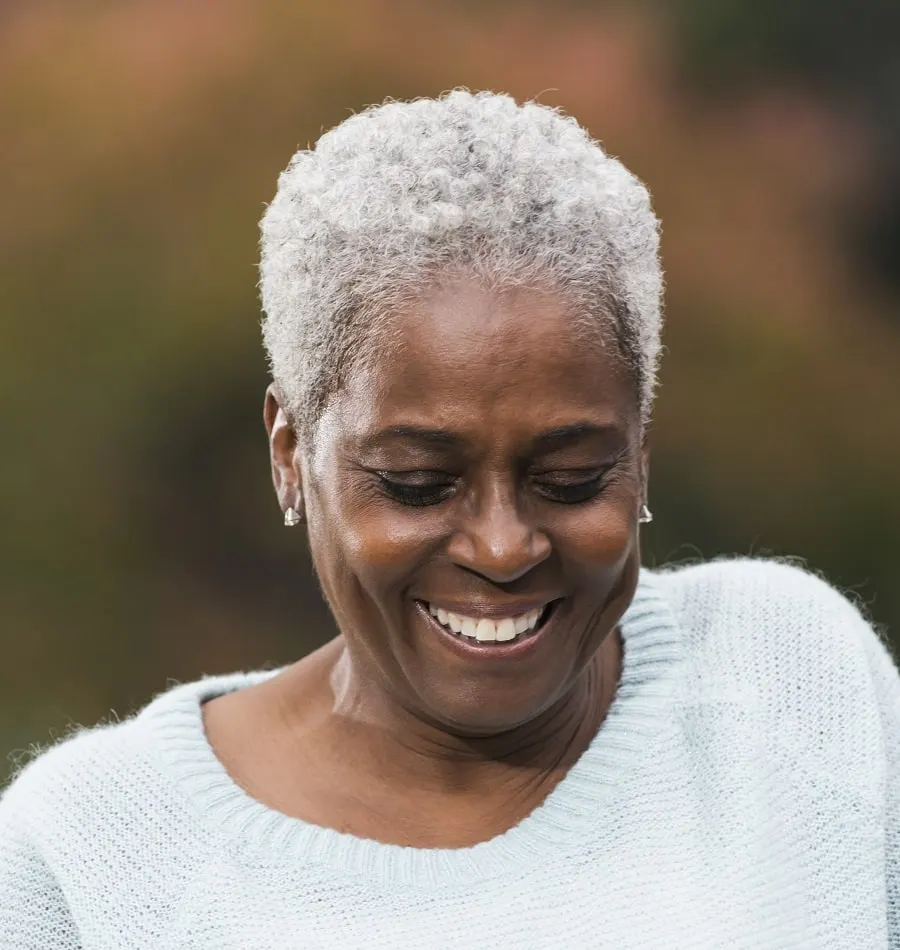 Pixies proved to be ideal when it comes to hairstyles for black women over 60. They impart a youthful look to the face featuring a slightly long top that tapers gradually towards the sides and back. Spice up the style further with a cool platinum blonde hair color.
3. Naturally Textured Ponytail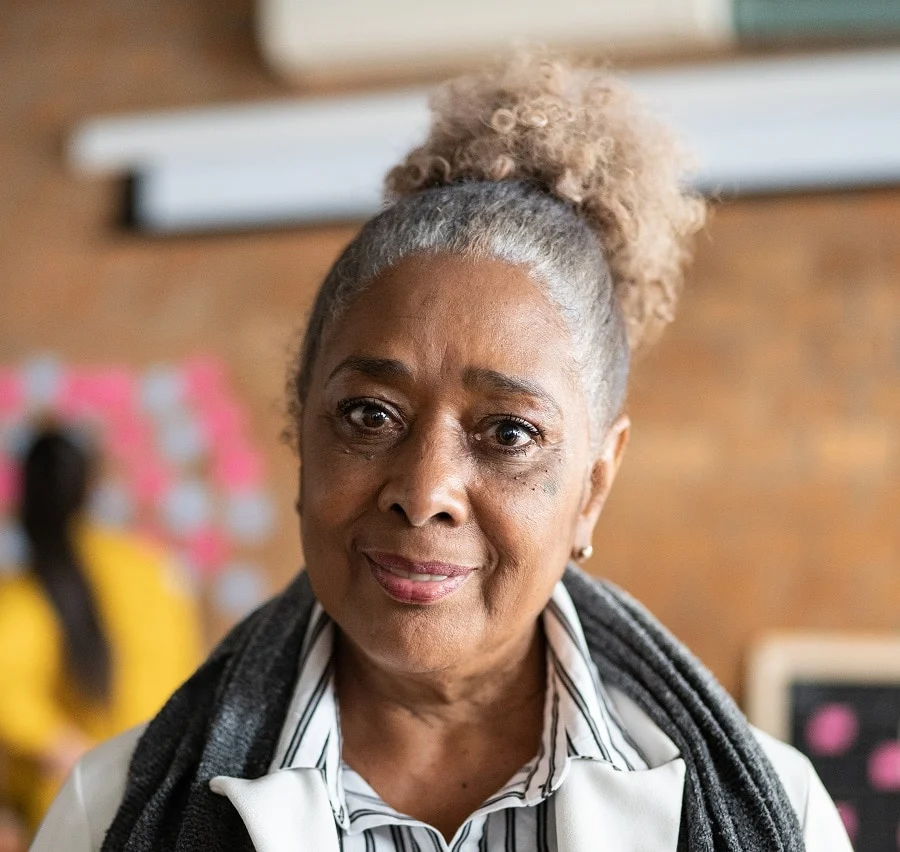 Keep those kinky curls away from the face on a busy or hot day with a high ponytail. Slick back the strands and let them fluff up once secured in a hair tie resulting in an updo that is made especially to flatter natural black hair. Use a synthetic drawstring ponytail/bun if needed.
4. Soft Lob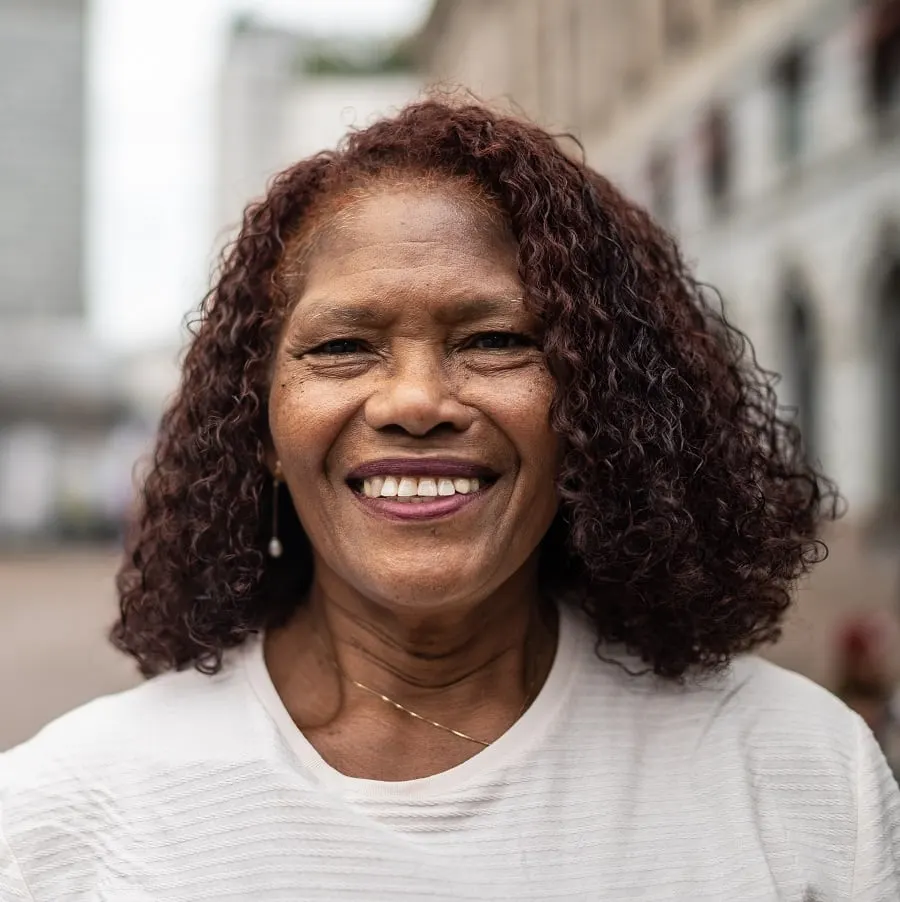 Lobs impart a slimming effect in the case of a chubby round face. Add some body and movement with soft layers and couple it with a dark chocolate brown hair shade replacing that natural black color for a change. Not enough? How about adding some highlights?
5. Braided Bun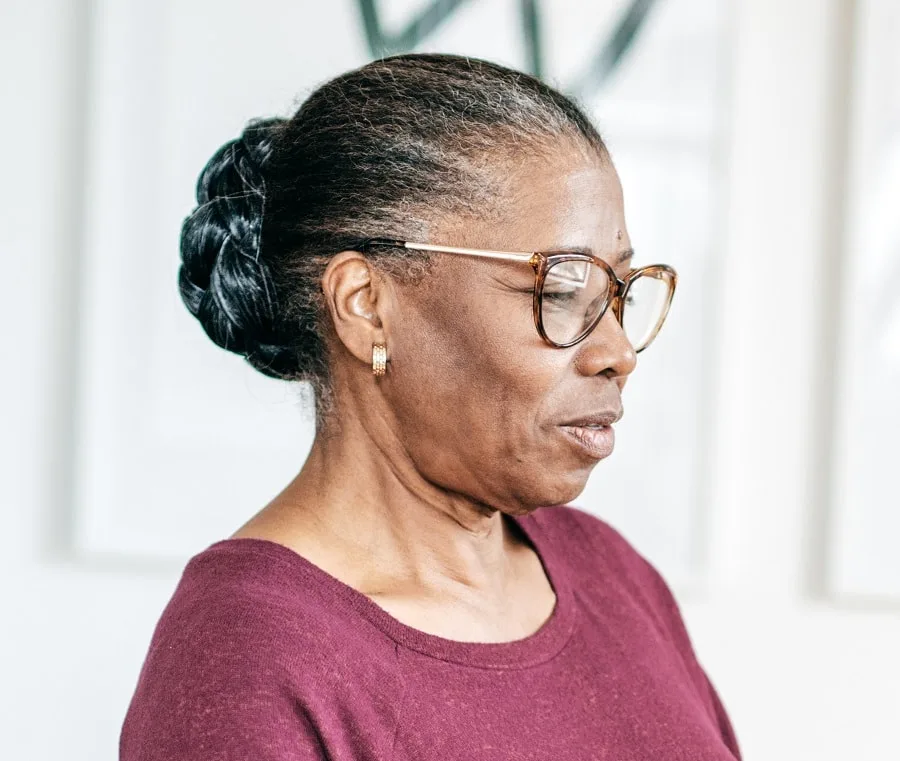 Keep it graceful at formal gatherings by pulling back those medium to long tresses in a ponytail, braiding it down, and wrapping it into a simple bun. Use a donut bun maker and a synthetic braid to achieve a similar look with short hair. No one's ever going to know!
6. Modern Bowl Cut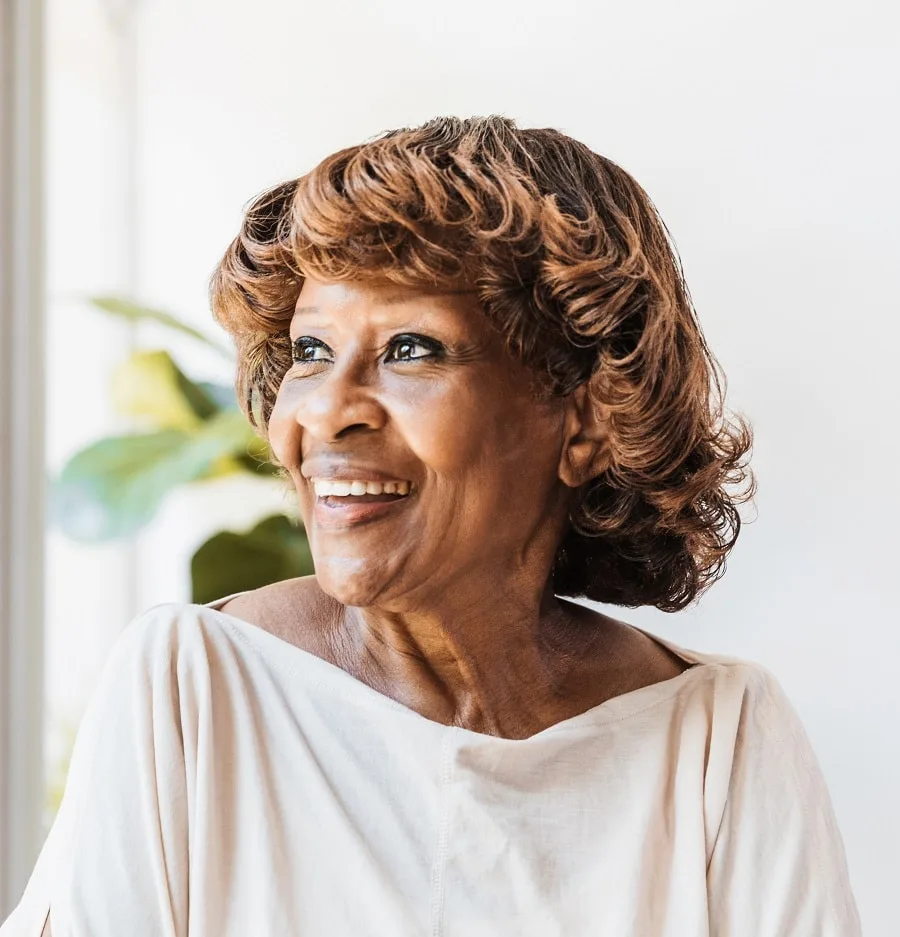 This modern layered bowl cut with brow-grazing bangs elongating across the sides towards the back is ideal for senior African-American ladies who are ready to follow a proper hairstyling routine in the morning. The strands are straightened while the ends are curled inward for a subtle vintage touch.
7. Halo Braid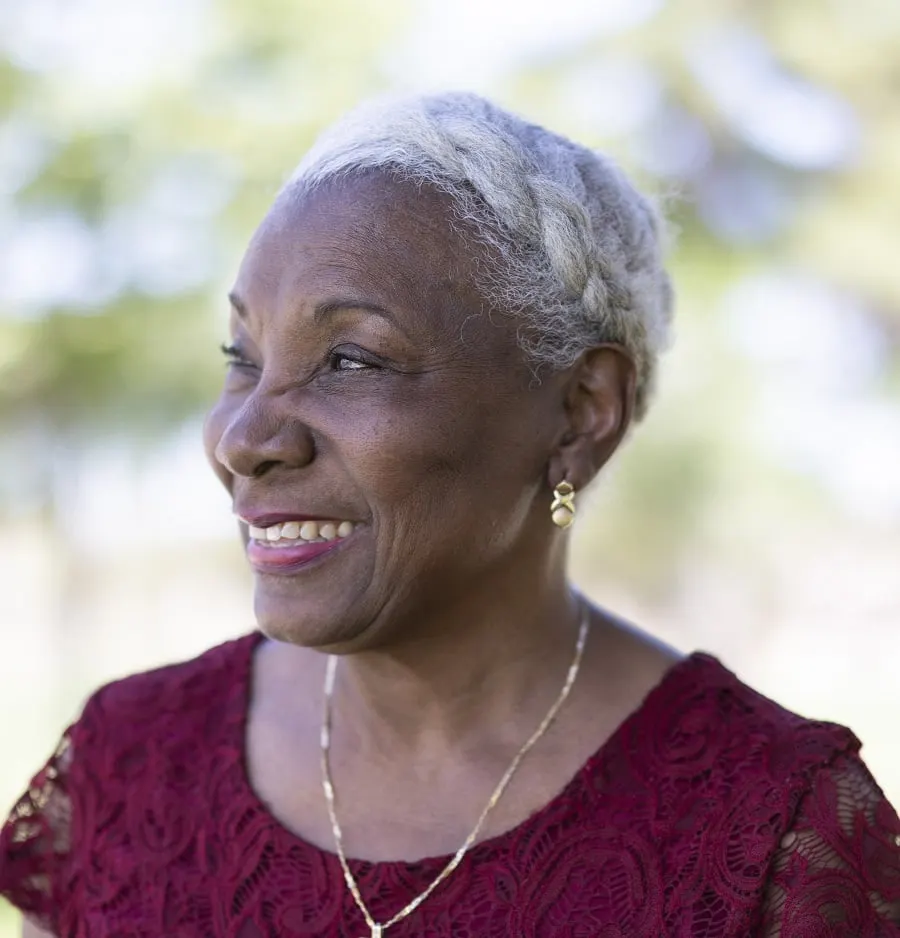 Wear those white tresses with an elegant halo braid. Start on one side and keep on adding chunks while braiding or twisting the hair moving around the head with or without a parting. Secure in place with pins and adorn with beads for a fancy wedding look.
8. Headband Style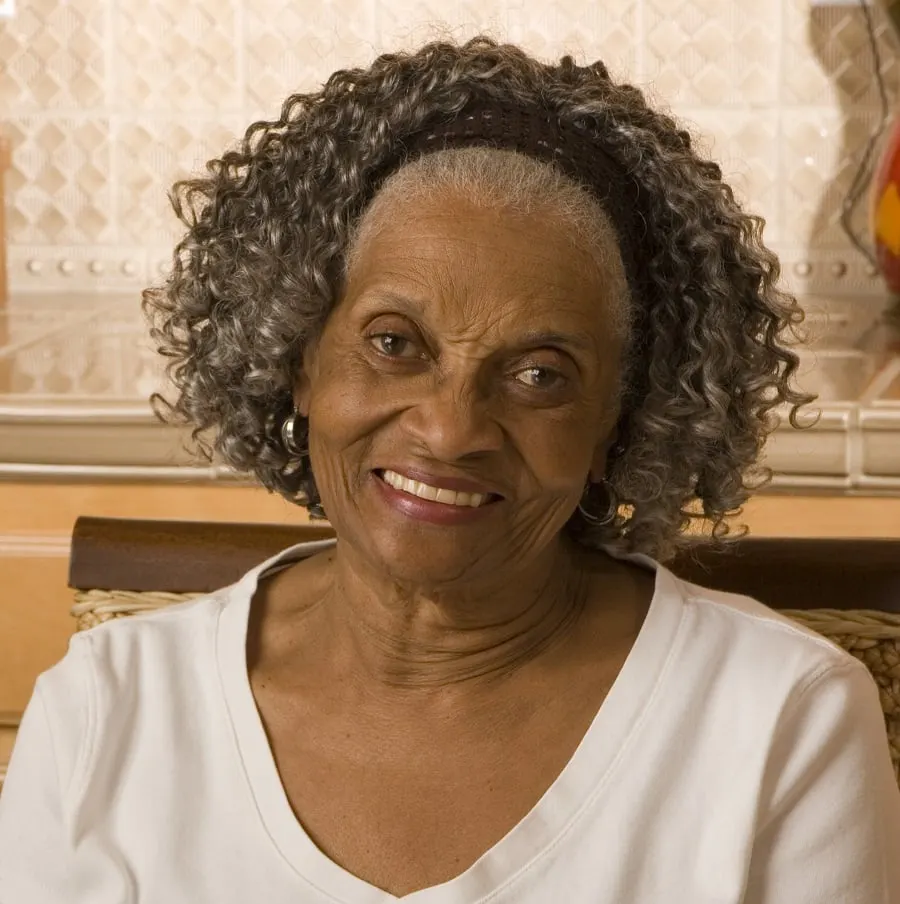 Headbands come in handy for laid-back ones who don't want to style their hair but still want to look preppy every day.
Show off those jaw-dropping natural curls by opting for a layered bob at chin length or use a wig instead and push back the hair with an elastic hairband.
9. Long Buzz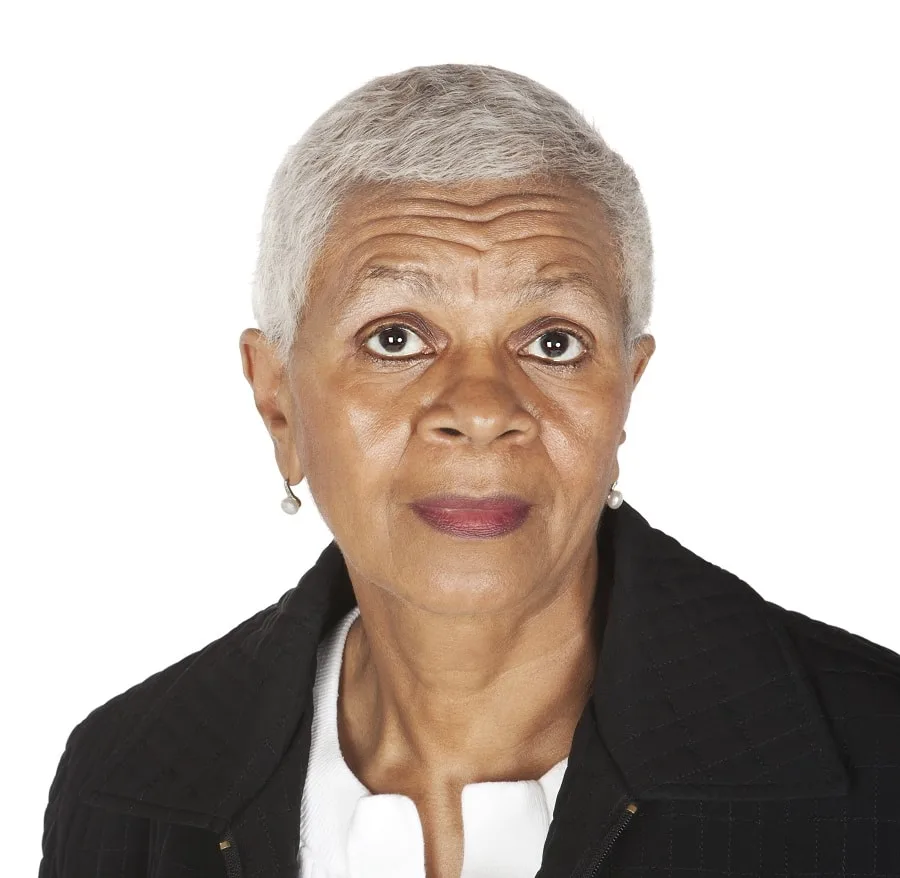 Buzz cuts come in varying lengths and make an ideal low-maintenance hairstyle for black women over 60.
Opt for a short, medium, or long buzz keeping the strands anywhere between one to three inches all over the head. You can even skip the brush and sweep the hair sideward with your fingers only.
10. Short Layers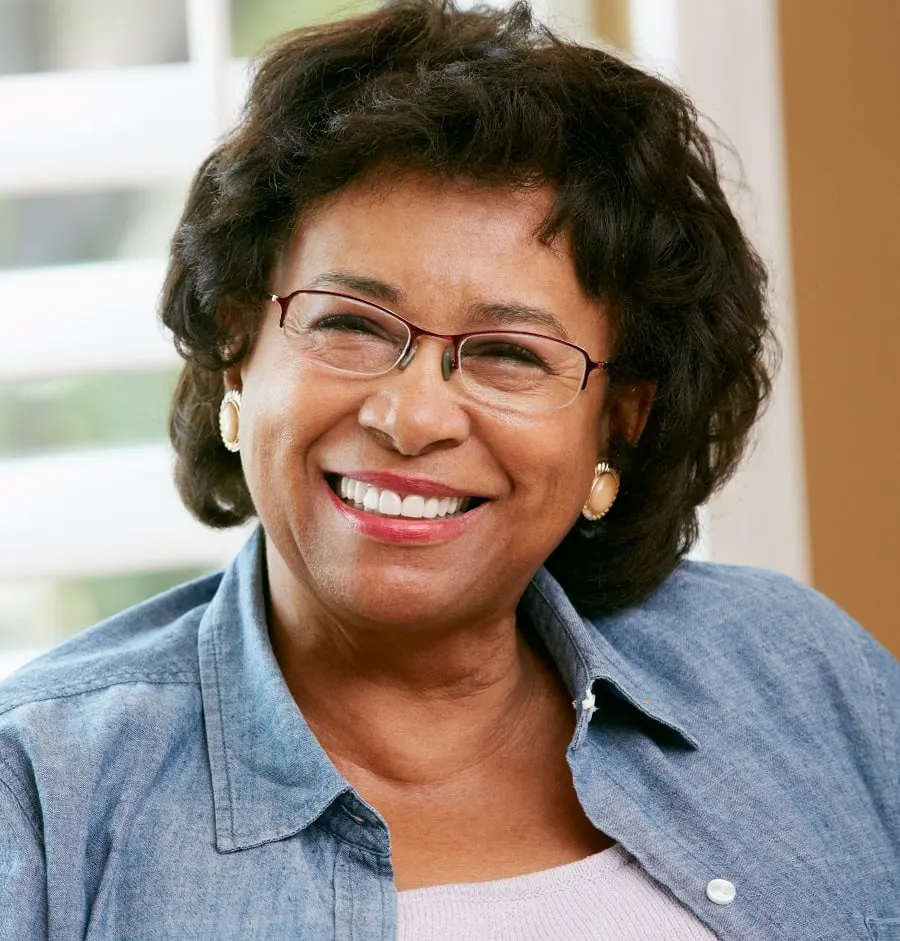 Another style featuring a bob but this heavy on the layers. It is suitable to take away excess bulk from thick hair or add some volume to a thinning mane. The ruffled baby bangs are ideal to conceal a receding hairline or a wide forehead. Classy!
11. Natural Fluff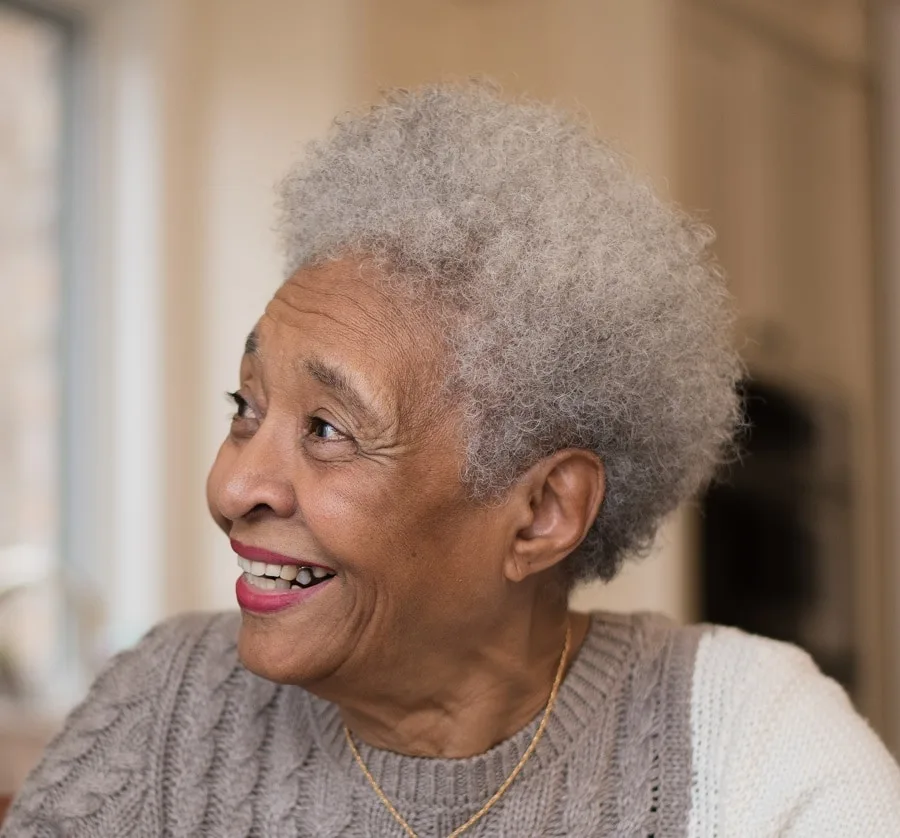 Keep it all natural by chopping those fluffy curls into a long pixie with a puffy top that shortens towards the sides and back.
Leave the greys to shine with full strength and brush them back away from the face. Can't get any simpler!
12. Tiny Afro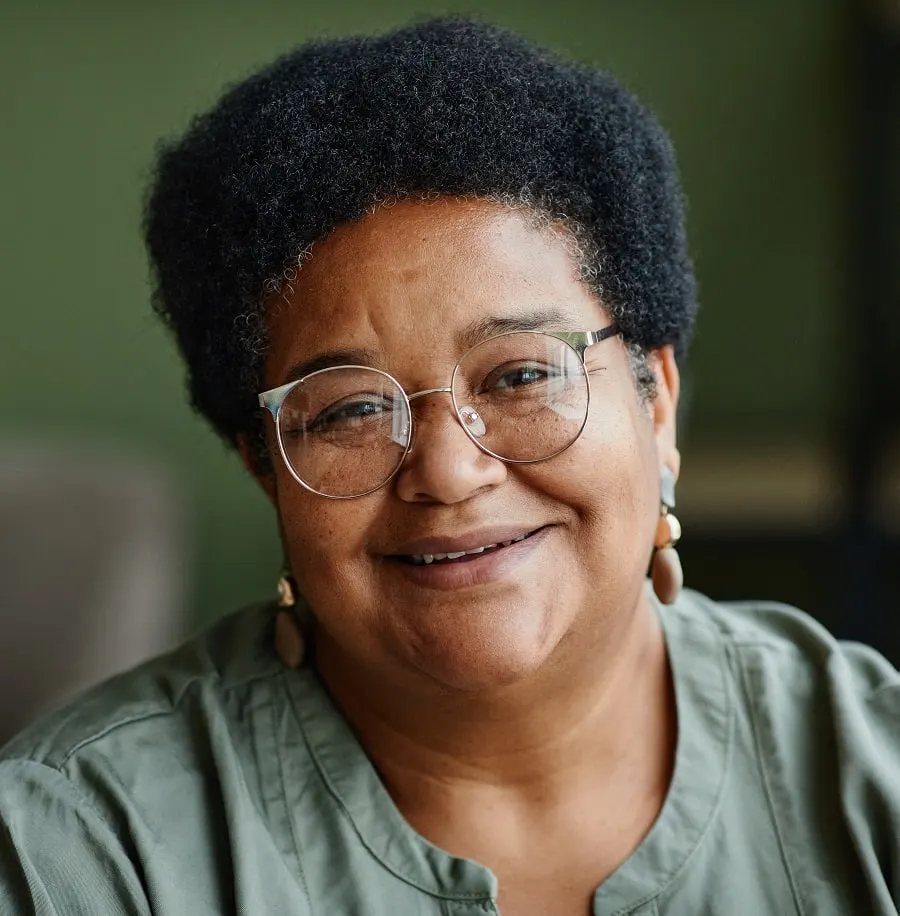 A teeny tiny afro looks sexy on all mixed-race women regardless of their age. Opt for a length that suits you the most and get the strands cut in a round shape.
An undercut might be ideal to add some youthfulness to the look. Groom your mane with a hair pick and call it a day.
13. Color Pop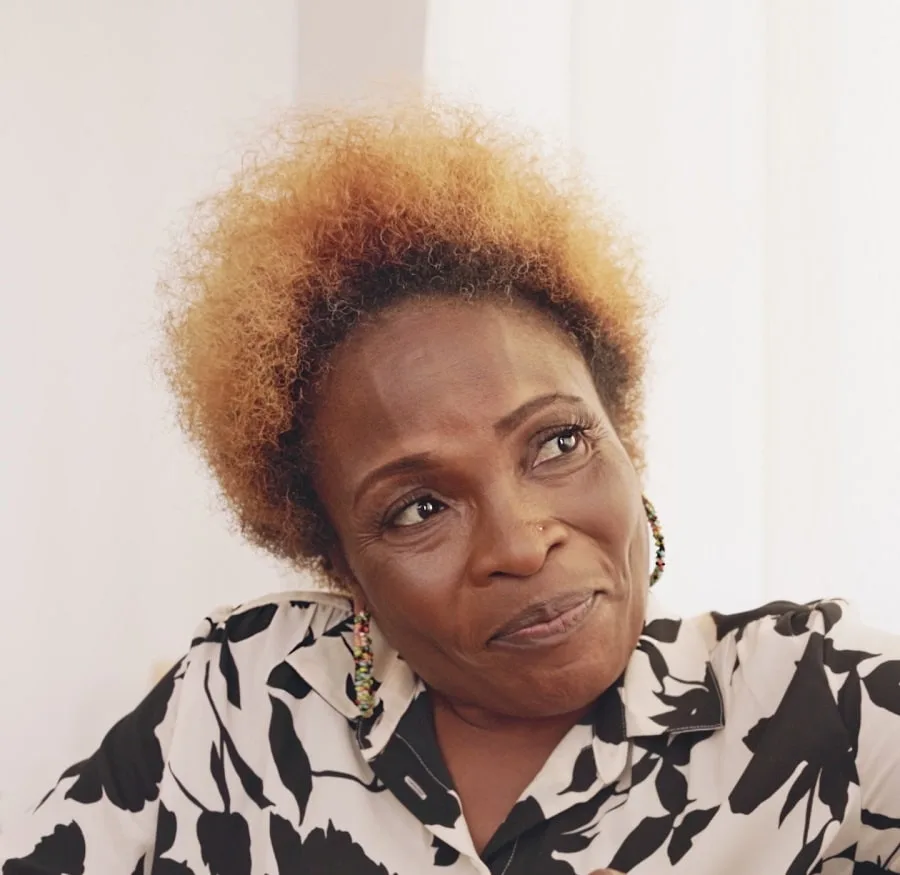 Senior ladies can rejuvenate their look by dying their tresses in whatever color they want. Take this look as an inspiration featuring short kinky afro curls painted in a warm caramel blonde hue, brightening the face.
Let the roots grow out and you will end up with a two-toned mane without any effort.
14. Professional Crop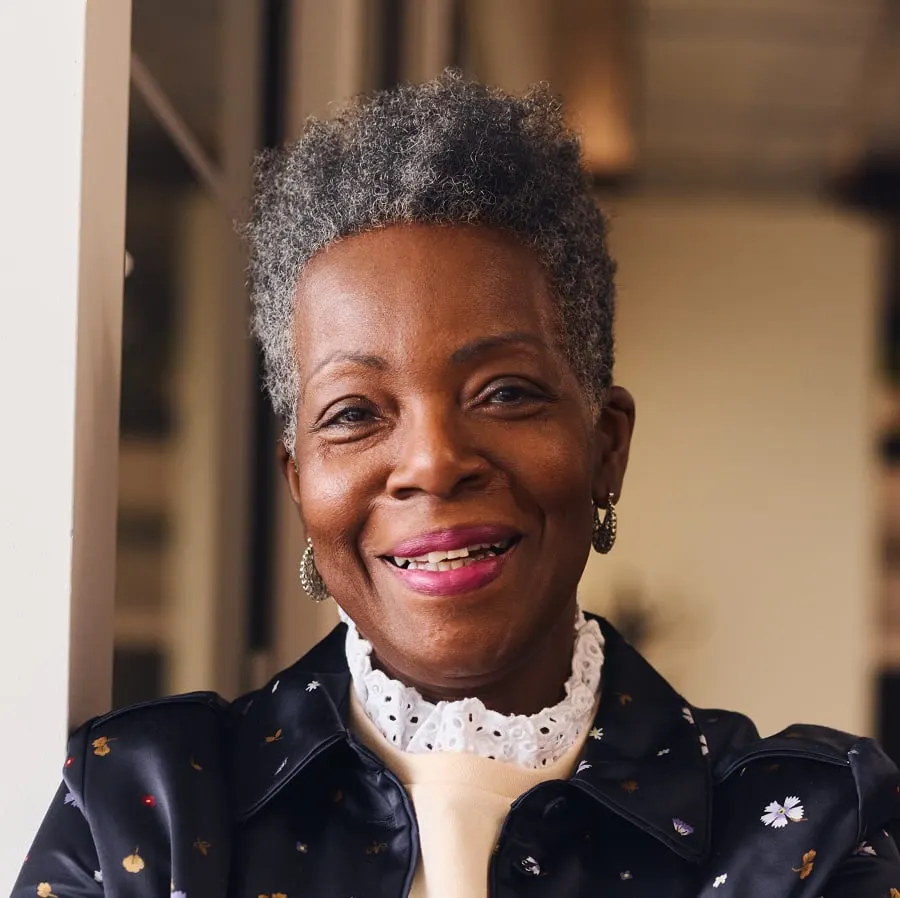 This hairstyle is suitable for black women over 60 who want a more professional appeal. Show off those precious salt and pepper curls by clipping the sides and back short or buzzing them to contrast sharply against a long top. Brush back the hair, making it stand upright!
15. Middle Part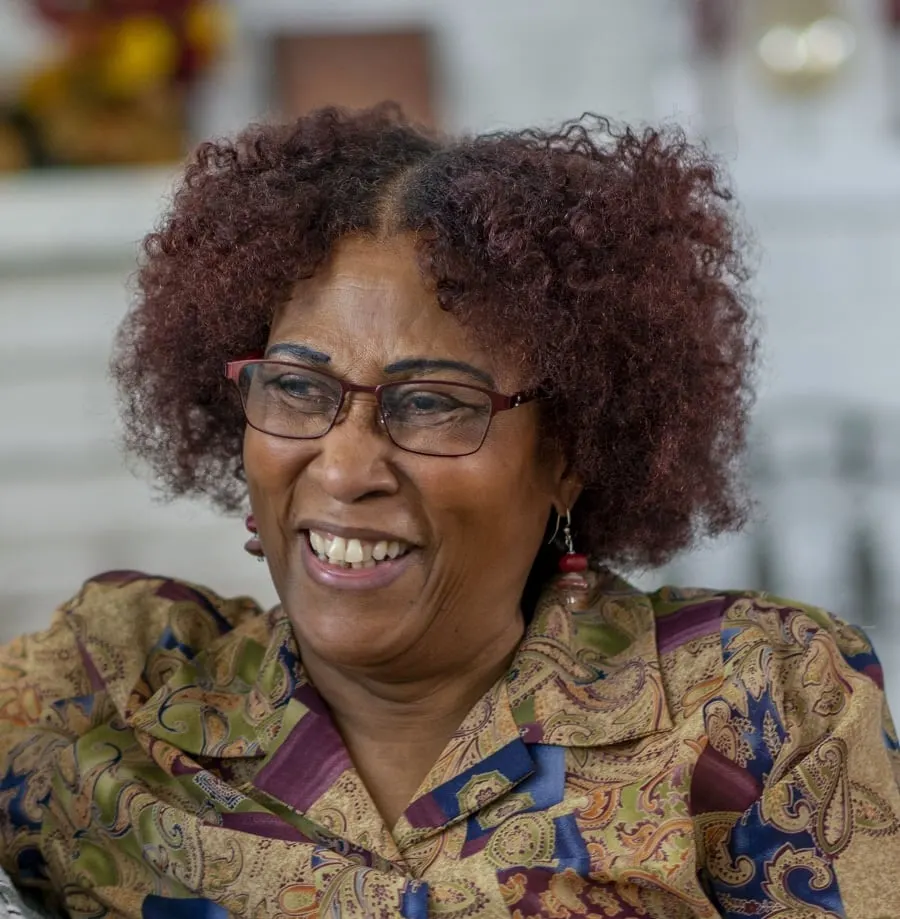 Make a long face less noticeable by going for a deva haircut for the strands to fall at varying lengths around the face with a simple middle part adding some roundness to it. Coming towards the color, a mahogany hair shade is ideal to accent a dark skin tone.
16. Use a Weave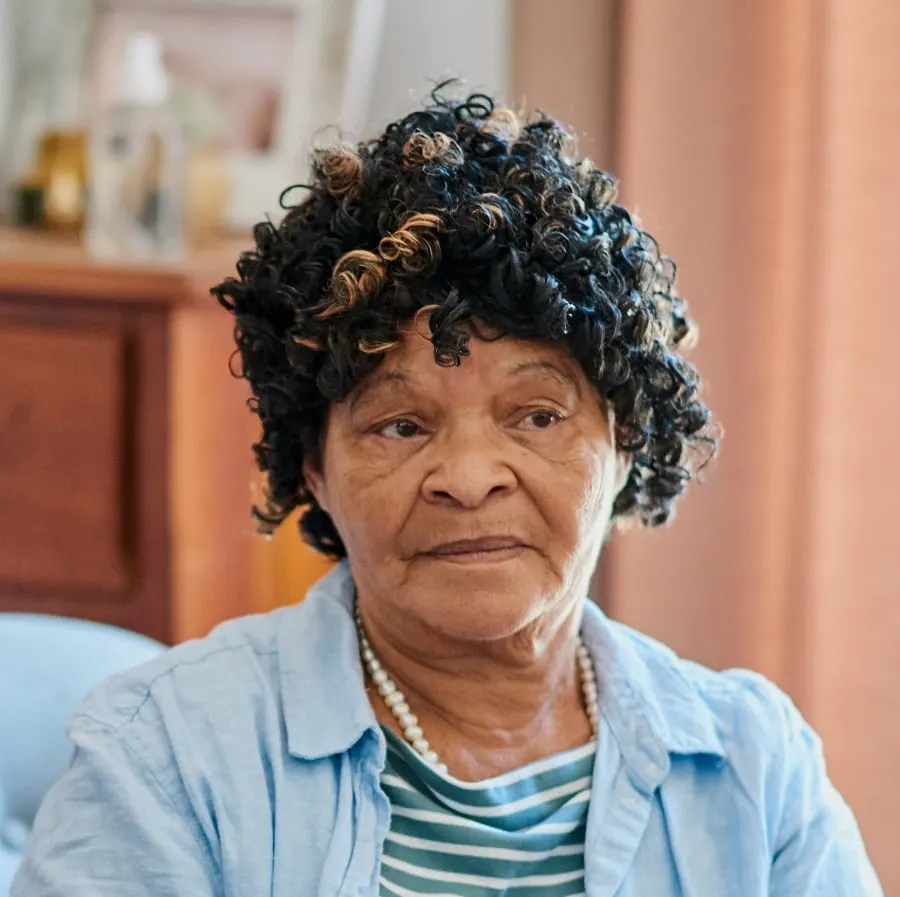 There is nothing wrong with using a weave, especially for dark-skinned senior ladies who don't have much hair left to rock their favorite hairstyles.
Get it cut and colored in whatever way you like although these blonde highlights on a black base are worth a shot too!
17. Pineapple Puff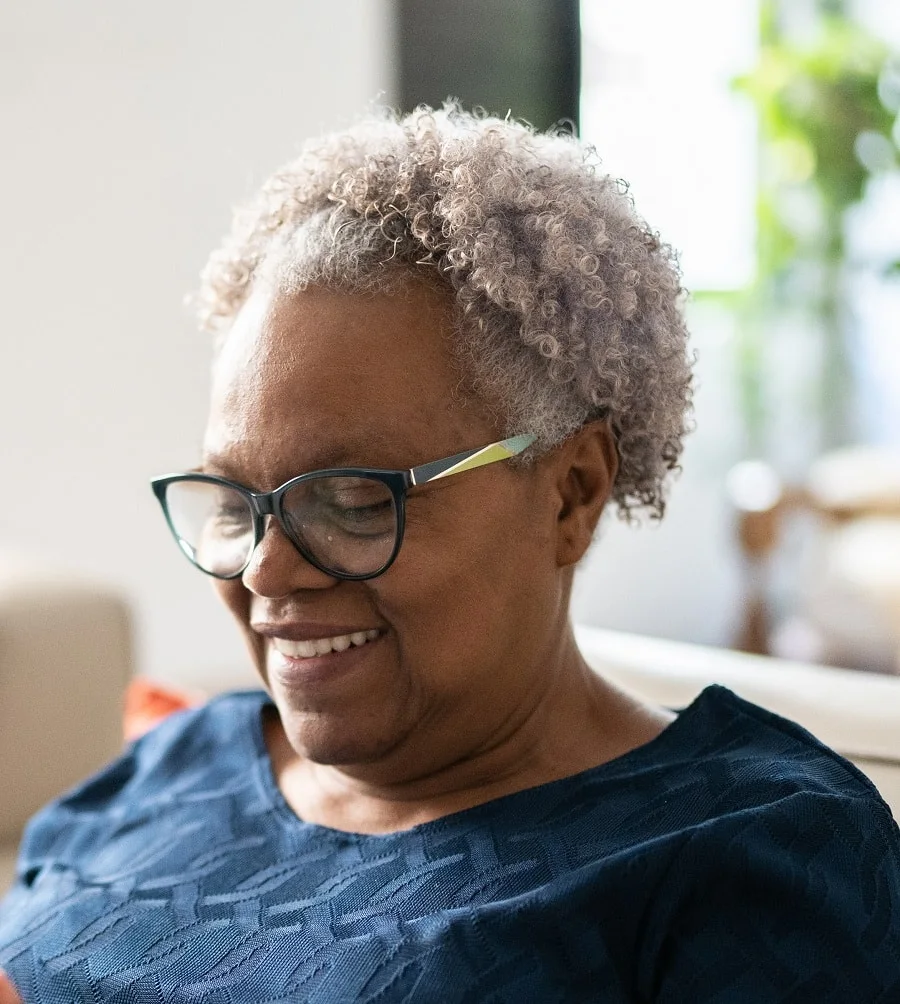 Are you a round-faced African-American woman over 60 with grey hair? Try this unique curly hairstyle.
This is a more subtle version of a drawstring ponytail. Consider gathering those God-gifted coils in a loose pineapple puff pulling them away from the face and fixing them in place with pins. A thin elastic hairband will do the job too, in fact with more ease.
18. Brushed-Back Hair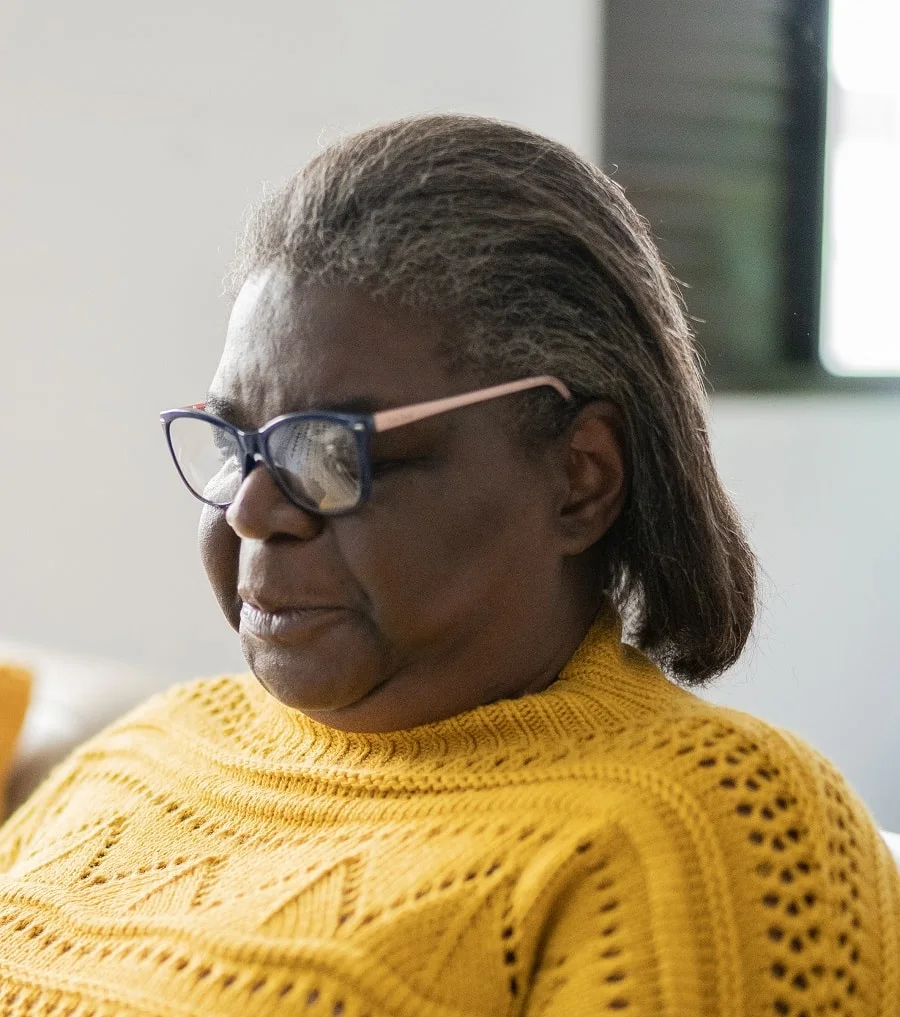 When you can't think of any special hairstyle, keep it simple on a normal day by brushing back the strands creating a subtle puff at the front regardless of the hair length. Keep the mane loose or style it into a low bun for a change.
19. Senegalese Twists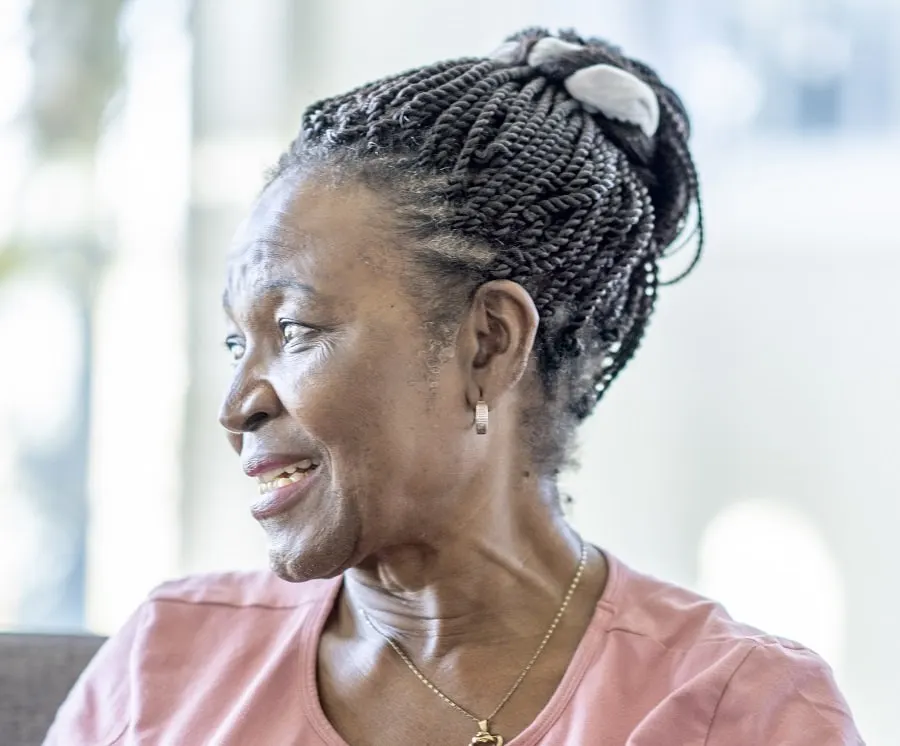 Senegalese twists, more commonly called rope twists, are a perfect easy-to-maintain protective hairstyle for black women turning 60 or above. Ask for the ones with medium thickness in order to avoid any unnecessary traction on the roots. Gather the strands in a jumbo bun for a refreshed look.
20. Microlocs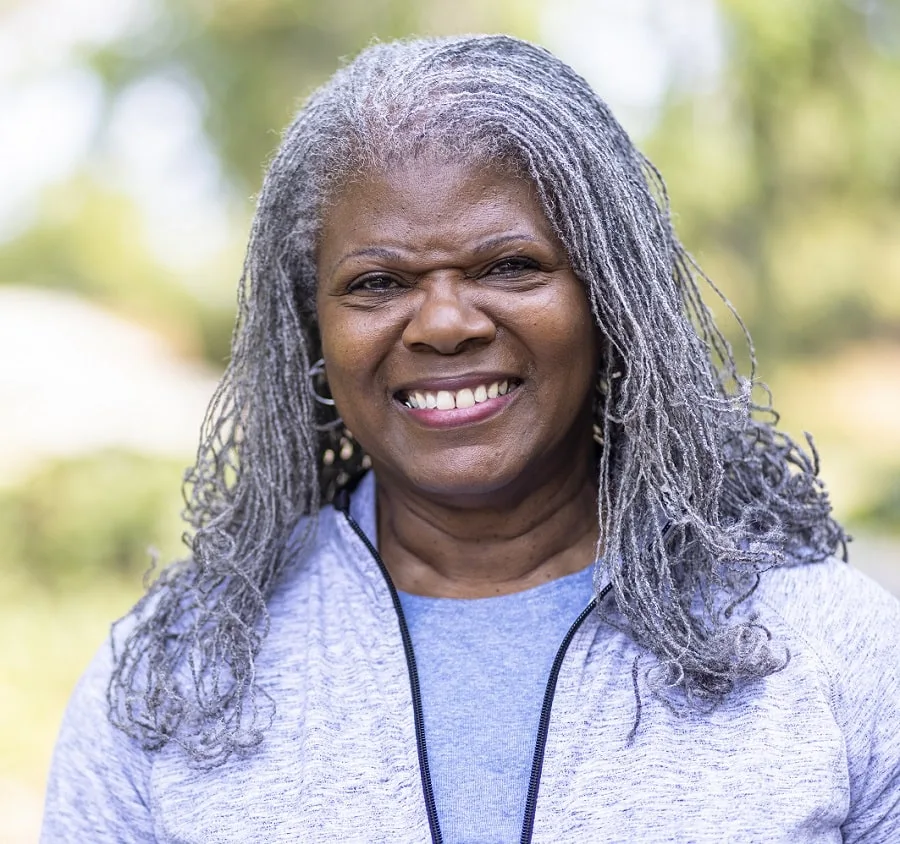 Microlocs come in handy for those who love getting dreads but want to cut out the bulky part. The thin chunks appear just like thick strands of hair and can be styled further in numerous ways like normal tresses. Celebrate your golden years with frosted silver locs and you won't regret it!
21. Layered Round Haircut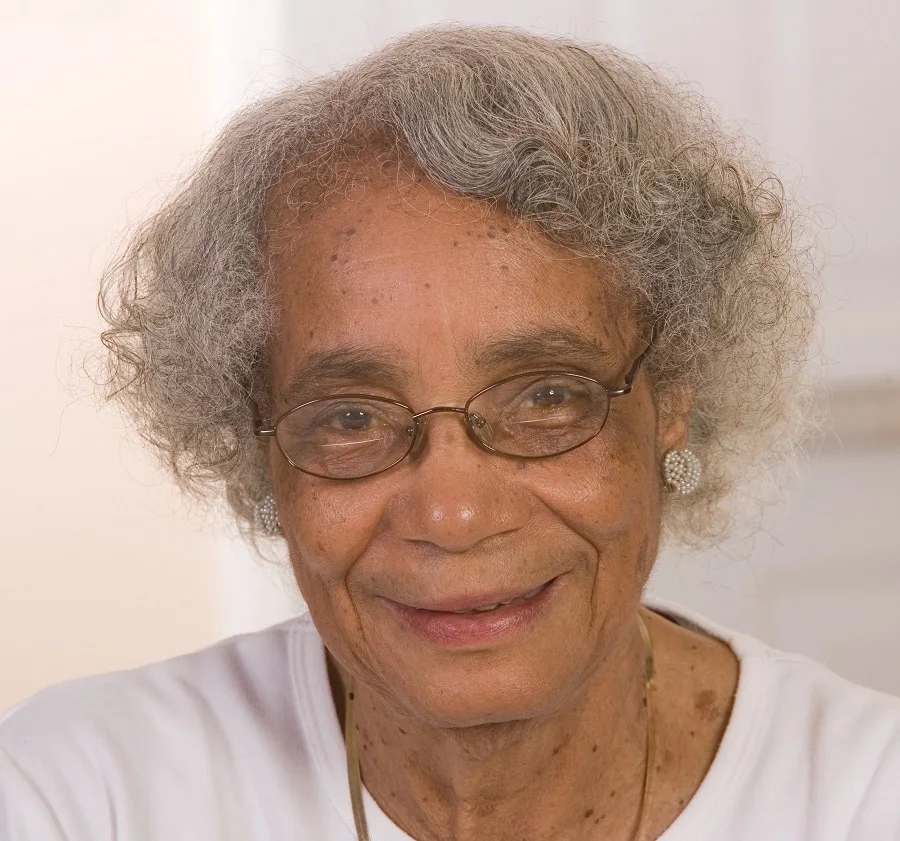 After years of heat styling the hair, you might end up with frizzy curls that are difficult to tame in your old age. Make them more manageable and attractive-looking by chopping them into a short round layered haircut with a chic side part. Problem solved!
22. Piled-Up Passion Twists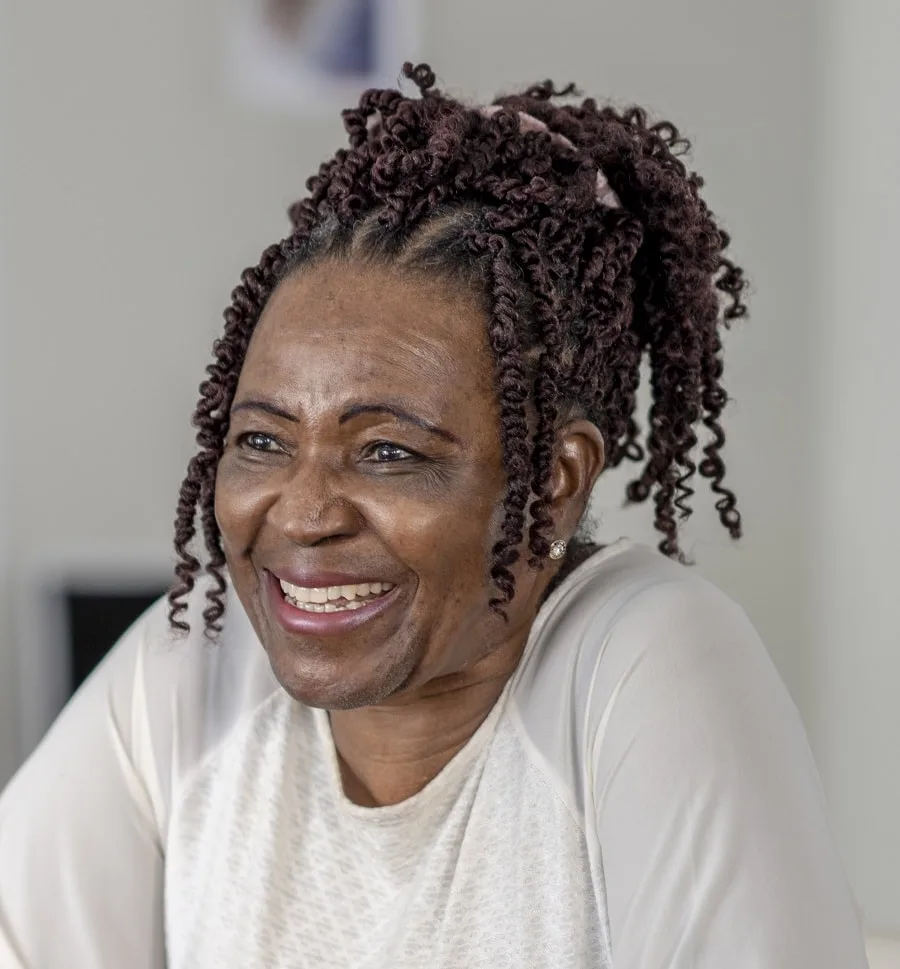 Passion twists are a funkier version of Senegalese twists featuring loose curly twists that appear more natural. Pile up these bouncy, almost unraveled, twists on top of the head creating a messy updo with some face-framing chunks at the front.
23. Turban with Messy Updo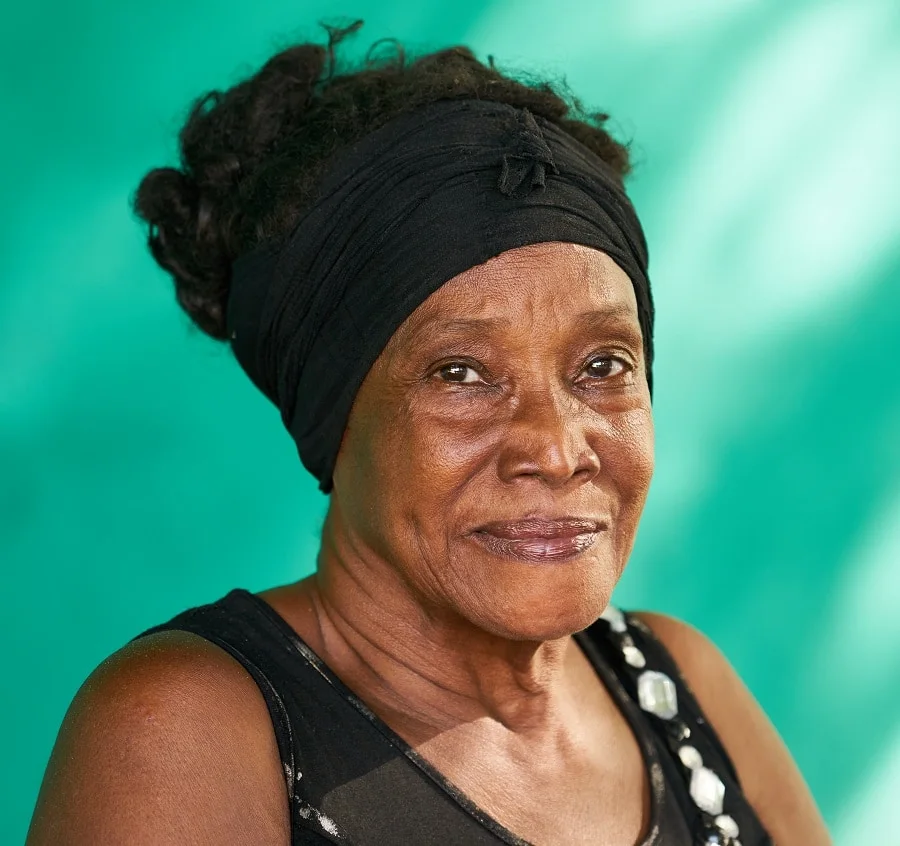 Go for a more tribal look to celebrate your ethnicity with utmost pride. Assemble the tresses in a ruffled bun or a tousled updo and tame the mess with a turban head wrap at the front. You won't need to care about your hair the entire day.
24. Thick Wavy Pixie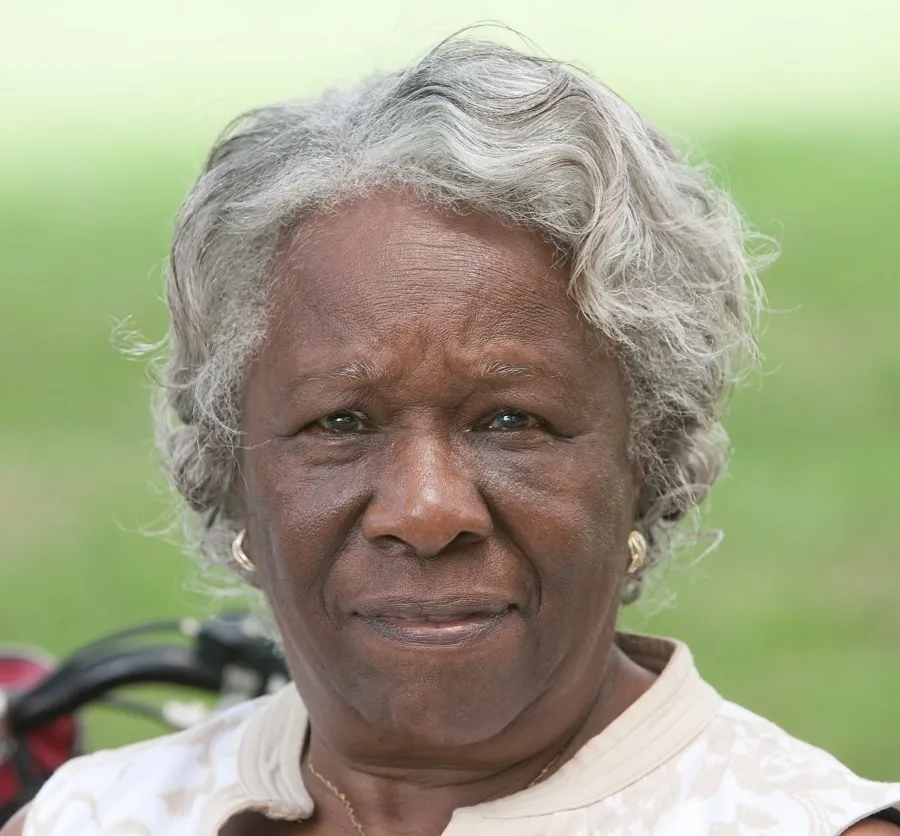 Get a wavy perm that may last for a few months with proper care or recreate these exact low-key retro finger waves with a comb and some hair mousse. Try this look on an extra-short bob that looks more like an outgrown pixie and you won't hate it. Check some glamorous pixies for dark skin here.
25. Bixie with Bangs
Lastly, another chic hairstyle for black ladies over 60 who wish to make a style statement worth remembering. Retain the shortness of a pixie and couple it with the roundness of a classic bob to end up with a sexy bixie that won't be overlooked. Finish off with some bouncy bangs and done!
It is quite clear that hairstyles for black women over 60 definitely don't mean boring out-of-date hairdos. Try to work with your natural texture so you don't have to go through the hassle of using hairstyling tools daily. Apart from that, do whatever you want with that kinky mane because it's yours after all!