Pixie cut is not only popular among teens or women who want a short funky look, but also to older ladies with glasses who look for a low-maintenance hairstyle. If you wear glasses like many older women do and are looking for a short haircut, pixie can be the best option for you.
A pixie haircut can easily incorporate thick or eye-popping frames. Audrey Hepburn and Mia Farrow popularized the pixie cut back in the 50s and since then, the demand for this low-maintenance hairstyle is still up and growing.
Lovely Pixie Cuts for Older Ladies With Glasses
Older ladies love pixie cuts, and pixies give an elegant charm to glass-wearers. No matter the face shape you have, pixie cuts can be adapted to any complexity. We have handpicked some of the trendsetting pixie cuts for older women who wear eyeglasses.
1. Blonde Pixie + Wayfarer Glasses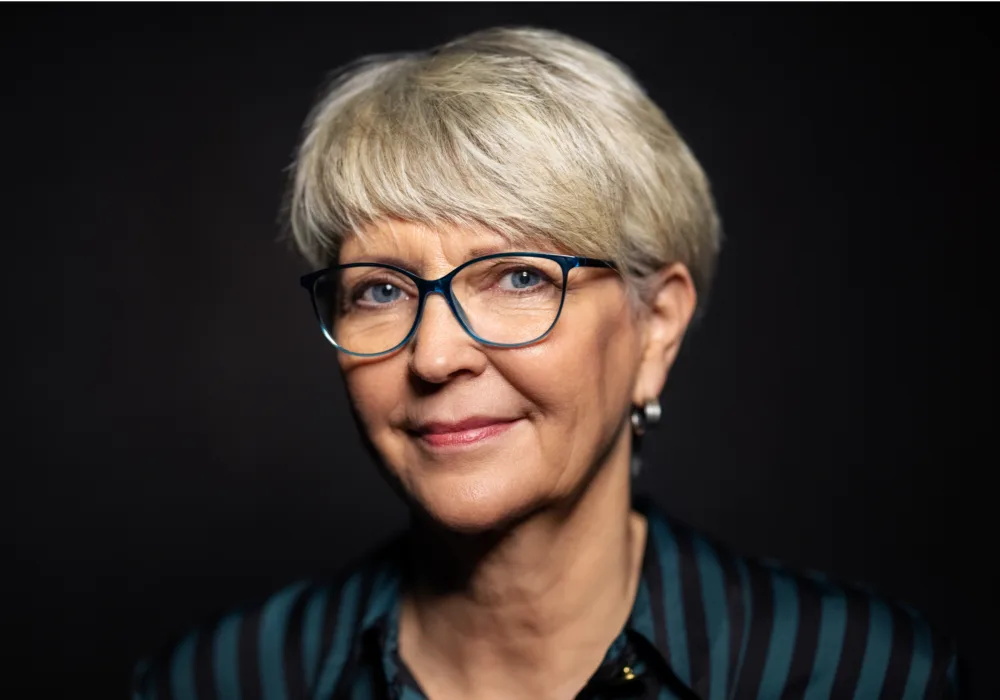 This pixie with glasses look shows the elegance this combo brings to any lady. A great trick for older ladies with pixie and white hair is to get a very light blonde color, like a platinum blonde, that helps with blending.
Go for slightly asymmetric bangs and spread them on the forehead. If you have blue eyes, a pair of dark frames will work like a charm.
2. Curly Short Cut + Thick Rectangle Glasses
Keeping your curls short is a great idea because they will have a more defined shape and movement.
Since they don't get loosened because of their weight, you can add a curling mousse that will help you achieve more height for the crown area. Add rectangle black frames to achieve that professional look.
3. High Top Pixie + Rectangle Glasses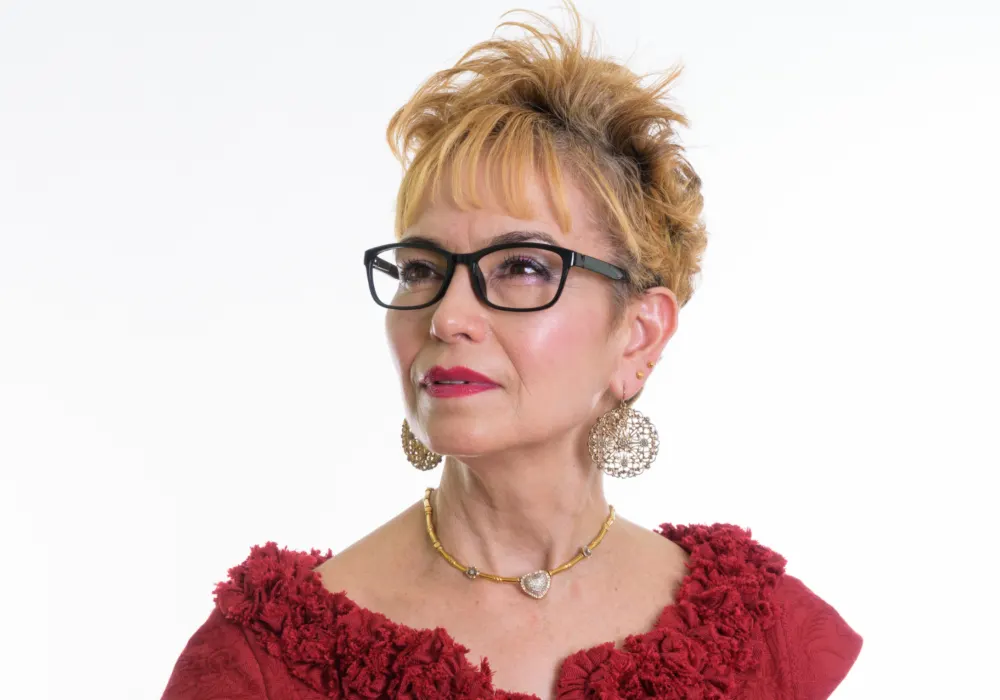 If your hair is naturally wavy, you have a lot of opportunities to style it, even if you choose a short trim like a pixie cut. Focus your attention on the bangs, keeping them blunt on the forehead and the crown lifted to show off those waves.
Combine this hairstyle with rectangle glasses when you have an oval face shape.
4. Bixie Cut + Round Glasses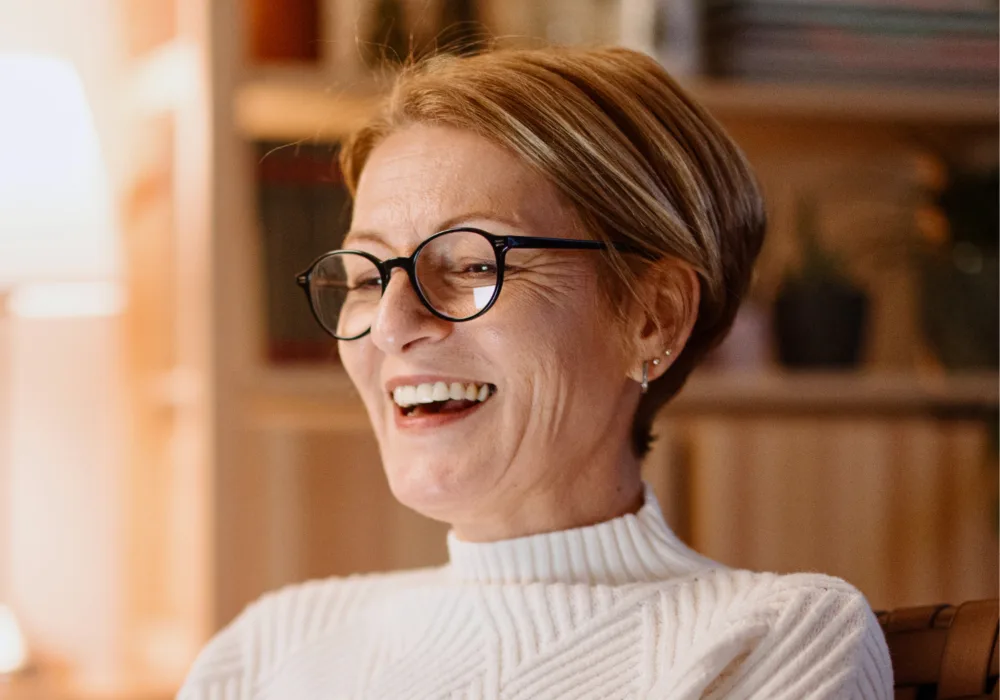 A bixie cut is a combination between a pixie and our favorite bob haircut for older ladies. And if you can't decide which one to get, why not have both?
Go for stacked layers in the back and long pieces for the bans, so you can flip the hair over the ears. If you want to maintain the elegant note, opt for rounded glasses with thin black frames.
5. Copper Wavy Chop + Metallic Rectangle Glasses
Blue and green eyes will always make a great pair with red or copper hair colors.
Opt for a layered pixie with waves and choose metallic rectangle glasses that don't interfere too much with your look.
6. Mohawk + Rounded Glasses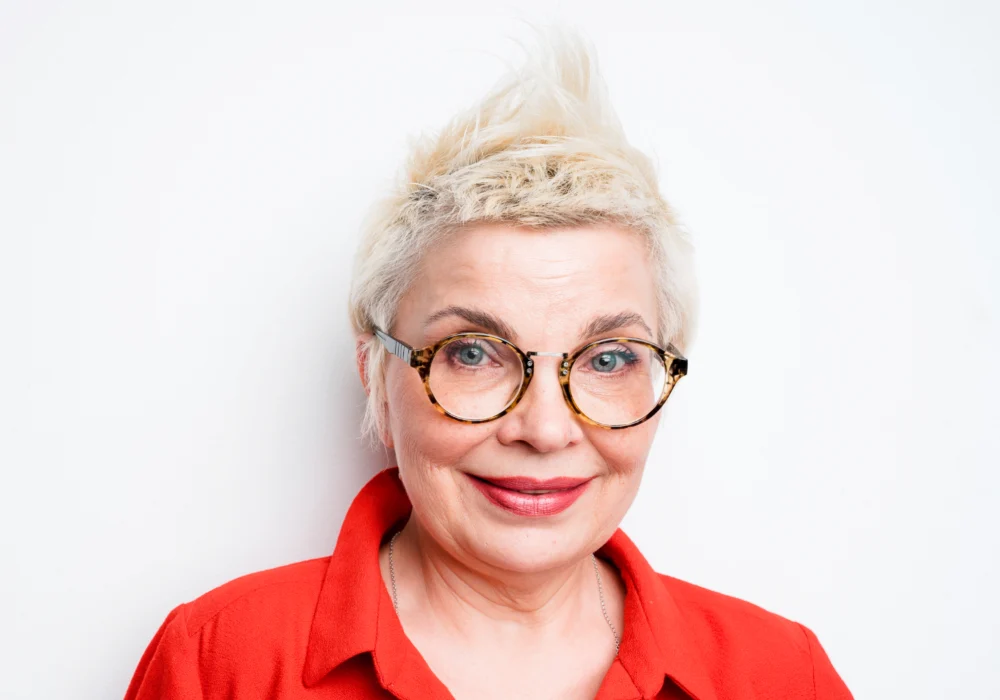 Mohawk isn't a traditional hairstyle for aging women. But if you're into something unique, try this mohawk pixie. When you have a wider face and want to obtain an elongated effect, then you must create height for your pixie cut.
Choose a platinum blonde hair color that works great for your blue eyes and fair skin. Keep long sideburns and lift up the back crown hair while the front is shortly trimmed. Complete the look with colored rounded glasses.
7. Elegant Pixie with Glasses + Black Rounded Glasses
If you love sleek and elegant looks, you must try this pixie cut that suits any old lady who wears glasses.
Opt for a black hair color that defines the hairline and style a side undercut for a more glamorous touch. Choose rounded thin large frames that have a delicate golden bridge and temples.
8. Blonde Highlights + Rounded Cat Eye Glasses
When you're getting a pixie and have great textured hair, you undoubtedly need stacked layers in the back and a graduated trim for the top.
This helps you avoid getting a triangle shape and cuts off the unneeded volume. Opt for cat eyeglasses with metallic frames that go around the lenses. However, make sure they have a pop of color in the upper part that makes them stand out.
9. Comb Over + Ultra Thick Glasses
Comb overs are classic hairstyles for both women and men of any age. They provide a chic, elegant look that is ravishing and inspires confidence.
Opt for a warm blonde color that matches your fair skin and blends the whites. Go for thick black-framed glasses to make your eyes pop and create contrast.
10. UpStyle + Rounded Glasses
Embrace your white strand and allow them to blend with the darker hair pieces. The hair gains a salt-and-pepper look that has a modern vibe.
Tease the roots and lift the hair, tousle it, then add some volumizing hair spray. Spice up your look with round frames with a black and copper pattern.
11. Black Asian Pixie + Thin Rectangle Glasses
A black pixie with feathered bangs and stacked layers builds more volume for the crown area.
Make sure your hair is straightened and soften the look with brown framed glasses.
12. Platinum Blonde + Rounded Glasses
Layer the top and go for asymmetrical bangs you will style on the forehead. Give it length in the corners of the forehead and go get some longer pieces in the back.
You can messily style these or flip them out. Combine with rounded glasses that create a contrast with the hair, so choose a matte gray frame.
13. Wavy Middle Part + Wrap Glasses
One of the most common short pixie cuts for older ladies who wear glasses involves wavy and curly locks that give the hair so much volume.
You can either choose a side or a middle part and opt for various types of frames. However, the one that's more suitable is the wrap one, which has an oval appearance.
14. 3C Curls with Highlights + Large Cat Eye Glasses
Add some warmth and create a depth effect for your 3C curls by adding some blonde highlights.
Give your hair a rounded shape that is low maintenance and matches large glasses with a side pattern in the same colors as your hairstyle.
15. Mauve Tinted Color + Triangle Glasses
If you love a combination of retro looks and modern haircuts, then you must replicate this option.
Opt for a short pixie with long sideburns and asymmetrical bangs that suit chic older ladies. Go for a pair of triangle eyeglasses that spice up your look.
16. Burgundy Short Cut + Rectangle Glasses
Want to try a colored pixie? If you have a naturally dark hair color, you can choose a nuance that is in the same color range, so when your roots are growing, the contrast is not too obvious.
A burgundy color is ideal for that because it will also look good with gray rectangle glasses.
17. Side Styled Bangs + Pantos Glasses
Do you have an oval face? This pixie cut for older ladies will charmingly suit you. The color is a dusty blonde that smoothes your wrinkles, looks modern and makes you look years younger.
It creates an amazing contrast with dark pantos framed glasses and features cool bangs to spread on the forehead.
18. Multicolored Highlights + Rounded Glasses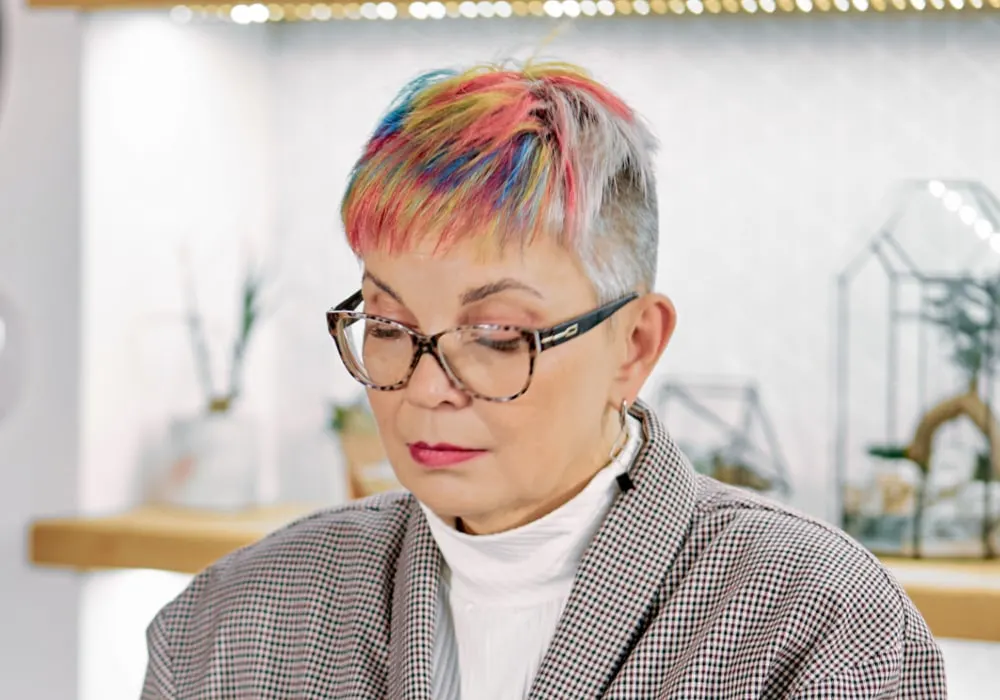 This look is far from being dull, as it features a short pixie cut with a layered top that goes to the forehead. It has short bangs and multicolored highlights that include pops of color of red, green, blue, and yellow.
Combine with cool large rounded glasses with black temples and colorful rims and bridge.
19. Permed Crown + Wrap Glasses
One of the best ways to build long-lasting texture and volume is getting a perm, as it can enrich your hair and work for most haircuts.
If you want to improve a dull pixie, then you should build stacked layers in the back and give the top more height and a slightly rounded shape, and more texture. Pick an eyeglass that suits your hairstyle and personality. Choose frames with double corners that highlight the temples.
20. Flipped Out + Rectangle Glasses
Flipped-out ends are a fantastic choice for older women who have fine hair and need a haircut that works to their advantage.
For this hairstyle, the sides are styled to the exterior and the bangs and crown hair are flipped to the side. If you don't want the glasses to stand out, choose a pair with thin frames, in a golden color.
21. Wavy Perm + Rounded Glasses
If you want a pixie haircut that pairs well with glasses, a short trim is the right call for any older lady.
It is low maintenance and if you want more height, you can go for a wavy perm that gives your locs texture. Add rounded glasses with a colorful print creating a cool antithesis of the old-fashioned perm.
22. Salt and Pepper Side Comb + Rectangle Glasses
If you already have a few white threads, it's not mandatory to dye them since they will lighten up your look. They don't necessarily make you look older, as they can become a great asset for your pixie cut with side-swept bangs.
Also, when you have olive skin, the perfect frames will contain a pattern with dark brown and copper colors.
23. Messy Ginger Spikes + Dark Copper Wayfarer Glasses
If you're not into formal colors, you might love this messy copper pixie. It is short on sides and with a longer top that you can style within seconds. Use hair gel, tousle the crown and give your hair a spiky look.
Complete your look with Dark copper glasses with a gradient that will highlight your blue eyes.
24. Gray Side Swap + Ultra Large Sun Glasses
When you've always had a certain allure and ravishing look in your youth, you certainly wish to maintain an elegant look even if you're in your 50s or 60s.
To do so, it's not all about your outfits but also about your hairstyle and glasses. And a short pixie dyed in a pale gray color is just the right approach, especially when combined with large pale pink sunglasses and golden temples.
25. Blonde High Top + Pantos Glasses
If you're not afraid of a more eccentric look, then you should definitely try a pixie cut with shaved sides and back and a long top.
Dye these tresses in a platinum blonde color and style them up and to the side for a nonchalant look. Combine this hairstyle with a pair of pantos glasses with a pattern that uses black and a cream nuance.
26. Golden Blonde Side Bangs + Wayfarer Glasses
Thick-framed glasses work hand in hand with an elegant pixie that features graduated bangs that are swiped to the side.
For a more elegant touch, choose a pair in an intense black color and with golden temples.
27. Pixie for Chubby Face + Cat Eye Glasses
Creating angles for your hairstyle, whether it's a pixie or something else it's crucial as it can slimmer down your face figure.
Choose a layered crop that adds volume for the top, and go for bangs that you will swipe to the side. Opt for cat eyeglasses that with create angles, softening the roundness of the cheeks.
No matter your face shape or personal style, a pixie cut can fulfill all your needs. So if you are an old lady who needs a hairstyle to work with glasses, consider the ideas above and replicate them.