For anyone born with a head of hair that feels flat and lifeless, adding volume to your hair is as simple or complex as you would like.
Gaining more volume can be as temporary as hot rollers for a big night out or a permanent commitment to extensions to create the volume you want. But stylists and hair professionals agree that it's easy to achieve.
How to Add Volume to Thin Hair
Here are 12 different ways to create more volume in your hair:
1. Towel Dry
This method is by far the easiest. Who hasn't noticed that a quick towel dry can add lift to hair beautifully?
There are a few tips for properly drying your hair with a towel. First, be aware that wet hair breaks more easily. So it's critical to squeeze the extra water from your hair first. Then, gently fluff and dry the hair well to get the full effect.
A microfiber towel will both be gentler and reduce frizz. It's an easy solution suitable for almost any usage. Towel-drying your hair is a great idea after swimming at the beach.
2. Dry Hair Upside Down
This method is another simple solution for adding body and lift to your hair. Just lean over, with your head toward the ground, and let all your hair fall toward the floor. Then you can choose to towel dry or blow-dry the hair. Start at the root of your hair and gently use your fingers to work the hair. Then flip your head back, and voila, lots of volume!
3. Tease Hair
This method for adding volume starts to get a bit more sophisticated. It is also known as teasing, and it can add lift to the hair. One caution: it is vital to take care and not damage the hair in the process.
It's a great idea to have a special backcomb brush, making it easier to push up the volume with care. Also, using a volumizing shampoo can add additional volume to the back brushing. And if you condition your hair, just do the tips of the strands.
Section out the hair and push the hair back from the middle toward the head until meeting the base of the head. It's essential to do it smoothly and without ratting hair with back and forth strokes. You can add hair spray for hold and lift.
4. Try a Volumizing Shampoo
These shampoos can genuinely work, but it does take a bit of time. Depending on the shampoo, it can take a few days to a few weeks to see the effects. The shampoos often come with a volumizing conditioner, too.
When you use volumizing shampoo, they are wonderful to use with other techniques, like back brushing, to achieve the fullness you want.
Basically, the shampoo washes away any natural or product build-up on the hair that can flatten it. Here are some volumizing shampoos suggested by salon experts in Elle magazine.
5. More Volumizing Products
In addition to volumizing shampoo, some other products are specifically designed to add lift and life to your hair. Each of these products can be found for different amounts of volume, from beachy waves to sky-high hair with a major lift.
These products include:
Hair serum
Hair spray
Dry shampoo
Try incorporating them into your hair routine by following their suggestions for when to use them, like while the hair is damp or dry.
6. Change Your Part
We all have a natural part. If you want a bit of easy volume, just make a new part parallel to your natural part and comb the hair over. Going against the hair's natural wave will create volume naturally and easily. You can fix it in place with a little hair spray to tame its natural tendencies.
7. Hot Rollers
Hot rollers are gaining a new fan base after being considered a retro hair tool. Hot rollers can be a secret to voluptuous hair. They are generally easy on hair and can give big curls (and volume) in a short time – between five and 15 minutes.
The longer you leave the curlers in, the more long-lasting the curl. Just be sure to dry the hair slightly before putting the curlers in.
8. Crimp Your Roots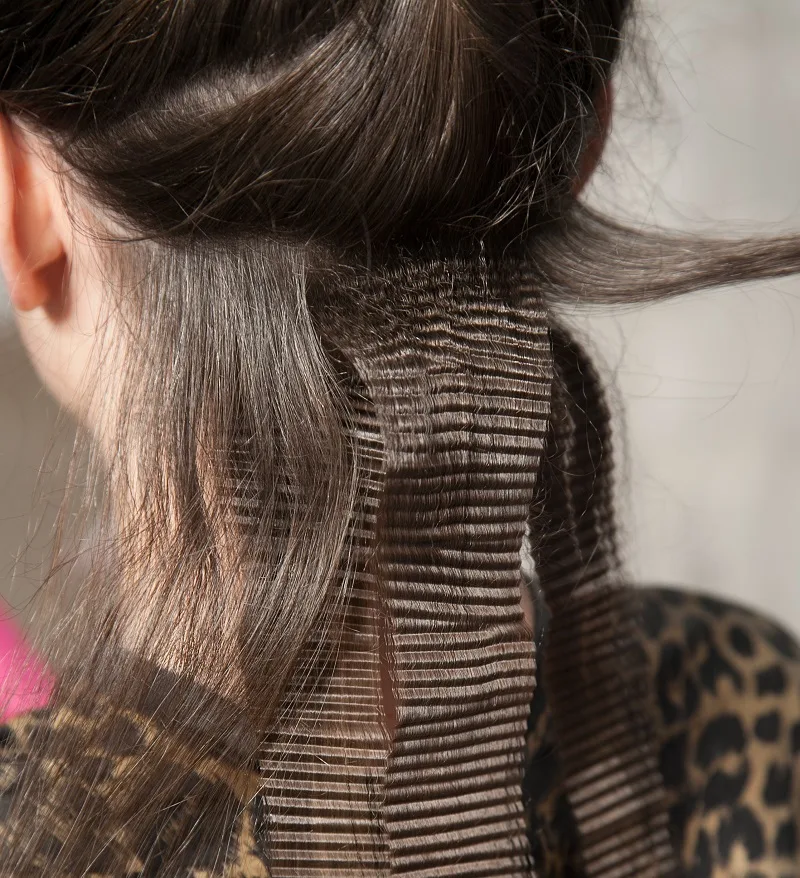 The crimping iron was a hit in the 1980s. At discos worldwide, you could find women dancing under a mirror ball in skin-tight spandex heads swaying with hair crimped in layers of these little ridges.
Today, the crimping iron is back. And can be wielded as a tool to add volume and height to roots. To do this, you crimp a section of hair right at the root, lifting it.
If you don't want the wavy, crimped look, make sure the part you crimp can be covered by straight hair that will hide it but be lifted by it.
9. Sleep in a Bun
Pulling hair into a bun and going to sleep is one of the easiest ways to wake up with a lot of lift overnight. Just wet your hair, so it is slightly damp and pull it onto a bun either with an elastic or Bobby pins. Sweeping hair into a pinned bun can also work if you want to maintain a curl while sleeping.
10. Hair Extensions
Hair extensions can add body and fullness to almost every cut, style, and hair length. They can be temporary or part of an everyday look. It's a good idea to compare different types of extensions.
Often they have specific functions, like adding volume. And they can be added to most hair lengths, bringing a fullness to a Bob, for instance.
If you want the best in extensions, look for keratin bond extensions. They look very natural, and you can add dimensions with different hues. They will last for about two months. After that, they require a professional to apply and remove them properly.
There are also clip-on extensions for the fast volume you can achieve at home. You can also ask your hairstylist to cut the clip-on extensions to fit seamlessly with your hairstyle at your next appointment.
11. Cut Your Hair
When your hair is longer, it can pull hair down, making it look flatter. A shorter cut can lighten up hair and give it more volume and movement, which is especially true for fine hair. Shaping curly hair can add fullness and movement to your look.
Here are some particularly great haircuts for volume:
Any Bob: Just about any bob, from a strict A-line to a soft shoulder-length, can bring volume to your hair.
Pixie: This short style can add layers, and volume can be enhanced by adding products to heighten hair.
Long layers: Layers can lighten hair, lessening the weight that holds it down. The movement of the layers can also add fullness to a hairstyle.
Shag: All the layers in this sexy look can be a stylish way to add movement and volume to your hair.
Collar bone cut: This blunt cut will relieve the hair of length that can weigh it down and flatten it. With this cut, it adds movement and lightness that helps create volume.
Bangs: If you have thick hair, bangs, especially blunt-cut ones, can add dimension to hair, making your hair look fuller.
Layering with a middle part: If you have curly hair, creating tiered layers in the hair that are separated by a middle part can help the hair move and dance, creating a gorgeous volume.
12. Color Your Hair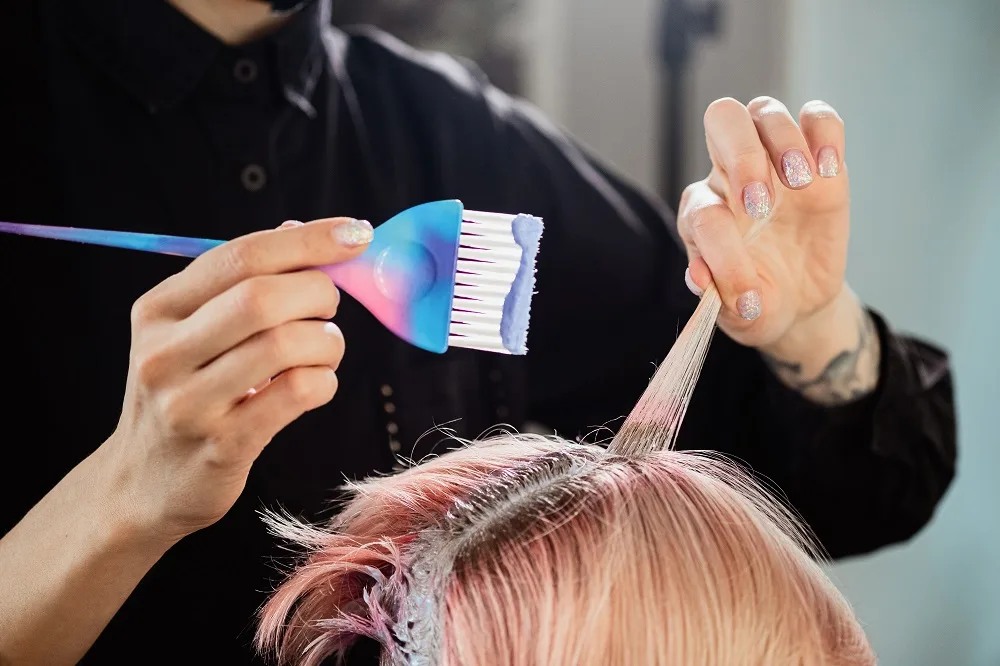 Coloring your hair to add dimension can help it look more lush and full. Highlights are beneficial and popular for this reason.
A halo or crown effect with straight hair creates volume. The colorist will literally make a crown of darker hair at the top of the head. That can be enough to add the illusion of volume. If they add highlights to that, the dimension in the hair will increase and create an illusion of volume.
Ombré coloring and a single shade are not suggested as they can have the opposite effect of creating volume. For curly hair, adding lighter colors across the head can give a sense of volume and play where the hair appeared flat before.
If you are looking for solutions for how to add volume to hair, there are many ways to get the big full look you want. You can do it at home or head to a salon and accomplish the look you want with the help of a stylist. It's easy to achieve dramatically high hair or more subtle beachy waves that add a bit more body and life to your hair.
Whether you choose one or a number of the volumizing methods, options abound to create the luscious, full hair you want.