African-American ladies often have a wide forehead that is either the outcome of their genetics or hair loss due to regular hair styling involving excessive straightening and pulling back the mane tightly.
Whatever the cause, embracing a high hairline and that kinky fluff on your head called natural hair requires confidence and a lot of self-assurance.
But trust us, you can look the most beautiful in your group even then and that is the very reason for listing down 10 natural hairstyles for big foreheads below.
Natural Hairstyles for Big Foreheads
Give up stressful hair styling for a while and embrace your natural beauty with the following suitable for black women with big foreheads.
1. Box Braids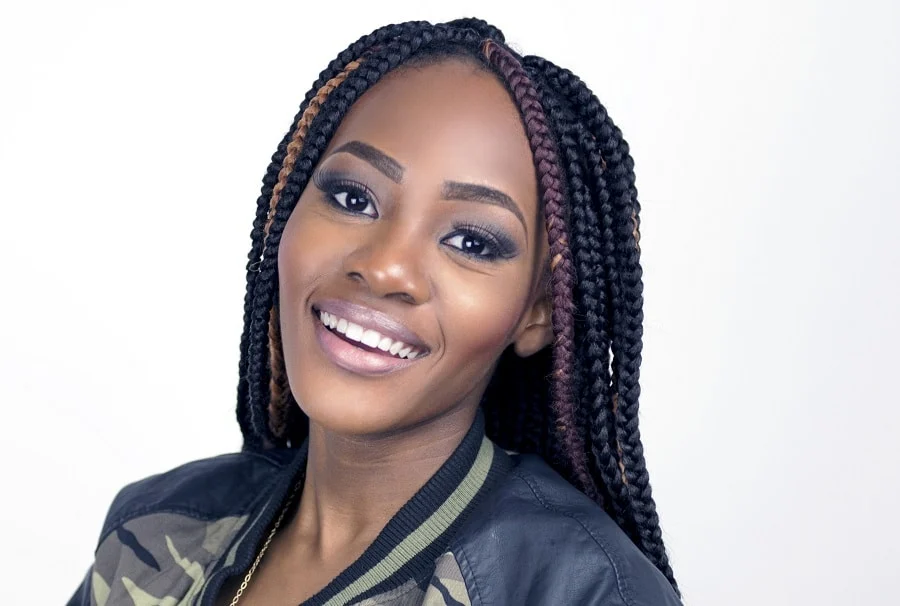 Box braids are undoubtedly the most popular hairstyle in the black community. No wonder why! These knits are perfect to rock various vibrant hair colors while protecting the natural strands and allow anyone to sport a long mane with a flick. Keep the braids loose to conceal the sides of a big forehead.
2. Blonde Buzz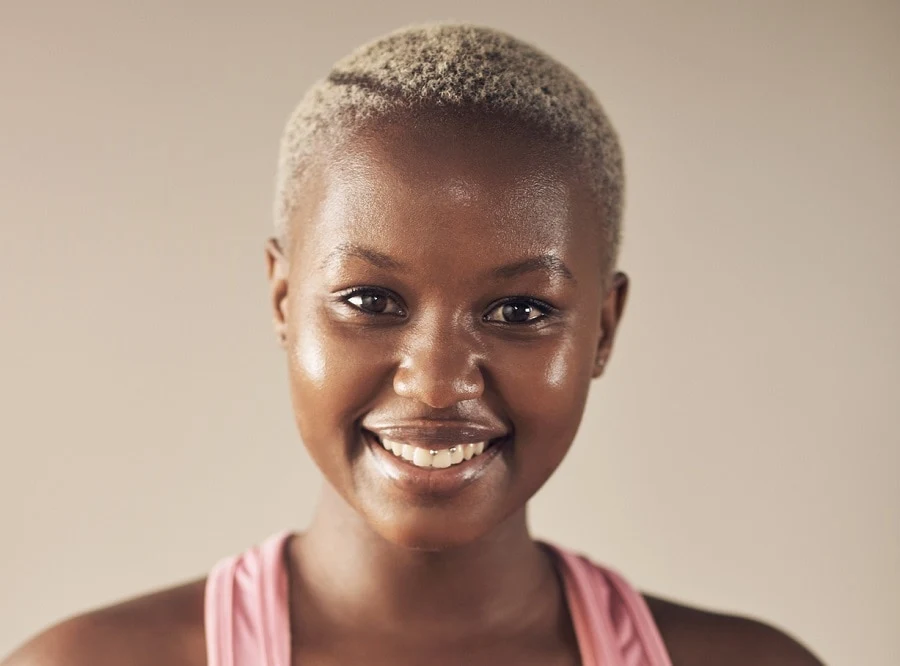 It is amazing how a super short afro haircut like this makes a wide forehead look extremely flattering. Buzz the head and ask for a shaved design along the sides. Dye the remaining fuzz in a light blonde tinge to contrast against that beautiful dark skin of yours. Sexy!
3. High Puff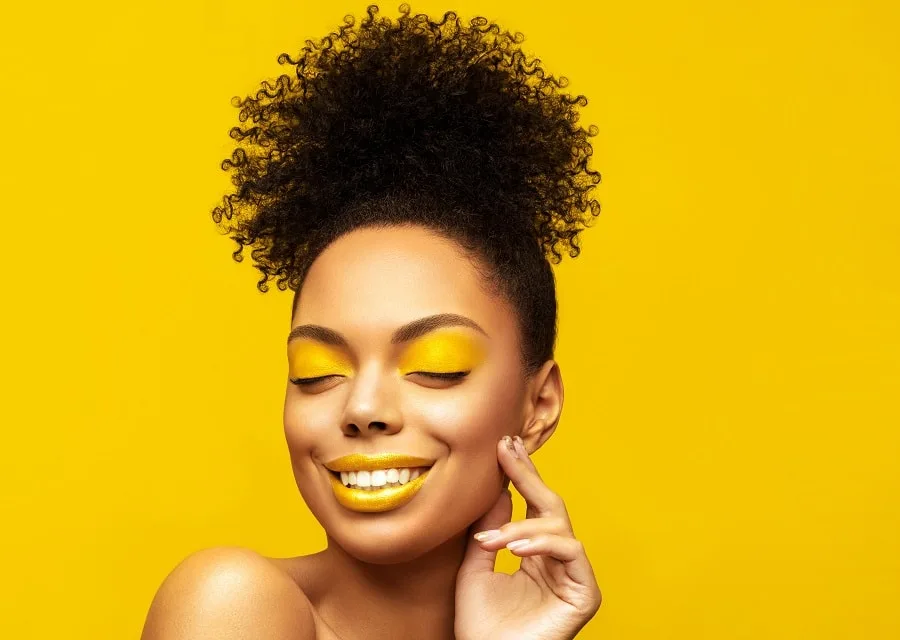 Who is going to notice a high hairline with such a gorgeous pineapple updo on top? Slick back the curls and secure them in a hair tie or clip letting the strands fall forward around the face. Set the look on fire with vibrant yellow eyes and lips. Eye-catching!
4. Bob with Bangs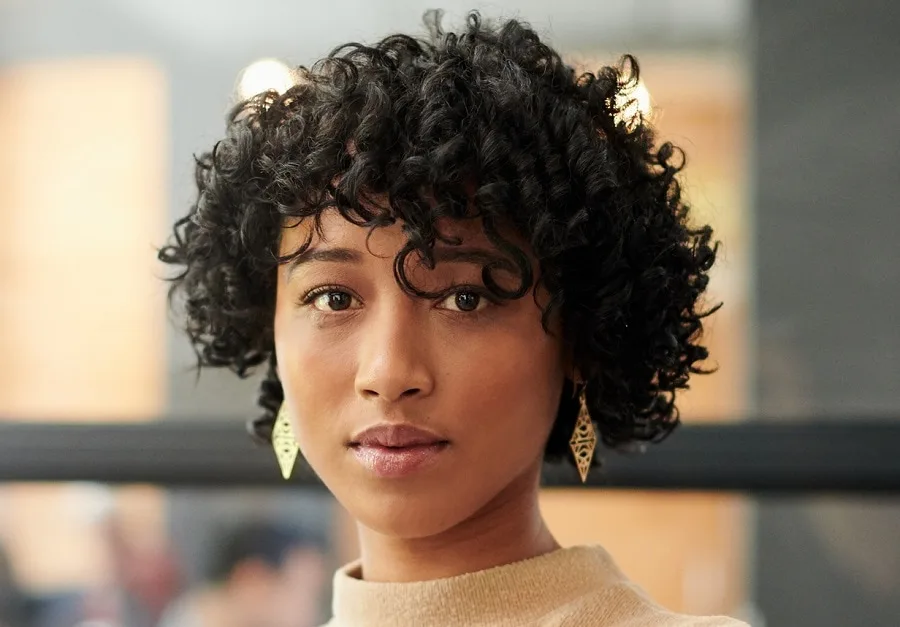 This look with natural hair and a big forehead is classy and elegant! Chop those bouncy coils in a short round bob with the sides elongating towards the back and couple the look with an asymmetrical fringe at the front. Top off with some chic earrings and notice heads turn around you.
5. Bandana Beauty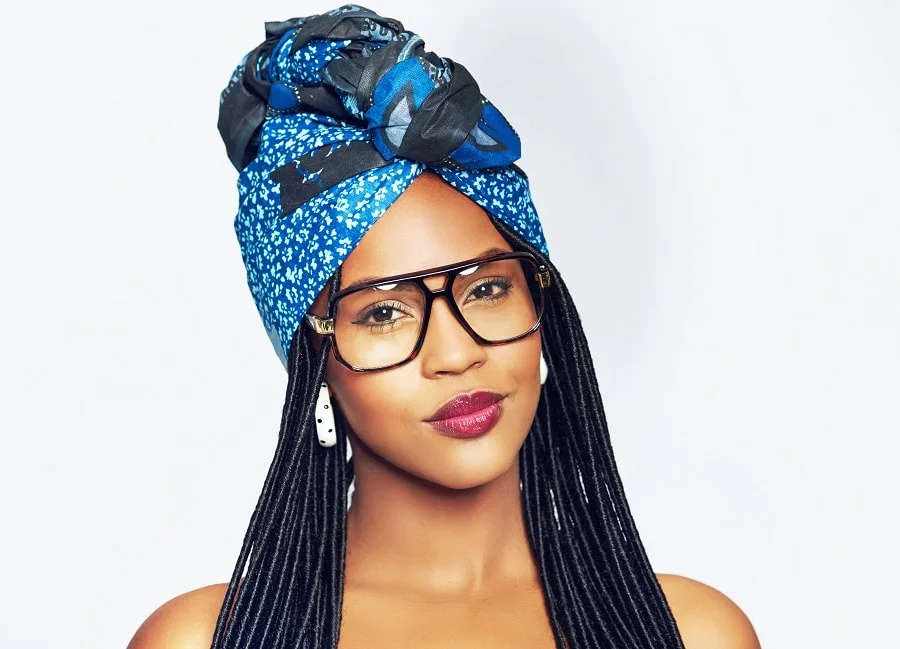 Bandanas prove to be very useful when it comes to hiding a wide forehead. Accent your smooth yarn-wrapped locs by placing the piece of cloth straight across the forehead or turning it into a turban for an ultra-modern appeal. This hairdo is also ideal for concealing an oily scalp.
6. Deadly Dreads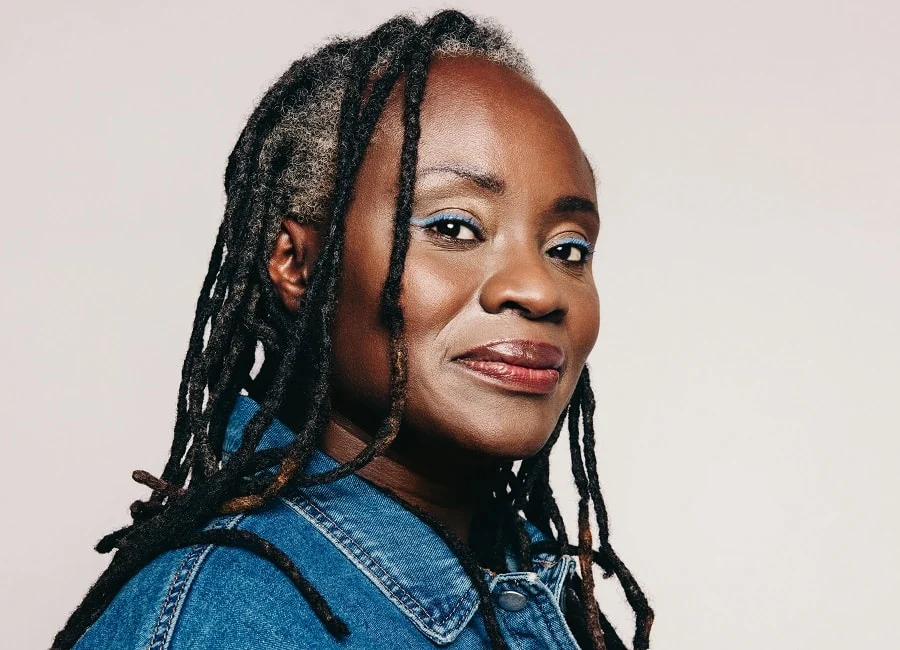 Dreadlocks are the most sought-after hairstyle following braids. African-American women with damaged tresses should give them a shot for their hair to regain its health. Apart from keeping the chunks loose, you can style them in an oversized bun that won't go unnoticed.
7. Curly Locs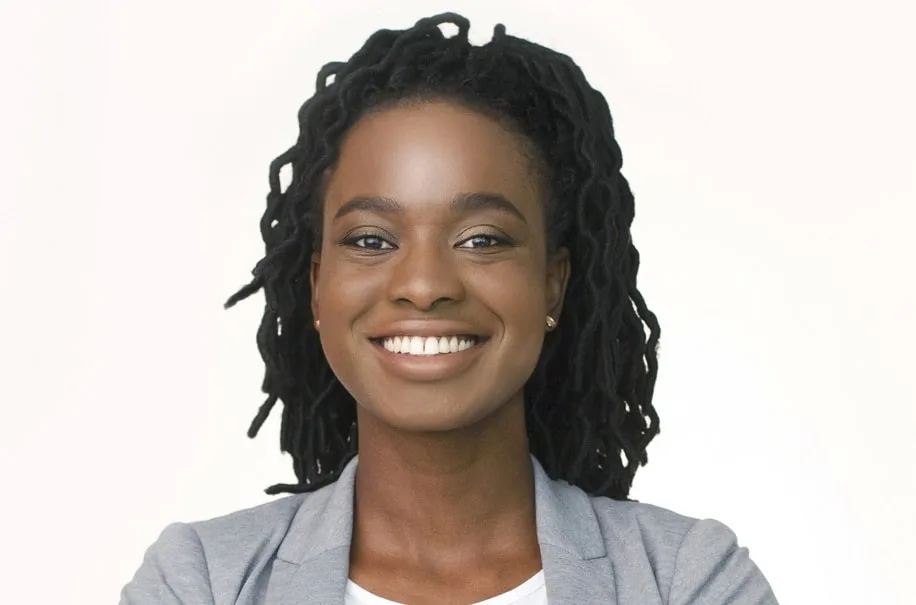 Mentioning dreadlocks, instead of keeping them simply straight, dampen the hair and wrap the locs around flexi-rods or perm rods overnight.
Once you take out the rods, you'll be surprised by gorgeous curls that will last for a little while. Flaunt them with a simple half-up hairstyle.
8. Color Split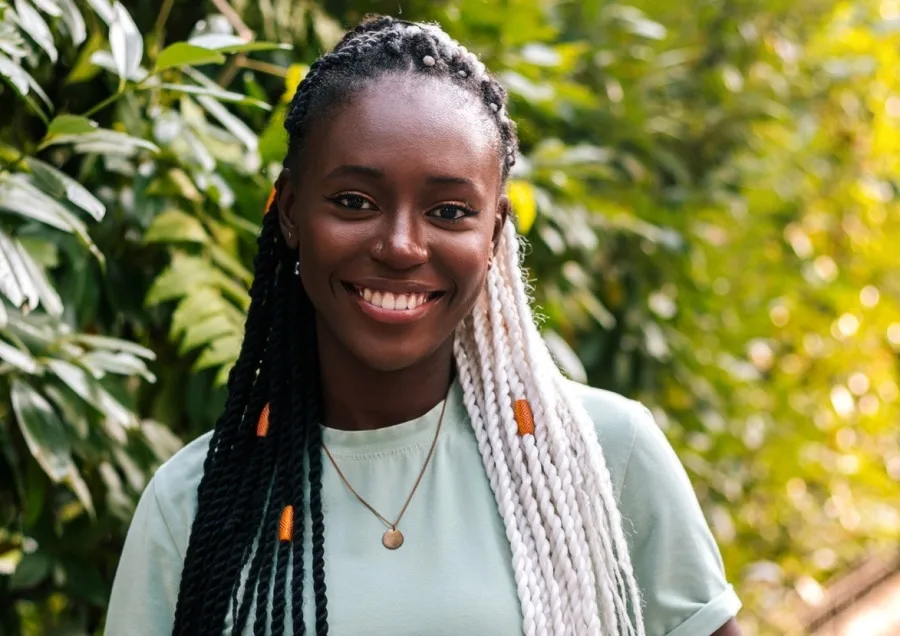 Carry your ethnicity and roots everywhere you go with these chic Senegalese twists. Enjoy a color split by adding black extensions on one side of the head while white ones are incorporated on the other side. Opt for any color combo you want and finish off the look with wooden beads.
9. Classic Afro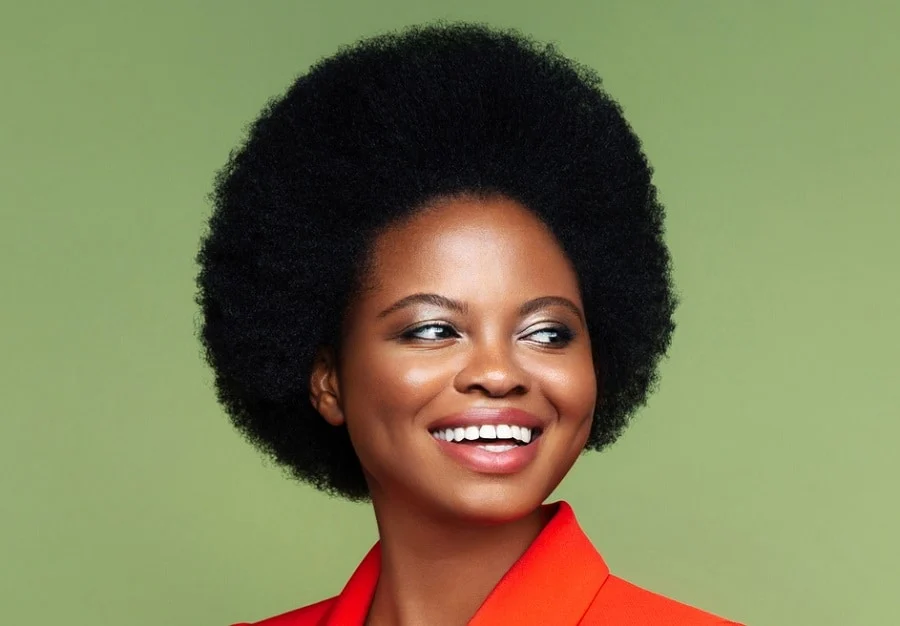 Talking of natural curly hairstyles for big foreheads, what can be more natural than carrying your hair in its original form untouched? Get a short round haircut and tease the strands with a pick to produce a fluffy black cloud sitting on the head. Classy!
10. Micro Knits Updo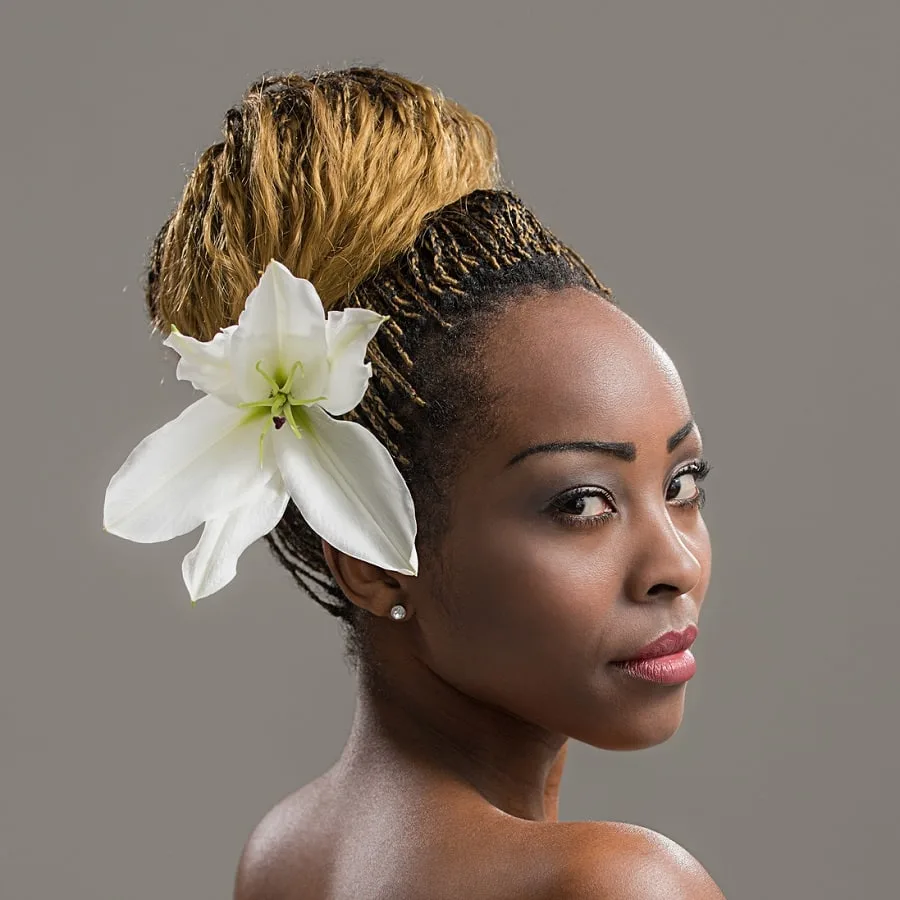 Don't get upset over a large forehead. It is what it is! Rather keep the attention away from it by getting blonde micro braids with loose ends and swirling them around into a jumbo bun. Don't forget to add a flower or two!
To round up things, a broad forehead is nothing to be ashamed of neither is your natural black hair. You can either bring the upper part of your face under the spotlight or conceal it with a few tips and tricks, as mentioned in the above afro hairstyles for big foreheads. Your choice!