If you are a lucky owner of a round face and are looking for the best short haircuts and hairstyles out there, you have come to the right place. You must already know that not all hairstyles suit women with round fat faces, so you will need to make some careful choices. To make your choice a little easier, we have collected the best 101 short hairstyles for round faces out there.
Which Short Haircuts Suit Better On a Round Face?
Before making any drastic changes, you need to determine if your face is really round. In order to do that, push the hair away from the face and check if the width and the length are about the same size. Also, if the forehead is a little curvy, and so is the jawline, you definitely have a rounded face.
In this case, you need to find the best short haircuts that will work with your features, not against them. Bobs look amazing on round faces and length is the key. The hair must be under the jawline at least about an inch. A lob is also a good option, so style it in one length or only with a few layers to make a face look elongated.
Parting the hair in the middle can dramatically change how you look because the hair falls heavily on the sides, covering the roundness. The side fringe is also something you should pull off, no matter the length, because it creates a sharp angle and the illusion of a smaller forehead.
Remember that you should avoid short layers with a round face because they will add volume in the wrong area, making your face look more prominent, not slimmer.
The Best Short Hairstyles for Round Faces
Some women with round faces want to draw attention away from the roundness, while others want to emphasize this special feature. No matter which camp you belong to, you will definitely find a suitable option among the short hairstyles for women with round faces that we are offering here. Let's take a look.
1. Voluminous bob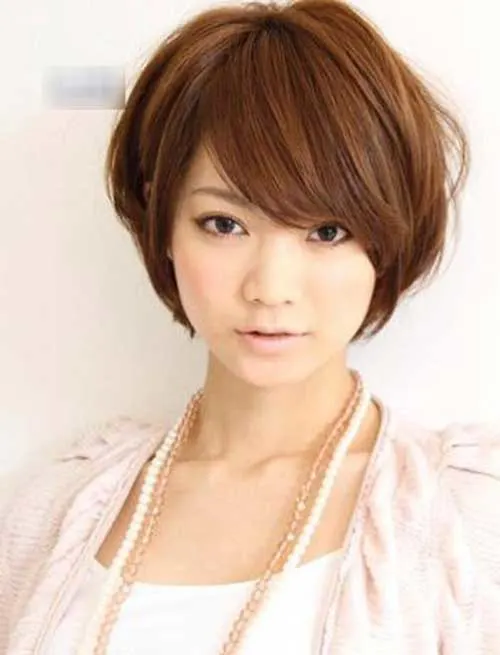 Bobs are usually the best choice to arrange short hair for round faces. In order to make your face seem a little elongated, the top part of the bob is graduated to make some volume. The bottom part is just neatly arranged.
2. Long straight bangs
Long straight bangs are a great way to emphasize the best qualities of the round face while making the cut seem very stylish. The rest of the hair can be asymmetrical to add some more flavor to the style. However, this cut is very high-maintenance.
Cutest short hairstyles for women in 2023
3. Over-the-shoulder look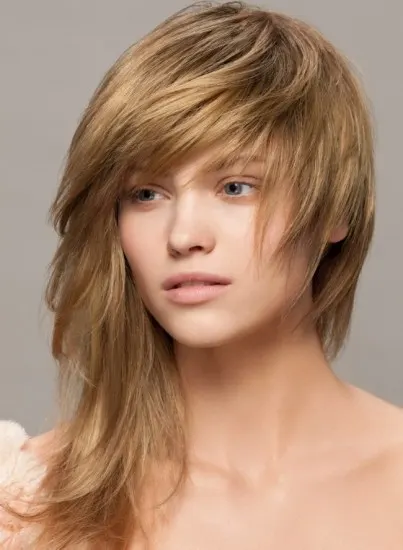 This bold asymmetrical cut combines the pros of the bob and eliminates the cons of long hair. The hair is cut in a special way to allow a windblown bob to make a great combination with longer hair on just one side. This style can easily be turned into a regular bob, if for some reason, you don't like it.
4. Soft waves with long bangs for women with fat faces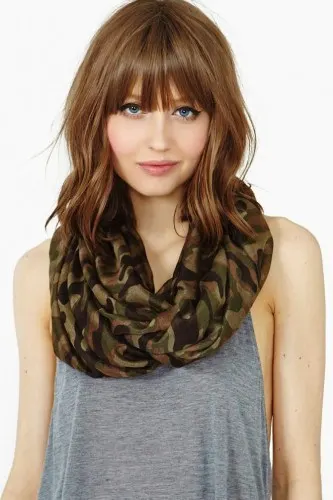 Soft waves is one of the most interesting short hairstyles for girls round faces. The waves are neatly arranged to hug the face in such a way that the roundness is shown in its best light. Long bangs add a little square form.
Have a Round Face & Want to Try Long Hairstyles? Check these
5. Graduated straight bob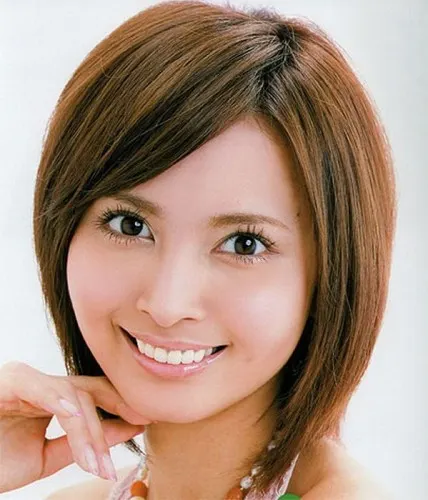 Straight hairstyles are often the best choice for women with round faces. Graduated bob without any volume to it will look great on a round face. In this case, the face shape itself adds volume to the hair and not the other way around.
6. Asymmetrical bob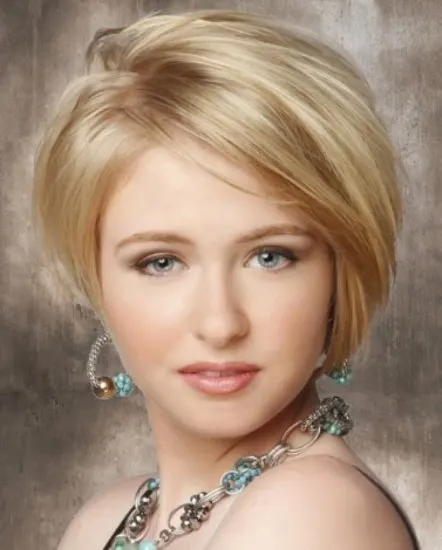 Asymmetry is the round face's best friend. It creates an impression of elongated chin, which counters the effect of volume the round face sometimes makes. The bangs should be brushed to one side in order to make more corners.
7. Graduated tousle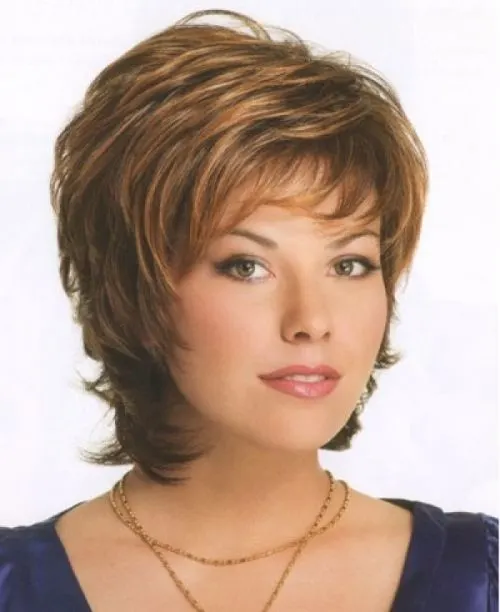 Graduated tousles are real saviors for women with thin hair and round faces. The layers produce the impression of a lot of volumes on top, white short hair down the neck provides an elegant finish to the style.
8. Highlighted bob with asymmetrical bangs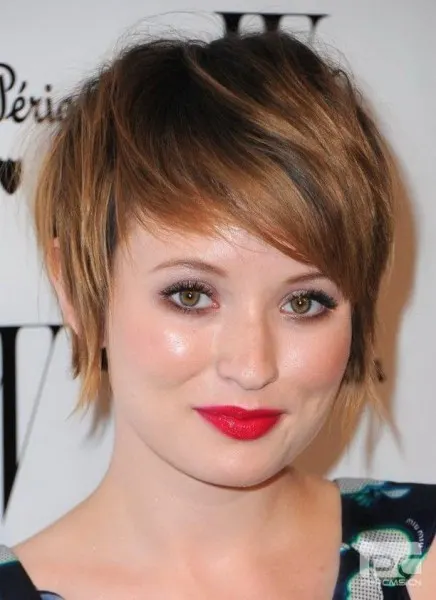 Highlights are a great part of short hairstyles for round faces. Playing around with different shades of color will allow you to take the volume off the face and smoothly transfer it to the hair. Asymmetrical bangs are always great helpers.
9. Youthful bob
Such hairstyle can be called nothing but very cute. Such a rounded bob will make any woman look youthful and vibrant. Long bangs add just a little wilderness to the look, while the different hair length lets the cut stand out of the crowd.
10. Voluminous pixie
The voluminous pixie serves the purpose of accentuating attention on top of the head while making the face shape seem less round. The ears are partially covered, which will appeal to girls who don't like their shape.
11. Straight shoulder-length bob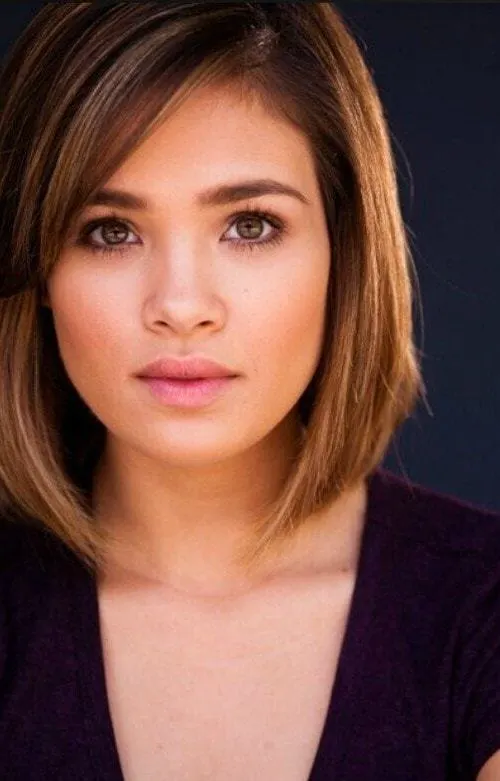 This is a great look for women with thin hair. The style might need a little maintenance but it is truly worth it. This simple cut will make any woman with a round face look outstanding. Bangs can be played around with as well.
12. The short perm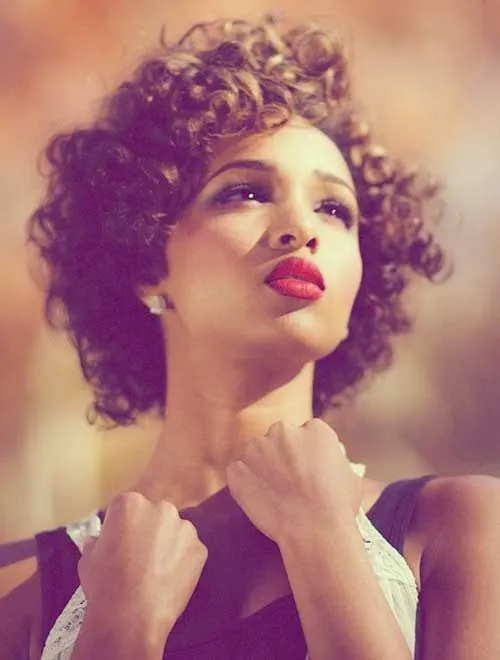 Messy short curls do wonders to create a cute and somewhat wild look in women with round faces. Natural curls might not need much maintenance. However, a perm will require some styling if most of the curls are kept up top, the hairstyle with wonders for face elongation.
13. Layered pixie
A layered short pixie is a great way for short hair for round faces can be styled. The best part about it is the easy-to-achieve volume and minimal maintenance. Such a pixie will make any woman look younger.
14. Short curly flip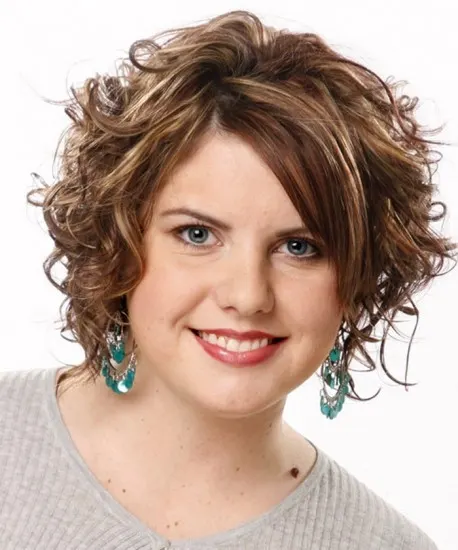 The lively nature of the short curly flip is very feminine and will add any woman some extra vibrancy. Due to the voluminous curls the top part of this model's face is accentuated, which makes an impression of elongated face shape.
15. Windblown bob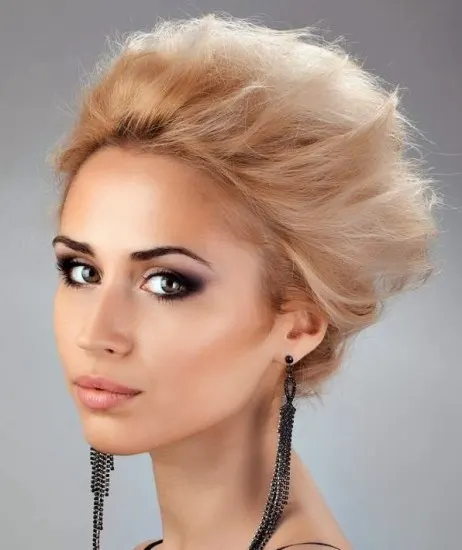 This is a very charming way to shape a bob. The windblown appearance draws attention to the hair and opens up the face. The style might be hard to maintain, but there is no other way to achieve such vibrant uniqueness.
16. Classical straight bob for women with round faces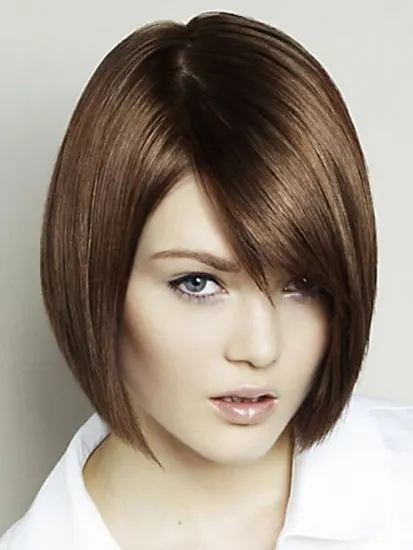 The classical straight bob is often a great style of choice for women with round faces. The hair accentuates the facial curves. However, the sharp straight ends make an impression of an elongated chin, which is great for the round face shape.
17. Hair extensions
Hair extensions is a way out for those women with round faces, who are tired of short haircuts. So if bobs and pixies have become dull and boring, hair extensions are the best choice. The longer the hair the less obvious is the round face type.
18. Wavy shag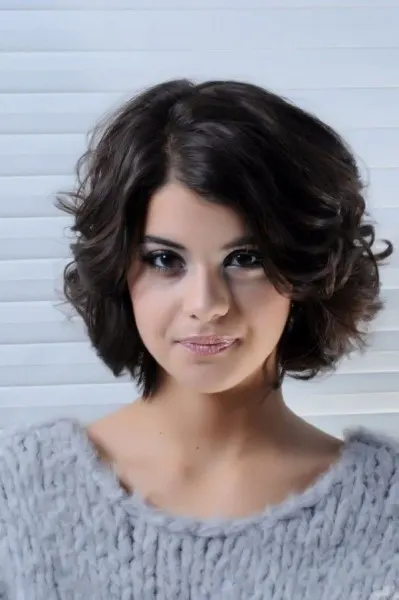 Short wavy shag is a great way to emphasize the round or heart-shaped face while keeping a stylish and low-maintenance cut. Lucky owners of thick and wavy hair can make different shags of any length without losing any style.
19. Spiky highlighted tousle
Using spikes is a great way to reduce some roundness. Properly chosen highlights add any short haircut a lot of styles. Spiky highlighted tousle is an amazing mix of three different approaches to making a short haircut look fabulous.
20. Elevated layers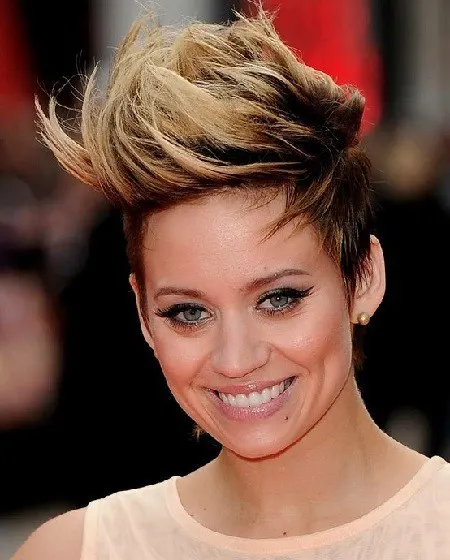 Elevated layers make an unusual hairstyle, which will make you look amazing and stand out of the crowd. This hairstyle is great for special occasions and requires some serious maintenance. The vibrancy it creates will leave any woman satisfied.
21. Spiky pixie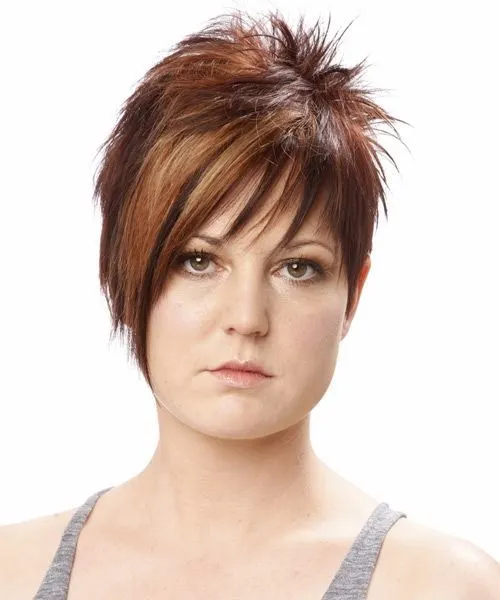 A spiky pixie will make any women look younger and wilder. While this style might seem fit for the younger generation, women over 40 can easily try it and be amazed by the results. Proper highlighting is a must.
22. The wet shag
Shags are always a great choice for round faces. Playing around with shags will show you that one simple haircut can have any style. Adding a wet look to the shag will give it a special sexy look, which is quite easy to achieve.
Amazing Hairstyles That'll Suit Long Faces
23. Layered bob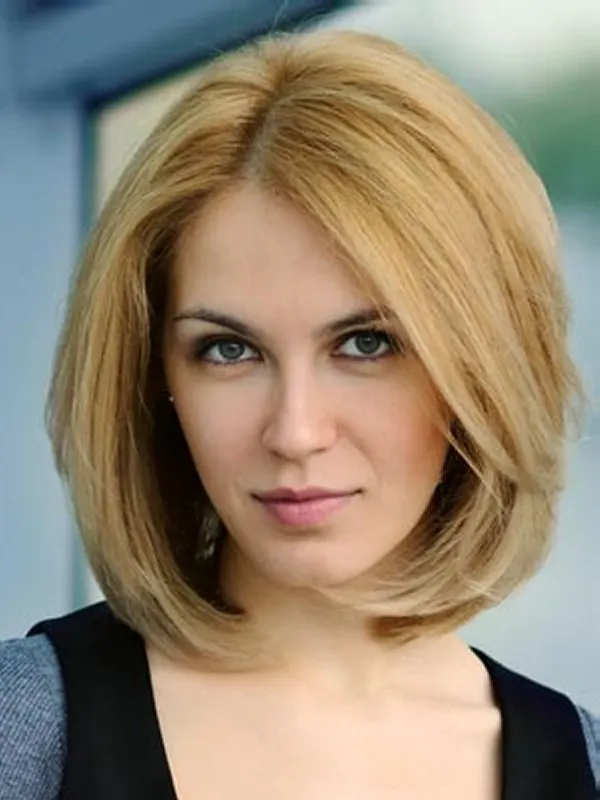 This charming layered bob will fit women of any age. It is also great for any type of straight hair since it makes an impression of neat volume. This particular bob is done with long layers, which give it an impression of a straight haircut.
24. Wild-colored undercut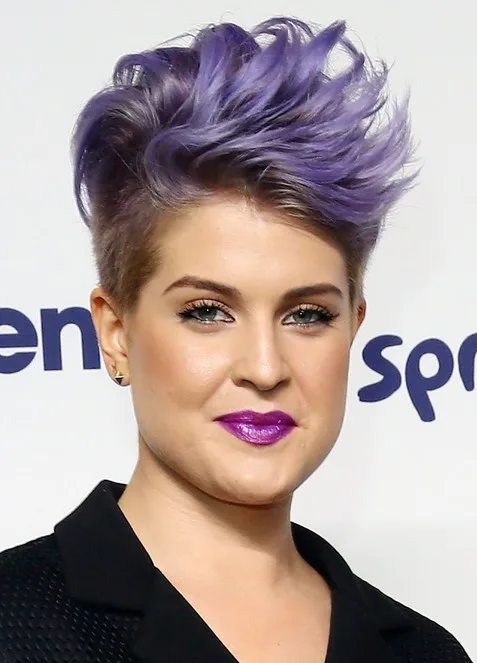 An undercut is a bold enough choice for a woman. An undercut with wild colors is bound to be a hit. Playing around with different unusual undercut styles is a great idea for women with round faces. Spikes on top are a bonus!
25. A textured pixie
Pixies have a lot of amazing properties. First and foremost, they will make any woman look younger. A textured pixie gives an impression of a more youthful style with a lot of volume on top.
26. Creative styling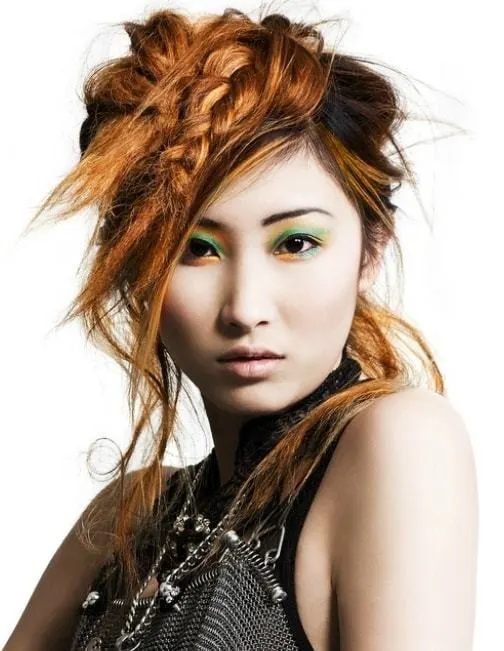 Getting creative is always a great way to diversify your style and make yourself feel outstanding. Braiding long hair to make a short hairstyle while playing around with highlights is a bold way to stand out from the crowd.
27. Braided hair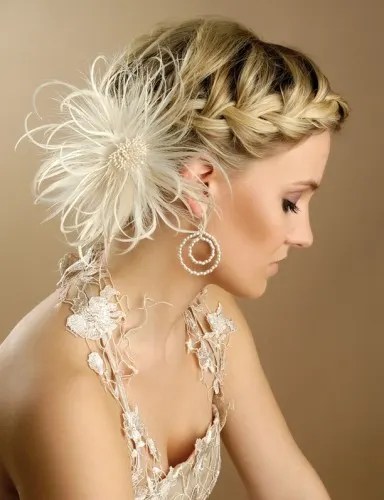 Making a run around braid is a great way to add some flavor to short hair. Not many women can do this on their own, but a visit to the hair salon is a thousand times justified by the result.
28. Keep it straight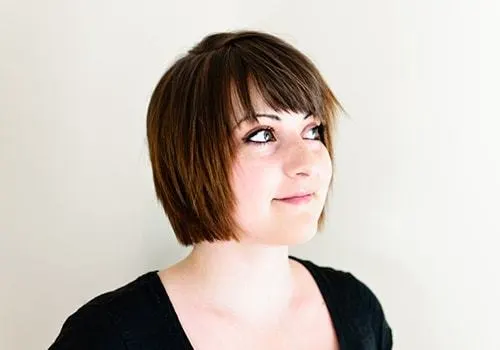 Sometimes it is not necessary to come up with a complicated hairstyle in order to look your best. Wearing your hair straight and neat is one the best choices for women with the round face type. However, the shorter you keep them, the better.
29. Graduated shag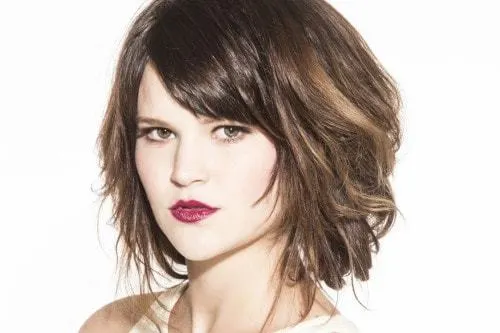 Graduated shag is a great way to manage short hair for young teenage girls with round faces. Thick hair is often unmanageable, so the graduated shag with a messy look is the best option out there. The style doesn't need much hair cosmetics, which makes it even more attractive.
30. Asymmetrical perm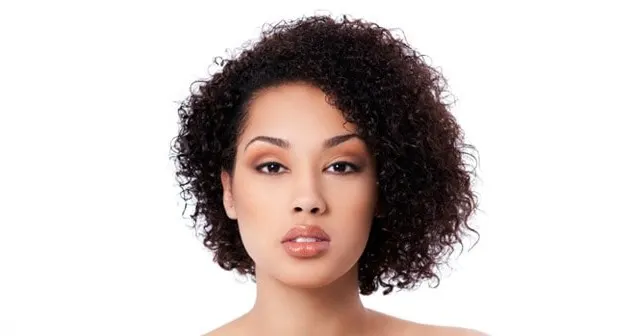 Making a perm is a bold move that will leave any woman satisfied with herself. Making an asymmetrical perm is the next step to a very creative hairstyle. A perm is a great way to reduce the volume, while keeping the curls intact.
31. Asymmetrical pixie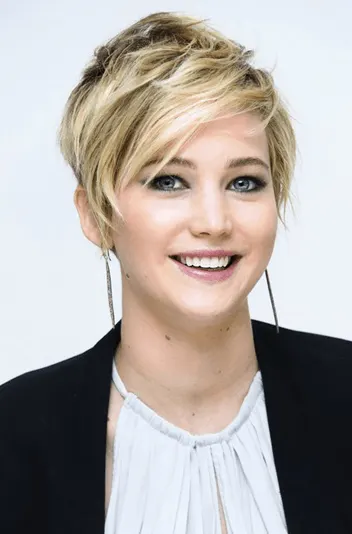 Asymmetry is not going out of style, so any asymmetrical short haircut will seem very fashionable. A pixie with asymmetrical bangs is a great way to keep the volume on top, which will draw attention away from the round face shape.
32. Neat waves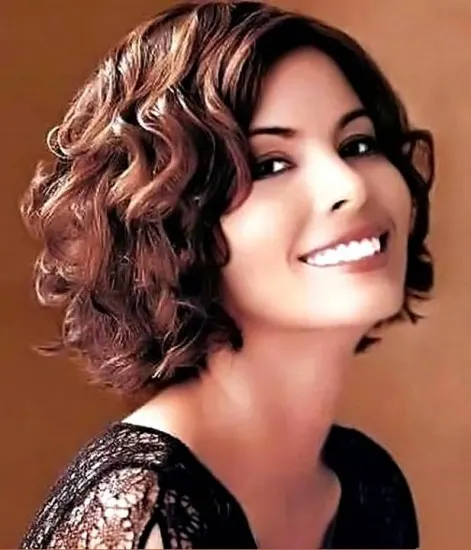 Neat waves are a great way to diversify the boring bob. The waves will add some volume and will provide a charming look to a round face. Some hair gel might be required to keep this hairstyle intact, but any work is worth the result.
33. A stylish pixie with side-swept bangs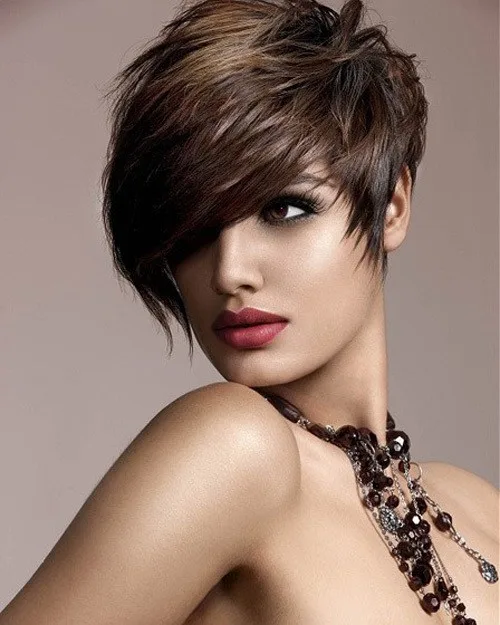 In order to make a regular pixie even more stylish, you can try making long side swept bangs. This hairstyle looks outstanding and hides the round shape of any face. Get ready to use some hair gel to keep this pixie in place.
34. Disheveled pixie with long bangs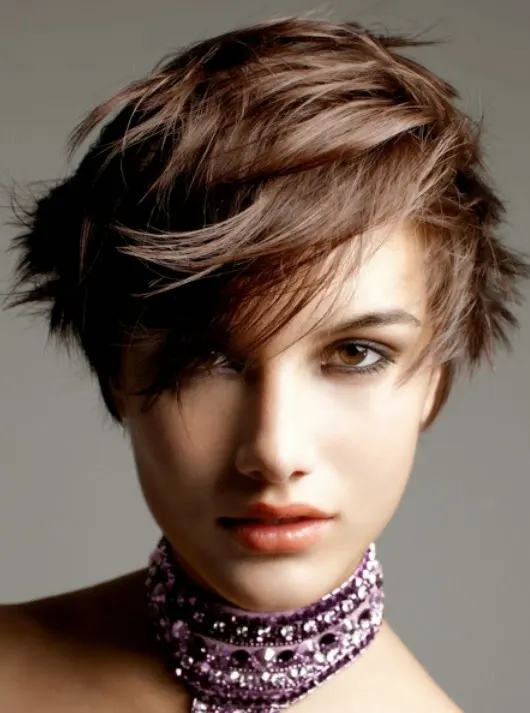 Messy hairstyles have always been popular for their just-out-of-the-bed look. Keeping the disheveled pixie with long bangs intact doesn't take much effort. This stylish hairstyle will make any woman look young and trendy.
35. Neat asymmetrical bob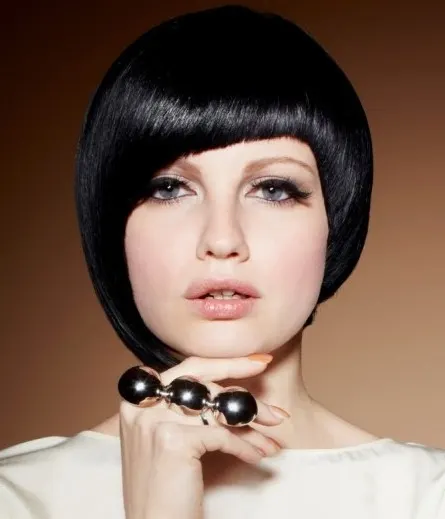 For those women who want to emphasize their round features, a neat asymmetrical bob is a must-have hairstyle. Short bangs add to the asymmetrical style and make the cut even more stylish. Unfortunately, keeping this hairstyle in place is quite complicated.
36. A fohawk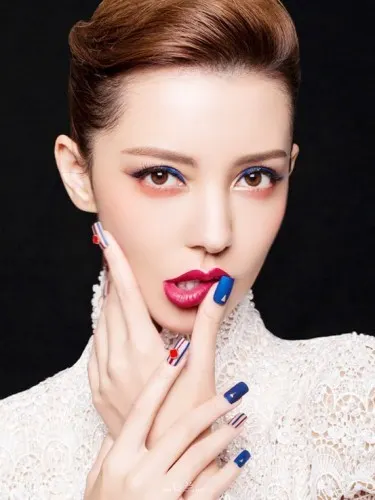 Fohawk is a bold short style which is far from fitting everybody. However, women with round faces can easily try this hairstyle if they are brave enough. This very short hairstyle really stands out from the crowd.
37. Straight bob with side-swept bangs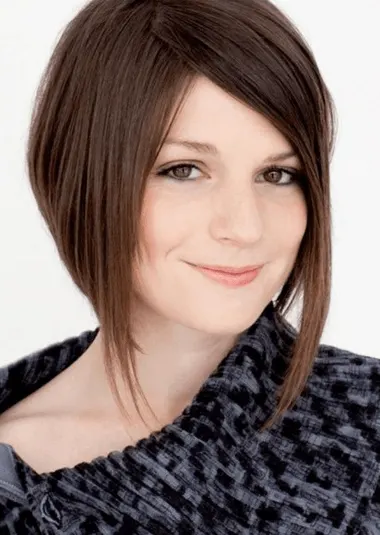 Straight haired bobs look great if they are styled properly. In order to make the maintenance easier, the bangs are side-swept and a little asymmetry is added. Such a bob looks very charming but needs some help staying in place.
38. Undercut
The undercut looks wonderful on women with round faces. By keeping all the volume on top, the undercut helps make an elongated face impression. Undercuts are easy to manage but require frequent visits to the barbershop.
39. Bob with blunt ends
Asymmetrical bobs are in style, but a bob with blunt ends also looks wonderful. Such bob will look great on any girl who has a round face. It doesn't require much maintenance and is a great choice for straight thin hair.
40. Layered pixie
A layered pixie is the best choice for those women who have thick hair but don't want to keep it long. Women with round faces will also appreciate this look since most of the volume is on top. The layers allow for a messy look, which doesn't need much up-keeping.
41. Medium-length bob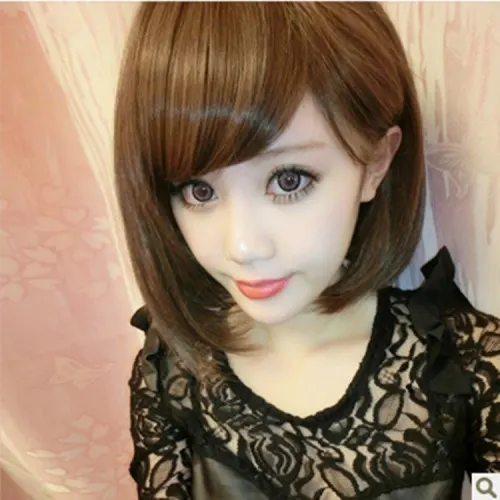 Medium-length bob will satisfy any woman with a round face and any type of hair. Straight bangs brushed to one side add a little variety to this straightforward haircut. The style is quite popular with women of all ages.
42. Spiky asymmetrical pixie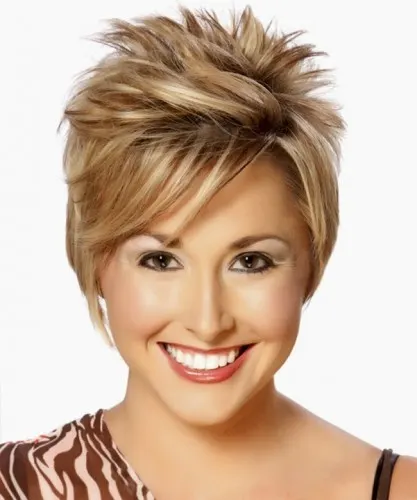 This asymmetrical style is a great way to bring some spunk to your style. If you wanted to make a change, this short hairstyle with round face is the best idea you can come up with. The freshness this haircut creates is unbelievable.
43. Windblown shag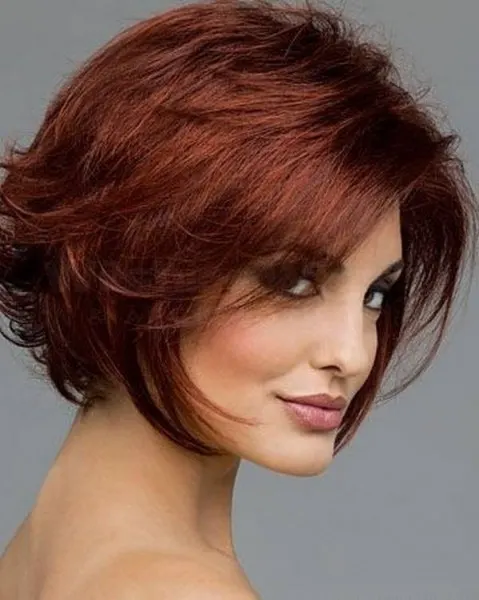 Voluminous shags with windblown styling are a great way to draw attention to the round face and the eyes. Such style doesn't need much up-keeping and looks very neat all on its own. The more layers are made, the more volume is created.
44. Wavy bob
Simple waves never go out of style and look great with any face type. Such hairstyle always looks neat and provides its owner with a sort of dreamy and soft look, which any woman sometimes wants to sport. This fabulous style fits any occasion.
45. Messy asymmetrical bob
Long hair in front and short on the back is a great way to make an asymmetrical bob. Women with round faces will appreciate this style, especially if they are cutting their hair short for the first time. Such haircut allows for a smooth transition from long to short.
46. Bold highlights
Highlights are always a great way to emphasize the short-length hair volume and look good to women with round faces. For women with thick hair and round faces making any highlights will do. Coloring separate strands of hair with a bright shade is a good way to make a change without doing any scissors work.
47. Creative spikes
Getting creative is a good way to draw attention away from the small imperfections on your face. Such bold haircut as messy spikes will make any woman feel self-confident about her appearance.
48. Smooth and colorful
Any hairstyle will look great if the hair color is fabulous. Turning the old and boring hair color into a vibrant and fresh style is a wonderful idea for women with any face type. Asymmetrical ends will be a bonus.
49. Eye-covering bob
If the hair in front is long enough to brush it this way, then a sexy eye-covering look is a must. While it might not be to comfortable to wear on regular basis, this style is so outstanding it will make some heads turn.
50. Long ends
Long and pointy ends is a great addition to any straight-haired bob. The pointy ends do a great job of elongating the face, so women with round face shapes will really appreciate it. Not much maintenance is a bonus.
Women with round faces can now choose from a variety of short haircuts. No matter how her face is shaped, any woman can be stunning and look amazing. Instead of being a problem, a round face shape can add a great flavor to your style.
51. Cheekbone Bob
Everything about this short bob is designed to lift your cheekbones and improve their look. Cutting your bob to cheekbone length will make them stand out. A little flick at the end of your bob hairstyle will give them even more lift.
52. Pixie Weave
Weaves are not just for long hairstyles. You can ask your stylist to put in a short pixie weave for you. They might put in a longer weave and then cut it into a shorter hairstyle to match your face shape.
53. Cute Pixie
A cute pixie is a great short haircut for women with round faces. To give the look a super cute touch, make sure that you grow your hair longer in front of your ears so that your ears poke out like a real pixie!
54. Front Loading Crop
Make your fringe the main focus of a cropped hairstyle by front-loading your look. Comb your hair so that the majority of your locks are pointing forwards, then shape your fringe into a rounded point.
55. Square Fringe
Style your short haircut so that your fringe produces a very angular shape around your face. This shape of hair can really help to balance out the roundness of a round face.
56. Asymmetrical Bob with Loose Waves
Loose waves are great for a short bob. They are subtle yet charming. Rag rolling your hair can help to give a gentle loose wave which looks perfect for everyday wear.
57. Voluminous Crop
Short haircuts can still have a lot of volume. Use lots of strong hold styling gel to pull your hair up from the roots to give maximum volume. Tousle your style a little to give it a super cool textured look.
58. Classic Style
Above Chin Length bobs are a popular style for older ladies who have shorter haircuts. Give the style a classic edge by accessorizing your look with an elegant pearl necklace.
59. 20's Glamor
Loose waves were an important part of 1920's Glamour and Flapper Girls styles. For a simple 1920's short hairstyle, pull your hair up and then pin a few wavy strands across your forehead.
60. Side Swept Cool
This look is hotter than the sun. Undercut your style at one side and then use your hand to sweep all of your hair over to the other side. This smoking style is the height of cool.
61. Crop with Braid
Braids are still possible in short hairstyles. Braid a small amount of your hair at the front of your head to act as a natural crown. This short haircut perfectly suits a round face.
62. Long Punky Bangs
Spiky bangs can help short hair for women to look really funky. Straighten the cut and then chop away at the bangs to give the ends a really choppy and uneven look.
63. Maroon 5
Maroon is an amazing choice for a dyed hair color. Dark maroon is both subtle and eye-catching. Some dyes will only give your hair a flash of maroon when they catch the light.
64. Crop with Strong Parting
Make your parting a strong style feature by giving your hair volume. A deep cleft will make sure that the parting is very visible. Dark roots on blonde hair are even more striking.
65. Bold Curls
Bold curls look incredible on a short bob style. Put your hair up into heated rollers the night before a big event to give your style some real glamor.
66. Natural Hair Bun
Natural Afro-textured hair is gorgeous in short women's hairstyles. Pull your hair backward and up into a high bun to make a gorgeously simple style for formal occasions.
67. Feathered Flicks
If you have a round face, try lengthening it with a short bob. Make your face look bright and open by using the popular feathering style to flick your hair outwards and around your face.
68. Sleek Bob
A sleek bob is a super simple yet highly effective short haircut for a round face. Use heat-protect oil with ceramic straightening irons to prevent any heat damage to your locks.
69. Choppy Bangs
Blunt bangs can sometimes look very severe on a women's haircut. As an alternative to blunt cuts, try choppy bangs with your next hairstyle instead.
70. Layered Short Bob
Graduated layers at the front of your style are a perfect choice if you have a round face. Carefully select the length of your layers to highlight your favorite features.
71. Layered Bob Cut
Attain this chic look by working the bob cut along the length of your hair. Being one of the best short hairstyles for women with a round face, it defines your chin line.
72. Bleak Short Haircut
Look bold and beautiful by this perfect hairstyle. Make sure to give your hair different lengths to make it look even more appealing.
73. Side Swept Bangs
If you have got a big forehead and want to cover it up somehow, then this haircut is just what you would want. Keep your hair short and let the side bangs make you look more stylish than ever.
74. Portioned Bob
Give your bob cut a clear partition and add a little more bounce to it by curling up the ends. This is a perfect casual short haircut as well as a professional look that'll suit a round face.
75. Messy Short Haircut for Round Face
Keep your hair messy yet classy. Keep the middle partition and toss your hair a little to give this look more ground.
76. Chic Short Hair
Turn heads around with this haircut, which plays with the length of your face. Keep the back part of your hair short and cut the bangs in a gradually decreasing manner.
77. Messy Short Hair
Add layers to your short hair to make it appear thicker than it is. A perfect hairstyle for women who don't want their age to show.
78. The Rihanna Cut
Give your hair an amazing appearance by cutting the ends of your hair in a sharp razor cut along the length of your hair while keeping it short behind.
79. The Fringe Cut
Using a razor blade cut your fringes straight and pair it up with a short bobby cut to attain the bold look – perfect hairstyle for women with round face!
80. Bob Cut with Curls
Make your bob cut look a little different from the rest by just twirling it. It makes the cut look bold and classic. If you have a round face, create your own statement with this amazing short hairstyle.
81. Boyish Short Haircut
If you like it all primp and proper, then this is your go-to style. A simple boy cut with a little fringe just to keep the feminine look.
82. Bob Cut
Add more style to your plain bob cut by adding some colors to it. Color along the length of your short hair and curl them towards the end. A short hairstyle that make women stand out in crowd.
83. Spiked Short Hairstyle for Women
If you have always adored the mahogany look, then this style is for you ladies. It looks as cool and classic as it would do on any men. Pull off this look any day with minimum effort.
84. Gradual Hair Length Cut
Keeping it short on one end and increasing the length gradually towards the other side is yet a way of creating a high-class fashion statement. Perfect for women with round face, this short hairstyle is equally good for an occasion or a casual day and will always stand out from the usual.
85. Curly Blonde Bob Haircut
Arrange your curls on your bob cut to give your hair more bounce. Complement it with little fringes that cover up your forehead. This hairstyle will make you look bold and fashionable.
86. Sleek Short Hair
Here is a way to style your short hair. Comb the entire length of the hair on one side and cut your hair on different lengths to give a sharp and elegant look. Give your hair a rather spikey look with this hair cut.
87. Short Hair with a Side Fringe
Keeping the fringes long and the rest of the hair short is a good idea if your face is round. This looks classy and indomitable. While arranging your fringes make sure you mind the gap between the fringes, which is all the reason that makes this style unique.
88. Bob Cut Arranged in a Curl
Cutting your hair in a bob cut with bangs gives your hair just the right length. Twist the ends a little bit to add volume to your hair and make them look even more classic. The length of the hair in this hair cut is shoulder length.
89. Close to the Face Cut
The short haircut and styled in such a manner that it stays close to your face and gives you a very bold look and defines the shape and chin line of your face.
90. Short Mahogany
Here is another way of getting the mahogany haircut done if you are too fond of short mahogany. Look all jazzy and chic with a short mahogany cut. The interesting part of this particular cut is that the length of mahogany is not too much and the sides are also cut a little shorter than usual, so in a manner, this makes them look even more prompt and comparatively easier to maintain.
91. Middle Portioned Bob Cut
One more easy way to style your hair is by middle portioning your hair in which case equal length is divided into both sides, and it looks neat. Work the length of your hair by cutting short fringes and make this office look a little tad stylish.
92. Layered Short Hair
Adding layers to your short hair is perfect for women with round face. It is a smart way of adding volume to your hair whilst adding style and making you look even more glamorous. Give these layers a different color to make this style unique, and your iconic statement look.
93. Short Curly Hair
Curly hair too can be cut short. Arrange your Maggie curls in a bob cut and make your hair look even more voluminous, don't forget to add little side bangs to add layers to the length of your short haircut.
94. Long Fringe with Side Bangs
Look all classy and steal away the show in the above short haircut. This is essentially a bob cut in different lengths. Pull off this style by braiding one side of your hair while letting the fringes on the other side make its own unique statement. While keeping the fringes make sure to twirl them a little to add u to the chic look.
95. Classic Short Hair
If you do not prefer the hair around your face, then you should definitely give this hair cut a shot. Keep it chic by cutting the front length a little longer than the back length. Add it up with different colors to keep the contrast highlighted.
96. Curly Short Hair
Extremely curly hair can also be cut short and cut in layers to make them look bolder and high fashion. The curls are arranged very closely. Also coloring your hair will make this hairstyle more unique and attractive.
97. Different Length Haircut
Cut your hair in different length and make your hair look even more stylish. In this cut one side of the hair is cut shorter than the other side. The close bangs make this look even more up to date and sharp.
98. Short Curly Haircut
You can cut your hair extremely short and keep the hair off your face, and look all vibrant and neat with this haircut. If you are a round-faced woman who is brave to try short length contrast hairstyle, this hairstyle is a go-to look without any effort.
99. Outward Bob Cut
Give the usual bob cut a different approach by going for an outward bob cut. The ends are not arranged in an inward fashion in this haircut as it is usually done. It is a unique cut and definitely worth a try. To add up to the look add fringes to it.
100. Messy Wavy Bob
Messy is beautiful. Tussle your bob short haircut and rock this look easily and any day. It gives a rather brazen look while creating its own unique statement and almost nil effort.
101. Ideal Bob Hair
Give your hair volume by going for this haircut. Side partition it even further to make it look more sassy and elegant. This look will be great if you have a round face.
The above short hairstyles will look amazing to most of the women with round face though you should decide which one you should go with.