Keeping your gray roots dyed is simple without highlights. But when you have highlights, things get a little more complex.
If you want to know how to cover grey roots on highlighted hair, you're not alone. You can stop racking your brain trying to figure it out and find the answer here! You can cover your grey roots and also have stunning highlights, so don't give up!
Keep reading to learn how to deal with your roots without ruining your highlights.
Professional Coloring for Covering Grey Roots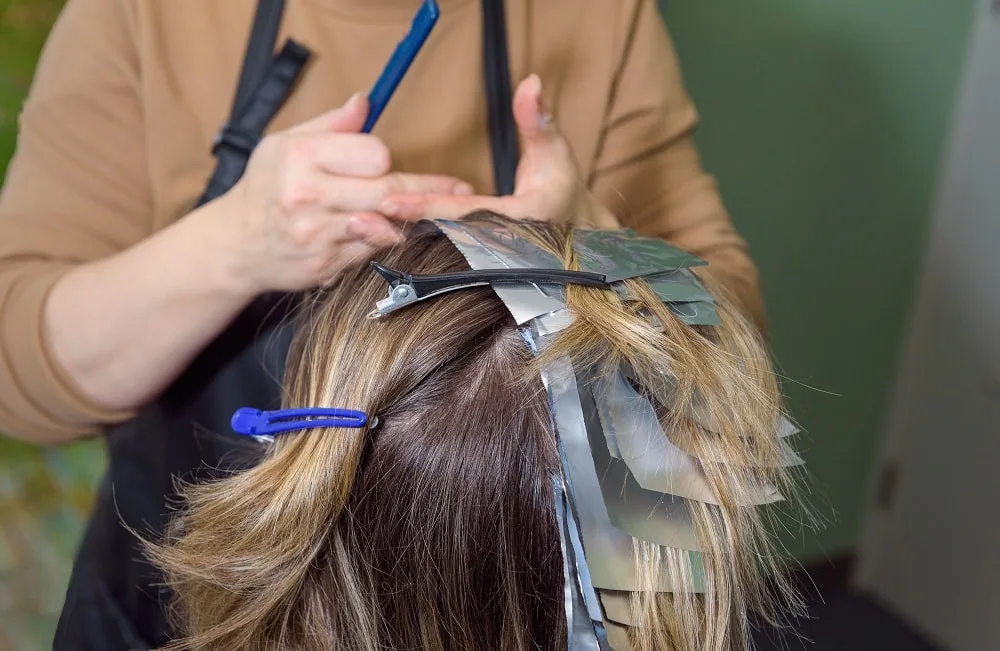 Before you learn how to cover grey roots on highlighted hair at home, you should know that going to a professional hair stylist is often the easiest option. To keep your grey roots hidden, you'll need to visit a salon every two to three months.
If your hair grows particularly fast, you may have to go every five to six weeks. Professional coloring can be quite expensive and a bit of a chore to schedule color appointments and visit a salon. But it's less expensive when you only have your roots done rather than your whole head.
Having your roots dyed can cost anywhere between $25 and $100. The better quality of the salon, the more you will have to pay.
How to Cover Grey Roots on Highlighted Hair
If visiting a salon sounds too expensive or inconvenient, there are also DIY options you can consider. Below you can find straightforward step-by-step instructions to help you fix the grey hair while keeping your highlights looking beautiful.
1. Select the Correct Shade of Hair Dye
The first step is to choose the right shade of hair dye. You want the shade to closely match your current hair color. Because you have highlighted hair, you have a few color options to choose from.
Try to find a middle ground, but when in doubt, always go for the lighter color, as it's easier to adjust later if you're not happy with the results.
Using permanent hair dye is better than semi and demi-permanent dye, as your roots will grow out and be visible for quite some time. If you use a semi-permanent or demi-permanent hair dye to cover your gray roots, it may fade sooner than you expect, showing your grey roots.
Honestly, there is no good reason to use demi or semi-permanent hair dyes when covering your roots. You want lasting gray coverage, not temporary.
Blonde Hair
If you have blonde hair, using a super light shade of blonde hair dye will create a stark and unattractive contrast on the top of your head. When dying your roots blonde, try to find a shade slightly darker than your hair color.
Blonde hair is one of the more difficult colors to match, as the shades can vary in warm and cool tones. Gray hair can also be hard to dye with a lighter color like blonde, but still possible!
Brown or Black Hair
Brown or black hair with gray roots is much easier to dye. The darker colors give you more opportunity to hide the gray hair.
But gray strands are also more noticeable on darker hair, so if you have black or brown hair, you may want to dye your hair more frequently. Match the color as close as you can to your natural color, but when in doubt, choose the lighter color.
Red Hair
Coloring red hair is similar to covering dark hair. Assess how dark your grey strands are and choose a red hair dye that will cover the grey. Match the hair dye as close to your shade of red as possible!
2. Mix the Dye
Mix the hair dye with the developer by following the instructions on the box. Do this in a disposable bowl and collect the following materials:
Disposable gloves
Toothbrush or mascara wand
Applicator bottle
Applicator brush
Petroleum jelly
The gloves and jelly will protect your skin from the harsh chemicals in the dye. Spread petroleum jelly around your forehead and temples to protect your skin, and keep the gloves on until the process is over.
3. Apply the Dye
When you apply the dye broadly to your hair, use the applicator brush and bottle, starting at your roots and working your way down the hair shaft. If you have thick hair, section it off before applying the dye mixture.
Carefully apply the dye to your gray roots. Using the toothbrush or mascara wand, pull the dye down to recreate your highlights. Gently sweep the brush down.
4. Set and Rinse
Follow the set and rinse instructions on the dye box. If you have a plastic shower cap, cover your hair while the dye sets to avoid drips. After the designated setting time, usually 15 to 30 minutes, rinse out the dye with warm water. Finally, if your hair dye comes with a conditioner, use that and then rinse thoroughly.
How Often Should You Dye Your Gray Hair?
Most people dye their gray roots three to four times a year. The frequency you have to dye your hair depends on how quickly your roots grow. People with fast-growing hair may need to cover gray roots once a month, while people with slow-growing hair could wait as long as three months.
You can find beauty products that cover gray roots quickly and easily but not permanently. Products like root touch-ups and certain shampoos can help cover gray roots between your dye jobs.
Other Ways to Cover Gray Roots
As mentioned, hair dye isn't the only option for grey coverage. Below are some alternatives to permanent hair dye:
Hair Gloss – Hair gloss gives you a subtle wash of color and can look natural. To apply, dampen your hair and then apply the gloss throughout, letting it sit for 15-20 minutes.
Hair Mascara – Hair mascara looks like eye mascara but has semi-permanent dye that you can easily brush onto your roots.
Root Concealer – Root concealer works like hair spray, as it comes in an aerosol can. You spray it on your roots, and it covers grey hair while leaving a natural look.
Hairstyles – Some hairstyles can perfectly cover your gray hair, like a bun, ponytail, or half-up half-down style.
To avoid repeatedly dying your hair, use the beauty products, hairstyles, or stylish coverings discussed above.
Final Thoughts
While it can be discouraging to see your gray hair start showing, many solutions can solve this problem. Whether you make regular color appointments at the salon or learn how to cover grey roots on highlighted hair at home, gray hair is perfectly manageable.
When you learn how to dye your own hair, you can avoid your grey hair growing out to mid-lengths. But the beauty products, hair coverings, and strategic hairstyles mentioned can be life savers when you haven't been able to dye roots in a while!