Many women are a little nervous about wearing a hat with their hairstyle these days. It could be a lack of confidence that you can carry it off, or it could be that you just haven't found the right hairstyle to wear a hat with.
Whatever your situation, we're here to share the good news that hat hair will no longer be a term in your vocabulary once you see the gorgeous looks you can create just by adding a colorful or printed hat.
The best part is that you can wear a hat with any length and type of hair!
Trendy Hairstyle and Hat Combinations
We guarantee you'll love all of these hairstyles you can wear with a hat!
1. Waves with Bucket Hat
Rich chocolate brown waves peek out of a trench coat and a black and white bucket hat in this Insta-worthy hat hairstyle. Add the waves with a curling wand or scrunch in product to enhance your mane's natural texture.
2. Braided Bun and Cocktail Hat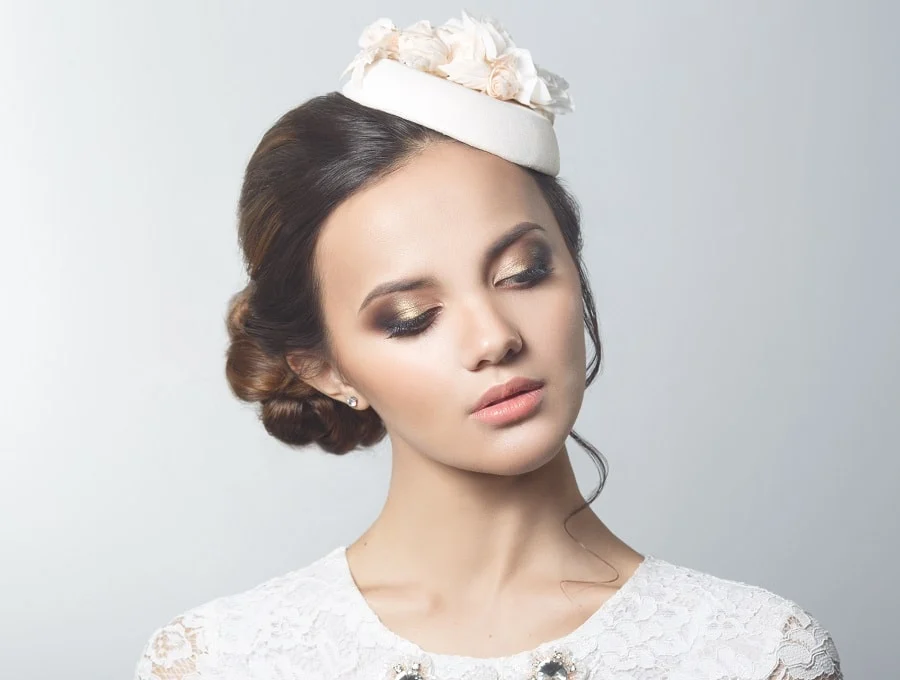 Whether you're the bride or the bridesmaid, a trendy birdcage or cocktail hat is the perfect addition to your dress. These styles come detailed in beads, sequins, feathers, and more, so you can really go all out.
3. Long Bob with Fedora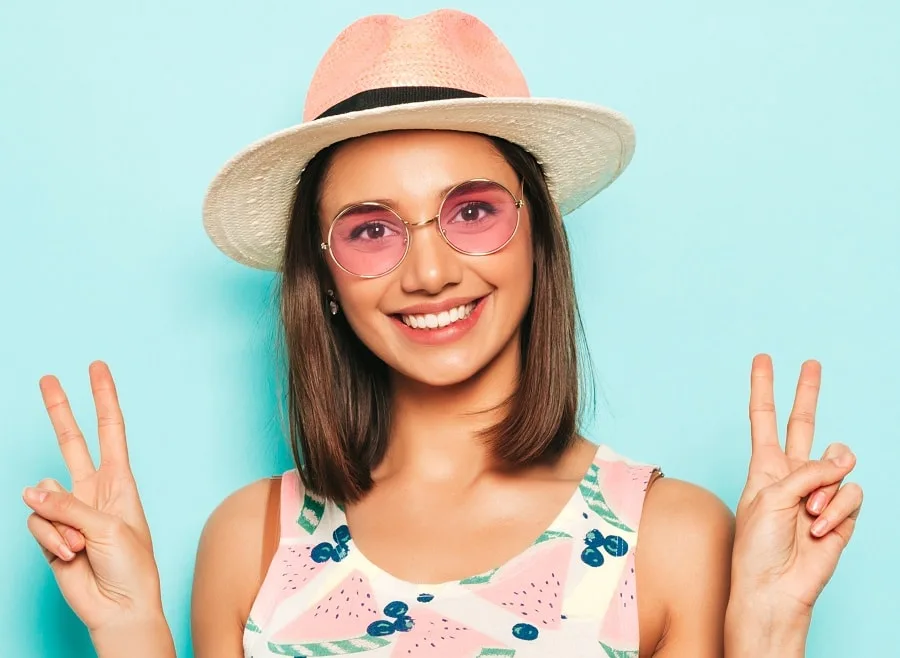 You can try this hairstyle and hat when going to work. When you're heading out to the beach with the girls for the day, a long bob needs just one thing to protect it from the sun's rays: a fedora. Their structured style will hold up well on windy days and the ribbon it's wrapped in adds a pop of color.
4. Afro Hair with Top Hat
Thick afro hair in a medium or short length can make a statement easily when you throw on a chic women's top hat. Pick a bold color and tilt it at an angle to serve up mysterious, fierce looks.
5. Bob with Bangs and Beret
A beret hat hairstyle has never been so stylish than on a chin-length bob with short straight bangs. Let fringe peek out and create a dramatic look by lining your eyes with a heavy black liner.
6. Pink Hair with Beanie
Are you rocking color in long hair these days? If so, it's the perfect opportunity to try a hat hairstyle. Match the color of your hair to a beanie of the same color for an adorable, cohesive look that also keeps you warm.
7. Half Shaved with Cowboy Hat
A half shaved hairstyle means you need an edgy hair accessory to go with. We recommend a black cowboy hat. It can be worn tilted at an angle to let those shaved details peek out.
8. Springy Curls with Floppy Hat
A floppy hat has a wavy style that flatters a multitude of face shapes and hairstyles. For example, thick springy curls bounce to life when topped with a medium-sized white flop hat. Pick your favorite color or match it to your outfit.
9. Bun with Cartwheel Hat
A sleek low bun is perfect for any fancy, formal occasion, and it goes great with a stunning 1950s cartwheel hat. If you're like us, we know you can't wait to have your own Pretty Woman moment.
10. Long Braids with Straw Hat
If you're a Black woman rocking any kind of long braids these days, you have to try this hat hairstyle, featuring a casual straw hat. It's lightweight, which makes it perfect for bringing to the beach or wearing to your local farmer's market.
11. Blonde Curls with Panama Hat
When you have beautiful blonde curls, you don't want a heavy hat to weight them down. Instead, opt for a light panama hat. The medium brim of this straw hat will keep the sun at bay and assist you in giving a flirty side eye.
12. Low Braids with Baseball Cap
For a winning hat hairstyle, add a baseball cap to two low braids. You can also add one to a high ponytail or tuck a messy bun through the back of the hat. It's ideal for sporty gals who want to be comfy!
13. Highlighted Braids
Lime green highlights in short straight hair with two front braids create an eclectic vibe. Continue the vibe with a denim bucket hat, which is great for putting an artistic spin on your hat hairstyle.
14. Perms And Sun Hat
For women with a curly perm, protect those perfect locks by topping your style off with a sun hat. Their adjustable band won't be too tight around the head so your curls won't lose their shape.
15. Straight Hair with Cloche
Ash blonde straight hair would be pretty plain without a hat to go with. Consider a cloche hat to give your hairstyle some personality. The snug, fitted style is often accented with a cute bow, so it guarantees a winning look.
16. Salt and Pepper Hair
Older women tend to go short with their hairstyle, but don't lose your beautiful texture. Go for soft, wavy layers whose shape will complement a cute beret or newspaper boy hat.
17. Choppy Pixie with Boater Hat
It's a hat hairstyle gorgeous enough for magazines! This blonde pixie's choppy layers can still be seen under a beautiful wide-brimmed boater hat. Pick a bold color, like black or red, to match your pantsuit or dress.
Which hat hairstyle is your favorite? One way to find the look for you is to consider all the hat types and consider which one is most like your personality. Then experiment and see what it looks like when worn with your hairstyle. The great thing about hats is there's quite a variety to choose from, so you're bound to create an amazing new hat hairstyle you'll love!