Many of us love to experiment with our hair color at home, but that doesn't mean we always have a great experience and nail the desired nuance or look. You might end up in a situation where you used the wrong toner or didn't do the bleaching correctly.
Or maybe you found a colorist that didn't quite match your expectations? Either way, if you end up with a color that doesn't suit you because of the toner, don't panic.
We have a few aces up our sleeve that we'll share to help you get toner out of your hair.
But first of all, for those who opted for the hair salon experience, let's break it down for you and find out what a toner is, when it's used and how to get rid of it correctly.
What Is a Toner?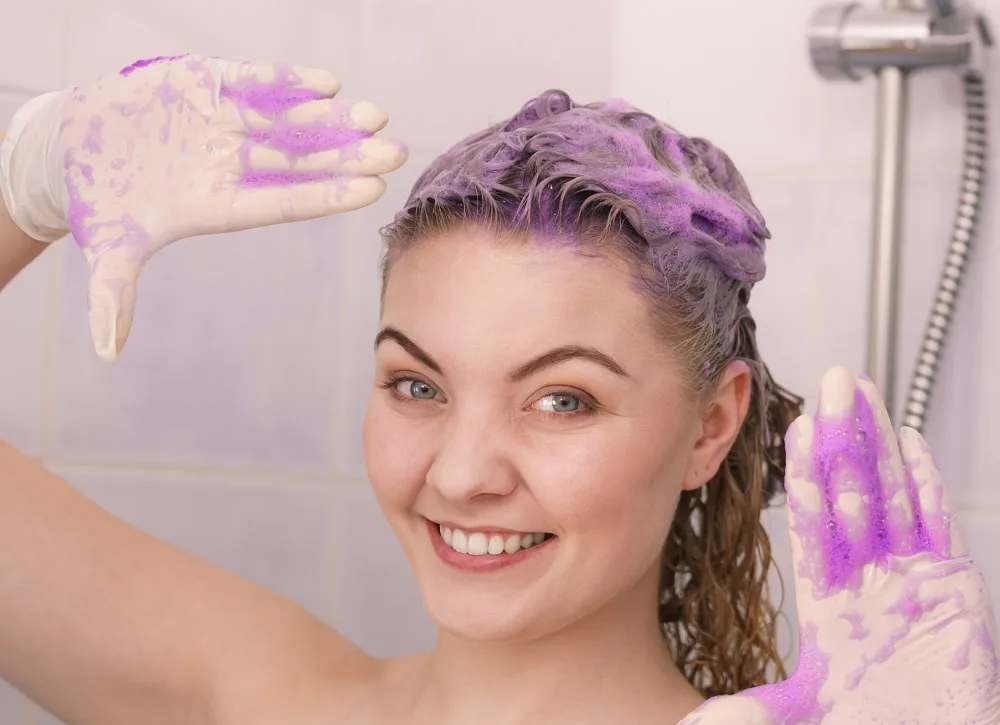 Hair toners aim to help you personalize your hair color or correct orange or yellow nuances. They are usually applied after you bleach your hair and administer hair dye. Think of it as an enhancement for your color.
When we're talking about blonde nuances, the toners are used to make the hair look creamy and shiny or to add a subtle silver, ashy or pale-colored hue.
However, if you are not a blonde, that doesn't mean you can't benefit from a toner.
As a brunette, you can apply it after dyeing to get those metallic blue reflexes, for example. When considering using a toner, you can opt for this amazing hair coating in a salon or at home.
The market offers you plenty of products like silver or purple shampoos. These will also provide a beautiful tint, but they last less than a professional toner.
Moreover, you might discover that even colorists recommend them because they are a good aid in preserving hair salon dye.
But, what do you do when you end up with a nuance that doesn't suit you or you just simply don't like it? You can wait for the toner to wear off (it lasts about 4 to 8 weeks) or search for methods that remove toner from hair.
So, if you find yourself in this uncomfortable situation, continue reading to discover the best ways to wash off this product.
Things to Know About Getting Rid of Your Toner
Firstly, when buying and applying a toner at home, check the label to find out how long the products last. You might discover that some products last just one or two washes. There are some more things for you to consider.
Toners naturally fade; they are not meant to last forever. That can be a blessing, especially for those who are disappointed with the final result. So, if you're not fond of your new nuance, don't jump directly to bleaching or permanent dyes to cover the toner. Choose one of the methods below or just let it fade off;
Your mistake is only temporary and can be reversed. If you're taking the matter into your hands and pursuing your goal of changing your hair color and toning it at home, make sure you know how colors work when combined. Otherwise, you might end up with a very bad experience.
It is very important to consider timing. If you're not content with the result, you should take action as soon as possible. You must act quickly if you are sure you want to remove the toner. Or it might be harder to take it off if the product deeply penetrates the threads.
How to Get Toner Out Of Hair
Here are 5 effective ways to get rid of toner from hair that experts swear by.
#1. Using Clarifying Shampoo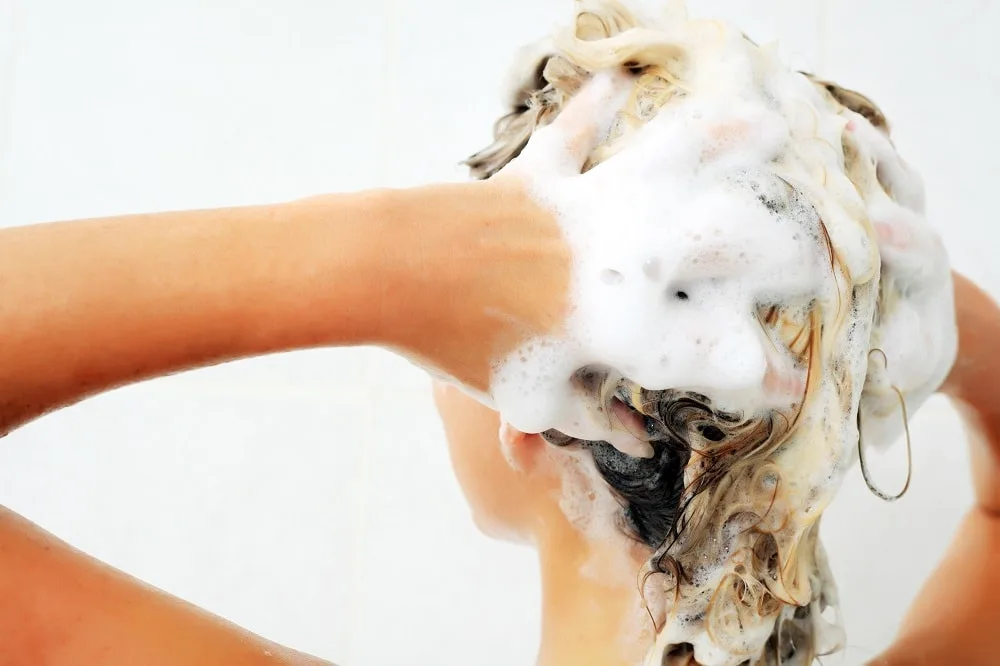 As mentioned before, the main difference between semi-permanent or permanent hair dyes and toner is that this tint fades in time.
Clarifying shampoo can be your best friend because it is specially formulated to remove dirt, any impurities, or buildup by making your hair look and feel squeaky clean.
It is generally ideal for those who want to remove all residues and show off their natural hair look.
We recommend you use clarifying shampoo no more than four times per month because it proves to be quite effective for toner removal.
In this case, if you don't already have one at home, you can buy one online or from the nearest drugstore.
Because this shampoo is formulated for a deep clean, it is the best choice for those who want to remove toners. It contains multiple minerals and will help you strip off color and impurities.
What to Do:
To remove the toner, squeeze some product into your hands;
Rub it to activate the shampoo and apply it to your hair.
Make sure the product is equally distributed to all toned areas and strands.
You can repeat the process up to 4 times a day. After so many washes, your hair might look harsh, but at least you got the toner out.
Tips and tricks: When choosing your clarifying shampoo, ensure you don't select a product that helps with color retaining because it will have no visible effect.
After washing your hair many times, you might discover that your strands are not as silky as they used to be. A deep conditioner is a great product to have around when using clarifying shampoo more than once a day.
It is a great moisturizer with amazing nourishing properties and will restore that smooth look of your mane.
#2. Dandruff Shampoo with Baking Soda
Just like the clarifying shampoo, anti-dandruff shampoos are conceived and formulated to reduce impurities and provide a deep clean.
Consider mixing the shampoo with baking soda to create a dream combo that strips away the toner from your hair. The selenium sulfide from the shampoo will help you make your color fade, so when buying the shampoo, check the label and ensure it contains this ingredient.
Baking soda is also a cleansing agent because it's abrasive and exfoliates the toner from each and every thread. To prepare this mixture, you will need:
-Two tablespoons of baking soda
-10 ml of dandruff shampoo
What to Do:
Mix these two ingredients until you obtain a homogeneous paste.
Apply the resulting product to your hair and let it sit for 5-10 minutes.
Use lukewarm water when rinsing. This combination might leave you with coarse hair, so make sure you always treat your tresses with a great conditioner to nourish the hair and restore its glow.
#3. Lemon Juice with Conditioner and Shampoo
You can mix lemon juice with both conditioner and shampoo. It has great bleaching and oxidizing properties, so your toner won't stand a chance in front of this incredible mix.
If you want the remover to be as effective as possible, it is recommended to use the resulting paste within 24 hours.
What to Do:
Take a bowl and pour in your favorite conditioner.
Add three times the quantity of lemon juice. Adapt the amount of mixture to your hair length.
After mixing the two ingredients, pour the result on the strands and tresses in areas where you applied the toner.
Rub the hair in your hands and use a wide tooth comb to make sure the liquid is evenly spread on the whole surface.
Let it rest for at least 3 hours, and use a shower cap or a towel to cover the head. If you want to see the best results, apply the mix before bedtime and wash it off the next day.
Rinse your hair with warm water.
After using this mix, you might observe that your hair is slightly coarse, but you can do a few things to improve its aspect and feel. Make sure you only wash your hair with a nourishing shampoo that doesn't contain any alcohol or sulfates.
Don't forget about the conditioner or moisturizing masks because these products will restore the glow and silkiness of your hair.
Integrate oils into your haircare routine and apply them to your scalp and ends. Among the recommended oils, you can find jojoba, castor, or coconut oil.
Also, you might need to take a break from toning your hair or using semi-permanent or permanent hair dye until your hair's silkiness is restored.
#4. Dishwashing Liquid
Dishwashing liquid can be used alone to get toner out of hair or combined with lemon juice or clarifying shampoo.
Dishwashing products aim to remove grease and most deposits from your cutlery, plates, and pots, but that also makes them a great candidate for deep cleaning your hair, especially your toner.
What to Do:
Mix the dishwasher with conditioner, shampoo, or lemon juice and apply it to your hair.
Select medium strands and rub them in your hands to produce foam.
Repeat the process until your whole mane is deeply covered with this mix.
Let it rest so that the foam works and removes the toner. Because it is quite harsh with your hair and strips away the toner, you will definitely need a rich conditioner that improves that dryness.
When washing your hair, ensure there is no foam, and the water runs clear throw your tresses.
It is ideal for applying the dishwasher liquid ASAP, so the toner won't have enough time to penetrate the hair thread and cuticle deeply.
#5. Vitamin C Tablets and Hot water
Just like lemon juice, vitamin C tablets are quite effective in getting toner out. These tablets are OTC, so you can purchase them from any pharmacy without fuss.
Vitamin C is not only good for removing toner but also a great remedy for dandruff. It clears impurities, removes debris from hair follicles, and stimulates hair growth.
Moreover, you can use crushed vitamin C when your scalp is itchy and dry.
What to Do:
Use a bowl and a kitchen tool to crush the tablets.
Add hot water or shampoo, and mix until you get a paste.
Spray some water on your hair, so it becomes damp. Apply on dyed areas.
Let it rest for about an hour, and wash your hair with lukewarm water.
Dry the hair with a towel and apply a leave-in conditioner. Once the toner is removed, use a nourishing shampoo, conditioner, and hydrating hair products.
Bonus: Hydrogen Peroxide
As mentioned before, most procedures of getting rid of the toner work if you apply them as soon as possible. After one day, the toner will penetrate the hair cuticle, and it will be harder to remove.
When that happens, you've got only one option and that is hydrogen peroxide. It is one of the most aggressive solutions, but it will get the job done.
It is a strong solution so before taking action, make sure you read the instructions and label properly. Equip yourself with disposable gloves that will protect your hands from this agent.
What to Do:
Mix 100 ml of hydrogen peroxide with water or dandruff shampoo and apply it to those toned strands. If you have never used this product before, you should test it on your hand and ensure there's no allergic reaction to the chemical. If all goes well, apply the product, but avoid spreading it on your scalp.
Please don't leave it too long because it can cause damage and breakage. Check your strands every minute to see the progress, and gently wash your hair once you achieve the desired result.
Using a good conditioner is a MUST because this toner-removing option is quite aggressive for your hair. So, include masks, conditioners, and hair oils that restore the softness of your mane in your haircare routine.
Hair toners are a fabulous way to transform your hair into a statement, to obtain unique nuances, and boost your self-esteem. But what can you do when things don't go according to plan, and you need to remove the toner ASAP?
The options presented above are tested and highly appreciated by women who had to deal with more than a bad hair day. Good luck with the process, and let us know which method worked for you in the comments.