Knotless braids are becoming quite popular among mixed-race ladies with curly and wavy hair. In contrast to box braids, these knits appear more natural as they don't have tight 'knots' at the scalp and the extensions are fed in gradually along the length.
The result is a beautiful protective hairstyle that reduces traction on the hair and hence any associated damage.
So if you don't have time to style your tresses daily, the following large knotless braids will help you choose a low-maintenance hairstyle that can last up to 2-3 months with proper care.
Jumbo Knotless Braids
Large knotless braids look much more eye-catching than regular ones making them a suitable option for the fashionistas out there.
1. Natural Ombre
Creating a natural seamless dark to light gradient is the easiest with braids.
Couple a golden blonde shade with dark hair to accent your warm skin tone while those large square-shaped sections will result in fewer but chunkier knits on the head. Add some hair cuffs and rings for a fancy appeal or don't!
2. Chunky Lob
Large knotless braids give the benefit of going as long or as short as you want. Although sporting a long mane is the first choice of many women, opting for a long bob with a middle or side parting while the knits dangle on the shoulders will look no less.
3. Triangular Sections + Curly Ends
Curls and braids look stunning together. Young girls can stand out from their friends by incorporating burgundy extensions while getting their hair plaited with triangular sections. Leave the ends loose and curl them up for a playful appeal. Swoop down the edges and that's it.
4. Two-Toned Knits with Beads
When it comes to choosing synthetic braiding hair, there are so many colors to choose from. Golden brown strands can look both dramatic and classy when added to a black mane.
Set the look on fire by adding transparent beads on the ends and flaunt them with a stylish half-up ponytail.
5. Curly Goddess Braids
A hot mess like this will turn any lady into an ethereal goddess. Fine tendrils are pulled out when plaiting the hair all over the head.
Curl the loose strands resulting in a mixture of braids and curls that will drop some jaws. Finish off the style with a half-up bun.
6. Pretty in Pink
Celebrate your womanhood with extra-long pink knotless braids.
Go for whatever pink tone you like or choose an entirely different color and cover up all the natural hair by feeding in the extensions as close to the scalp as possible for an eye-popping monochromatic look.
7. Top Knot with Statement Hearts
African-American girls can switch up their hair game by opting for triangle-shaped sections with gorgeous hearts on each side of the head.
The trick lies in perfectly carving out each segment with not a single hair going astray. Keep the braids away from the face with a simple top knot bun.
8. Color Split
Rock a color-blocked mane without adding a drop of dye on the head. Go for platinum knits on one side to pop against the deep black ones on the other side.
Opt for any color combination with a middle or side part as long as you feel confident. The choice is all yours.
9. Bob with Knotted Ends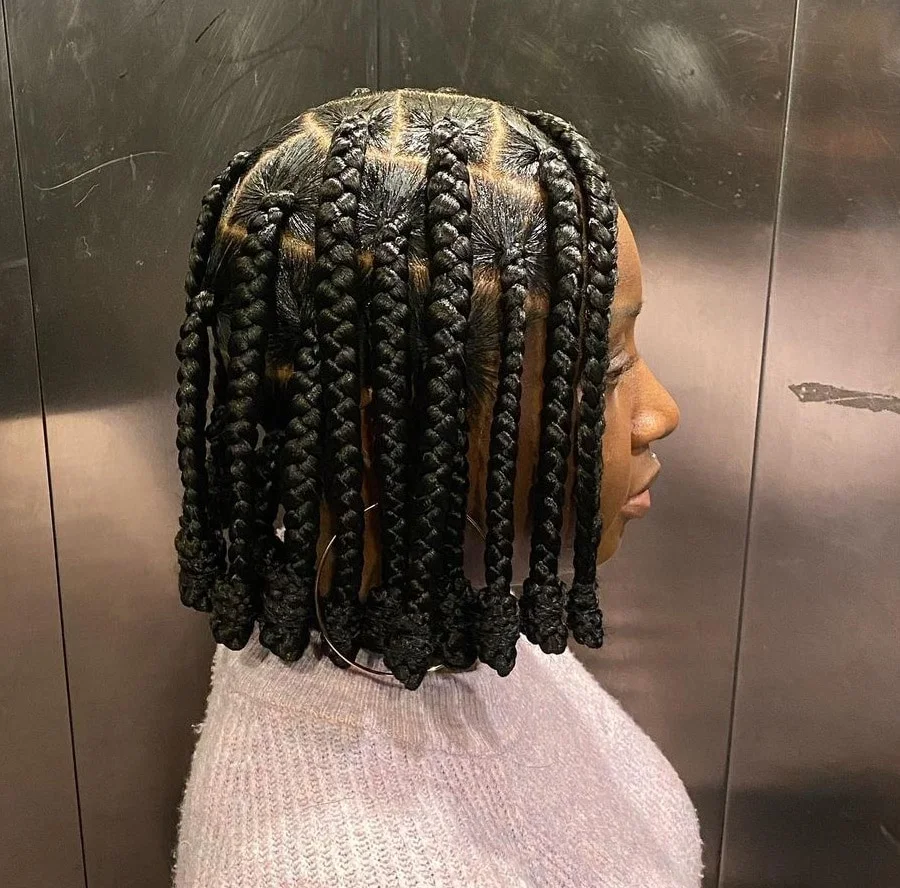 Though the distinctive feature of jumbo knotless braids is the absence of an anchor knot at the roots, the ends can still be knotted!
Keep the knits a bit long so that you end up with a contemporary chin-length bob after wrapping the ends tightly around themselves.
10. Highlights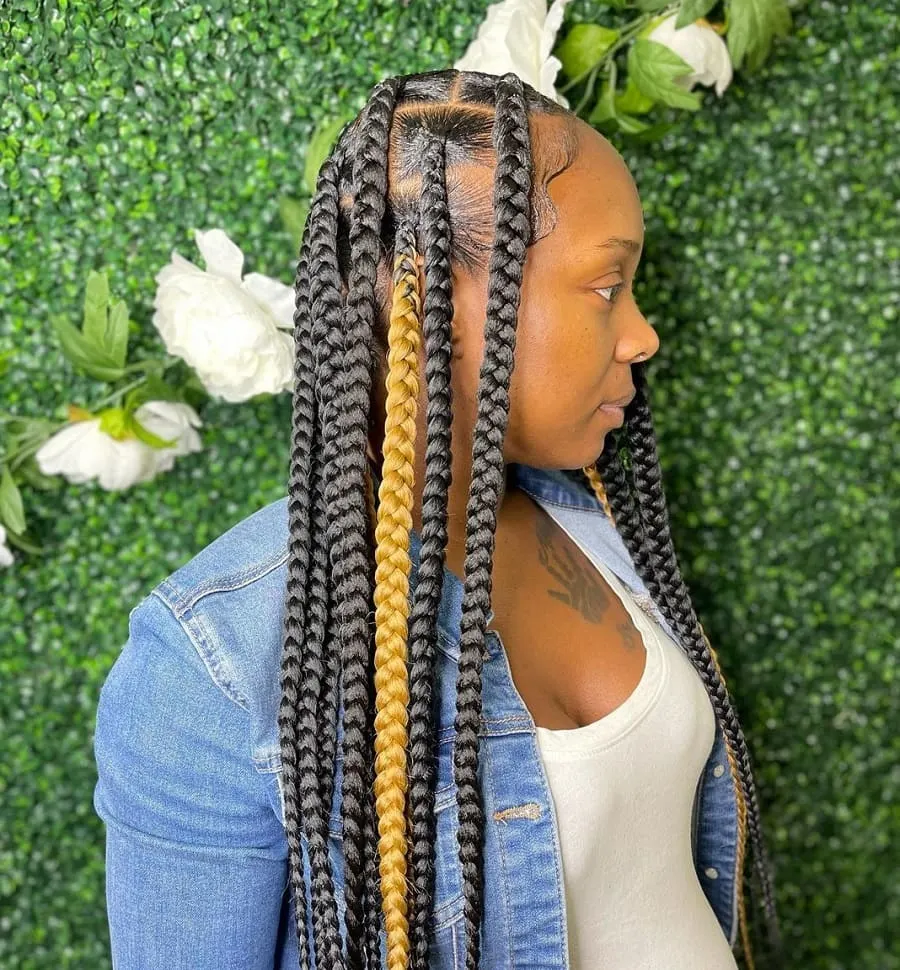 Keep it simple yet exceptional by adding a bright color on both sides of the head, limiting it to a single braid only keeping the remaining naturally dark.
Apart from the yellow featured here, you can opt for any color you want like blue, pink, green, purple, or red. The options are endless!
No wonder large knotless braids are becoming the biggest trend this season. They can be kept simple, adorned with beads and colorful extensions, and styled further into numerous hairdos.
With this much versatility and the above-mentioned ideas, we hope you make a style statement worth remembering.