No wonder women of today are increasingly searching for low-maintenance hairstyles and haircuts. Our lives have become busier than before and to be honest, very few have the time to wash, brush, section, and style their hair every single day!
But 'low-maintenance' never means boring or frumpy in any sense. Neither does it refer to no hairstyling at all as grooming is an essential part of any hairdo, whether easy maintenance or not.
Go through the 30 fuss-free hairstyles mentioned below with various lengths, colors, and textures, and you'll get to know how pretty they can be!
Fuss-Free Low-Maintenance Haircuts and Hairstyles
Some of the following hairstyles give the benefit of easy styling, and others the advantage of no salon visits for months! Get a low-maintenance haircut and lead a hassle-free life!
1. Blonde Lob
Short haircuts are the first thing that comes to mind when thinking of low-maintenance hairstyles. A lob is a stylish option when planning to start fresh or taking a break from elaborate styling.
Pair it with a light blonde hair shade, some loose waves, and see jaws drop around you.
2. Subtle Highlights
Highlights never go out of fashion and are easy to care for too. Breathe some life into those boring monochromatic tresses with warm caramel blonde highlights focusing around the face for an instant glow-up.
Finish off the look with soft layers and watch those highlights turn into a balayage as the hair grows!
3. Curly Perm
Curly and wavy perms come in handy for those who are planning to get a wash-and-go hairstyle lasting anywhere between four to six weeks with proper care.
Spice up the mane further with some blonde highlights and done. A hand-tousle and off you go!
4. Shadow Roots
Shadow/natural roots are now considered beautiful thanks to the lockdown. Recreate the look by opting for multi-tonal highlights using slightly varying shades of blonde on a dark mane leaving the roots untouched or allowing them to grow.
Got some time? Add loose curls and you will love it.
5. Layered Locks
Long hairstyles can be just as easy maintenance as short haircuts. Ladies who want a refreshed look without compromising on the length can add some bounce by asking for tiered layers with a V or U cut. Brush out your mane and you are ready to rock!
6. Halo Braid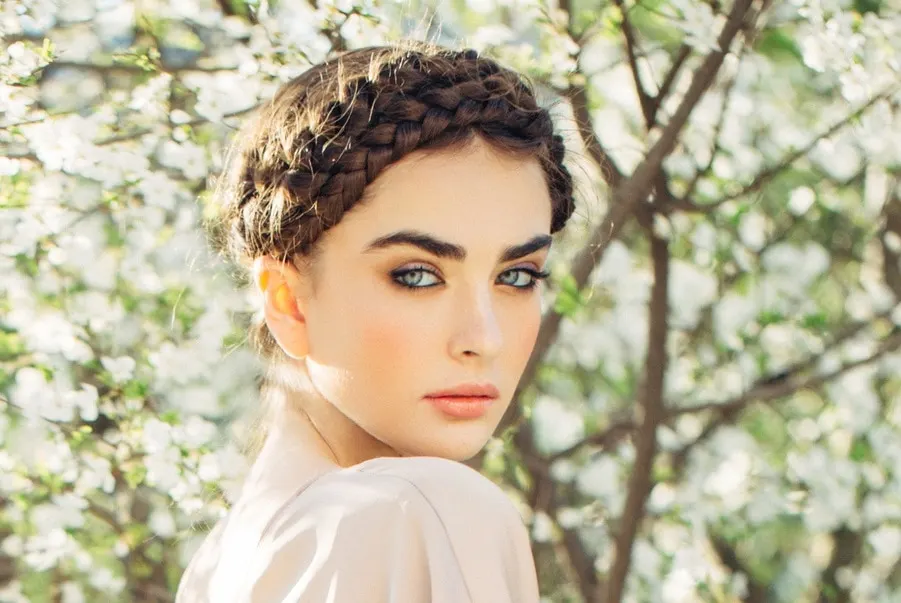 A halo braid can make any lady look like a queen on formal occasions. Plait the hair while moving around the head or create two braids and wrap them around to be fixed with pins.
Pull some strands loose to frame the face and voila!
7. Vintage Vibes
This short round bob is ideal for women who are more into vintage hairstyles. It features subtle layers that fall around the face reaching just below the ears.
Leave the hair straight or set it on fire with curls. A perm surely won't hurt too.
8. Messy Updo
Lazy brides looking for low-maintenance hairstyles are actually the smart ones saving on their expensive salon appointments while looking equally stunning.
Braid the tresses, wrap them around in an updo, and add a sparkling hairpiece. Tug out and curl some tendrils to accent the face. Wow!
9. Simply Straight
Simple is sexy! Ladies with naturally straight hair can opt for a nice trim and tuck the hair behind their ears with a chic side parting.
Curly-haired ones who don't mind straightening their locks regularly can copy this style for an important event or as an everyday look.
10. Sombre
Sombre refers to a subtle ombre that just appears natural. Whether the hair is straight, curly, or wavy lighten it down midway to the ends resulting in a dark top and golden blonde tips.
See the magic happen once your roots start growing!
12. Curly Beauty
Curly beauties are at a benefit when it comes to low-maintenance haircuts as the messier the hair gets the hotter it looks.
Chop those precious curls into a round shape at chin length with fluffy bangs skimming the eyes. This style is suitable to cover a chubby round face making it appear slimmer.
12. French Bob
Make a style statement by opting for a French bob skimming the jawline with middle-parted bangs and a light blonde hair color.
Don't fret about the emerging roots as they add up to the look. Finish off with winged eyes and red lips to turn around some heads.
13. Side-Swept Bangs
Bangs can bring a subtle or a drastic change for those who want to update their look effortlessly. Consider getting a side-swept fringe by cutting the strands at an angle to swoop sideward naturally.
Trim them at home when they start getting into your eyes. Watching some tutorials may help!
14. Ballerina Bun
When you are just not in the mood of doing anything with your hairstyle it in a high ponytail and wrap it around in a simple high bun with or without using a hair donut.
Tame the flyaways with some hairspray or leave them for a carefree appeal. Easy-breezy!
15. Fishtail Braid + Ponytail
Ponytails are versatile enough to make any girl stand out from the crowd. Although a fishtail braid seems difficult it is just a matter of crossing over the strands intricately.
Plait the top portion and secure the remaining tresses in a pony. Tada!
16. Babylights
Want to wear a shoulder-length low maintenance hairstyle? Babylights are delicate highlights that add a natural shine to the hair. The hairdresser will take fine chunks all over the head and lighten them down resulting in a sun-kissed look that is sure to grab the attention of many. Ladies with messy curls should definitely give this look a try.
17. Platinum Pixie
When it comes to low-maintenance haircuts, pixies are the chicest among all! This one features a long top that tapers seamlessly towards the side and back with short angled bangs at the front swept neatly to one side.
Recreate the style with a platinum blonde hair shade and you won't regret it!
18. Space Buns
Playful and trendy! Space buns are ideal to steal the show. Save a greasy hair day by styling it into two ponytails and swirling them around into buns.
Want a more festive appeal? Carve out a zigzag parting and add some chunky glitter on top.
19. Rolled Updo
Rock this elegant updo on an official party to stun everyone around you. Create a topsy ponytail and continue pulling the hair through it until a roll is achieved, or place a headband and tuck the strands around it instead. Secure in place and accessorize with pearls.
20. Afro Layers
Layers work wonders on curly tresses just as they do on straight locks. Black women can liven up their afro fluff with a deva cut where each individual strand falls around the face at varying lengths. Enhance the look further with soft highlights or don't. Your call!
21. Ombre Hair
Another low-maintenance hairstyle for the lazybones out there. Dark-haired ones can experiment with a blonde ombre midway to the ends.
The key lies in blending the shades perfectly together and using a suitable transitioning color in between. No further salon appointments are needed as the emerging roots continue to level up the look!
22. Dutch Braids
Keep it classy and chic during the hottest summer days with these cool Dutch braids.
Plait the strands from the very front all the way to the ends and incorporate burgundy extensions or any bright-colored ones while knitting the hair for a pop of color.
23. Pink Pop
Vibrant hair shades can be easy care too! Never thought about that right?
Dye your tresses in a hot pink and magenta hue and enjoy your eye-popping mane without worry, as these fiery shades fade into the softest pastels if not touched up regularly.
24. Curtain Bangs
Fashionistas can fringe up their life with forwarding layers and curtain bangs that fall on both sides of the face like literal curtains.
They are fuss-free, requiring a little blowout with a round brush and continue to frame the face gorgeously even when growing out.
25. Asymmetrical Style
Perfect hair can seem boring at times. That's when asymmetrical hairdos come into play.
Get noticed from a distance by clipping one side significantly shorter than the other resulting in an edgy angular fringe accentuating the face. Though easy to style this haircut requires regular trims.
26. Birkin Bangs
Birkin bangs are clipped straight across the forehead falling somewhere in between the brows and eyes. Wondering what's low-maintenance about them?
Well, they fall naturally on the face and can be trimmed without much hassle at home within a few minutes. Don't rush, just snip small sections at a time.
27. Salt and Pepper Mane
Gray hairs are not something to be ashamed of. Ladies over 60 who love low-maintenance cuts can embrace their salt-and-pepper locks with elegance by opting for silvery grey highlights and soft layers.
Take a step ahead and couple the look with chic luscious money pieces.
28. Box Braids
Box braids are a protective low-maintenance hairstyle for African-American women to celebrate their ethnicity with pride.
Incorporate blonde extension when knitting the hair going as long as you want. Leave the plaits loose or try a jumbo bun or a high ponytail instead.
29. Half-Up Double Buns
Buns are the easiest to create as they look stunning, even when messy and imperfect.
Avoid a wash for another day by styling half of the hair in one or two buns sitting on top of the head while the remaining tresses are left loose to sway with the wind. Funky!
30. Straight Cut
Straight/blunt cuts have remained quite a trend this year. They involve cutting the strands at equal length with no layering at all, making the hair appear thicker and healthier.
Experiment with a bob or lob haircut and blonde highlights to wow everyone with your new hairdo.
There you have it, ladies! The best low-maintenance hairstyles and haircuts that look as flattering when styled at home as they do when leaving the salon.
A few trims, root touch-ups, and a little use of your hairstyling tools isn't very high maintenance after all!