Ask any hairstylist which haircut they'd recommend for women over 60 and chances are high that their answer will be a layered hairstyle. Cutting the hair into layers simply means the top parts of your mane are cut shorter than the areas underneath. Most ladies over 60 look great and feel comfortable with layered hairstyles.
Layers can be short, long, or somewhere in between. Layers make styling easy, they work with virtually any haircut, and they can only do good when it comes to making you look and feel younger.
For help choosing the right one for you, take a look at our favorite layered hairstyles for women over 60.
Trendy Layered Hairstyles for Seniors Over 60
If you're struggling to find the best hairstyle to make you feel and look like the gorgeous queen you are, try one of the 23 ideas below!
1. Thin Bangs
If you're used to having bangs, you can work them into a long layered hairstyle by making them wispy and thin. This makes them softer and also helps with flattering face-framing.
2. Layered Bob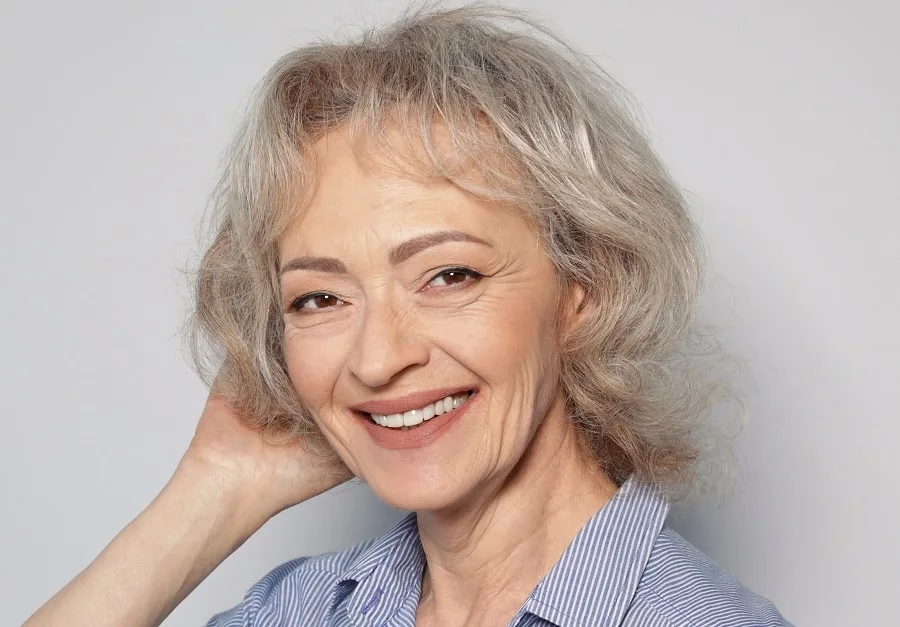 If you're over 60 and have short, thin hair, a layered bob will shape it into a chic shape. Simply work in a little mousse with your fingers to make thin locks appear fuller.
3. Feathered Layers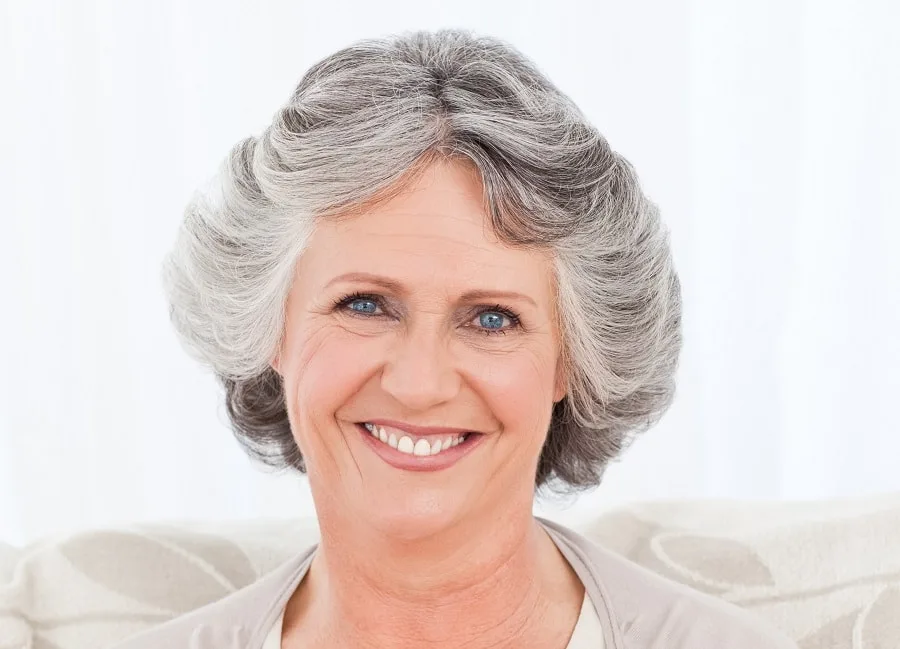 If you're like other older women and prefer a short haircut, try a bob with feathered layers. This type of cut creates a slightly curly affect on the ends of hair. It's quite flattering on women with a wide face.
4. Long Layers for Glasses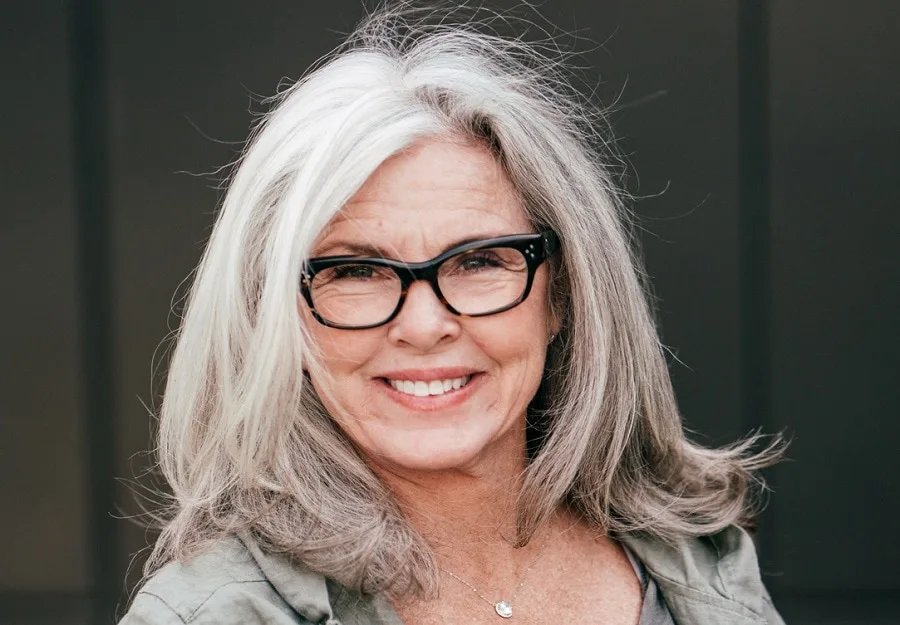 Are you wearing glasses these days with long hair? Keep those beautiful long locks, but add some layers that will lie softly along your specs. A partial off-center part is all you have to do for simple yet beautiful all-day style.
5. Fine Hair with Highlights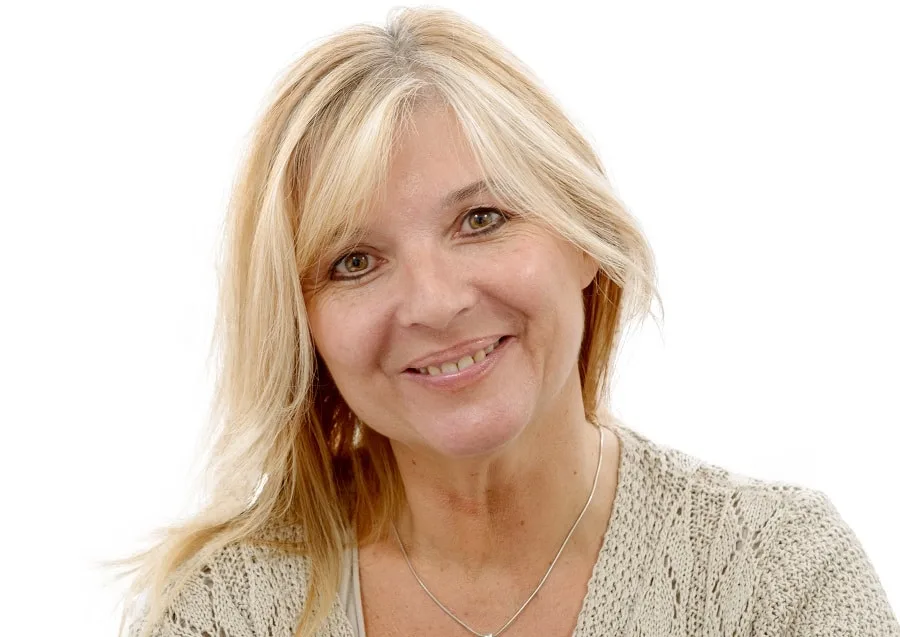 One of the easiest ways women over 60 can give their hairstyle a youthful look is with highlights. For example, these light blonde highlights in a long hairstyle with parted fringe brighten up the whole face.
6. White Blonde Layers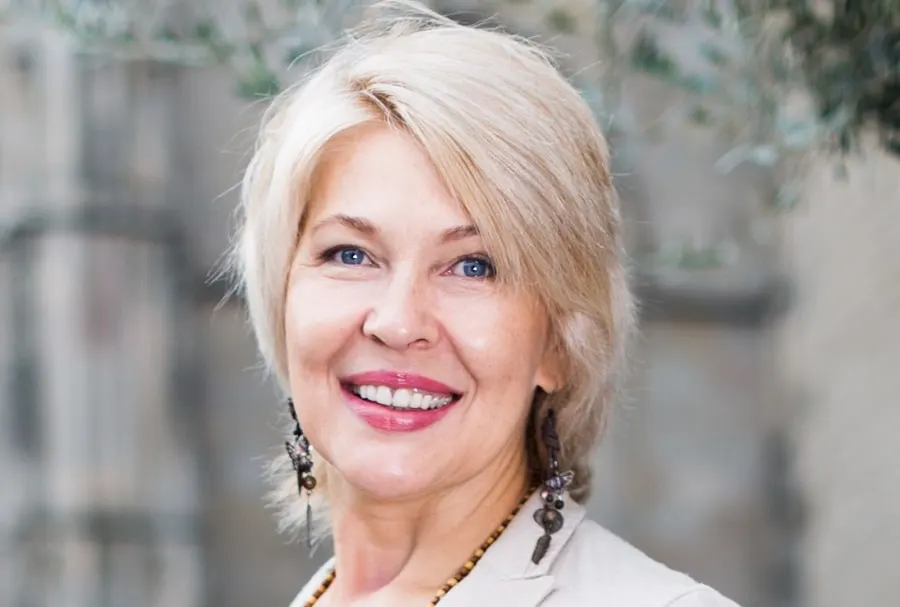 If you like having longer hair to style, you'll love a chin-length bob or long pixie. With lots of layers and a bright color like white blonde, you'll feel like a whole new person. To give hair some volume, you can blow it out or tease it with product.
7. Short Fine Hair
Many women over 60 with fine hair struggle with style options. We recommend emphasizing a short haircut with layers and short bangs. The layers will help even minimal texture shine, while the bangs help with face framing.
8. Side Bangs and Waves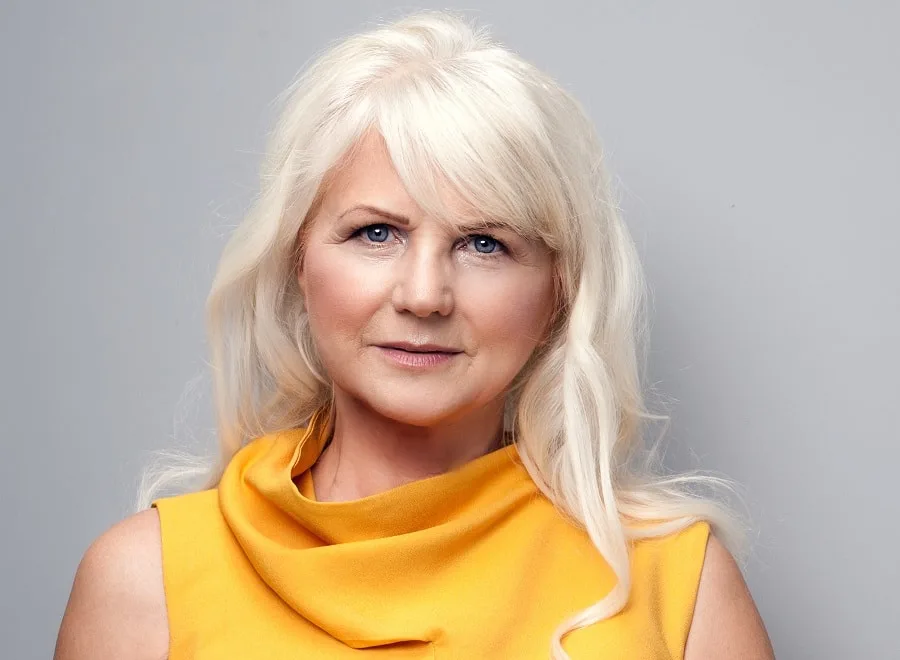 More power to you if you're still rocking long hair in your older age. You can make it look even more glamorous with some waves complemented by straightened side bangs. Wear it down to flaunt your gorgeous mane.
9. Layered Curly Hair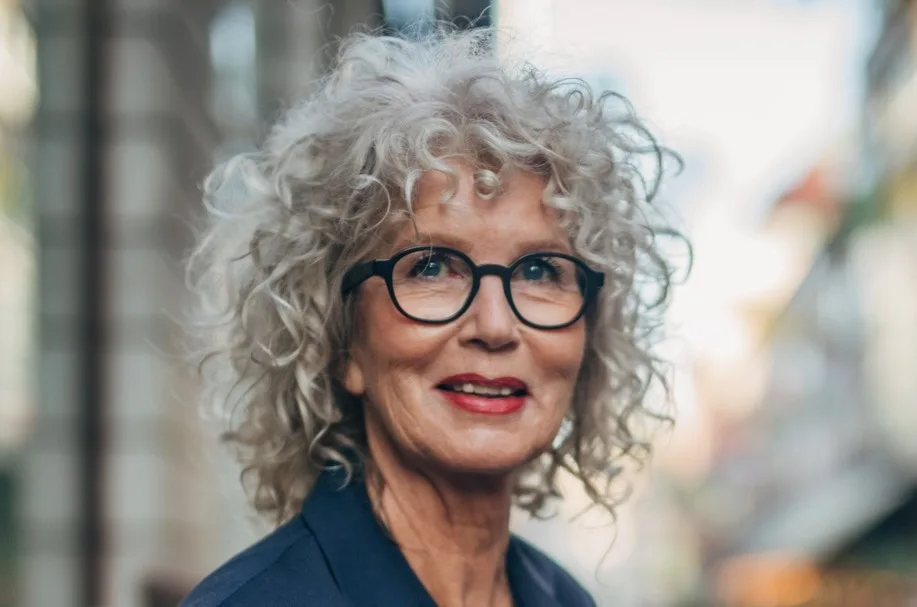 Beautiful spiral curls like this are coveted by lots of older women who miss their hair's thickness. Put the spring back in your mane by opting for short layers that emphasize their coiled shape, and a bit of piecey fringe.
10. Bob with Short Layers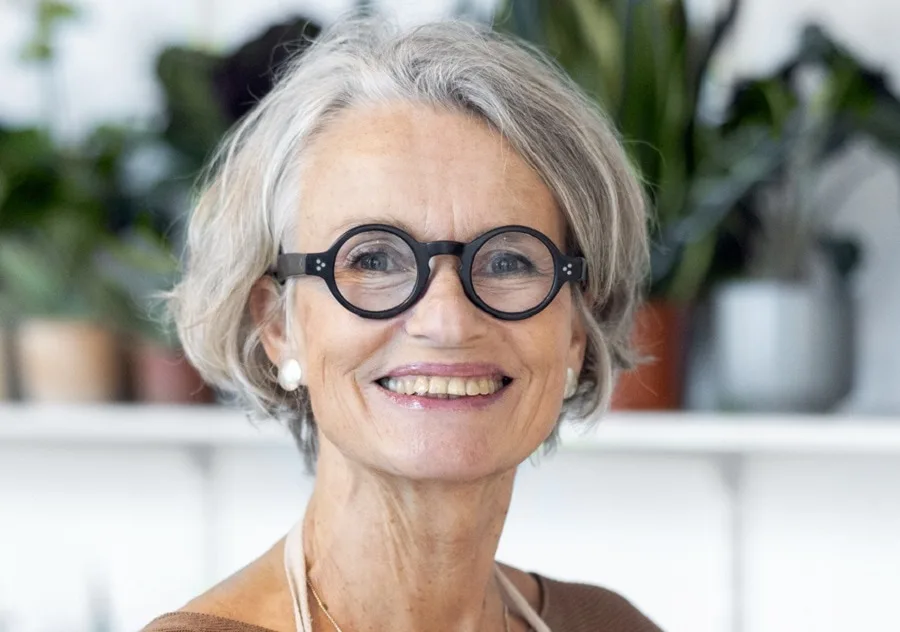 The classic bob haircut is not to be underestimated, especially when it has chic short layers. Styling is a breeze, since all you have to do is use your fingers to work in some mousse to brush it away from the face. You can also straighten it for sleekness.
11. Blonde Balayage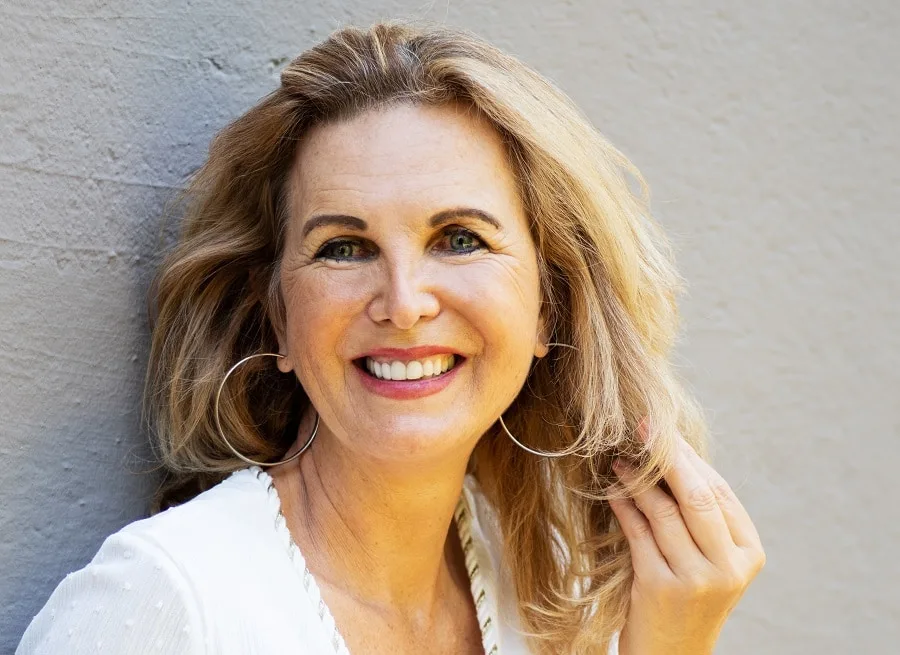 Blonde balayage in long hair is a common choice for women of any age, but on women over 60, the colors are great for giving your golden years a youthful glow. Emphasize layers around the face for all the flattery you could want.
12. Medium Gray Hair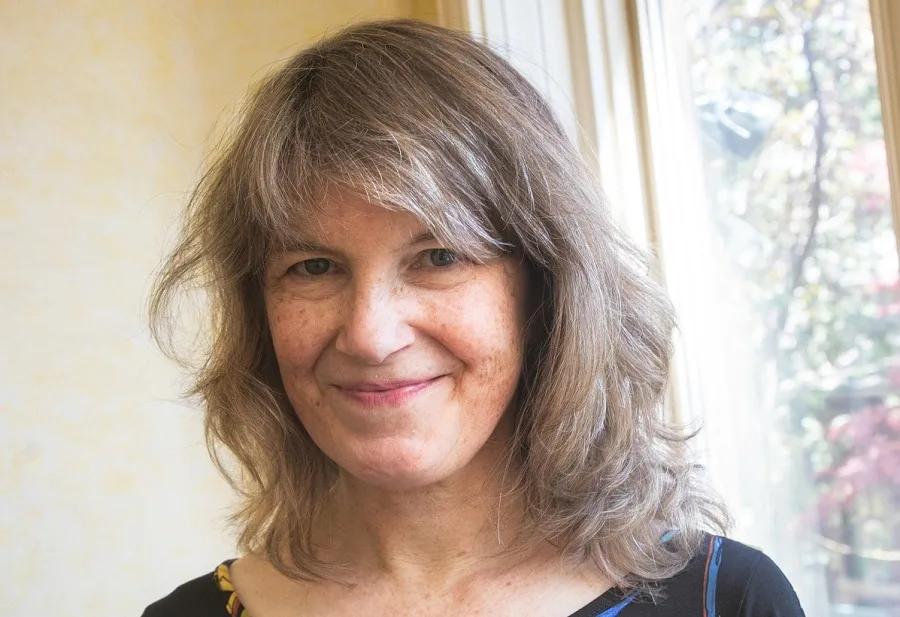 A neck-grazing or shoulder-length hairstyle is another low maintenance look. The length also suits women with gray hair. Opt for wispy or feathered layers with a side bang for added softness.
13. Thin Hair with Bangs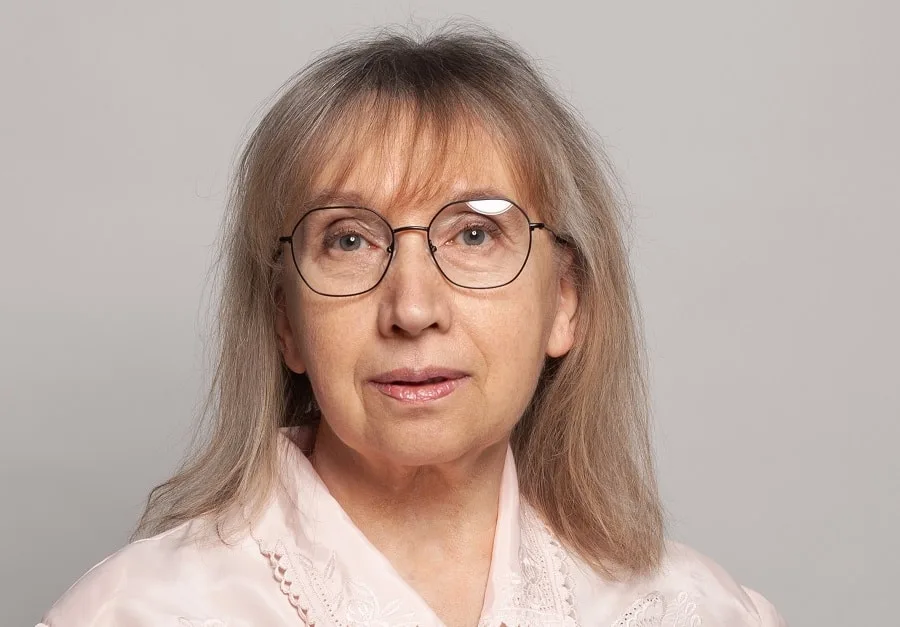 Just because you have thin hair, that doesn't mean you need to chop it off. Feel free to keep it long and, whether or not you wear glasses, add long bangs. Their thinness will be a good thing since they're not as harsh on the face.
14. Tight Curly Hair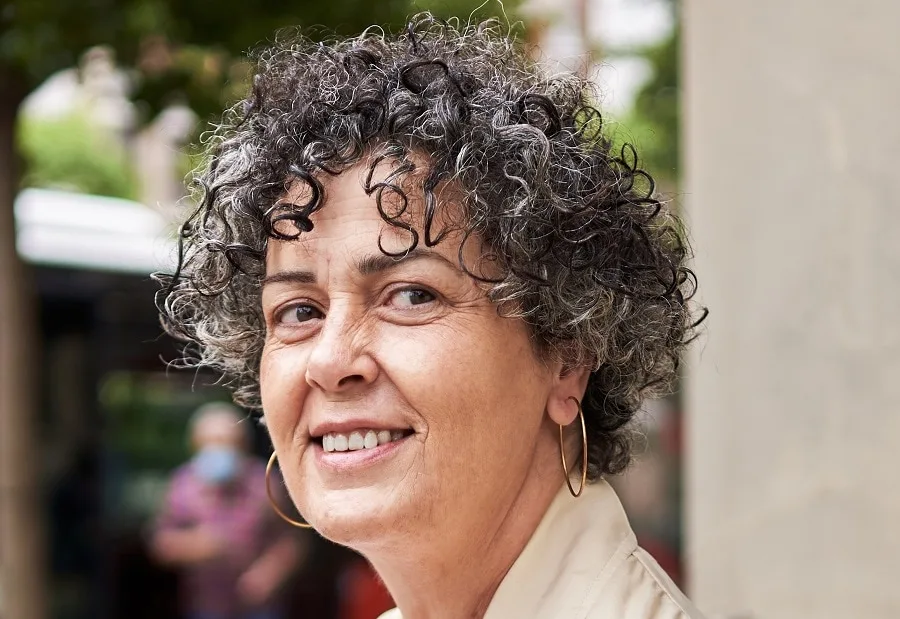 Gray hairs in dark curly hair are barely noticeable when the curls are styled so perfectly. A short layered haircut gives plenty of variation in length, and can be styled with or without minimal fringe.
15. Straight Layered Hair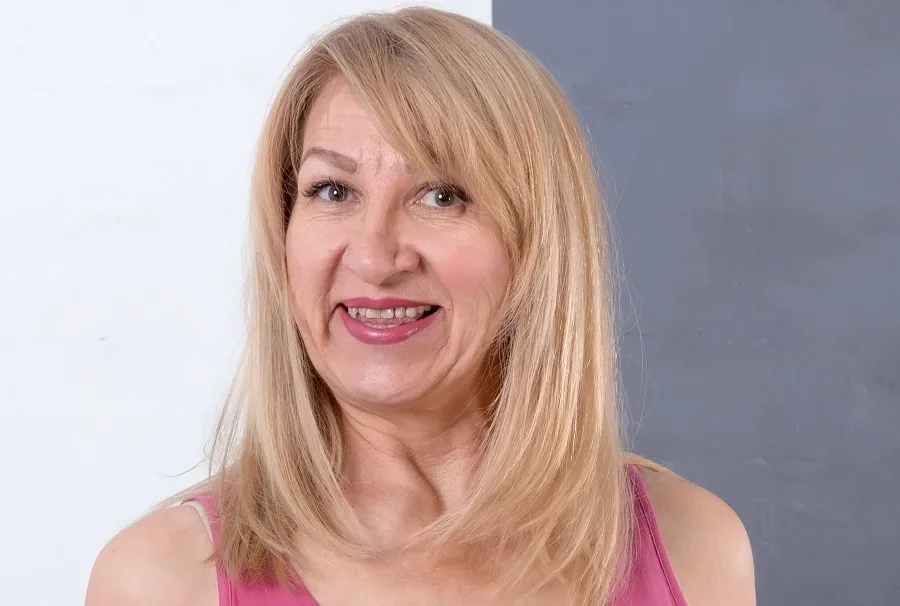 Whether it's naturally straight or you use a flat iron, wearing your long hair straight is a chic option for women over 60. A bit of blonde highlights brighten up the face, and a side bang can be helpful for women who want to hide a wide forehead.
16. Wavy Blonde Layers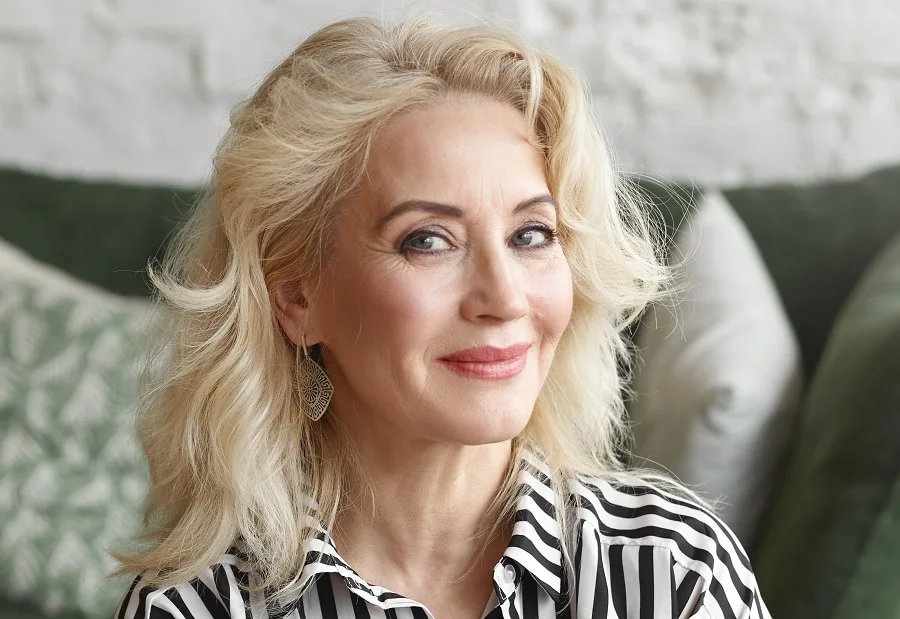 This older women's long hairstyle gives off a slight old Hollywood vibe with its soft waves brushed away from the sides of the face. A curling iron will give you the texture easily. Just use a couple pins or some hairspray to help them stay back.
17. Caramel and Blonde Highlights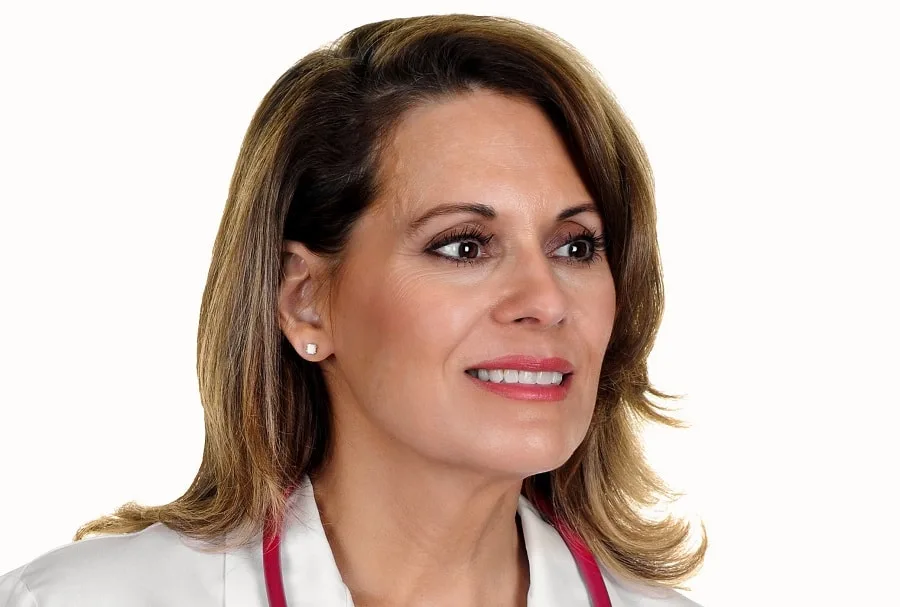 Women over 60 with an olive or darker skin tone can beautifully rock caramel and medium blonde highlights. If you have dark hair, try them in a medium-length layered hairstyle parted off-center.
18. Long Layered White Hair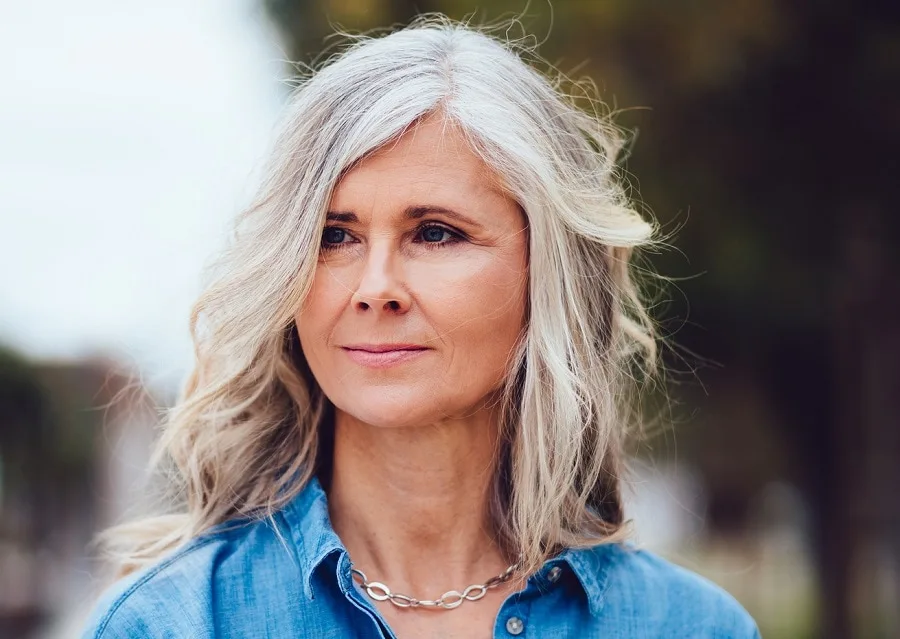 Are you seeing more white hair in your long mane these days? Load up your hair with curls about halfway down the hair so the ends feature all the volume. Wear hair down and parted partially off-center for the most flattering look.
19. Red Hair with Glasses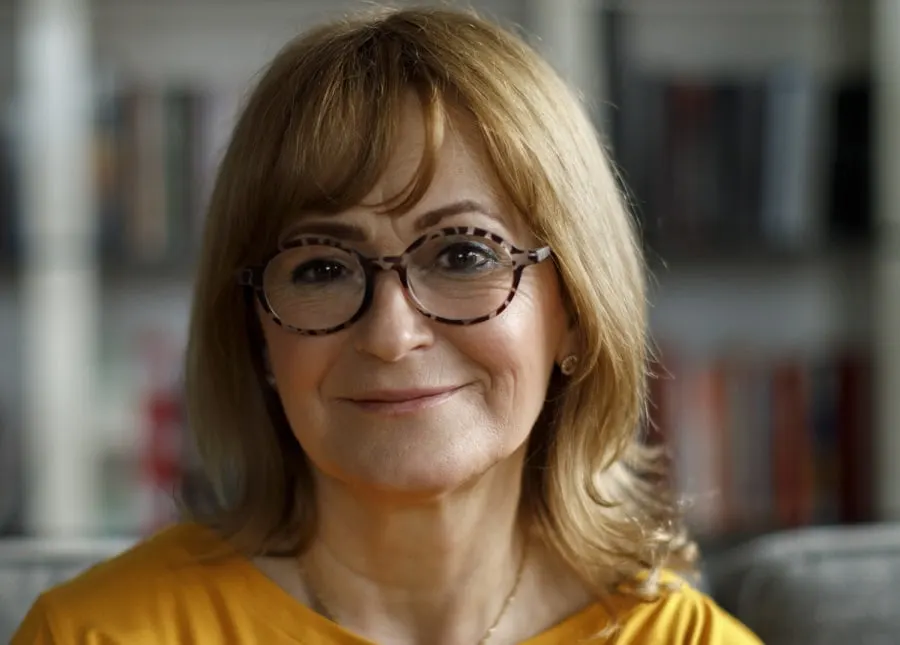 Red or auburn hair deserves to shine, so give it a cute short haircut with face framing layers. A short slightly curled bang isn't much upkeep and the overall cut really flatters women over 60 who wear glasses.
20. Teased Short Hair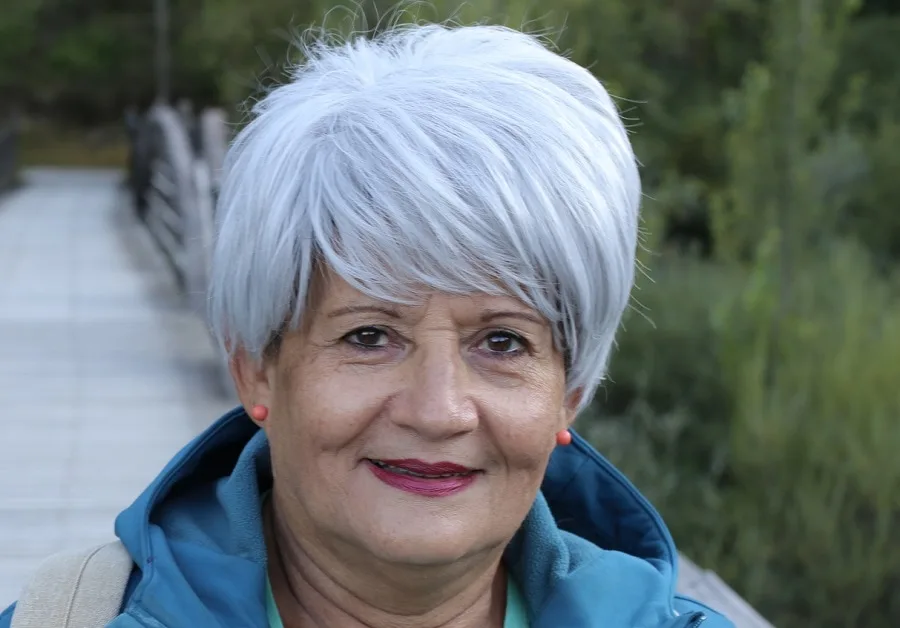 If you're an older woman who is all about having lots of volume and lift in her hair, you'll love a long pixie with short layers. With a blow-out or lots of teasing with hairspray, you'll get a full mane in minutes.
21. Short Layers with Bangs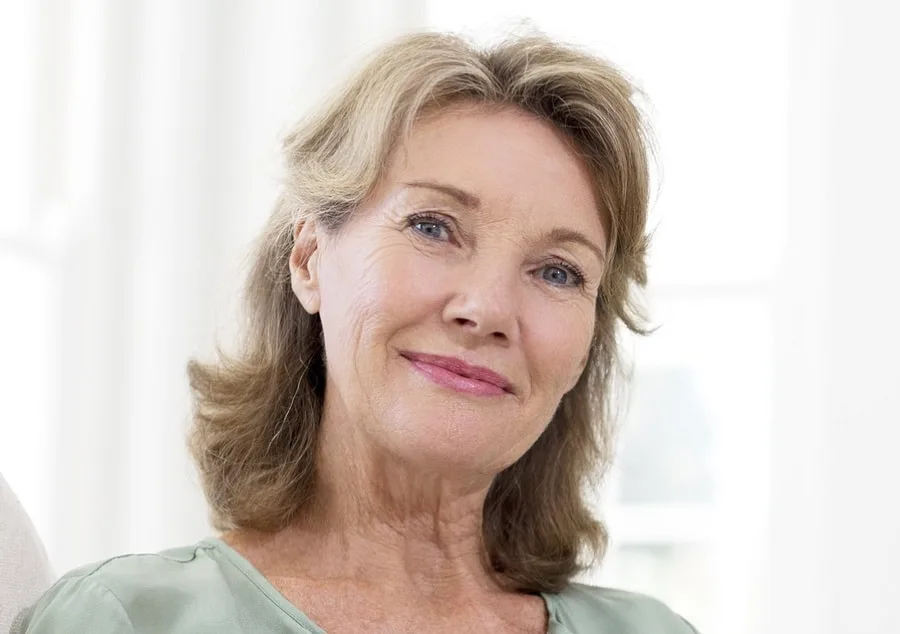 To give fringe a more pronounced look, make them thicker and curtain-like so you can wear them loose or tucked behind your ears. They'll lead the way nicely to a layered shoulder-length hairstyle.
22. Thick Curly Hair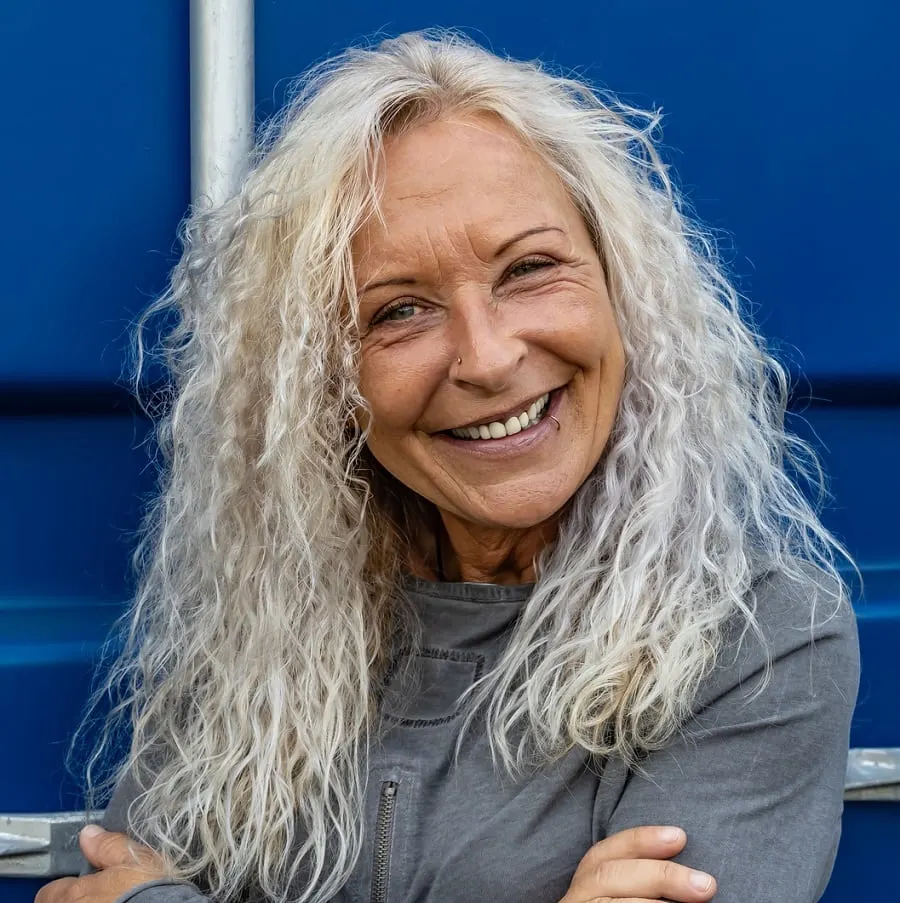 Long curly hair like this should be the center of attention anywhere you go! Make it look its best and tame the mane with long layers that take bulky weight out and help enhance that naturally gorgeous texture.
23. Side Part on Straight Hair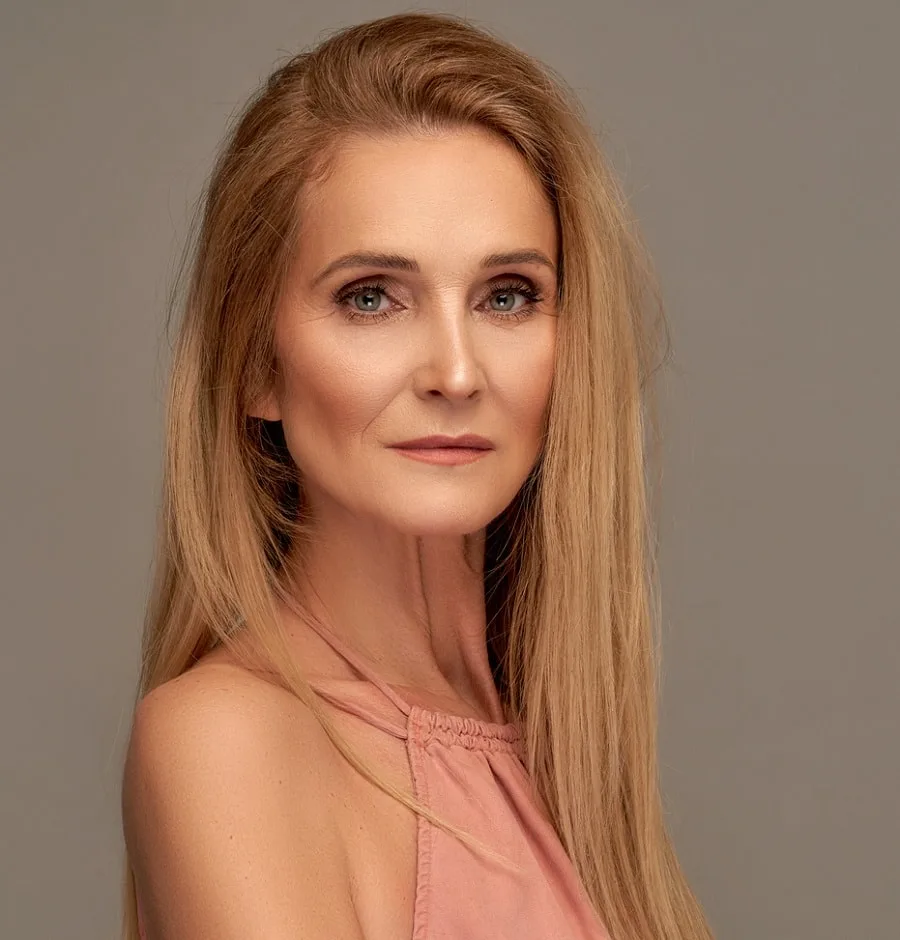 Long straight hair is timeless at any age. It looks great when worn down with no extra styling efforts at all, but a side part is one easy touch you can do to switch up your face dimension and get a bit of lift in volume.
Out of these 23 beautiful layered hairstyles for women over 60, you had to have found at least one look you love! The wonderful thing about layers is that they work for any length of hair. Whether they're added just around your face or throughout your whole mane, they can't do any wrong. So pick your favorite and give it a shot!