Styling grey hair is not the most difficult task in the world. If you are a woman over 50, style your grey hair the way you want. All you need to do is explore and experiment to see what works for you.
Grey Hairstyles for Women Over 50
Greyed hair is part of life. So if you're 50 years old or even older, you may want not to consider dying as many older women do. If you are such bold and stylish old women – salute to you and explore the below hairstyles for women over 50 with greyed hair.
Getting older and having grey hair does not necessarily mean you have to keep it short. Long and wavy grey hair looks sexy and fabulous. This hairstyle frames your face perfectly, and it's ideal for women with the oval face shape. Let's not forget that this type of long hairstyle for above 50 requires minimum styling effort.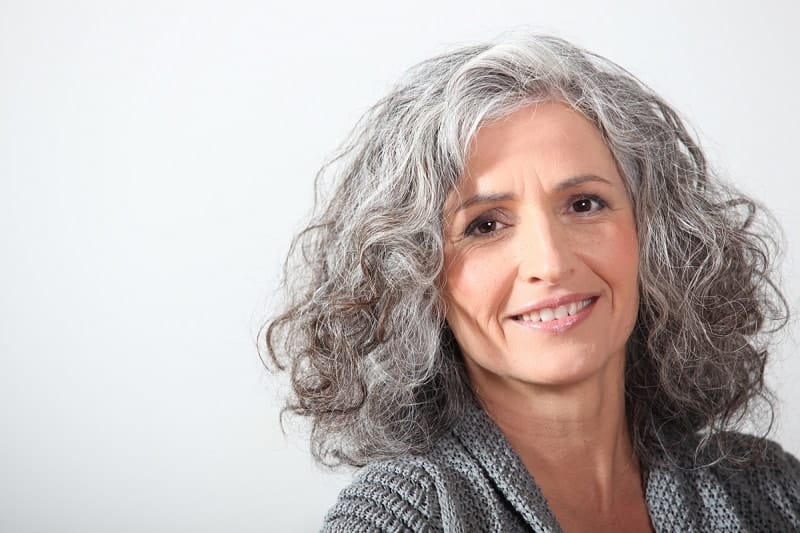 You can style grey hair at any length you want, and there are no rules here. Let's take this medium-length style as an example. Gray locks in this women's over 50 haircuts give more volume and bounciness that exude the rejuvenating effect. Plus, locks are always adorable regardless of a woman's age. Don't you agree?
Are you a fan of sophisticated and practical styles? We've got you covered! Here is a practical, yet sophisticated grey hairstyle for women over 50 you can pull off with ease. Just keep your hair short and straight, but for extra volume and texture, you may want to opt for layers.
4. Short and Face-Framing
The right choice of a hairstyle can make older women appear younger without even making too much effort to make it happen. This short hairstyle is a wonderful example.
It is styled in a way to frame the face but without making hair get into your way, which would be impractical. This also happens to be one of the short hairstyles for over 50 women with gray hair that are the easiest to maintain.
5. Elegant Deep Parting
Here's yet another amazing way to style medium-length grey hair for over 50. It's easy; keep your hair straight and sleek. To introduce more volume and playfulness create a deep parting i.e., make sure most of your hair is combed (or brushed) to one side. If you're not a fan of dramatic parting, a subtle kind can do the trick too.
6. Timeless Style
Some hairstyles are trendy for a while, and then they're considered outdated. And yet, there are some hairstyles that are always fashionable. The classic bob is one of those haircuts that will always be IN, and it's a great opportunity to rock it. The best thing about this style is that it looks great on women of all ages.
Recommended Hairstyles
7. Short and Textured
Textured hairstyles give more volume to the fine and thin short hair, which comes handy because as we age, our hair becomes thinner. When you combine short and textured hair, you'll get an amazing result – youthful and more voluminous hairstyles for grey hair over 50 women.
8. Super Short and Practical
This grey hairstyle is ideal for over 50 ladies who are all about practicality. Plus, this short pixie works on every face shape and hair texture. It's especially ideal for above fifty women with short fine hair.
Short and curly hair on women over 50 can bring more playfulness and youthfulness to your appearance. Plus, this gray hairstyle is chic and ideal for women with a unique sense of style.
Women over 50 with grey hair are confident, sophisticated, and they want to show it off. That's absolutely amazing. One way to make it happen is through this super chic wavy bob that will make you look like you're an editor of a fashion magazine.
Hairstyles for grey hair over 50 are a perfect representation of women's style, freedom, elegance, and casual chic vibe. Feel free to try out different styles to determine which one you like the most. Remember, a simple change in hairstyle can boost your confidence and bring out that glow that all women love.