Styling grey hair is not the most difficult task in the world. If you are a woman over 50, style your grey hair the way you want. All you need to do is explore and experiment to see what works for you.
Grey Hairstyles for Women Over 50
Greyed hair is part of life. So if you're 50 years old or even older, you may want not to consider dying as many older women do. If you are such bold and stylish old women – salute to you and explore the below hairstyles for women over 50 with greyed hair.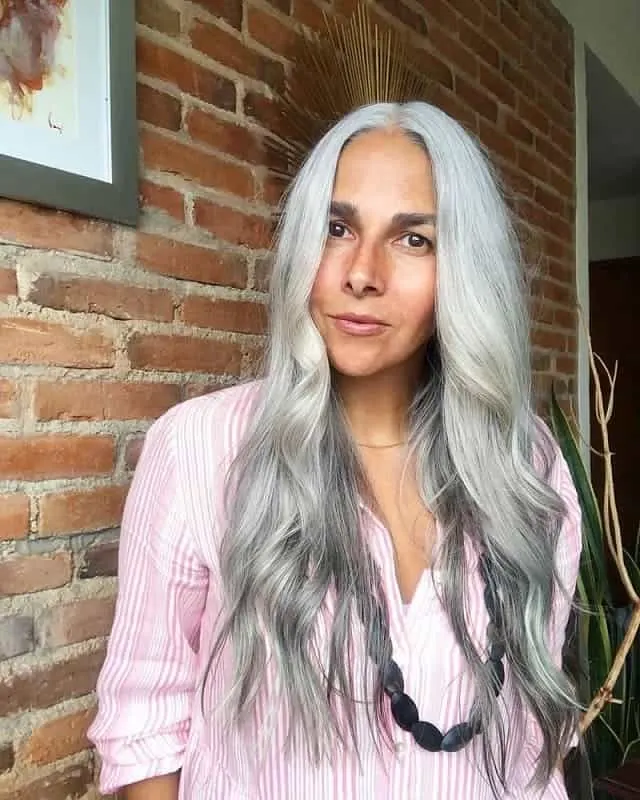 Getting older and having grey hair does not necessarily mean you have to keep it short. Long and wavy grey hair looks sexy and fabulous. This hairstyle frames your face perfectly, and it's ideal for women with the oval face shape. Let's not forget that this type of long hairstyle for above 50 requires minimum styling effort.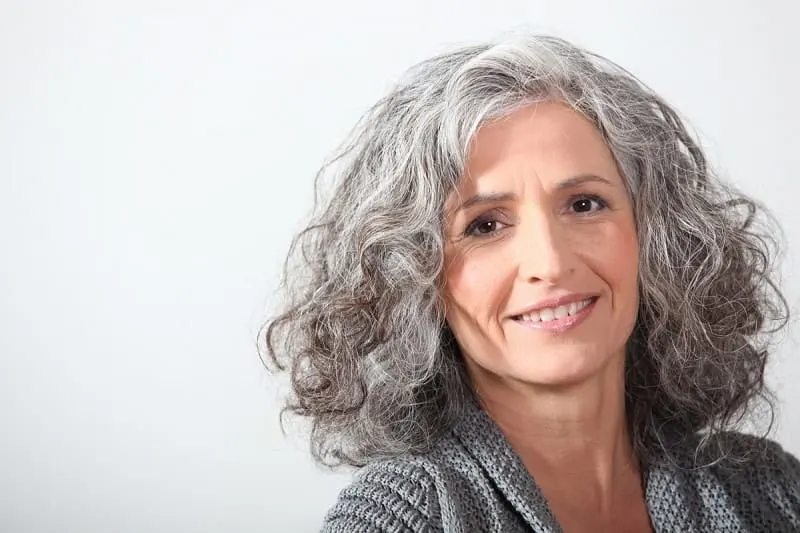 You can style grey hair at any length you want, and there are no rules here. Let's take this medium-length style as an example. Gray locks in this women's over 50 haircuts give more volume and bounciness that exude the rejuvenating effect. Plus, locks are always adorable regardless of a woman's age. Don't you agree?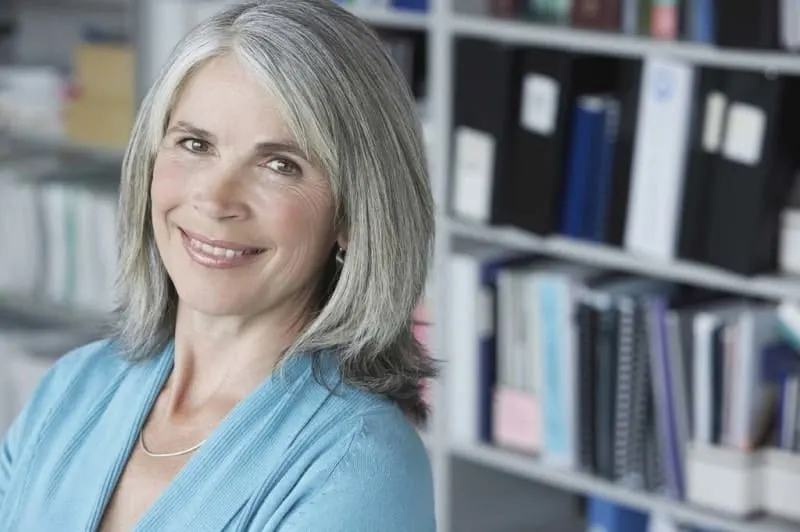 Are you a fan of sophisticated and practical styles? We've got you covered! Here is a practical, yet sophisticated grey hairstyle for women over 50 you can pull off with ease. Just keep your hair short and straight, but for extra volume and texture, you may want to opt for layers.
4. Short and Face-Framing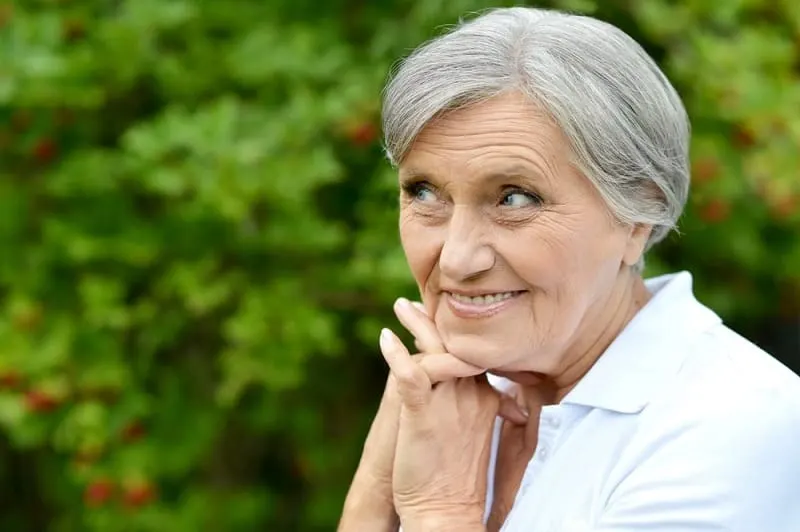 The right choice of a hairstyle can make older women appear younger without even making too much effort to make it happen. This short hairstyle is a wonderful example.
It is styled in a way to frame the face but without making hair get into your way, which would be impractical. This also happens to be one of the short hairstyles for over 50 women with gray hair that are the easiest to maintain.
5. Elegant Deep Parting
Here's yet another amazing way to style medium-length grey hair for over 50. It's easy; keep your hair straight and sleek. To introduce more volume and playfulness create a deep parting i.e., make sure most of your hair is combed (or brushed) to one side. If you're not a fan of dramatic parting, a subtle kind can do the trick too.
6. Layered Medium Hair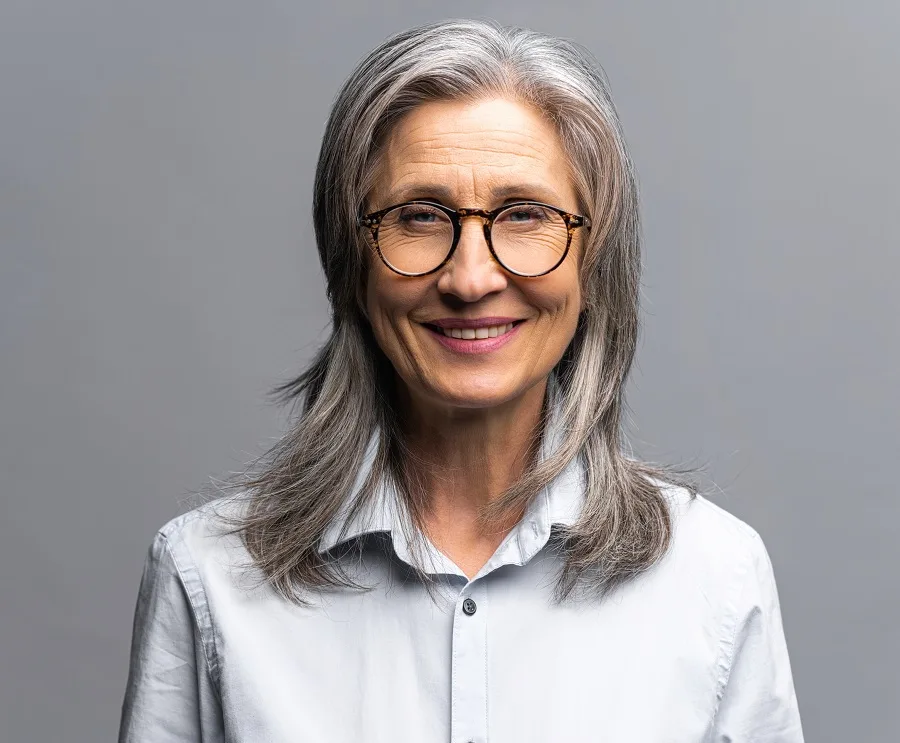 This hairstyle resembles a shag and is a perfect choice for those women over 50 with grey hair who want a stylish cut that creates fabulous framing. So build layers and keep the hair reaching the shoulder line, slightly overcoming it.
7. Casual Pony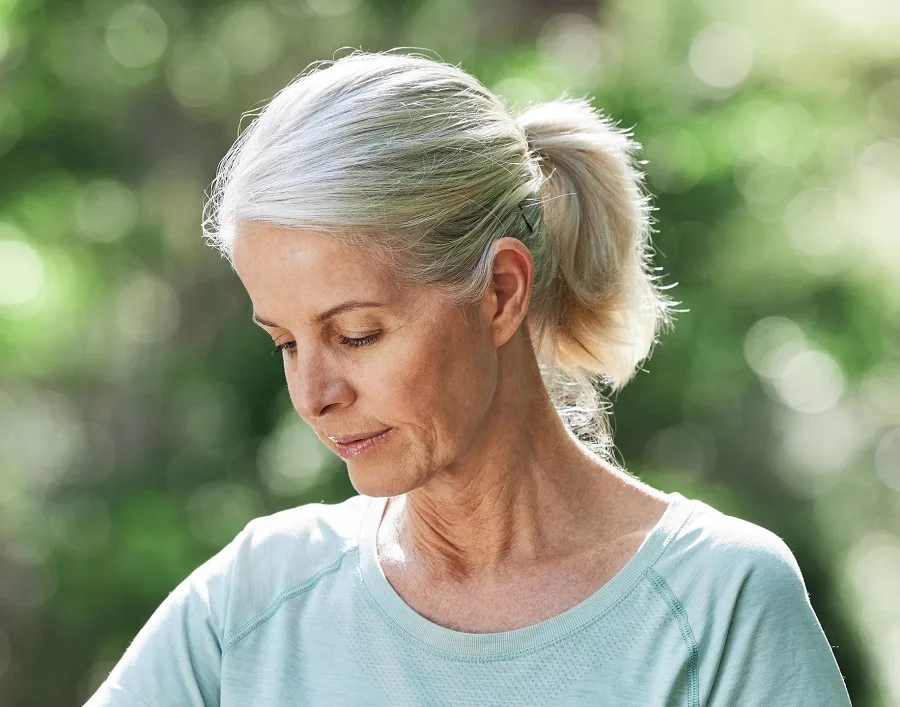 Medium hair is a great way to keep your mane easy to manage and with plenty of styling choices. Go for a simple ponytail when you're busy doing chores or want a low-maintenance hairdo. If your front pieces are too short, secure them with bobby pins.
8. Salt and Pepper Curls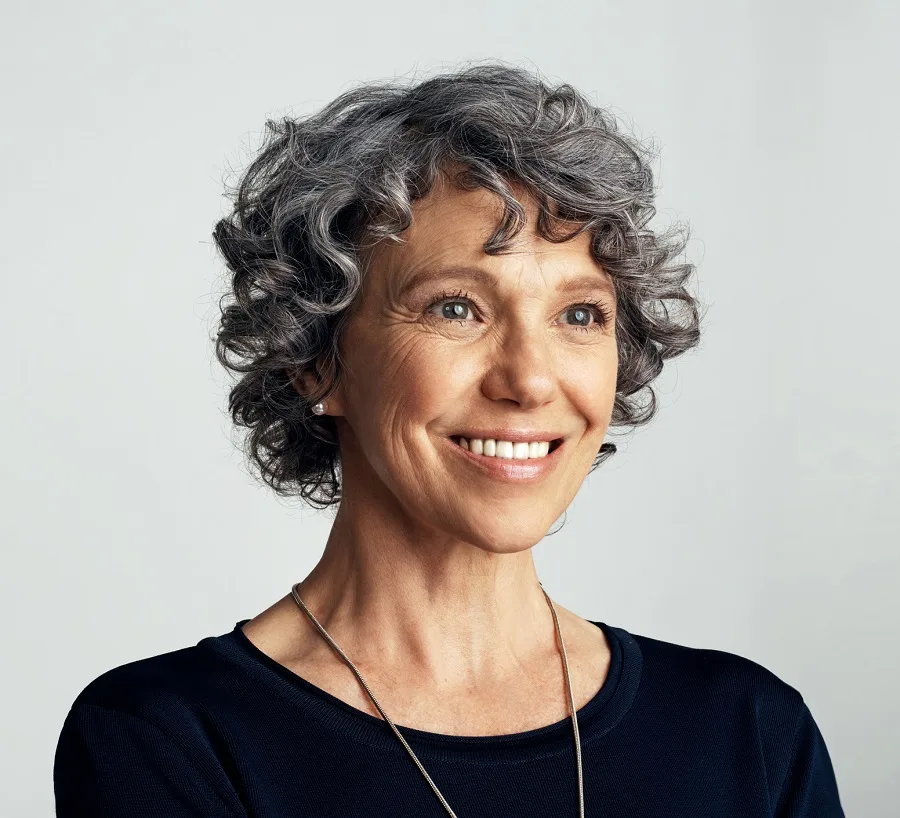 Sometimes curly hair can be a blessing, especially when you adopt a short bob haircut. This practice will make your ringlets tighter and bouncier and will look like you purposely highlighted them with white pieces. Create bangs that you'll swap to one side and carelessly place on the forehead.
9. Grey Pixie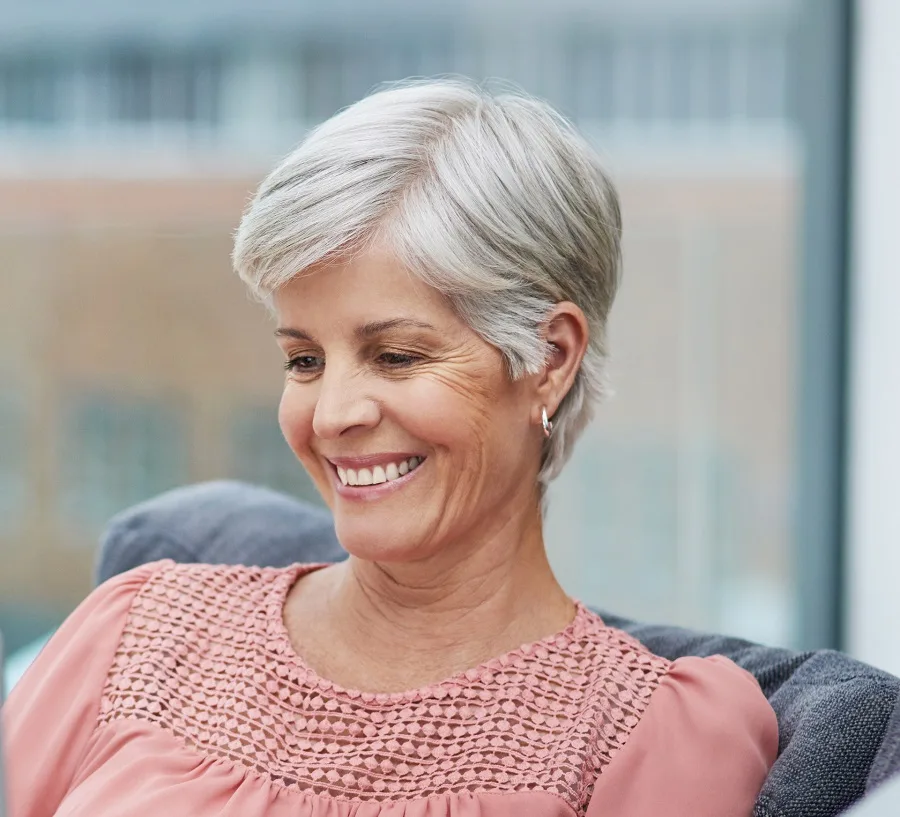 A medium traditional pixie haircut is perfect for older women who crave a hairstyle that is low maintenance. Create a side part and toss those bangs on one side. Maintain longer sideburns and keep them in front of the ears. Layer the hair to build more volume.
10. Gray Bob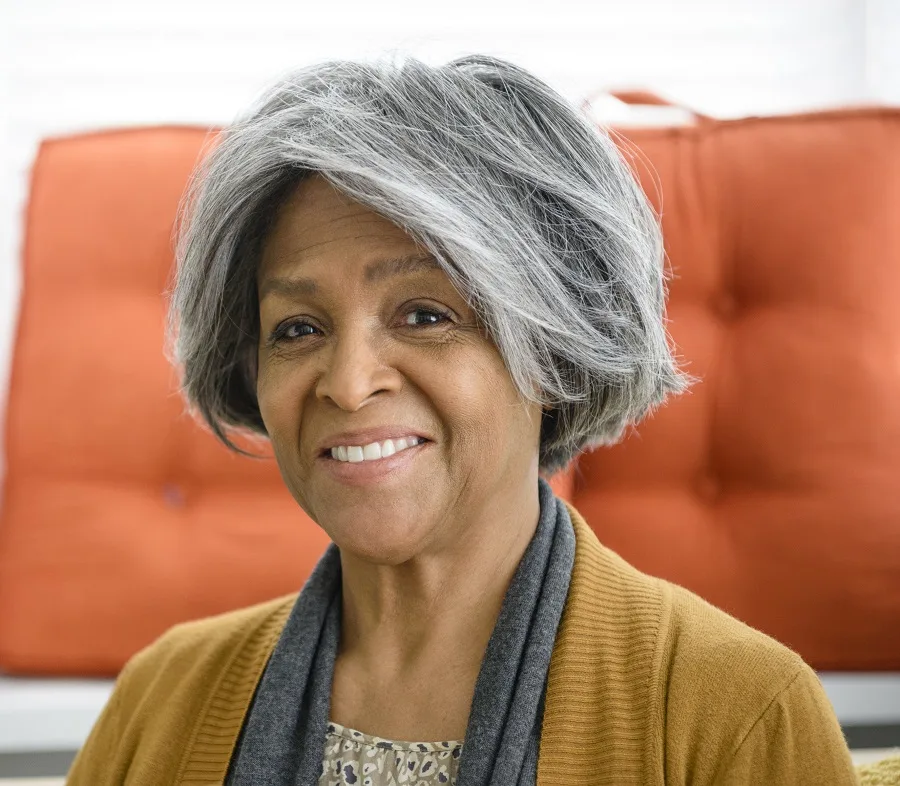 As an older woman over 50 with grey hair, you can try a short, slightly layered bob haircut that is a little bit longer in the back. Make it look somehow messy and build more volume for the bangs area.
11. Pale Indigo Pixie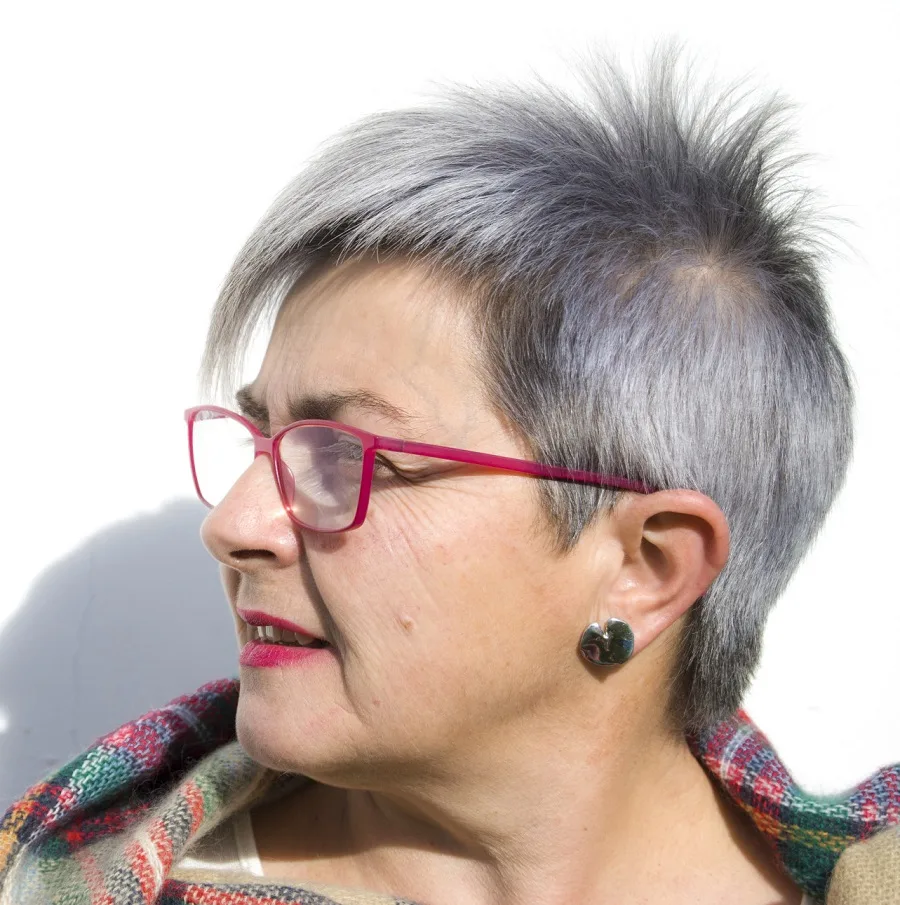 As you get older, your hair not only gets whiter but also starts falling. To better mask the fallout, opt for a short pixie and use a pale mauve toner to spice things out a little. To make it look flawless, use a rotative brush to straighten your short bangs and give them more volume.
12. Shoulder Straight Cut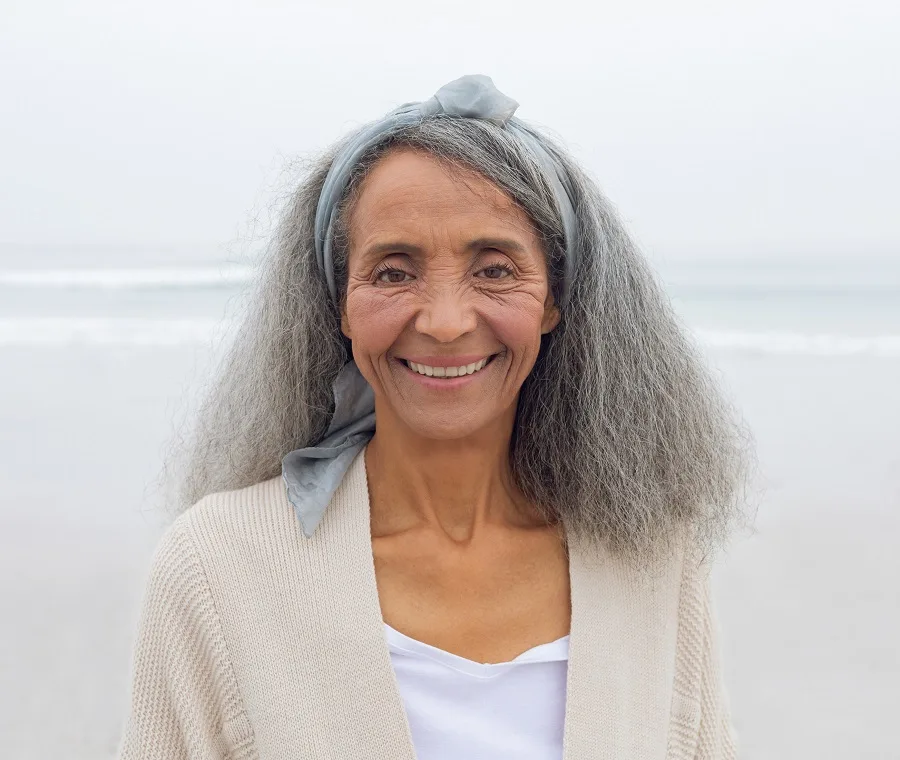 Get a long straight bob hairstyle if your hair has a freezy aspect. Use a scarf and place it on your head, creating a knot in the back. It will keep your front pieces away from your forehead, revealing your face.
13. Side Swap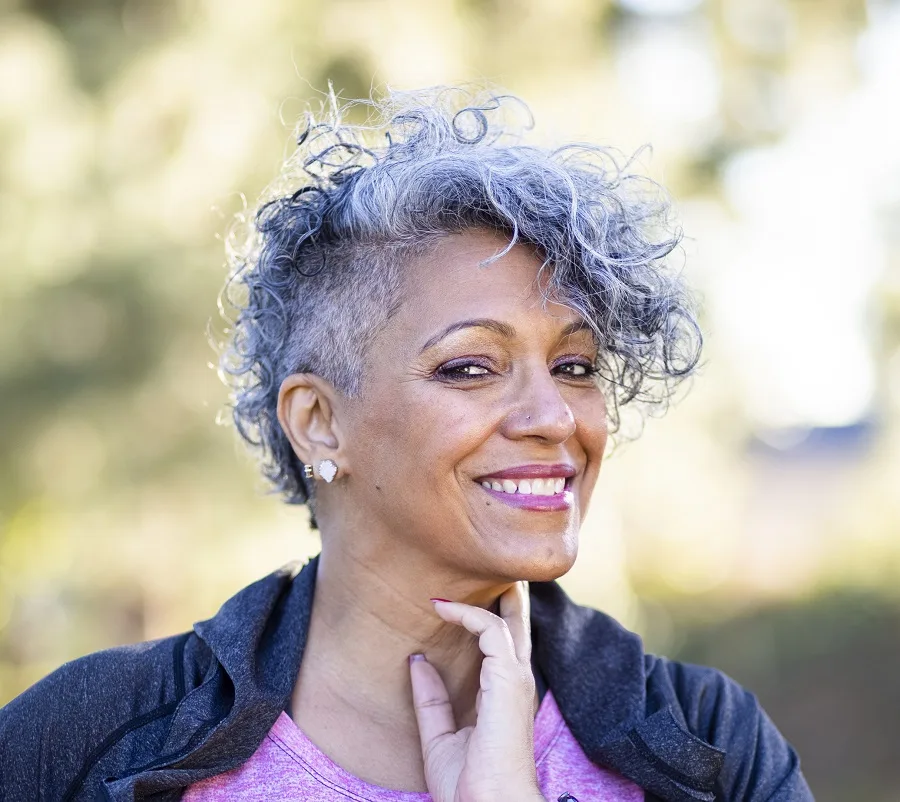 Salt and pepper looks are something many young women would pay great money to get. And you can have it naturally! So style a short pixie haircut with a shaved side. Keep the bangs long and curly, and use a pomade to give them bounce and better definition.
14. Top Rolled Bun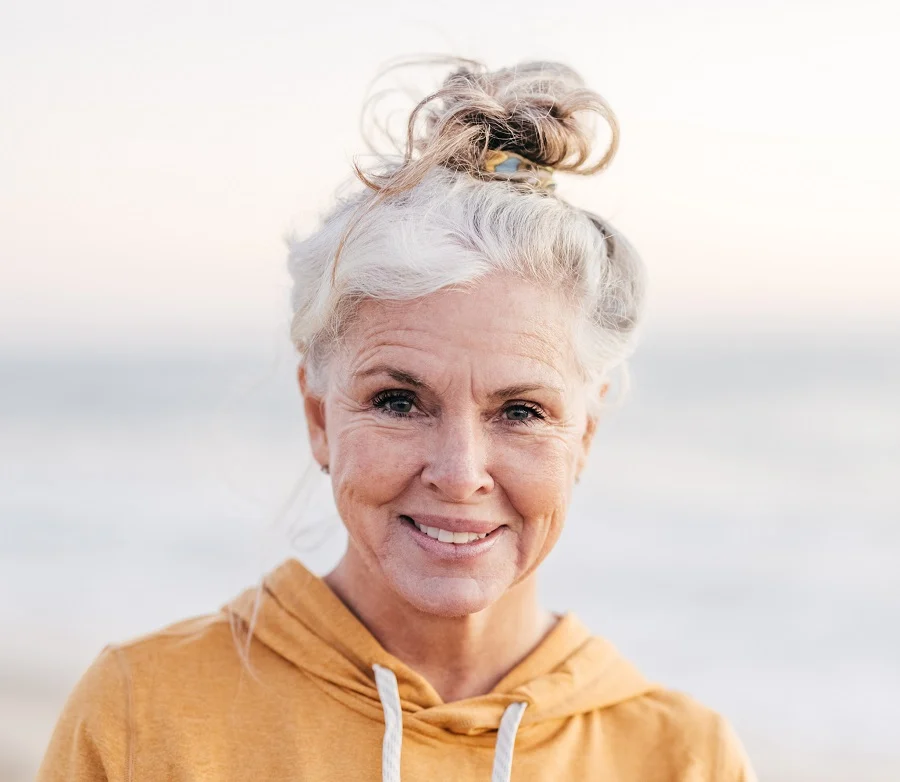 Want to go out for a run on the beach? We have the perfect hairstyle for you. It doesn't matter if your hair is not fully gray or white because it will build a beautiful contrast when styling that top bun. Use a silky hair elastic to ensure you don't damage your hair when pinning it up.
15. Fancy Wavy Bob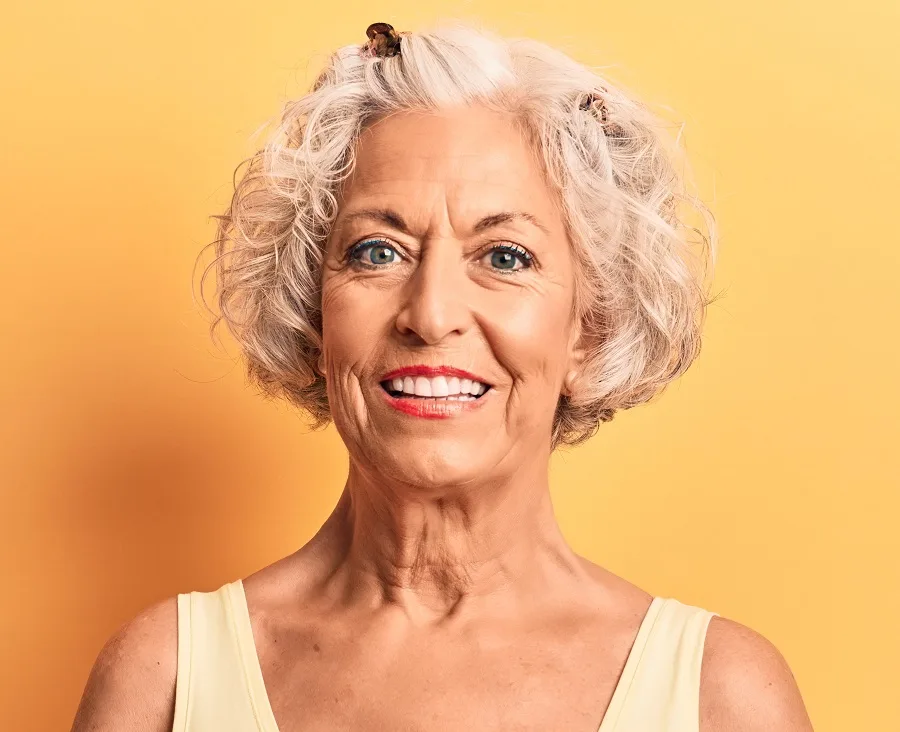 When you're getting a short bob haircut, there are a few things you can do if you want to look more modern. You can use a pink or strawberry blonde toner and curl your hair with a wand or a straightening iron.
16. Top Pony
Gather all your hair in a top ponytail whenever you want to feel and look younger. Flip it to better channel your childish free spirit. You will be stripping off ages from your face, and you will raise your confidence.
17. Braided Bun
Everybody loves parties, and everyone wants to look their best. So if it is your birthday or you are going to a party, you need a hairstyle that suits your personal style and age. Wave your hair before doing the back bun, and buy a nice set of bobby pins. You will use them to build your intricate construction and set each wave in its place.
18. Short Bob + Middle Part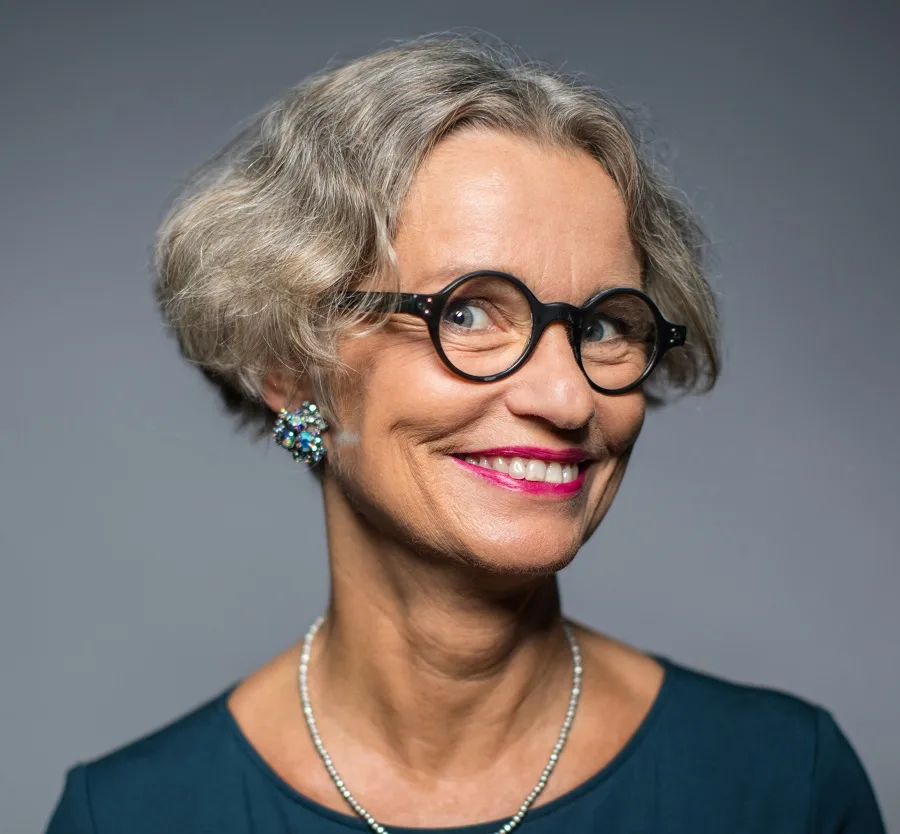 If you were a blonde before white and grey strands started to appear, you can easily see that you don't need to use hair dye because all nuances mix up gorgeously, resulting a fabulous blend. When you have slightly wavy hair, you might consider getting a short bob haircut with a middle part and black rounded glasses that give you the modern hipster vibe.
19. Ultra Short
This is probably the most low-maintenance hairstyle for women over 50 with grey hair. Even if it is pretty short, it makes you look fancy, younger and modern. It doesn't require any styling, and if ypu want a more glamorous vibe, just add a little bit of makeup. It's that simple, and you'll be ready to go in no time.
20. Modern Pixie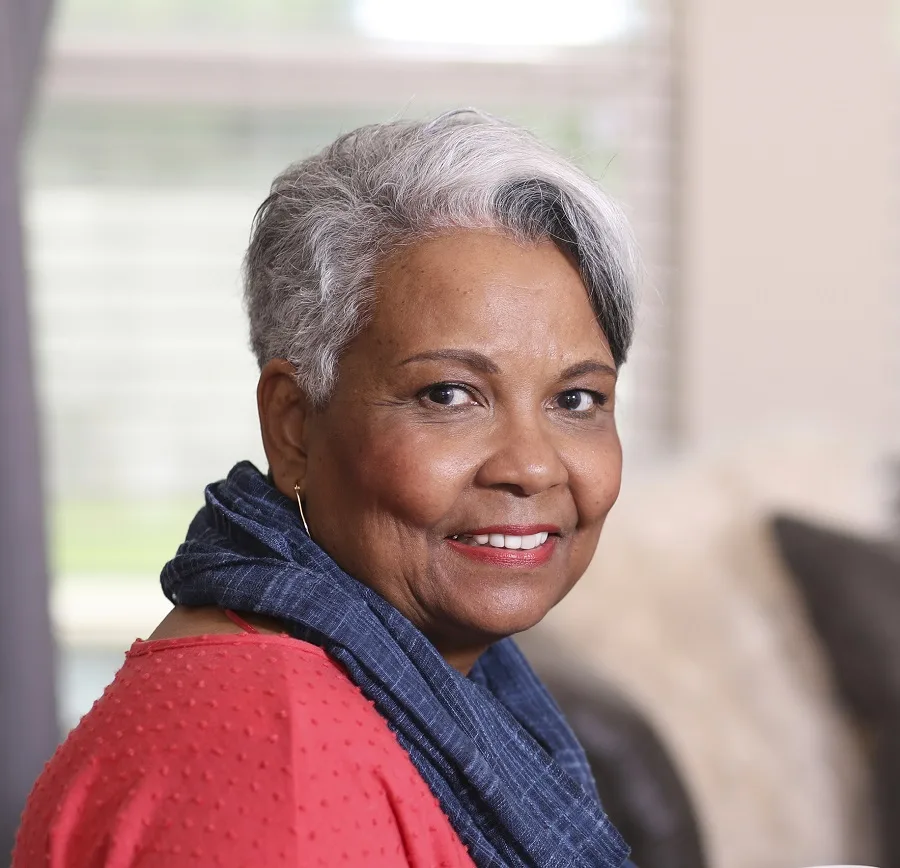 You must remember that age is just a number, and it's your personality and look that define you. So, if you have a childish spirit, you must find a hairstyle that matches. Choose a short pixie with side-swept bangs. It will make you feel fresh and will cut down a few ages.
21. Half Up Half Down
When you are washing your hair, ensure you include your hair care routine with nourishing products that provide all the nutrients needed. In time this will make your hair feel softer and silkier. It will improve the aspect of your locks, and it will no longer look coarse when curling or straightening it.
22. White Wet Look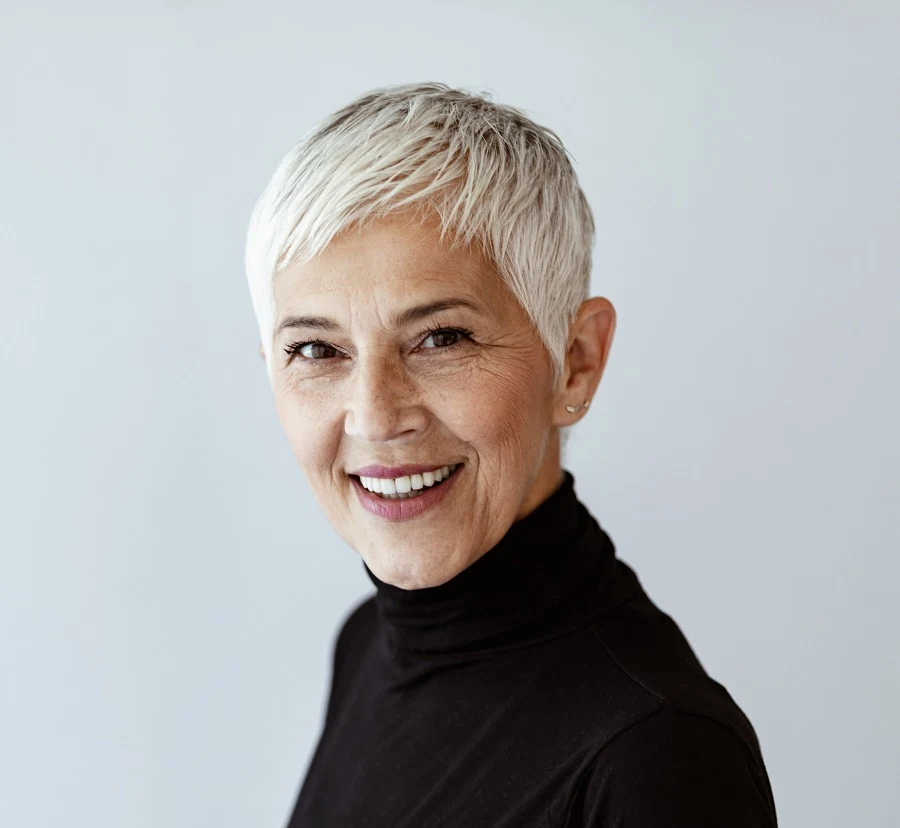 If you don't want a care in the world in terms of hairstyles, embrace your white strands and cut your hair into a short pixie. You will only need to use pomade when styling it, and you will fall in love with that wet sexy look. The hairstyle is in trend and will make you feel younger so what are you waiting, give it a try.
23. Flower Chignon
As your hair starts losing its pigment, you might want to try to improve its appearance. You can do so by dyeing your hair with your regular color or by smoothing out the transition to grey hair. In this case, we recommend a professional colourist who will guide you through this journey and help you choose the proper hair dye or toner.
24. Messy Top Bun
This messy wavy look will make you feel younger. For some older women, having full white hair can be quite a blessing because you can wear it just the way it is or transform it into your own canvas. To recreate this look, part your hair into two and use the crown section for a bun.
25. Braided Back Bun
Back buns are so glamorous, no matter the age. And as an older woman, they will fabulously suit you and match your outfit. Come all your hair towards the back and style twists and knots that will add value to your gorgeous hairdo. This one is perfect for everyday errands, days spent at the office or even parties.
26. Curly Locks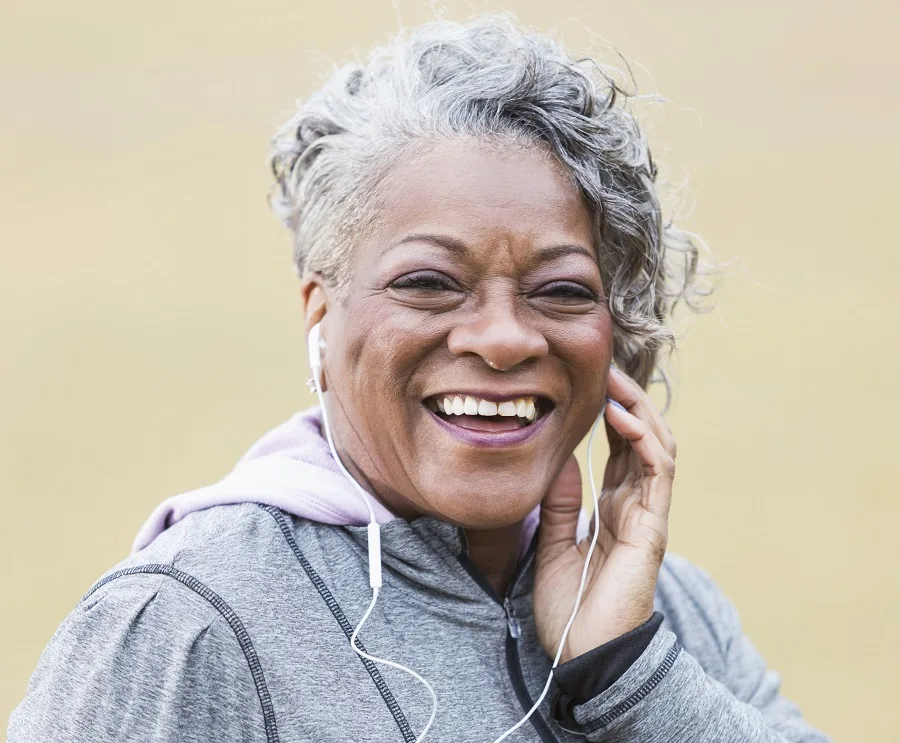 This is perfect for woman over 50 that have curly hair. Make your grey hairstyle look cool by swapping the bangs to one side and shortly trimming the rest. Those remaining black strands will amazingly blend with the whites and greys.
27. Long Hair with Bangs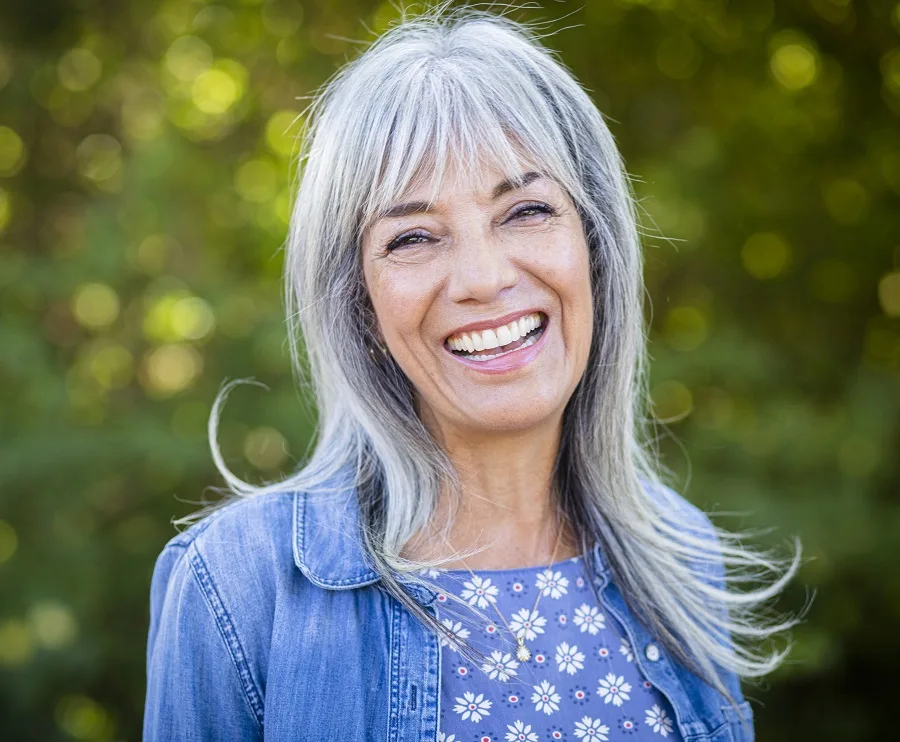 If your hair is getting whiter day by day, that doesn't mean it won't look good. You will naturally have white highlights that beautifully blend with your previous hair colour. And if you're not struggling with hair that is thin and starts to fall out, you can go for bangs and a layered long cut.
28. Coarse White Hair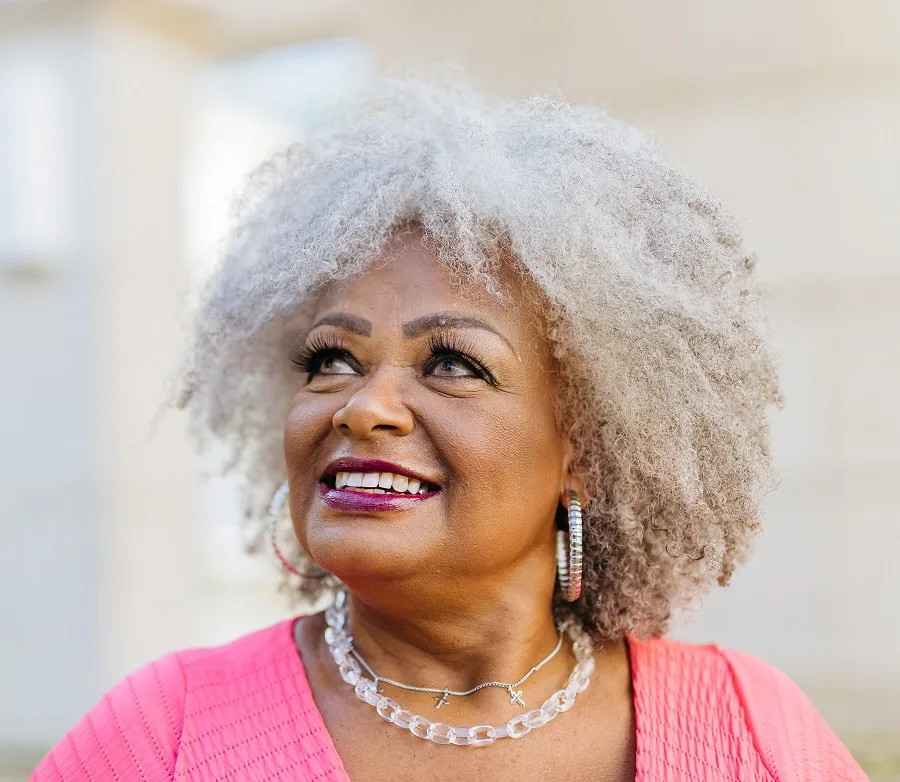 As a woman over 50, no matter how hard you try to delay the process, your hair will inevitably lose its pigment. And if you don't want to waste time dying your hair too often, you should let it follow it's natural whitening course and just focus on getting cool modern haircuts.
29. Traditional Short Cut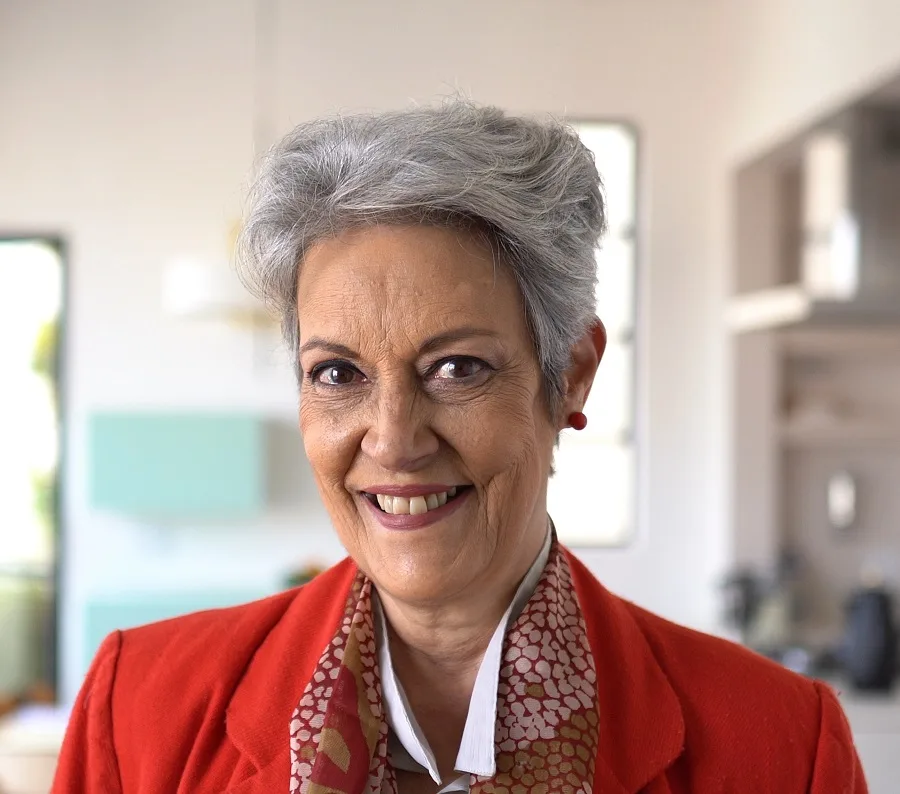 Pixie hairstyles are incredibly low-maintenance. It's not always in your interest to dye your hair and cover those white threads. Instead, go get a hairdo that can be arranged each morning in just a few minutes. Dry your hair with a round brush and use a fixing spray to preserve the hairstyle.
30. Lifted Finger Waves
This gray hairstyle for women over 50 might involve doing a perm. Firstly, you should get a stacked bob haircut and after create the curls. It will have a lot of volume and texture and you can comb it to the back, building that height. To make the hairstyle last, you will need a strong holding spray.
31. Timeless Style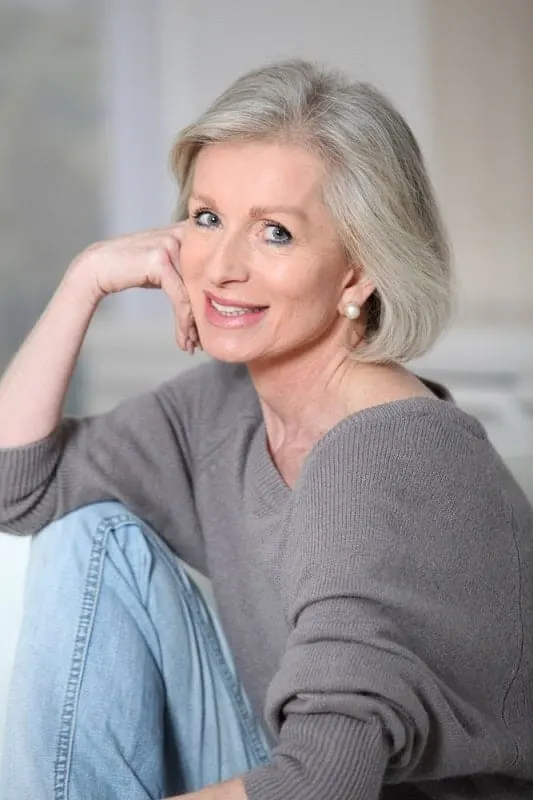 Some hairstyles are trendy for a while, and then they're considered outdated. And yet, there are some hairstyles that are always fashionable. The classic bob is one of those haircuts that will always be IN, and it's a great opportunity to rock it. The best thing about this style is that it looks great on women of all ages.
Recommended Hairstyles
32. Short and Textured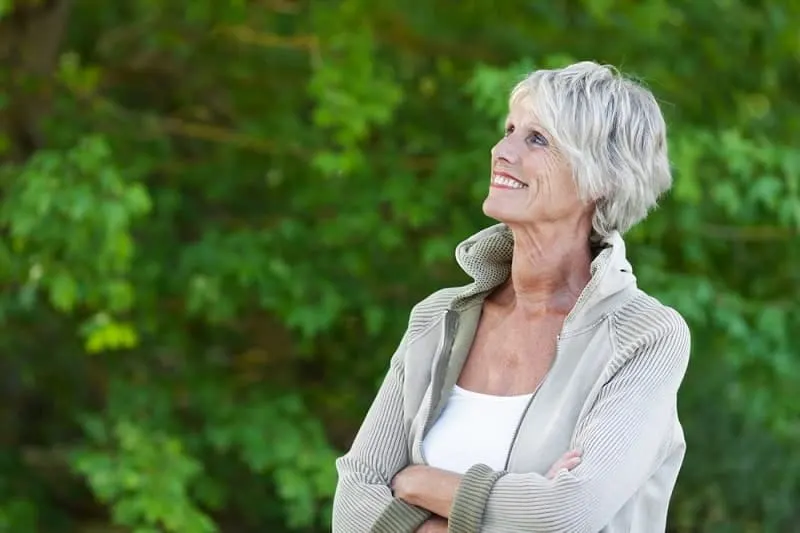 Textured hairstyles give more volume to the fine and thin short hair, which comes handy because as we age, our hair becomes thinner. When you combine short and textured hair, you'll get an amazing result – youthful and more voluminous hairstyles for grey hair over 50 women.
33. Super Short and Practical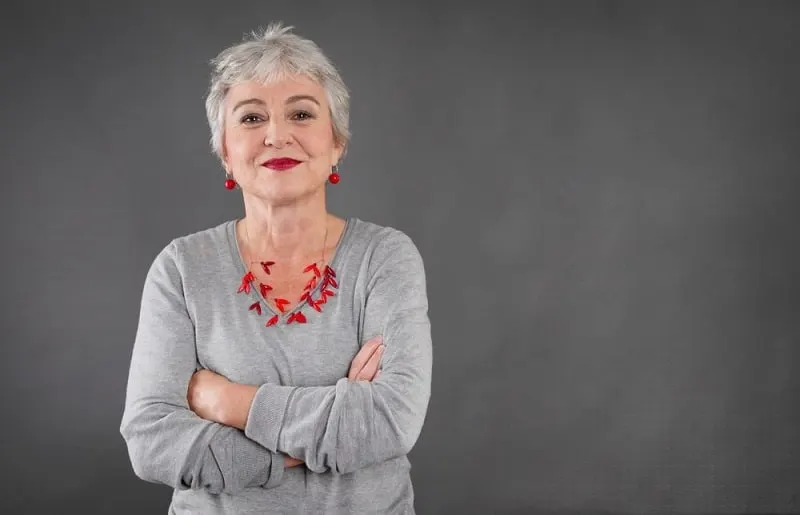 This grey hairstyle is ideal for over 50 ladies who are all about practicality. Plus, this short pixie works on every face shape and hair texture. It's especially ideal for above fifty women with short fine hair.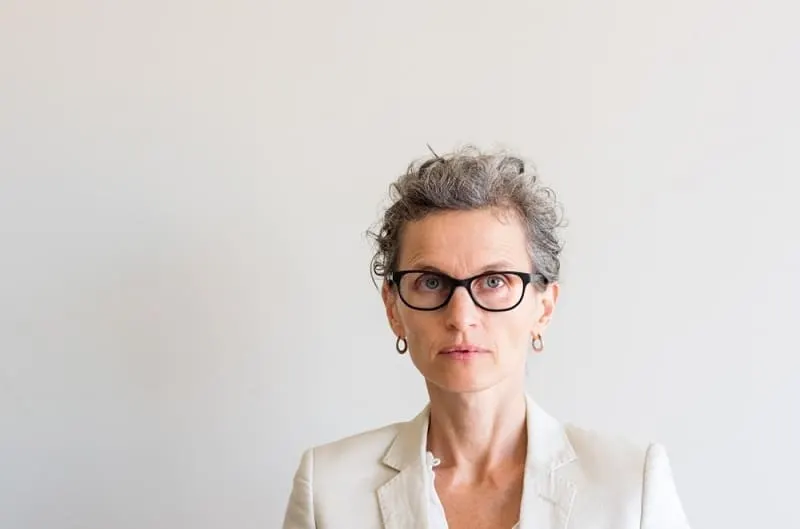 Short and curly hair on women over 50 can bring more playfulness and youthfulness to your appearance. Plus, this gray hairstyle is chic and ideal for women with a unique sense of style.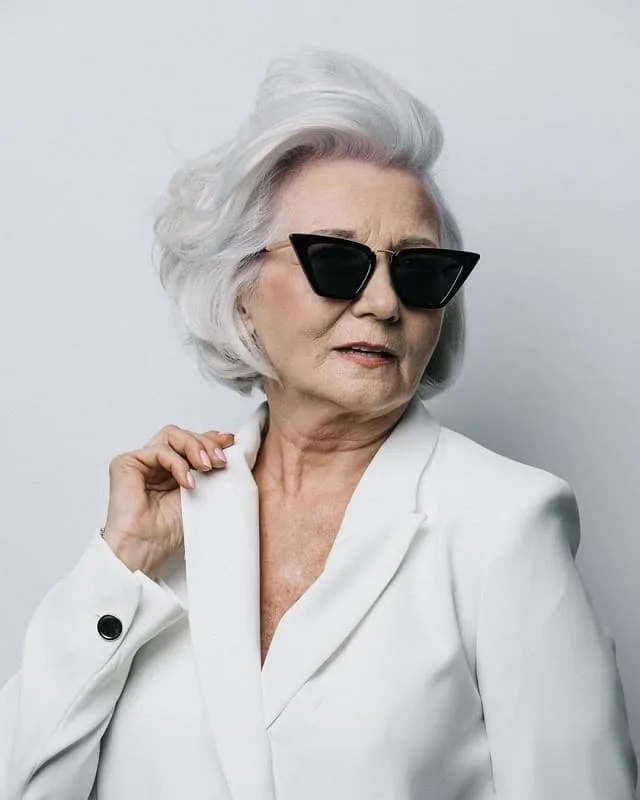 Women over 50 with grey hair are confident, sophisticated, and they want to show it off. That's absolutely amazing. One way to make it happen is through this super chic wavy bob that will make you look like you're an editor of a fashion magazine.
Maintenance Tips
Perhaps you have just begun going grey, or maybe you have a whole head of grey hair. Either way, there are a few things to consider. Read on for four things we think are the most important to maintain for grey hair over 50.
Keep the Grey Color Soft
If you have started going grey but are not fully there, keep the grey color soft, and do not be afraid to let your roots show.
Be Mindful of Length
Keep your hair a length that flatters your face. Consider consulting with your hairstylist on what length you should settle on. For grey hair, blunt cuts will harden your look. Long cuts that are untrimmed can make you look older, but long cuts that are well styled are gorgeous.
Consider Using a Toner
The toner will help your color look shinier and add warmth to your face. If you want to look youthful, consider using toner.
Get the Right Products
Buying a shampoo and conditioner that are great for greys is something you should consider for grey hair over 50. Greying hair can be more textured; use a hair care routine that will help combat this rough texture for a sleek look.
Hairstyles for grey hair over 50 are a perfect representation of women's style, freedom, elegance, and casual chic vibe. Feel free to try out different styles to determine which one you like the most. Remember, a simple change in hairstyle can boost your confidence and bring out that glow that all women love.