Haircuts with straight hair are not just for adult men out there, but also for young little boys who can rock their hairstyles equally to how adult men can do.
To have an idea of what hairstyles would suit a little boy with straight hair, keep on reading this article to see some of the best haircuts that are in trends these days.
Haircuts for Little Boy with Straight Hair
In this article, you will find some charming straight haircuts for little boys. You can try these styles on your kid's hair for their next haircut.
1. Front Edge Spikes with Tapered Undercut
This haircut is for that little boy with blonde straight hair that is too naughty and wants to look super-cool and feel the best amongst their friend's circle. The top hair is cut into layers and made into a faux Mohawk while the sides have been taper faded into an undercut.
2. Front Fringes in Straight Ginger Hair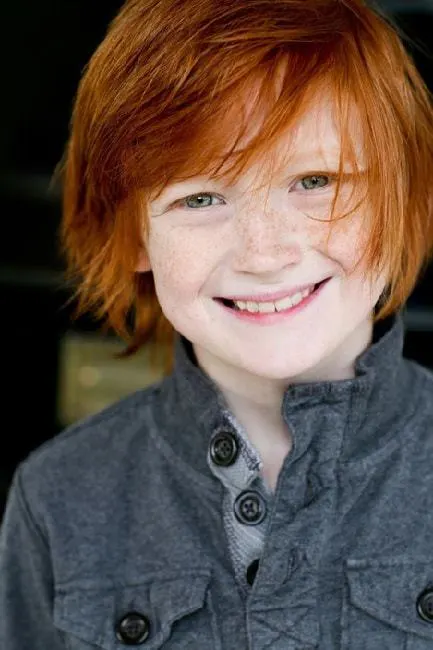 Kids that are ginger heads are considered to be one of the most adorable little boys out there. Their shy nature and behavior plus the haircut are what add up to their innocence. Ginger heads that have straight hair can go for fringes over the forehead with a nice side-parting and the rest of the hair staying neatly in place.
3. The Classic Side-Swept Cut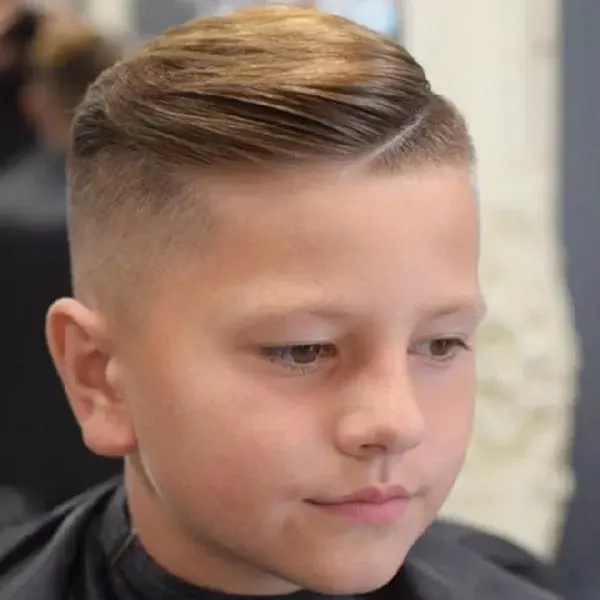 Some kids prefer having a modern, yet sophisticated look. They want a look for their hairstyle that would suit them well according to their mature personality. This straight haircut for little boys is quite simple, just a regular side-parting with the sides cut short enough to remain in place.
4. Bob Haircut for Asian Kid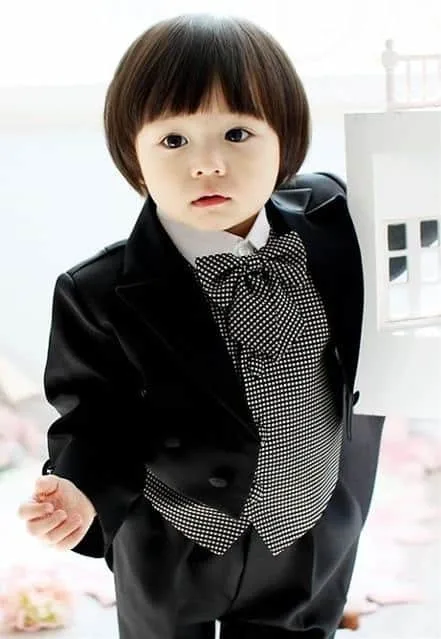 Asian hair is known to be straight and silky amongst all hair types. To really make your baby boy's hair look nice and neat, a bob haircut would do just right as adorable as the one shown in the picture.
5. Long Straight Hair with Layers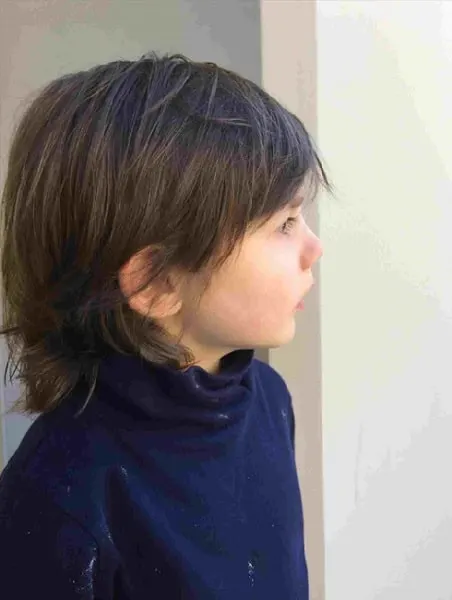 Some kids look really nice with long hair, especially if it's straight. To avoid them from looking too dull and coming over the face, get a layer or step cut done in the little boy's hair to settle them nicely in place.
6. Burger Shape Straight Hair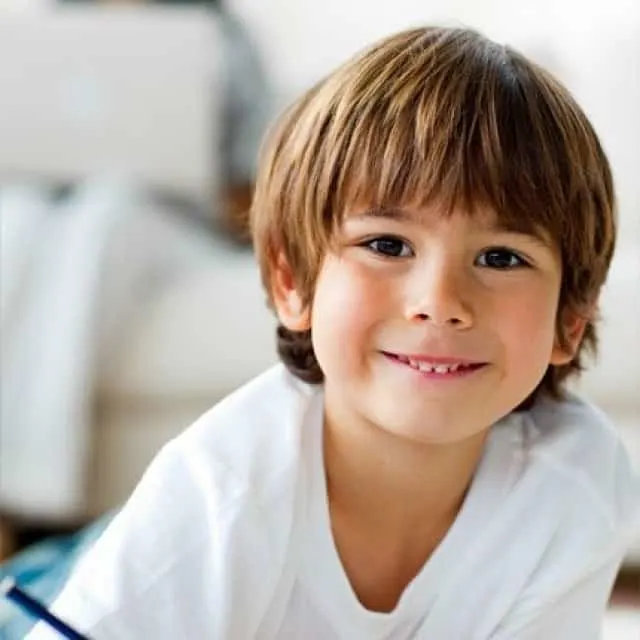 This hairstyle has been popular since the 90s. Kids from back then that are adults now used to have this haircut done by their mommies from the salon. This haircut resembles a burger shape which has hair falling over the forehead and the sides are slightly longer and grow longer till it reaches the back of the head which is perfect for little kids that have straight hair.
7. Long-Layered Front Side-Swept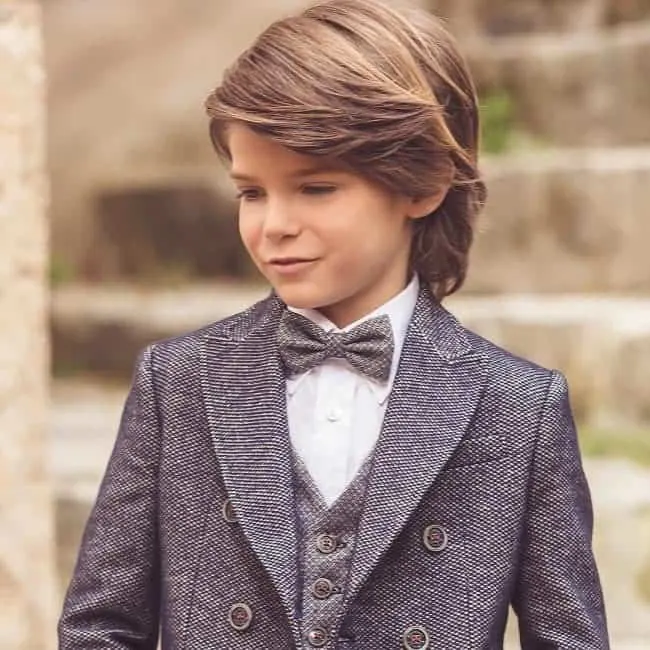 Boys who have long straight hair can style this look really well. The hair is combed towards the side with layered side-swept fringes and the back of the hair naturally falling over the nape of the neck.
Also, read the Best Little Boy's Braid Hairstyles
8. Sleek Comb Over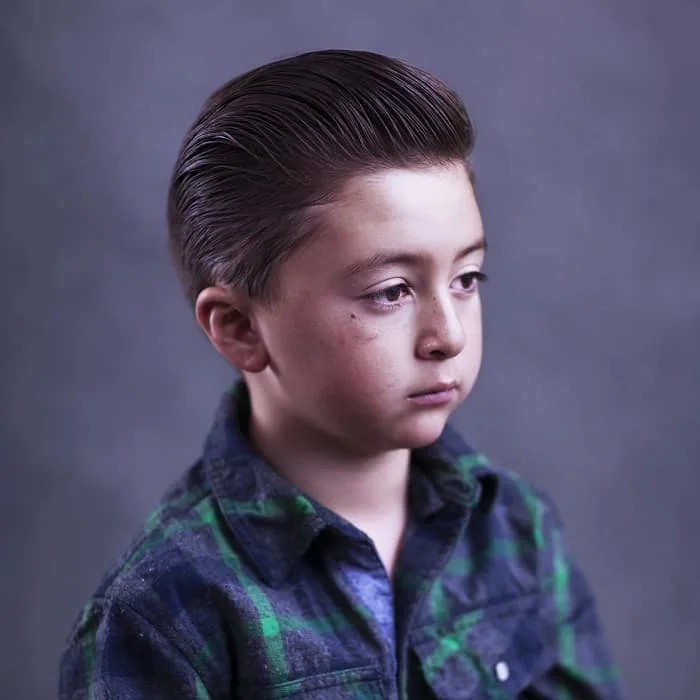 If your guy is already a kid with style, a slicked back straight hairstyle will certainly be something he'd love to have. Use hair gel and create a small bump for the top. With a wide-tooth comb, brush his hair on the back, creating that marvelous hairstyle.
9. Layered Side Top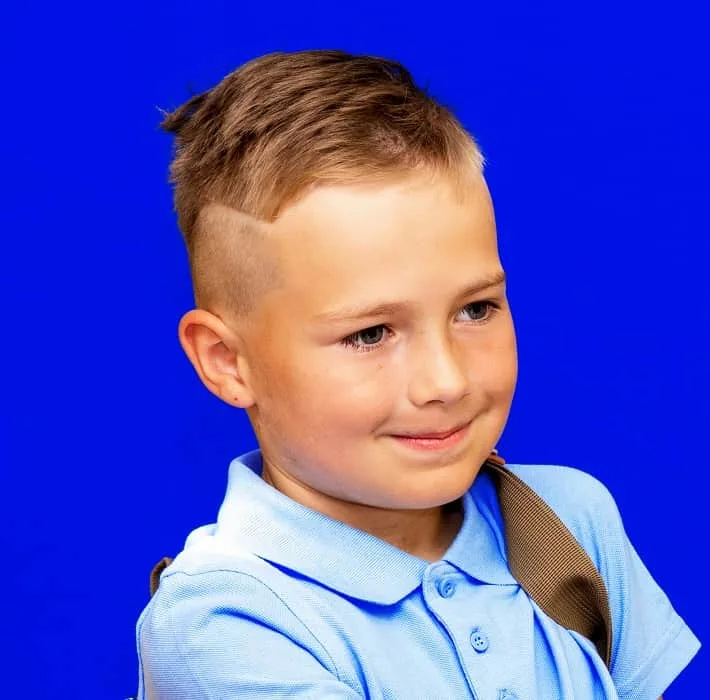 This straight haircut is the best choice for school and will suit your little man like a glove. Layer the top and shortly trim his hair on the sides.
10. Spiky Mohawk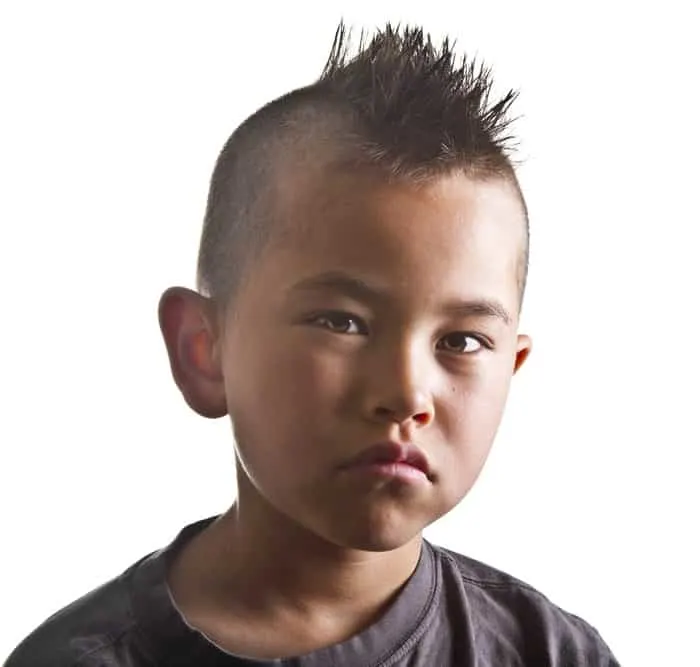 This straight hair mohawk will work like a charm on your little boy. All you have to do is use the trimming machine on both sides and keep the top hair longer. Use hair gel to create that spiky mohawk.
11. Pompadour with Hard Part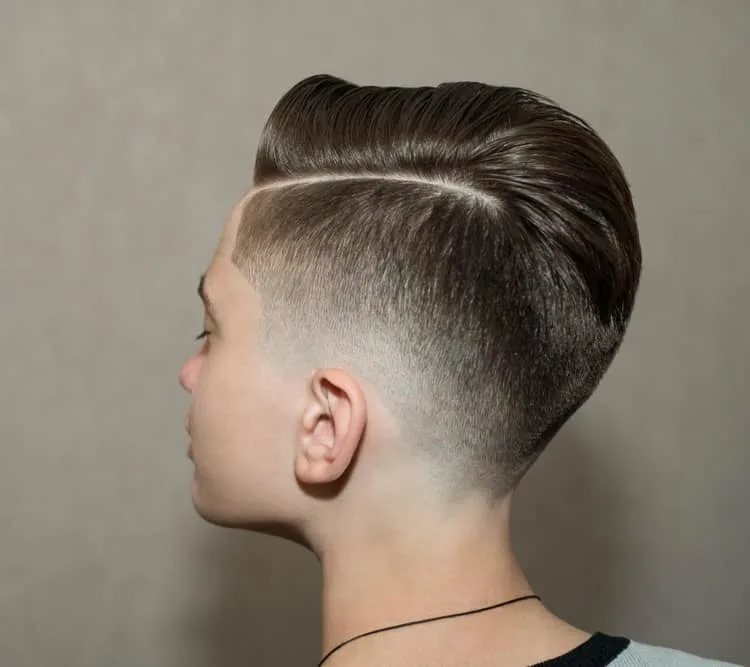 Even at a young age, boys want to look mindblowing. This straight haircut with fade will accentuate the top. If he has thick hair, a Pompadour will undoubtedly highlight that unique texture and volume, and he will feel so proud of his new haircut.
12. Blonde Short Haircut with Hard Part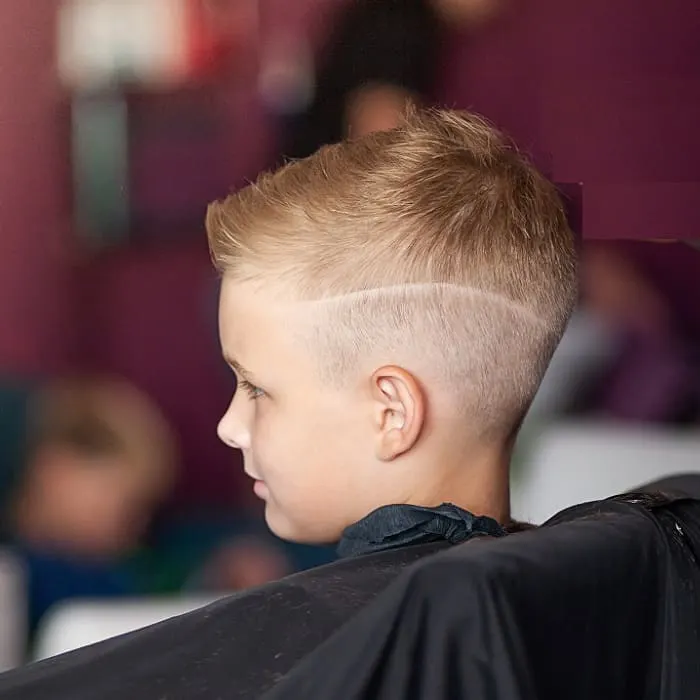 Your son finds role models in his dad or uncle, and if one member of your family has a cool hard part hairstyle, he will definitely want on too. Flip his top hair and bangs on one side, revealing that razored line design.
13. Middle Split Hairstyle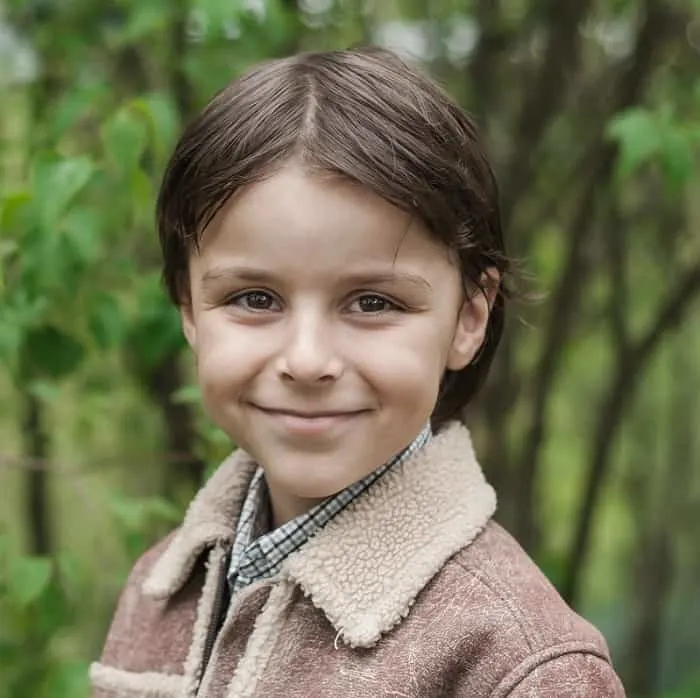 Medium straight hair is easy to style when we're talking about little boys' hairdos. Create a middle part for his long bangs and flip the fringe over the ears, on both sides.
14. Straight Blonde Hairstyle with Bangs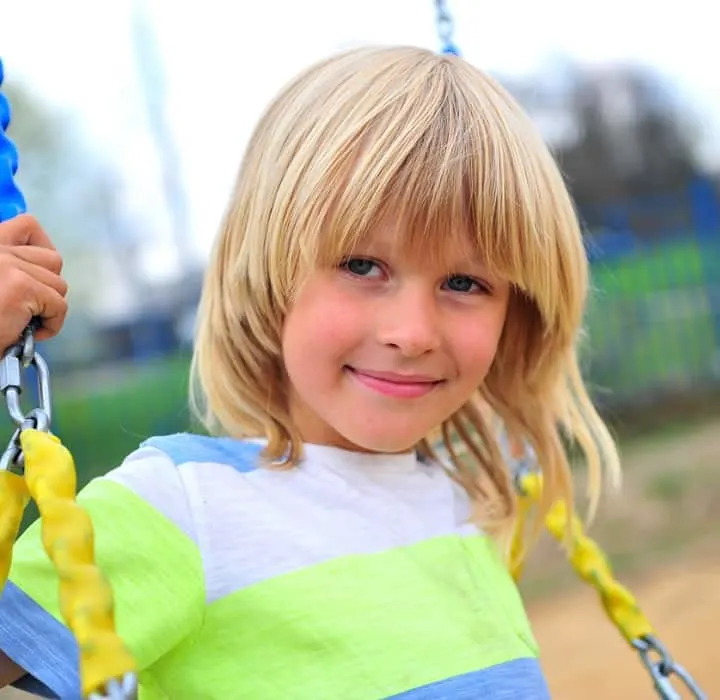 When your little boy has thick straight hair, you have numerous styling possibilities. Maintain his hair in medium length, layer his locks, and create bangs that cover his eyebrows. He will look like a little angel, and everybody will adore his brand new look.
15. Blonde Faux Hawk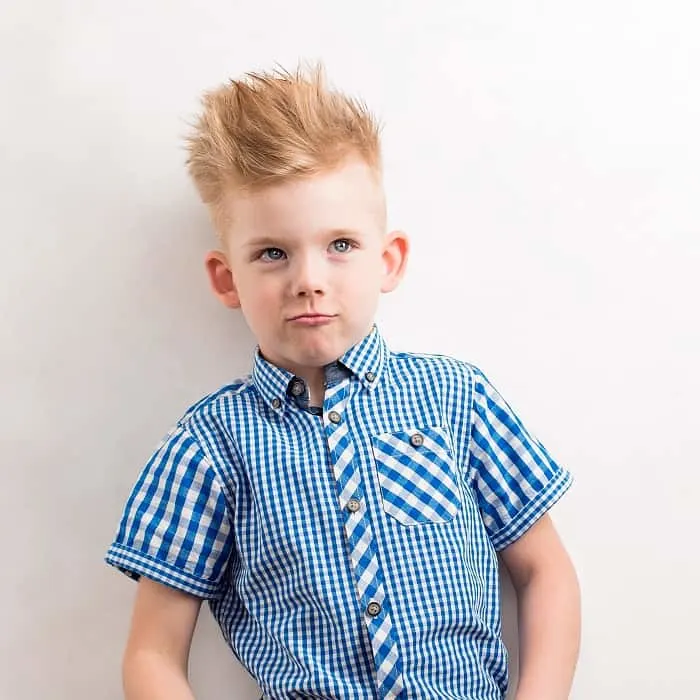 This straight hair faux hawk is perfect for any 12 years old boy. Opt for a taper fade for the sides and build the mohawk with styling products. The hairdo will show off his rebellious personality, and he will feel in the center of attention.
16. High Top Hairstyle for Black Boy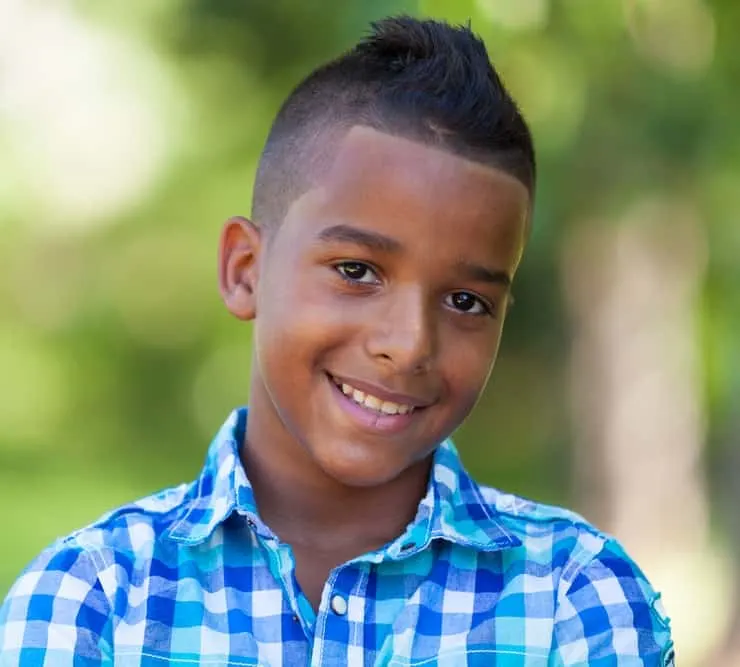 If your little black boy has straight hair, you don't have to worry about his hairstyle every day. Maintain a high top and choose a short trim for the sides and back. Using hair gel, style the longer strands upwards.
17. French Braid with Bun
Go for a taper on the sides and keep your little man's top hair long so that you can braid it and pin it in a bun. Your son will look chic and modern and he'll win anyone's heart.
18. Messy Colored Hairstyle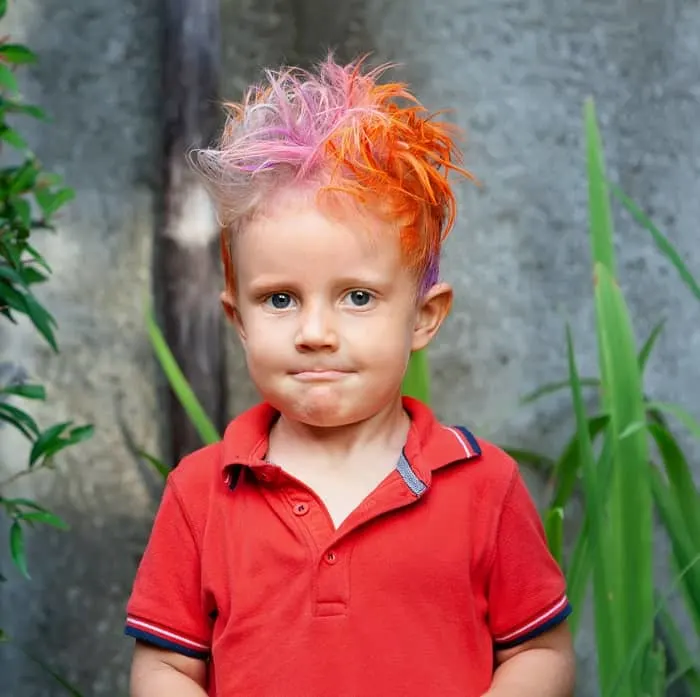 If your son adores colors and he wants a nonconformist hairstyle, there are many hairsprays that color the threads, are easy to wash off, and don't damage the hair. Get his favorites colors and create a messy lifted tot hair.
19. Crew Cut for School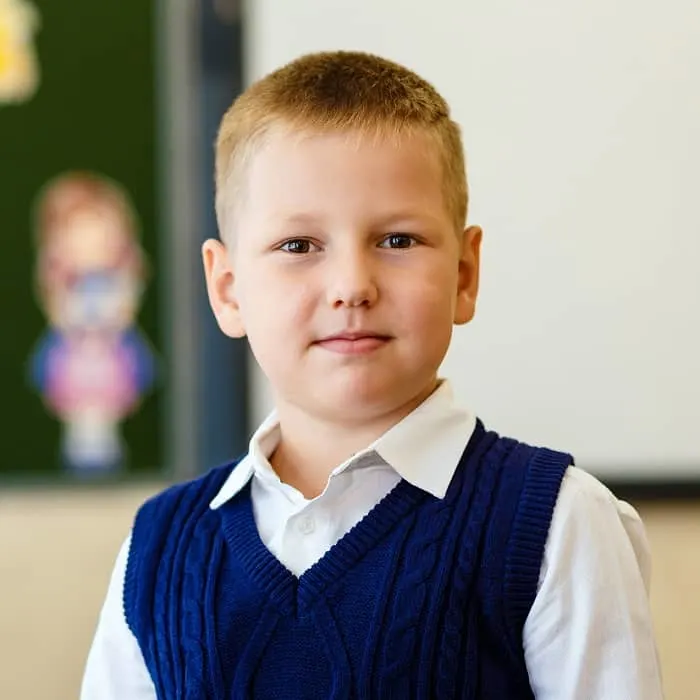 A crew cut will suit any kid with straight hair. It's a perfect hairstyle for school, and you won't need to arrange it every morning because it is so low maintenance.
20. Top Knot
When your little man has straight fluffy hair, that doesn't mean he can't look cool. Choose together a haircut that makes him look modern and maintain a longer top that you can pin in a top knot.
To sum up, these super-adorable little boys know exactly how they have to carry their straight hair just like how mature men would do and can rock any type of hairstyle that is worn by adult men regardless of the length of the hair.