If you're ready for a new look, read no further: the long inverted bob is your next hairstyle! Similar to the A Line bob, the inverted bob features a long front and short back. However, the back is tapered with short layers which you can add as many or as little of as you want.
Inverted bob hairstyles are great for women who like movement in their hair and shape to their face. There are many ways to play with the design of your inverted bob as well, from color to where you part it.
Long Inverted Bobs
These 11 long inverted bobs will show you how to keep your long locks while incorporating more style in your day to day look!
1. Long Straight Inverted Bob
For a long straight inverted bob, draw attention to angles with highlights in light blonde over a dark blonde base. Short layers in back help to add texture.
2. Inverted Long Bob with Layers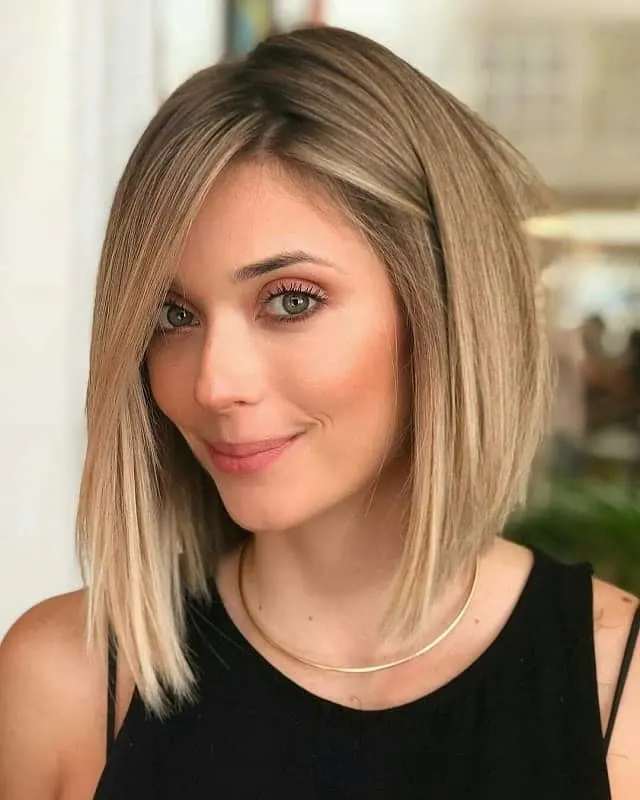 Long bobs are a gorgeous classy style perfect for women who need something professional at the office. A zig-zag part on a layered lob allows you to play with your look while keeping it chic.
3. Long Inverted Bob with Fringe
Straight bangs on a wavy long inverted bob is a sweet contrast and perfect for a romantic night out. Pin back sides to dress it up or go for a half updo.
Thick curly hair tends to look bushy if not tamed correctly. An inverted lob will use layers to cut down on bulk and give a better shape to your gorgeous locks.
5. Inverted Wavy Lob
Thinking about that beautiful ombre you saw in that magazine the other day? It will look stunning on an inverted wavy lob. Start dark at roots and end light at the ends for a chic result.
Curtain bangs are a cute touch of sass added to a layered inverted lob. Wear this hairstyle straight or with waves – you'll always look great!
7. Long Inverted Bob with Highlights
Blonde highlights on chestnut brown color is a chic choice for a long inverted bob. Straighten and part it in the center for simple style.
8. Long Blonde Inverted Bob
To make your long inverted bob stand out, even more, choose a rich blonde that will catch sunlight and use a curling wand to create big waves for a dazzling hairstyle.
9. Choppy Inverted Lob
To amp up the texture in an inverted lob, ask your stylist for a choppy cut. Layers that are cut this way create texture and movement for a thicker appearance.
10. Long Inverted Angled Bob
For a round or square-shaped face, an inverted angled bob will create a different kind of shape: triangular on the sides and elongated from head-on. It's a flattering style, especially when strands are straight.
11. Inverted Lob for Thin Hair
Whether you're trying to thicken up your thin hair or just help it out with a more lively style, a highlighted or ombre-colored inverted lob will do the trick with its short layers and light-catching color.
By choosing a long inverted bob, you can be sure you'll have a stylish haircut that will always be trendy. Wear your look straight one day and wavy the next, use clips to pin back certain pieces, and play with color. There's no end to the number of ways you can make this hairstyle your new favorite!