Is there any woman who can resist the urge to chop off her hair and go for the incredibly sexy and trending layered inverted bob haircut?
Bob haircuts are the quintessential style that every modern woman must give a go. The classic addition of layers gives it an incredible twist. The bob cut, depending on the length of your hair can add the necessary texture. So, get ready to look chic with the least effort.
How to Cut Layered Inverted Bob
There are several kinds of bob cuts. From layered inverted bob cut to graduated or short a line bob and classic bob. Follow the steps to achieve the inverted layered bob cut you wish for –
Start by parting your hair into four different sections. As for the back, part your hair at the back while following your hair's natural partition. Now, comb it out into either side of your head.
Using a comb separate a small section of the hair in a diagonal way from the back. Comb it flat.
Move from the middle towards the outside edge. Use your comb while chopping your hair. When it's done check to see whether it's straight and even.
Do this for the rest of the hair.
Keep in mind the hair at the back will be shorter in length in comparison to the ones at the front.
Watch The Following Video to Learn How to Cut Layered Inverted Bob Haircut
How to Style Inverted Bob with Bangs and Layers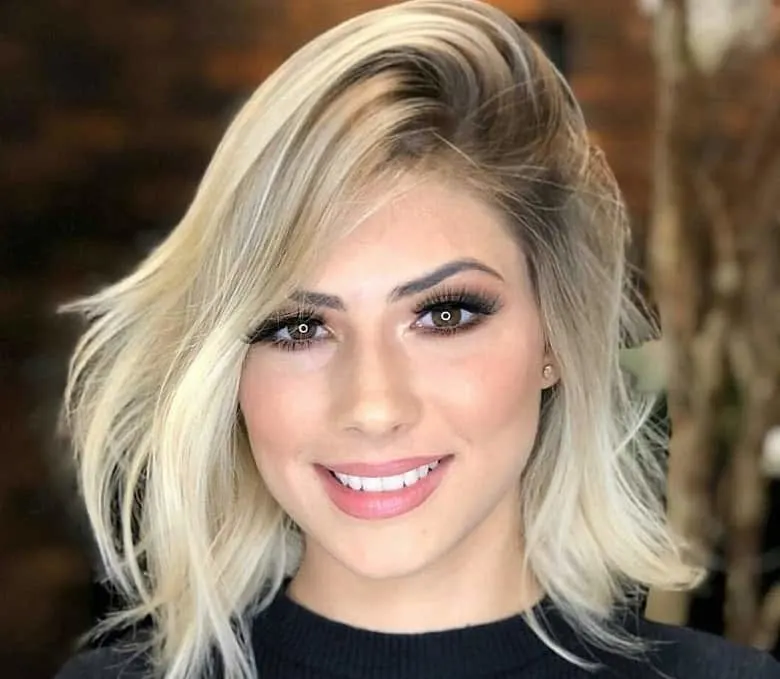 Are you in search of different ways to style your style inverted bob haircut with bangs and layers? Then, check this out.
Give your bob haircut an extra modern vibe and cut your bangs in a way that they fall right on your eyebrows. It will need some extra management, but it will be totally worth it.
Use a bobby pin to fake fringes. You won't even have to do a side fringe to get this. Pull your hair across your forehead and tie it up with a dressy barrette or bobby pin.
Make the most of a thick headband. Pull off a sleek look by using the headband at the hairline.
Curl your hair to sport a 20s look. Keep a smooth and texture free look for the rest of the hair and do this at the bottom.
Are you confused between these two hairstyles? Well, don't be. Here, is a detailed answer to solve your query. An inverted bob haircut features hair that is longer at the front and shorter at the back.
This kind of haircut makes the hair at the back appear more curved. On the other hand, the asymmetrical bob hairstyle can be defined as a party look at the back and serious business look at the front.
The back is styled in a simple layered bob style. However, the charisma of this hairstyle lies at the sides. It is significantly longer which gives it a runway appeal.
Best Layered Inverted Bob Haircuts
A layered inverted bob cut is the perfect answer when you want to chop off your locks and add a refreshing look to your hair. The highly flattering and stylish haircut features longer hair at the front in comparison to the back. All you have to do is pick your favorite style and show to your hairstylist.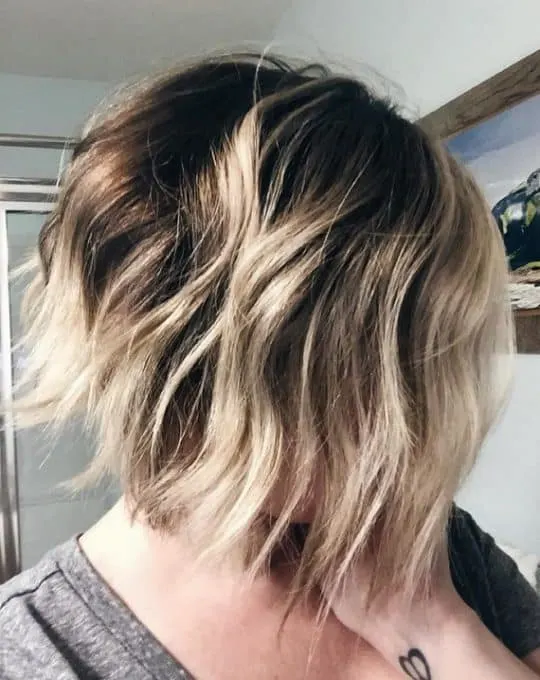 The different shades of blonde are what attracts every chick. Get the sandy blonde or brilliant shade of champagne for yourself. You can even go ahead and try all the different shades of blonde at the same time on your layered inverted bob.
Choose the cool blonde blend in case you have cool undertone. Stick to warm blonde blend for warm undertone.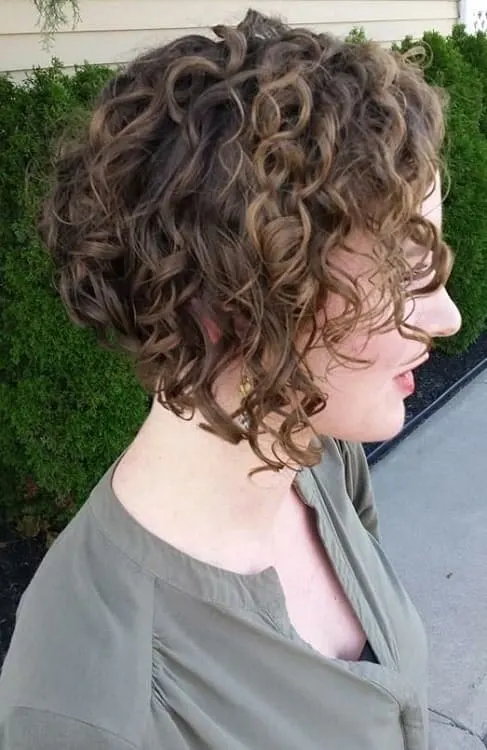 The balayage and layers of this inverted bob haircut will add extra beauty and depth to your look. It is perfect for every kind or type of hair. From curly to wavy and straight.
The touch of multiple shades of color on the hair gives it a fun and exciting look which is perfect for every occasion. It takes hardly any time to style or maintain this haircut.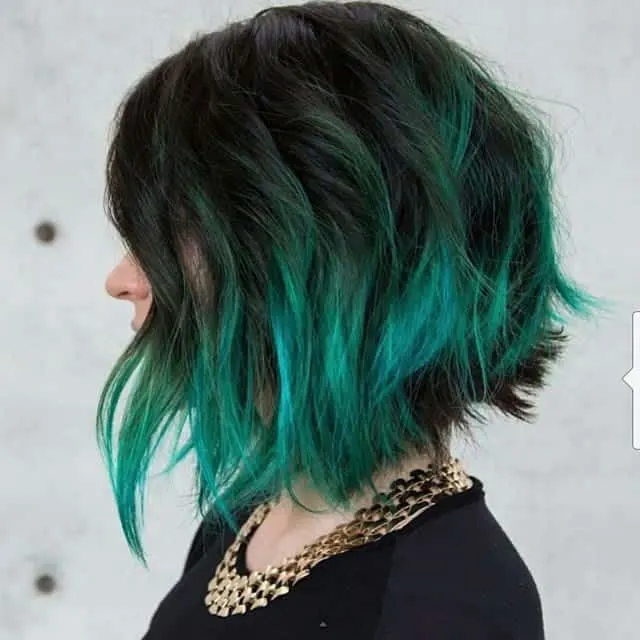 The messy look that is currently in trend is what you need to look like a diva. You can change your look from boring and usual to chic and sassy.
The touch of brown and reddish color has done an excellent job and will further modify the look. Try this easy and quick long inverted bob with layers right away.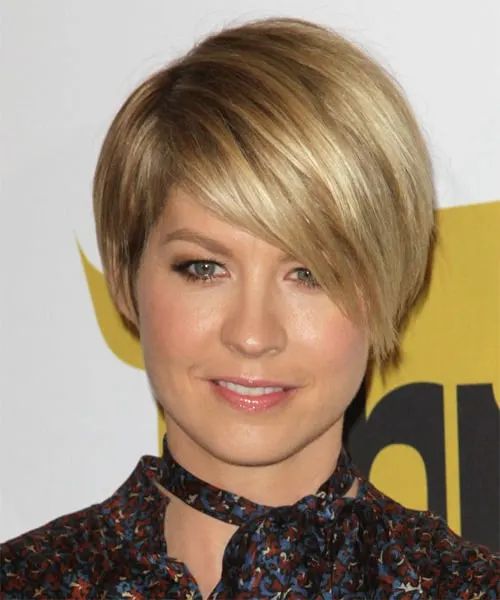 This haircut will accentuate your facial features. In case you have thin hair then the extra short layers at the rear will add a stunning volume to your overall look.
This short layered inverted bob cut with side swept bangs will give a gorgeous lift to your hair and make you look super stylish.
5. Layered Bob with Highlights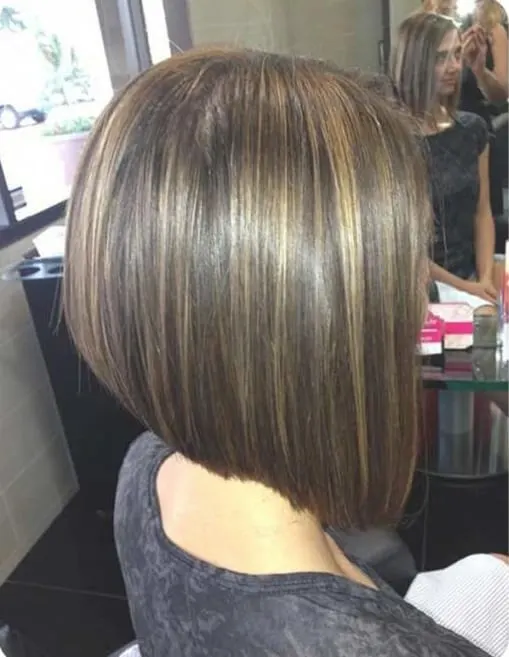 If you seek the look of a casual and contemporary bob hairstyle then this is the best choice. The layered long inverted bob haircut is something you can't just walk past by. You can style it in no time by sporting a messy look.
6. Straight and Black Bob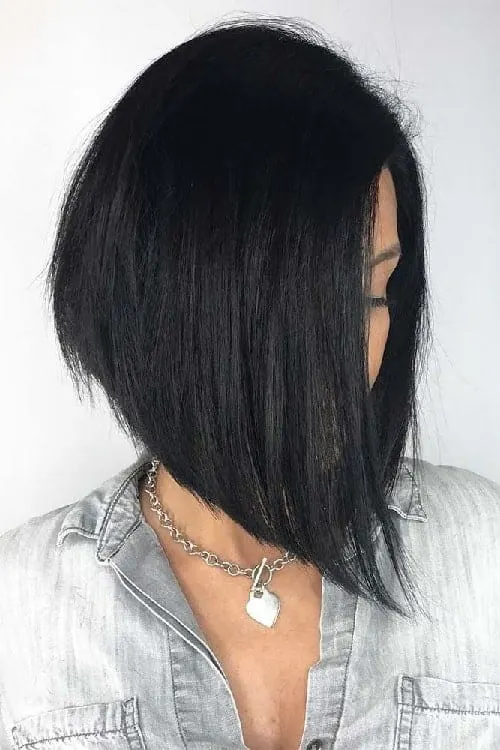 Check out the look that this sleek, mesmerizing, layered inverted bob haircut has. It takes classy, elegance, and style to a whole new level and screams out to everyone for attention.
This haircut is best suited on straight hair. The stylish angle along with black hair color provides a seamless and smooth style which you are bound to adore.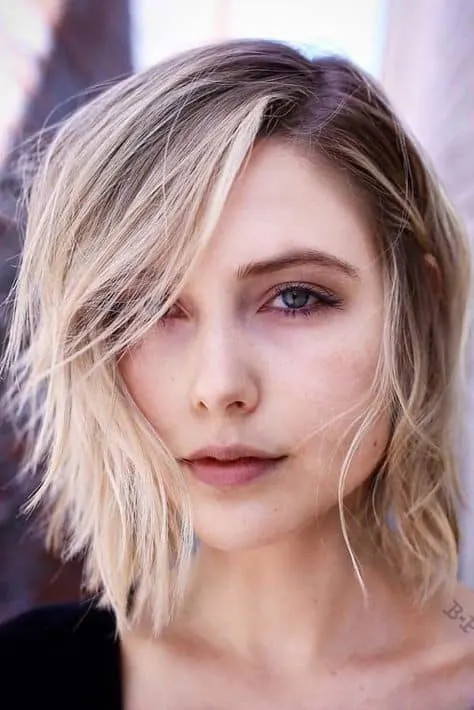 Let's just take a moment and appreciate the adorable look of this layered inverted bob haircut. The bangs and layers are cutting edge in their own way.
This style will perfectly go with your face and heighten your features. The presence of the beautiful layers is going to further compliment your face. You won't need a lot of time to style this look.
8. Splash of Color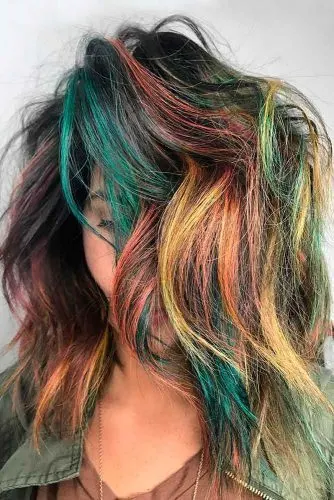 You are about to be blown away with this hard to resist, long inverted bob hairstyle with layers. The messy look of the hair along with the length of the hair is a style that you will definitely want for yourself.
The splash of color is something that is new and completely exotic. You need a lot of sass and confidence to pull off this inverted bob with long layers hairstyle. This is the style that nobody is going to look past.
9. Short Bob with Highlights
If this haircut doesn't make you say, Wow! Then, nothing will. The sexy, modern, and sassy look that this short layered inverted bob cut offers is something every single will want.
You will need hardly any time to style it the way you want. The different shades of brown make the hairstyle even more attractive. What do you think?
10. Touch of Grey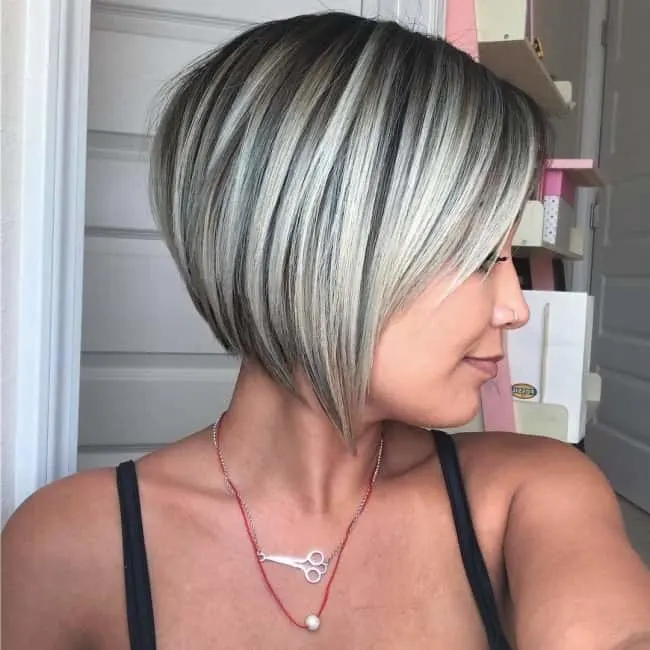 The second you take a look at this out of the world stunning haircut your heart will skip a beat (just like ours did). We are completely in love with the contrast that the grey highlights create on the natural jet black hair. The haircut is simple yet extremely extravagant. It will create the perfect look you seek.
This inverted bob haircut with layers is definitely going to put a grin on your face every time you catch your reflection in the mirror. If you aren't a big fan of dyeing your hair and love the natural color of your hair. Then, don't hesitate to give this haircut a try. You will look sensational in this hairstyle.
12. Messy Bob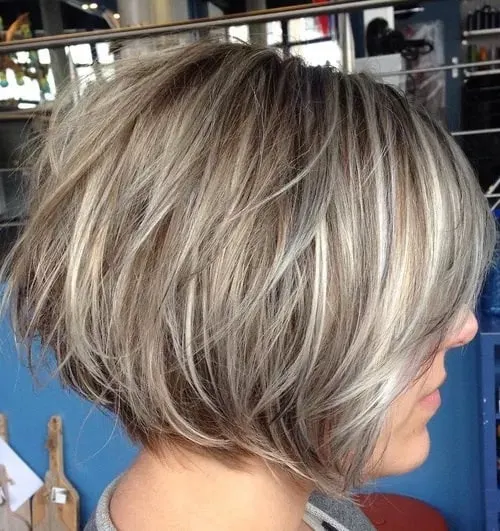 Well, it is undoubtedly messy which makes it very easy to spot the look. The touch of lowlights on it further magnifies the look of this haircut.
Like any other bob haircut, you will see the hair at the front comes all the way to your chin and at the back it is shorter in comparison adding volume.
13. Layered Lob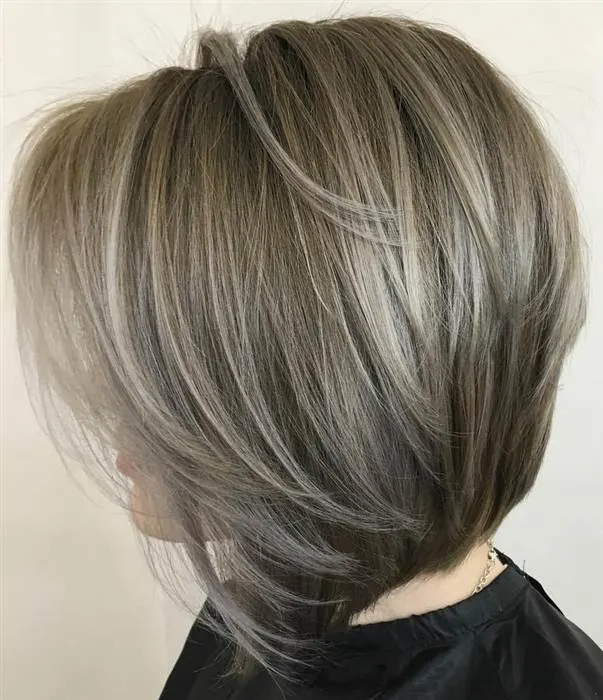 This haircut will suit every woman who is tired of waiting for her hair to grow. If you don't have the required patience, then there is absolutely nothing to fret about.
Check out the stunning layers and the touch of grey highlights that this haircut projects. It is totally worth going after this look if you want to try something new.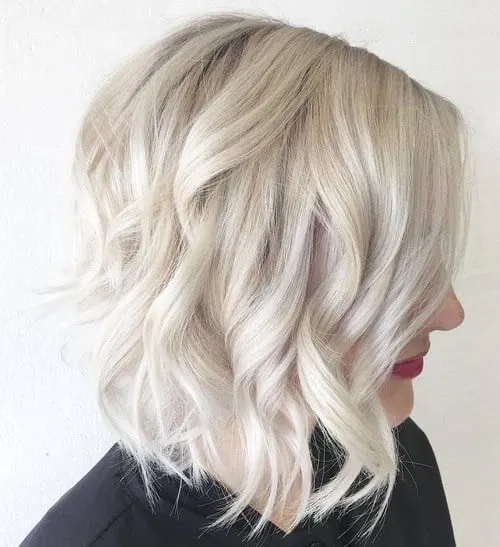 Every woman wishes to stand apart from the crowd, with her looks, style, mannerisms, and personality. This long layered inverted bob haircut will bring out the bold and confident woman that you really are.
The way the hair is angled towards one side makes it even more gorgeous to look at. It is such an out of the box haircut still will manage to compliment your every look.
15. Candy Pink Inverted Bob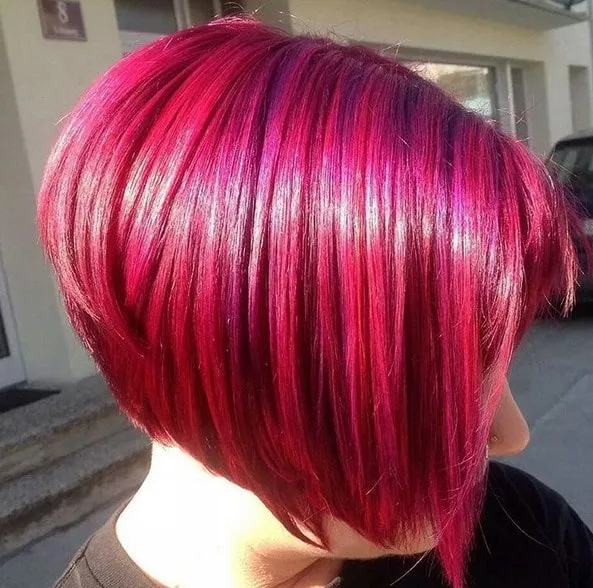 Do you want a complete transformation from the same old haircuts? How about going above and beyond with it? Check out this strikingly hot, sexy, and spectacular haircut and the hair color.
Yes, it is candy pink. Isn't that something? If you have the confidence and sass to pull it off, then don't hesitate to give it a try.
16. Two-Tiered Style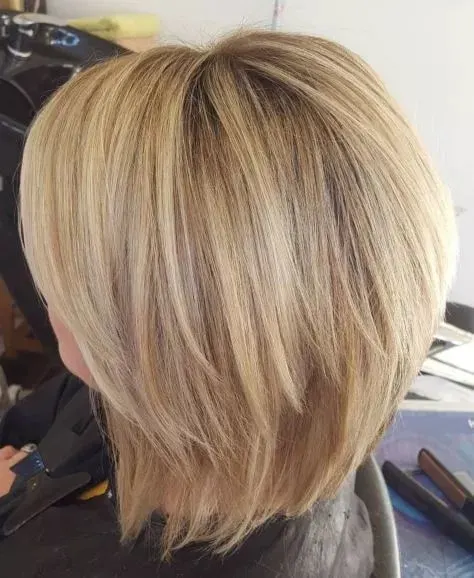 You can't pull off the striking shade of pink? Then, choose a more subtle haircut that matches the look of your face. Take a look at the distinct tiers on the haircut.
This inverted bob with layers is undoubtedly different from the other styles. All you have to do is show your stylist this haircut and you can sport it with every outfit.
17. Tousled Blonde Bob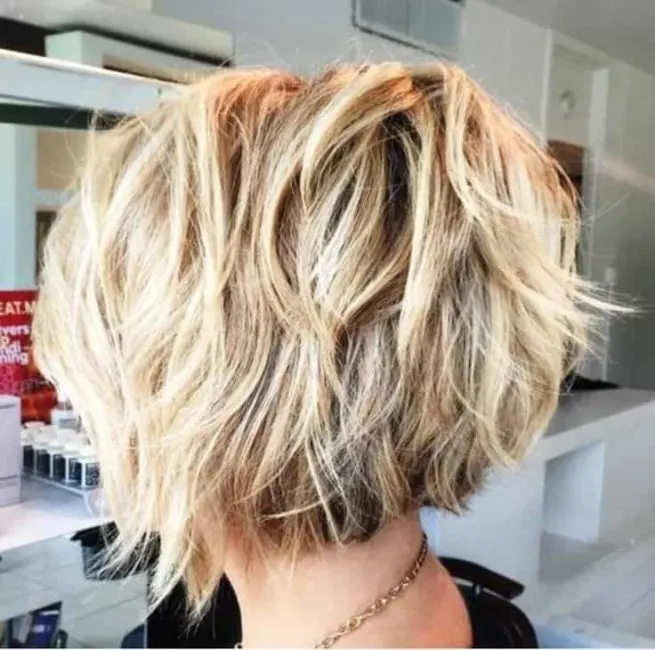 What is there not to like about this layered and inverted bob haircut? Enjoy the choppy strands that come all the way to your chin whereas the blunt edges at the back are shorter in length.
It is perfect for women who have wavy hair and even if you don't there is nothing to fret about. All you have to do is make the most of your heating appliances. Don't forget to use shampoos and conditioners that add volume to your hair.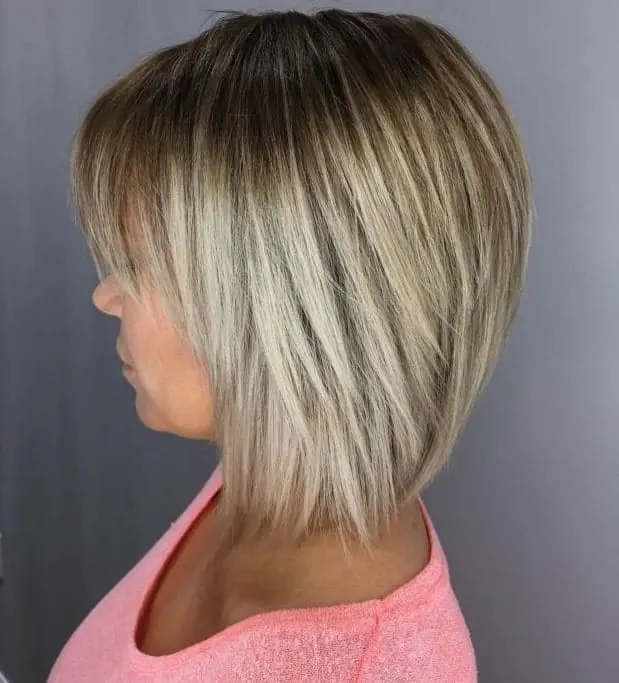 Do you have straight and gorgeous tresses? Want to make them look even more phenomenal? How about chopping them in layers and having a side fringe bangs at the same time? Take a look at the enchanting balayage that creates the necessary look.
19. Light Brown Bob
If you don't want to give up on the length of your hair, then this is the style for you. The long tresses at the front will create the perfect alluring look whereas the back of the hair adds volume to it.
The fringes covering the forehead will give you a sensual look. This inverted bob with bangs and layers look is perfect for girls with fine hair.
20. Short Brown Bob
Can't tackle all that hair continuously resting on your shoulders all day long? Then how about dealing with the problem with a classic bob haircut? Though the hair is longer in the front, it isn't that long. The stunning shine of the hair color makes it even more attractive.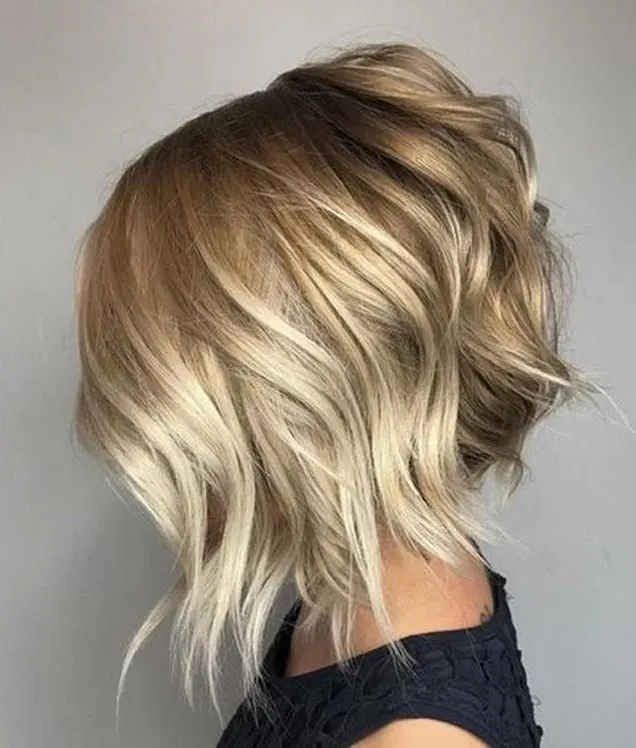 It took us a moment to grasp the beauty of this haircut. This angled and layered inverted bob haircut, the gorgeous layers flowing down, and the touch of blonde makes it a must try haircut.
22. Simple and Short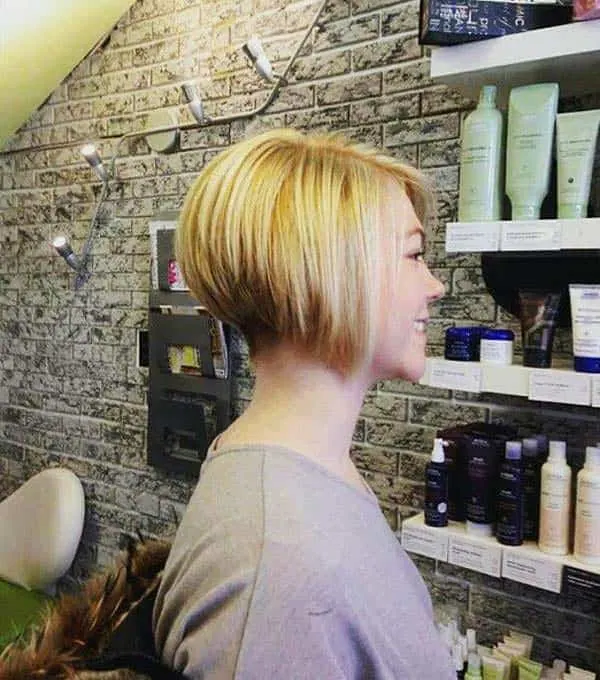 The stylish look that this inverted bob haircut with layers display is something the modern woman will instantly want. The way this style adds volume to your hair is simply stunning.
23. Curled Platinum Blonde Bob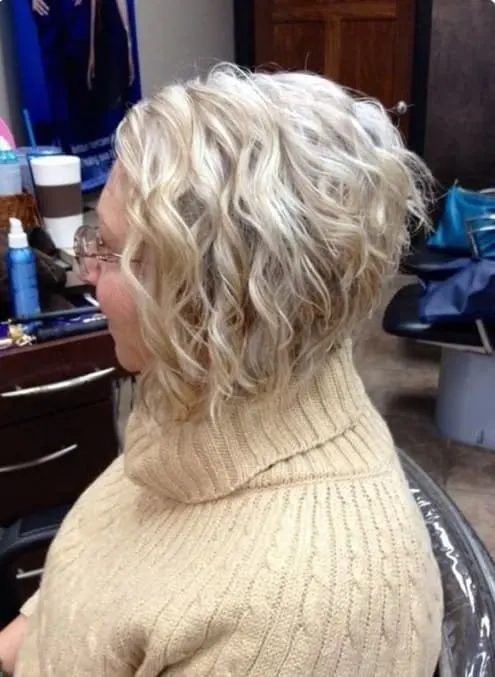 Add some spice to your everyday look by using your curler. If you are over 50 or more then the blonde shade and layered inverted bob for older women will further accentuate your look.
24. Choppy Layers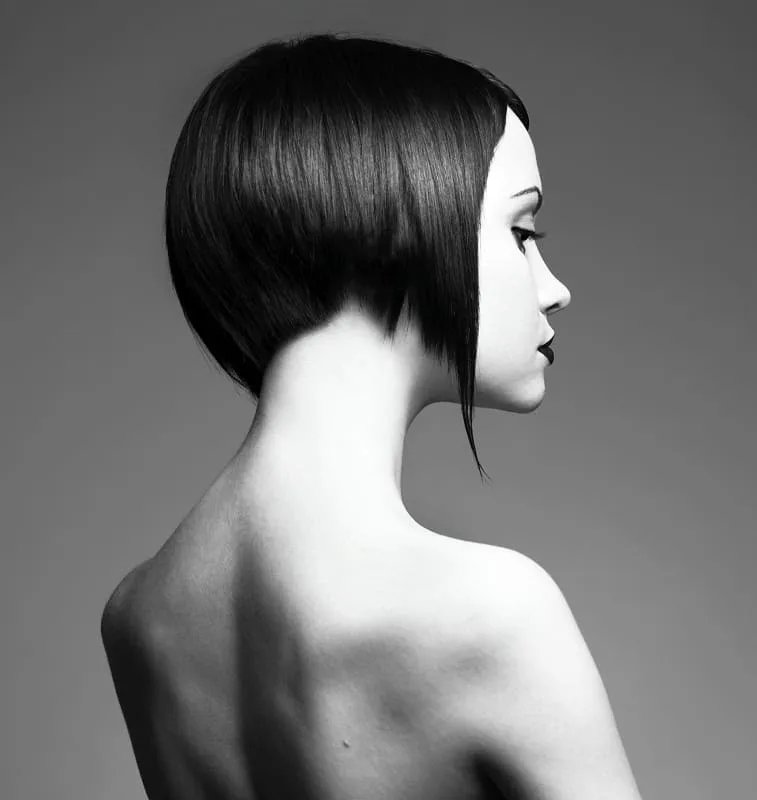 This inverted bob with razored layers is for an edgier kind of gal. Find a stylist that understands the vibe you're going for before attempting this truly artistic look. We love it on a small and delicate face.
25. Straight and Fine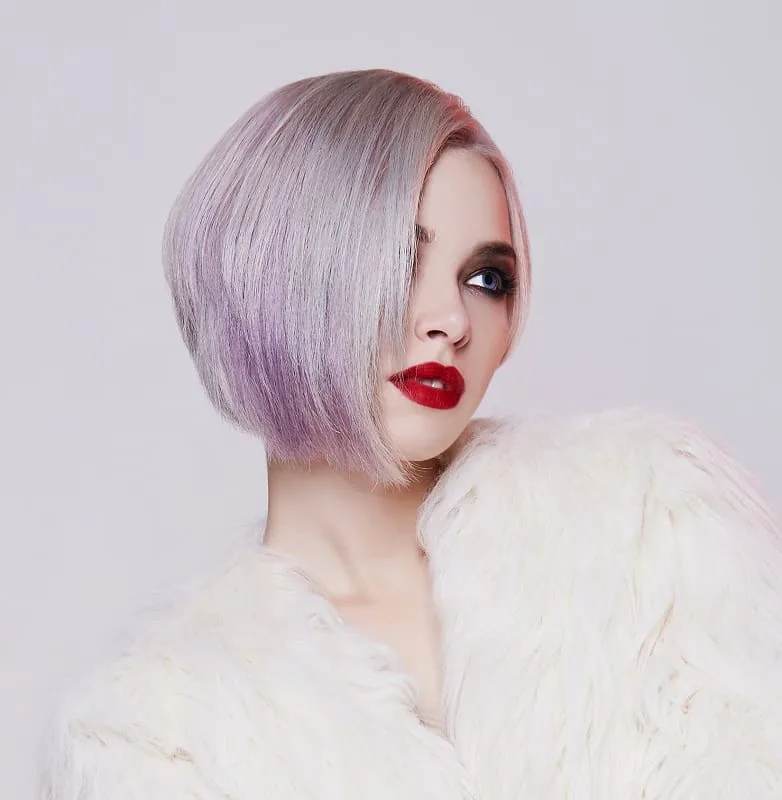 A medium layered inverted bob cut adds so much depth to hair that is straight and especially fine. Layers should be cut at cheekbone level around the head for a voluminous boost.
26. Soft Side Part
Regardless of your face shape, a layered inverted bob with side parting is suitable for everyone. Depending on how shallow or deep you make the part, this helps the hair act like a curtain to frame your face however you desire.
27. Razored Nape Undercut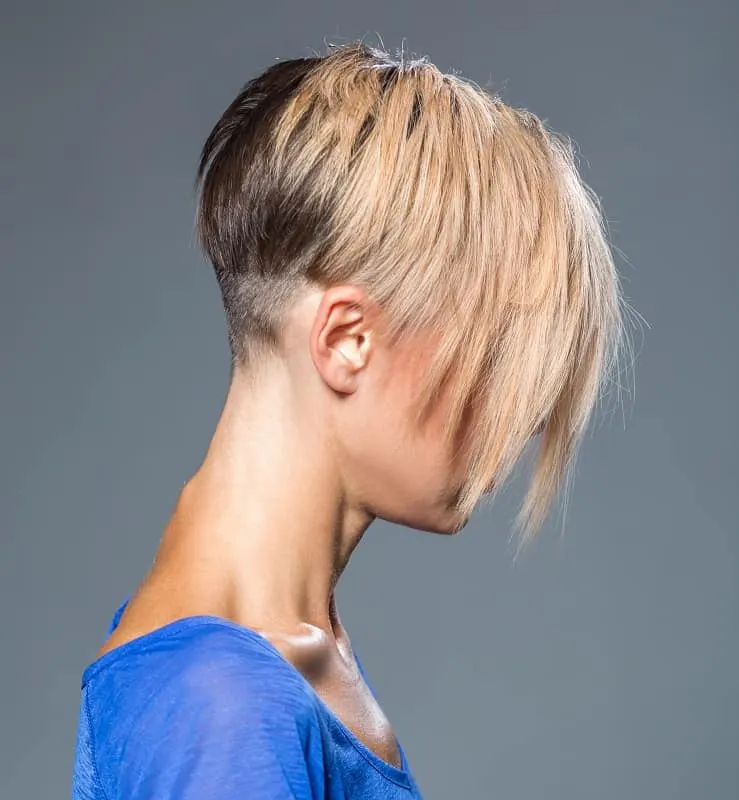 Try a twist on the classic nape stack and create a layered inverted bob with undercut at the back of the neck. This look is choppier and more angular for a truly fashion-forward vibe.
28. Short Inverted Bob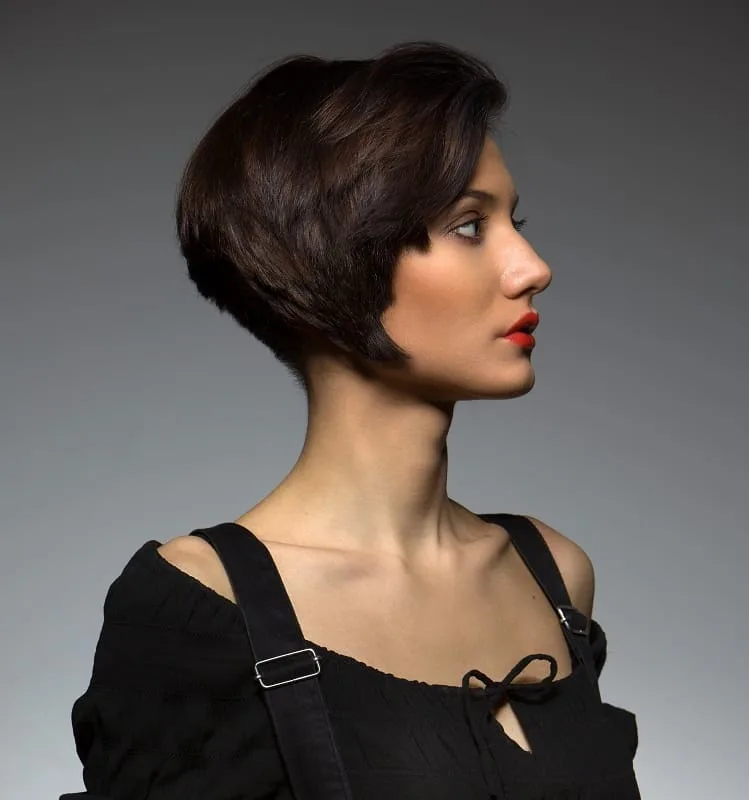 She may be short, but this layered inverted bob for thick hair sure is shapely! Lots of layers are perfect for distributing thick hair for ease and style. Sweeping side bangs are the way to go here.
29. Asymmetrical Bob with Middle Part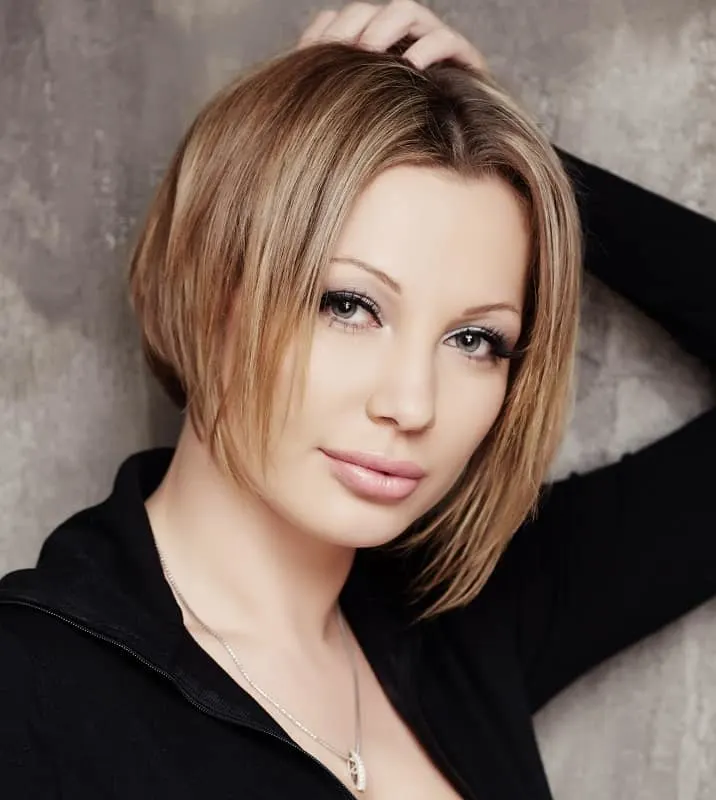 A layered inverted bob with middle part can look a bit funny, so an asymmetrical cut is just what you need. Don't let the disparity between each side be too drastic, however. An inch at most is all that this look requires.
30. Stacked and Inverted
A stacked layered inverted bob is perfect for the active babe that needs her haircut to work with her on-the-go lifestyle. Layers cut for movement are ideal for this look.
Have you decided on the kind of style that you want to pull off? Whether you want your tresses to caress your shoulder or be of ear length? Check out these incredible layered inverted bob haircuts that pack a lot of dazzle and glamour.