The classic bob cut for women has been in fashion for decades now. It continues to vary in style from generation to generation, the latest being an inverted bob with bangs.
Where some women boldly opt for getting a bob cut, others choose a bob with bangs. Let's delve into the details of what an inverted bob is and how it can be styled with bangs.
How to Cut An Inverted Bob
Cutting your own hair into an inverted bob is much easier than it seems. With this method, you can even give another girl a haircut of bob! All you need is a tail comb and a pair of scissors. Start off by brushing your hair smooth and even out all knots.
Place all your hair linearly in between your fore and middle fingers. Twist so that your straight hair is now bent into a twisted pony of a sort with your two fingers in place of a hair tie. Cut your hair horizontally below your finger according to your preferred length, and then release.
Voila! Your inverted bob cut is ready! It is longer at the ends and shorter in the middle. This cut maybe a little raw and you might want to even out the stray hair falling out of place.
What Is The Basic Idea of Styling Bangs on Inverted Bob
The idea of combining bangs with a bob cut stems from the fact that women need a little hair to flaunt and boast. A bob cut doesn't give you much room to twirl and sway your hair around. It has its own perks, however. It is super convenient, stylish, and trendy. It gives out a young and adventurous vibe.
Having said that, bangs on an inverted bob cut ensures that you can still sway your hair around and flaunt it as much as you can even when the rest f your hair stays in place.
Bangs also accentuate your facial features bringing attention to your stronger ones and adding a little volume to your face. Many women who avoid getting a pixie cut can play around with a bob and side bangs in order to spice up their hairdo.
How to Style Inverted Bob with Layers and Bangs
An inverted layered bob with bangs hairstyle practically suits every type of face, especially if you're looking to add a soft feminine touch to your overall vibe. Not only does an inverted bob amp up your look immediately but is also quite convenient and one of the trendiest hairstyles of the current generation.
Here are some things to consider while getting a layered inverted bob cut:
The volume of your har will increase drastically around the cheeks. So, if you have a long or oval face, this hairstyle works the best.
If you are looking to add some length to your round and chubby face, you might want to think twice before getting the bob.
An inverted bob with layers and bangs look better if you have some color or highlight in your hair.
Since you'll be pretty much carrying the same look everywhere until your hair grows out, you may want to spice up your hairdo using hair color.
Although it may seem that hairstyle options for girls with bob cuts are limited, it is really not so. Play around with different styles, especially if you have bangs, and you'll never get bored of your inverted bob cut.
Popular Inverted Bob Hairstyles with Bangs
Below, we've gathered the most beautiful inverted bob with bangs styles that are in trend now. Have a look!
Tapering bangs are quite trendy these days. A shaggy, wavy, and inverted bob along with bangs add a taste of style and carefree attitude to your overall vibe and is best suited for any type of occasion.
A classic inverted bob with bangs is the go-to look of the current generation. This hairstyle gives out a fun yet formal vibe and speaks volumes about your personality. For better-enhanced results, curl the ends of your bangs into loose rings and you'll be good to go!
An inverted bob with side-swept bangs not just adds more volume to your face bit also accentuated your eyes and lips making them stand out. Depending on the length of your face, you can have your asymmetric bob cut to just the right long and short lengths, and you'll soon have a hairstyle to flaunt!
In simpler terms, this hairstyle is almost like a boy-cut which only leaves out a good portion of one side of your hair into an undercut bob.
This short inverted bob looks better when finished with a bang on the side, literally! If you are quite adventurous and like experimenting with new hairstyles, perhaps you should aim for this look.
Blunt bangs fall upon your forehead and completely cover it up making your face appear shorter or smaller. This is the best hairdo for girls with long faces or broad foreheads.
Such blunt bangs coupled with an inverted choppy bob ensure that your face appears fuller and complete giving you a cute and friendly vibe. If you have a round or small face, this hairstyle may not work very well for you, although some girls can still pull it off.
6. Blonde Highlights
On just the bangs, add a few medium-sized blonde highlights for a cool contrast on dark hair color. The thin layers of this inverted bob stand out that much more with the addition of highlights.
7. Red Pixie
Do you love bold, bright colors that communicate your fierce personality? Choose bright red to color a pixie-version of a bob. The bangs are half bluntly-cut and half layered for an added interesting twist.
8. Red Balayage
If your hair is naturally dark or medium brown, consider adding beautiful dark red highlights. The color will nicely show off your bob's soft waves and layered side bangs.
9. Curved Bangs
Hot pink and dark purple work wonders together for women who like bright, electric hair colors. This sexy inverted bob features a concave shape through feathered layering around the face and curved bangs.
10. Round Face Bob
If your hair goals are to distract from your round face, you'll benefit greatly from an inverted bob with long and thin side bangs. Let blonde highlights do all the talking and flattering.
11. Green Ombre
This eclectic cut is a mix of a short inverted bob and a pixie undercut. The green ombre color suits women with electrifying personalities. Emphasize an a-line front with short razor-cut bangs.
12. Long Inverted Bob
If you prefer neutral hair colors and sleeker hairstyles, you'll love this chocolate brown long bob with blunt bangs that graze the eyebrows. Hair is straightened for smoothness.
13. Heavy Side Bang
Put an emo twist on short layered hair by adding a thick side bang. Get it by having your stylist part hair off center before cutting. A mix of warm-toned highlights are flattering on any skin tone.
14. Feathered Bangs
Black women effortlessly pull off dark, dramatic hair colors like deep purple. It will give a side-parted haircut lots of mystery yet remain the perfect mix of adorable and chic with feathered bangs.
15. Inverted with Blunt Bangs
There's no bad in straight hairstyles. For women who prefer classic looks and simple styling, opt for an inverted bob with short straight bangs. Their blunt cut will draw attention to your beautiful eyes.
16. White Bob for Older Women
Embrace older age with a beautiful white bob. The graduated cut flatters a multitude of face shapes and hair textures. A blow-out will result in these soft layers.
17. Curly Balayage
Instead of fighting the styling of your naturally curly hair, accentuate it on a curly inverted bob with thin bangs. Blonde balayage defines the texture in the best way, while a soft side bang is better matched than a blunt cut.
18. Strawberry Blonde Bob
Not loving your gray or white hair? Cover them up with a glow-up of strawberry blonde highlights. A straight bob wears the color beautifully. Pair with short straight bangs.
19. Mocha Highlights
Feathered fringe on a short inverted bob completes the chic style. The only thing that could make this haircut better is the addition of mocha-colored highlights, which show up beautifully on dark hair.
20. Textured with Straight Bangs
Get your hair off your neck in a beautiful way by opting for an inverted bob heavy on texture. A straightened, layered side bang and a blonde balayage will bring this look together.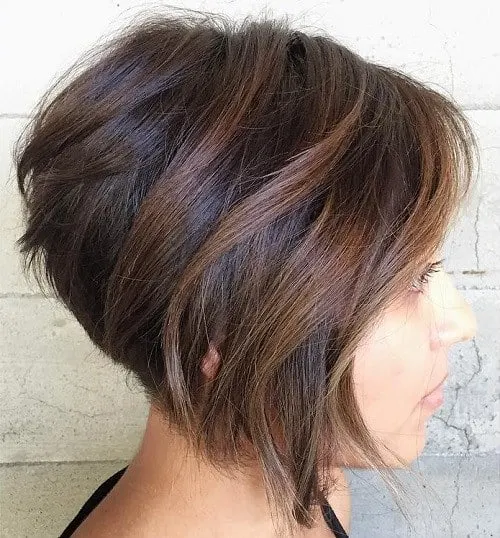 Feathered bangs sit wonderfully well with almost any type of inverted bob look. You can even use layered or curled bangs with an inverted shaggy or wavy bob. However, with feathered bangs, you need to ensure that you let them loose over your forehead or on the sides.
For this inverted lob and bangs look, your bangs need to end just above your eyebrows with varying lengths at the sides. A layered bob with a wavy finish looks wonderfully well for this type of hairstyle.
Brownie points if you're able to comment your hair color with a shade or 2 lighter or darker than your own natural one.
The right bob, coupled with long bangs must just be slightly touching your collar bones while the maximum length at the beck goes no longer than the nape of your neck.
Long bangs on a bob make your face appear longer, especially if you have a hint of shade in your hair. This style is highly recommended for people with round or heart-shaped faces.
This hairdo causes most of your hair to fall on one side while a few bangs appear on the same. Depending on your face profile, you can opt which side to allow your bangs to fall and how your inverted bob cut turns out to be.
Girls having a sharp jawline are recommended to try this style out since it will soften your appearance along with your cheeks, adding more volume to it.
25. Inverted Bob with Side Bangs
Side bangs on an inverted lob add enough volume to the middle of your face highlighting your cheekbones and making your face appear rounder and fuller.
Girls with a square or triangular face can easily pull off this look since it draws attention to the upper portion of your face, thereby accentuating it.
An inverted or uneven bob cut with bangs is quite the trend these days. But if you want to take it a step forward, go ahead and get bangs on the side of your face or on the forehead depending on what your face type is.
This will not only give you an instantly refreshed look but will also create a warm and friendly vibe around you. Now that you know what the different kinds of inverted bob with bangs look like, maybe it's time to get one yourself!