Have you seen the latest trends of the curly inverted bob? We have to say that the style is catching eyes everywhere! The inverted bob has always been popular, but with curls, it seems as if the style has gained even more points. What with the stunning curls and the edgy cut, the hairstyle is sure to compliment your personality. You will be surprised by the amount of choice you have.
Classic Curly Inverted Bob Haircuts
Inverted bob for curly hair looks elegant and chic at the same time. The edgy cut with soft swirling curls gives you a completely new look. Here we have 11 of the most flattering curly inverted bob cuts for you to try out!
This sassy curly inverted bob gives you the bossy edge you need to make an entrance. It is stunning, trendy and at the same time very edgy, a perfect combination!
Ideal for: We think this is a versatile, evergreen style that will suit most face cuts. Its natural hues and beautiful curls give off a natural feel perfect for any setting.
How to style: For the curls, you need to have non-heat rollers. Keep them in overnight and wake up to own your look with these luscious curls!
2. Colorful Inverted Bob for Curly Hair
Who says you can't have green hair? This trendy shade of blue and green hair really gives us the aquamarine vibes and we are living for it!
Ideal for: If you can own the style it becomes ideal for ladies in any setting. Although we do recommend taking your workplace into account as the shade is a bit on the funkier side.
How to style: Use the sea hues with sea green and sea blue shades to create a merged effect. Wear your inverted bob curly to create dimension in your hair.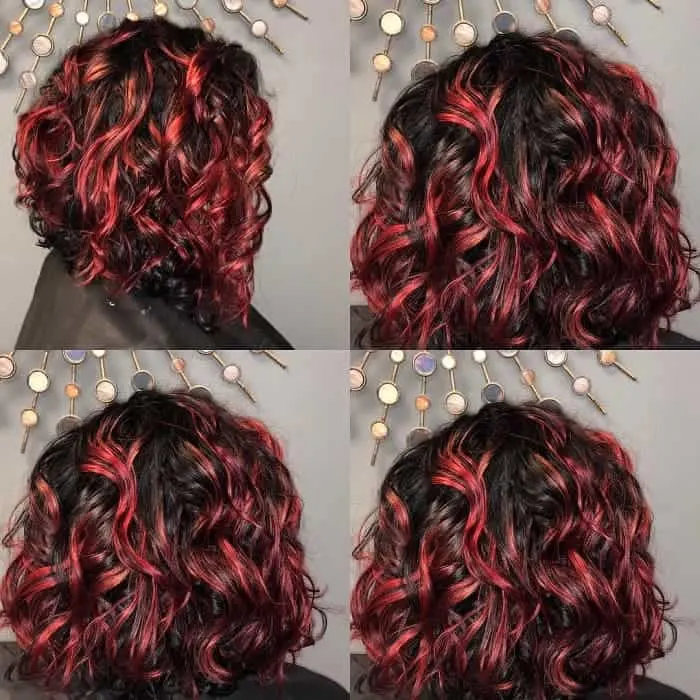 Red can make any style stand out! These red streaks work to highlight the beautiful cut, all the while giving you the extra fashion points.
Ideal for: Sassy girls looking for an edgy curly hairstyle should try this inverted bob out. Although you can make it work for the workplace as well.
How to style: There are numerous shades of red to choose from. Opt for the one that suits you. Use a curling iron to add in some beautiful curls to complete the look.
There is a thing with wet hair and fashion. You can use gel to create the wet look and it is considered pretty cool.
Ideal for: This curly inverted bob goes well with oval and diamond face cuts. Round face cuts can also wear the hairstyle and look great!
How to style: If you have naturally curly hair, use some wet set gel right after the shower to create the wet look. If you have straighter hair, add in your curls first and then apply the wet set gel to hold them.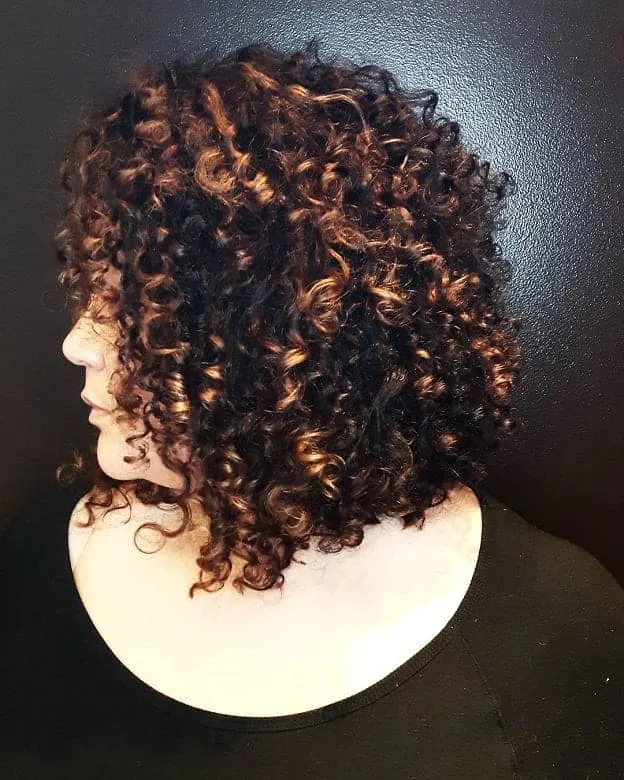 We adore this fashion trend and are glad to see it back in the open. The spring curls really speak for your personality and make for an exotic look!
Ideal for: The inverted bob with curly hair goes well with all face cuts. However, as the hair gets bigger it can be difficult to manage, especially for working moms.
How to style: Use no-heat tight curls and wind them around thin strands of your hair. Leave them overnight. Remove the curlers the next day without unwinding the curls to create your look.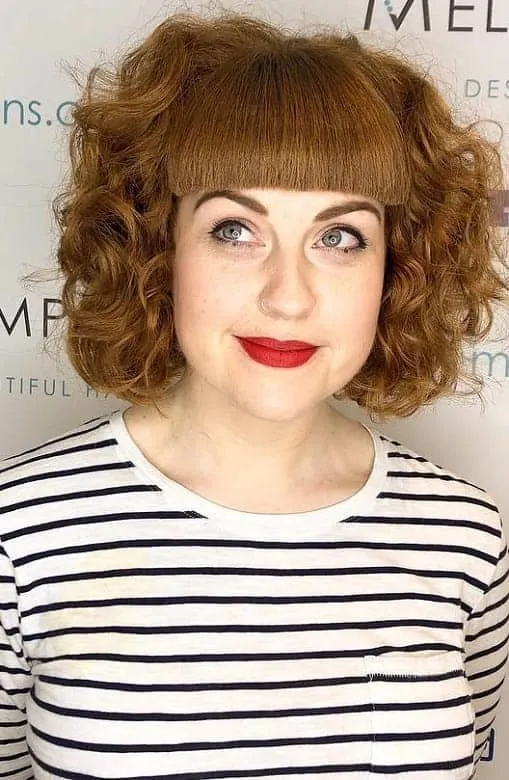 The style has numerous additions to it too. Just adding thick bangs can simply change the outlook of the style instantly.
Ideal for: Women with delicate face structures look best with this look. Women trying to cover part of their forehead can do o stylishly with this hairstyle.
How to style: Use a curling iron to create random curls in your hair. Don't forget to curls the bangs too. Wearing your inverted bob curly gives you the messy, yet proper look; an ideal casual day hairstyle.
7. Rose Curls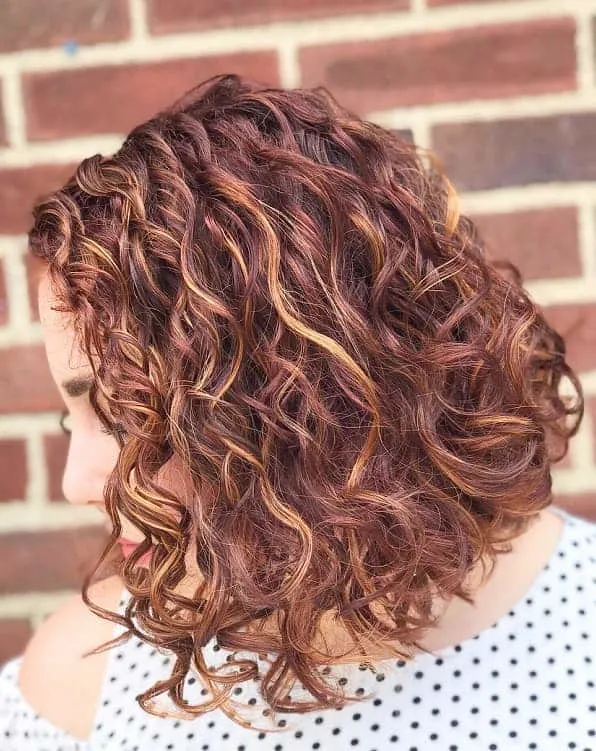 This hairstyle uses your creative power. The curls are wound around themselves and pinned to give an illusion of a rose.
Ideal for: This is a great hairstyle for formal events and family get-togethers. It is easy and looks intricate at the same time. A great lifesaver for all women.
How to style: Start by creating big curls with a thick curling iron. Once you unwound the curls, roll them back up and pin them with a bobby in. Do this for strands at the back of your head for a rose effect.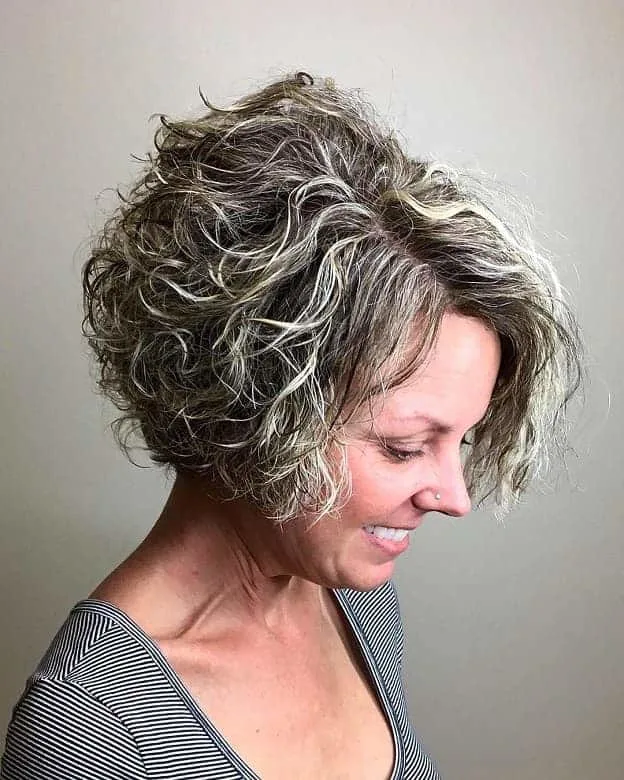 Another way to stand out is to delve in unique colors. This violet curly inverted bob looks flattering and bossy at the same time!
Ideal for: This subtle cut is perfect for all kinds of women. The shade is not too bright, but still loud enough to show up in the crowd.
How to style: Once you have your violet color, use a straighter to add in short beach waves to create texture for your hair.
9. Galaxy Vibes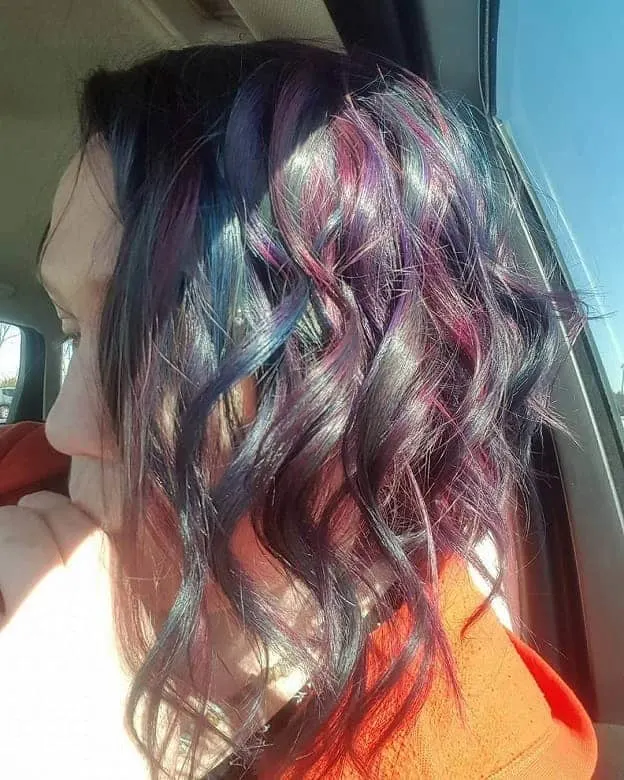 We are in love with the depth of color in this hairstyle. Not for the faint of heart, this inverted bob with curls defies boundaries and creates a stunning look that is an instant attention grabber.
Ideal for: If you are the edge person looking for an emo style, this hairstyle is for you. The bright blue speaks for your personality and the cut complements the whole look.
How to style: Make sure you go for the brightest blue to achieve this color. Remember to add in some curls at the end which gives your hair volume and style.
Another iconic shade is this smokey black. This shade goes towards the sophisticated end of the scale and can be worn differently by women.
Ideal for: Being a sophisticated shade, you can funk it up or style it down according to your needs. It is a great color for women in all aspects of life and can give your style a complete revamp.
How to style: Make sure you go for the smokey grey to channel this vibe. Use a curling iron to add beautiful curls to your inverted bob cut hair at the end and use hairspray to make sure they last.
You can also call this side-parted curly hairstyle the messy do. The style has minimum bare curls and tends to shift towards the straighter side. A curl here or there gives it the messy look it is liked for.
Ideal for: The style requires minimum maintenance and is ideal for busy women. Being versatile you can rest assured that this inverted bob for curly hair will suit most face cuts.
How to style: If you have curly hair you need to straighten them up a bit but do a careless job so that the remaining curls give you the messy look. If you have straight hair, add in a curl here and there to achieve the style. Finish with hairspray.
You are sure to find the ideal curly inverted bob from the elaborate list above. There are different styles depending on your mood and personality. Try out the special hairstyle that defines you and stands out from the crowd!