A proper bun takes some time to perfect, but bun styles for men are altogether easier to put together. Because messy buns are more on-trend for men, you don't have to worry about a polished result. If your man bun looks a bit tousled or unkempt, then you can still walk out of the house with full confidence that you look like a million bucks.
The secret lies in discovering how to make a man bun in just a few minutes. You might be a natural at it or maybe it will take some practice. Either way, once you master the style, you'll never want to wear your hair any other way.
How to Style A Man Bun
There are a few ways to make a man bun. You can style your hair in a proper bun, which involves separating your hair into two even chunks, neatly and smoothly twisting them together, and then securing the ends with bobby pins. However, this bun style only works if you have fairly long hair. Shorter man buns are simpler. You really only have to loop your hair through an elastic—literally, that's it. It's the fastest trick in the world.
Man Bun Styles
Sometimes, you just don't have a lot of time to spend on your hair. On those occasions, you need a fast go-to hairstyle that you can do with ease. The man bun is the perfect 'do. It's effortless, convenient, and practical, plus it's terribly trendy right now, so you'll still stand out as a style king. Take a look at the following man bun styles for men, which you can achieve in minutes.
1. A Messy Man Bun
Messy man bun styles are simple to create. If you have long hair like this, just gather all of your hair on top of your head and make like you're going to put it in a ponytail, but twist it through your hair tie instead. Basically, you aren't pulling the ponytail all the way through the elastic—that's how you pull off this type of bun.
2. A Low Knot
A low man bun like this one is almost like the male version of a chignon. It's casual, hip, and effortlessly messy. You look like you put forth minimal effort, but man, does that look good.
Again, if you have long hair, you can experiment with your bun styling techniques. Slick down your hair, then gather it at the nape of your neck in a tight bun. How polished is this dude?
Uplifting Pompadour Haircuts for Men
Not all top knots are messy. This one is neat as can be. It's a take on the proper bun so, once more, you'll need long hair to pull off this bun style for men.
5. Curly Knot
Is your hair wavy or curly? Then it's practically begging you for a bun. Curly or wavy hair looks amazing in a tousled, carelessly crafted bun. You'll look like the most laid back guy.
6. Shorn Sides
Keep the sides of your hair cropped, and your bun will stand out even more. Dudes who have a longer undercut can use this technique to keep their hair out of their eyes and face. Don't worry about perfection—just twist your long strands into a bun.
7. Fancy Fade
Check out those lines, huh? For man buns that incorporate shaved sides and a long thatch of hair on top, a design can make your bun stand out from all the other boy buns surrounding you. What kind of design or shape would you get?
8. Sleek with an Edge
Worried about losing some of your stylish cachets if you wear a bun? Boy, knock it off. You just have to work it like you're ready to own it. Slick back your hair and twist it into a neat but still imperfect knot. You can smolder just like this badass gentleman.
9. Backwards Bun
As you loop your hair into a bun, don't tuck it back. Let the ends of your ponytail fan over the crown of your head. This 'do isn't typically seen on men, so you won't have to worry about showing up anywhere with the same coiffure.
10. Working with Curls
Curly hair is bomb as hell in a man bun. No lie, you'll have women—or men, for that matter—begging to run their fingers through your sexy, up-swept coils.
11. Edges on Point
The coiled, kinky curls escaping from this bun give me life. This bun is thick, luscious, and gorgeous. The slight, subtle shave on the sides is flawless, as are the edges.
12. Full Swoop
There's something so easy and casual about this bun. It's full, thick, and beautifully shaped, but the twist and tuck are effortless. A 'do like this doesn't waste time, but it always appears as if it takes hours to perfect.
13. Casual Capture
Run your fingers through your hair and secure it loosely at the back of your crown. That's all it takes to mimic this man bun style. Sun-streaked tresses are optional, but they definitely don't hurt.
14. Easygoing Twist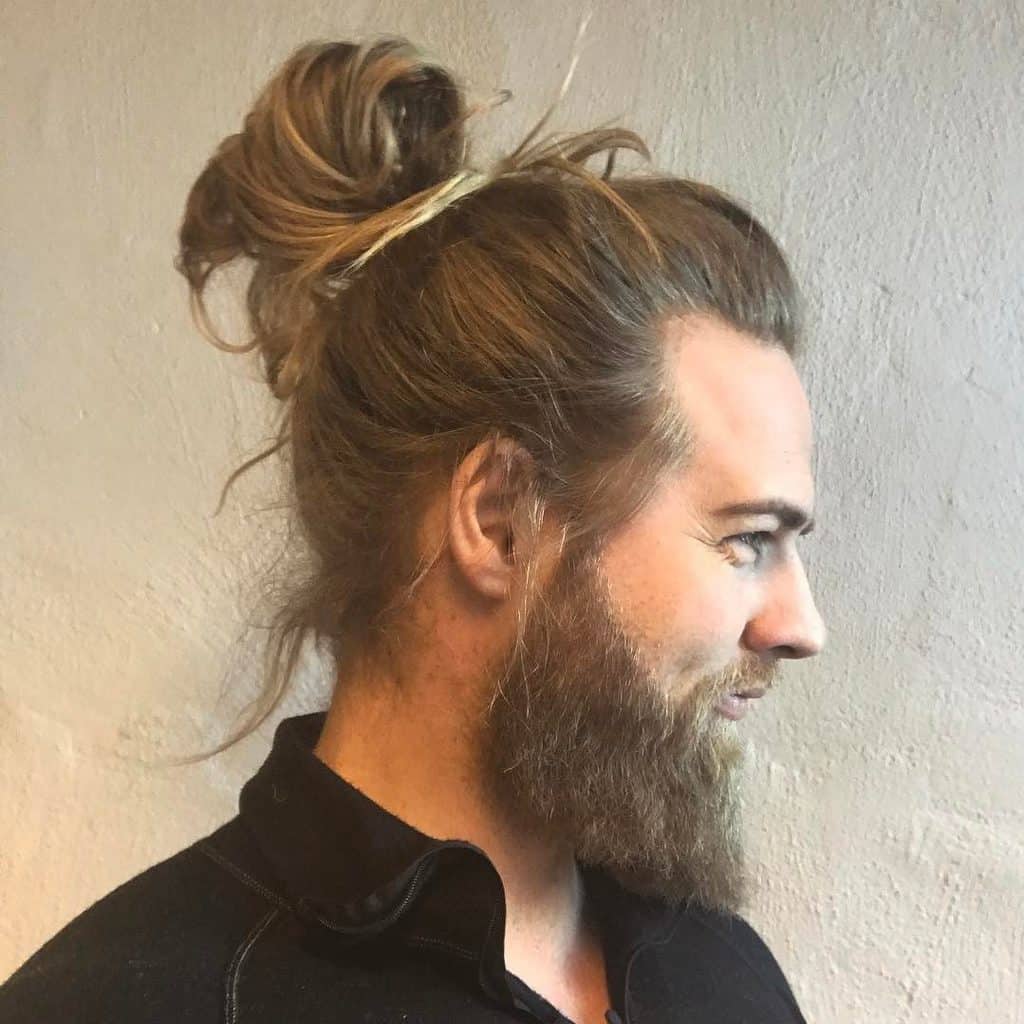 Who doesn't love a casual bun? This one's messy but still on-trend. In fact, messy buns such as this one are even more popular than sleek, perfectly arranged buns.
15. Lush Locs
You can even twist your hair into a bun if you have dreadlocks. As a matter of fact, you should—because it is fine.
Most Handsome Beard Styles for Men to Try
How do you style your long hair? Are you a man bun kind of guy, do you prefer a ponytail, or do you always wear your hair loose?