So what is actually a gentleman haircut? It is, simply put, a haircut belonging to a gentleman! Although you do not have to be a genuine gentleman to adopt a debonair hairstyle, you won't pull it off correctly if you don't possess the traits of a sophisticated sir. You can, however, fake it until you make it, and the reactions you receive in response to your polished new appearance will undoubtedly act as positive reinforcement.
You will surely be happy to know that there's no set criteria for a gentleman's haircut. Gentlemen come in all shapes, sizes, and colors, as do their haircuts. Your current hairstyle might even lend itself well to a gentlemanly 'do. Let's see, shall we?
How to Get a Gentleman Haircut?
There are hundreds of gentlemen haircuts even you can't count. But we all need the only perfect one to make the best out of it. This video shows how we can get a gentleman haircut for men but this will pave the way for getting more identical gentleman hairstyle that will surely fulfill your demand to get the best gentleman haircut. Any gentleman haircut typically follows the same path. The hair of two sides is kept short and the top hair is styled in many ways to add variety to the style. This video tutorial can help you reach the ultimate gateway of the realm of gentleman haircuts for men.
Once you get a gentleman haircut, you will need to style and comb it to get the desired look. The styling is more or less similar to every sort of hairstyles. One can style it in the following ways.
Take a dime-sized amount of cream or wax in your palm and rub the two hands.
Apply the cream pomade or wax to the hair using the fingers and palms. Go through the hair slowly to make an even effect.
If needed, take more of the cream or wax and repeat step 2.
Then use a brush or comb and style the hair as you like it. And one can style it using the hands too.
To make a side part, use the comb so closely and make the parting with great care.
How to Maintain
Gentleman haircuts are generally of low maintenance as it doesn't include fancy styles. So, these hairstyles don't need any extra care other than that of a regular hairstyle. Apply hair oil, shampoo, conditioner at regular interval to get the best output of gentleman haircut for men.
Trim the hair at least after one week of getting a haircut to get rid of extra unexpected hair around the edges. However, some people attend the saloon even later.
Wash the hair twice a week and make sure the hair gets dry every time after you wash it. It's suggested not to expose the hair to the hair dryer much. The warm air it produces is harmful to the health of the hair. So, this is how one can maintain his gentleman haircut very easily.
Gentleman Haircut with Beard
Haircut and beard are long associated with each other. Both of these help a man be a man making him a masculine figure. Beard is normally worn by the people who love to get an expressive and bold haircut. But there should be no clash between beard and gentlemanliness. One can use the glamour of short and medium beard, especially a stubble, to make an impact on the gentlemanly thing. Just make sure that your workplace or profession allows you to get a gentleman haircut with a beard. Otherwise, leave the beard.
Popular Haircuts for A Gentleman
As briefly mentioned, a gentleman's haircut doesn't have to abide by many rules. General neatness is a virtue, of course, and there ought not to be any obscene details, such as a dirty word shaved anywhere—but that goes without saying, right? On the whole, neatness and a certain polished appearance are all you need to pull off the style of a gentleman. Attitude counts, by the way. You may look like a gentleman with your handsome hairstyle, but try to talk the talk and walk the walk, too. The genuine gentleman always wins the day, after all.
1. Long and Loose
There's something kind of Downton Abbey about this gentleman haircut—which is precisely why it's an ideal style for gentlemen. It's also proof that short hair isn't required to give off a gallant vibe.
Hipsters are quite possibly responsible for bringing back traditional gentleman's garb. Think about it—the button-up shirts, bow ties, hats, and impeccable grooming habits all hark back to bygone days. An undercut with a sharp fade is just as gentlemanly as you can get.
#3. Short Gentleman Haircut
The hair of the sides is short but the hair of the top is comparatively long in this style. Apply hair gel to the hair, then comb the hair sideways to get an amazing gentlemanly look.
If you are searching for a gentleman haircut for round face, get inspired by that of Leonardo Dicaprio. His styling is one of the most gentle ones available in the Hollywood industry.
5. The Good Bad Boy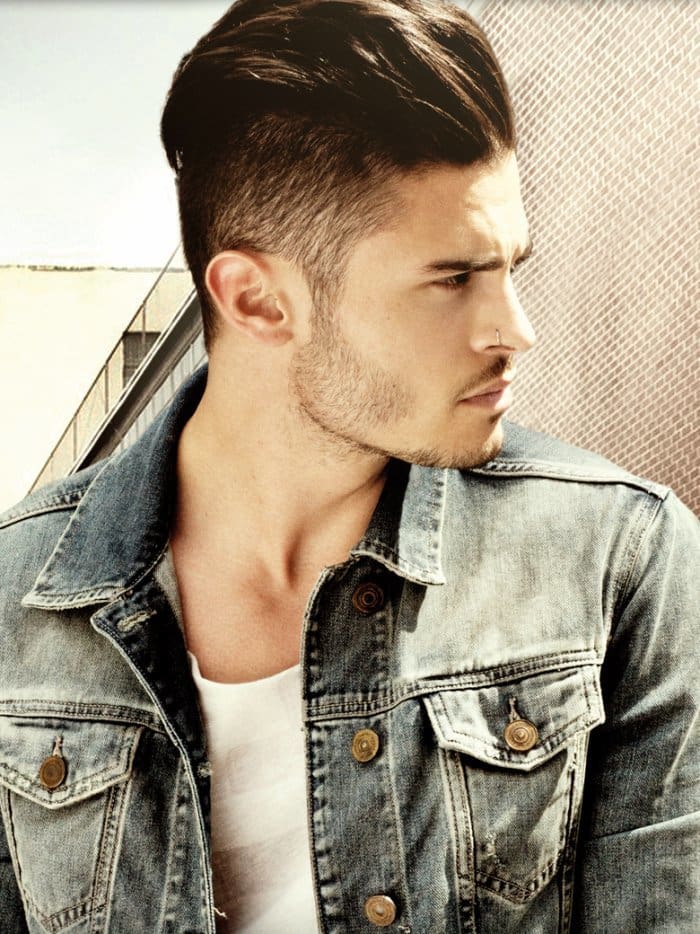 Bad boys can be gentlemen and gentlemen can be bad boys. Even if you argue that point, there's nothing wrong with a gentleman who rocks a bad boy style.
6. Simply Parted
Don't underestimate the timeless taste of a side part. Run a bit of gel through your hair, comb it with a fine-tooth comb, and make sure the part is ruler straight.
7. Neatly Buzzed
A close buzz cut leading to well-groomed scruff could very well be a signature hairstyle for modern gentlemen. Notice the subtly notched part, too—that's a slick detail.
8. The Polished Perfectionist
Are you the type of gentleman who craves perfection? You can bet this man's shoes are as polished as his 'do. Props, though—that part is next level, and the swoop of his pompadour is flawless.
Gentlemen, do not feel the need to tame your curls. Let them flow freely and fall where they will. You're still a gentleman, but a gentleman with irresistible hair. Curls are magnetic. Define them, don't tame them.
#10. Gentleman Haircut with Beard
Beard is a great styling component to look both manly and gentle. One can associate beard with his haircut to get a gentlemanly look with a regular haircut.