Tousled hairstyles send such a nonchalant vibe that, let's face it, all girls love! It might seem that high tops or wavy curls can be styled just by running your fingers through your locks, but the truth is, behind every messy look there's an effort to be made.
Arranging your hair without making it look styled requires a few tools like a pomade and hair spray that doesn't load your strands, the proper brush, and, most of the time, a hair dryer.
Best Tousled Hairstyles for Guys
If you want to discover the best tousled hairstyles for men, scroll down and let us show you what cut to choose and how to enhance it!
1. Messy Top
Sophistication can also be achieved with a tousled hairstyle and the trick lies in getting a charming cut that can showcase your stunning thick disheveled hair pieces.
To pull off this look, you should keep the top longer than the sides, have a clean-shaven face, and style each hair section with a pomade that doesn't load the hair.
2. Medium Long Hair
When you have longer hair than most men, then you will get the proper canvas for most hairstyles, including this messy long top.
You will be able to easily express your personality through your cut and hairstyle and play around with those extended top tresses. Lift the hair and keep a long, stubble beard.
3. Crazy Curls
Curls can be hard to manage, but if you can find a proper cut, they can become an artfully cool asset. If you want to cut off the volume but still show off those ringlets, the best technique is to layer your ringlets.
Tousle them, add a curling mousse, and they will have all the bounce and movement you craved for.
4. Layered Boyfriend Bob
In case you didn't already know, men can also get bob haircuts! They can do real wonders for those who have thick hair and love a more careless and messy look.
To create this boyfriend bob, cut the hair straight, near the jawline point then tousle it to give your waves even more volume and achieve that nonchalant look.
5. Tousled High Top
High top hairstyles are perfect for all men out there who want more height and an elongated look. This haircut implies trimming the sides and back hair short and giving the apex area more length.
It will be easy to style for any occasion, including parties, family gatherings, days at the office, or important events where you need to look flawless.
6. Tousled Hair for Older Men
As an older man who just wants a low-maintenance hairstyle, it is probably best to choose a medium layered cut that you can easily style every day with just a simple yet effective tousle.
7. Side Part Curls
Angular fringe is a great way to achieve that mysterious look, but also to emphasize your curls and make your complexion look simply flattering, as ringlets are sweet and they also soften your aspect.
But if you want to look more manly and rough, then a short one-day stubble beard is all you need.
8. Side High Tapered Fade
High-tapered fades and tousled hairstyles are a great mix for men who are preparing for a hot summer.
That long top provides you with a beautiful canvas that allows you to arrange your curls however you please, making them look eye-popping.
9. Tapered Sides and Beard
Go for a high top with side bangs and shorter tapered sides that continue with a beard trimmed to the same length.
Apply your fav pomade to your hands, then comb your hair using your fingers, distributing the product uniformly.
10. Curly Mullet
Mullets are a trend that many of you didn't imagine coming back, especially in the last couple of years. The haircut keeps the sides shorter and looks like an extended, wider, and longer mohawk with long nape pieces.
Use a texturizing spray and hand-tousle them to enhance your ringlets and give them a particular shine.
11. Messy Bowl Cut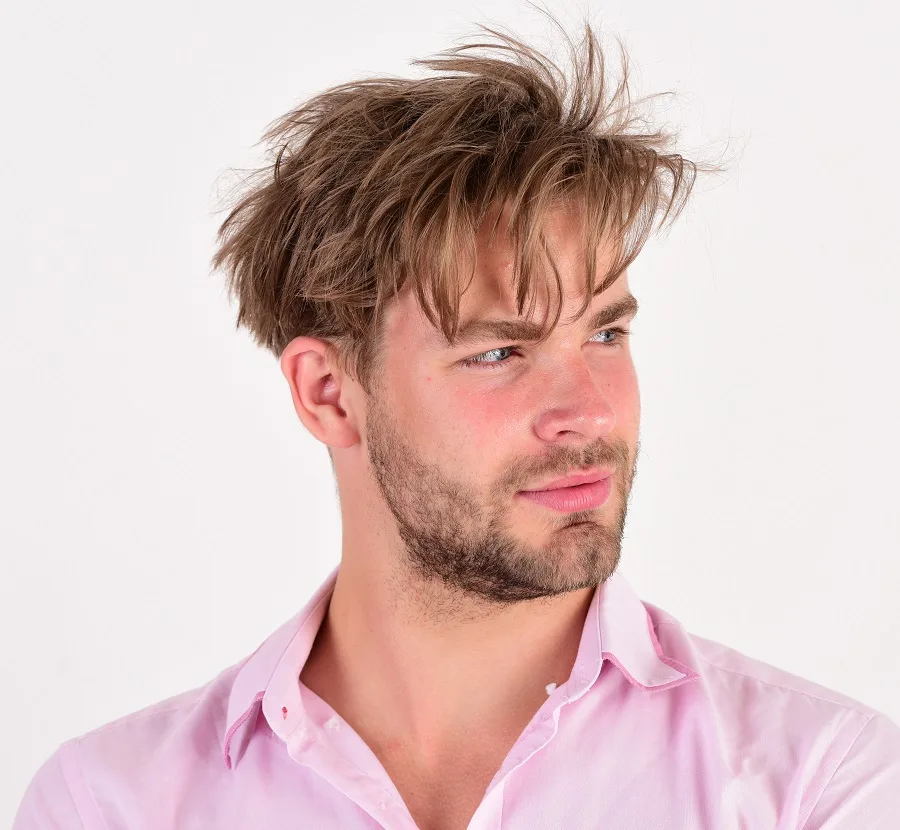 Bowl cuts are such versatile hairstyles for men because they feature long bangs that you can wear with a middle or side part, depending on your preferences and everyday style or occasion.
Also, it will look so cool and charming if you slightly lift the roots and tousle your hair to get that rebellious appearance.
12. Layered Side Part
As a gentleman, grooming your hair is a mandatory thing, especially when you need to look neat all day.
However, that doesn't mean you can't add a quick tousle before you're done, to give your roots more volume and height.
13. Salt and Pepper Faux Hawk
Connect the short side hair to a long, rich ducktail beard with a mustache that is longer in the corners of your mouth.
As for your hair, choose a faux hawk that maintains a longer top, especially in the forehead area. Tousle it and lift it for a stunning, badass look.
14. Tousled Top
Sometimes, mostly when you're in a hurry and don't want to spend time styling your hair, a big tousle is all you need to fix your long apex strands.
Use some styling spray to preserve the look for the entire day and get ready to receive compliments for your easy-to-get look.
15. Messy Frizzy Hair
Such a tousled hairstyle for men features asymmetrical bangs with medium-long back hair that allows your curls to form and bounce.
If you love dreadlocks but don't want to commit to this hairstyle, you can twist some of your strands and mess them up.
16. Layered Messy Hair for Boys
Messy hairstyles like the one above are perfect for men and boys of all ages. And if your kid wants to look cool, then you should definitely consider getting him a layered cut with side-swooped bangs.
He can easily style it each day without using any hair products and loading the hair strands.
17. Messy Yet Chic
The key ingredient for this cool, modern look with lifted roots and a sleek appearance is definitely a strong hair gel.
Spread it evenly on your strands using your hands and tousle your hair. Then style some of those hair pieces to gain a messy elegant combo.
18. Vivid Green Hair
As a guy with long blonde hair, your tresses become your canvas, allowing you to transform them just the way you want.
And if you need a pop of color in your life, then you should certainly consider dyeing your hair in a color like this marvelous green. It will beautifully suit your skin tone and eye color, adding all the spark you needed.
19. Wet Curls
This clean, neat look needs a touch of messiness that you can easily achieve by applying some hair gel on the longer curly pieces and tousling the hair.
It will work perfectly with that short stubble beard and the short-trimmed sides.
20. Blonde Tips
Want to warm up your look? Then get a medium tousled hairstyle and dye the tips of the upper pieces into a light blonde color.
Also, go for a short beard with a mustache to complete the look.
21. Long Layered Asian Cut
Sometimes a cute messy look can be achieved with a simple tousle; other times it requires proper styling to get that nonchalant look. And for this hairstyle, we're thinking about the second case.
It requires a middle part and using a heated device to loosely curl some of the ends.
22. Short Bangs with Messy Spikes
This look is a classic for high school boys who wanted to look cool back in the early 2000. Spikes are still common but not usually paired with short asymmetrical bangs.
However, if you fill like your soul is stuck in that period, then you should certainly get this tousled hair with spikes.
23. Emo Cut
Emo haircuts seem to be back in the spotlight, and if you want to hop on this trend, get long asymmetrical layered bangs. As for the top hair, keep it shorter than the fringe and slightly spiky, with other longer pieces in the back.
24. Asymmetrical Unkempt Fringe
This punk tousled hairstyle for men lifts up the top hair but keeps the bangs flat, styled on one side, on the forehead.
By messing up the top hair you will achieve a badass look that will definitely get all the attention.
25. Disheveled Bangs
Go for short sides and a disheveled top that will look amazing when you lift up your roots using some pomade and tousling your strands in a careless way.
Curl and wave the upper section to give them volume and more texture.
If you seek to improve your regular hairstyle and add a nonchalant touch or look more mysterious or rebellious, then a tousled hairstyle for men is probably the best way to do it. Explore the examples provided above and follow our tips if you need to improve a dull hairstyle.