Men with long hair can wear any hat that they desire, but the key is to pick the right hat for your mood and specific hair type. Choosing hats for men with long hair depends on whether your hair is aging, curly, straight, or contains loose, natural waves. Where you're headed and how you're dressed is important, too.
Luckily, when it comes to sifting through all of the variety out there, we have made it easy by compiling different types of hats suitable for long hair.
The Best Hats for Men with Long Hair
We will let you know what works for you so working with your personal style can be the fun part! Check out men's hat types that are perfect for long-haired men.
1. Fedora Hat
Fedoras originated as the hat of choice for working, professional men who wore suits everyday. Today, they work as an accessory in a variety of occasions, especially casual ones. Throw one on top of your shoulder-length locks and enjoy the defined and polished look that it creates.
2. Summer Hat
Pair your naturally textured hair with a laidback summer hat while working in the yard or traveling the countryside on your next vacation. Aging or brittle hair needs some protection from the sun that this type of hat provides. Cut hair in face-framing layers to minimize the appearance of breakage.
3. Panama Hat
Panama hats can cover short hair with ease, but what kind of long hairstyle looks best? We love this hat on braids that have been pulled back to help you beat the heat and focus on getting your work done.
4. Knit Caps
The benefits of a tight, thick knit hat in the chilly winter months is obvious, but beanie hats give off a certain sense of style, too. Paired with long hair with loose waves, it lends a youthful, artistic vibe to the wearer and helps to frame the eyes.
5. Irish Hat
Also known as a newsboy hat, an Irish cap is popular in the fashion world. Add a sense of structure with a rounded bill that softens out a square jaw. Add to the effect with face-framing layers on your medium-length hair to make a fashion-forward statement.
6. Cowboy Hat
One of the most common hat types for long hair that we see in Hollywood movies. Back in the day, men wore their hair long more often, especially as they traveled out West looking for adventure. Adding a cowboy hat to this type of look makes perfect sense. The wide, structured brim makes it suitable for all hair types and for adding definition to a round face.
7. Beret Hat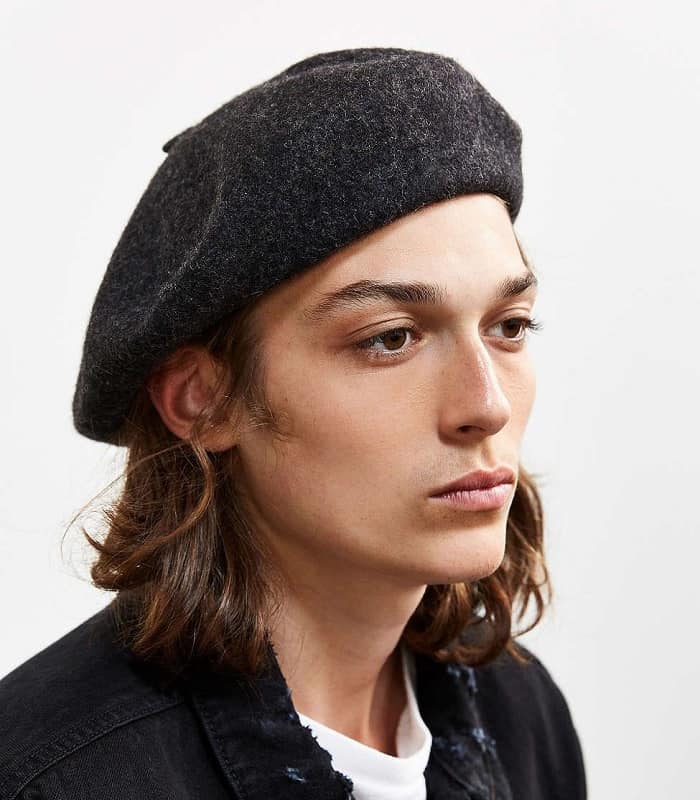 Ideal for a sleek, slightly feminine face, a beret is for the fashionable man who isn't afraid of softer features. The round lines of a beret pair best with a straight nose and prominent cheekbones for ideal balance. Add it to your cool denim jacket for a confident look.
8. Baseball Cap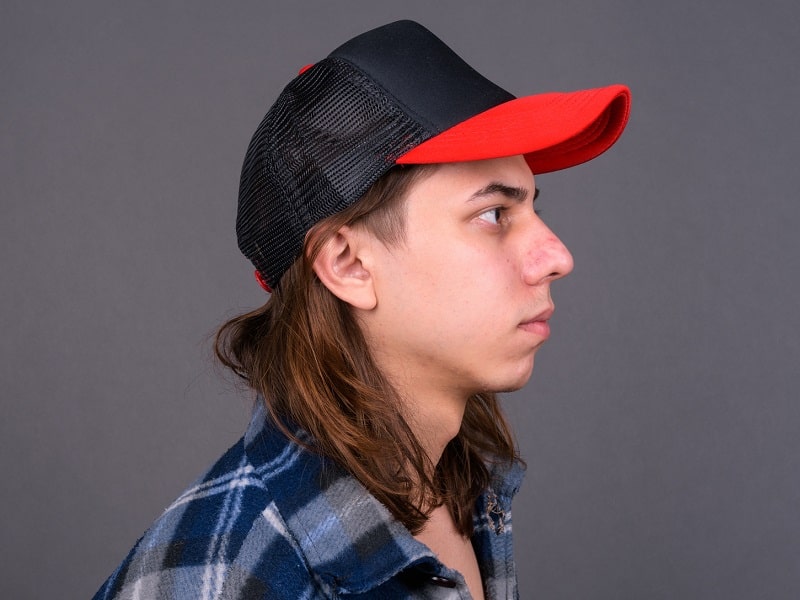 Baseball caps just may be the most popular hat out there for men. When it comes to long hair, however, their tighter fit is best on straight, fine, or thinly braided hairstyles. Pick one in your favorite colors or rep your favorite brand or sports team.
9. Boater Hat
Give off a romantic air of eras past with a stylish boater hat. Adding a low ponytail and soft ribbon will only complete the look further. If you're looking for a casual look and not a costume or cosplay vibe, add a boater hat to your medium-length hair for a casual outdoor summer event.
10. Trilby Hat
Trilby hats are similar in structure to fedoras and they also pair just as well with more casual outfits. We love the way this looser brims look on guys with curly hair or hair types that have plenty of texture. Throw one on and enjoy the classy benefits that sharpen your look.
11. Bowler Hat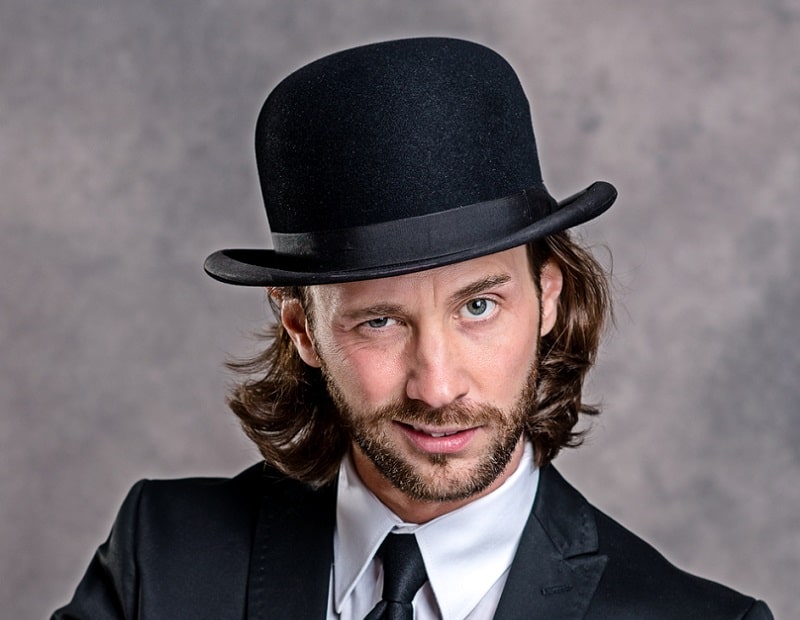 A Bowler hat will give your long hair a manly professional look. Unlike a top hat, a Bowler hat is rounded at the top. This type of men's hat works best with a suit and medium-length hair with some short layers. However, this hat can be applied to a funky outfit for some truly artistic flair. It'll help you grab instant attention no matter where you go.
12. Bucket Hat
Bring on the coolest 90s men's hat vibes with a stylish bucket hat. Of course, you can wear this hat type without a beard, but it definitely helps to add structure to this rounded hat. Be careful where you wear a bucket style, however, as it has a laidback and super casual feeling that may not be appropriate for the workplace or formal occasions. Both long and short-haired men can wear this hat and look classy.
Sure, the different types of hats we've shown above can work with every long hair type out there, but it's important that you dress for the right occasion as well. From formal to fun, there are many different ways to communicate the type of man you want to present to the world. So, who are you today and which hat will you choose?