Traditionally, men's hats have been symbols of pride, status, and respect; you could often guess what a man did for a living based on the type of hat he wore. However, those days are over; nowadays, men can wear any type of hat they feel good about.
If you have a full head of hair or long hair that extends below the ears, the type of men's hat style that looks good on you might be different than the hat you would wear with short hair.
By the way, if you're 'hair challenged', you should know that occasionally wearing a hat will not cause you to go bald, so don't make your selections based on that myth. But keep in mind that wearing hats often can cause friction and irritation to the hair follicles, which can slow down the growth of new hair.
Types of Hats for Men
There are no strict rules regarding which hat style is appropriate to wear according to hair length. Like most fashion accessories, it all boils down to personal tastes and preferences.
So choose the hats you like and, more importantly, the ones you'll wear. The last thing you need is a bunch of them accumulating dust in your closet!
| | |
| --- | --- |
| Hat Type | Occasions Suitable For |
| Cowboy Hat | Outdoor events, rodeos, country-themed parties, weddings, and horseback riding |
| Panama Hat | Summer events, beach parties, tropical vacations, and outdoor events |
| Sun Hat | Beach, outdoor events, hiking, and summer activities |
| Fedora Hat | Casual and formal events, business meetings, and city outings |
| Flat Cap | Casual events, outdoor activities, and informal gatherings |
| Bucket Hat | Outdoor activities, beach, and fishing |
| Baseball Cap | Casual and sporty events, outdoor activities, and sunny days |
| Boater Hat | Semi-formal events, brunches, outdoor parties, and festivals |
| Derby Hat | Formal events, horse racing, and weddings |
| Straw Hat | Summer events, beach, outdoor activities, and tropical vacations |
| Beanie Cap | Cold weather, winter sports, and outdoor activities |
| Newsboy Cap | Casual events, outdoor activities, and informal gatherings |
| Pork Pie Hat | Casual and semi-formal events and outdoor activities |
| Beret Hat | Casual and semi-formal events and outdoor activities |
| Fez Hat | Festivals, cultural events, and religious gatherings |
| Boonie Hat | Outdoor activities, hiking, and camping |
| Trilby Hat | Casual and formal events and outdoor activities |
| Top Hat | Formal events, weddings, and costume parties |
| Conical Hat | Outdoor activities, festivals, and cultural events |
| Trapper Hat | Cold weather, winter sports, and outdoor activities |
No matter what you might have heard, you don't need a horse to look great wearing a cowboy hat. In fact, nothing says "wild, wild" west culture better than a man wearing a wide-brimmed, high-crowned cowboy hat. You should know how to measure your head for a cowboy hat; that's really important for a good fit.
Cowboy hats come in different types of hat materials, but the most common ones are made with pressed wool, fur or buffalo felt. Summer versions come in natural straw or other lightweight synthetic materials. You can find cowboy hats in a range of colors, but the most popular ones for men come in black and shades of brown, grey, or beige.
2. Panama Hat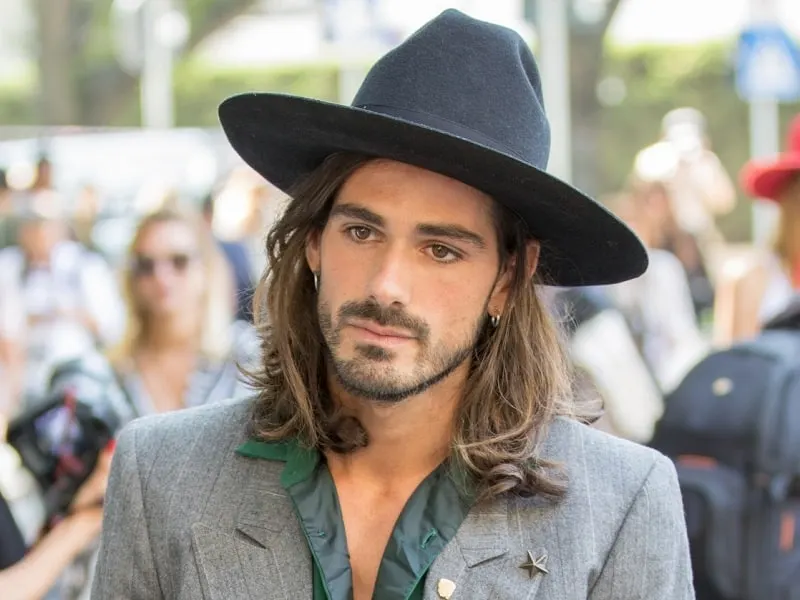 Get ready for a big surprise: The hats known around the world as "Panama Hats" aren't really from Panama; they're from Ecuador! While they are similar to authentic Panama hats from Panama in that they are made of tightly woven straw and are lightweight, the similarities end there.
Traditional Ecuadorian Panama hats are made with paja toquilla palm tree fibers native to Ecuador. These fibers are incredibly breathable, which makes them perfect for hot, tropical climates. The basic shape of a Panama hat for men has a high crown and a broad brim, which is flattering on most men's head shapes.
The hats often have decorative ribbons around the circumference of the crown. If you're looking for an overall versatile hat to wear in hot weather, look no further than the classic Panama hat.
3. Sun Hat
When you're looking for a manly protective hat that will keep your face, neck, ears, and scalp out of the harmful rays of the hot summer sun, a woven straw sunhat is the way to go. The wide brim in the front and back gives the hat a more masculine shape than the female version.
Whether you're exploring a mountain, sightseeing on vacation, or spending the afternoon at your local beach, a sun hat with a light color will keep you feeling cool and looking spectacular.
4. Fedora Hat
Nothing exudes masculine edginess better than a men's Fedora hat. Frankly, there's no way to look bad in this classic silhouette; it works for every type of hairstyle and head shape. Fedoras are creased down the length of the crown from the back to the front, and in the front, there's a pinched area known as a "teardrop."
The best quality fedora hats for men are made of premium-grade pressed felt. They often have ribbon-style hatbands and come in various colors, but the darker tones are the most popular.
5. Flat Cap
Flat caps, aka "tweed caps," are the perfect types of hats for men because they have various uses. Going out to a bar or a ballgame with a friend, you'll always look stylish. Flat caps are usually made of tweed or wool and have small, stiff brims and warm linings, which make them popular in cool climates.
Sometimes flat caps are confused with "newsboy" caps, but they differ. As you'll see later in this article, newsboy caps have a fuller crown section and a more youthful, almost juvenile appearance, while a flat cap offers a more masculine silhouette.
6. Bucket Hat
Bucket hats are made with soft, heavy-duty cotton material and are designed to be portable, which is why they're so popular with active men who spend time outdoors. But you don't have to be a fisherman to wear a bucket hat; they're also great for surfers, sailors, kayaking, etc.
Bucket hats for men usually have a 2-3 inches wide brim, perfect for casual sun protection. They also often have small holes, called eyelets, that provide extra ventilation. Stuff a bucket hat in your back pocket, or keep one in your car's glove compartment for unexpected occasions when you need a hat.
7. Baseball Cap
There's no better all-purpose hat than a classic baseball cap. Baseball caps let you claim your allegiance to your favorite sports team (any sport, not just baseball), corporation, philanthropic organization, or alma mater, and they come in any color or design you can imagine.
Wear them frontwards, backwards, sideways, it doesn't matter, and each direction says something else about you. If you are hair challenged (aka, receding), a baseball cap can keep you looking young and athletic, and it's never overkill because, in a good way, people don't "see" baseball caps the way they "see" other hats.
Well-made baseball caps are soft and comfortable, fully adjustable to all head sizes, and have ventilation holes at the top and long front bills that shade your eyes from the sun.
8. Boater Hat
Well-dressed men wearing boater hats appear as if the world is their oyster! And don't be thrown off by the name; even though "Boater" hats are usually associated with boating or sailing activities, you'll look just as appropriate at a church brunch or an afternoon strolling in the park with your favorite person on your arm.
These semi-formal hats have a straight, flat brim and crown, and they're usually made of a lightweight, but stiff, straw with a thick solid or striped ribbon that borders the circumference of the crown section.
9. Derby Hat
Derby hats, also known as "bowler hats," are iconic head coverings that have been popular since the mid-1800s. You might know them better as "Charlie Chaplin" hats, but they've been associated with other famous people such as British statesman Winston Churchill and actor Pierce Brosnan in The Thomas Crown Affair.
The derby has a bulbous crown with a short, rolled up brim and is usually made with stiff wool felt. The standard way to wear a derby is to have it sit evenly on the top of your head, making sure that the sides are about 2 inches above the tops of your ears. If the brim rests on your ears, then the derby is too big. If you're looking for a classic retro-style hat, the derby is the way to go!
10. Straw Hat
Straw is one of the oldest materials used to construct men's hats; many men swear by it. Straw hat styles for men come in many shapes and sizes, but they mostly have the same characteristics: lightweight, light-colored, excellent ventilation, and breathable fibers.
Not all straw hats for men are created equal, and depending on the straw's origin and the tightness of the hat's weave, prices and quality can vary. Straw is used to make many of the most popular men's hat styles, such as Panama hats, trilby hats, cowboy hats, and Fedoras.
11. Beanie Cap
Beanies are a great hat option for men who are trying to stay warm in the winter. They are typically made from wool or other synthetic materials, and they come in a wide range of colors and styles. Beanies are casual and do a fine job of covering your ears and your hair, regardless of how long it is.
Beanies have a markedly dress-down appearance, so while you can wear them with an elegant overcoat, they look a bit out of place in that context. Your better bet is to wear a beanie hat with a casual outfit, such as a pair of jeans or corduroys.
12. Newsboy Cap
Newsboy caps are similar in appearance to flat caps, but there are some marked differences. These hats look fabulous on medium-haired guys. First of all, the crown section of newsboy caps is noticeably puffier and floppier than flat caps, and as such, can have a more juvenile and casual vibe.
Typically, newsboy caps have eight panels sewn together from the top down to the base, and there is a button at the top in the center. Newsboy caps are one of the best all-weather hat styles for men.
13. Pork Pie Hat
You might not have heard it called a "Pork Pie Hat," but you might surely know it as the hat that high school teacher Walter White wore as the drug dealer Heisenberg in the hit series, Breaking Bad.
Classic pork pie hats have small round tops with one circular crease that extends around the crown's circumference and a narrow curled-up brim around the perimeter. They are made from many different kinds of materials, such as felt, straw, or canvas covered in silk, and are attractive types of hats for men who may be lacking a bit of hair at the top of the head.
14. Beret Hat
When you think of beret hats for men, you might also envision images of starving Parisian artists standing behind an easel and painting portraits on the west bank of the Seine for a pittance. Thankfully, berets have outgrown that stereotype, and nowadays, the cotton, woolen, or leather caps are worn by men and women worldwide. Beret's are a good option if you have short hair and if you want to add a bit of European flair to your favorite outfit.
15. Fez Hat
Fez hats are brimless hats commonly worn by Muslim men in countries such as Morocco and Turkey, where they are believed to have originated from as far back as the Ottoman empire. They are typically bright red or black and often have a gold or black tassel hanging down from the top of the hat's center.
Fez-style hats are also worn as a head covering for men's clubs, such as the Shriners & Masonic fraternities. This isn't to say that you're "not allowed" to wear one if you choose, but keep in mind that this manly hat type is not typically worn in mainstream Western cultures.
16. Boonie Hat
Boonie hats have a wider brim than bucket hats and usually have a string tie that adjusts at the chin to keep them secure on the head or comfortably draped around the neck. Boonie hats are lightweight and thanks to the air ventilation holes in the crown section, they're ideal for boat outings, hiking, and days at the beach.
Army green or camouflage-toned Boonie hats are also used as relaxation garb for soldiers and other military personnel stationed in hot climates. They are made of rugged and durable materials that are easy to wash and fast to dry.
17. Trilby Hat
Trilby hats are a popular menswear hat style that you can wear with confidence. They have short, angled brims in the front that tilt slightly upwards in the back, giving them a jaunty, casual appearance.
Trilby hats are fitted and short in the crown section and look great on men with long or short (or no) hair.
18. Top Hat
Top hats are those fun, black satin hats that were primarily used in the 1700 and 1800s. These days, wear a top hat if you are
a) attending an opera
b) Uncle Sam
c) doing a tap dance on Broadway
d) going to a costume party dressed as Abraham Lincoln
e) getting married in a formal wedding.
But if you're looking for some old-fashioned fun, there's no better choice than one of these "Toppers"!
19. Conical Hat
You don't see men wearing conical hats too often in the west. Still, they're quite popular hat styles for men living on the Asian continent in countries like China, the Philippines, Japan, Korea, and Indonesia. Conical hats do a fantastic job of blocking the sun from your eyes, and rain rolls right off them.
Another interesting feature of conical hats for men is that you can dunk them in water (assuming they're made with traditional straw). They will act as a rudimentary evaporation device, keeping you cooler in hot weather temperatures.
20. Trapper Hat
Nothing will keep your head warmer than a traditional trapper hat, especially those made with real fur or sheepskin pelts. These stunning hats are designed to be worn in the coldest of conditions. They have earflaps that fold down and tie under your chin, perfect for when you need more warm coverage on your exposed ears and jaw.
Trapper hats, which are also known by their Russian name, Ushanka, are similar to bomber hats used by early aviators who flew in open cockpits on planes. Whatever the name, there's no question that these hats make any man look more manly!
If you're the type of man who feels "exposed" without wearing a hat on his head, we hope you've discovered several men's hat styles on our list that appeal to you. When in doubt, visit your local haberdashery and ask one of the knowledgeable salespeople for their professional advice about which type of hat will look good on you.
We did our best to list all the available hat types that would suit a range of tastes and go great with your personal style. Our list is not exhaustive, though, so if you don't see what you're looking for in terms of color, style, or design, don't give up; many options are available in all budget ranges. And if you see any hats you want us to add, please drop us a line with your suggestions.