There are immense varieties of hairstyles if, we talk about the haircuts for men with an oval face. If you are born with an oval face, then you are already a lucky guy because choosing a haircut is not such problematic for you as it is for men with other facial shapes .i.e. round, diamond. e.t.c.
It is true that you can wear any hairstyles if you are an oval face shaped man but, you have to avoid some hairstyles too, which make your face to look longer than its actual size. The haircuts which you should not wear ever are; fringes and bangs covering your forehead because this hairstyle can make your face, to look similar to round face.
Best Haircuts for Men with Oval Face
Here, we will discuss 10 best hairstyles for men with an oval face, which are definitely worth a try. This article includes the most stylish and modest collection of hairstyles, that will add a five-star to your personality.
1. Brushed Back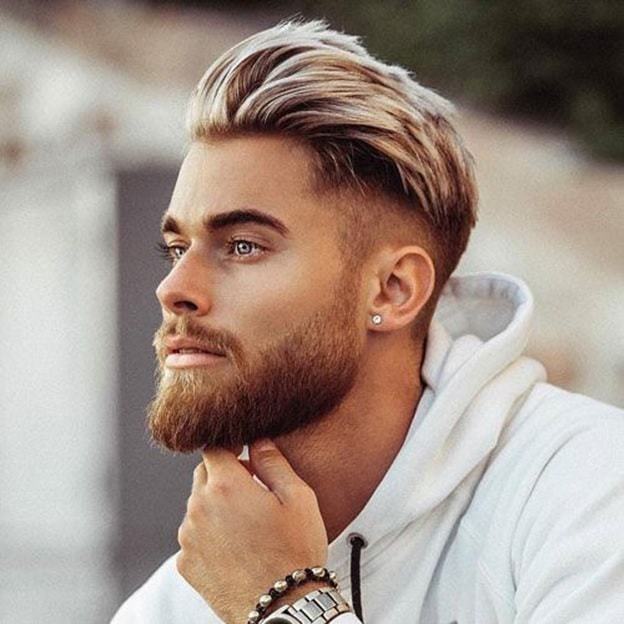 This is a classic hairstyle, which can be worn at any event. The front hairs are brushed back, giving a sleek look to hair. It can be used with the combination of undercut or faded sides.
2. Taper Fade with a Quiff
This hairstyle gives a stylish look to oval faced men. The top of the hair is styled into a quiff, with the combination of taper faded sides. It is just like pompadour haircut but has a slight difference, making it unique from pompadour haircut.
3. Mid Fade with a Pompadour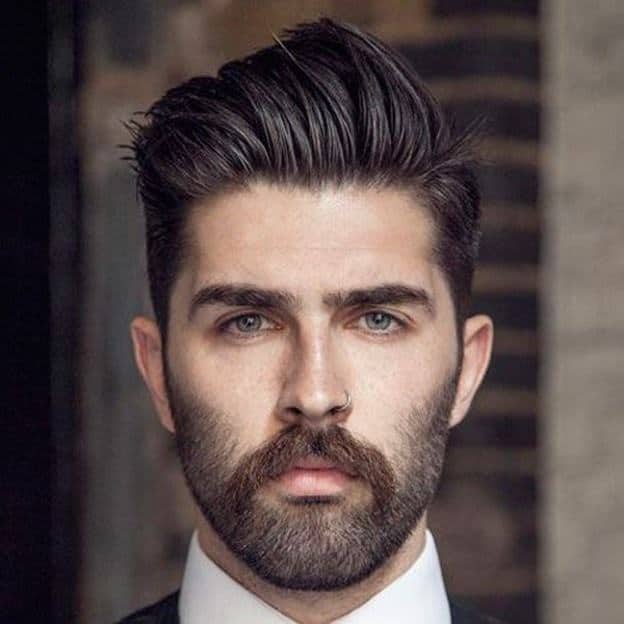 This hairstyle should be the first choice for men with an oval face. To make it perfect, we recommend you, to go to a professional. In this haircut, the top of the head is kept longer, than sides.
The top long hair is combed professionally, giving it a thick and sleek look. This hairstyle is adopted by many celebrities at different ceremonies .i.e. an award ceremony and other events.
4. Undercut With a Comb Over
This haircut looks so elegant on an oval-faced man. The comb-over gives a textured look to top hair. It can be worn with the combination of faded sides or side parts, as shown in the image.
5. Fauxhawk
Fauxhawk is considered as the coolest haircuts for men with oval faces. The sides are shorter than the top of the head. You can make spikes of top hair or can also give it a pointed or edgy look by combing it toward the center.
This haircut is easy to style if you have a good command on styling spikes otherwise you have to go to a barber for this purpose.
6. Shaved Head
Yes, a completely shaven head! You have read it correctly. A shaven head looks remarkable on oval faced men. This hairstyle has its own swag. Kindly have a look at the image.
It is an ancient hairstyle but is always in trend for men with an oval face shape. In this haircut, the hairs are cut in too short bangs, and the sides are trimmed slightly.
8. Man-Bun
If you have long hairs and an oval face, you can choose bun hairstyle without any doubt. Man-bun hairstyles look very classy on oval face men. It is very easy to make.
9. Crew Cut with Fade
This hairstyle is a combination of long top and short sides or faded sides hair of the head. This manly hairstyle looks incredible on an oval face. The top hair can be spiked as well as sleek, to give a stylish look to men's oval face.
10. Chopped Look
This hairstyle gives an edgy look to oval faced males. This hairstyle depends on good trimming. This hairstyle suits on curly, straight and wavy hair. It can be worn with a combination of spikes as well. It resembles shaggy haircut a lot.