Long top and short sides hairstyles gained popularity less than a century ago among men but since then they haven't gotten out of style.
In fact, new and improved styles are being created every day. A little shorter on the sides and a little longer on top or vice versa can create a completely different haircut every time. Some men even take the trimmer and create such hairstyles on their own.
The most popular ones are fades, undercuts, and fohawks. There are myriads of variations of each style available for the modern man, depending on his hair type and preferences.
Best Long On Top and Short On Sides Hairstyles for Men
Whatever hairstyle you are starting with, you can always create a masterpiece by following two simple rules: keep it long on top and short on the sides. The hair on the sides is kept short to minimize the maintenance. The hair on top is left long for styling.
Some men prefer to keep the top short as well, however, it significantly limits the number of styles they can sport. Some guys go as far as creating a full-blown mohawk while others settle for simple undercuts. Below is our collection of men's long top and short sides hairstyles.
1. Scissors taper fade with a comb over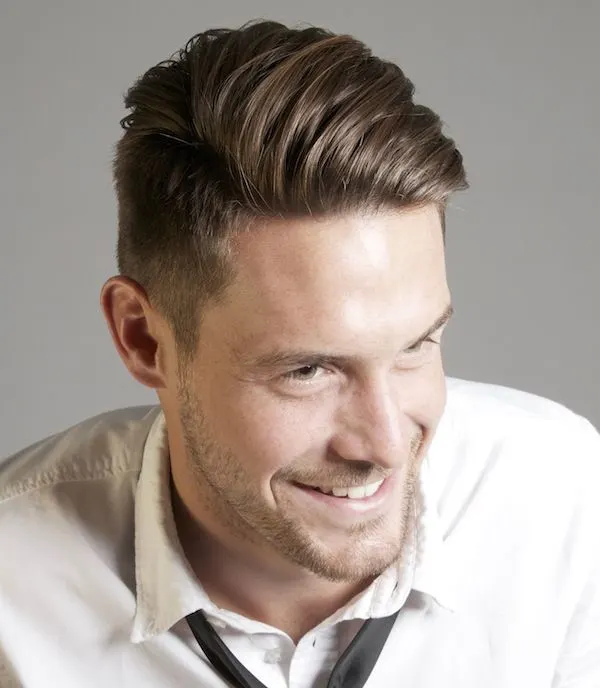 A scissors taper fade is exactly what you need to make a great short on the sides hairstyle. The most fashionable guys ask their hairdressers for this hairstyle since its hard to make but look fantastic.
Hipster Haircuts for Guys to Make a Killer First Impression
2. Vibrant undercut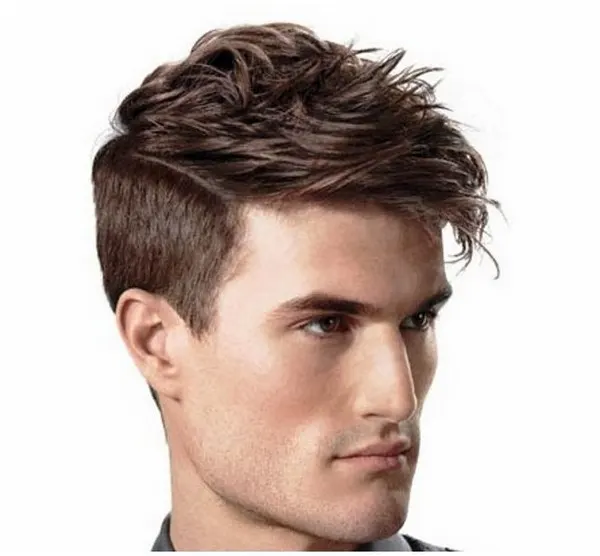 While fades are interesting, undercuts are as easy to make and to maintain. You can choose the length of the hair on the sides as well as the top mane. If you leave your locks about 4- 5 inches long, you can create masterpieces.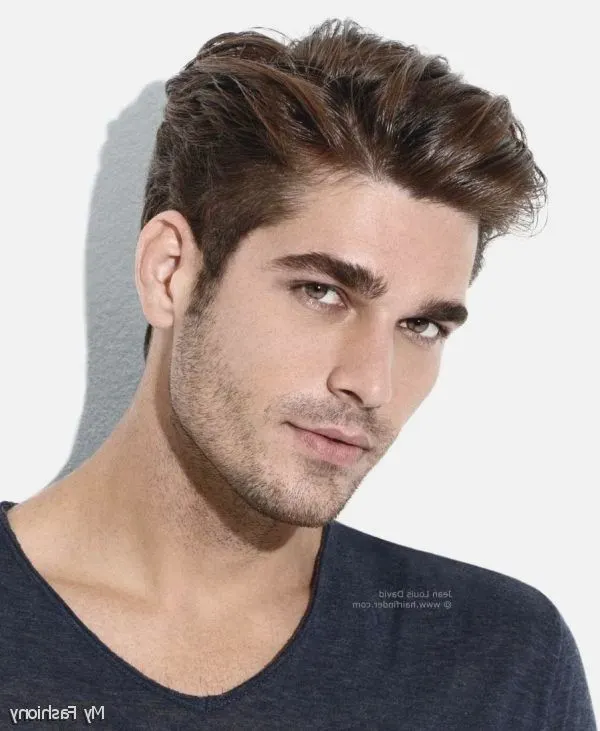 A drop scissors fade involves short hair on the sides that drops behind the ears. Most of the hair stays long. Such hairstyle will require daily maintenance and the hair on top needs hair gel to stay neat.
4. Short fade for wavy hair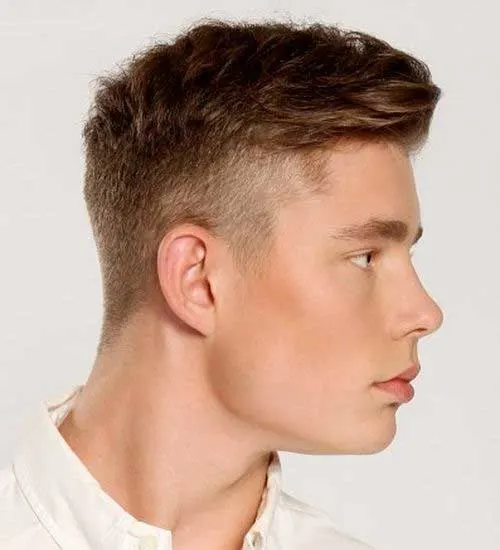 If you have wavy hair, leaving too much of it on top means too much hassle. Try to keep it as short on the sides as possible while the top part is a little longer than 3 inches. Then you can style it easily.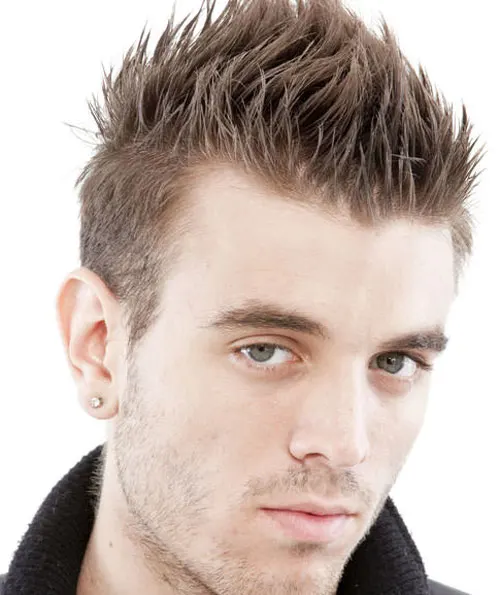 When your hair is long on top, you can create amazing spikes. There is no need to create anything special on the sides when the spikes are long and vibrant. Give them a try!
6. V Hairline Hairstyle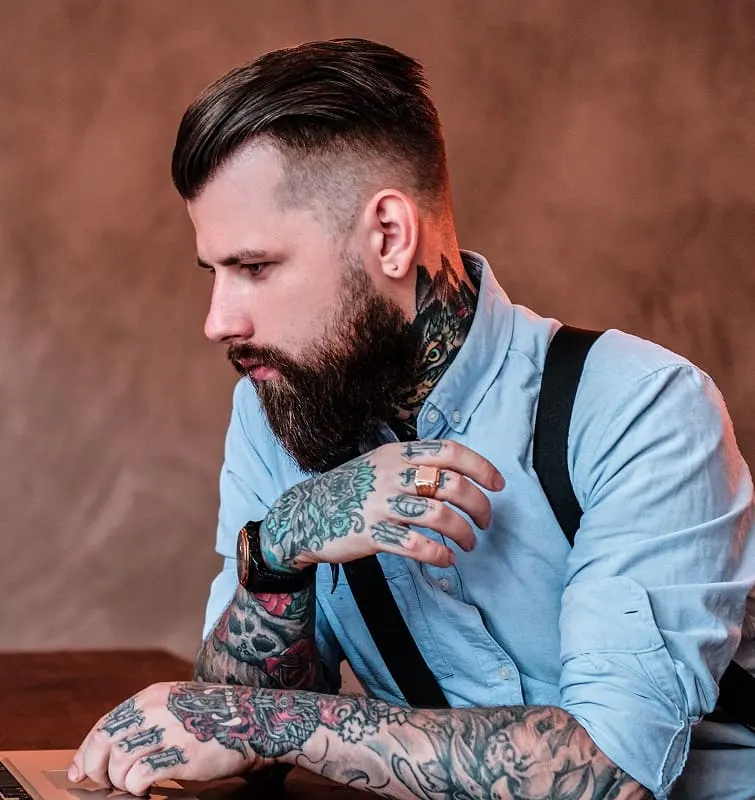 Men's long top and comb-overs are a great way to make a V hairline look cool, and work to your advantage. These short sides can be styled with a high taper face and the beard will add length to your face and a more sexy manly touch.
7. Curly Top with Undercut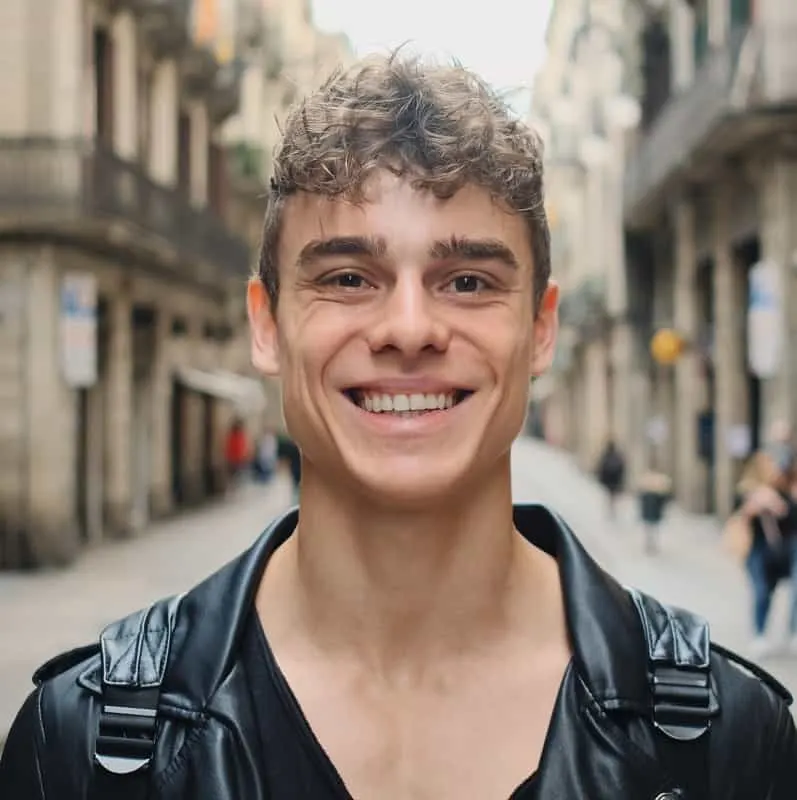 Give your hairstyle a long curly top and on sides, opt for a short trim. If you have strong facial features, keep a properly clean face to show off that gorgeous jawline.
8. Afro Coils with High Fade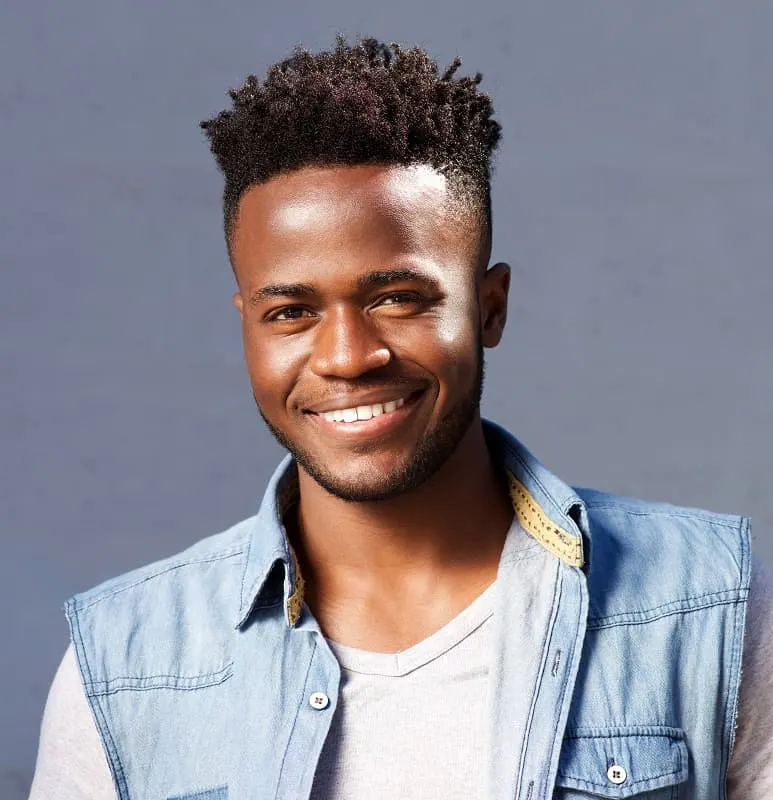 A high fade will move all the attention to the long top. Most black guys pick hairstyles that keep the sides short because they are easy to manage and emphasize the gorgeous high top.
9. Side Swooped Top with Hard Part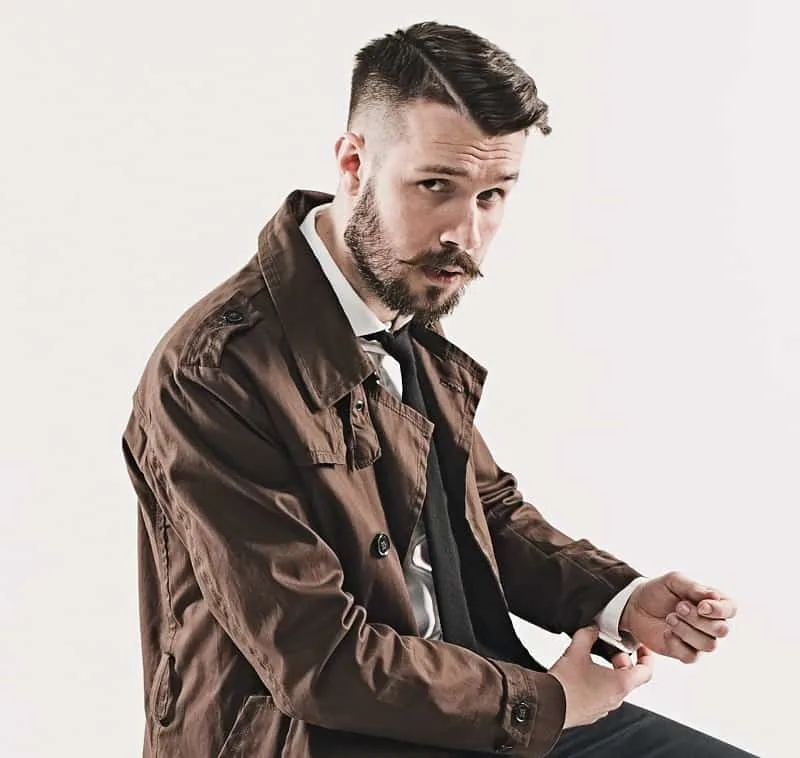 Start by creating a contour and, inch by inch, go upper with the clippers until you've got a gorgeous taper fade. The long top creates an excellent contrast for the short sides, while the hard part makes a fabulous delimitation and parting job.
10. Blonde Bleached Hairstyle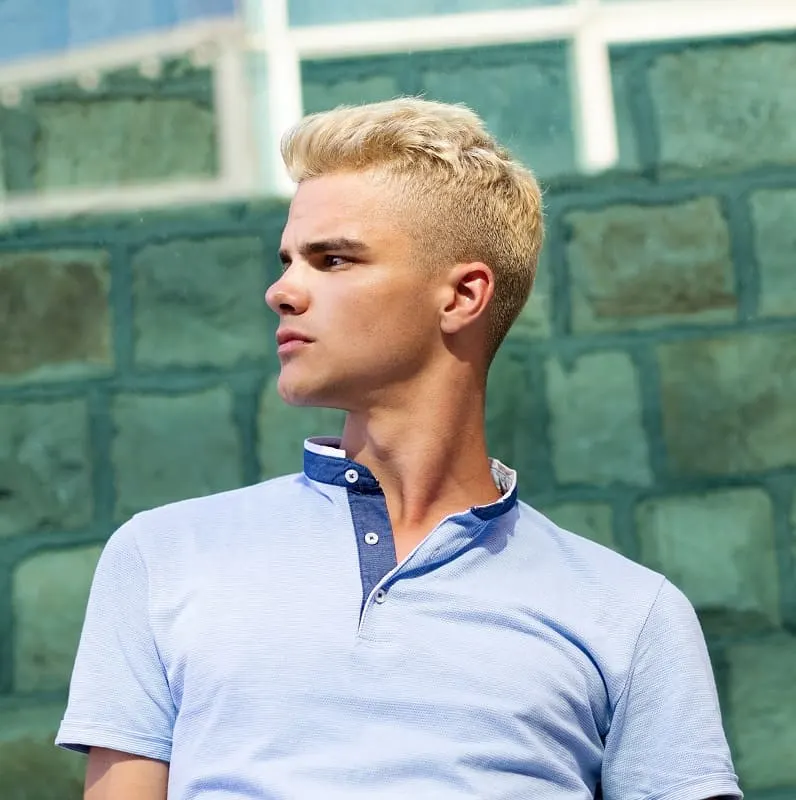 This hairstyle is not only about the haircut, but also about that gorgeous blonde bleached hair color. By turning your hair in a lighter shade you will get a lot of attention not only to that fade and high top but also on the eyebrows. Keeping them in their natural shade will look absolutely stunning!
11. Wild fohawk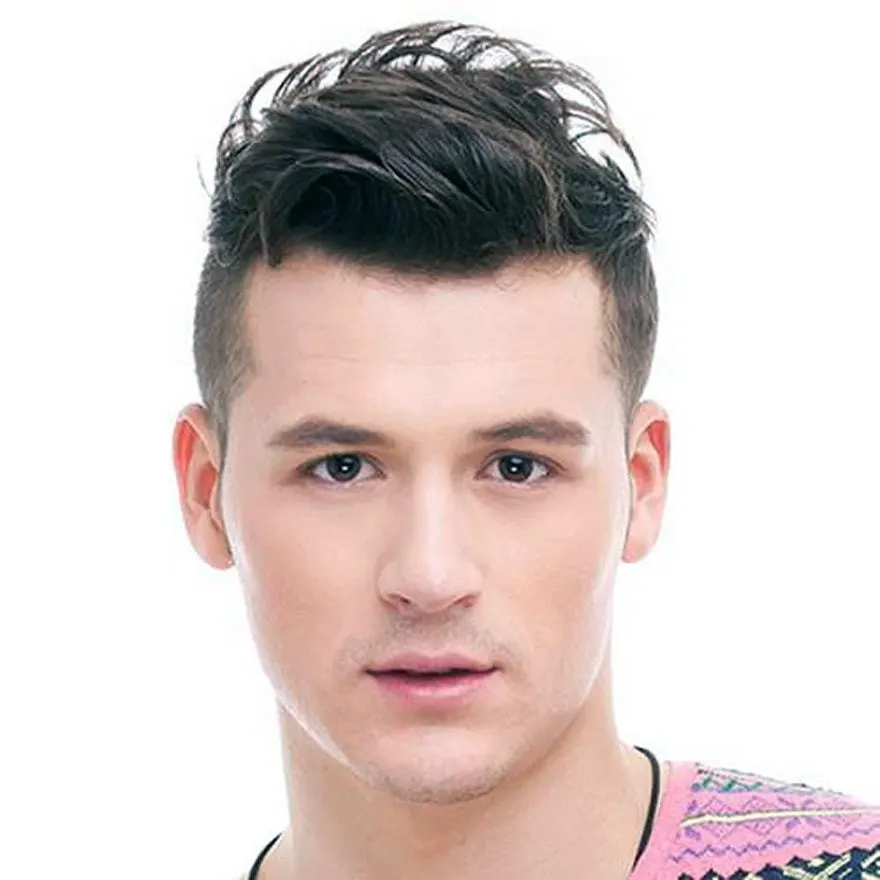 If you are not ready for a real mohawk long on top hairstyle for men, you can turn to a more moderate fohawk. Keep the hair on the sides less than half an inch short and let the top part grow wild.
12. Long bangs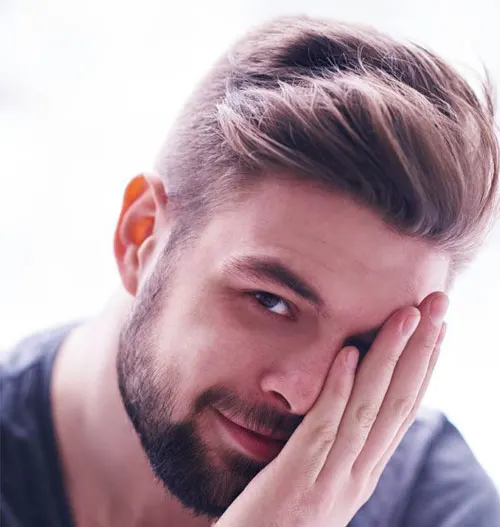 If you want to create an original cut, consider this short on sides hairstyle for men that involves long bangs. Long hair is left only on top to create a nice and spiky pompadour while the rest is short and easy to style.
13. Fohawk with hair designs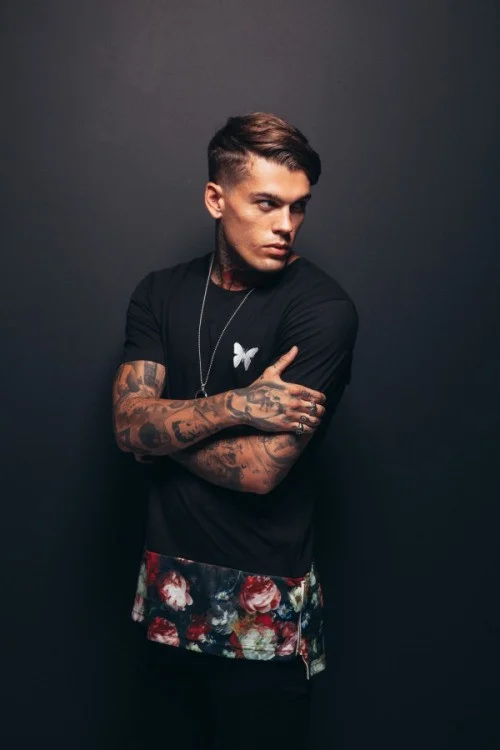 The short on sides hairstyles for men are great for various hair designs. If you decide to shave your sides, then patterns are a must. But even if the sides are cut short, a professional hairdresser can still make appealing lines.
When you leave the hair on top of your head long enough for high hair, you need to remember that it will take some time to style. Consider wild and windblown looks such as this one to minimize the hassle.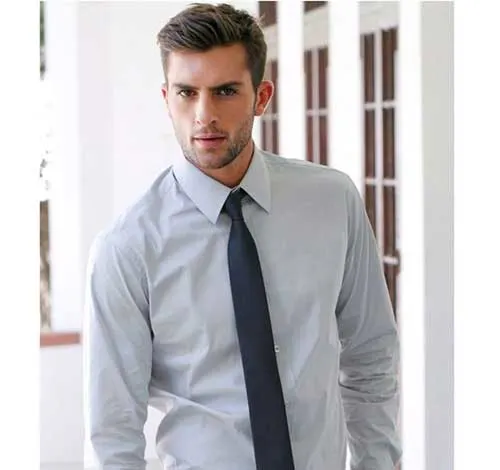 Various long on top short on sides hairstyles for men can be considered Ivy League. Neat well-trimmed hair on the sides coupled with a sleek comb over or refined spikes are a great choice for any occasion.
16. Thick and fabulous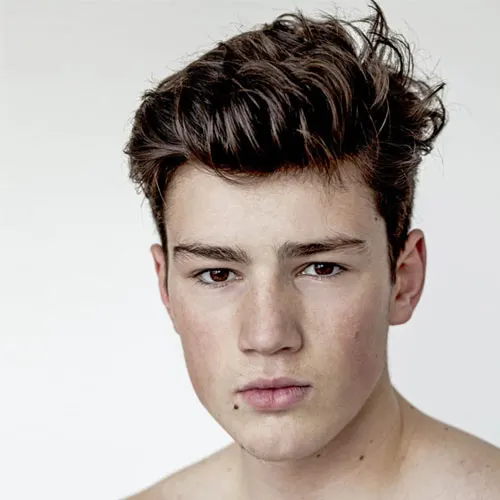 Men with thick hair can enjoy a low-maintenance long on the top hairstyle. The hair in the back stays short while the locks in front are long and thick. You'll need just a few drops of hair gel to keep them beautiful.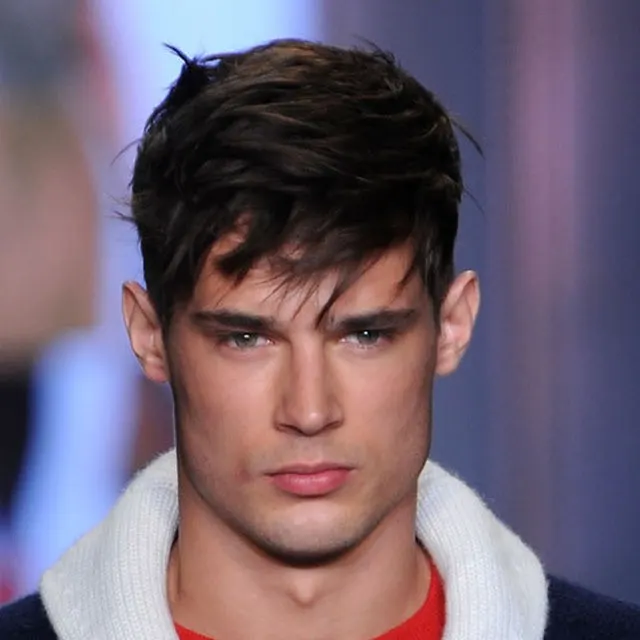 Not many men are ready to deal with long and wispy bangs. That's why these amazing long on top hairstyles are often overlooked. If your hair is straight, such wispy bangs will be easy to style. Look at how attractive they are.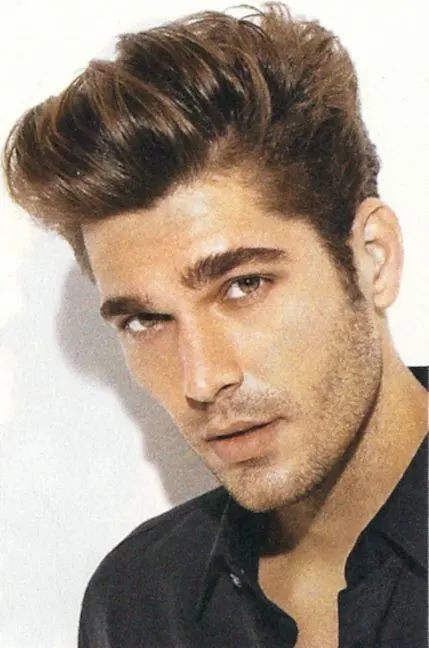 Blowout hairstyles became trendy in the end of the previous centuries and they haven't lost their charm since. This short on the sides haircut is exactly what you need to sport your thick and shiny locks on top.
19. Modern pompadour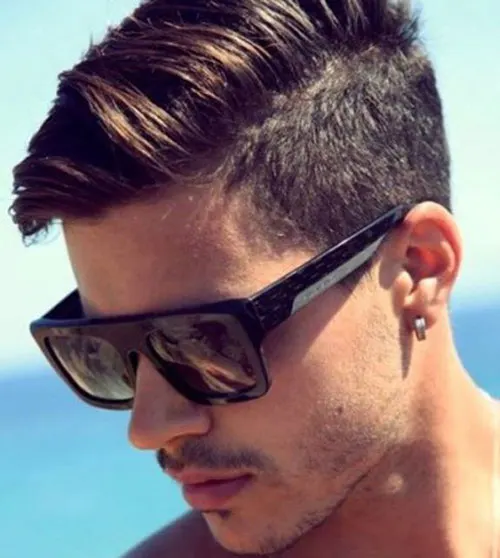 This modern pompadour hairstyle is exactly what a guy needs to change his style for the better. The hair on the sides is cut short and kept all the same length, while the top part is styled into a low pompadour.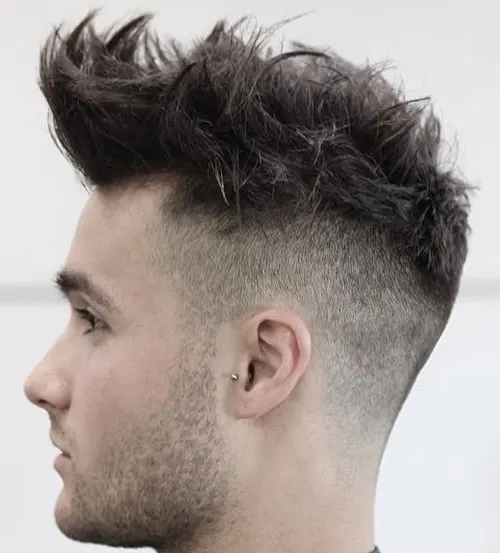 Mohawks are considered wild and attractive. They are easy to make but hard to keep fashionable. If you are up for the job, this long on top hairstyle is exactly what you need.
21. Romantic approach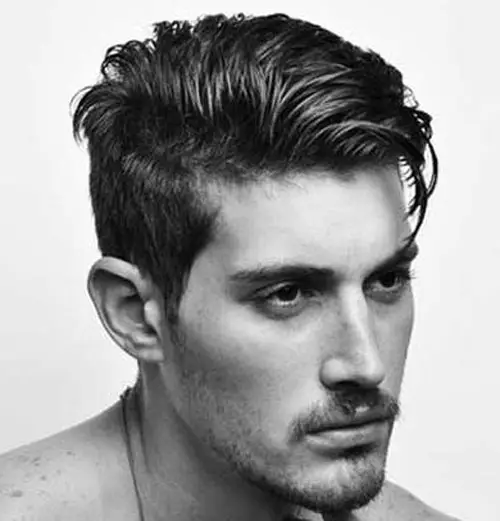 A strand of hair falling on your forehead is all it takes to turn a simple short on sides hairstyle for men into a stylish and romantic haircut. Consider growing the hair on top long enough to use this trick.
22. Spiky fohawk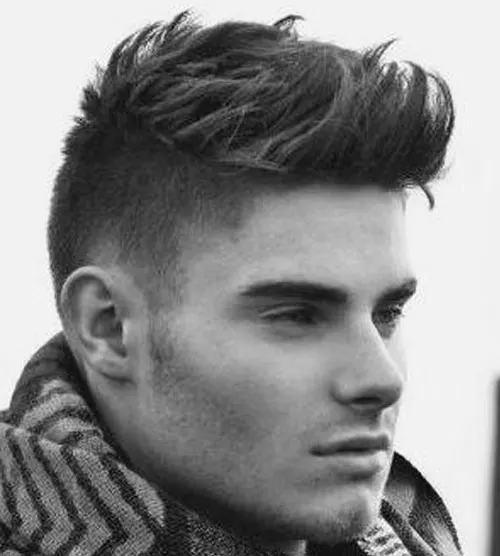 If you like mohawk styles but don't want to shave the sides, opt for this fohawk, It looks just as good while not forcing you to make any drastic changes. The top part is spiky and amazing.
23. High scissors fade with a comb over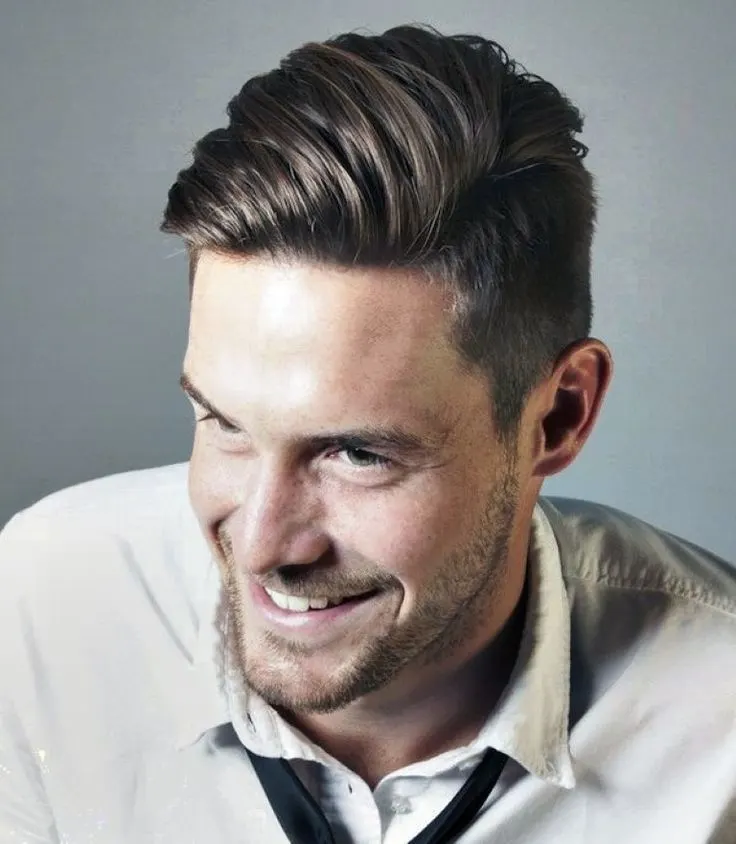 A high scissors fade is a little easier to make than the low variation. You can enjoy a great style on the sides while playing around with the long hair on top. Use the best of both worlds to create a great cut!
Modern Flat-Top Haircuts for Men
24. Mohawk impression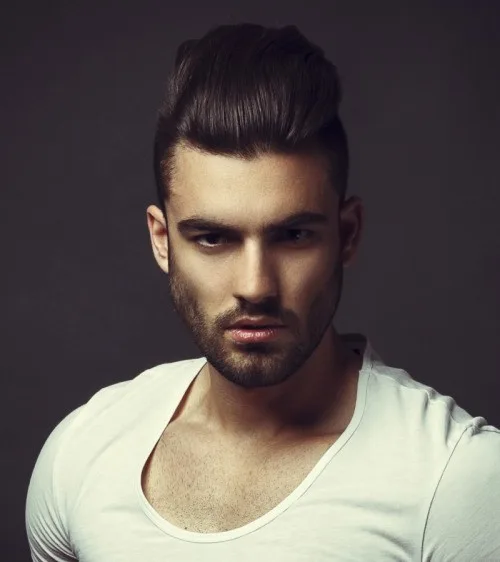 If you've always dreamed about a mohawk but don't want to take drastic shaving measures, you can keep the hair on the sides short while shaping the long top part. The longer the hair on top is, the easier it is to make an impression of a mohawk.
25. Fohawk with a pompadour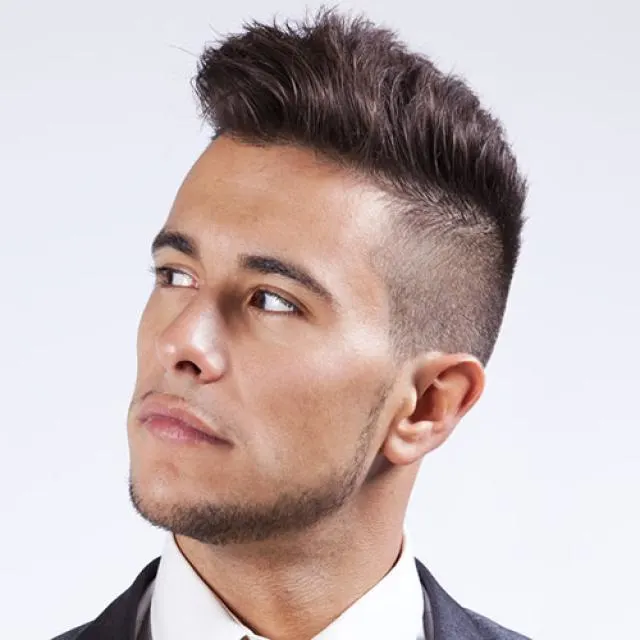 The long on top short on sides hairstyle for men can surely score you some high points. The hair on the sides is cut very short but not shaved. While the top part is about 5 inches long and arranged into a pompadour.
26. Spiky undercut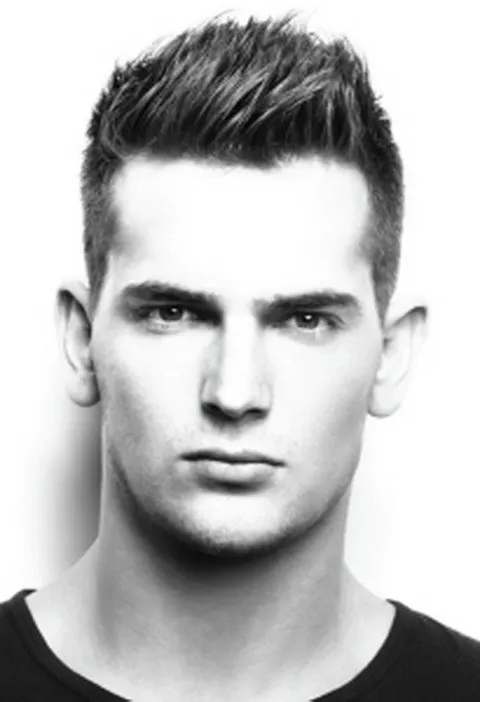 A spiky undercut is a popular modern hairstyle, which is designed to suit most men. No matter what type of hair you have, unless it's very curly, you can create a prominent spiky undercut.
27. Creative pompadours
Pompadours are stylish, formidable and make a great impression. Whether you have a taper fade or an undercut, the top part can be arranged in a fun and exotic way. Consider sweeping the hair to one side to create asymmetry.
28. Toss it
Soft-looking hair without too much hair cosmetics is exactly what you need for a fashionable guy image. Leave the top part long enough for careless tossing and all the girls will be yours.
29. Just a little higher
Any short on sides hairstyle for men can look good with a spiky top. No matter how different the length of the hair is, it will always look contrasted when spiked. This is a simple hairstyle which is great for any occasion.
30. Long comb over
The longer the hair on top is, the more prominent comb over you can create. Don't be afraid to use some hair cosmetics to let it stay neat. Brush your fingers through to create a modern image. Check taper fade comb over hairstyles.
31. Windblown fohawk
High taper fade on the sides and long and unruly hair on top is exactly what you need to stand out of the crowd. No matter how you decide to arrange the top part, the image will be striking.
32. Low taper fade with a side part
A low taper fade with a side part and a low pompadour on top is a respectable hairstyle. You can sport it when you go to the office or throw a birthday party. This is a great and versatile cut.
33. Spiky bangs
If your long on top hairstyle for men involves long bangs, there is no need to keep them straight and boring. Spike them up to create a wild and romantic image. It will keep them from getting into your eyes as well.
34. Keep it high
You can create a high hair hairstyle without spiking it up. You can add volume to your locks by using a curling iron. All you have to do is lift the roots and a unique haircut is ready for your enjoyment.
35. Low mohawk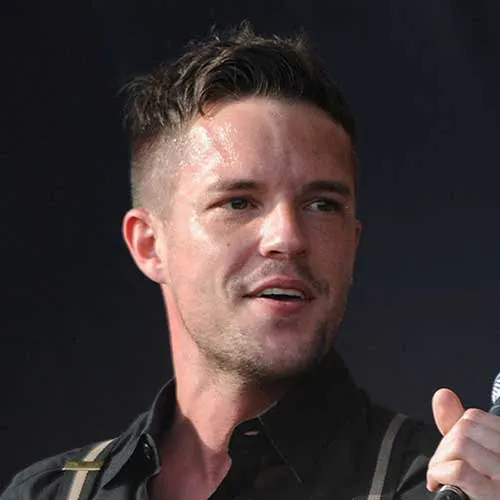 This is another way to avoid the drastic image change while getting a mohawk. Keep the shaved sides low and the top part longer. This way you get a mohawk while sporting a hairstyle suitable for most occasions.
36. Side Sweept Hair
Go for a simple long top and short sides haircut for men, sweep them towards one side, creating a cool look for yourself. You could blow dry them up and put some serum to make them stay the same throughout the day!
37. Beach Wave Long Top and Short Side
Opt for an almost fade cut for the sides while keeping the top hair a little wavy. Go for beach waves to create a classic look. Let the loose waves fall on one side of the head. For those of you with a little beard, you can pull off this look better.
38. Back Swept Cut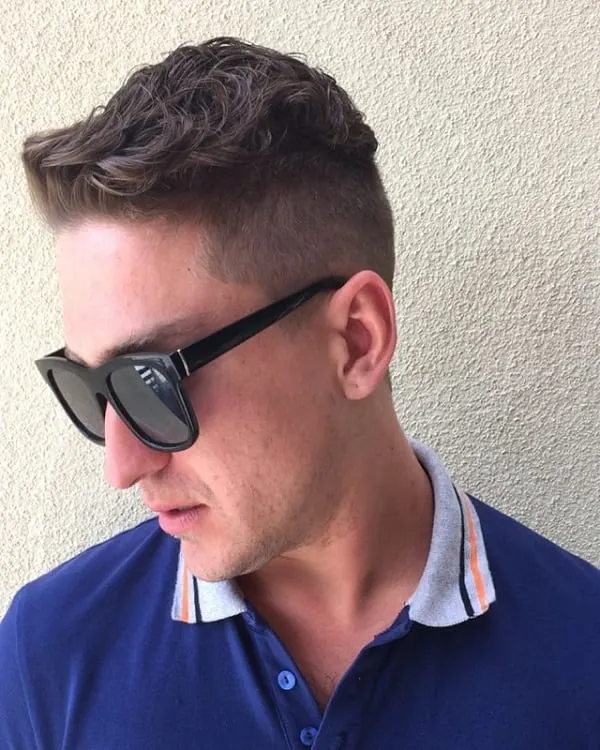 This hairstyle is simple, yet extremely elegant. Sides are kept moderately short, but not exactly a fade cut. The longer hair on top is simply gelled and swept back. The look works really well for professional meetings.
39. Long Top Chops and Short Side
Keep your hair choppy and long on the top of the head. The sides need to be kept fairly short, though they should cover the scalp completely. For those of you with blonde hair, this look will make you look handsome and quirky.
40. The Charming Brown
Doesn't this long top and short sides hairstyle for men look unbelievably charming? Get your hair styled shorter on the sides and longer on top. Put on some good serum and set it right. Catch all the eyes as you walk across in this royal hairstyle!
41. Lob From the Top
Pick a classy and unique look for yourself by going for a lob hairstyle for the top part of the head. For the sides, leave your hair naturally down. The lob can be paired up with bangs swept on the side for a better appeal.
42. Classic Back Brushed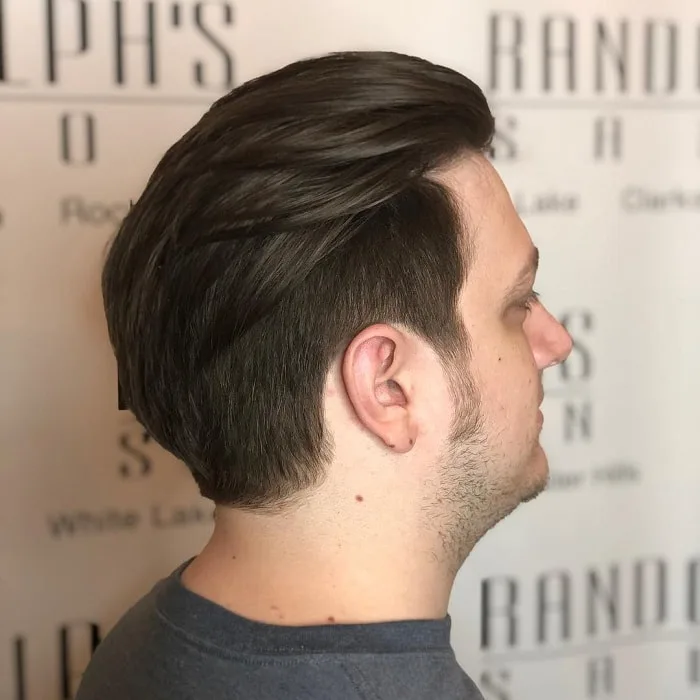 If you have fine textured hair and a broad face, you will definitely rock this look! Keep the top hair super long and brushed backward. The sides can be trimmed moderately short. This fine look works best for any type of conference or formal affair.
43. Loose Spikes with Short Sides
For this long top and short sides haircut, get a fade cut for the sides and leave the top hair to grow naturally. Keep them a moderate length and blow dry them to get this look to perfection. The hair on top is a little spiky, but modest in looks at the same time.
44. Thick Fringes
Yes, fringes for men look great too! Go for a unique look with thick fringes in the front and keep the hair voluminous towards the top. The sides should be trimmed short with a gradual increase as they move towards the top.
45. Bent Fohawk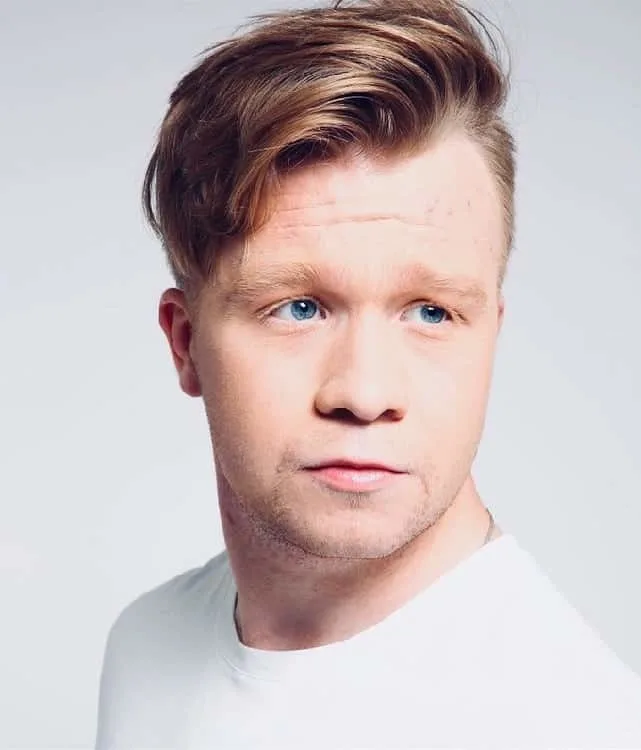 Faux Hawk or a Fohawk is a highly popular haircut this season. Keep the sides really short and the top hair relatively longer. Instead of keeping the Mohawk cut spikey, let the hair gently fall on the side. There is an unexplainable elegance in this look.
46. Twist it up a little
If your hair has a lighter hue, you should definitely try this one – men's long top and short sides hairstyle. The top hair gets a slight curl naturally as they fall towards one side. The hair on the side grows in their natural direction, making it look subtle.
47. Creative Pattern With a Bun
For this hairstyle, grow your sleek black hair long enough to form a top bun. For the sides, go a little creative and create abstract curvy lines that are sharp and edgy. These lines on the sides bring out a very cool look.
48. Forest on Top
For those of you with natural frizz or curls, opt for this forest look. The hair on top can be tied into a high ponytail, taming them a little but at the same time, leaving them wild on top. The sides need to be super trimmed for the ideal look.
49. The Braided Bun
Keep both the sides as well as back with a fade cut. For the top, go for braids that start from the side of the head and move towards the top and behind. Tie the ends of the braid into a tiny bun to complete the look. Undoubtedly, a neat and professional long top and short sides haircut!
50. Long Dreads on Top
Wish to look cool and in-trend with the market? Try out this dread hairstyle to give yourself that classy Rock star look. Shave the sides as well as the back of your head very short. Go for sexy dreadlocks for the top hair. Bead them up at the ends for an authentic feel.
51. The Perm Frizz with Short Sides
Men with a little permed or frizzy hair look great too! The frizz adds volume to the hair, giving one a boyish charm. The longer hair on the top are lightly permed and look a little wavy. The sides are cropped short for the ideal look.
52. Going Colorful With White
Age can never be the deciding factor. When it is about fashion and setting trends, there are multiple hairstyles for aged men. This multi-colored long top short side haircut is one such option which will keep you young and going. Don't let the age kill the rock star inside you.
53. The Clean Sweep
This look is simple to achieve. Just grow your top hair a little more so that they can be swept towards a particular side cleanly. Comb them neatly, and you are good to go! For those of you who like to keep it simple and evergreen, this look is the best for you!
54. The Wild Long Top and Short Side
Let your top hair grow long and wild towards the top. Keep the top bushy and thick with a geometric cut finishing the top. For the sides, go for a fade or complete shaven look. This hairstyle is better for men with frizzy hair texture.
55. Shaggy Blonde Waves
Men's casual long top and short side haircut to set a new trend is this shaggy cut with waves. You need medium length hair and blond hair to rock this perfect cute look. An ideal look with a cool t-shirt and even when you are suited up.
We hope that these long on top short on sides hairstyles for men conquered your heart and gave you some inspiration for your next hairdresser visit. Take a few pictures with you and make a choice once you get into the chair.