A messy bun is a great hairstyle for women who don't want to look too polished. Although the style looks very attractive, it is not too high maintenance. In this article, we're going to suggest some easy messy bun hairstyles that'll save you tons of time.
Quick and Easy Messy Bun Hairstyles
There are different types of messy bun hairstyles to choose from. A bun that is right on the top of the head may be referred to as a top knot, although this term is more commonly applied to men's hairstyles. One that sits low down on the neck is called a chignon.
It is possible to create half-up, half-down styles, where some hair is pulled up into a bun and the rest is left loose.
1. Blonde Messy Bun
This bun is secured off the neck but shaped into a twist to keep most of the hair neat. It's wrapped in a gold scrunchie and lets a few strands of hair poof up and out.
2. Low Messy Bun
For a wedding or other special event, try out this pretty updo. A section of hair on either side is braided back and tucked into a bun with wisps of hair flowing free.
3. Messy Bun for Long Hair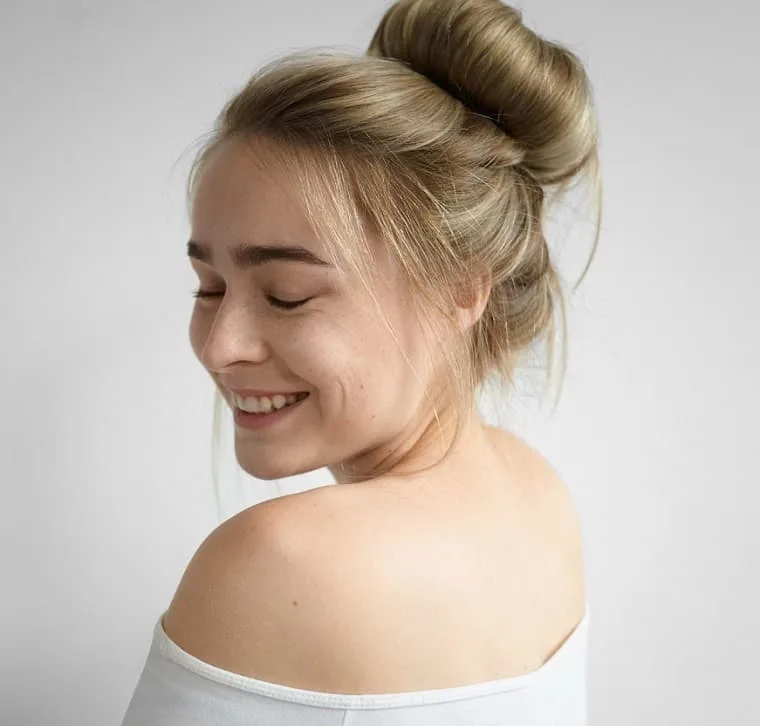 To get a rounded shape, you can use a sock bun or just create a ponytail and wrap the hair around the base of it. Pull a few strands around the face and neck to create a soft look.
4. Messy Bun for Medium Hair
Medium length hair can still be pulled into a high bun and it looks super cute with a headband to frame it. Choose a plain one like white to contrast with dark hair or a more decorated style.
5. Messy Bun for Short Hair
A small bun like the one above proves that women with short hair can easily pull off the hairstyle. Decorate it with a side braid and thicken it up with a bit of teasing and hairspray.
6. Messy Bun for Thin Hair
Headed to the gym or just out running errands? Gather your thin hair into a messy bun to keep it out of the way yet stylish while you're getting things done. Lumps and bumps and a few loose tendrils around the face make the look complete.
7. Messy Bun for Wedding
Your special day deserves a special hairdo. You can't go wrong with a chunky messy bun that looks especially great on thick hair. Clip in some white flowers and make sure the loose hair is curled.
8. High Messy Bun
Some days you just want your hair off your neck – that's when a high messy bun comes into play. Gather the hair at the crown of the head and loosely tie it up in a scrunchie. The messiness will still look chic with your work outfit.
9. Messy Bun Updo
Another bun secured at the crown, this messy style is similar to a top knot. The hair below it is loose creating shape while the top is slicked back for chic contrast.
10. Messy Bun with Bangs
Bangs are just the thing to make your messy bun its cutest. For this look, make sure the bangs are straightened for sophistication and secure the bun at medium height.
11. Messy Side Bun
You'll be the classiest woman in the room with a side bun that is slightly messy and full of wavy texture, topped off with a thick side braid. Whether your hair is platinum blonde or brunette, this style is a must try.
12. Messy Space Buns
Why just have one messy bun when you can have two? Bring out your playful side with these curly cuties that stand out with their imperfect style.
13. Messy Bun for Black Hair
Black hair is stunning when it's down and natural, but a high bun is a dramatic statement to make. Let a few curly pieces hang out from the bun and frame your face.
14. Messy Bun with Signature Braid
If a messy bun by itself isn't enough for you, fashion it up with a thick crown braid that comes across the head right at the hairline. Top it off with curly tendrils around the face.
Smartest Messy Buns for Curly Hair
15. Twisted High Bun
The twisted high bun is often seen on ballerinas, but you can be just as delicate and feminine with one of your own. Smooth hair down or let some hairs fly for softness.
16. Half-Up, Half-Down
Rocking a messy bun doesn't mean all of your hair needs to be in one. Gather the top half of your hair at medium height to dress up a casual loose hairstyle.
17. Curly Bun with Subtle Braid
A tucked in braid at the side of your head adds a flirty and fancy feel to a high messy bun. Make sure the hair is curled before gathering it into a high bun to create a full look.
18. Off-Center Top Knot Hairstyle
This super cute top knot is just the hairstyle to keep hair off your face while at the gym or out on the weekends. Keep it plan and simple as is or pin in a few sparkly accessories.
Stunning Messy Buns for Short Hair
19. Low Chignon with Braid
Low chignons are popular at weddings for both the bride and bridesmaids. Pair the low look and its braided sides with your dress and you're all set!

A low chignon is smoothed of flyaways and shiny as can be for that dance or other formal occasion you're attending this weekend. Pull loose a few chunky sections of hair at the ears for softness.

A ponytail may be simple but it's easy to make chic by making it messy and securing it right at the nape of your neck. Leave as is or wear a headband or barrettes with the style.
22. High Top Knot and Light Waves

A high messy bun at the crown secured with the top half of your hair leaves plenty of space for your wavy or curly hair to hang loose over shoulders.
23. Chic Hairstyle with Braids and Messy Bun

For especially thick or long hair, try this jumbo messy bun. Create two side braids or one wide one at the side and tuck into the bun for the final touch.
You might want to choose a messy bun style if you love to just "get up and go." These styles are quick and easy, but they also look great.