French braided bun looks truly amazing on women with all hair types and colors. If you learn how to make this hairstyle, you are sure to shine at any event or special occasion.
There are many women who struggle to create a perfect French braided bun. The skill comes with experience. Any professional barber can create a beautiful bun in just a few minutes. All you need to do is show him or her a photo. There are several approaches to creating this stunning hairstyle. If you always wanted to join the world of beautiful women with amazing buns, the time has come to do it.
French Braid Bun
Anyone can make a simple bun. Creating a bun using a donut is even easier. When you add a French braid into the mix, you get a real masterpiece. We collected 15 stunning French braid buns for you to create and enjoy.
Don't be scared off by the complicated appearance of these hairstyles. If you are armed with our tips, patience, and wish to look beautiful, you are bound to learn. These hairstyles are suitable for any occasion and can really help you make a statement.
1. French Braided Bun with Bangs
This braided bun has everything you would ever want in a bun– bangs that will frame your face perfectly, a beautiful hair accessory, and of course, French braid for that added style.
2. French Braided Bun with Pouff
A braided bun is already beautiful in itself but a hair pouf will take it to the next level. It prevents your hair from looking too flat and will give it the volume it needs to achieve a fabulous hairstyle.
3. Messy Braided Bun
If you think you need a perfectly arranged bun for your wedding, think again. These days, tight and sleek updos are out and messy braided buns are in.
So on your wedding day, make a braid and bun and let a few of your hair strands loose. After all, you need a hairstyle that's ready to party for your big day!
4. Half Up Buns with French Braids
Let's walk down memory lane and let these half-up buns with French braids show off your inner child (in the most stylish way. of course!).
This hairstyle combines two of our favorite hairstyles– buns and French braids– in a much more fun and exciting way.
5. Braided High Bun
Are you feeling a bit fancy today? If so, go for the sleekest and most sophisticated French braided high bun.
This hairstyle will give you that instant ballerina look and will have you looking polished and stylish all day long. Bonus point: it's one of the easiest bun styles to make!
6. Braided Space Buns
Who says buns should only be polished and feminine? For your information, they can look fun and carefree too.
Cue in, the modern space buns that are out of this world! With this hairstyle, you'll certainly exude that girl-next-door vibe everyone wants to be friends with.
7. Braided Half Bun
Show off your badass side (but still with a feminine touch) with this braided half bun— one of the edgiest French braided buns there are. The braids and bun will definitely give you that cool girl vibe you can't get from other types of buns.
8. French Braids Into Bun
Now here's the ultimate hairstyle– two french braids into a bun which isn't just a unique hairstyle but is also incredibly elegant and sophisticated and is the perfect option if you want to feel and look like a princess.
9. Side French Braid with a Donut Bun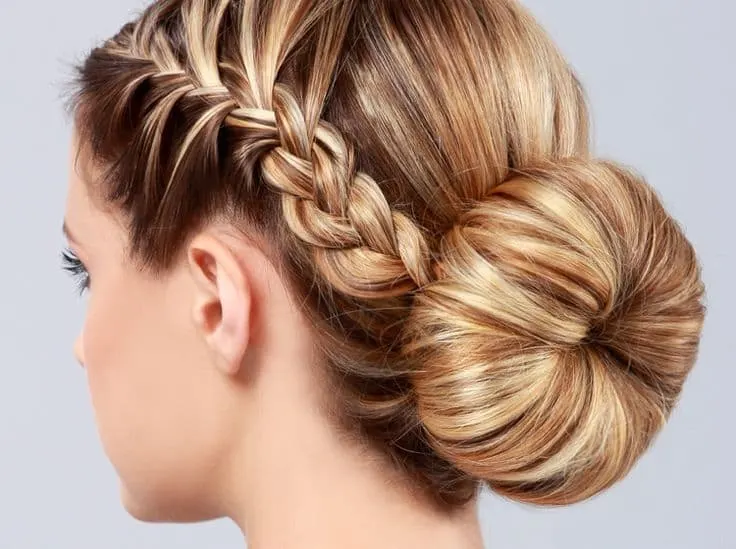 This hairstyle is the easiest to make. All you have to do is braid the side strand from the temple to the back and use the end of it together with the rest of the hair to make a donut bun. Anyone can do it!
10. Upside down and around
This upside-down braid looks even more fantastic since it goes around the bun. All you have to do is keep braiding the hair instead of mixing it with the rest of the strands that make a bun. Then wrap it around the bun and voila!
11. Loose braid
This French braid bun is perfect for women with medium-length hair, which is not long enough to make a large bun. You start braiding from the top and to one side and then arrange the lower part of the braid into a bun.
Epic Fishtail French Braids To Inspire You
12. Double excitement
This seemingly complicated hairstyle is as easy as pie. You just divide your hair into two parts and make two braids, which start from the top. Then arrange both of them into a bun and use plenty of hair clips to keep it in place.
13. Minnie Mouse
Make Minnie Mouse ears with double upside down braid. The technique is the same as with one braid. Your focus should be on keeping both braids the same size. If your hair is not long enough, you can use hair extensions for the bun.
14. Basket bun
This hairstyle might be hard to make on your own since it requires some complicated braiding right where you can't see it. There is no shame in asking for professional assistance, especially if you've got a special occasion coming up.
15. Loose classics
This is probably what you'll see when you make the French braid bun for the first time. As you can see a little looseness and messiness doesn't make the hairstyle any less striking. Time to give it a try!
How to Make an Upside Down French Braid Bun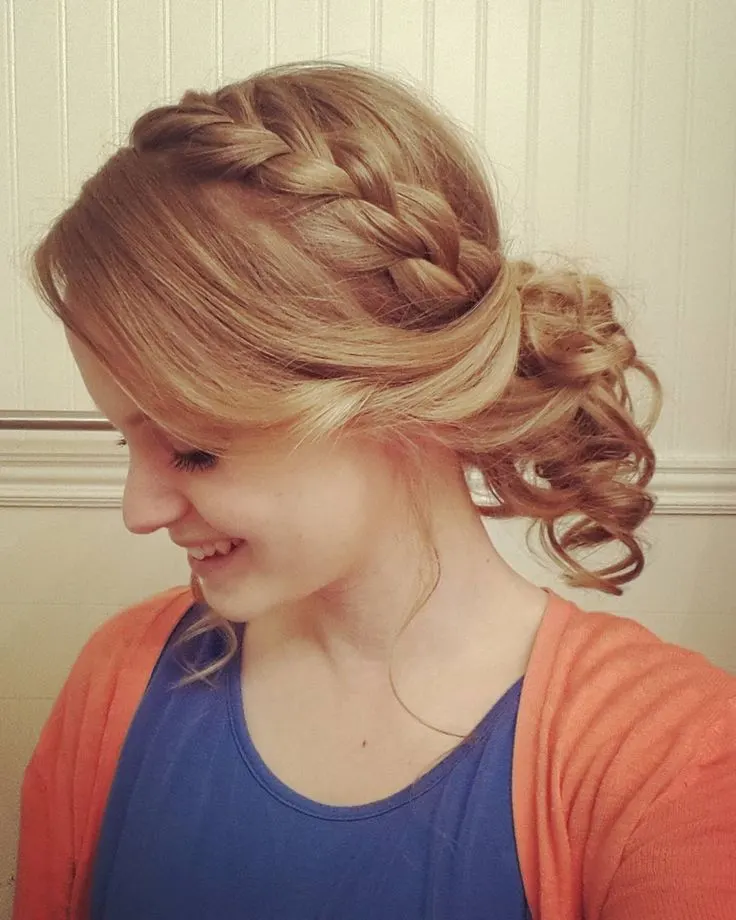 The upside-down French braid bun looks tough to make but only takes several minutes to create. Arm yourself with a comb, elastic bands, hair pins, hair clips, a donut, and some patience. Follow these steps to create a real masterpiece.
Take two strands on the opposite sides of your head near the ears, lift them up and clip them together.
Flip your hair upside down and start doing a simple French braid. Take a section at the very nape of your neck. Separate it into three parts and cross the right one over the middle and then left one over the middle. Take another strand from the right side and cross it over the middle.
Gather more hair from the left side and add it to the left strand before doing the crossing motion again. Continue making the braid by adding new strands from the right and the left-hand sides. Remember, if you take smaller strands, the braid will be more detailed and will look more exceptional. The closer you keep your fingers to your head, the tighter your French braid will be.
Once you get to the top, use an elastic band to tie the braid.
Take the clip off the sections you created in step 1. Add this hair to the end of the braid and make a ponytail. Tie it with a band.
Use a donut to pull the ponytail through. Distribute the hair around the donut and remove the elastic band through the top.
Spread the hair evenly around the donut and tuck the stray ends under it. Use hair pins to secure the bun.
Instead of using the donut, you can continue braiding the hair and making a braided bun. Such bun will look good if, during the first step, you clip large sections of hair.
Now that you know almost everything there is to know about French braid buns, you are well-equipped to start braiding. You might not like the result for the very first time, but practice makes perfect. Happy braiding!