The term nape undercut is a bit misleading, if only because it implies that this haircut has anything to do with a traditional undercut.
Some do, sure, but the signature detail of an undercut at the nape is just that—it's at the nape of the neck. The shaved spot is usually hidden by a longer fall of hair, so each hidden undercut is a surprise. The style offers girls and women a way to show off their individualism and personal style without the risk of violating dress codes or inviting unwanted opinions from random people.
Even if you're wary of shaving your head, that's the beauty of the nape undercut—you can hide it whenever you want or need to, and you can start small. Besides, your hair grows back so quickly, why not experiment?
Best Nape Undercuts for Women
It's hard to stand out when trends rule the world, but nape undercuts make it a bit easier. Better still, you're keeping a stylish secret that you don't necessarily have to show anyone else.
Even if you've worn your hair long for your whole life, you can still shave a patch at your nape, if only for the knowledge that you're rocking an edgy, bold look that's safely hidden from the rest of the world. You can get quite creative with what you do with your undercut.
By no means, you have to restrict yourself to a simple, no-frills shave. Embrace the frills! Ask for a design, or consider coloring the secret section of your undercut with bright rainbow hues that you might not be able to experiment with otherwise.
1. Simple Lines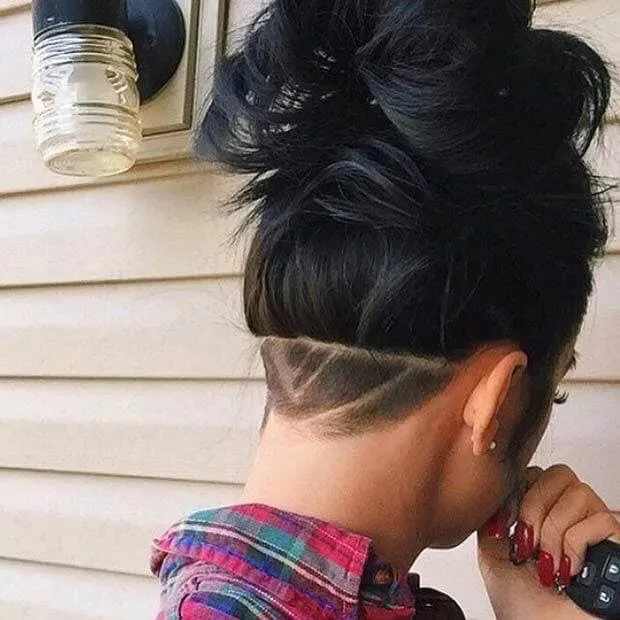 Because a nape undercut typically hides beneath your hair, you can go wild and keep it a secret. A few crisp, sharp lines are the perfect start. Get used to your undercut and its design. You might decide to get something more intricate next time.
2. Nape Secrets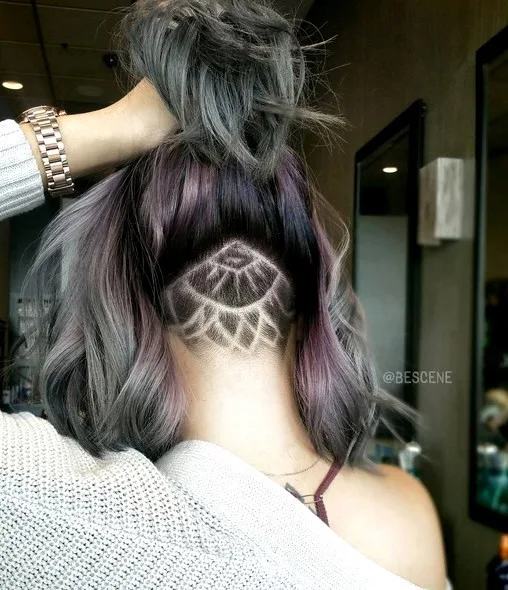 women's undercut is divine. As you can see, it takes talent to achieve this cut. Not only do you want to visit a reputable stylist with undercut experience, but you also want to make sure your stylist has an artistic touch. Don't let just anyone try this.
3. The V Nape Haircut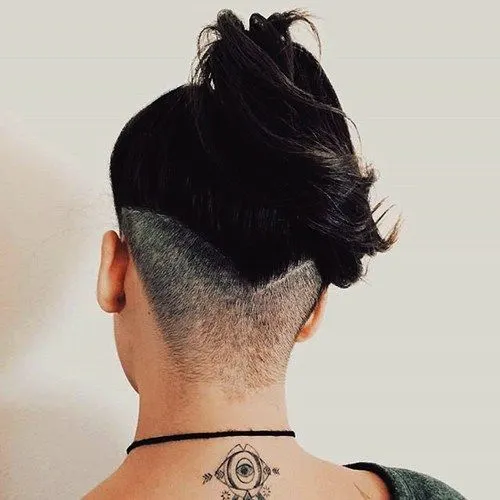 You're under no obligation to have any designs shaved into your undercut, of course, nor designs are necessary to make this cut look fly. The V shape is clean and flawless, yet it looks phenomenal when you wear your hair in a bun or ponytail.
4. Side Lines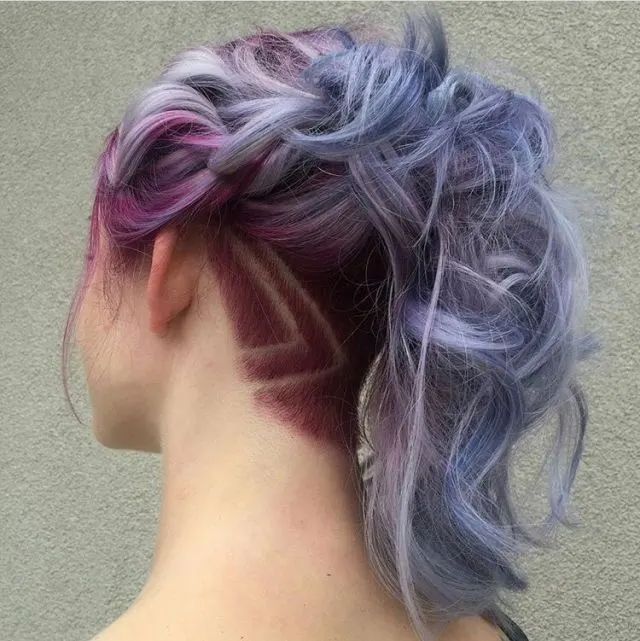 The color here is absolutely gorgeous. See how the dusky pink of the nape undercut contrasts with the lilac hue of her hair? The way the lines peek out on the side is delightfully cheeky.
5. Glittery Nape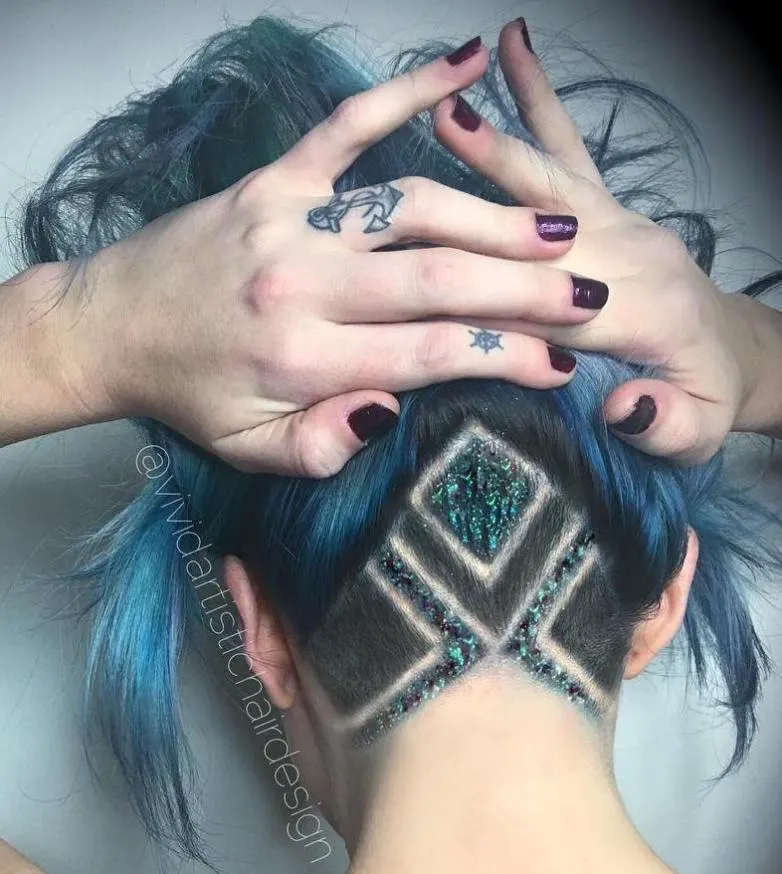 The glitter hair trend is fun, albeit messy. The style you see here goes a step beyond mere glitter, and it's less messy, to boot. Would you ever bedazzle your undercut?
6. Chevron Nape Haircut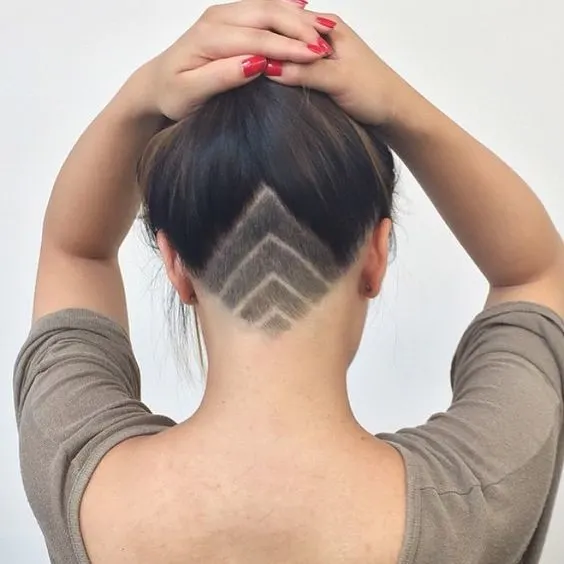 How on-trend is this delicate chevron pattern? It's a more complex take on the V cut for sure, but it's not extreme. It's quite pretty—and imagine dyeing each V section a different color!
7. Chevron in Purple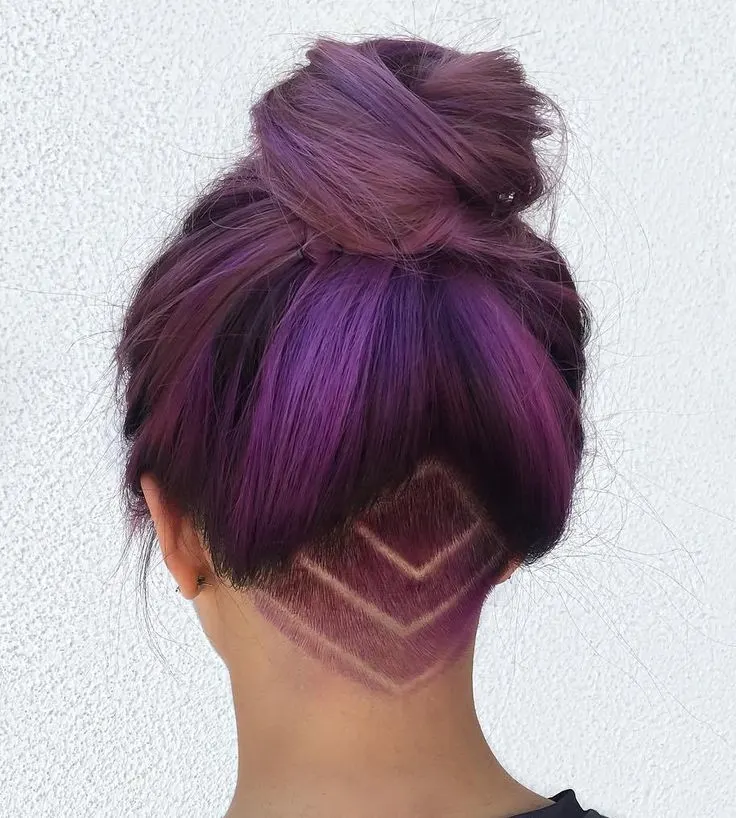 Here's a fabulous example of both the chevron pattern and the use of color. The undercut here is all one shade, more or less, but it still makes the design stand out in contrast. Also, note the varying shades of purple in the rest of the hair—that's some serious depth.
8. Crosshatch Undercut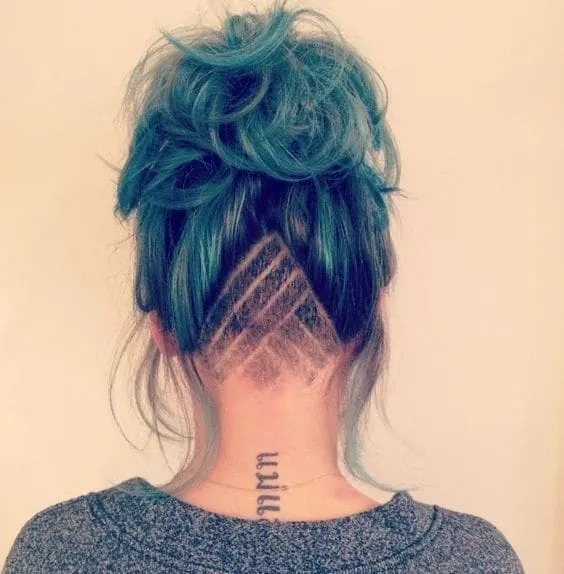 The pattern shaved into this nape undercut is detailed to death. That takes supreme skill, a steady hand, and an eye for straight lines.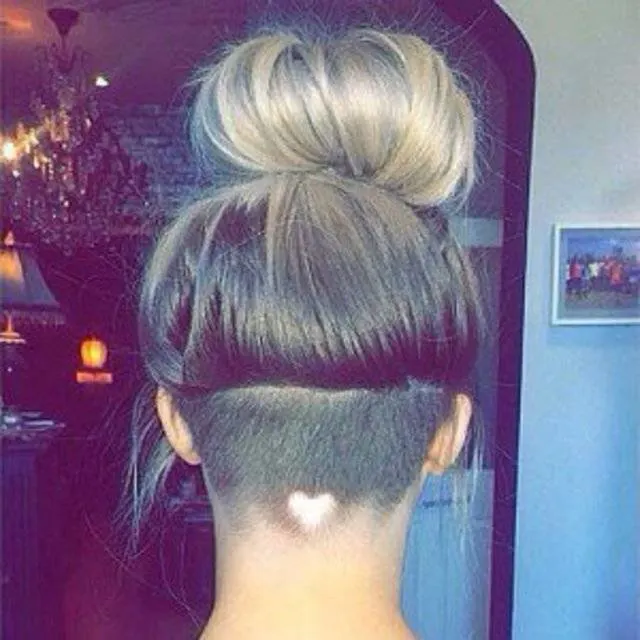 You can also have little shapes shaved into your undercut. How precious in this tiny heart? It's clean shaven, as well, right down to the skin, and that makes it pop.
10. On the Sides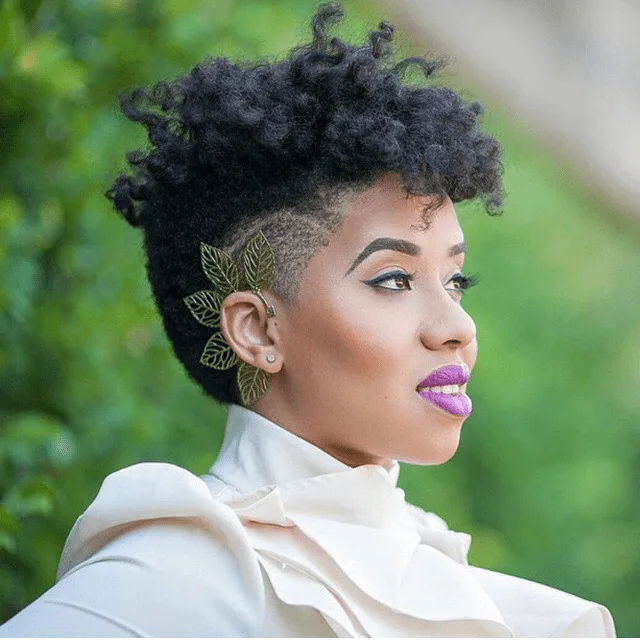 This is a different kind of undercut for the nape. The hair along the back and most of the sides is significantly shorter than what's on top, but the designs are located over the temple and right above the ear. Love the way the ear cuff adds to the fade!
11. Zigzagged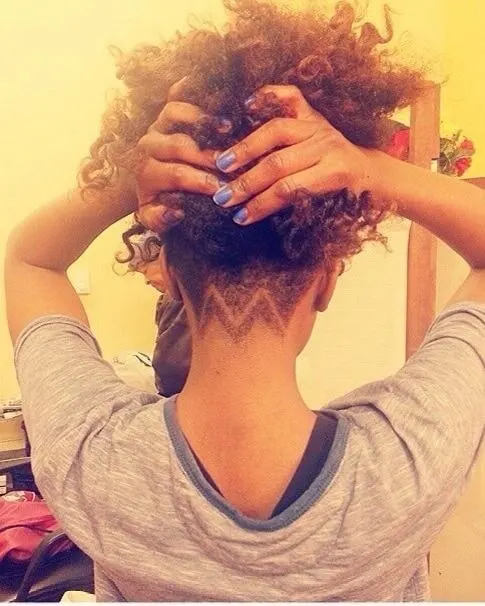 The whole look you see before you is glorious, from top to bottom, from upper curls to undercut. Those curls should give you life, as should the zigzags and those sharp, divine, flawless edges. Make no mistake, this is the way a nape undercut should look.
12. Undercut Art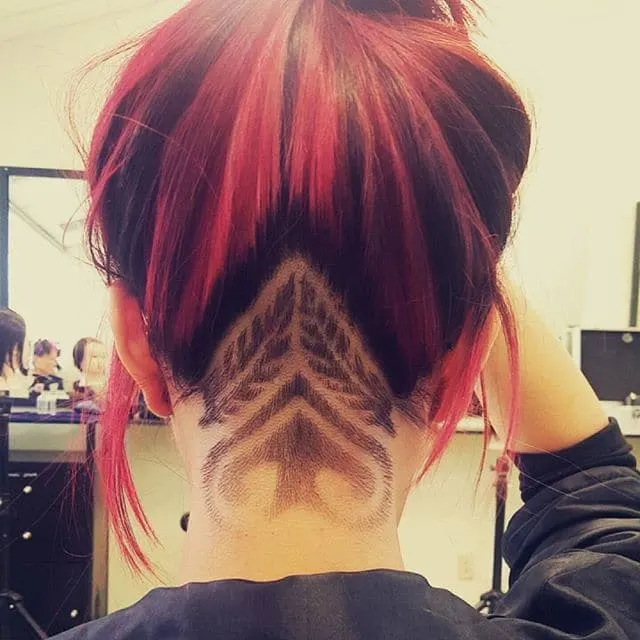 In the right hand, the electric razor is a paintbrush, and your scalp can be the canvas. The design is next level, and the stylist is an artist. Look at the detail on the leaves—that's all the proof you need.
13. Contrast Nape Undercut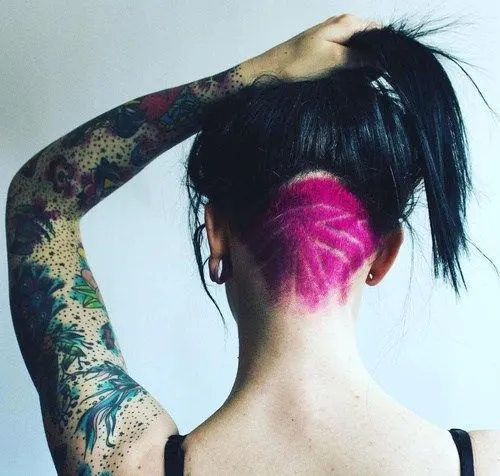 Black and hot pink always sizzle, and the combination is particularly popping in undercut form. The pattern is eye-catching, too, but imagine the bright pink peeking through strands of black.
14. The Shade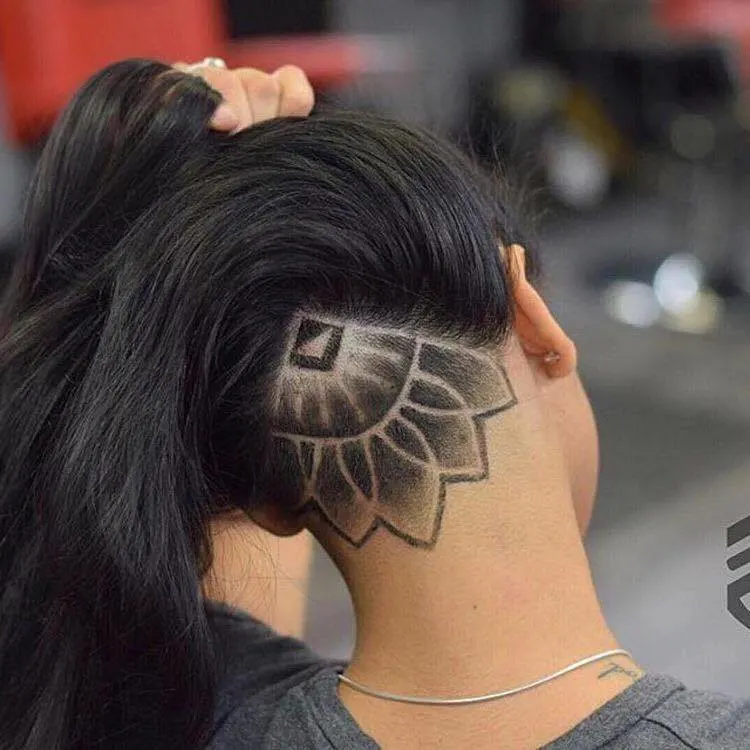 Seriously, the shading and fading on this design are flawless. Imagine the time and talent it takes to shave something like that into the scalp. Now imagine having a design just as stunning hiding beneath your hair.
15. Honeycomb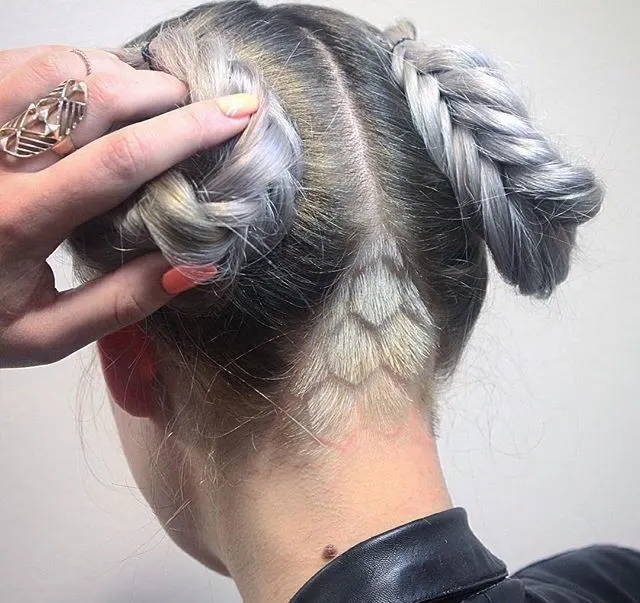 Several things are happening here. This is a smaller, almost delicate take on the traditional nape undercut, but it works so well. Check out the way the upper point of the V lines up with the middle part. The honeycomb design is unique and fabulous. As an aside, the silver color is fire, and the braids are precious.
16. Curly Top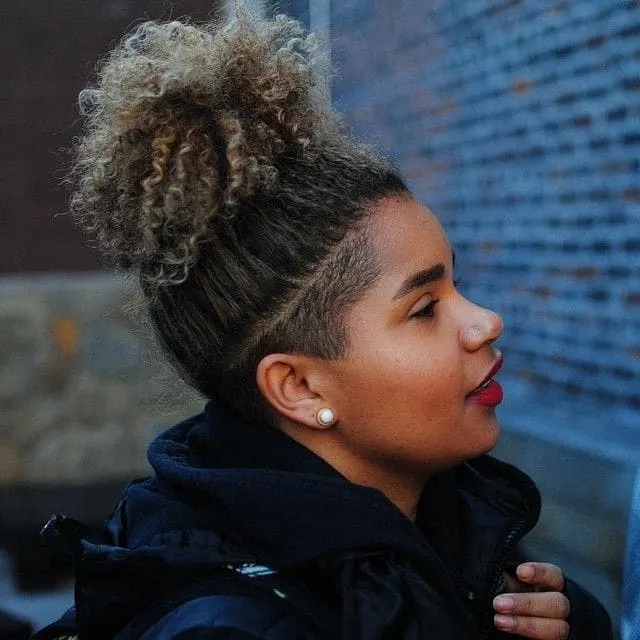 Here, too, is a prime example of what an undercut at the nape should look like. Always pay respect to the origins of a trend—no exceptions. On another note, this girl is gorgeous—hair, lips, eyebrows, all on-point.
17. Delicate Lines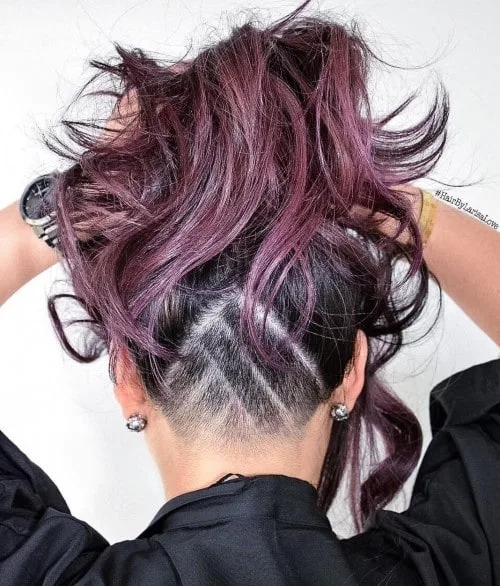 The fade leading up to the pattern of lines is smooth as butter. The design here is another way to ease into the undercut lifestyle. It's more intricate than a plain V cut, but it's not complicated, either. That also makes for minimal upkeep.
Short Hairstyles for Teen Girls
18. On the Diagonal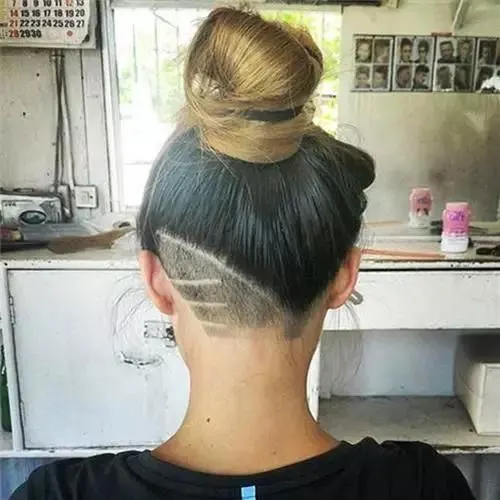 An asymmetrical undercut is innovative and ahead of the game, so you might think about jumping on this sub-trend before it takes off like a rocket—and it will. You're not committing to a full undercut, at least not technically. At the same time, however, not only are you taking the plunge, you're diving in on the edge.
19. Hidden Kitten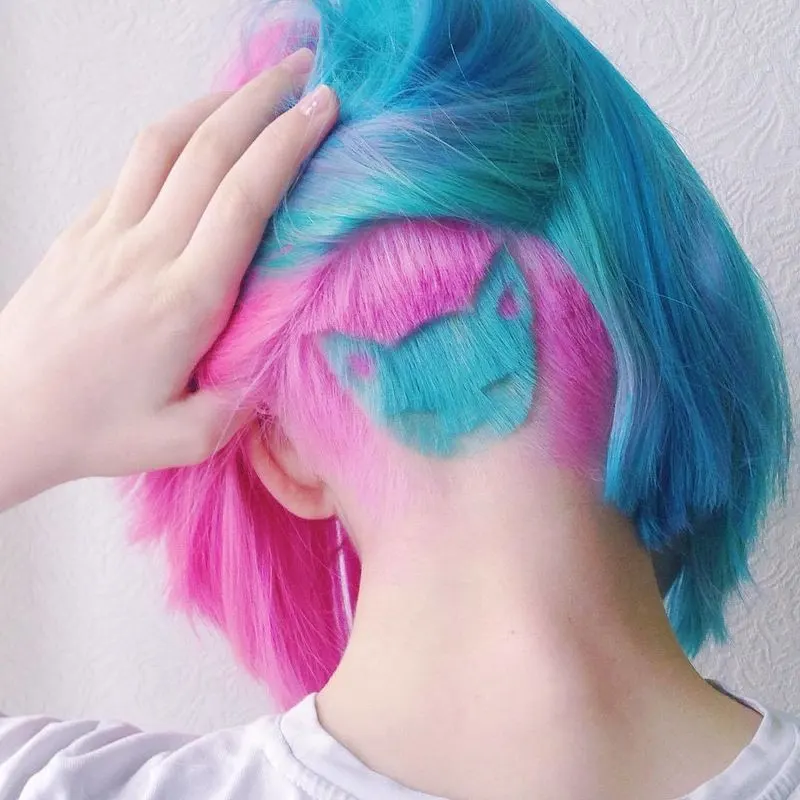 First of all, this color combo is just about everything. Second, and more to the point, that cat is the whole world. It even has little pink ears. Look close, and you'll spot a tiny, heart-shaped kitten nose. Can you even? Because we cannot even. You have to commit to a nape undercut with this much detail, and for the sake of your hair, go to a rock star stylist.
20. Technicolor Lightning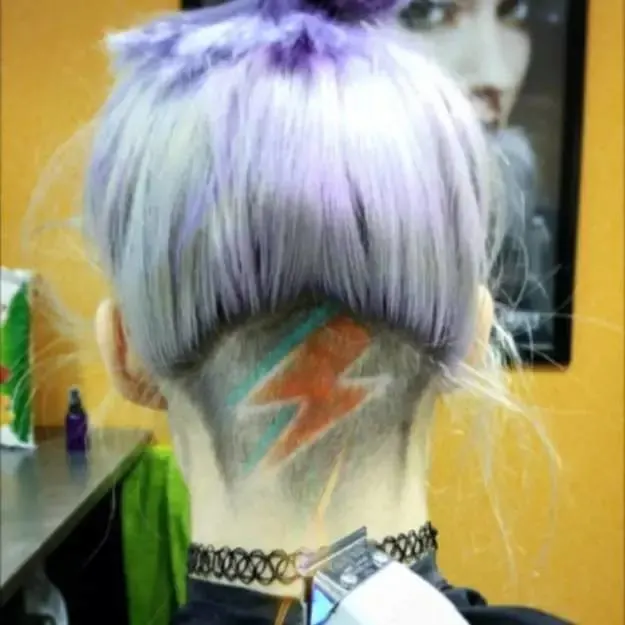 There are several layers of awesome involved in this undercut. It's like a hidden Bowie tribute. It is also a dozen different kinds of badass. Like any dyed design, it takes a lot of upkeep to maintain a cut similar to this, but you'll have a little leeway—they look surprisingly neat as they grow out a bit.
Short Natural Hairstyles for Black Women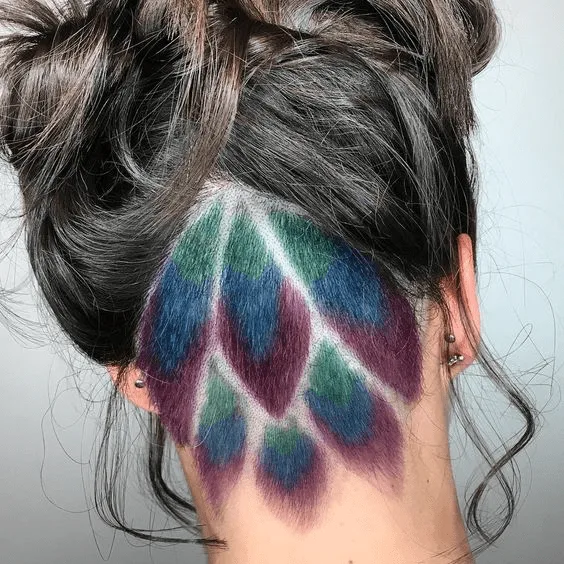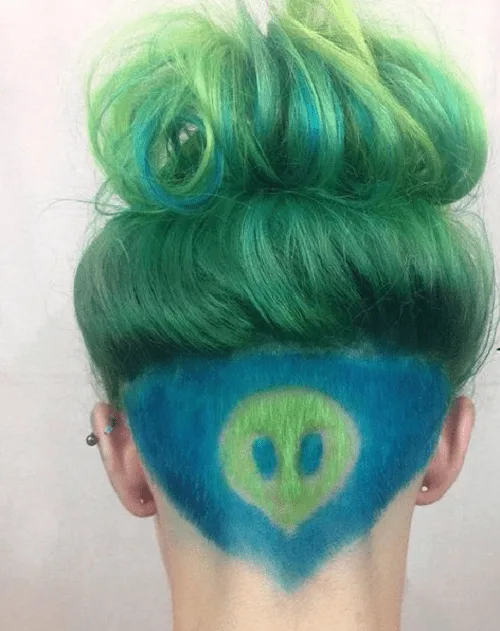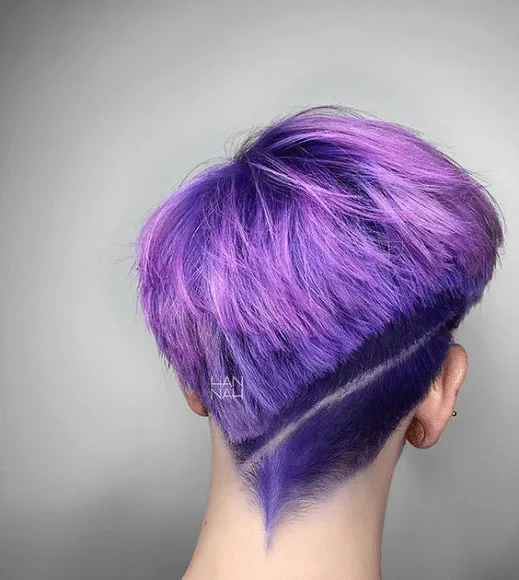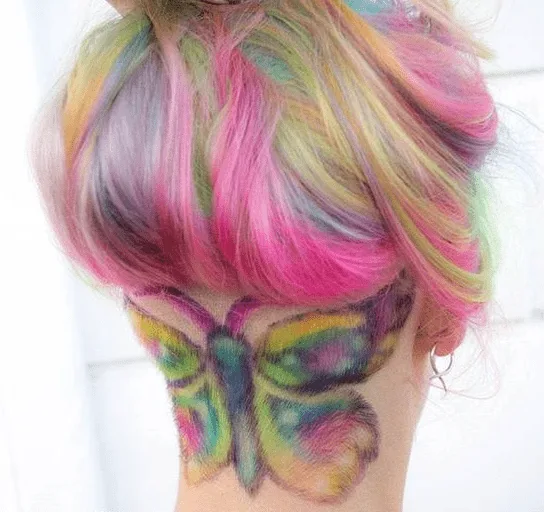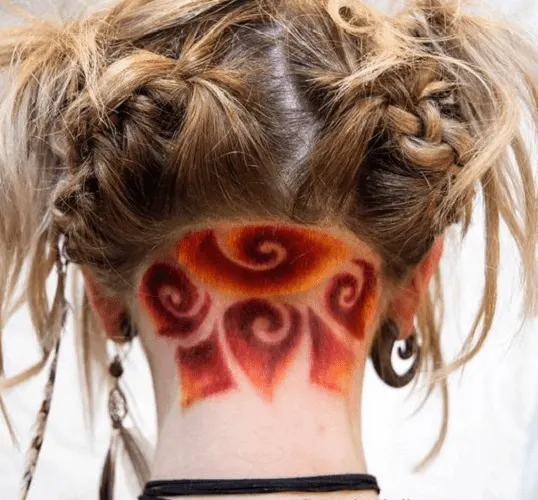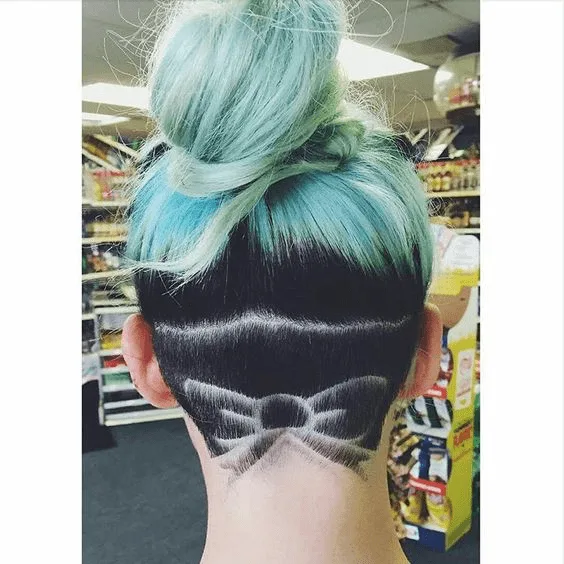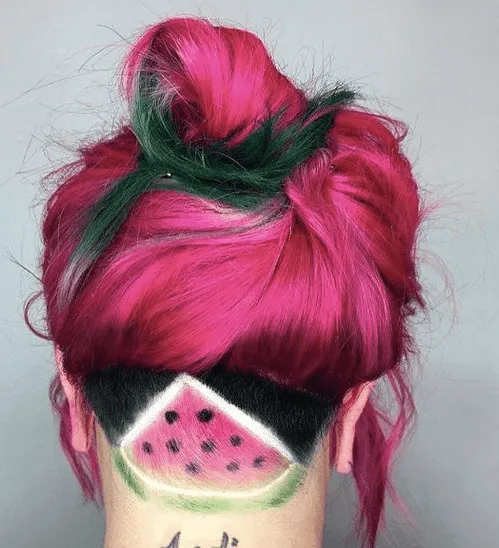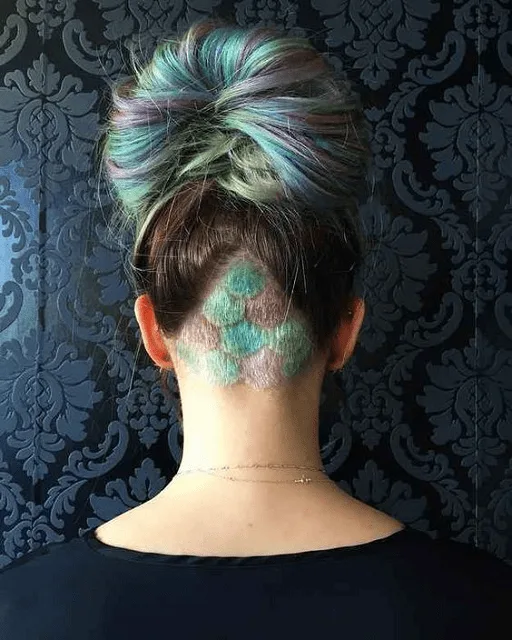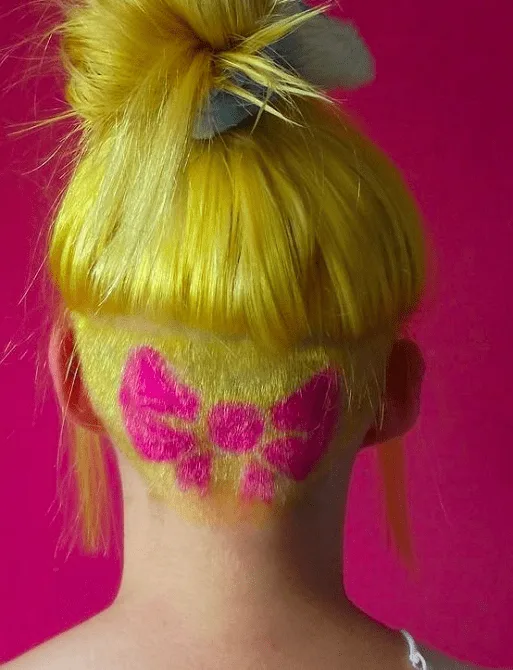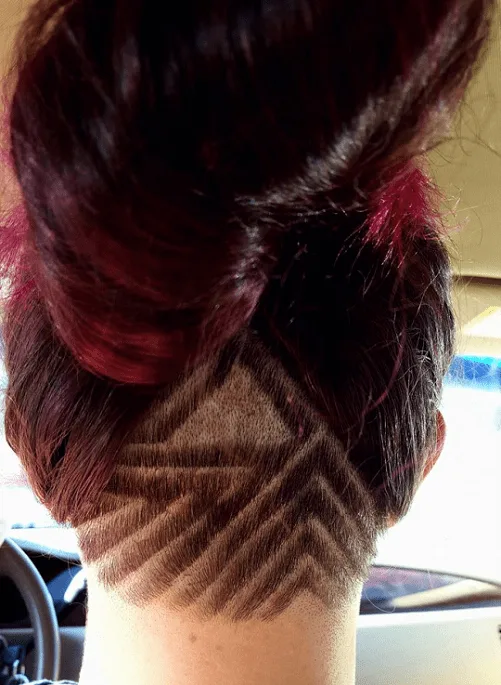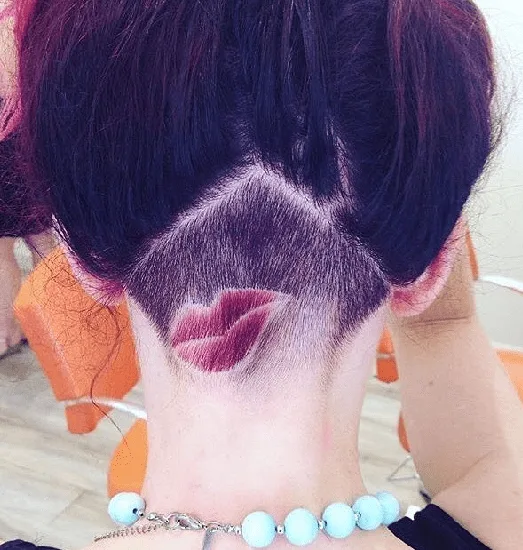 Remember, the best thing about getting a nape undercut is that you can hide it as long as your hair falls below the nape of your neck. The trend provides the opportunity to get one over on dress codes and workplace regulations. You can rebel without getting in trouble. You don't have to worry about receiving a reprimand just for showing off your personality and signature style. Are you brave enough to try one?