When you first see magenta red hair color, you might be amazed at the striking shade that looks far from natural.
However, this is exactly what makes red hair color so appealing. For women who want some diversity in their lives and hope to make a special impression, this hair color is a wonderful choice that beats all the natural auburn and blonde hues.
Magenta red hair color is not easy to achieve and hard to maintain. However, many people are ready to go to great length in order to keep their hair shine the very special way only magenta hues can produce.
How to Achieve Magenta Red Hair Color
If you are ready for the magenta hair color quest, you need to start with the basics. If you have dark hair, you need to bleach it. Yes, there is no other way to make the magenta color settle incorrectly. When you use bleach to lighten up your hair, you need to be ready for the not-so-quick results. No matter how powerful the bleach seems, you can't change black to white in one step.
Girls with dark hair need to go through the bleaching process twice. However, the second bleaching can only be done after about 7 – 10 days so the hair is allowed to rest after the chemical attack.
Before going forward with magenta hair dye, think about the consequences. Perhaps you want to start with temporary semi-permanent magenta dye to get an idea of how the color will suit your appearance.
Temporary dyes last for about a week or so depending on how often you wash your hair and how porous it is. Semi-permanent magenta hair dye can last for about 2 -3 weeks before losing its shine.
If you can't find the perfect magenta hair color you are looking for, you can mix several shades together. This can easily be done at home but the professional advice is always welcome. Perhaps your first magenta dyeing should be done in the hair salon.
How to Maintain Red Magenta Hair Color
Since Magenta red hair color is bright, it fades easily and needs special maintenance. Permanent hair dye needs to be retouched every 3 -4 weeks. You can either apply a permanent dye or use a semi-permanent one to add the color more vibrancy. In order to keep the color intact longer, you should use special shampoo and conditioner for colored hair. Whatever hair care products you choose while your hair is magenta, make sure they are made specifically for dyed locks.
Magenta Red Hair Colors for Brave Fashionistas
If you are considering magenta red hair color for your next style improvement, you need to remember that this color requires frequent touch-ups.
Just as any red shade, it can easily wash out and reveal your natural hair color. Besides dark or light roots don't look too well with a magenta mane, so you need to be ready for a monthly visit to the barbershop or home dyeing.
Nevertheless, the results you get after all this hassle are so amazing, that you'll feel as if all you've done is worth it. We are offering you 23 examples that can give you inspiration for your next dyeing session.
1. Red Magenta Hair with Lowlights
Go for a dark magenta red hair and jazz up the whole hairstyle with some darker lowlights placed here and there. You will capture anyone's heart with this glamorous modern shade.
2. Long Magenta Burgundy Hair
A vibrant magenta burgundy red hair color will yell confidence, and no man will be able to resist your charms. This color is ideal for girls with pale skin, and if you want to impress, this is the perfect hue for you.
3. Dark Cherry Magenta Bob
A dark cherry red and magenta mixed hair will provide a lot of texture for your layered bob haircut. Build stacked layers in the back to obtain more dimension and part your bangs in the middle to astonishingly frame your face.
4. Red Magenta Ombre
If you want to adventure in a bold journey, do it all the way and opt for a red magenta ombre for long hair. Keep the roots in their dark natural color and beautifully transit to this fierce hue. You can also make a few pale rose gold highlights that will make your mane pop.
5. Red Magenta Hair with Bangs
When you have fair skin and blue or green eyes, you need a hair color that makes them stand out. A red magenta shade for your long locks will look marvelous, and if you opt for a fringe, your facial features will be astonishingly framed.
6. Short Red Magenta Hair
When you choose a red magenta color, remember that you are making a big commitment. The color is truly eye-popping, but it fades quite quickly. You will have to revive your shade every 2 or 3 weeks if you don't want to end up looking washed out.
7. Magenta Blonde Ombre
Take your mane color one step further by mixing magenta red and blonde hair in a stunning, breathtaking ombre. Style curls for the lower part of the mane, to provide texture and mess your hair to obtain a ravishing hairstyle for bold women.
8. Dark Magenta Hair with Peekaboo Highlights
Magenta hair can be full of complexion because it has dark tones, red shades, and you can even upgrade the hue with some black peekaboo lowlights. Build loose curls with a straightening iron if you want a glammy appearance.
9. Magenta with Purple Touches
Magenta red hair color is striking all on its own but it can look even more amazing with a few purple touches. Add a few partial highlights on top of your head to give the magenta shade a new feel.
10. Dark Magenta Shade
If you opt for dark magenta shades you can have an easier time maintaining your locks. While they won't be as stunningly vibrant, the freshness of the color can last a couple of weeks longer, which can save you some time and money.
Mixing purple, cherry and magenta hair colors is a wonderful way to create an awesome ombre. Consider leaving the dark color on top and brightening up the hair on the bottom. Or go against the classics and make the hair on the top lighter.
12. Top Highlights
Diversify your dark magenta red hair color with a few brown highlights. Then can help you postpone the touchups and avoid the unfortunate way the grown roots look on bright magenta locks.
Magenta and purple look truly amazing together. No matter how you decide to mix them up, a great result is guaranteed. For example, you can create an interesting ombre by keeping the top magenta color and the bottom dyed purple.
14. Magenta Bangs
Magenta red hair color is so bright that just a small part can makeover your image. Keep your hair dark red hair color and dye your bangs magenta. You'll immediately see the magnificent results and avoid frequent touchups.
15. All-purpose Shade
Magenta is a striking color that can suit any face shape, hair type, and hairstyle. Whenever you feel like standing out of the crowd, you can dye any part of your locks magenta and be sure that you make a great impression.
This deep and dark magenta hair color looks quite natural and subdued on thick and long locks. It can go well on many girls with different skin complexion. This subtle tone reflects the depth and fun element of the hairstyle.
To get a subtle hairstyle, you must avoid ultra-vivid and bold reddish magenta hair dyes. When the red highlights jazzed up with brown hair, the result turns out to be elegant and sparkling. It provides the hair very close natural expressions. Girls with olive or dark skin tone can consider this shade to rock with their looks.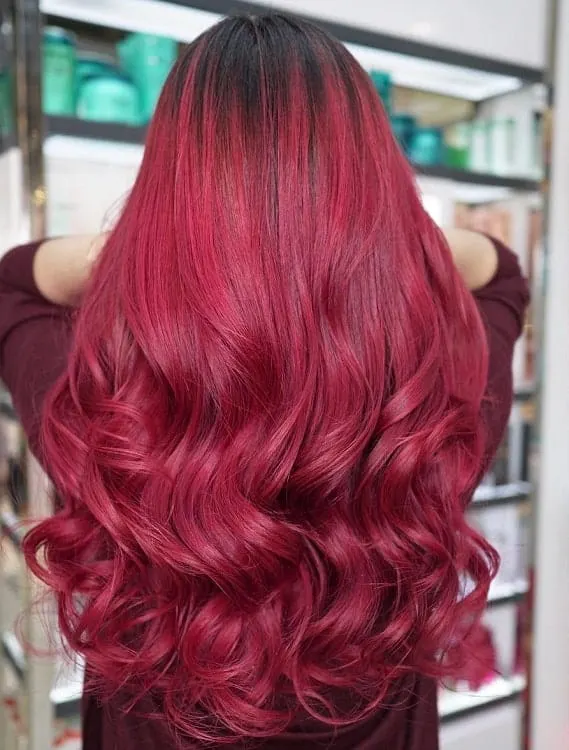 The vivid The vivid magenta red hair can transform the simple retro curly hairstyle into a chicly glamorous look instantly into a chicly glamorous look instantly. The dark magenta blends flawlessly with an intense shade of red color thus, provide a bold and vivacious look to women.
The black roots add more dramatic features to the whole hairstyle, apart from this, when the black roots blend into magenta red locks, it keeps girls on the safer side rather than dying the tresses flashy full.
Yes, wavy lob indeed is one of the classiest hairstyles, but someone can easily get bored by carrying this hairstyle consistently. So, to get a break from this hairstyle, one must have to wait for months till to get the desired hair length for a new hair look.
Rather than waiting anxiously, why not to dye your hair with dynamic hair color? Like the idea? Go with this more purplish tone of magenta dye blending with red highlights for an immediate striking update. The retro waves will add more movement and liveliness to your mane.
20. Ravishing Pastel Red Hair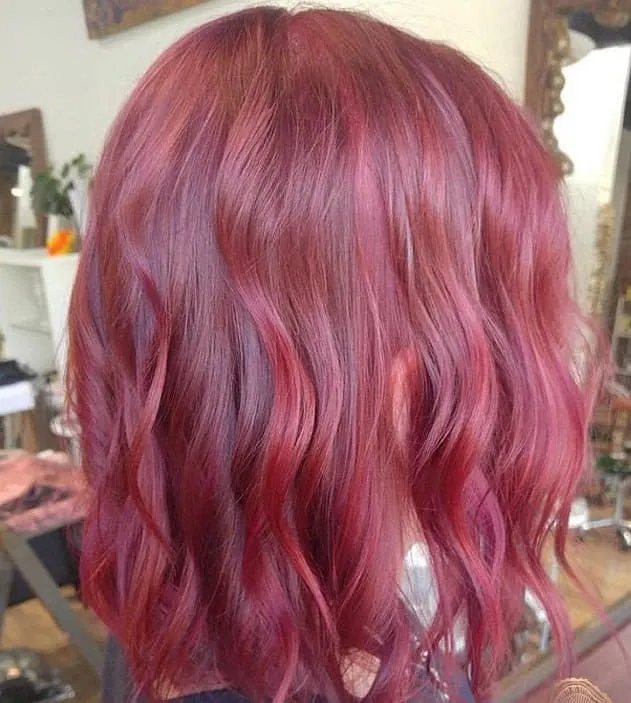 Most girls prefer pastel hair dyes to get pretty tamed and cool look. Whatever Magenta hue you choose, do not forget to add dimension to your mane, which you can achieve through a wavy hair texture. Blend the pink and purple hue to recreate this stunning light magenta-red hair color.
This daring hairstyle is not for all girls, but for those who are bold enough to try this eccentric look. It features a shaved side of the head while the other side contains shoulder-length feathery layer haircut. The magenta red balayage on dark hair describes the artistic skill of hair colorist.
This intense Magenta red hairstyle provides a cool tone that can be a striking choice to wear for summers. The soft waves add more youthfulness and trendy element to the girl's appearance. It goes perfectly great on cool and medium skin tone.
Experiment your dark hair with magenta-red ombre to add a fun element to your long tresses. Dying darker hair is one of the most difficult and time-consuming procedure and most girls hesitate to go through bold transition. In such a case, this gorgeous magenta ombre hair with soft curls will boost the personality attitude of ladies.
If you are ready to take advantage of magenta red hair color, nothing should stop you. If you have some doubts, take a close look at these examples and they can easily inspire you for heroic actions.