Pineapple hairstyles look tremendously cool not only on curly hair but also on straight and wavy locks. The hairdo was initially created for women who wanted to preserve their curls overnight and prevent tangling. Now it received an upgrade and was transformed into a casual hairstyle that women wear at work or when going out with friends.
To pull it off, you only need something to tie your hair, a hair elastic, scarf, or a scrunchie. A few bobby pins will help you better secure the pineapple hairstyle and get a low-maintenance hairdo that lasts all day.
1. Curly Brown Updo
A ponytail can be called one of the classic pineapple hairstyles for short natural hair i. Short hair looks very good in a ponytail.
Make a tight pony to secure your hair for a long day. It's a simple hairstyle, so keep your overall look simple too. Use gel to set the hair from the front.
2. Sleek Topknot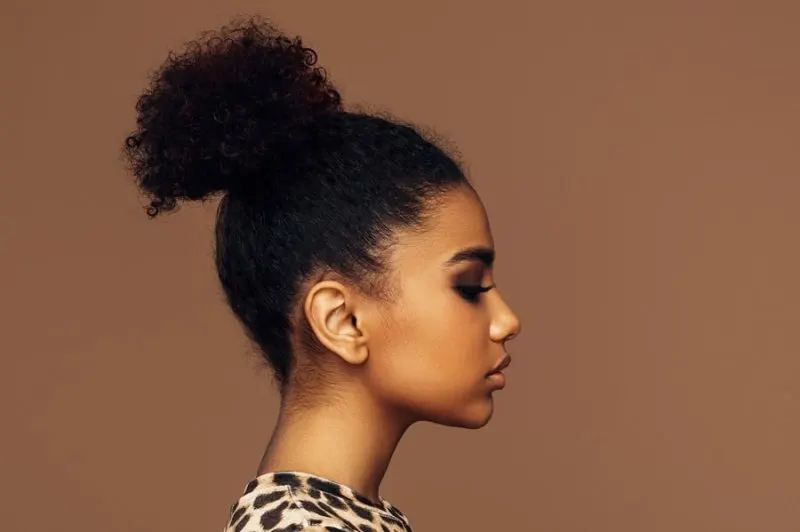 As we told you, short hair looks very beautiful in a ponytail; a sleek one is perfect for your office look.
Your hair will stay stable the whole day, and you'll also look classy by the end of the day. First, make sure all your curls are stuck in the pony; use hairspray.
3. Updo for Short Hair
Black hair color looks beautiful, just like any other hair shade. The best way to show your jet-black hair is by making an updo. Use hairpins to stick the hair in a curve shake, as you can see. It's a cute hairdo you can try for a fun day out.
4. Pineapple Curls
Before creating a pineapple curly hairstyle, use a leave-in conditioner that will define your ringlets. Get a short scarf, and don't wrap it too tight around the base. Your hair will have a lot of volume and if you spare your bangs, let them fall on one side.
5. Pineapple Hairstyle for Long Hair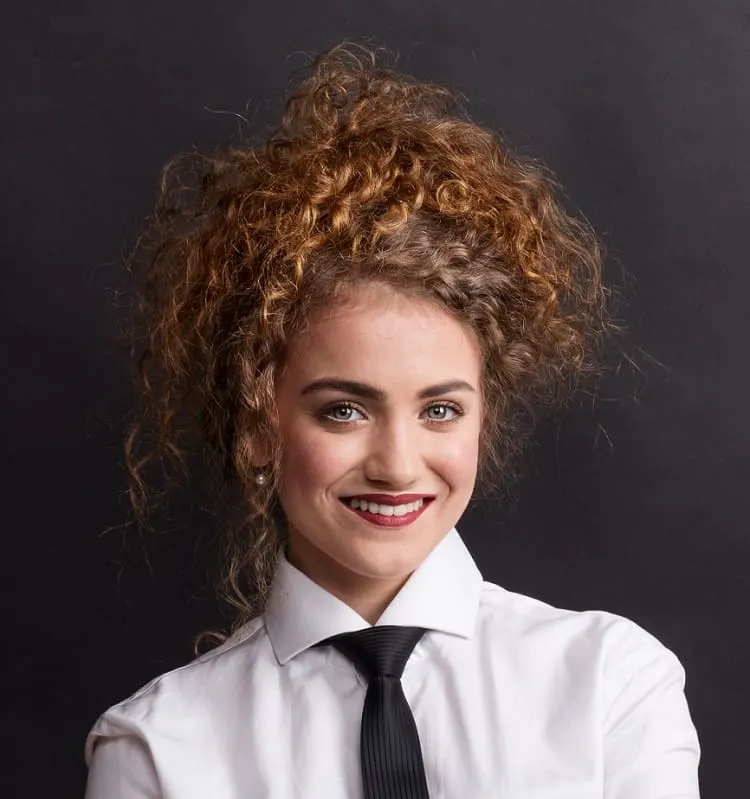 Long pineapple hairstyles can be pulled off even for professional meetings or interviews. You will look experienced and qualified for your work with proper makeup and outfit.
6. Very Curly Pineapple Hairstyle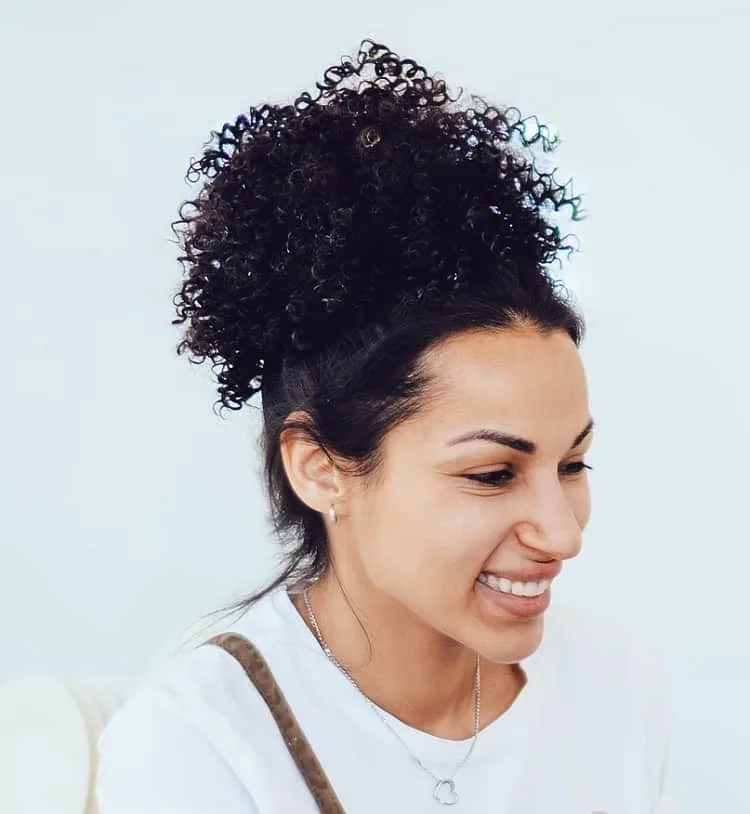 A puff pineapple hair can complete your look and elongate your face. If you don't have curly natural hair, you can opt for a curly bun that is so easy to attach on top of your head.
7. Pineapple Curls with Scarf
Tame your curls with a pineapple hairstyle and a scarf. This hairstyle transforms you into an exotic presence during the daytime and protects your coils overnight.
8. Short Pineapple Bun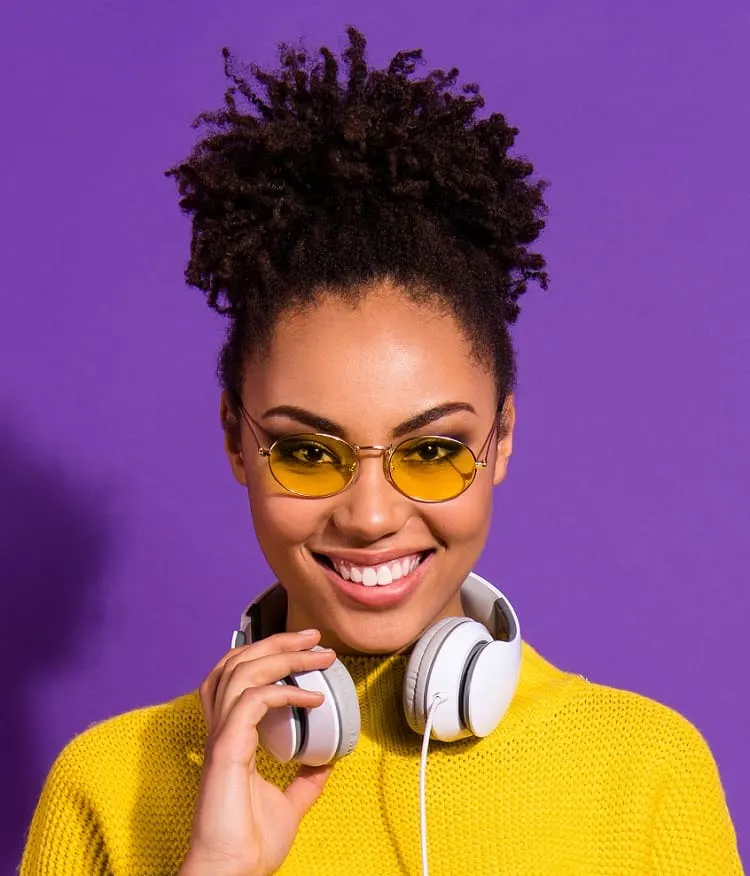 Create a pineapple bun hairstyle for your hair, but don't tie it too tight because you don't want to damage your roots and hair follicles. Your curly locks will be beautifully preserved, and the hairstyle will look stunning with glasses.
9. Curly Weave
Pineapple hair with a weave will provide a lot of movement and volume if you have short hair. Create braids and pin them on top of the head. Attach the weave and wear your curls on one side.
10. Pineapple for Tight Coils
A short pineapple hairstyle with a headwrap will transform you into an Afro American beauty. Use the scarf to hold the back curls in one place and make them pop on top of the head.
11. Loose Pineapple with Wrap
If you're preparing for bed, loose pineapple hair wrapped with a scarf will keep your coils up. Make sure you sleep on a silk pillow to maintain your perfect ringlets.
12. Pineapple Waves
Pineapple wavy hair can be tied with a silk scrunchie. Let the tips of your hair fall on both sides of your forehead, creating a gorgeous frame. You will look like you just got wavy curtain bangs.
13. Curly Ponytail
This pineapple hairstyle is ideal for relaxed days at home when you just want your curls out of your way. Loosely pin your ringlets on top of the head and feel free to wear them on one side.
14. Pineapple Afro
Afro hair needs a lot of attention and while many women tend to tame it using braids, you can go for another option. Opt for a pineapple hairstyle with a headband that keeps the coils away from your forehead, but still shows that brilliant texture.
15. Blonde
Get a mid-90s look by dyeing your hair in a blonde bright color. Use a scarf as a head wrap to cover the back and nape hair. Tie it in front to create that height and volume and keep the tips falling on the forehead, creating faux bangs.
Pineapple hairstyles can prevent damaging your curls overnight but can transform you into a fabulous cool appearance wherever you go. It is a gorgeous way to get all the attention on your curls, highlights, and even a balayage.