For many women, glasses are an essential accessory. But just because you need to wear them doesn't mean that they aren't, stylish and chic. Even if you're rocking glasses for fun, it's important that they compliment your hairstyle.
Remember to show off your individual style in a way that suits both your hairstyle and glasses. Creating curve where lines are thick or flat or adding definition to thin glasses or textures is key.
Hairstyles With Glasses
You can make your glasses your boldest and best accessory by working them into your overall look. Whether your hair is long, short, or ultra pixie short, your perfect hairstyle with glasses is on our list. We have 25 gorgeous and trendy hairstyles for women who wear glasses, so let's have a look!
1. Asymmetrical Bob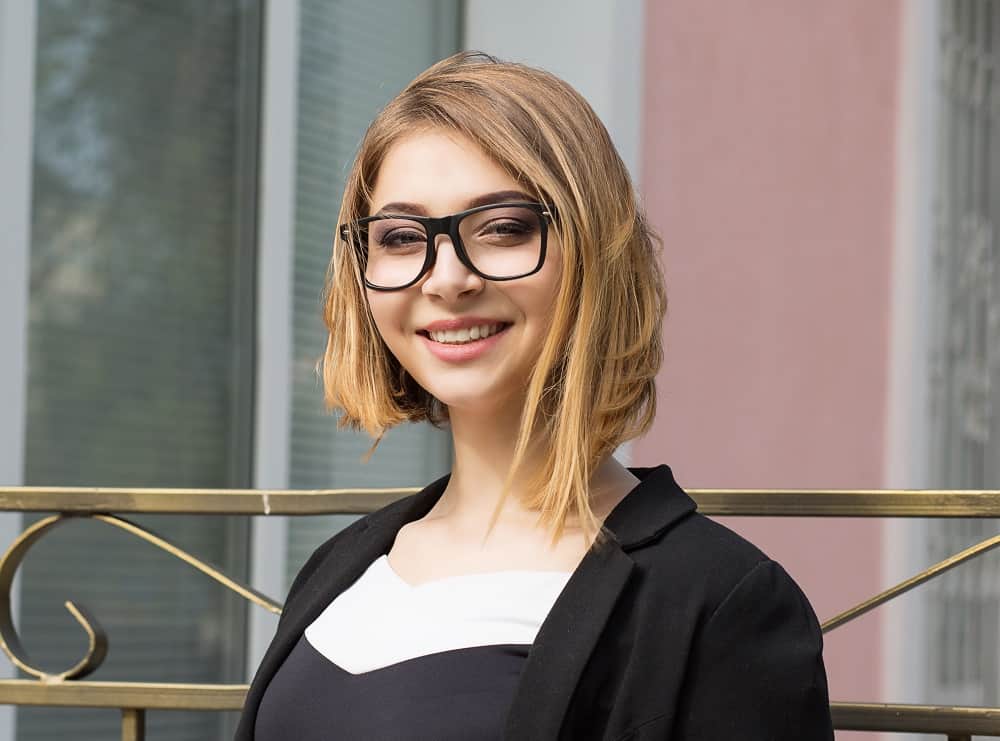 An asymmetrical bob is no doubt a chic style statement. The hair is cut to jaw-length with one side at the front longer than the other. Hand-tousle the bob and rock oversized glasses with it. This look is suitable for ladies with naturally straight hair.
2. Jumbo Braid
If you have thick luscious locks braid them down in a single jumbo braid with a side part. The braid can be kept at the back or on one side for an adorable look. The swaying baby hairs set off this simple style.
3. Sleek and High Ponytail
Looking for a professional style? This is the best hairstyle for office-going women with glasses. The long hair is slicked back in a high ponytail with a thick strand wrapped around the hair tie to hide it. Use some setting spray to keep the look intact day long.
4. Buzz Cut
Considering the ladies who want a laid-back hairstyle with glasses have a look at this style to keep all the attention on your face. The hair is buzzed evenly all around the head. Don't forget to get aviator glasses to completely copy this look.
5. Pink and Purple Curls
Step up a curly bob haircut by adding some color to it. The roots are dyed in a light auburn hue that merges into a vivid lavender purple color with hot pink highlights in between. This style is ideal for young girls with spectacles.
6. Pinned Back
Asian ladies can still look cute with glasses. Half of the shoulder-length hair is secured at back using bobby pins with a side-swept fringe falling loose on the lens. This style is quick to create and is low-maintenance too.
7. Sexy Dreadlocks
Stand out in public with this hot hair look. The blonde dreads are tied up using a red head bandana matching the lips and leaving a layered fringe loose at the front. Get oversized sexy cat-eye glasses to set off this hairstyle.
8. Layered Tight Curls
Show off your tight kinky curls with confidence by copying this style. The strands are layered all along to frame the face beautifully. The top is thick with shorter sides. Set the strands with your fingers and you are ready for the day.
9. Chic Side Updo
This is the best hairstyle for women with glasses who want an elegant appeal. The side-parted thick and curly locks are rolled up in a chic updo on one side. Set this look on fire by matching a vibrant lip color with the specs.
10. Half Long, Half Short
Beware of this contrasting hairstyle as it is not for the weak-hearted. Half of the head is buzzed evenly while the remaining hair is kept long. This look is suitable for bold girls who want to show off their wild side fearlessly even with glasses.
11. Short Hairstyle for Women with Square Glasses
Short hairstyles are sweet and can add softness to the hard edges of glasses. Add side bangs that frame your eyes and a chin-length chop that will work perfectly with your lenses. Round shapes and soft layers will work wonders.
12. Long Hairstyle With Cat Eye Glasses
Gorgeously long locks look great with glasses. If your hair is thick, curly or wavy, bold frames are amazing. If your hair is straight or fine, subtle frames like these help pull your whole look together.
13. Medium Length Hairstyle with Aviator Glasses
Medium length hairstyles with a touch of wave look so perfect with glasses. If you prefer a middle part, ask your stylist to slightly feather the ends of your hair.
14. Updo Hairstyle with Aviator Glasses
Bare it all with a slicked back ballerina bun. This look will really show off your glasses, so be sure you have your ideal frames to rock. It's the perfect way to show off your cheekbones, too.
15. Hairstyle for Older Women with Retro Square Glasses
Shorter styles are popular and age-appropriate for older women. Feathered layers and choppy bangs provide a great background for dark, square-shaped frames. If you are aged over 50 with shorter hair and round glasses, try short, curled under bob or soft face-framing layers.
16. Women With Fine Hair + Black Full-Framed Glasses
Thick frames work wonders on fine-haired babes. In fact, the thickness of these glasses emphasize what texture your hair already has. They also bring out the darker portions of this hairstyle for a thickening, grounding effect.
17. Hairstyle for Round Face with Glasses
Long, straight locks are nice with glasses, but adding subtle layers is key if you have a round face shape. The layers will add some shapeliness to your look but keep a lot of the attention on to your gorgeous glasses.
18. Blonde Hair + Glasses
Blondes look great with brown and tortoise shell glasses. We especially love this bold tortoise pattern with the root growth on this style. If your frames are thick, try a causal bun with a few pieces left down to frame the face.
19. Women With Curly Hair with Glasses
Curly hairstyle looks beautiful with glasses, but the idea is to show as much of your face as possible. Big curly hair and large frames can easily overpower a look. You can even try matching your thin, bold frames to your hair color.
20. Wavy Long Hair + Glasses
Wavy hair is pretty versatile when it comes to choosing your ideal glasses. Frames can be thicker if your wavy hair is long and the bulk of the texture is away from the face.
21. Straight Hair + Round Glasses
Straight hair looks perfect with wiry thin glasses. The textures mirror each other while piecey, eyebrow-skimming bangs help fill out the rest of your face. The overall effect provides a fun look that is anything but overpowering.
22. Colored Bob with Glasses
Whether your bob is short or long, it will look absolutely adorable with glasses. Short bobs look chic with small frames with either square or round shapes, depending on your face shape. Go bigger if your bob is a longer, shoulder-skimming length.
23. Bangs With Square Glasses
Bangs can work well with glasses, but you'll want to keep your look open. If bangs are too long and thick and your frames are thick as well, then you'll conceal too much of your face. Try center part bangs with an angled cut.
24. Kids Hairstyle with Oversized Glasses
For kids, thick bangs and glasses work just fine. This look is especially charming if the glasses are oversized. If the glasses are more proportionate to the child's face, then shorter bangs or sweet layers and delicate curls are perfect.
25. Old Woman With Pixie + Round Glasses
A great hairstyling option for women above 70 with glasses. We absolutely love pixie hairstyles and glasses. These pretty silver side bangs provide the perfect framing effect for showing off your glasses and the gorgeous face underneath. And why not match your glasses to your hair? The overall vibe will be pleasing and brightening.
There is so much versatility when it comes to wearing your best hairstyle with your favorite pair of complimentary glasses. Because glasses cover portions of your face, it's a good idea to find styles that open up your look and work with your hair texture, not against. Deciding what style you'll go with is up to you and we hope you love what we have to offer!