You can't deny the eye-catching quality of ponytails with a mohawk. It's such an unlikely combination, yet it looks right at home on the catwalk.
Forget about your boring, everyday ponytail—it's been done and then overdone. Make a bold choice. Take a chance. Remember, hair grows back, so there's no reason to avoid taking risks with it.
How to Style Ponytail With Mohawk
If you've never seen a mohawk ponytail, then you have no idea how much potential ponytails truly have. Don't just throw up your hair and tie it with an elastic. Shave your sides, or slick them back.
Using a bump, braid, bun, or teasing comb, add some sky-high volume to your crown. Even if your mohawk isn't the genuine article, you can fake the fab,
1. Short Mohawk Ponytail
With sides buzzed to less than an inch long and smooth platinum blonde hair neatly brushed into a cute short ponytail, there's no reason you can't be rocking Gwen Stefani vibes.
2. Mohawk Ponytail with Shaved Sides
On this edgy hairdo, the temples to behind ears on sides are shaved, making for a different take on the traditional shaved styles. Finger comb hair back into a low long ponytail for a casual sexy result.
3. Cornrow Mohawk Ponytail
Cornrow braid from the hairline to ends to get this gorgeous braided ponytail. Gather the braids together in a ponytail and wrap in the hair instead of an elastic. Baby pink helps the style pop.
4. Faux Mohawk Ponytail
While the shape is similar to a mohawk, you still feel like you have a full head of hair when you tease the locks for messy volume. Braid the sides to emphasize a full middle.
5. Mohawk with Two Ponytails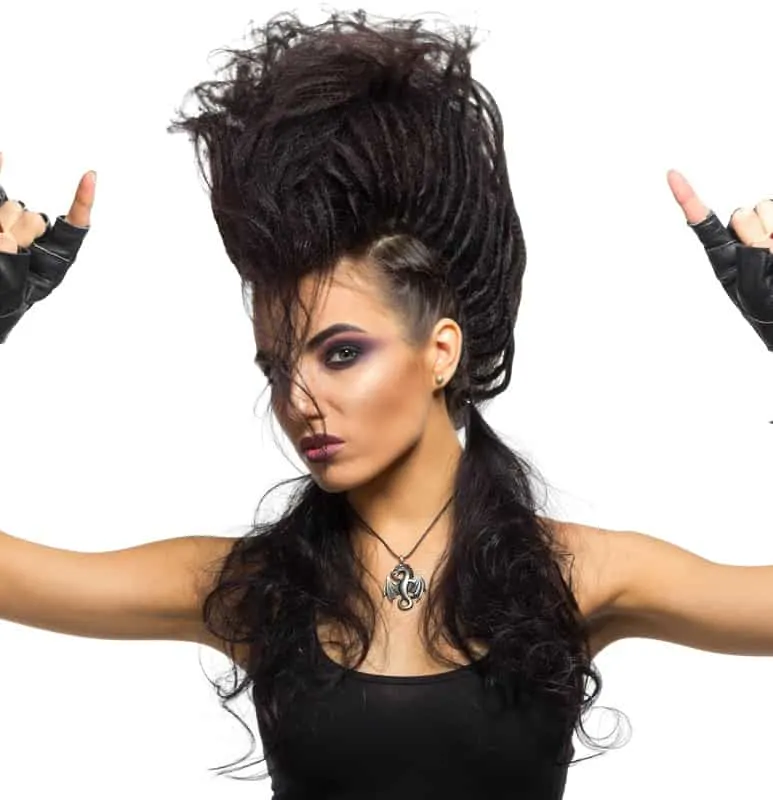 When you want to go big or go home, there's no other choice than this crimped and braided voluminous mohawk and two low ponytails filled with waves.
6. Mohawk with Side Ponytail
For this mohawk style, French braid the middle to three quarters of the way down, then gather it in a low ponytail with braids from the sides. Brush bangs straight and add a bit of color for flair.
7. Bubble Mohawk Ponytail
There are two main ponytails on this hairstyle but the "bubble" effect is created by sectioning off the hair at different lengths and pulling the hair loose. It's a sophisticated yet fun style you can wear anywhere.
8. Punk Rock Mohawk Ponytail
Whether this is your personal style in hair form or you're heading to a rock concert, a dark red mohawk ponytail shows everyone you shouldn't be messed with!
9. Teased Mohawk Ponytail
The key to a sexy pirate hairstyle like this is the teasing on the crown of the head. A low ponytail draped over one shoulder makes this a statement style for both casual and formal outings.
10. Mohawk Dreads Ponytail
A bunch of long dreadlocks create a thick hairstyle. It looks amazing with dreads gathered into a high braided ponytail and unusual colors like like and dark green.
11. Baby Bangs and Fade
If you're rocking a mohawk ponytail, frame it with a fade featuring spots or different shapes. For an even edgier touch, cut your bangs super short. Baby bangs are a great way to draw attention to your eyes.
12. Platinum Mohawk Ponytail
Platinum blonde is one of those hair colors that looks great with any skin tone. Use it to make sure your hairstyle stands out. Here, the color is used to cover the top half and lower half of hair.
13. Pull Through Ponytail
A ponytail doesn't have to be shaved on either side to be a mohawk. If you have long hair, you can create a beautiful shape just by making a pull-through pony. Take your look one step further by making little rose shapes with your hair.
14. Thick and Thin Cornrows
If you're a fan of edgy braided hairstyles, you'll want to try this ponytail mohawk with an undercut. A combination of thick and thin cornrows that start at the hairline makes this look pop with intricate detail.
15. Curly Mohawk Ponytail
Black women with extra thick and curly hair will feel empowered to show off their mane in a mohawk ponytail. This low-sectioned updo is ultra glamorous with its thinly braided sides and gold hair bands.
16. Fishtail Braided Mohawk
Long tousled hair is perfect for making a textured fishtail braid. Detail up the sides with thin braids. To thicken up your mohawk, tease with hairspray. Bonus points if you rock a bold color!
17. Mohawk Dreadlock Ponytail with Straight Bangs
To make light green show up the best on a mohawk ponytail hairstyle, try platinum hair color. Straight bangs and long face-framing tendrils are just the start of edginess on a dreadlock ponytail.
18. Three Ponytail Mohawk Hairstyle
No matter your hair length, you can make it look longer on a mohawk hairstyle with three separate ponytails at different heights. Leave hair loose or braid it for fancier occasions.
19. All Twisted Up
You can do a lot to a ponytail with a mohawk and never worry about overwhelming it. Here, protective twists are twisted themselves, creating a bump of volume that doubles as a mohawk, before being secured with an elastic. Can I just say, "va-va-voom"?
High Ponytail Hairstyle for Every Woman Out There
20. Small Center Braid
Your mohawk doesn't have to be pronounced; even something small will stand out as an eye-popping detail. A tightly plaited braid running up the center of your crown is more than enough. Add a little glam by wrapping a strand of hair around your ponytail fastener.
21. Double the 'Hawk
There's no reason in the world you shouldn't get inventive with your mohawk. Who cares if it's a modern take or a signature interpretation? Darling, that's how hairstyles evolve.
If your hair is done up in thick twists or braids, then make your mohawk out of oversized buns. Smaller plaits can result in many buns.
Fohawk or Mohawk- Which One to Go For?
22. Puffed 'Hawk
How cool is this coif? I told you—it's possible to get incredibly inventive with a mohawk ponytail. Although this style appears complex, it really involves nothing more than a bunch of elastics and a teasing comb.
It's quite easy to create a mohawk out of a French braid, as well. Again, just for the lift, you'll want to tease it a bit. As you can see, it's possible to pull the sides tight and slick instead of actually shaving them. Not everyone wants to make that kind of commitment.
All right, I give. This isn't exactly a ponytail—it's more of a braid, held tight with a banana clip. I don't care because it's the most magical unicorn hairstyle I've ever seen and I'm compelled to share it with all of you. Honestly, it's a masterpiece. Woof.
25. Shaved Sides
Many ponytails with a mohawk fake the shaved sides. Going the authentic route requires bravery and confidence. It will sharply delineate your features and draw attention to your face, jaw, and neck.
26. Long Mohawk Ponytail
There's no doubt a hairstyle like this will bring all of the attention to you. There are four ponytails on this mohawk style and they're connected by thick braids, accented with gold bands.
27. Short Mohawk Ponytail
Connect three separate ponytails into one or two low ones at the neck level for a cute style. Make it colorful with magenta, green, and blue hair color decorated with silver hoops and braided sides.
28. Ponytail Mohawk with Curls
Be proud of your thick afro hair and show it off in a mohawk. A poofy ponytail is as luscious as you can get and the beaded tendrils up front make the whole style soft.
29. Three Ponytail Mohawk
It's easy to create a mohawk shape with long hair – all you have to do is create three ponytails at different heights. Top the ends off with curls and you've got an Insta-worthy look.
30. Mohawk Ponytail for Black Hair
This mohawk ponytail isn't the traditional shape straight across the middle of the head. A coil of hair is secured off center so this look is more soft than rock.
31. Dutch Braided Mohawk Ponytail
A jumbo French braid shapes the mohawk part of this hairstyle. The hair is worn straight from the neck down but you can also wear it curly. When you're looking for classy, soft style for a special outing, this is the look to go for.
32. Mohawk Ponytail with Weave
Want a long hairstyle but your hair isn't there yet? A weave will allow you to wear braids in the mohawk style – all you'll have to do is secure it in a wrapped ponytail!
33. Mohawk Ponytail for Little Girl
Your little girl will love heading off to school in this super cute mohawk hairdo. Connect two levels of ponytails with a traditional or French braid to add soft, pretty style quickly.
Ponytails with a mohawk have a pretty, punk rock appeal. It's the perfect combination for women who are eager to embrace an edgy aesthetic. Could you wear a mohawk with your ponytail?