If you have never used a sock to make a bun, you are about to discover a brand new hairstyle. It all started with a simple sock with its the bottom part cut off but then manufactures came up with prettier replacements called "donuts".
No matter what we call them or which garments we use to make them, the result is truly unique. In fact, there is no reason to forget about the simple sock method, since the accessory itself is never visible. Making simple sock bun hairstyles is very easy. But there is much more variety.
You can go further by adding different details to a simple bun. Such hairstyles will let your imagination run really wild. You can start by getting some interesting ideas from the list of these sock bun styles and go on to create your own.
Pretty Sock Bun Hairstyles for Women
Don't be afraid of being creative! Even if your first sock bun hairstyle looks less than attractive, there is no need to stop. The more you practice, the better the result will be. If your imagination is lacking, then you can check out these wonderful ideas of how to diversify your simple bun.
Remember, all the bin styles take less than 10 minutes to make. So, you don't have to spend hours in front of the mirror to get a really creative hairstyle. Cut up that old sock or buy a special accessory and you can get on your way to making one of the most interesting hairstyles out there.
Don't be afraid to try new stuff. Such hairstyles range from wild an outrageous to neat and respectable. Any woman can find one to suit her tastes.
1. Simple sock bun with surrounding braid
One of the simplest way to make an impressive sock bun hairstyle is to surround it with braids. This simple picture guide shows you how easy it is to make. Make sure to pull out two strands when making the bun to create braids and then wrap them around the result. Clip them with pins to help stay intact.
2. Low bun with upper braids
Before you start making a bun, take two strands on each side of your head and make simple braids. Gather them in the back with the rest of the hair into a low ponytail. Then proceed to follow the instructions for the regular sock bun creation.
Beautiful Chignon Bun Hairstyles
If your hair is not too long, you can still make a nice low bun. Get the sock or the donut which is not too thick and proceed to make a pretty small bun. Use a lot of pins to make sure the bun stays in place. In any case, a high bun for short hair is recommended.
Creative Bun Hairstyles for Women With Short Hair
4. Cross braids
This fun hairstyle is very simple to make. Create two braids on each side of your head and leave them loose. Create a high bun with the help of a donut. Take the braids, cross them in the back and pull upwards to surround the bun. Use the pins to clip them to the rest of the hair.
This truly unique hairstyle will definitely make you stand out of the crowd. The French braid is created on the bottom part of your head and the rest of the hair is styled into a bun. If you are experienced enough, you can make this hairstyle on your own. If not, ask a friend for help!
6. Neat bun
This simple neat bun is easily achieved by following these easy steps. Don't forget to pull two strands out to surround the bun in the end. Use pins to keep the hairstyle intact. If your hair is frizzy, add some hair gel to make it appear neat.
7. Classical bun
A classical sock bun is created by making a high ponytail and tying it with an elastic band. Then the ponytail is put through the donut and the hair is wrapped around it. When the bun is in place, it must be secured with some pins.
If your hair is not long enough to make a classical sock bun hairstyle, you can opt for a weave. Brush your hair backwards to make a tight ponytail and attach a weave. Such hairstyle is easy to maintain and looks very attractive.
9. Loose donut bun
If you have long hair, you can make an attractive loose bun. The process is the same as making a regular bun, just pull some strands a little out when you are done. A loose bun looks more voluminous and can be a great choice for women with fine hair.
Blond is a great choice of color for any woman. Any hairstyle, including a sock bun, will look terrific on well-colored locks. Adding some creativity, such as surrounding strands and a braid over it, will help you make a really unique hairstyle.
11. Loose braids and low bun
This loose hairstyle is perfect for girls with fine hair since it allows them to flaunt some volume. Two loose braids are made on each side and are incorporated into a ponytail that will then be made into a sock bun.
12. Wild and pretty
Women who like to experiment can create this interesting and outrageous hairstyle. Some strands are left loose in front while a bun is made with a donut. Then the loose strands are arranged wildly and clipped to the back part. If you curl your hair beforehand, the result will be even more impressive!
Women's Bun Styles for Long Hair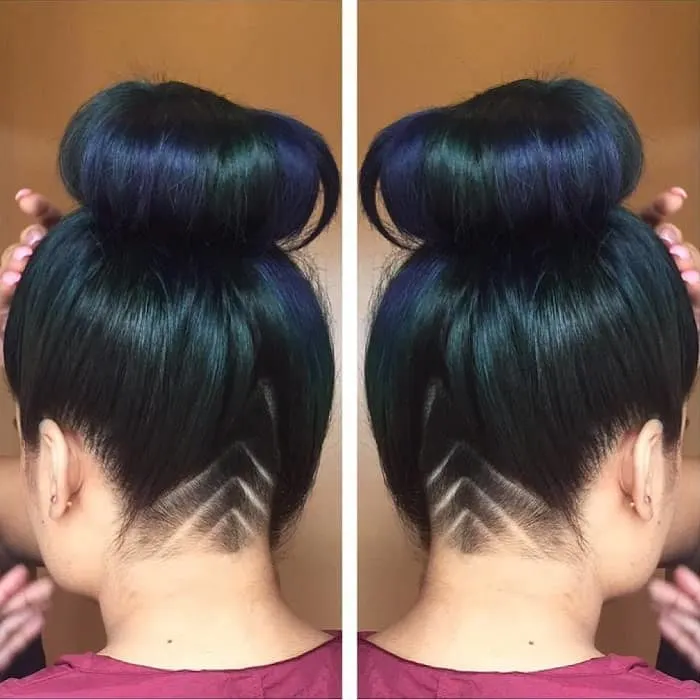 One simple hair accessory can help you make a great variety of interesting hairstyles. You don't even need to go to the store to get it. Make this donut out of an old sock and proceed to make these amazing hairstyle ideas. You can try a new one every day!