The best way to show off your hair volume is with a messy bun for long hair. Messy buns will never go out of style and rightfully so. This season, we have plenty of messy style bun variations that are utterly gorgeous and easy to try on your long hair.
How to Style Messy Bun for Long Hair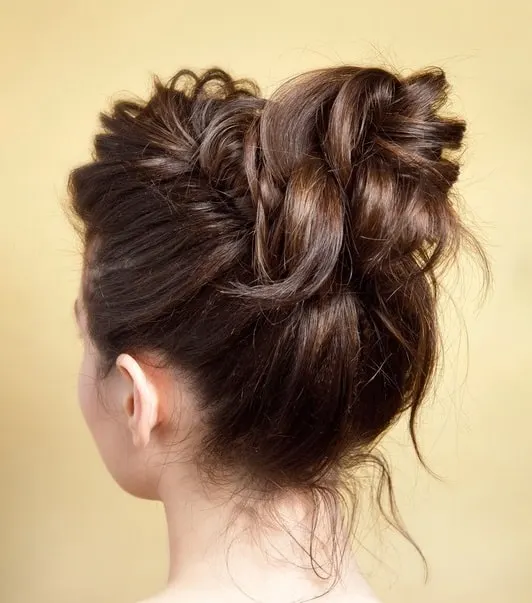 The first thing to consider when styling a messy bun is your hair's texture. Would you like a straight bun or perhaps some waves or even curls? Once you've decided, apply a heat protector and blow dry hair. From there you can give your hair soft waves or use a flatiron to make hair straight, if that is what you desire.
Next, pull all of your hair up into a high ponytail. How high you choose to wear it is really up to you, but just remember that high buns are very trendy right now, so you really can't go wrong. Once you've pulled your hair up into a position that feels comfortable (no pulling anywhere), you can take your fingertips and gently pull the hair across the front area of your scalp slightly out of the ponytail. This will give hair a slight lift and give it a gorgeous texture.
Once hair is slightly pulled out, place your fingers into the hair and spray with a good hairspray for long-lasting hold and style. Now it's time to focus on the ponytail. Even if your hair is straightened, you'll want to tease the length of the ponytail to give it more volume for filling out that cute, messy bun.
After you've teased the pony, take another hair tie and loop it around the hair and create a small teardrop bun, leaving most of the hair out. Wrap the ponytail as many times as you can, according to your hair's thickness. Next, pull some hair on the ponytail portion in the same manner as you did before on the top of the head to give the bun texture.
Take the remaining portion of hair that has been left out and wrap them around and pin them under the front and the back of the bun. This will add to the loose and looping look that is key for this style. Lastly, don't forget to pull a few wispy pieces down to frame the face. This gives hair that ultimate messy, laidback feeling. If you wish, give hair another quick spritz of hairspray and you're ready for the day!
How To Do A Messy Bun With Long Hair?
Contrary to what you might have read online, it is possible to wear a messy bun with long hair. There's a little more work involved, but if you keep just a few simple tips in mind, you'll find that a messy bun and long hair are not mutually exclusive.
If you're trying to plan for a busy day where you're not going to have a lot of time to worry about how your hair looks or you're shooting for that effortlessly unkempt look, read on to find the best way to make this elegant style work with your hair.
There Are Different Kinds Of Messy Bun
There are quite a few variations on the messy bun. We'll go through these one at a time and go over the process of each before moving on to the next.
The Low Messy Bun
If you're going for effortless cool, this one's a piece of cake.
With your hair down, wash your roots with dry shampoo. Apply the shampoo carefully, one section at a time, over your entire head.
Now take all of your hair, pull it back into a low ponytail, and secure it with a good scrunchie.
Now loop your ponytail through the scrunchie twice more. For really long hair, you might have enough left to loop it halfway through for a third time.
Your ponytail should now be resting snug above the scrunchie, sitting low against your neck. Take a small section of your hair (¼ to ½ inches wide, or 1-2 finger widths) and secure it underneath the bun to hide the elastic scrunchie.
Secure the rest of the bun so that it sits low against the back of your head, just barely above the neck; lightly fan out the ends.
Spritz with a medium-hold hairspray, leaving a few loose strands around your face if desired.
The Messy Bun For Bangs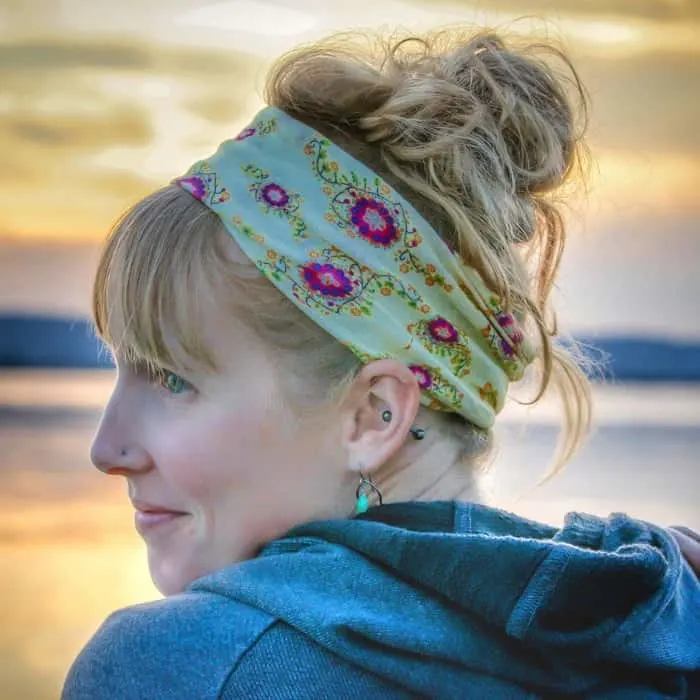 This messy bun with long hair will work for those who already have bangs or those who want to look like they have bangs.
After applying dry shampoo, take all of your long hair and pull it up into a high ponytail.
For those without bangs, take a narrow section of the ponytail and pull it forward so that it falls just over the top of your forehead. This will create a fringe; secure fringe with hairpins on the top of your head.
Lightly fan out your new bangs.
Now, take what's left of your ponytail and split it into two halves. Wrap each half around itself to make a high bun.
Secure your messy bun with bobby pins at the base. The number of bobby pins will vary from person to person.
Straighten the fringe with a flat iron, taking care to bend the fringe under just slightly.
Spritz with a low-hold hairspray.
The High Messy Bun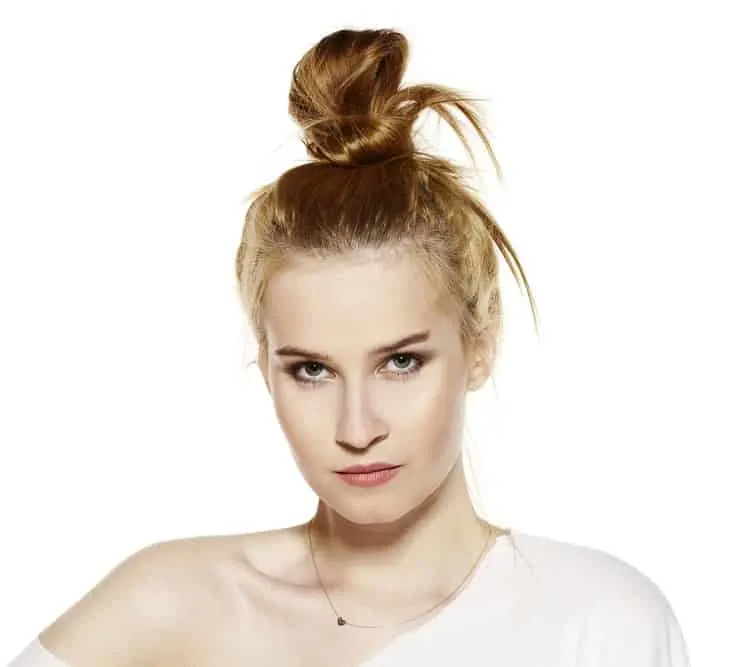 This is the go-to option for those who want a messy bun with long hair. Start with your long hair down and completely wet. Apply a volumizing mousse to the roots, one section at a time, then blow-dry hair with a hairdryer set to low.
Curl hair with a 1 ½-inch curling iron.
Treat your roots with dry shampoo.
Identify the top section of your hair where the messy bun will sit. Tease with a fine-tooth comb.
Smooth out the teased hairs.
Tease the rest of your hair more forcefully with a broad tooth comb.
With a medium-hold hairspray, spritz the midpoints and ends of the teased hair. Take care to let the hairspray dry completely before proceeding to the next step. This can take up to ten minutes.
Gently gather all hair and pull it up to the center-top of your head.
Fold the hair over just once. With an elastic hairband, wrap the base twice around the bun's base to secure it in place.
Now carefully stretch the bun to match your personal preference.
Place your fingers beneath the hair gathered on top of your ears and lift it slightly to refine the shape of your head further.
Let a few hairs hang loose. These are going to frame your temples.
Place your fingers beneath the hair in the back and lift just slightly to loosen.
Spritz with hairspray one last time.
Style An Elegant Messy Bun With Long Hair
Forcing your long hair and a messy bun into a state of peaceful coexistence isn't all that difficult. All it takes is a few extra minutes and the right styling products. When it's done right, a messy bun with long hair creates a look of casual ease and effortless elegance.
Whether you're just trying to mix up your look a little ahead of a long day at the office, or you're getting ready for a friend's wedding, any one of these looks will have you turning heads in no time.
Depending on the occasion, you can combine a few styles and do your own versatile messy bun for your long hair. Below, we have come up with 30 Top notch messy buns for women with long hair.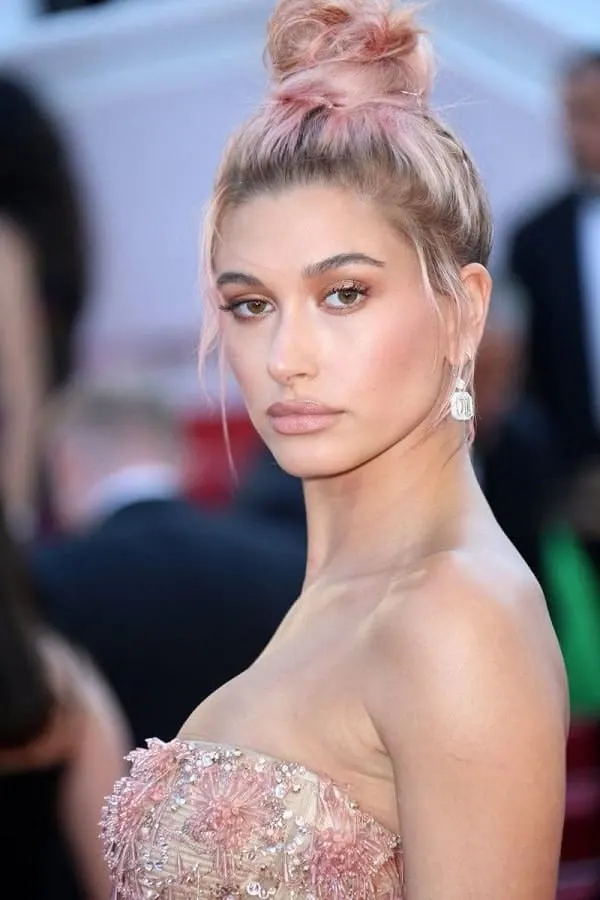 It is not uncommon for many women to go for hair colors outside of the traditional color pallet of blonde, browns, and burgundy. Here, we have a perfect long messy top bun that shows cases beautiful pink highlights. Gather all of your hair at the crown region and slowly go for a ponytail.
Think of a super high ponytail. Now, wrap your hair around the hair tie and tuck inconveniently while not caring to perfect stray hairs. To add more drama to the look, let some stray strands of hair around your face and behind your neck too.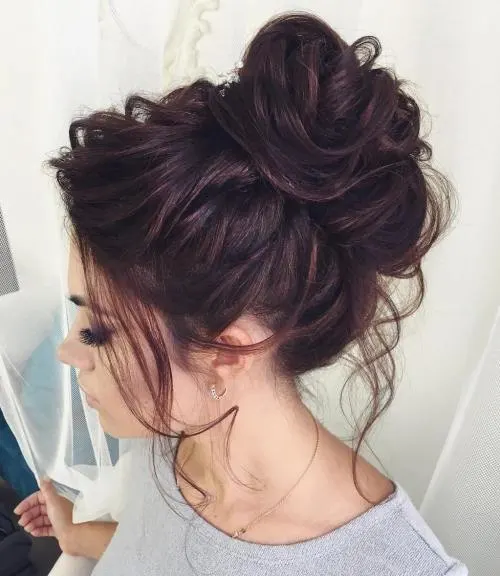 This version of the messy hair bun is done with such flair that the look is perfect for women who want to wear it for prom or as a bridesmaid. Start by creating small segments of your hair and go for soft waves through the length of your hair while adding a little more curl towards the ends.
This messy bun for long hair features more volume, which is a look that can be achieved through a curling rod. You need to go for two buns while separating your hair into two segments, one below the other in such a way the buns overlap. Twist and tuck both your buns loosely until they appear as one. Spray on hair spray to set the hairdo.
3. Accessorized Top Bun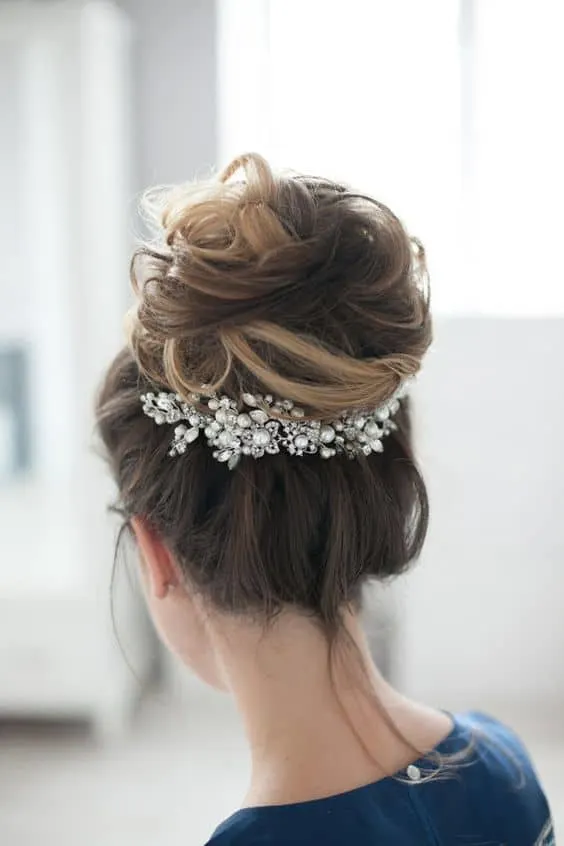 Got a hand me down hair brooch for your wedding? No better way to wear it than as a messy bun's aid. If you have long ombre hair, there's no better way to show off your colors.
Create soft waves at the bottom of your hair while going for a straight and smooth look for the majority of your hair length. Gather into a top bun and tuck at the bottom. Use your hair brooch to support the tucked parts and serve as a beautiful highlight on your hair.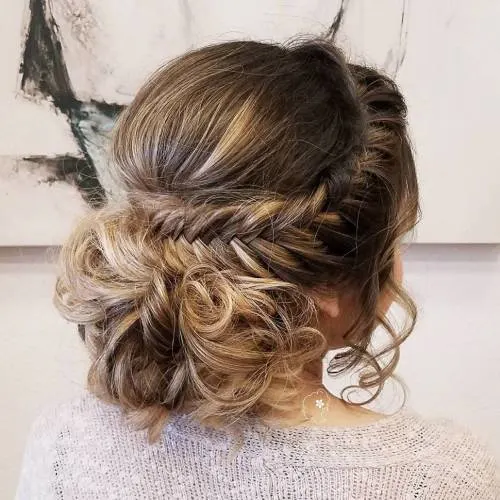 Combining a braid with a bun is the best of both worlds and creates a unique and stunning look. This super romantic hairdo is easy and best for women with long hair.
Start with a fishtail braid from one side of your hair a little ahead of the crown area in such a way that the braid forms a tiara and stop hallway to where you want to create your messy bun. Tuck in accordingly and start with a super bun at the bottom. Viola! You'll get the perfect messy bun for your long hair.
5. Knotted Top Bun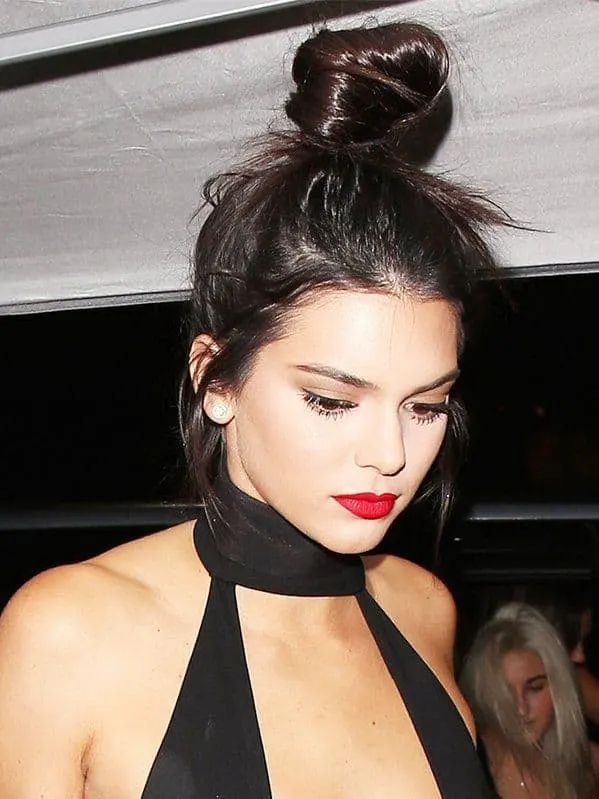 If you have super straight super long hair, then this messy bun look is perfect for you. Go for a simple knotted top bun and leave some loose strands across your temples. Perfect if you want to opt for heavy makeup and a super chic look.
6. High Volume Bun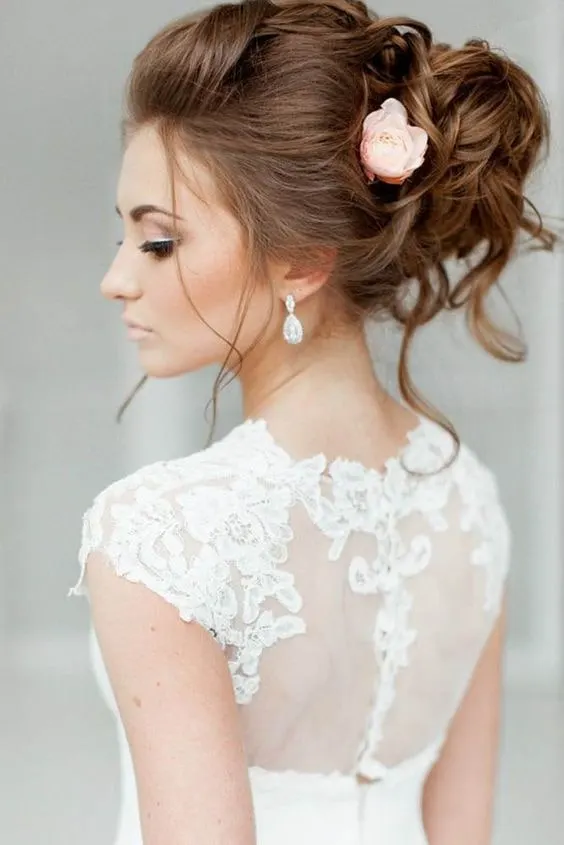 Create a loose high volume messy bun perfect for a wedding or to go with a dress with a stunning back. This bun is perfect for long wavy hair. Start by bringing part of your hair from the front and securing it at the crown area and proceed with a messy bun.
Use a curling iron and add some extra curls to the tendrils hanging from the messy hair bun. You can additionally add a floral touch to the hairdo with a single rose or some smaller flowers.
7. Side Parted Hair with Top Bun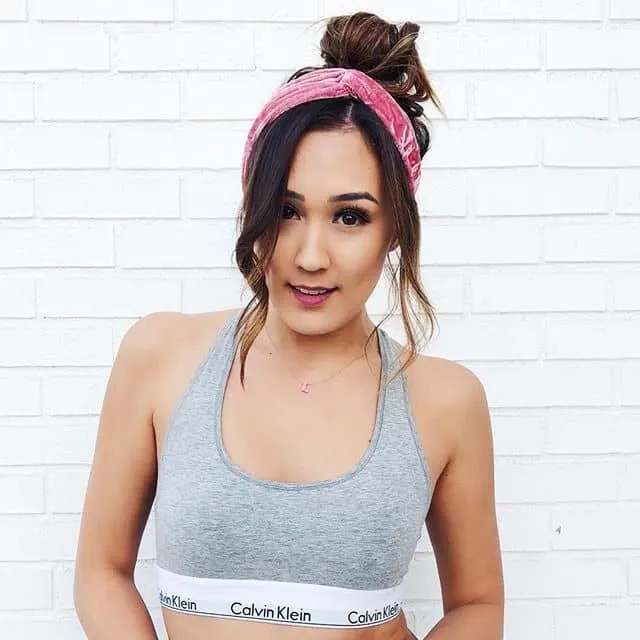 Create a sporty look with this perfect long messy bun. It's quite easy even if you are a beginner at dressing your hair. A wrap-around headband is all you need to finish this look.
Begin by creating a side partition and wearing the headband. Tuck and pull smaller segments of the hair from the headband to fall on either side of your face and use the rest of the hair to create a top bun.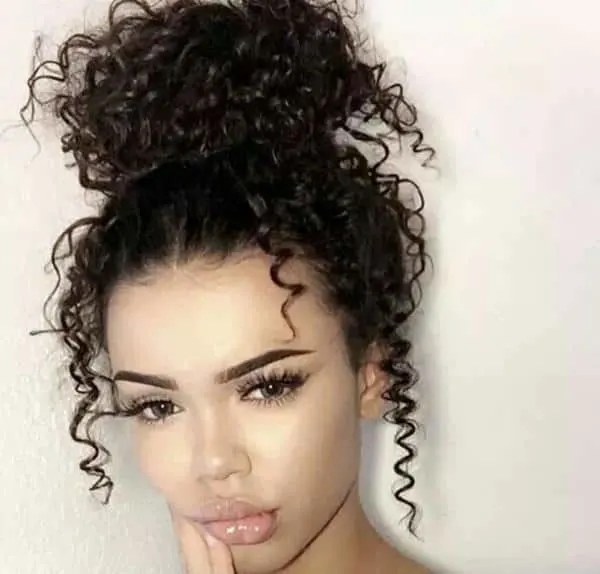 If you thought fine curly hair cannot be styled in a top-notch bun, you are horribly wrong. A simple messy bun will look far better when it is on long curly hair. Besides, the bun looks super voluminous with natural curls. Gently pull some stray strands of hair on the sides to finish the look.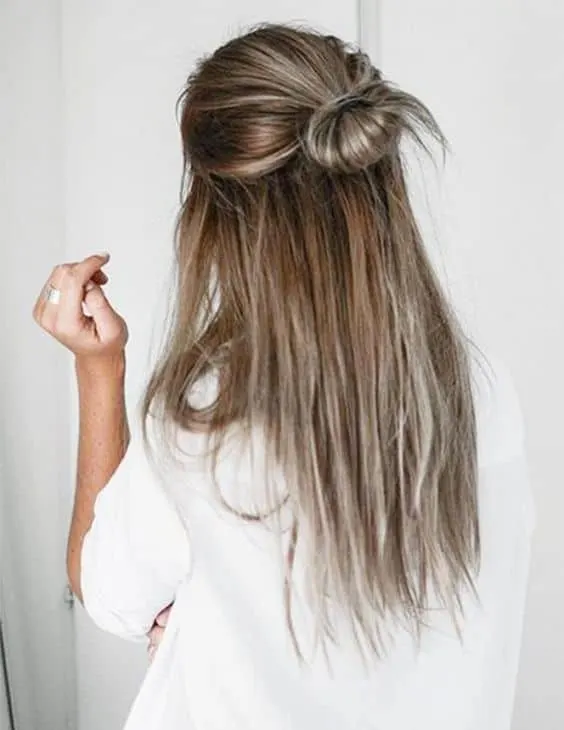 Show off your long beautiful tresses with a messy top bun at the same time with this improvised half up half down hairstyle. This messy bun for long hair works well on both wavy hairs as well as straight hair.
10. Messy Bun with Tiara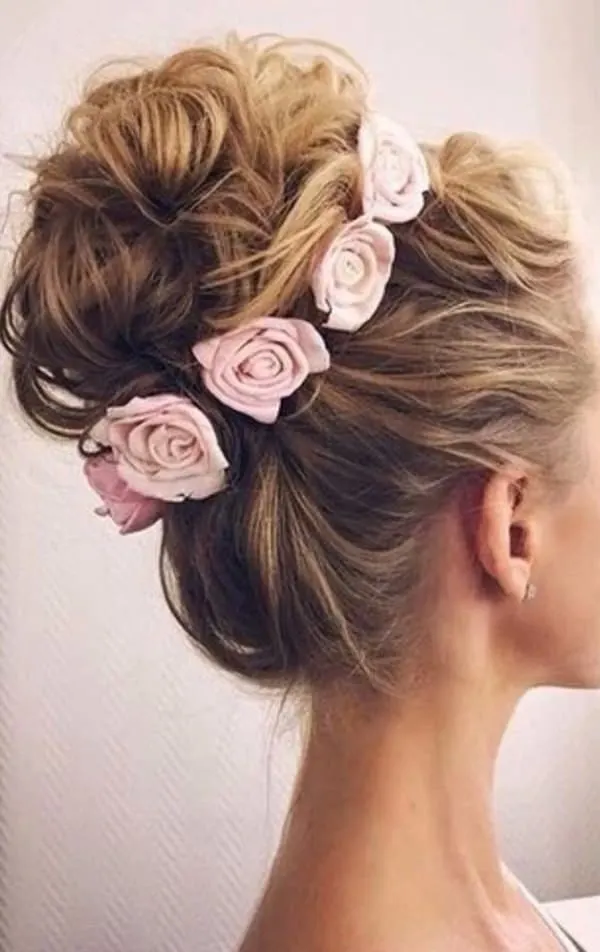 This is one of those messy buns for long hair that highlight your facial features as well. Go for a high bun and use a tiara to surround the bun. You can tuck stray strands of hair around the tiara as well.
11. Bun with Ombre Highlights
This simple variation involves showing off ombre highlights on long hair with a messy bun. However, this is a look that works best on long straight hair. The way straight hair falls on each side of your face loosely as part of your bun creates a beautiful messy look on the whole.
12. High Volume Knotted Bun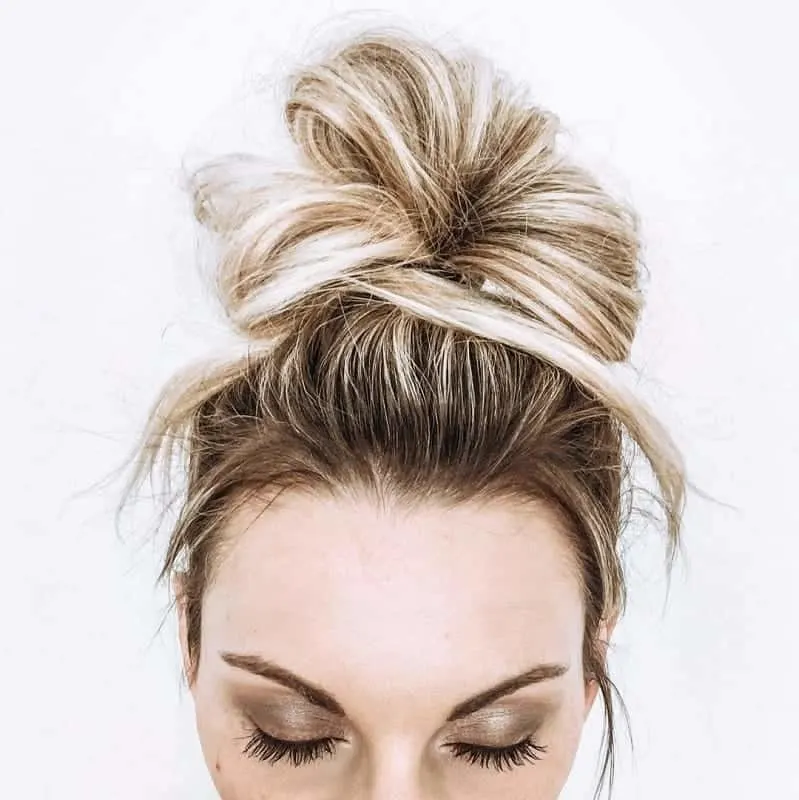 This is a lot like the messy knotted bun. Except, you need to make use of the ends of the bun as strays instead of just sticking to front hair. Create a criss-cross look at the crown region with the ends of your messy bun and make sure they are visible from the front.
13. Twin Buns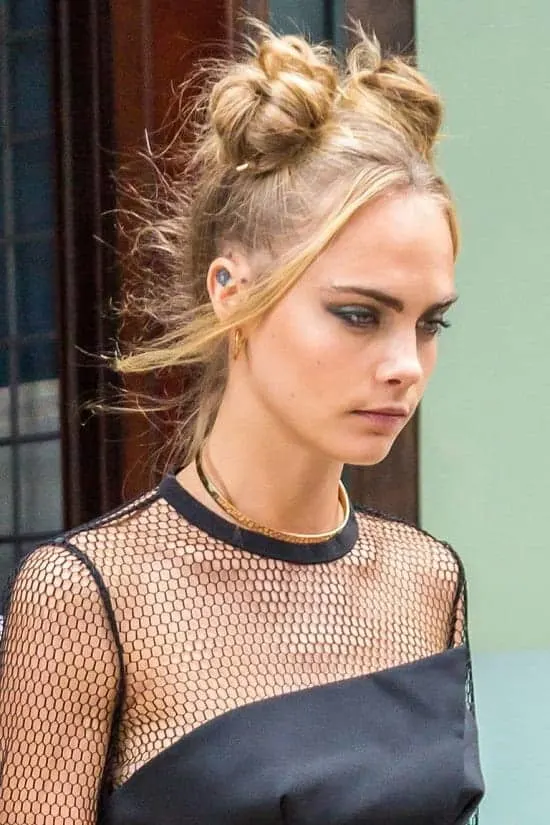 Why go for a messy bun when you can have two? Go for centre partition and leave hair strands in the front at either side. Proceed to go for top messy buns on long hair at each side and remember to keep your hairdo messy without perfecting the textures.
14. Elizabethan Low Bun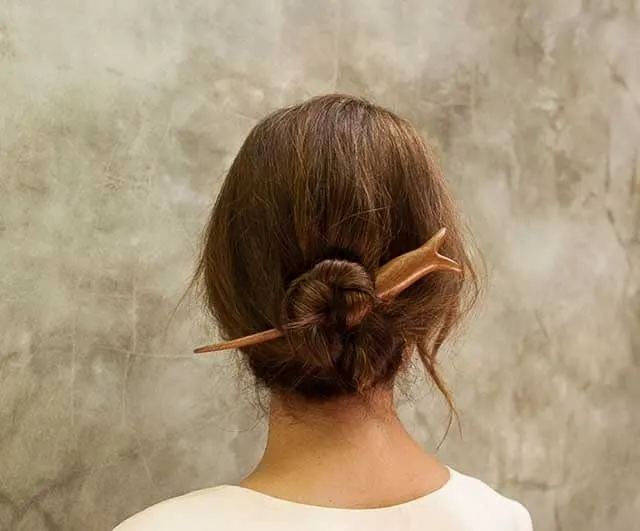 Think low buns from the countryside of the past. This loose hairdo is perfect for women in a hurry who like to keep things simple. Secure your long hair into a messy bun with a hair stick to finish the look.
15. Sleek and Top Bun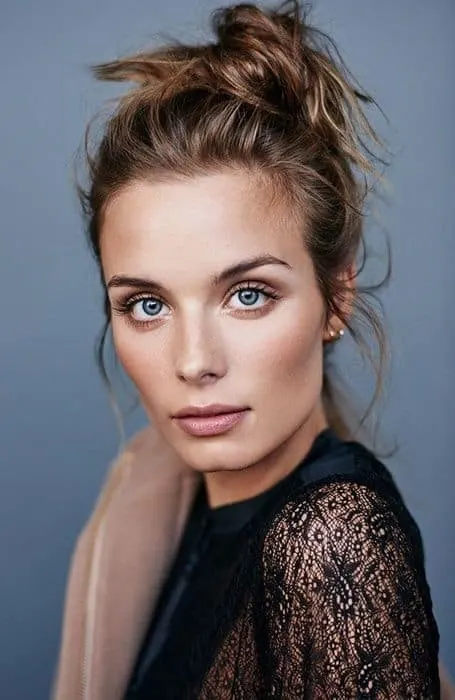 Pull your hair tightly into a high ponytail and use the rest of your ponytail to create a messy bun. Twist and tuck into a bun loosely to create a messy bun for your long hair.
This top bun combines a tightly pulled hair at the front with a super messy bun at the back. This messy hair bun look with long hair compliments women with a much smaller face than the rest.
16. Loosely Braided Bun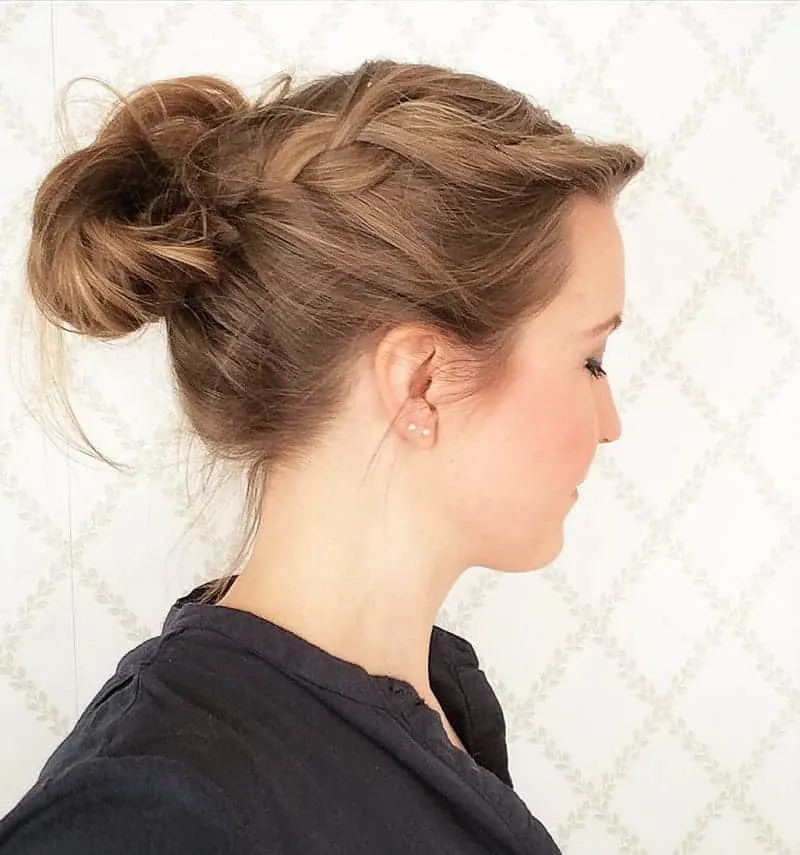 Start with a classic loose braid from the front and proceed to finish into a loose messy bun at the back. Don't forget to let out loose strands of hair from the bun as well as behind the ear.
17. Waterfall Braided Bun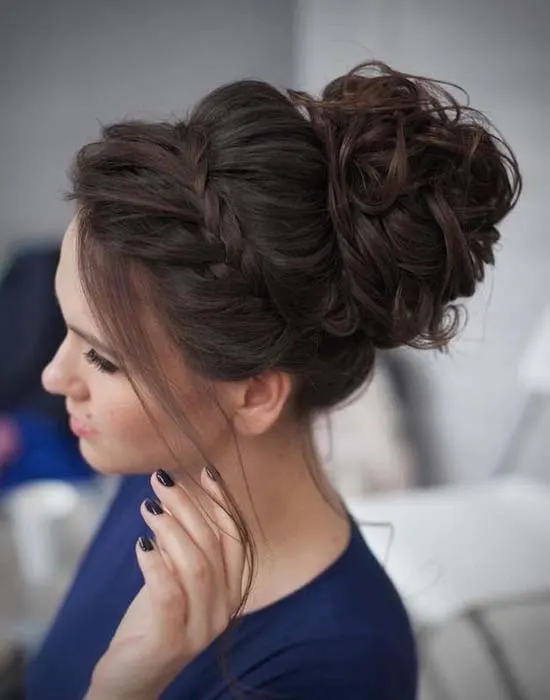 A messy bun that is so perfect that it is almost impossible to call it a messy one. If you are wondering how to do this messy bun for long hair, we've got you. First, leave a small portion of your hair at the front to serve as your loose tendril.
Start with a waterfall braid that serves as a braided tiara and set aside. Now, gather your hair into a ponytail and use a volume base to tuck your hair into a bun. Now take the braided segment and tuck into the bun.
18. Bun with Long Loose Strands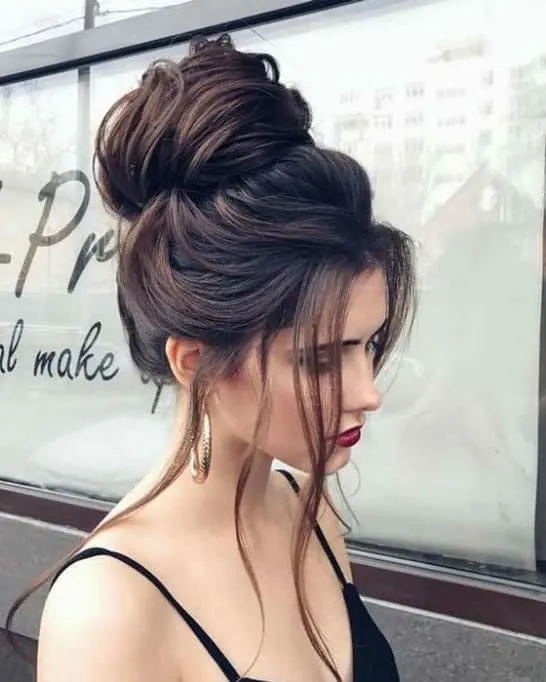 You need to create multiple ponytails across your scalp and combine them to create a super voluminous messy high bun. If you don't have short layers at the front, the better.
Use your long hair to serve as loose tendrils and don't be afraid to pull more than 3 segments of stray hairs. Use enough bobby pins to secure your high volume bun.
19. Knotted Messy Hairdo with Brooch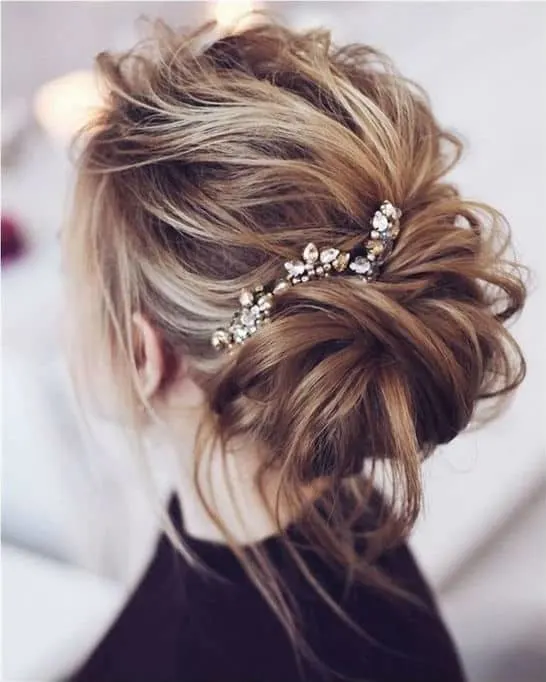 Hair brooches are all the rage when it comes to messy buns for long hair. Create a knotted bun that is gathered loosely at the bottom and make sure you pull at the bun rather than tug it to create a puffy bun.
Use small hair brooches as a series to tuck your hair and accessorize your bun. The messy looking bun with long hair look is perfect for weddings and romantic dates.

Start by braiding your hair thickly from one side of the hair and ending at the other. You can tug at your braid to make it look denser. Now, go for a top bun with messy finish.
You have to be at your messiest possible with this bun to beat the perfect braid at the front. This long haired messy bun look is easy, chic and totally functional.
21. Twin Braided Low Bun
Start with two braids at either side of your head from a little above your ear and secure with a bobby pin at the centre. Now along with the rest of your hair, including the braids to create a super messy low bun. Finish the look with some loose tendrils at the front.
22. Braided Half Up Hairstyle
Gather your long hair in a half up half down hairstyle and create the bun at the top. While the remaining part falls freely, braid a segment of your hair to compliment your long messy hair bun on top.
Mesmerizing Half braided Hairstyles for Black Hair
23. Simple High Volume Loose Bun
You are going to need a hair tie and a puffy bun base to achieve this messy bun for long hair to get a girl next door look perfect for a wicked workout or a day at school.
Gently wrap your hair around the bun base after you create your ponytail and secure on the inside with bobby pins. Make sure the ponytail is gathered loosely and leave some strands to fall on your temples.
24. Multiple Messy Buns

All you need to do is create segments vertically and start with messy buns on each segment. You can go up to 4 buns in this multiple messy bun hairdos which is easy to work on with long hair.
25. Low Messy Bun with Middle Part
Create a center partition and go for a low ponytail that you can improvise into a messy bun easily. This messy hair bun style is perfect for women with long fine hair that is scarce in volume.

Start with a side dutch braid and bring it to the other side to create a super messy side bun on your long hair. You can braid loosely or tightly depending on your preference. Additionally, you can accessorize with tiny flowers too.
Hypnotic Side French Braid Hairstyles for Women
27. Loose Top Knot Bun with Flowers

This simple messy top bun is complete with artificial flowers at the bottom of the bun to show off your long hair.
28. The Perfect Brunette Bun

Use a bun base and create a super voluminous messy bun with your long hair. Opt for loose tendrils a little above the rear of your neck and at the side of your head.
29. Uneven Bun

This runway-ready look is quite easy to achieve. Just make sure your hair is uneven at the front with a messy top bun at the back. Go for setting spray to retain your hairdo.
Work your way through a low bun and pull out several stray strands from the bun. Use a curling iron to curl the loose strands closely and tuck into the bun. A chic messy bun for long-haired brides!
No matter what hair type you have, these messy buns for long hair can be worked easily on your hair. If you found your favorite from the list, try on and rock that messy hair bun!