Traditional buns can often make you look older, but sleek low bun styles are a symbol of elegance and refinement, and they will make you completely forget traditional buns.
Best Low Sleek Bun for Women
We have gathered a list of top 10 sleek low bun hairstyles for women all over the world to proudly try.
1. Tight Side Bun
There's no mistaking who the boss is at work or who the queen is at the party when you've got this chic bun on your side – literally!
Ideal For: Heart and square-shaped faces
How to Style: Comb in a little mousse to make a perfect middle part before gathering your hair at one side in a tight low side bun. To get the 'top knot' shape, stack each coil as you wind your hair around.
2. Combed Back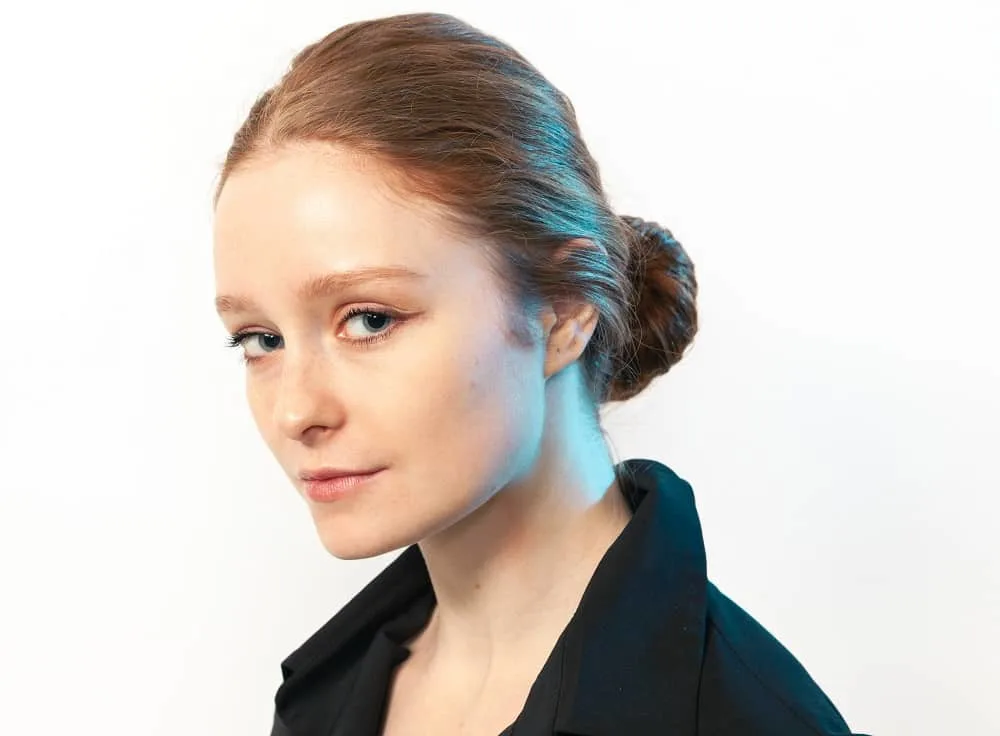 Your hairstyle can still be sleek even if you don't use any hair product. When you're short on time, go for this casual but elegant favorite.
Ideal For: Round, square, and heart-shaped faces
How to Style: Finger comb your hair away from your face and gather it into a low bun right at your neck.
3. Low Braided Bun
If you like delicate updos, you'll love the gorgeous detail a braid adds to a sleek low bun.
Ideal For: Oval or round faces
How to Style: Use mousse with your comb to tame flyaways. Then make a low ponytail and braid it before coiling it into a bun.
4. Sleek and Textured
If you have wavy or curly hair, you can still let it shine through in an updo. A versatile low bun will help you look friendly and put together.
Ideal For: Heart or square-shaped faces
How to Style: Using only a minimal amount of hair mousse, comb your hair away from your face and into a low ponytail before making a bun.
5. Bun with Wispy Bangs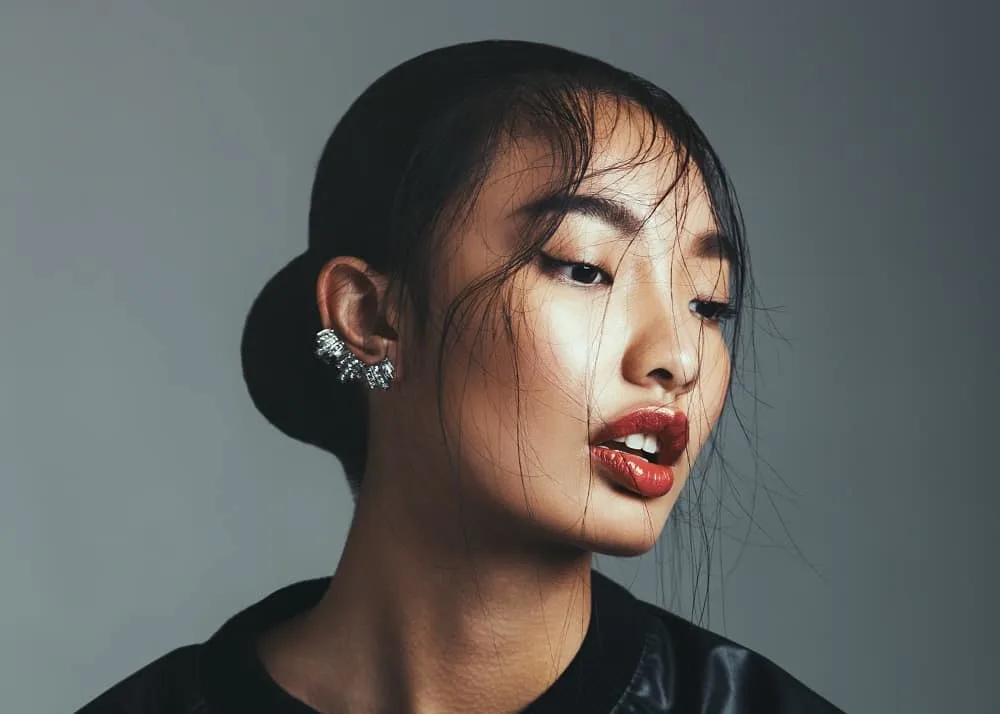 If you have a large forehead or you're trying to hide the curves of your face, artistically wispy bangs are the answer.
Ideal For: Round or oval faces
How to Style: Separate the shortest pieces of hair around your face away from the rest of your mane. Use a little product to comb them down over your face. Gather the rest of your hair into a sleek low bun.
6. Low Bun with Middle Part
Kim K has worn all kinds of middle part hairstyles. But when she appeared wearing this simple, sleek low bun, all eyes were on her, and everyone admired the simplicity of the beautiful hairstyle.
Ideal for: Heart and oval-shaped faces.
How to style: Make your hair perfectly straight and smooth and part it in the middle precisely. The hairstyle goes behind the ears. On the crown of your head make a nice bun – it can be a totally simple one or a twisted and layered one.
7. Sleek Side Bun
You wanna look like royalty? Kate Middleton does not only look like that – she is that. Take a few tips from her and consider this sleek low side bun.
Ideal for: Round and square-shaped faces.
How to style: Part your hair on the side and make a sleek, layered, side bun, twisting different pieces of hair in multiple ways to achieve the texture. If the occasion is extra special, a good hair accessory can complement the hairstyle beautifully.
8. Sleek Bun for Short Hair
You can also opt for something more eye-catching. This sleek hair low messy bun is so big, gorgeous, and breathtaking.
Ideal for: All face shapes.
How to style: Part your hair wherever you want, making sure it's completely straight and smooth. Then tie it into a low ponytail. From there, make a layered, low bun elegant and worthy of a princess.
9. Sleek Bun with a Side Part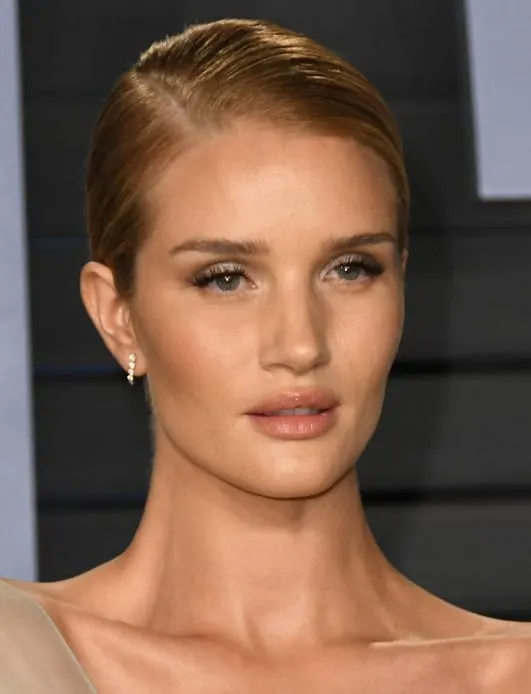 A low sleek bun is perfect even if your hair is parted on the side.
Ideal for: Heart and square-shaped faces.
How to style: Straighten your hair completely. Part it far on one side to achieve an asymmetrical texture to emphasize your face shape. Make the hair slick by using hair products and create this simple low bun.
10. Sleek Low Knotted Bun
Wide braids are great for the truly refined lady. For a softer hairstyle, choose a knotted low bun.
Ideal for: Round and oval-shaped faces.
How to style: Use a generous amount of styling product to make your hair perfectly smooth and slick. The hair should be previously straightened and parted wherever you feel most comfortable. Then create a gorgeous knotted low bun, otherwise known as a one-bow bun.
Low buns have gained popularity in the last few years. Many Hollywood stars have found an alternative for long waves or a ponytail in sleek low bun hairstyles. Maybe after reading this article, you will too.