Featuring the two most popular fall colors, it doesn't come as a surprise that red brown hair is the ultimate autumn hair color. But did you know that there's more than one way to wear this pumpkin-spice-inspired hair shade?
From burgundy to mahogany to copper, this hair color gives you a variety of shades to choose from. And with various styles like ombre or balayage, the red and brown combination also offers endless styling opportunities.
But with so many options, finding the right style and shade can become a big challenge. Here are two simple guidelines to help you out:
Lighter shades have a glowing appearance that complements warm skin tones.
Deeper hues deliver a balanced mix of warm and cool tones, so it looks great on neutral skin tones.
Now that we've got the basics out of the way, it's time to check out the best reddish-brown hair color ideas to inspire you for your next salon visit.
Red Brown Hair Color Examples to Copy
Red brown hair color actually comes in a wide range of shades, and here are your most fabulous options.
1. Warm Reddish Brown Waves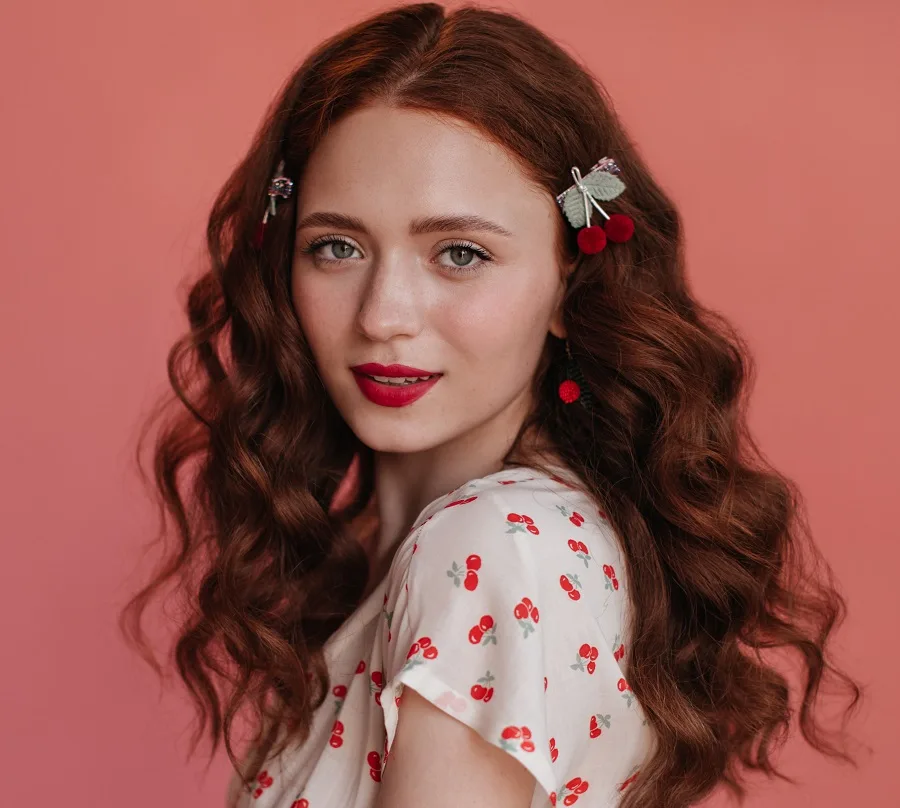 A warm reddish brown shade is perfect for women with curly or wavy hair because this eye-catching color can make your waves or curls look silkier and more velvety. If possible, opt for a demi-permanent color to prevent your waves from drying out.
2. Copper Brown Vintage Bun
It may seem like a brown shade, but copper is actually a less-vivid red shade with hints of bronze, brown, and gold undertones. With its richness and warmth, this glamorous shade is the perfect option for adding flair and style to brunette hair.
3. Dark Auburn Ponytail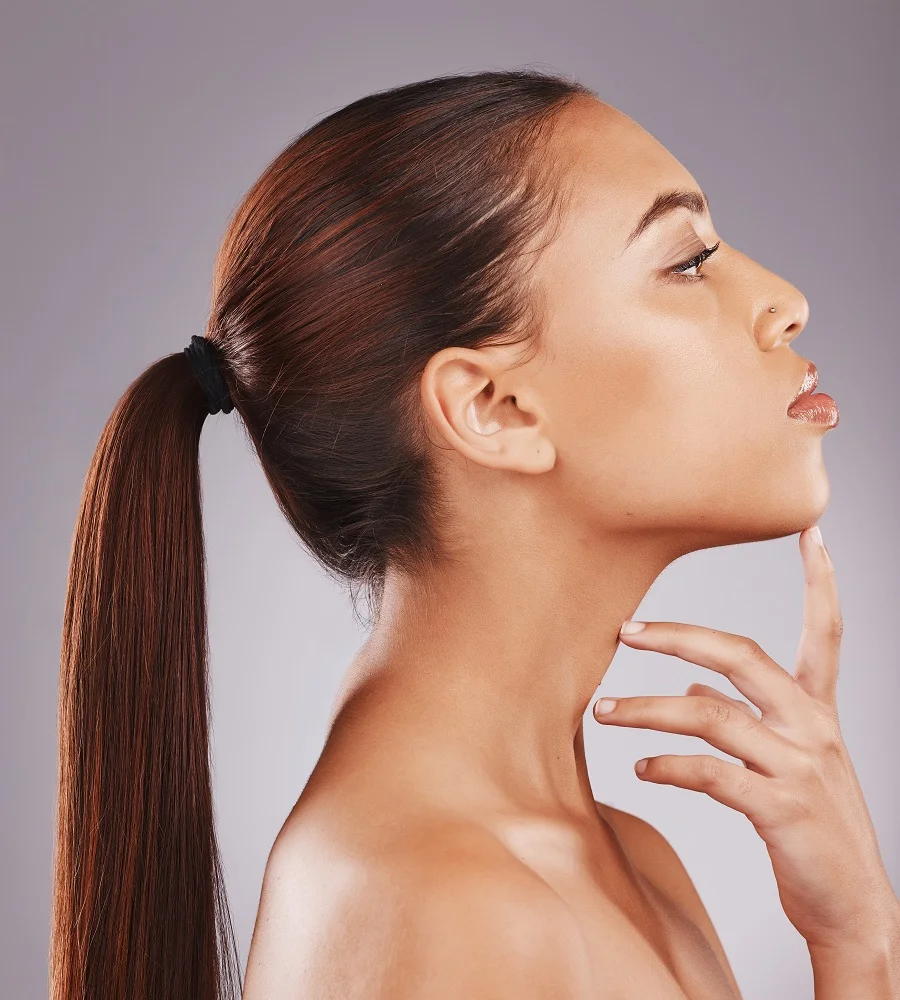 If your goal is to just add some accents to your dark hair, dark auburn is your best choice for giving you a natural look. Pull your hair into a ponytail and you get to show the striking contrast between your dark hair and auburn highlights.
4. Ginger Curls + Blunt Bangs
Ginger beer is most probably the brightest and most vivid red brown hair color you can get your hands on, so it's an excellent choice for women who want to stand out. Featuring the perfect blend of orange-red shade and deep brown hues, this hair color will make you the apple of everyone's eye.
5. Rusty Auburn Wavy Lob
Lily's outfit for the Costume Guild Awards in 2013 is one of her most iconic looks, but for us, it's her dazzling red brown hair color that takes the cake.
We love how her rusty auburn hair complements her pale skin and rich makeup hues pretty well. Not only that, but it also made her beautiful eyes pop even more.
6. Chestnut Braids and Pigtails
If you want this beautiful chestnut shade to take center stage, shy away from bleaching services and opt for gloss to keep your hair shiny and healthy.
Keep in mind that your skin tone matters a lot when choosing chestnut shades. As a rule of thumb, warm chestnut shades look best with cool undertones and vice versa.
7. Dark Rich Auburn Updo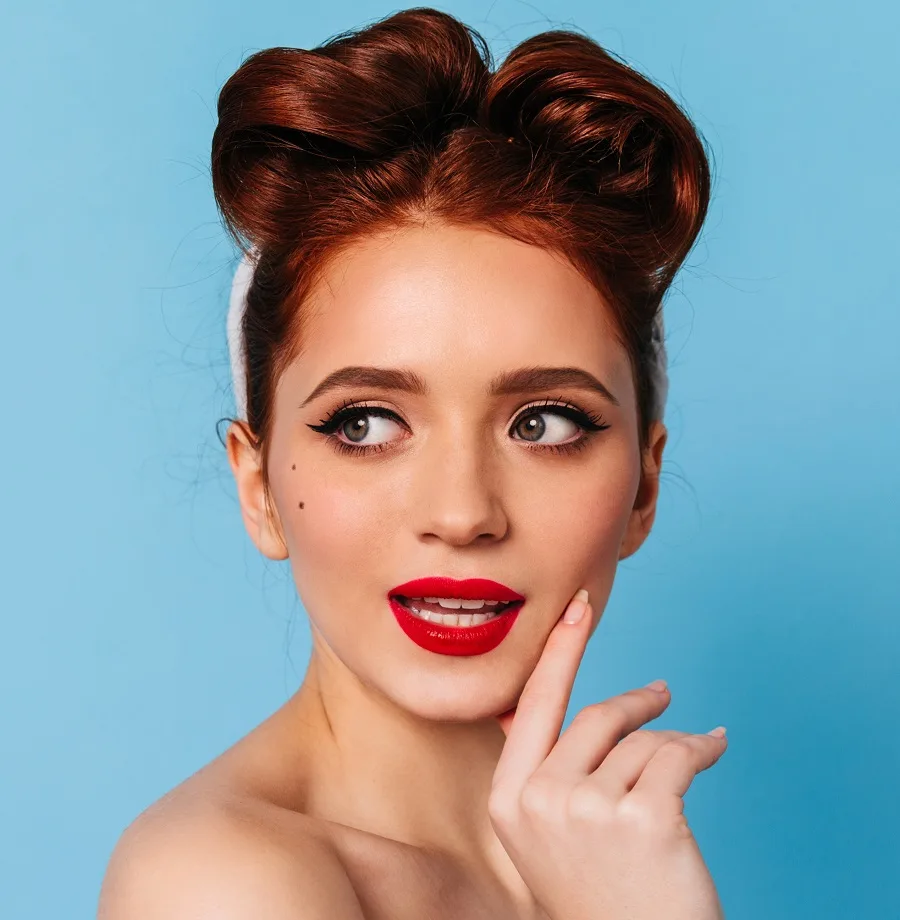 For those who want a balanced mix of red and brown, this rich auburn shade is exactly what you need. This darker shade is made up of a mix of burgundy, red, and brown which gives it that deepness and richness you can't get from any other red-brown shades.
8. Dark Copper Bob Balayage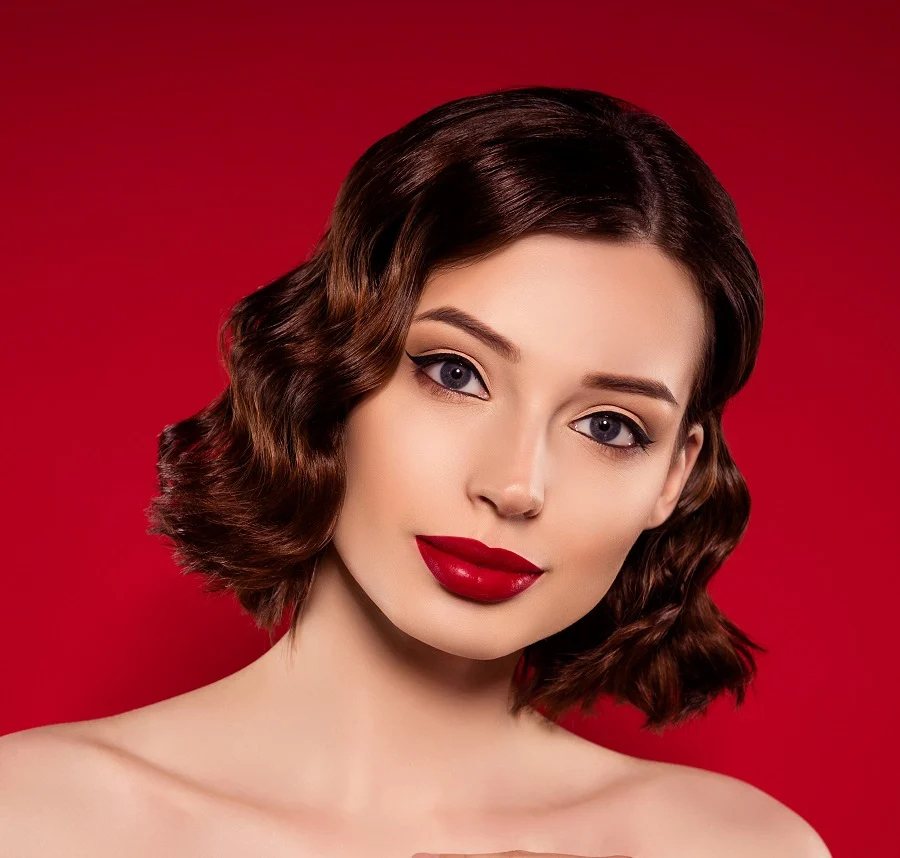 Go for dark hair with a few hints of dark copper shade if you're looking for something fancy and elegant. We highly recommend maintaining your hair's natural color at the top and just simply add a few streaks of dark copper to give your hair that shiny reddish tint.
9. Mahogany Kinky Hair
Mahogany hair color may seem like a violet shade, but it's actually a deep and rich reddish brown color. Since it sits alongside burgundy and wine shades at the dark red spectrum, it's a fantastic bet if you want to achieve a dramatic look.
10. Copper Balayage Braided Hair
If you love the copper shade but are not yet ready to fully commit to it, ease into the idea by going for a balayage treatment instead. In this way, you can spare yourself from the costs and maintenance while fully enjoying its gorgeous look.
11. Soft Copper Braided Updo
Copper is definitely an attention-grabbing hue, so if you're looking for a more subtle and subdued option, soft copper might just be what you're looking for. This color has the warmth of copper but it has more brown undertones which softens it and gives it that muted charm.
12. Reddish Brown Highlights
You don't have to go for a full red brown hair color. If you only want a slight update on your current hair color, you can just simply add reddish-brown highlights to it. This color will look amazing on dark brown hair as it will give it more depth and dimension.
13. Auburn + Blonde Moneypiece Highlight
Add more pizzazz to your already-beautiful auburn hair with blonde money piece highlight. The highlighted strands at the front section of the hair will frame your face elegantly and give your complexion a glowing boost.
14. Burgundy Bob
Make your bob autumn-ready by dyeing it with a charming shade of burgundy. Considered to be the deepest red brown hair color, this can certainly turn a simple bob into a stunning one.
15. Burgundy Layered Hair + Bangs
And if you want a full-on dramatic look, match your deep burgundy hair color with a stylish hairstyle. If you want the ultimate stylish face-framing hairstyle, layers and bangs are your best friends. This duo can add volume to thin hair in an instant.
16. Copper Red Side-Parted Hair
If you want your hair to look warmer and brighter, then we suggest that you go for a red brown hair color that's more reddish than it is brownish. With that said, copper red is a safe bet. It's bright, rich, and it will surely make your hair look extra shiny.
17. Reddish Brown Flat Twists
These red brown flat twists are the perfect proof that you can protect your hair and keep it stylish at the same time. This gorgeous hair color gave the protective hairstyle a more interesting look and brightened up the wearer's darker complexion really well.
18. Copper Long Wavy Hair
A long wavy hair already looks gorgeous on its own, but dye it in a stunning shade of copper and you get a simple hairstyle that will make heads turn.
For best results, pair this glamorous hair color with dramatic makeup that can make your eyes pop.
19. Merlot Kinky Updo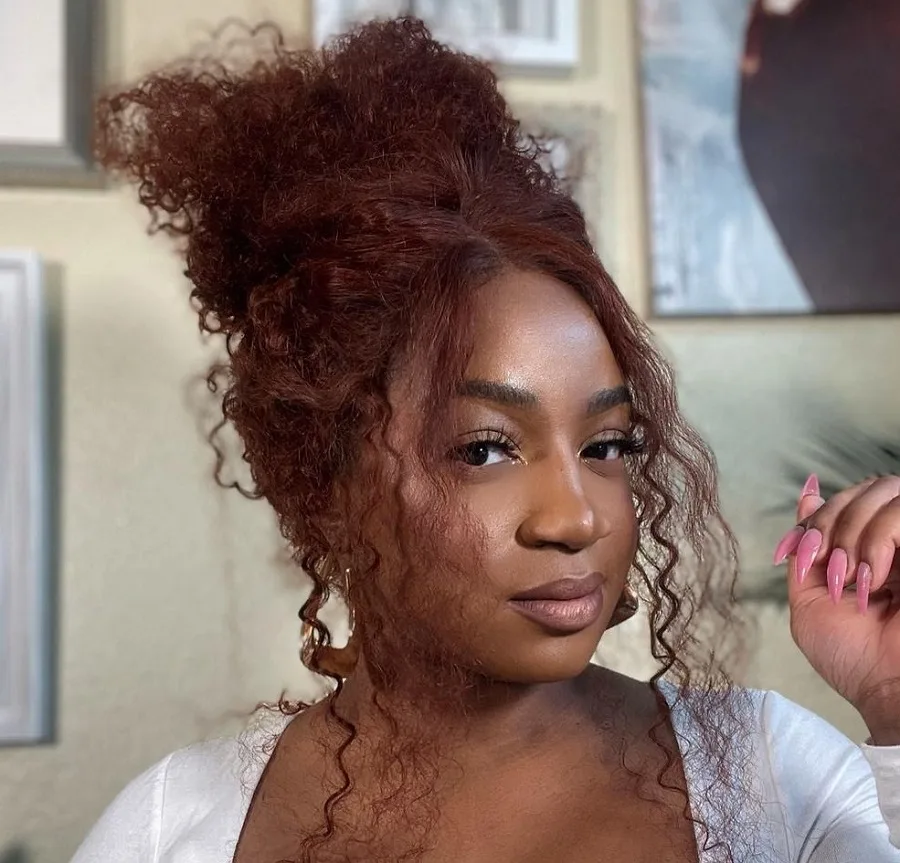 Merlot is a deep red-brown shade that has the same color as everyone's favorite wine and is the chicest take on the timeless brunette color. Donning this shade is one of the subtlest ways to experiment with red hair tones.
20. Dark Mahogany Long Hair
We love mahogany because of its complex profile. It's not only a red-brown shade because it has deep purple tinges as well, which gives it a classy spin. Not only that, but the purple shade also makes it a versatile hair color that would look amazing on all skin tones.
21. Copper Red Lob + Full Bangs
For those who like a less warm shade of red brown hair color, copper brown is just what you're looking for. Most people think that this shade is only for fair-skinned women, but it can look amazing on darker skin tones too if you'll go for a darker copper brown hue.
22. Dark Red Brown Double Buns
A dark red-brown shade complements olive and darker skin tones and makes curls stand out. And if you really want to make heads turn, we recommend going for a unique and edgy hairstyle like these double buns.
23. Reddish Brown Pixie + Blonde Bangs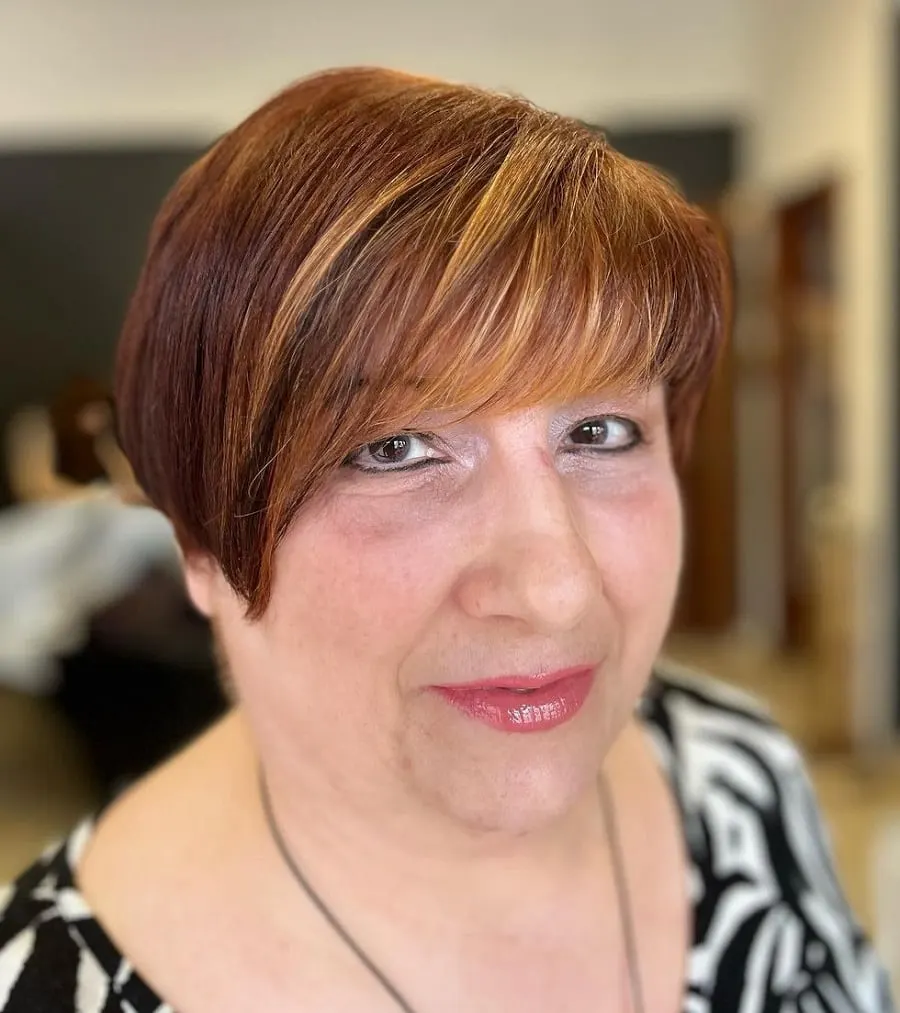 Add more dimension to your brightly colored hair with a few gold highlights. Reddish-brown hair color is known for its warmth, so adding gold to the mix will give it a more eye-catching, sunkissed look.
24. Burgundy Layered Hair + Curtain Bangs
Women with fine hair would definitely benefit from a deep and dark burgundy shade as it can add more depth and dimension to the hair and make it look thicker. For best results, pair it with a volume-boosting hairstyle involving lots of layers and face-framing curtain bangs.
25. Red Brown Hair + Ash Highlights
To balance off the warmth of your reddish brown hair, you may want to add a few streaks of ash highlights to it. The highlighted strands will also frame your face beautifully and make your hair look thicker.
26. Light Auburn Ponytail
Auburn is one of the most versatile colors you can try because you can find an auburn shade for every skin tone. For example, a light shade of auburn would look amazing on a darker skin tone as it can brighten up the complexion and make it look extra glowing.
27. Red Brown Hair + Peekaboo Highlights
If you want to throw in a splash of red color, adding peekaboo highlights is the creative way to go. Just imagine how fun it is to have a bright red colored strand peeking out of your reddish-brown
hair. It's definitely a stylish surprise!
With this unique and classy shade, you can certainly take your hairstyle to a whole new level. But with the wide range of red brown hair color choices that you have, choosing the right one can be a bit daunting. Make sure to consider your skin tone to find the shade that will suit you best.