When it comes to brown hair color, it is undervalued by many people. It is often pictured as a hairstyle with a single dull shade. However, this color can combine with other shades in a lovely way and can surely revive your present look when it is done right.
Beautiful Shades of Brown Hair Color
Regardless of the length and texture your hair has, if you are looking to do something new with it, there are many reasons you would like to try out a brown hair color. Here are 50 beautiful shades you can try out to make your new brown hairstyle stand out.
1. Glossy Cacao Curls
The cacao brown shade adds richness to your already dark locks. This is a medium shade if you don't want to go for a very dark or light tone. The loose curls together with this glossy shade give you a fun lively look.
2. Rich Chocolate Brown Hair
Chocolate brown is a timeless shade if you want to keep it natural. It goes equally well on all skin tones. Cut your strands to shoulder-length and add curls away from the face. This hairstyle will give you a cool professional look.
3. Dark Bronze Brown Bob
This hair color is a blend of warm brown and honey blonde shades. It brightens up your face and is perfect if you want a simple hairstyle. Get a bob cut and add layers for a minimalistic flawless look. It is also ideal for women over 50.
4. Subtle Caramel Highlights
Caramel highlights add dimension to your dark hair. Ask your hairstylist to add highlights in balayage style that blend and grow out naturally. This style is ideal for long hair. The dark roots and lighter ends make a great combination.
5. Dark Mocha Curls
If you want to stay on the darker side, go for this dark mocha shade. Get a short haircut and load it up with curls. This monochromatic hair color adds warmth and liveliness to your look.
6. Medium Brown Waves
This color gives your wavy hair a natural look. Mix together shades of brown and bronze to get this dusty color. You can tie your hair with a scrunchie into a low ponytail for a classy look.
7. Medium Copper Brown Locks
This is one of the warmer shades of brown and auburn you can enjoy with natural wavy hair of yours. Pair this look with bangs for a cute minimalistic look. Finger brush your locks and you are good to go.
8. Short Brown Hair with Bangs
Looking for a bold move? Chop down your hair to just below the ears and enjoy this warmer tone of brown by adding a red hue to the base color of your hair. Pair it up with a choppy fringe to complete the look.
9. Light Walnut Curls
This shade can help you pull off a lighter brown hair color. Light walnut hair brightens up your face and would go perfect with light brown eyes. Add loose bouncy curls to your silky long hair and you are good to go.
10. Cool Light Brown Hair
Another monochromatic light hair color for you if you want to keep on the cooler side. This messy style is easy to maintain. Just curl your strands in all directions and finger brush to get a carefree look.
11. Brown Hair with Red Highlights
These red highlights with dark brown hair will give you a fierce look. Cut your hair short with a middle part. Sweep the front strands side wards like curtain bangs and your look is complete.
12. Chocolate Cherry Hair
This dark color goes perfectly with a fair complexion. The glossy cherry shade adds depth to your hair. The roots are kept dark brown while the remaining part gives off a red tint.
13. Vintage Light Brown Curls
If you want to show off your curls with a vintage hairstyle, this is the style for you. Cut your hair super short with side-swept bangs that accentuate your curls. The light caramel brown shade completes the look.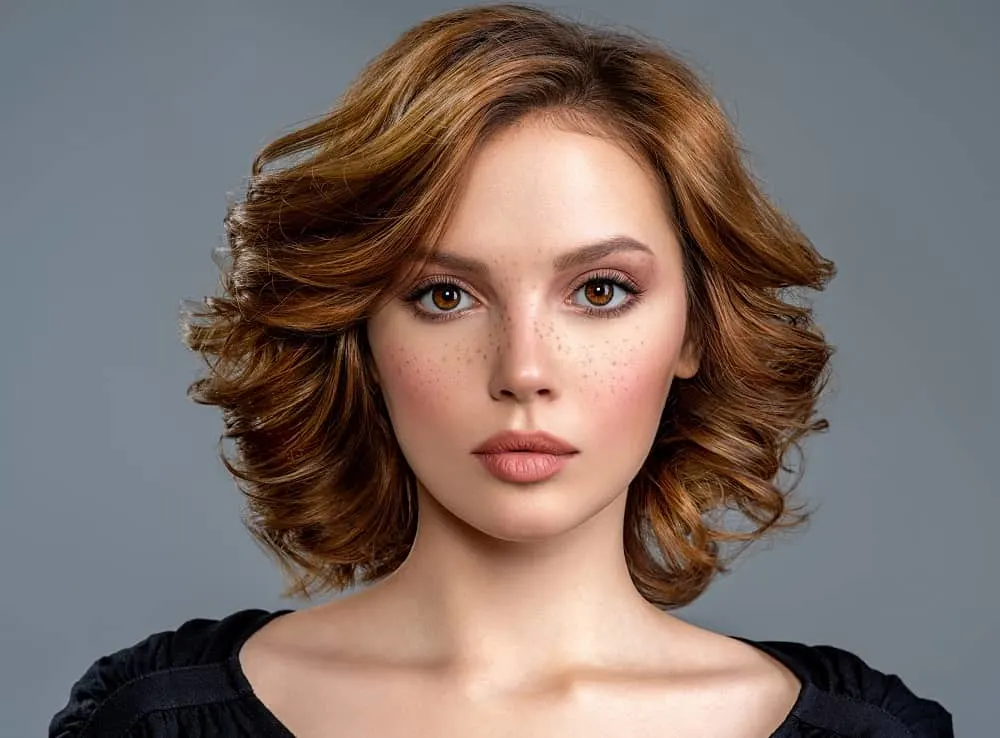 Shine bright like the sun with this golden brown shade. The roots are kept dark while the blonde golden babylights shine in between the golden brown strands. Curl your hair away from the face to complete this toasty style.
15. Brown Curls with Purple Tips
This style is not for the faint-hearted. Show off your dark brown curls by dying them halfway to the tips with a violet-purple color. Allow the front strands to fall over your forehead with a half updo at the back.
16. Blonde Balayage Highlights
Combining dark brown hair with blonde bayalage highlights gives you a sun-kissed look. The lighter strands shine through the darker ones. This style looks great on shoulder-length hair. Add beachy waves to set off your look.
17. Messy Mahogany Curls
Combining dark brown hair with blonde bayalage highlights gives you a sun-kissed look. The lighter strands shine through the darker ones. This style looks great on shoulder-length hair. Add beachy waves to set off your look.
18. Dark Brown Pixie
Nothing can go wrong with a textured pixie cut combined with dark black-brown hair. This style gives you a minimalistic yet modern look. The hair color accentuates fair skin tones. Brush your short strands forward and you are ready for the day.
19. Ash Brown with Pink Balayage
Make your ash brown hair stand out in public by combining them with cute pink balayage streaks. This style is ideal for young girls who want to make a style statement and works equally well on all skin tones. Add loose curls to complete the look.
20. Sun-kissed Brown Hair
This shade is to drool over. It is slightly more blonde than brown but gives a dreamy look. With a shoulder-length cut, tie half of your strands loosely with a hair bow tie to give yourself a cute girly look.
21. Dark Brown Hair
For thick long hair, a deep shade of brown hair color is very elegant. Wear long thick bangs to frame your face and draw attention to your eyes.
This light brown is so light it almost looks blonde! However, the different shades blend beautifully together and make a braided wavy low bun updo with loose tendrils super romantic.
23. Curly Brown Hair
For women with a darker skin tone, try chocolate brown hair color and dark red highlights. Gather hair up in a high messy bun or ponytail.
A golden brown ombre stuns on long hair with ringlets at the ends. This shade of brown looks amazing on darker skin tones.
Take a look at how great brown hair looks with blonde highlights! This color combo works beautifully for all skin tones and is gorgeous on a short straight bob.
We think Ariana Grande would approve of this high dramatic ponytail with its long sleek hair draping down the back. The dark brown hair looks great with brown eyes as well.
A balayage on long wavy hair mixes light and dark browns. Gather a section of the hair from the top of the hair and form a thick crown braid to wrap around the head.
A perky layered pixie in medium brown is spritely and flirty. This textured pixie works for all faces and skin tones.
For long hair, go for a medium shade of brown hair color which flatters all skin tones. Here, the hair is fashioned into a thick braid with a smaller braid winding down it.
If your hair is long and thick, you probably feel it bulky and pulling down. Cut it shoulder length level, load it up with waves, and mix light and dark brown to level up!
Dark brown hair is chic yet edgy worn up as a slightly messy ponytail or bun and long tousled bangs.
32. Natural Brown Hair
For natural curly black hair, try a medium or dark brown color and blonde or caramel highlights. They'll draw all the attention to your texture.
Many people don't realize auburn is a shade of brown. Remind them how great it is on long hair with soft waves and a pretty clip pinning hair back on one side of your face.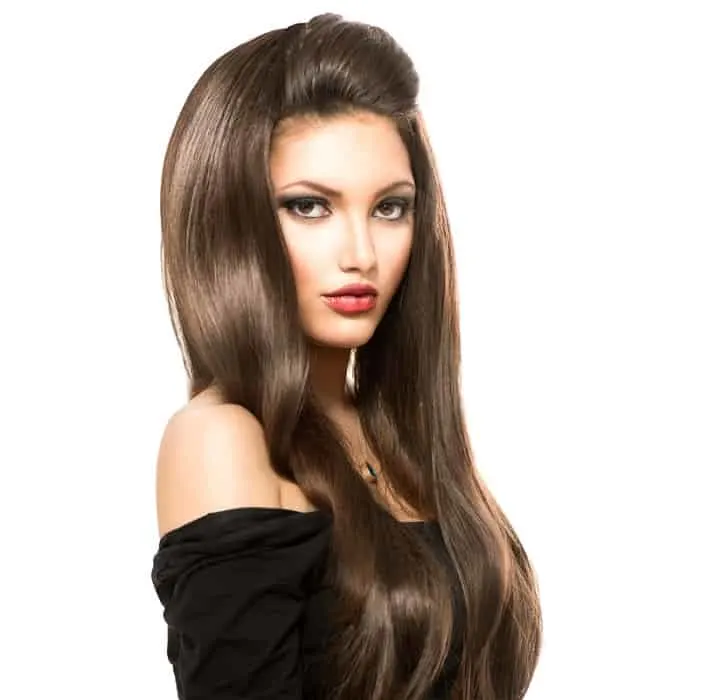 For green eyes, a contrasting shade like black or dark brown hair color is super flattering. This long straight hairstyle features a small section of hair pulled back in the front.
35. Asian Brown Hair
Instead of sticking with your natural black Asian hair, try a light brown. On a short bob with half the hair pulled back, it's a great day or night look.
Chestnut brown isn't just for trees! Add it to your long hair, then use a curling iron to add tousled waves to ends.
Chocolate brown hair color is pretty much as dark as it gets. For medium or light skin tones, it's gorgeous on long hair in two low braided ponytails.
38. Cinnamon Brown Hair
For a sweet blend between light and dark, opt for cinnamon brown hair color on a choppy pixie with tons of texture.
When you're trying to keep your hair color as close to a neutral shade as possible, try copper brown. It's pretty on a short pixie with small braided ponytails.
40. Brown Extension
For Black women with box braid hairstyles, they can add light brown hair color to black for a great light summery blend.
Whether it's for yourself or a little girl, honey brown hair color isn't as harsh as dark shades. A long fishtail braid works the color well.
We're guessing you've never considered mahogany brown hair color for your look, but the subtle tingles of purple and red are exactly why you should!
43. Red Brown Hair
For a way to add brown hair color to your look without going all the way, try red-brown. The blends are complementary and stunning on long hair with ringlets.
Just because you have brown hair, that doesn't mean you can't have fun! With a touch of pink highlights, a straight short bob becomes edgy.
The name might not sound attractive but mushroom brown is actually a great color, similar to dark blonde. Add it to long spiraled curls for a glow.
46. Purple and Brown Hair
If you can't experiment with purple and brown balayage now, when can you? For a long straight hairstyle, just add bangs for a great look!
Ash blonde isn't just for aging women anymore. On younger women, the color can be youthful, as evidenced by this long wavy hairstyle.
To best complement your blue eyes, add light brown hair color. Its glow means you don't need to do much for style except straighten locks.
A warm brown is typically lighter, great for dark skin tones. Try it on your long hair and embrace the way it accentuates your spiral curls.
Perhaps the most popular shade of brown hair color is caramel. The color warms up any skin tone and is a classic choice for soft waves.
In the end, the best shade of brown hair color is the one you feel most comfortable and most vulnerable in. As the above hairstyles show, the addition of brown will only make your current look better!