Whether it's the caramel, ash brown, strawberry brown or copper brown hair color, there's no denying that brown color has its own charm, aesthetics, and aura.
Women have an urge for an extraordinary semblance of style especially when it comes to hairdos and dyes. It goes without saying that brown color is pretty vanilla and needs more flair which is pretty basic for a color like brown as it is a composite color made of three different colors namely red, black, and yellow.
With that being said, Brown is an extremely deep color that represents many hues such as copper brown, chestnut brown, honey brown, chocolate brown, and so on.
Brunettes always have had a hard time deciding their hair dye as the process is lethargic and agitated, however, it should be the other way round. Choosing a hair dye is easy as pie once you figure out the basics (your skin undertones, eye color, and natural hair color).
How to Get Copper Brown Hair
If you have decided to dye your hair copper brown, then you should know that it's a color full of richness and bounty. Therefore, if done wrong, it can lead to disastrous results.
It is advised to get a professional hair dye from the hair experts, especially if it's your first time dyeing the hair. However, some people like to experiment and love to do it themselves, so if you're the one, here's a step-by-step process to dye your hair with copper brown hair dye.
Bleach Your Hair
If you have naturally dark hair, you might need to get your hair bleached. Bleach is a corrosive and harmful chemical that should be used with proper care and attention. Do not wash your hair for 2-3 days before you decide to bleach it.
Get a bleach that is blue or purple as it reduces the brassiness. Follow the guidelines mentioned on the packaging for bleaching your hair. Rinse out the bleach with cold water thoroughly after 30-35 minutes.
The Dyeing Process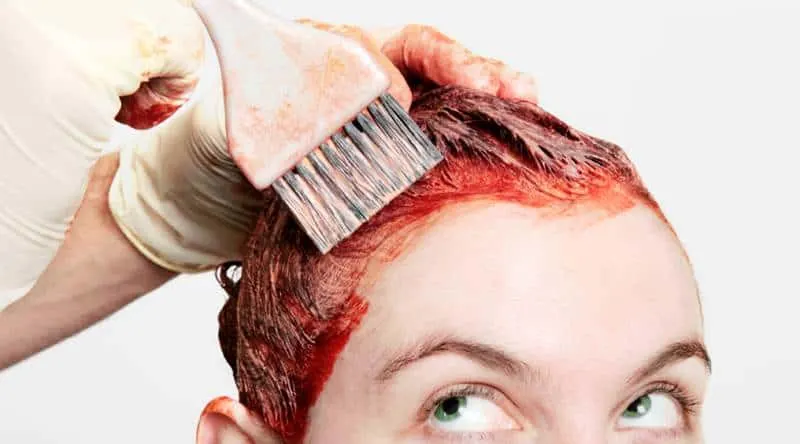 Get a box dye from your favorite brand. Mix the dye and developer in a non-metallic bowl using an applicator brush. Using hair clips or pins, section your hair. Apply the copper brown hair color with the help of an applicator brush, starting from the roots to tips.
Once you've applied the dye to the section, roll it up and secure with a clip. Move onto the next section and repeat the same procedure. When you're finished with all the sections, sit back and relax for at least 30-35 minutes.
TIP: For deeper penetration of the dye, you can use a blow-dryer.
Rinse the hair with warm water without shampooing your hair. Keep rinsing until the water runs clean and clear. Deep condition your hair for about 3-5 minutes and do not shampoo. It is recommended to avoid shampooing your hair for at least 7 days.
Dry and Style the Hair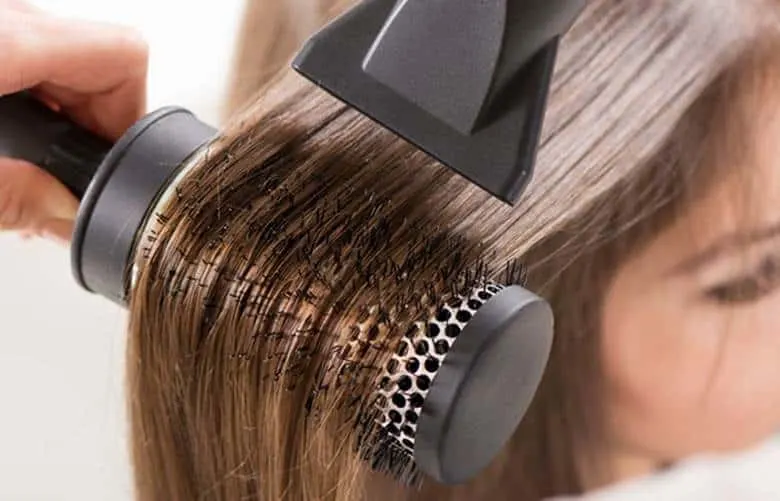 When you're done with rinsing and conditioning, it's time to dry and style your hair. You can either use blow drying or let it air dry. Moreover, use a blow dryer with the lowest temperature. Style and flaunt your hair the way you want it.
Tips to Maintain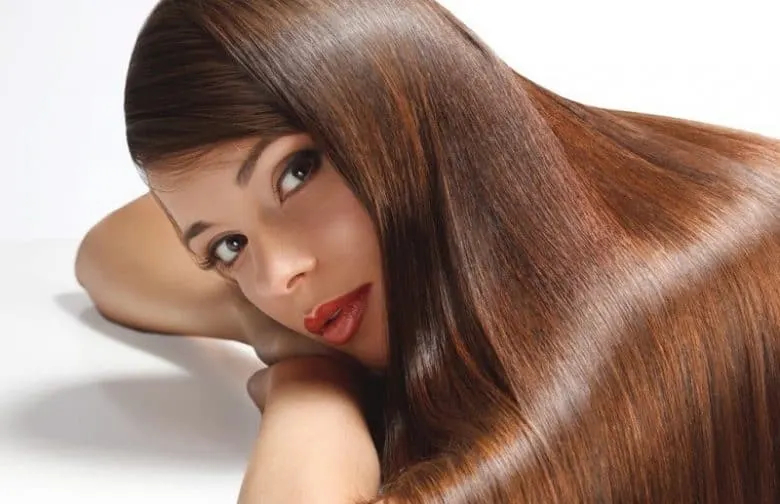 It is deplorable how copper brown hair color fades like a shot. If you enjoy your hair color, you probably want to know how to keep it longer. Colors like red and copper are hard to maintain but with a few tips and tricks, you can surely learn to keep them longer.
Sulfates and parabens are harmful to the hair, especially chemically treated hair, look for shampoos that are paraben and sulfate-free.
You will experience dryness and itching of the scalp too often after dyeing your hair brownish copper. To prevent dryness, oil your hair at least once a week and leave it for an hour. Coconut oil is the best for chemically treated hair.
Avoid swimming in the pools as they have Chlorine in them. Chlorine has bleaching properties that will bleach out your hair leaving it faded and damaged.
The UV rays of the Sun are harmful to your hair and skin. Keep your hair out of reach of the Sun. Always wear a hat when going out on a sunny morning and apply sunscreen to save your skin.
Copper Brown Hair vs Chestnut Brown Hair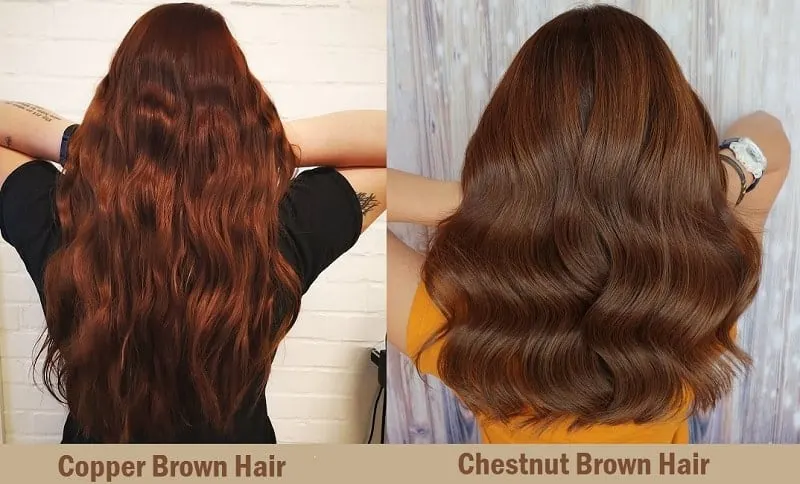 With over a hundred shades of brown, it is quite baffling to distinguish between the different hues. However, copper brown and chestnut brown hair are often confused, one for another but they are as different as chalk and cheese.
Here's how they differ from each other.
Copper brown is a warm and rich burnished brunette shade that suits almost all skin types and tones and looks regal with green, hazel brown and blue eyes. This hair color is a hot take on the red dye with opulence and elegance.
Chestnut brown is a beautiful color lushly blended with shades of brown and red. Like the copper brown hair color, it also compliments most skin tones except for the people with yellow undertones. It makes the complexion look paler and dull.
Stunning Copper Brown Hairstyles
Here are 35 alluring copper brown hairdos for women.
1. Warm Copper Brown
Warm copper brown is the perfect mix of brown and red tones. It'll give your hair a rich, fiery glow. This shade is a great option if you want to add warmth to your natural brown hair without going full-on red.
2. Copper Brown Balayage
For a more subtle copper brown look, why not give balayage a go? This hand-painted technique creates a gorgeous blend of copper and brown shades, adding dimension and movement to your hair. Plus, it's low-maintenance and grows out gracefully!
3. Chocolate Curls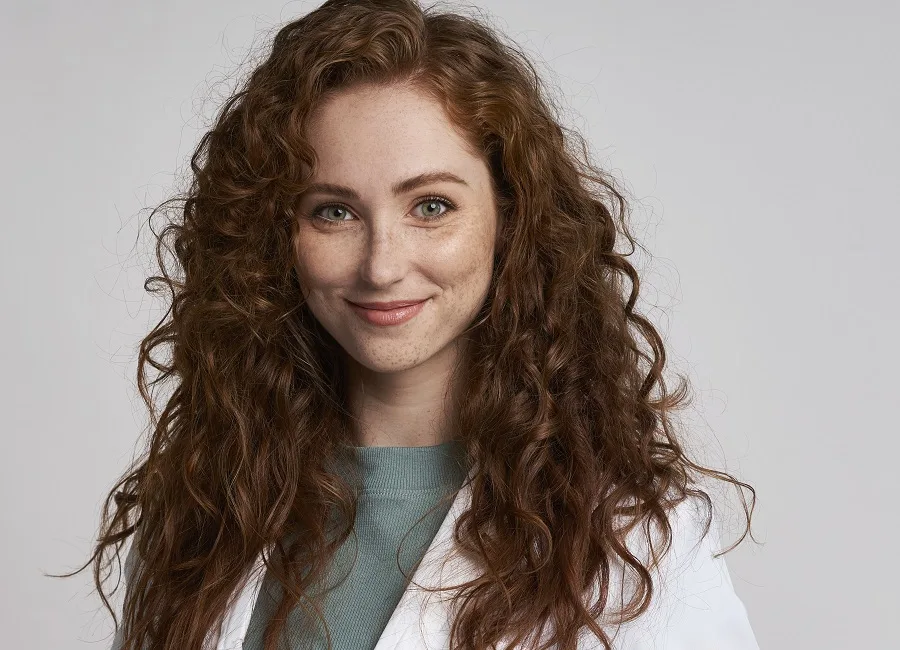 If you're a fan of darker shades, you'll love chocolate copper brown. It's a deep, sultry hue with just a hint of coppery shimmer. The result? A sophisticated and luxurious look that's perfect for any occasion.
4. Subtle Highlights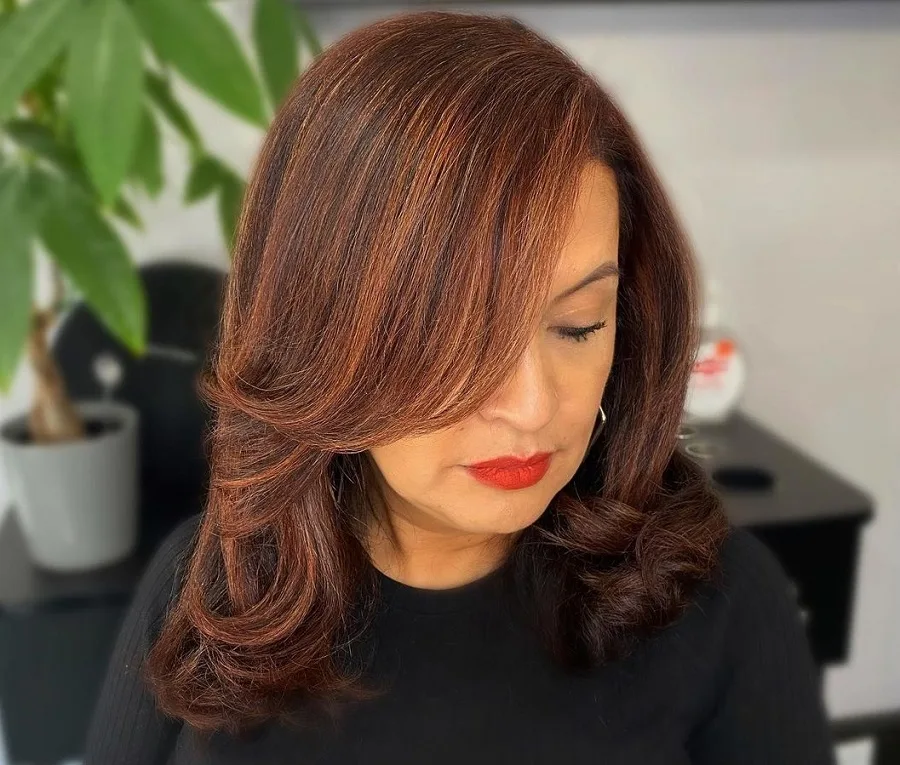 Want to test the copper brown waters without committing fully? Try adding some copper brown highlights to your existing color! These pops of coppery goodness will add warmth and interest without taking over your whole look.
5. Vibrant Ombre
Ready to make a statement? Go for a copper brown ombre! This gradient effect starts with a deep brown at the roots and transitions to a bright, fiery copper towards the ends. It's a bold and eye-catching style that's sure to get you noticed.
6. Light Copper Brown Bob
If you're more into the lighter side of things, a light copper brown might be your perfect match. This soft, almost golden hue is a beautiful blend of copper and light brown shades. It's an ideal choice for brightening up your look, especially during the warmer months.
7. Copper Brown with Auburn Highlights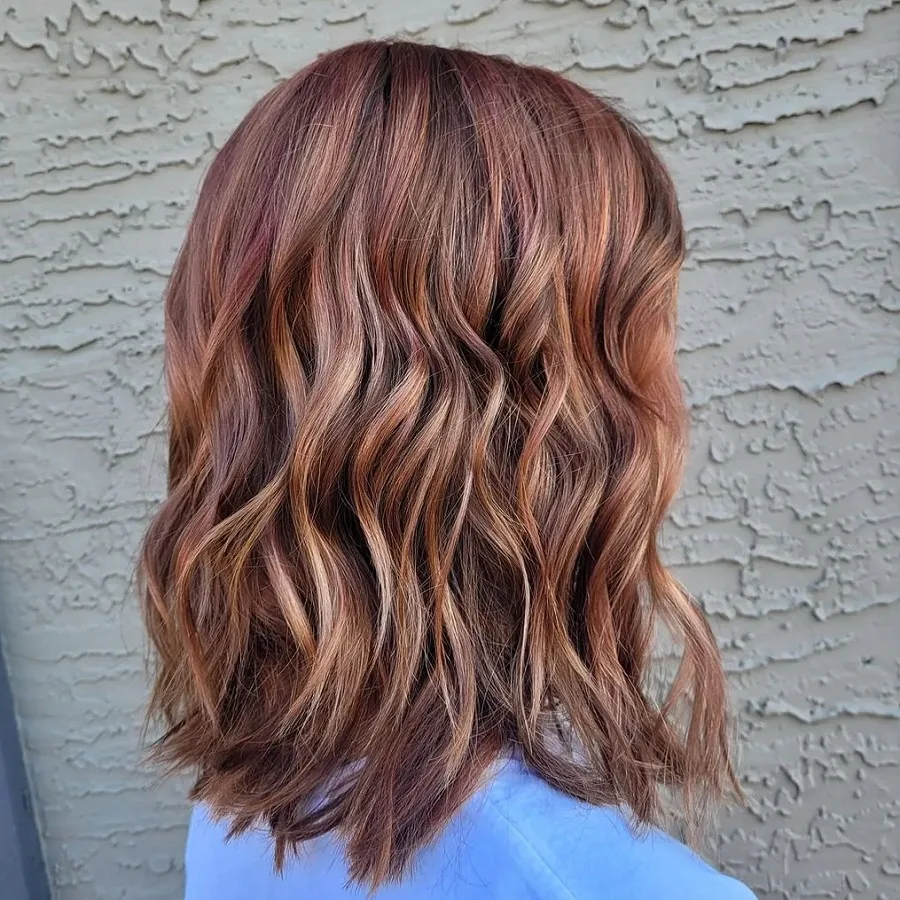 For a unique and dynamic look, try a copper brown base with auburn accents. These reddish-brown highlights will add depth and contrast, making your copper brown hair really stand out. It's a great way to show off your individuality and flair!
8. Cinnamon Hair
Spice up your life with a cinnamon copper brown color! This shade combines the warmth of copper with a hint of spicy red, creating a truly mesmerizing look. It's perfect for those who want a little extra heat in their hair color.
9. Rose Balayage
If you love rose gold, you'll be head over heels for rose copper brown. This stunning shade combines copper brown with a touch of rosy pink, creating a soft, romantic hue. It's a dreamy, whimsical color that's perfect for those who want something a little different.
10. Copper Brown with Honey Highlights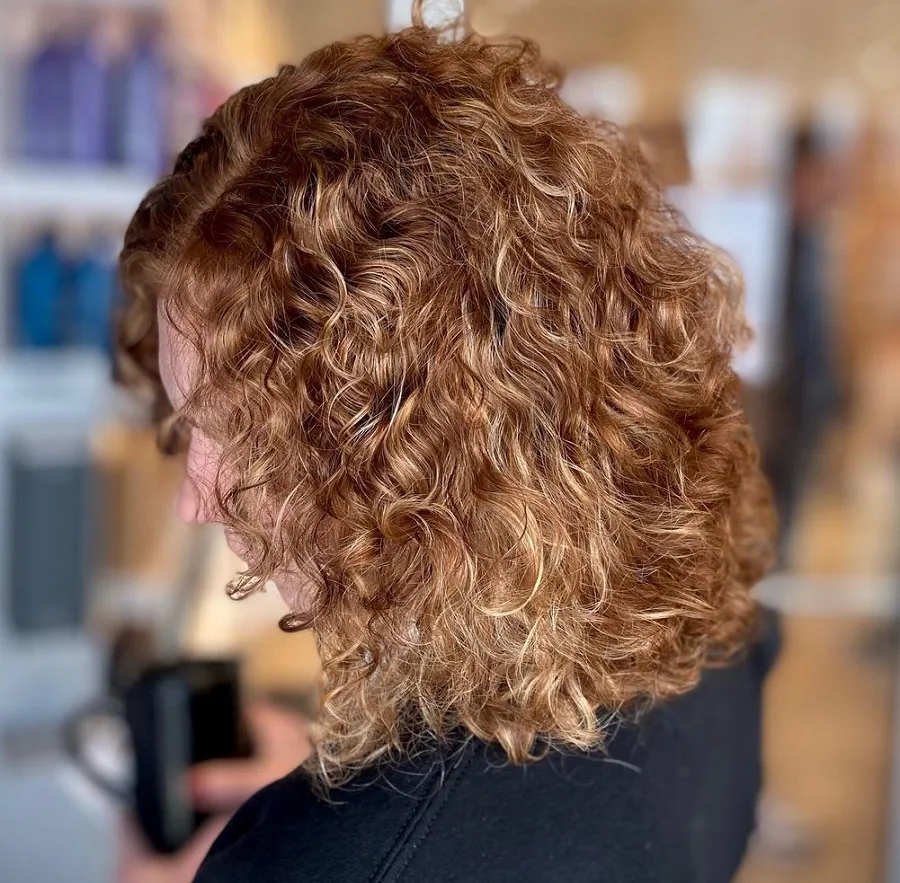 Why not sweeten up your copper brown with some honey highlights? These golden, caramel-toned streaks will add even more dimension and shine to your hair, creating a truly mouthwatering look. Trust me, you'll be turning heads left and right with this sweet combination!
Copperish brown hair dye is a rich brown color that suits almost every skin color. Wear this color off with confidence if you have warm medium or fair undertones. The beautiful hair color, Bardot bangs with smokey eyes and nude lips is a love affair.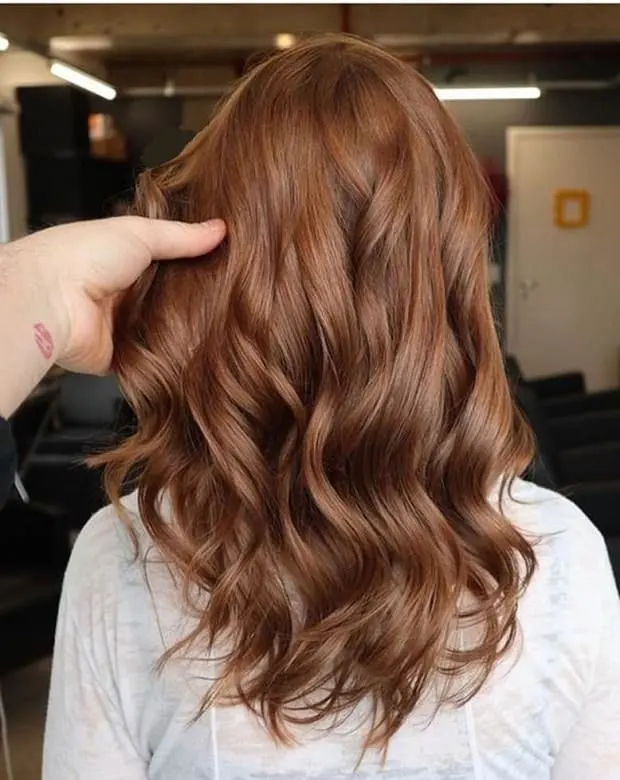 Medium-length brownish copper hair with soft and subtle waves is flattering and gorgeous.
13. Side Swept Hair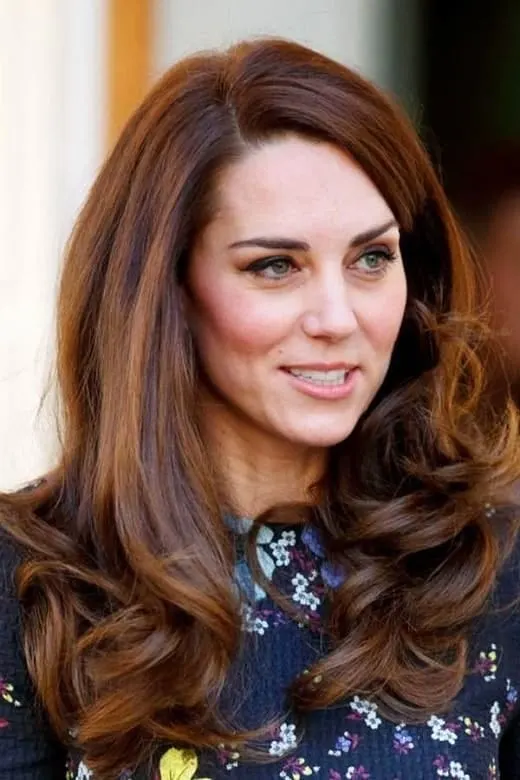 This hairstyle looks regal and royal as Kate Middleton. The side-swept hairstyle with dreamy waves is something out of the world. This copper brown shade perfectly complements her cool, delicate skin with pink undertones.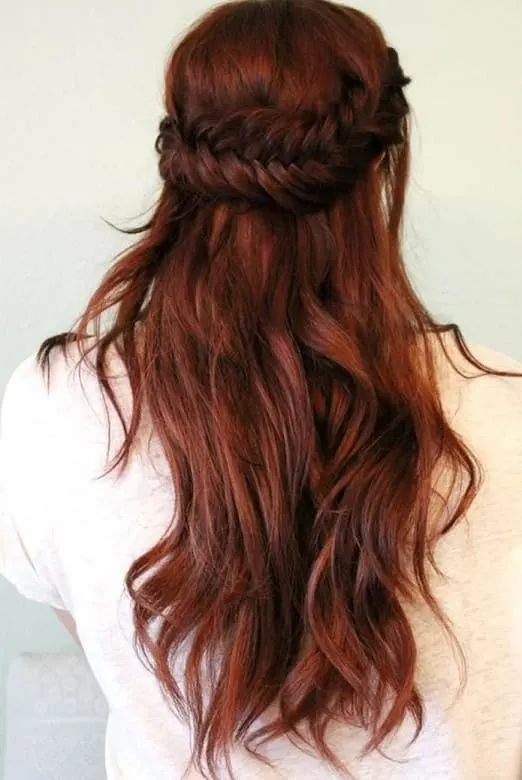 The brownish copper red hair color leaves us with ample options to style the hair gracefully. A half fishtail braid is effortless yet a glorious hairstyle to fancy for long and wavy hair.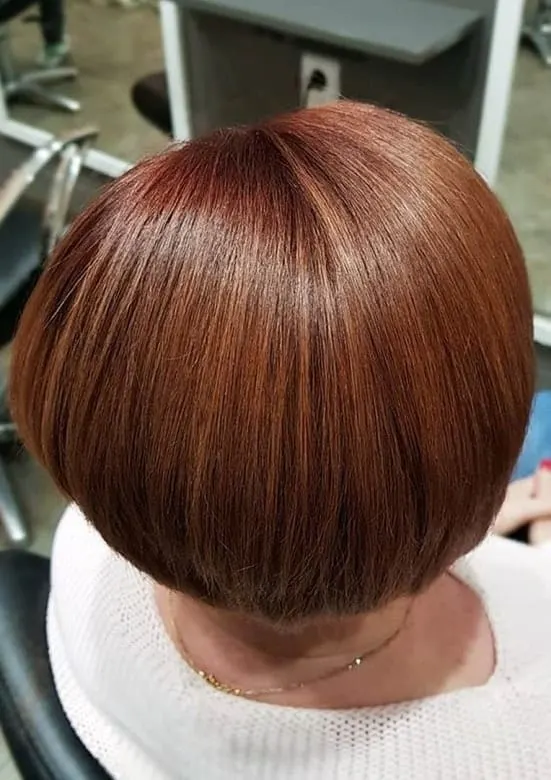 Whether you're in your 20s or 50s, short hair doesn't care, and a short bob is a slayer. A copper brown bob is everything you need for a sleek, straight and short hairstyle.
16. Long Wavy Bob
Make your green eyes pop and come alive with this dye. Long and soft wavy bob with ethereal makeup and green eyes makes a style statement with copper brown hair.
Go for a coppery brown dye if you've got long and thin hair as the dye adds definition and texture to your hair. For a messier look, tie your hair in a messy low ponytail, back-comb and tease it from the front a little.
18. Light Copper Brown Hair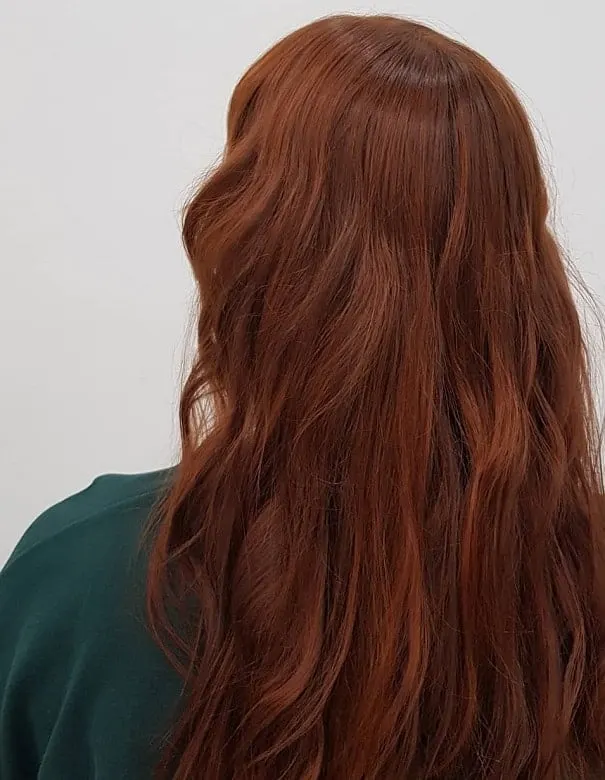 You can always opt for a lighter shade of copper brown and simply rock the look if you aren't a woman who loves to wear darker shades.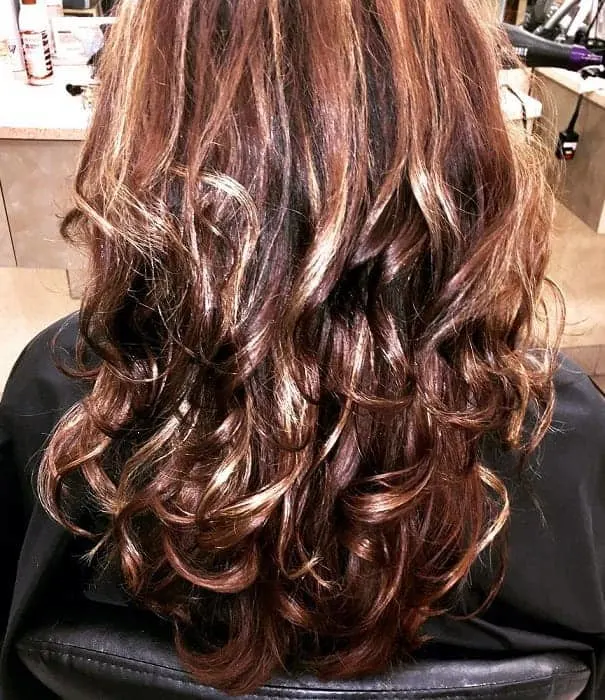 Blonde highlights look exquisite with a dark copper hair base. Ace the dark copper brown hair with highlights you're looking for a bold and flashy hairstyle.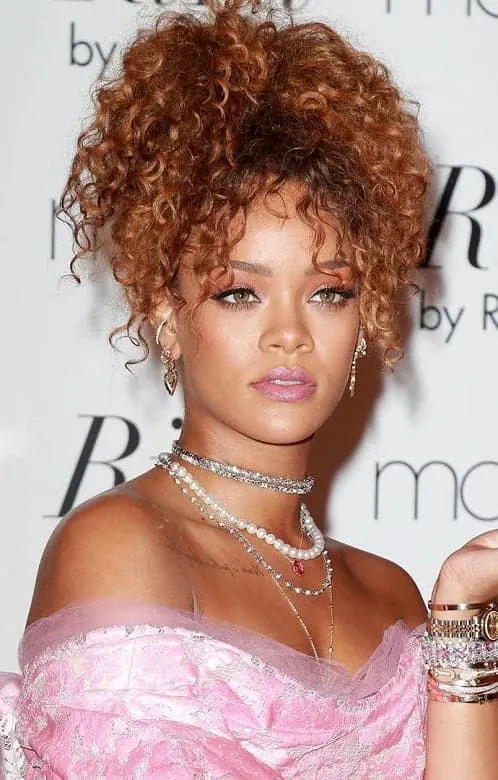 Give your dry, brittle curly mane a refreshing start with copper hair color. Curly hair styled in an updo is absolute goals and hair inspirations.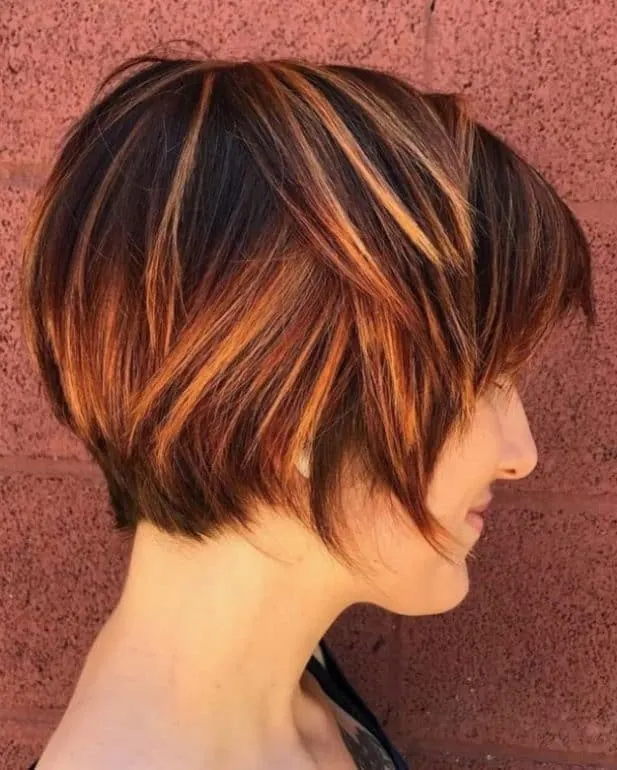 This is a perfect blend of dark and light hair. A pixie bob is a defined and sophisticated hairstyle that adds grace and glory to your look. Let your hair do the talking with these sublime copper highlights on dark brown hair.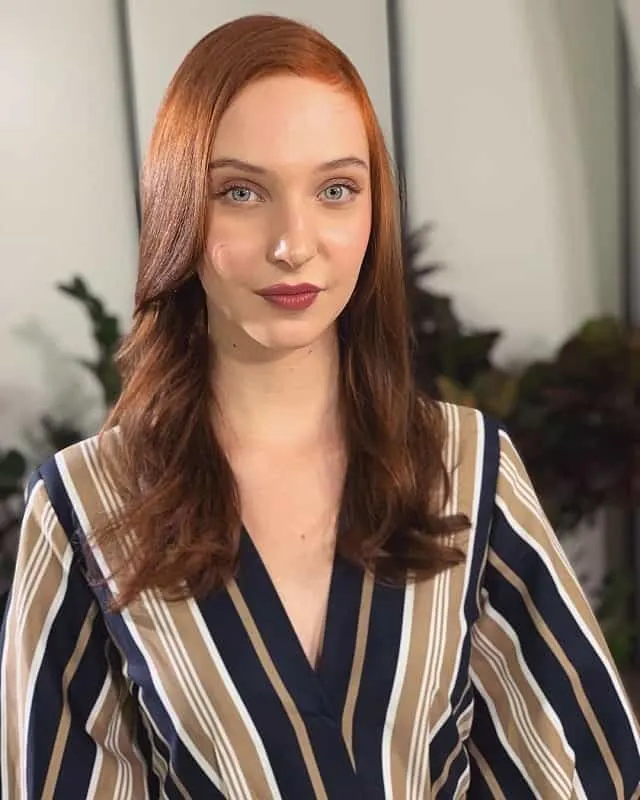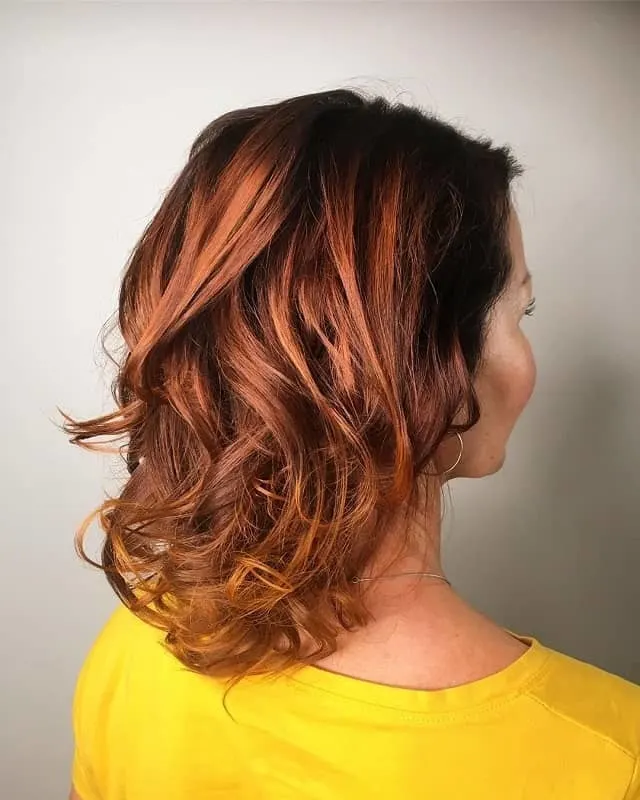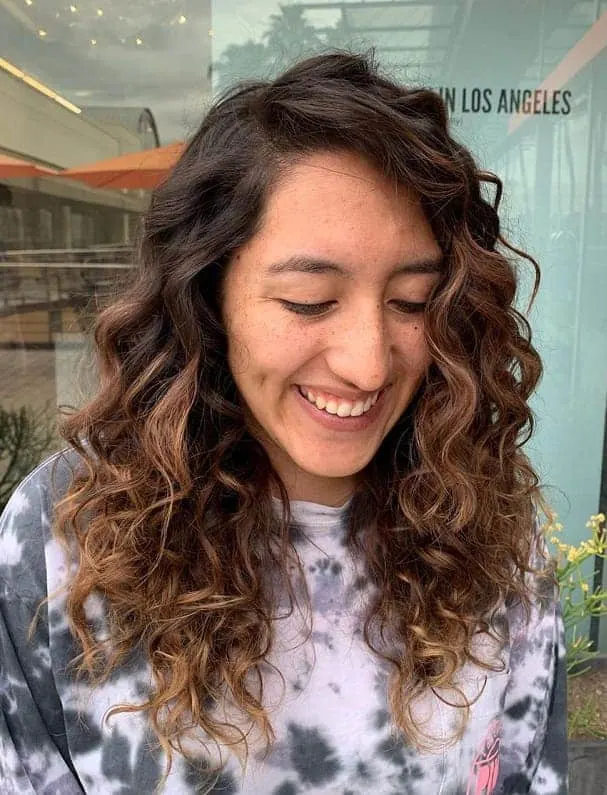 Copper brown hairstyles are beautiful yet tricky. Dyeing your hair time-to-time is the best way possible to keep it rejuvenated and refreshing. Spend a hefty and reasonable amount of money on buying quality conditioners, shampoos, hair masks, and serums and you're good to rock your hair.